This Ultimate Birthday Cake has a layer of chocolate chip cookie on the bottom, funfetti cheesecake in the center, then a layer of mini cupcakes – all topped with cake batter whipped cream!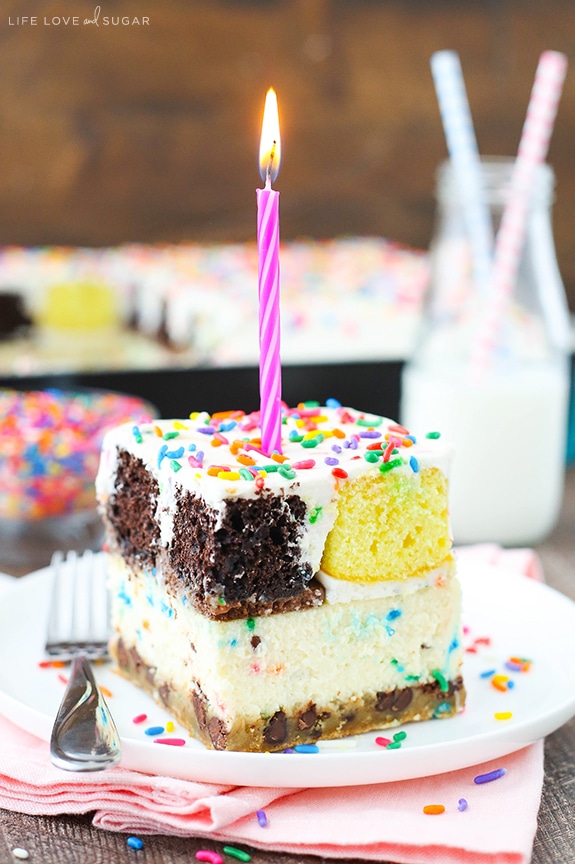 Ultimate Birthday Cake
I love a good request for a fun cake and this one did not disappoint. 🙂
A few weeks ago, I got an email from a blog reader who had visited Queen Charlotte Tea Room in Niagara Falls in Canada. She and her daughter fell in love with a cake they had and asked if I could try to recreate it. We exchanged a couple emails and she sent a photo. I googled and tried to find other photos, but alas there were few pictures out there. I was quite intrigued by a cake that not only included a cookie crust with cheesecake, but was topped with a mini cupcake and frosting to boot!
Hello awesome!! Of course I had to give it a go!
If you're thinking I'm totally crazy and this cake is over the top, I must remind you that I am all about some over the top desserts. 🙂 Have you seen my Cookie Dough Brownie Layer Cake? Basically cookie dough and brownies layered into a cake. And my Ultimate Chocolate Chip Cookie Layer Cake? Basically what I'm saying is I love crazy and unusual. It keeps things interesting. And when it's your birthday, you should absolutely get to indulge. So here I am with the ultimate birthday indulgence. And it's awesome.
It took a few times to get it just right. I had to play with the right amount of cookie dough to get the right amount of cookie crust. Then the right amount of cheesecake. Quite a few ingredients involved, folks. But totally worth it.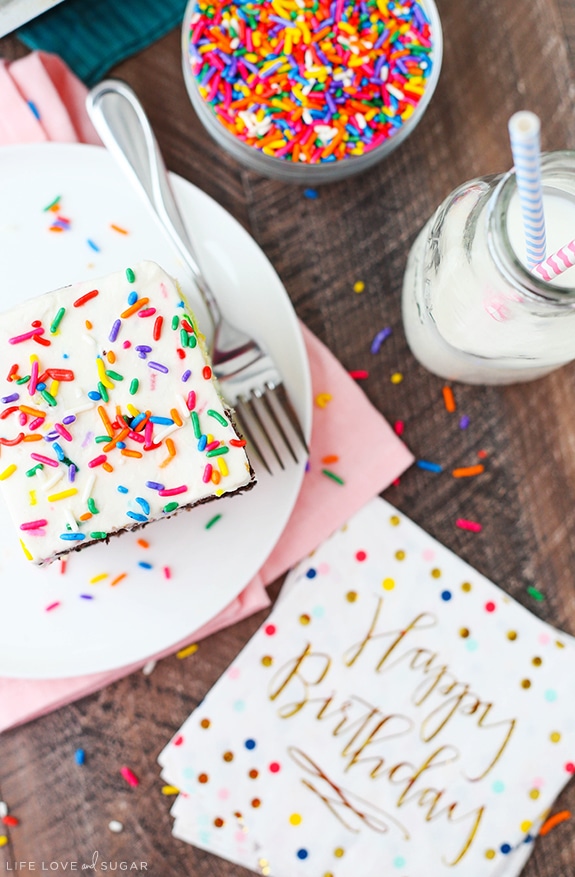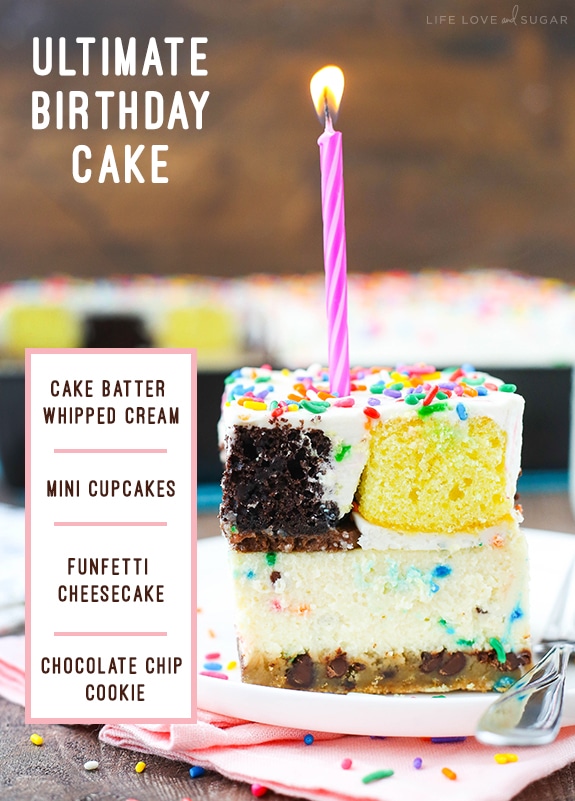 I tried out pre-baking the cookie bottom a bit before adding the cheesecake batter and baking it again, but wasn't a big fan. The cookie got overdone and had a bit of a burnt taste. I don't recommend it. The final version is a touch simpler because there's no need to pre-bake the cookie. The cookie dough is pressed into the bottom of the pan, then topped with the cheesecake batter and baked. There's even sprinkles in both layers. That way they're extra festive. 🙂
Because this is made in a 9×13 pan, the cheesecake is not baked in water bath. I am normally a big proponent of a water bath for a beautiful result in a cheesecake, but it just didn't make sense here. Plus, the water bath ultimately makes the cheesecake less prone to browning on top and less prone to cracking and neither of those are a big deal in this case since we're covering up the top of the cheesecake. So you should expect that when this bakes, the cheesecake will brown a little around the edges, could crack (although the slow cooling process should help the cracks not be bad – I had just a few tiny cracks that disappeared while it cooled) and will sink in the middle when it cools. It's ok – it's all getting covered up.
For the top of the cake – mini cupcakes. I bought mine, so as to save a step, but if you're feeling particularly ambitious feel free to bake them. I turned the frosted mini cupcakes upside down and stuck them to the top of the cheesecake. The frosting helps keep the cupcakes in place on top when you cut into the cake. I opted to do alternating rows of chocolate and vanilla cupcakes, but feel free to choose any flavor you like.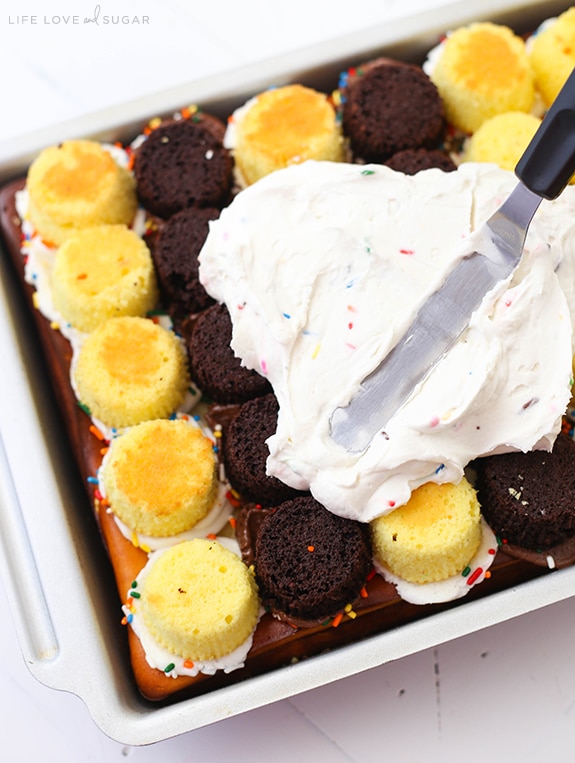 The whole cake is finished off with cake batter whipped cream made by adding cake mix to whipped cream. You could just use regular whipped cream if you like, I just continued with the cake-y theme. I like having the whipped cream on top instead of actual frosting because believe me – this cake is rich enough. 🙂
It's one crazy cake, but in a totally awesome way. It's a monster, so you will get plenty of pieces out of it too. When the hubs saw it he wasn't at all surprised – he's used to me coming up with crazy things. When he tasted it, he was a fan of all the different textures together – and so am I. Given that his sweet tooth isn't nearly as big as mine, I was floored when he wanted another piece the next day.
I guess crazy isn't so bad after all. 😉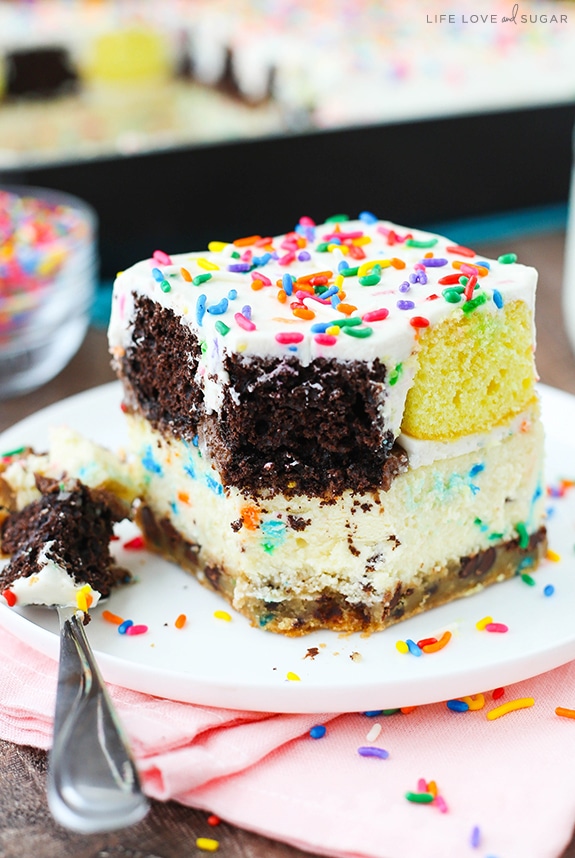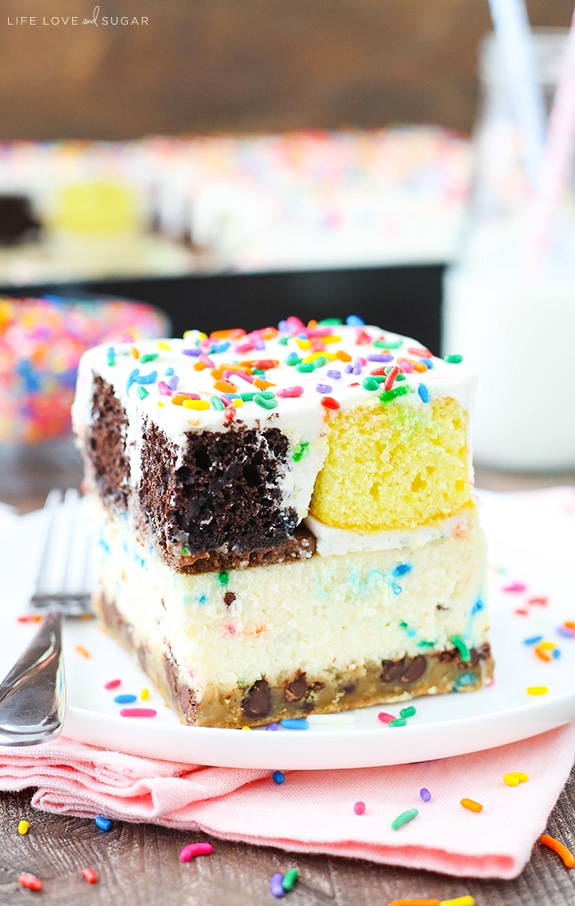 You might also like
No-Bake Golden Birthday Cake Oreo Cheesecake
Funfetti Birthday Cake Icebox Cake
Brownie Brittle Birthday Cake Icebox Cupcakes
Golden Birthday Cake Oreo Puppy Chow
Birthday Cake Milkshake
Print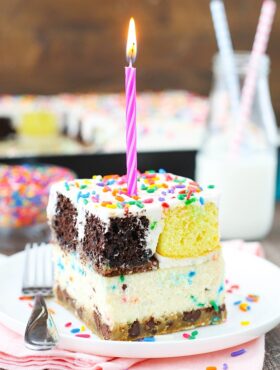 Recipe
Ultimate Birthday Cake
Author:

Prep Time:

25 minutes

Cook Time:

25 minutes

Total Time:

50 minutes

Yield:

18

Category:

Dessert

Method:

Oven

Cuisine:

American
---
Description
This easy recipe combines chewy chocolate chip cookies, creamy Funfetti cheesecake, moist mini cupcakes and fluffy cake batter whipped cream into one show-stopping dessert! It really is the Ultimate Birthday Cake – every bite is a full-on party for your taste buds.
---
Ingredients
For the Chocolate Chip Cookie Crust
3/4 cup

(

168g

) unsalted butter, room temperature

3/4 cup

(

108g

) brown sugar

1/4 cup

(

52g

) sugar

1

egg

2 tsp

vanilla extract

2 cups

(

260g

) all purpose flour

1 tsp

baking soda

1/2 tsp

salt

1 1/2 cups

(

258g

) semi-sweet chocolate chips

2 tbsp

sprinkles
For the Funfetti Cheesecake
32 oz

 (

904g

) cream cheese, softened

1 1/2 cups

(

310g

) sugar

5 tbsp

(

40g

) all purpose flour

1 1/2 cup

(

345g

) sour cream

1 1/2 tbsp

vanilla extract

6

eggs

1/4 cup

sprinkles
For the Mini Cupcakes & Whipped Cream
36

mini cupcakes (any flavor of choice – I did alternating rows of vanilla and chocolate)

2 cups

(480ml) heavy whipping cream

3/4 cup

Funfetti cake mix (vanilla will work as well)

2 tsp

vanilla extract

4 tbsp

sprinkles
---
Instructions
Prepare the Cookie Crust
Preheat the oven to 350°F (176°C). Grease the sides and bottom of a 9×13 pan.
Cream the butter and sugars together until light and fluffy, about 3-4 minutes.
Mix in the egg and vanilla extract.
Combine the flour, baking soda and salt, then slowly add to the cookie dough and mix until combined.
Stir in the chocolate chips and sprinkles. The dough will be thick.
Press the cookie dough evenly into the bottom of the cake pan. Set aside.
Make the Cheesecake
Mix together the cream cheese, sugar and flour in a large mixing bowl until combined (use low speed to keep less air from getting into the batter, which can cause cracks). Scrape down the sides of the bowl.
Add the sour cream and vanilla extract. Beat on low speed until well combined.
Add the eggs two at a time, beating slowly and scraping the sides of the bowl after each addition.
Stir in the sprinkles.
Pour the cheesecake filling into an even layer over the cookie dough.
Bake the cookie and cheesecake for 25 minutes. The edges should start to brown and the center should be set, but still jiggly.
Turn off the oven and leave the door closed with the cheesecake in it for about 10-15 minutes.
Crack the door of the oven for about 5 minutes to allow the cheesecake to slowly cool.
Place the cheesecake in the refrigerator until completely cool and firm, 4-5 hours or overnight.
Add the Toppings
Place a layer of mini cupcakes on top of the cooled cheesecake by inverting them, frosting down, onto the cheesecake.
To make the whipped cream, add the heavy whipping cream, cake mix and vanilla extract to a large mixer bowl.
Whip on high speed until stiff peaks form, then stir in the sprinkles.
Spread the whipped cream into an even layer of top of the cake, filling in the gaps around the cupcakes.
Top the cake with sprinkles and refrigerate until ready to serve.
---
Notes
Makes 16-20 slices.
To Store: Refrigerate extras in an airtight container and enjoy within 2 days. Cake will last for up to 4 days without the whipped cream topping.
Nutrition
Serving Size:

1 Slice

Calories:

590

Sugar:

36.3 g

Sodium:

341.7 mg

Fat:

40 g

Carbohydrates:

52.5 g

Protein:

9.5 g

Cholesterol:

162 mg
Keywords: birthday cake ideas, party cake, dessert for birthday
Filed Under:
Enjoy!
This post may contain affiliate sales links. Please read my disclosure policy.