This Funfetti Birthday Cake Icebox Cake is full of awesome birthday cake flavor! It has layers of golden birthday cake Oreos, cake batter pudding and cake batter whipped cream. It's definitely a new favorite of mine!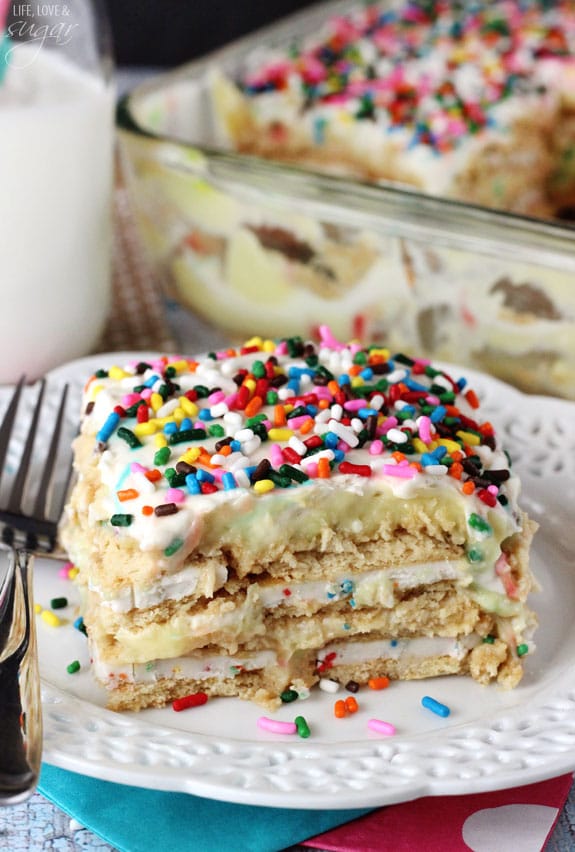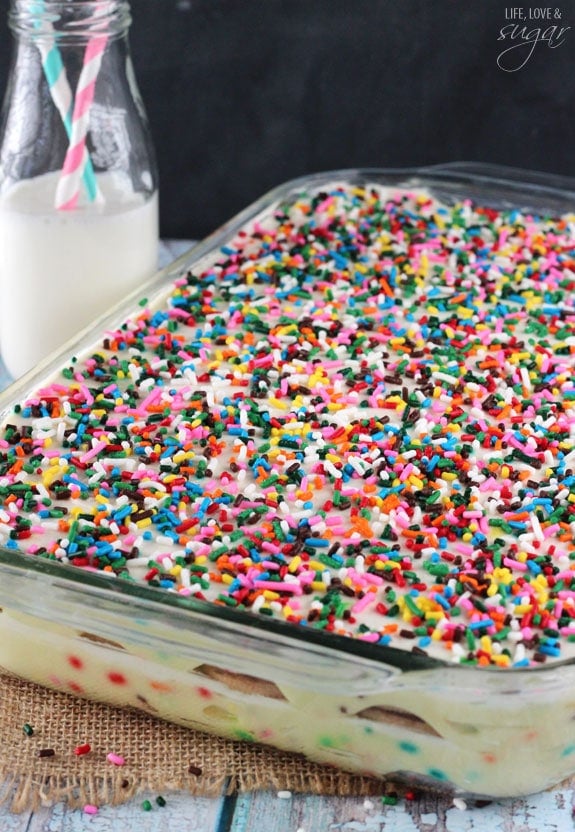 Funfetti Birthday Cake Icebox Cake
So we found out late last week that the hubs' citizenship has been approved! Yay! Now we are just waiting to find out when his ceremony date, which I like to call his graduation, will be. Then we can celebrate!
We did little celebrating for another reason this weekend. We went to Charlotte to celebrate the birthday of one of the hubs' college friends. They lived together for about 3 years in college and played college tennis together. Another one of their old teammates was there as well. It was a lot of fun and great to see everyone.
What's funny is that since the hubs and I have been together since high school, most of our friends have known both of us for the same length of time. There was a lot of reminiscing and all kinds of stories being told, and not only have I heard them all so many times, but for many of them I was actually there. It's kind of fun that we have that history together.
Of course that also means I had to live through plenty of gross boy-ness. Boys in college, at least these boys, were not the cleanest ever. I literally never walked around barefoot in any of their apartments. Ever. Have you ever felt sticky carpet? You don't want to. Those are the moments you wish you weren't there for.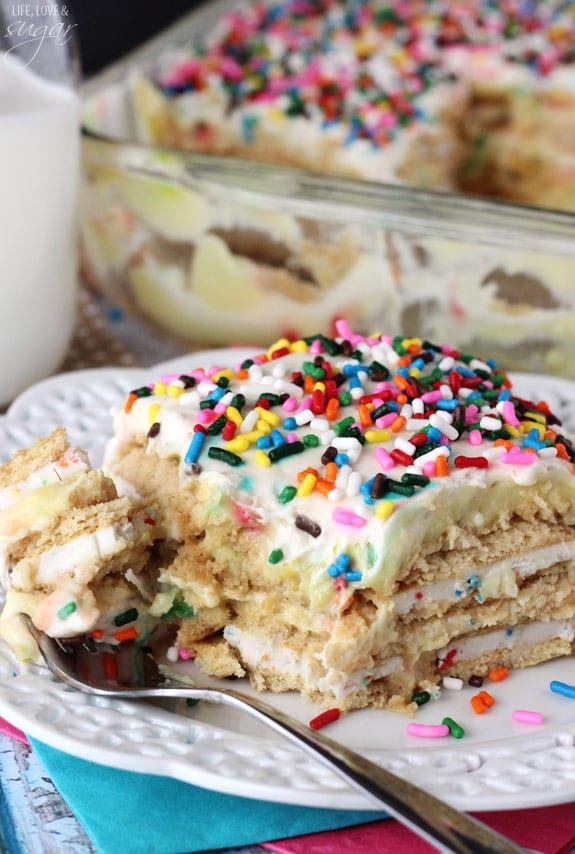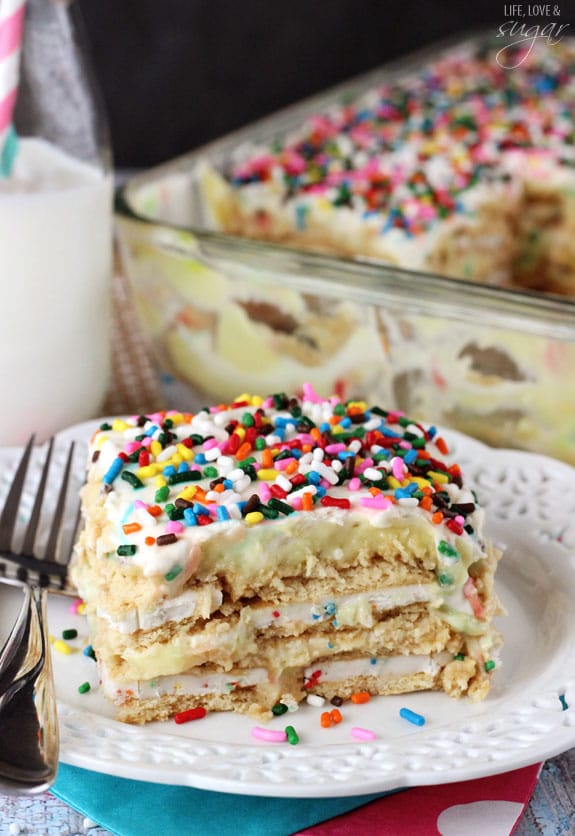 Have you ever seen the movie My Big Fat Greek Wedding? You know how the dad always says to put windex on everything to fix it? Well, they took it a little too literal once and mopped their carpet with windex. No joke.
I'm convinced that if the hubs still lived with other guys, it wouldn't be much different now. Thank goodness he has me. Not only do I clean, I also make a lot of dessert. He gets a pretty good deal. 😉
And this particular dessert was a winner. Once of my taste testers described it as "banana pudding that got dressed up and had a party." A pretty hilarious description, but I actually find it kind of accurate. It's hard to describe what an icebox cake is like in terms of texture, but comparing it to banana pudding totally works.
The Oreos take the place of the nilla wafers. The cake batter flavored pudding takes the place of the banana pudding. And then there's whipped cream. And I know some people aren't big fans of bananas (crazy!), so you don't have to deal with them in this. It really is a party in a pan.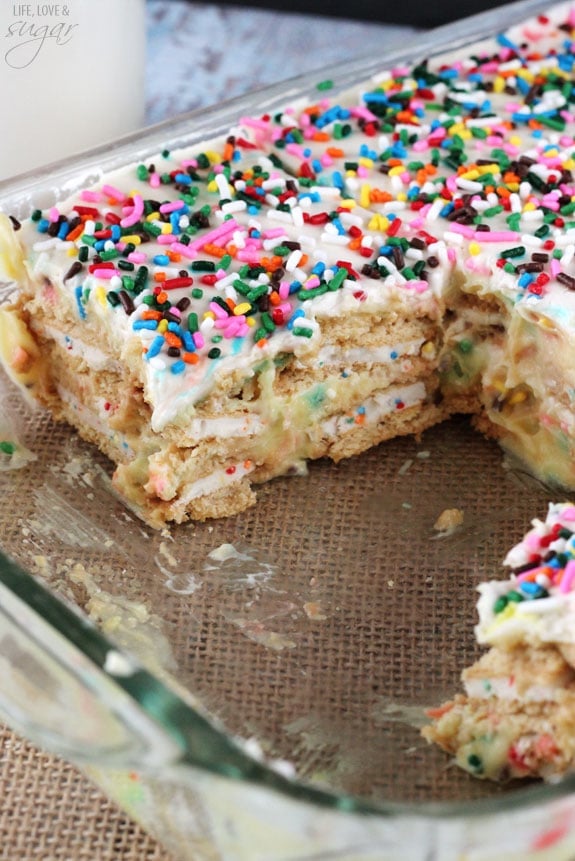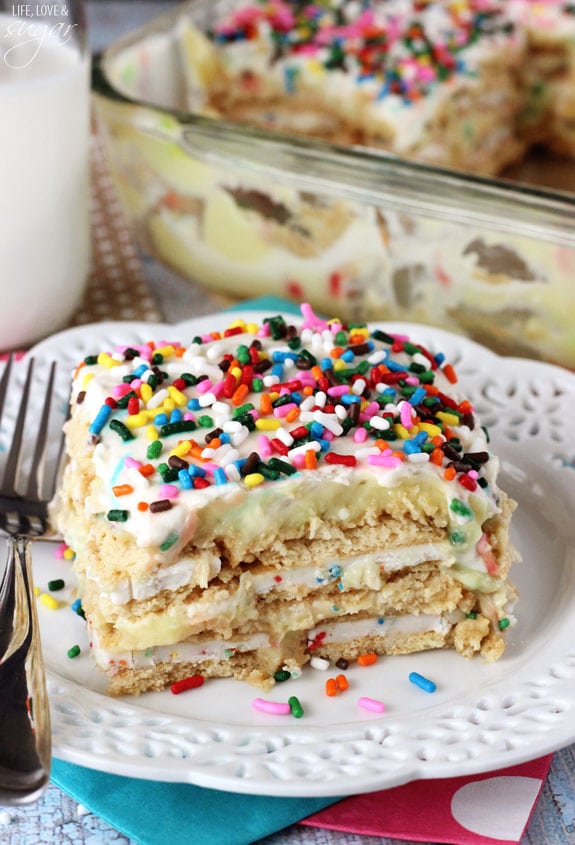 The party is in every layer too. You could use regular golden or chocolate oreos, but I absolutely recommend using the birthday cake flavored Oreos. They are life changing. And they add more cake batter flavor, so yea. Win.
For the pudding layers, I used vanilla pudding that I added dry cake mix to. I used Funfetti cake mix, obviously. But you could use regular vanilla cake mix as well. The cake mix is also used in the whipped cream. Like I said, a party in every layer. 🙂
I really do love icebox cakes. I love that they're no bake and the flavor can easily be changed up. I've made several of them (mint oreo icebox cake, strawberry and blueberry cheesecake icebox cake, banana split icebox cake, chocolate icebox cake) and they're always a hit. You definitely should try this Funfetti Birthday Cake version. It rocks!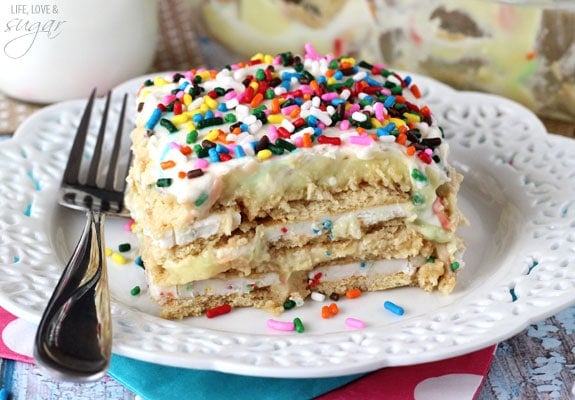 You might also like
Funfetti Cheesecake with Cake Bottom
Funfetti Bundt Cake
Funfetti Popcorn Marshmallow Treat Cupcakes
Funfetti Millionaire Cake
Funfetti Edible Cookie Dough

Print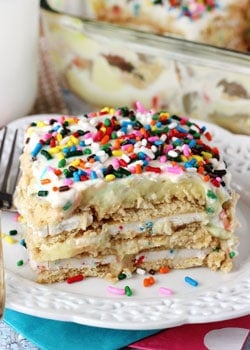 Recipe
Funfetti Birthday Cake Icebox Cake
Author:

Prep Time:

15 minutes

Total Time:

15 minutes

Yield:

15-18 Slices

Category:

Dessert

Method:

No Bake

Cuisine:

American
---
Description
This Funfetti Birthday Cake Icebox Cake is full of awesome birthday cake flavor! It has layers of golden birthday cake Oreos, cake batter pudding and cake batter whipped cream. It's definitely a new favorite of mine!
---
Ingredients
2/3 cup

dry Funfetti cake mix
two

3.4 oz

packages instant vanilla pudding

4 tbsp

sprinkles

4 1/2 cups

milk, divided

2

packages of birthday cake Oreos
sprinkles, for topping
CAKE BATTER WHIPPED CREAM
1 2/3 cups

heavy whipping cream

3/4 cup

cake mix

1 tsp

vanilla
---
Instructions
1. Pour two packages of dry pudding mix into a large bowl. Add 2/3 cup of dry cake mix and sprinkles and combine.
2. Add 4 cups of milk and whisk for about 2 minutes, until pudding begins to thicken. Set aside.
3. To make whipped cream, add heavy whipping cream to a large mixer bowl and whip on high speed until it starts to thicken.
4. Add 3/4 cup dry cake mix and vanilla extract and continue to whip until thick. Set aside.
5. Pour remaining 1/2 cup milk into a small bowl.
6. Dip Oreos in milk quickly and then place into the bottom of a 9×13 pan, making a single layer.
7. Spread half of the pudding on top of the Oreos.
8. Spread half of the cake batter whipped cream on top of the pudding.
9. Dip remaining Oreos in milk quickly and place on top of the whipped cream, in a single layer.
10. Top Oreos with remaining pudding.
11. Top with remaining cake batter whipped cream and sprinkles
12. Refrigerate for at least 4 hours or overnight, so that cookies soften.
---
Nutrition
Serving Size:

1 Slice

Calories:

225

Sugar:

20.3 g

Sodium:

264.3 mg

Fat:

11.9 g

Carbohydrates:

25.1 g

Protein:

8.8 g

Cholesterol:

31.2 mg
Keywords: icebox cake, icebox cake recipe, no bake cake, no bake dessert, no bake dessert recipe, birthday cake recipe, homemade birthday cake, funfetti cake recipe
Filed Under:
Enjoy!
This post may contain affiliate sales links. Please read my disclosure policy.