This post may contain affiliate sales links. Please read my disclosure policy.
These Funfetti Popcorn Marshmallow Treat Cupcakes are a super fun cupcake twist on marshmallow popcorn treats! With a buttery cupcake, marshmallow frosting and loads of sprinkles, this baby is the perfect party cupcake!
For another celebration-worthy cupcake recipe, try my awesome Lucky Charms Cupcakes!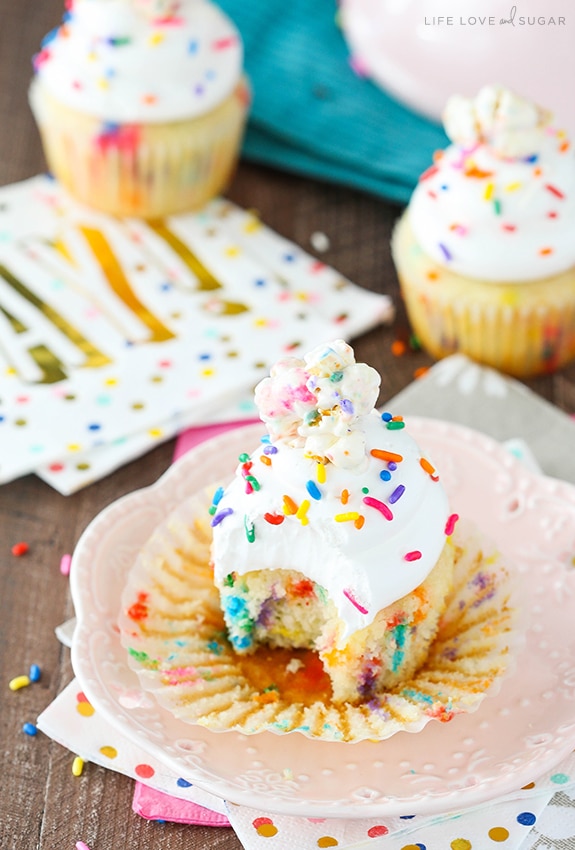 Funfetti Popcorn Marshmallow Treat Cupcakes
Whew! I'm so glad to finally be getting this post up! I totally meant to post is several days ago – I even promised I would. I was "building" as described in my previous post. I gave you the treats, now you need the cupcakes to put them on.
But this week was a doozie and it totally didn't happen. You know that cookbook I've been working on? Well I had my first really big deadline this week and there were a few things that took quite a bit longer than I expected. There were a lot of late nights fueled by coffee and endless snacking. I finally sent it off yesterday then had a big fat margarita and went to bed. 🙂
That's how I celebrate!
That and with cupcakes. And sprinkles. I wish I still has some of these babies left because I might have eaten them all – just to be sure I'd celebrated enough. 😉
One of the things I take inspiration from is other foods. I love to take something that's an everyday kind of treat or snack and make it into something new. That's exactly was I did with these cupcakes. Hopefully you saw the Funfetti Marshmallow Popcorn Treats I posted. They are sitting atop these cupcakes, albeit in a much smaller size. When you make these cupcakes you actually get two for one – the actual popcorn treats and some cupcakes topped with a few of them. The popcorn treats are perfect for the hubs who isn't a frosting fan, and the cupcakes are all mine. 🙂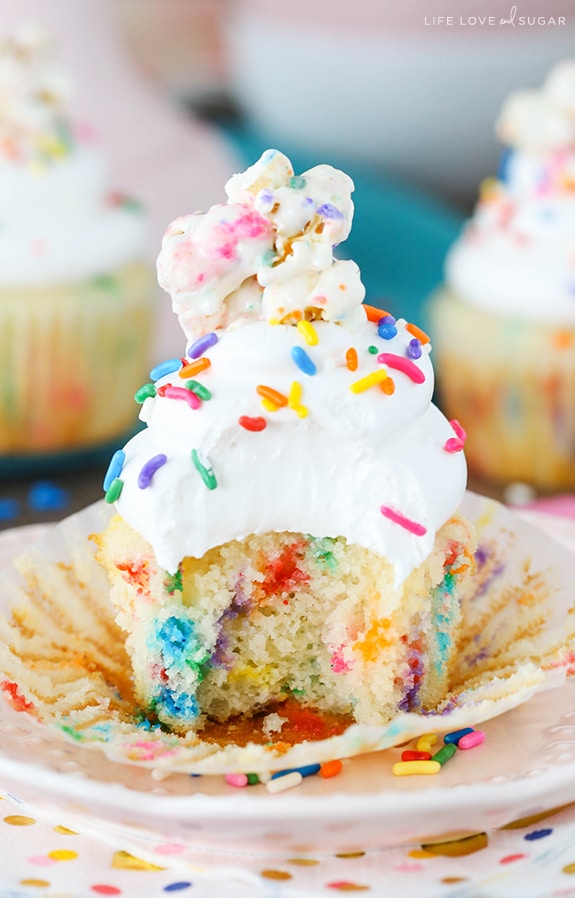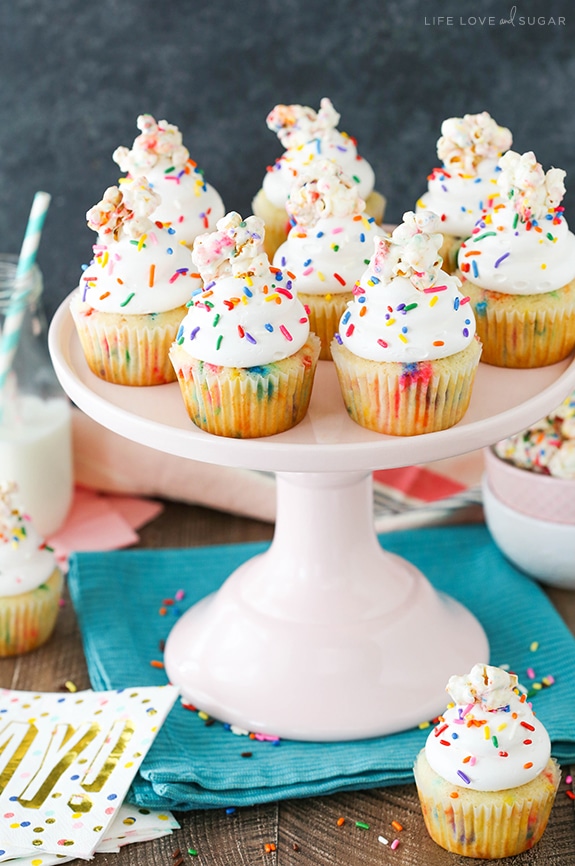 How to Make The Best Funfetti Cupcakes
The cupcakes are flavored with butter extract to give them that extra punch of buttery popcorn flavor. I don't know about you, but I like my popcorn buttery. I've learned from the best (my dad) and when ordering popcorn at the movie theater, there's only one way to do it – layering. As they scoop the popcorn into the bag, about half way through go ahead and add some butter and salt, then you can do it again on the top. That way you don't get half way through your popcorn and there's no salt or butter. Indulgent? Yes. Worth it? Totally.
So yea, butter up that cupcake my friends.
I frosted them with the same marshmallow frosting as I used for the S'mores Cucpakes. It's super light and airy and really is like eating a soft marshmallow cloud. If you were to add gelatin to it to firm it up you'd basically have a marshmallow.
And then of course lots and lots of sprinkles. Don't hold back, this is a party!
The fluffly cupcake with the super light frosting is a lovely combo. It's buttery, sweet, a little salty (you could even sprinkle a little salt on top if you wanted to get cray!) and delicious. Time to get our popcorn on!
You might also like
Funfetti Cheesecake with Cake Bottom
Funfetti Bundt Cake
Funfetti Marshmallow Popcorn Treats
Funfetti Millionaire Cake
Funfetti Birthday Cake Icebox Cake
Funfetti Cake Batter Cookie Dough Brownie Layer Cake
Funfetti Cake Batter Chocolate Chip Cookies
Raspberry Funfetti Scones
Print
Recipe
Funfetti Popcorn Marshmallow Treat Cupcakes
Author:

Prep Time:

15 minutes

Cook Time:

15 minutes

Total Time:

30 minutes

Yield:

12-14 cupcakes

Category:

Dessert

Method:

Oven

Cuisine:

American
---
Description
These Funfetti Popcorn Marshmallow Treat Cupcakes are a super fun cupcake twist on marshmallow popcorn treats! With a buttery cupcake, marshmallow frosting and loads of sprinkles, this baby is the perfect party cupcake!
---
Ingredients
BUTTER CUPCAKES
3/4 cups

(

155g

) sugar

6 tbsp

unsalted butter (

84g

), room temperature

6 tbsp

(90ml) sour cream

2 tsp

butter extract

1/2 tsp

vanilla extract

3

egg whites, lightly beaten

1 1/4 cups

(

163g

) all purpose flour

2 tsp

baking powder

1/4

+

1/8 tsp

salt

6 tbsp

(90ml) milk

2 tbsp

(30ml) water

3 tbsp

sprinkles
MARSHMALLOW FROSTING
4

eggs whites

1 cup

sugar

1/2 tsp

cream of tarter

1 tsp

vanilla extract
---
Instructions
1. Preheat oven to 350°F (176°C). Prepare a cupcake pan with cupcake liners.
2. In a large mixing bowl, beat the butter and sugar together on medium speed until light in color and fluffy, 3-4 minutes.
3. Add the sour cream and butter and vanilla extracts and mix until combined.
4. Add egg whites in two batches, mixing until incorporated after each addition. Scrape down the sides of the bowl as needed to make sure everything is combined.
5. Combine flour, baking powder and salt in a medium bowl. Combine the milk and water in a small measuring cup.
6. Add half of the flour mixture to the batter and mix until combined.
7. Add the milk mixture to the batter and mix until combined.
8. Add the remaining flour mixture and mix until smooth. Scrape down the sides of the bowl as needed to ensure everything is being combined.
9. Stir in the sprinkles.
10. Fill cupcake liners about halfway. Bake for 15-17 minutes, or until a toothpick inserted comes out with a few crumbs
11. Remove cupcakes from oven and allow to cool for 2-3 minutes, then remove to cooling rack to finish cooling.
13. While cupcakes cool, make the frosting. Combine egg whites, sugar, and cream of tartar in a metal, heatproof mixer bowl. Place bowl over a pot with simmering water (You could also use a double boiler)
14. Whisk constantly until sugar is dissolved and whites are warm to the touch, 3 to 4 minutes. Remove from heat.
15. Using the whisk attachment, beat on low speed, gradually increasing to high, until stiff, glossy peaks form, 5 to 7 minutes.
16. Frost the cupcakes (I used the large round Ateco 808 tip) and top with sprinkles. Add a little marshmallow popcorn treat to the top.
---
Nutrition
Serving Size:

1 Cupcake

Calories:

222

Sugar:

28.9 g

Sodium:

80.2 mg

Fat:

7.1 g

Carbohydrates:

39.5 g

Protein:

3.7 g

Cholesterol:

16.5 mg
Keywords: funfetti cupcakes, funfetti cupcakes recipe, popcorn recipe, marshmallow dessert, marshmallow recipe, homemade cupcakes, best cupcakes recipe
Filed Under:
Enjoy!
This post includes affiliate links.