Funfetti Bundt Cake
This Funfetti Bundt Cake is moist and full of flavor and sprinkles! It's easy to make and sure to brighten any day with all the fun colors!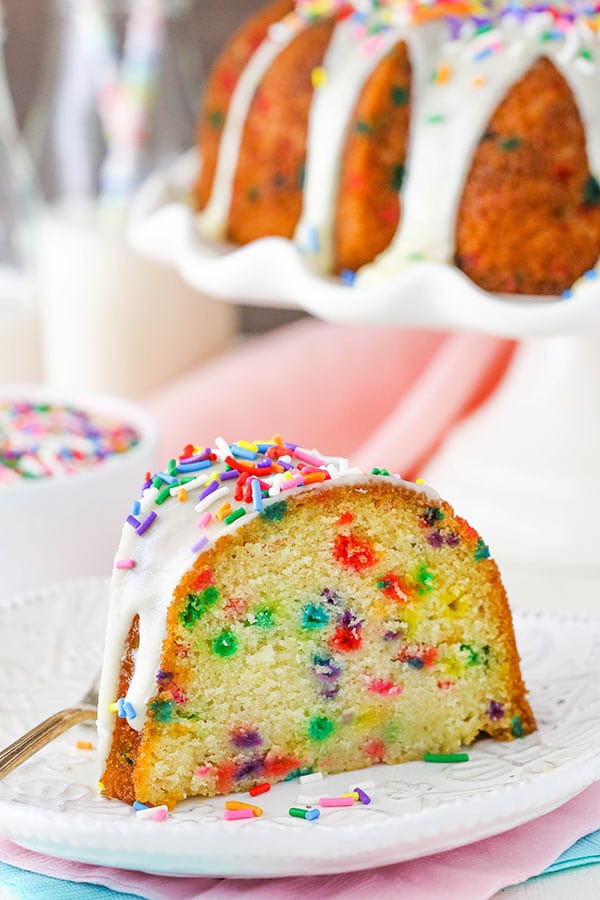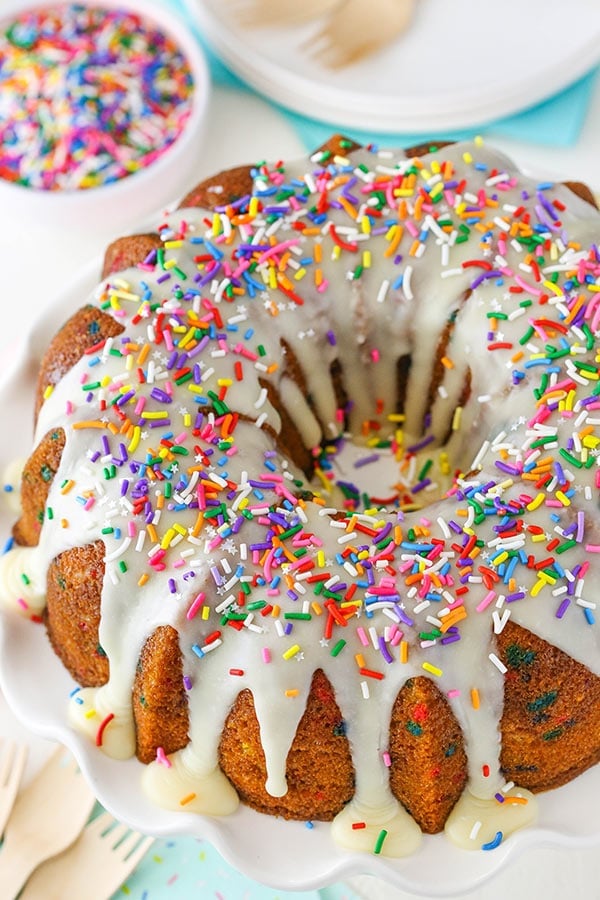 So we are supposed to have some painters coming to the house today to paint the inside of the house and redo some of the paining on the outside. Unfortunately the painters haven't been terribly great about communicating, so I imagine tomorrow will mainly consist of figuring things out and getting paint colors selected and purchased.
I'm a little unsure of how the whole thing will go since we've done all other painting in the past ourselves. I imagine the house being a bit torn apart, furniture everywhere and general chaos. I am excited to see it all finished though!
The hubs is convinced that once the house is repainted, I won't want to move. I kind of think that paining will just make me want to completely redecorate. I kind of want to do that already, so the painting will just re-inforce it, I'm sure. 🙂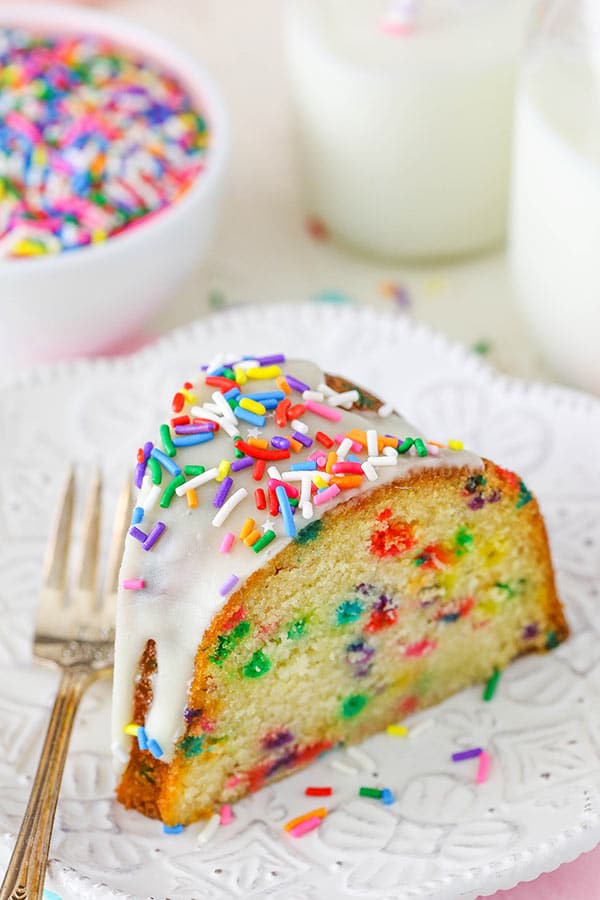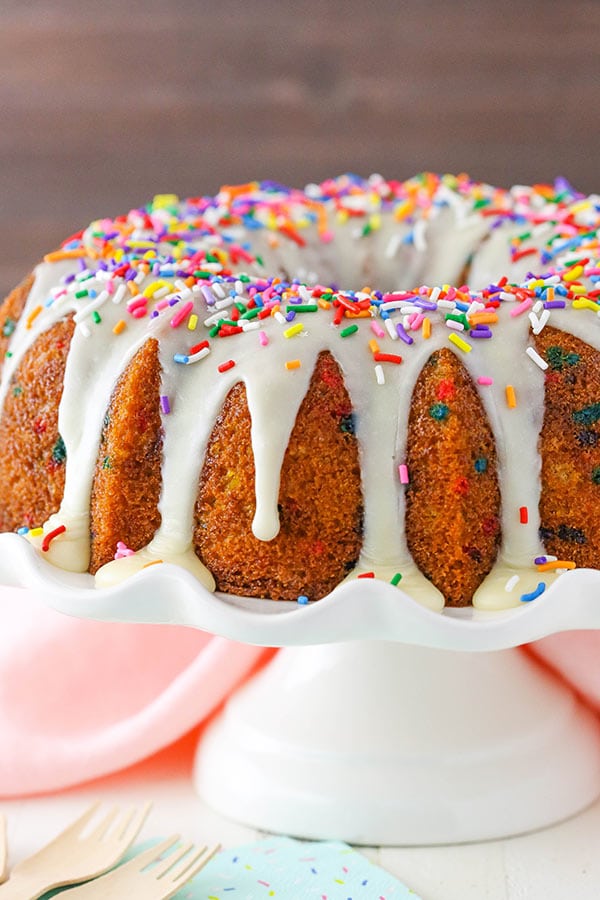 And then of course I have to figure out moving things around in the kitchen so that they can paint. My kitchen is so FULL of baking supplies, it's nutty! Even the counters have plenty of things out and about most of the time. We'll see how that goes. Not sure I'll get much baking done. 🙁
But not to worry for now, we've got Funfetti Bundt Cake!
It's a wonderfully easy cake to make. That's one of the lovely things about bundt cakes. Mix, bake, add icing, done. While I love a fun, involved layer cake, sometimes a bundt is the way to go. Plus, they travel easily if you are going somewhere. A nice, low center of gravity. 🙂
For the cake batter, it's relatively straight forward. Just be sure to fully cream the butter and sugar together and the rest should be a breeze. Fill the batter with sprinkles and you've got a super festive and colorful cake great for any occasion – even a Monday night.
The icing is one of my favorites to use. It doesn't just soak into the cake. It'll last for days and look nice, plus it tastes great. It just takes a touch more effort by cooking it on the stove for a few minutes.
Once you've drizzled the icing on the cake, cover it with your favorite sprinkles! The best part, obviously. I hope you enjoy this sprinkle-filled cake as much as we did!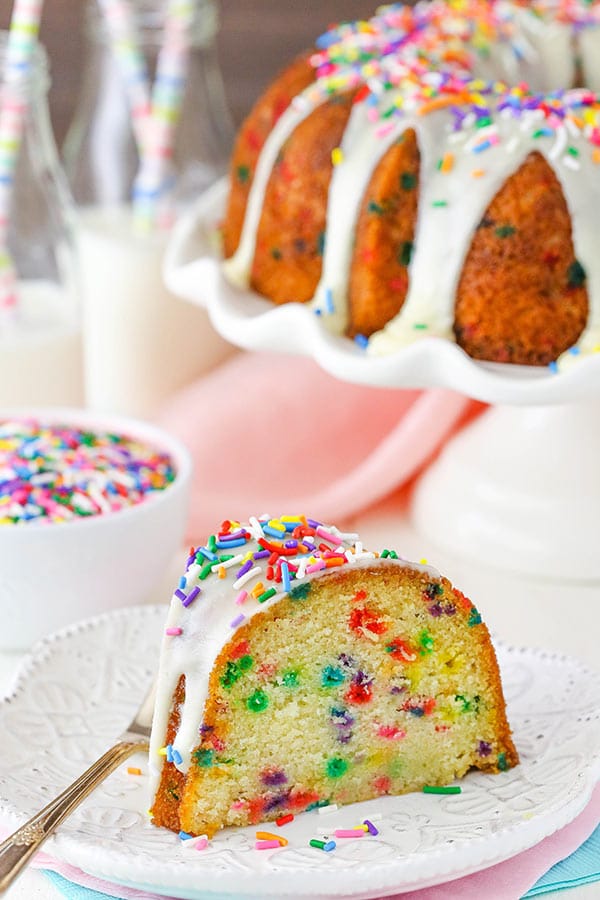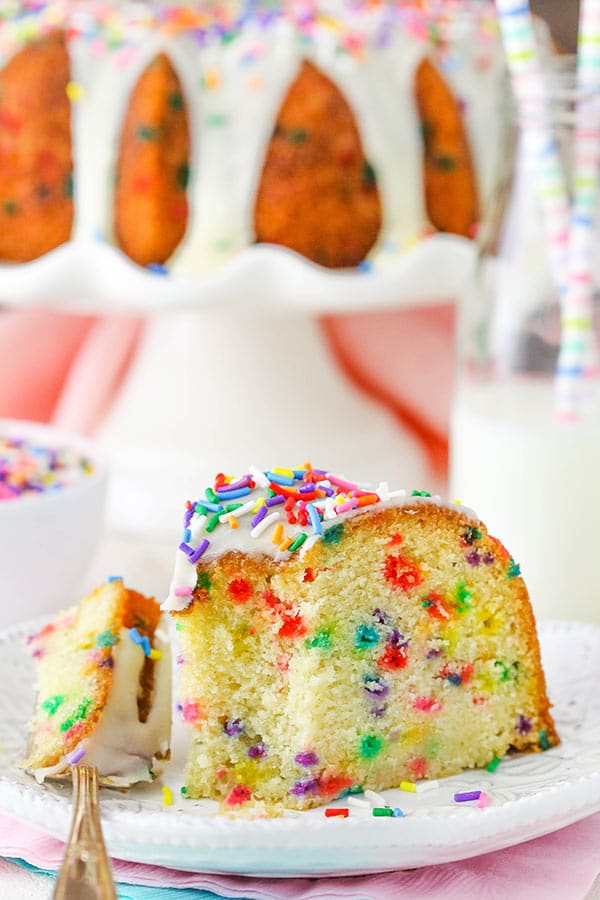 Funfetti Bundt Cake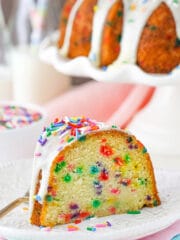 Yield:

12

-

14

Servings

1

x
Category:

Dessert

Method:

Oven

Cuisine:

American
Ingredients
FUNFETTI CAKE
3/4 cup

(168g) unsalted butter, room temperature

1 1/2 cup

s (310g) sugar

3/4 cup

(173g) sour cream

1 tsp

almond extract

1 1/2 tsp

vanilla extract

4

large eggs

2 1/2 cup

s (325g) all purpose flour

1 1/4 tsp

baking soda

1/2 tsp

salt

3/4 cup

(180ml) milk

1/4 cup

(60ml) water

6 tbsp

sprinkles
ICING
2 tbsp

(28g) salted butter

1/3 cup

(69g) sugar

1/2 cup

(60ml) heavy whipping cream

1/2 tsp

vanilla extract

2 tsp

corn syrup

3/4 cup

(86g) powdered sugar, sifted
Sprinkles
Instructions
1. Preheat oven to 350°F (176°C) and prepare a 10-14 cup bundt pan with non-stick baking spray.
2. In a large mixing bowl, cream the butter and sugar together until light in color and fluffy, about 3-4 minutes. Do not skimp on the creaming time.
3. Add sour cream and vanilla and almond extracts and mix until well combined.
4. Add the eggs one at a time, mixing until just combined after each. Scrape down the sides of the bowl as needed to be sure all ingredients are well incorporated.
5. Combine dry ingredients in a separate bowl, then combine the milk and water in a small measuring cup.
6. Add half of the dry ingredients to the batter and mix until well combined. Add the milk mixture and mix until well combined. Add remaining dry ingredients and mix until well combined. Scrape down the sides of the bowl as needed to be sure all ingredients are well incorporated, then stir in the sprinkles.
7. Pour the batter into the prepared bundt pan and bake for about 40-45 minutes, or until a toothpick comes out with a few crumbs.
8. Remove the cakes from the oven and allow to cool for about 10 minutes, then remove to a cooling rack to cool completely.
9. To make the icing, combine all the icing ingredients except for the powdered sugar in a small sauce pan.
10. Heat on low until sugar is melted, then turn heat to medium to bring to a boil.
11. Boil for 3 minutes, stirring occasionally, then remove from heat and immediately pour into a heat-proof glass bowl.
12. Whisk in the powdered sugar and allow to cool slightly and thicken. If you find your icing to be a little thick, just add a touch more water to thin it back out. If it's too thin, add a little more powdered sugar.
13. Drizzle the icing over the cake while the icing is still a little warm. It will be too firm to pour and get a nice drizzle if it cools completely. Top the cake with sprinkles.
Enjoy!

This post contains affiliate links.