This Funfetti Millionaire Cake is funfetti overload! With layers of moist cake, creamy cheesecake and fluffy mousse, there's funfetti in every one. It's the ultimate funfetti confection!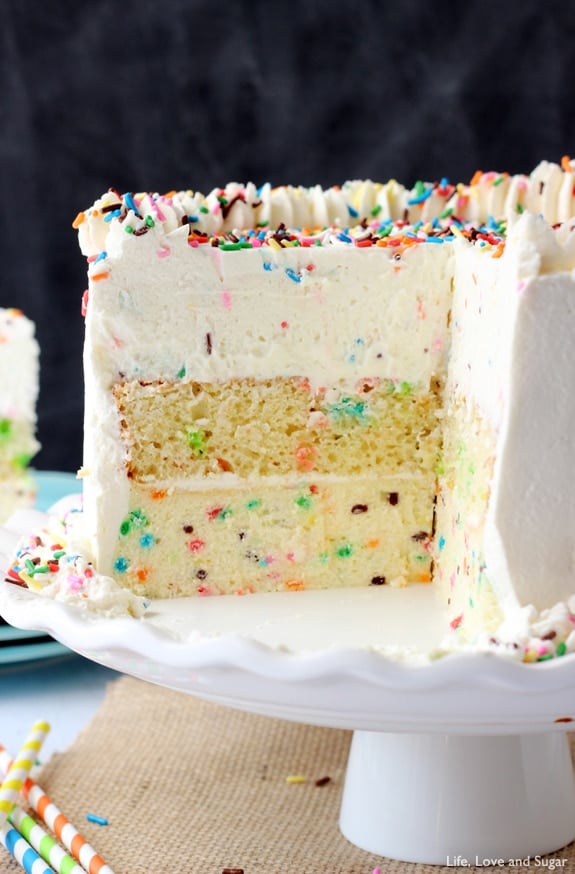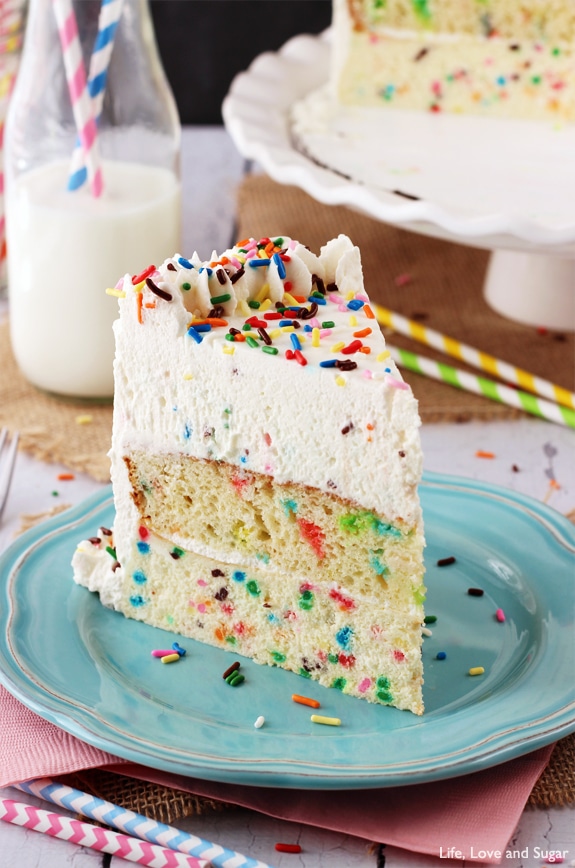 Funfetti Millionaire Cake
Surely you know that I am a huge funfetti fan. No? Have you seen my Funfetti White Chocolate Chip Cookie Cake? Or my Funfetti Ice Cream Cake? Or maybe my Funfetti Overnight French Toast Casserole? There's even more funfetti than that, but we'll start with those. I abso-freakin-lutely love funfetti.
Can you tell?
Ever since I was a kid, it's been my jam. If something hasn't been funfetti-ized. I will do my best to funfetti-fy it. And not just any funfetti. The Pillsbury box mix will always be my first cake mix love. And I know I'm not alone.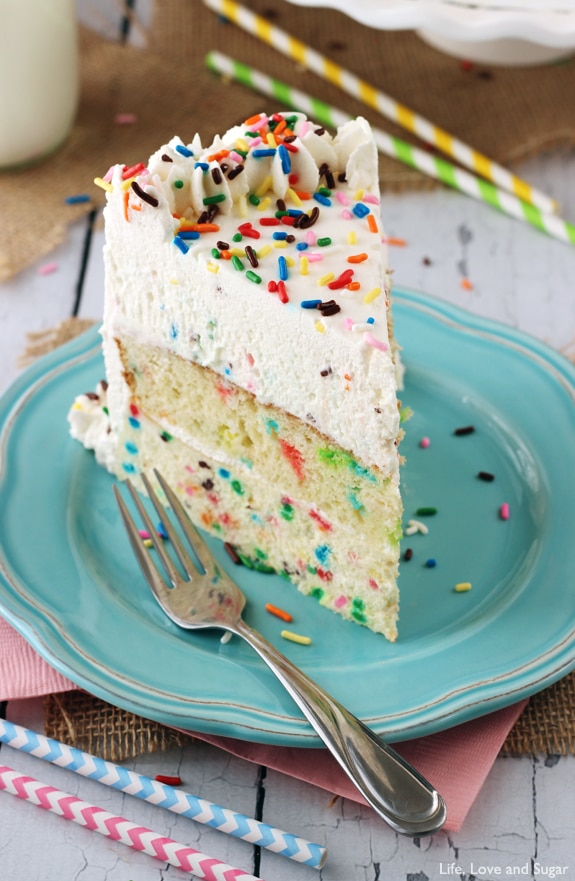 In fact, I have some friends who had me make their wedding cake a couple years ago just so that they could have it made with funfetti box mix. The groom knows what's up. He's even with me on knowing that you can't have funfetti cake without the rainbow chip icing. That was the filling in the wedding cake. And though the cake was from a box, I can't tell you how many people complimented on how great it was. And you know why? Because funfetti rocks. 🙂
But, back to this cake. I actually used Pillsbury Funfetti mix as the cake for the middle layer of this cake. Since I'm a firm believer in it, I didn't try to replace it with another. I used the original.
And I even tried using it in the cheesecake, but it ended up not being quite the right texture.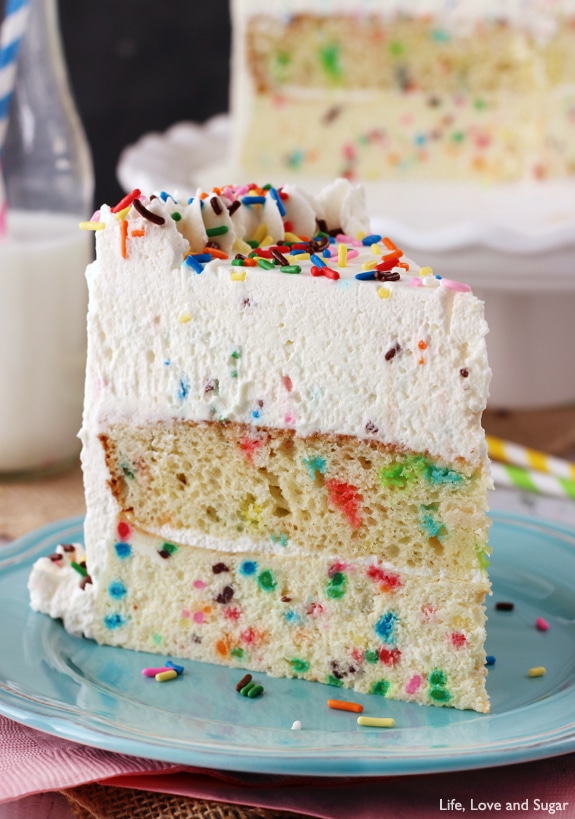 So instead of using box mix, I used a little trick I learned from one of my favorite bloggers, Sally's Baking Addiction, a while back. If you use a little butter and almond flavored extracts, it gives you a very nice cake mix-like taste without actually using a cake mix. Genius!
So I applied that to the cheesecake and mousse layer and it was perfect!
How to Make this Millionaire Cake
Layer 1 – cheesecake. Not all all hard or scary to make. Really. It's a straight forward cheesecake. After so much experimenting with my Banana Pudding Cheesecake, I've gotten a lot more confident with changing them up. It's fun. 🙂 And the best part about this one is if you mess if up a bit (which you won't, but if you do), it goes into a cake where you won't even be able to tell. Score.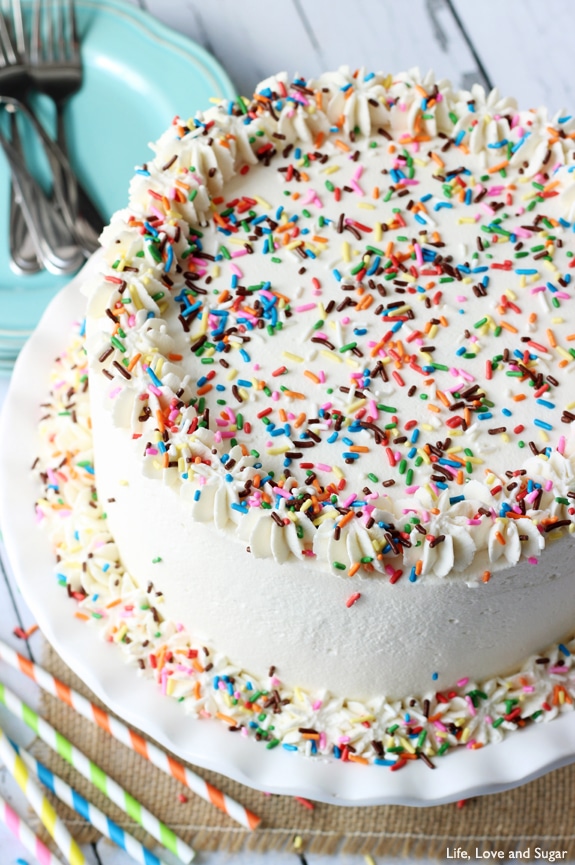 Layer 2 – cake. It's made from a box mix. Unless you want to make it hard on yourself and use your favorite from-scratch mix. Still, super easy.
Layer 3 – mousse. I had never actually made mousse, so I was unsure if it'd be hard to do. But it was SO easy. I went off of a recipe from Brown Eyed Baker. And ohmygosh, it is SO good. I could eat the mousse all by itself. Pass me a spoon! Seriously. It had some gelatin in it to help stabilize it, but it is not at all gelatin-y in texture. It is light, airy, smooth, perfect.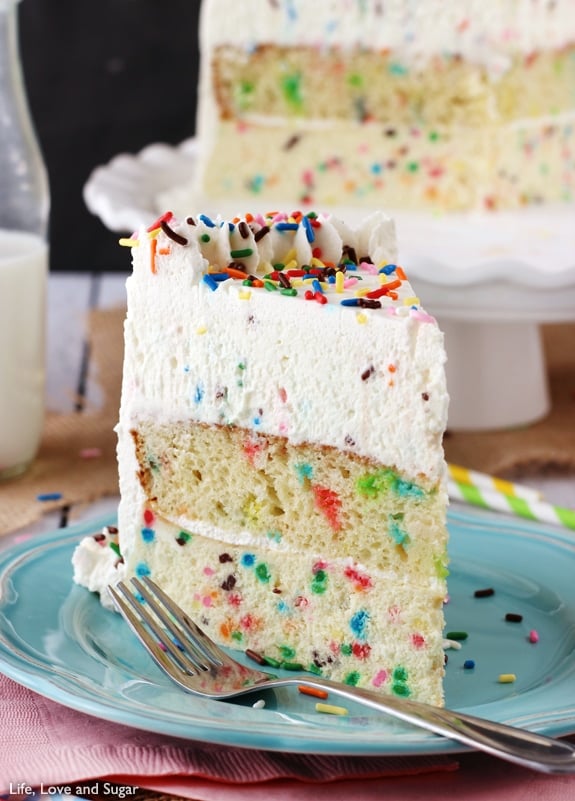 Then, to top it all off, I used a whipped vanilla icing.
And you guys. I have been playing with whipped creams recently (have you seen my Bailey's Chocolate Whipped Cream?), so with all the richness of this cake I figured I'd go lighter on the icing. This is the BEST whipped icing I have EVER had. Like ever. I could not keep my finger out of the bowl. I'd almost say forget the cake and just make the icing. Almost.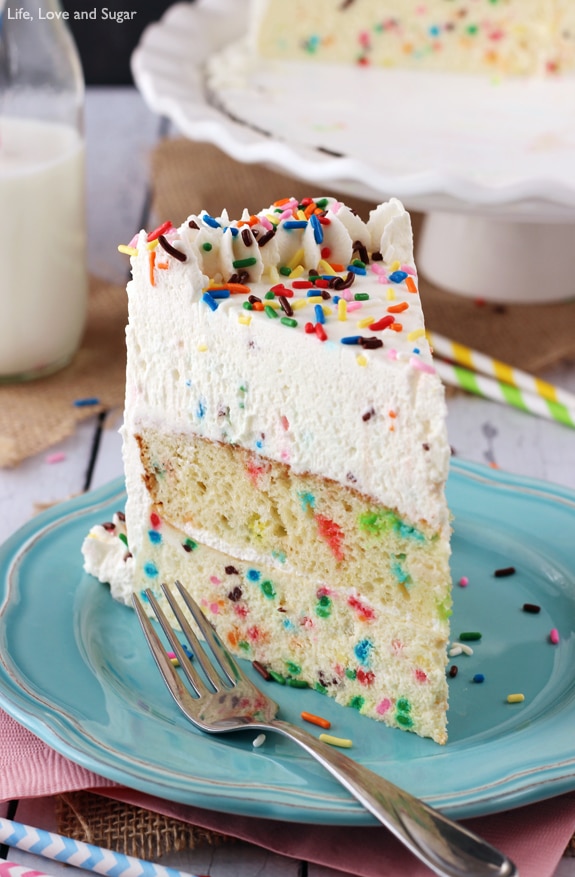 And if it's possible, it's even easier than making buttercream. It's truly just whipped heavy cream, vanilla and powdered sugar. I wasn't really sure how much powdered sugar I'd need to stabilize it for a cake, so I checked out Shugary Sweets' whipped icing. She's been sharing some seriously awesome icings recently. Definitely check those out!
So by now you must be dying to make this cake. And I don't blame you. But before you run off to make it…
There's even more to be excited about today! As if this cake wasn't enough!
My bloggy bestie, Julianne from Beyond Frosting, and I have come together to bring you TWO super exciting things.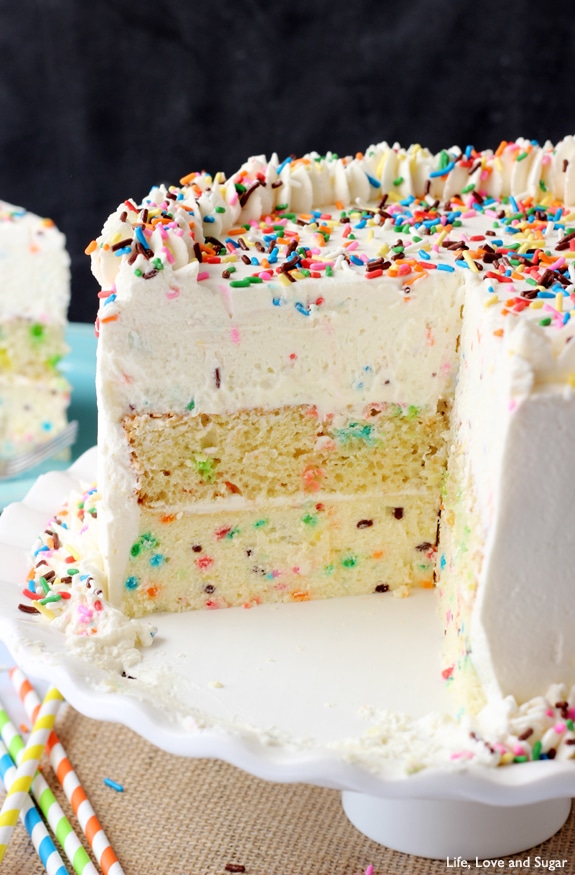 We both recently hit 10,000 Facebook fans! Woohoo!! So we decided to pull together an awesome giveaway of some of our favorite things to bake with. Initially, it was just going to be 10 things (like 10,000 fans, you know?) but then we got a bit carried away. There were just too many funs things! So there's a few extra – and it's all awesome!
I definitely want to say a BIG, BIG THANK YOU to all who read my little spot on the internet. And all of you who follow along – however you follow. It means SO much to me! And when you tell me how much you love the recipes and my posts, it truly brightens my day. You guys are the best!
So this giveaway is for all you party people who keep following along! I hope all of you win!! 🙂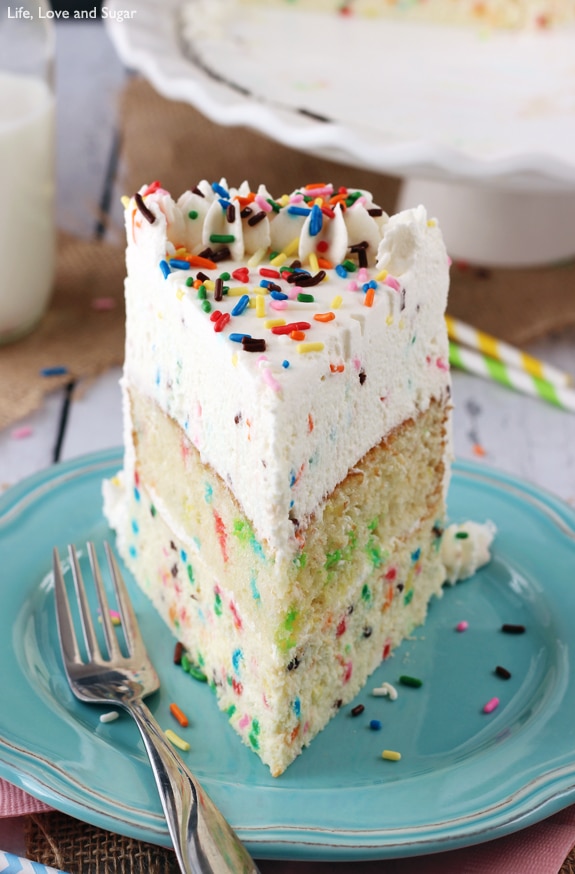 And the other exciting thing we have planned starts Monday. We've got 14 fabulous bloggers coming together to bring you COOKIE DOUGH WEEK next week!! Who's as pumped as I am?!? If you aren't pumped, you better get pumped, because I know what they have in store for you and it's going to rock. your. world. So get ready.
Ok. Sorry for the long post, but I had so much to share with you! An awesome recipe, a super fun giveaway and cookie dough week next week! My head is going to explode from all the awesome-ness!
Don't forget to enter the giveaway below!

This giveaway is open to US Residents only, ages 18 and above. Please see additional terms and conditions at the bottom of the Rafflecopter. Giveaway closes at 11:59PM EST on March 25th.
A little more about what you win:
Best Ever Cupcake Icing Kit – my very favorite icing tips for cupcakes. It's 5 Ateco icing tips. I've been through a couple kits myself. They really are the best ever. And they come with a massive, reusable piping bag that fits the large tips perfectly. Rock on.
Rubber Spatula – It's Betty Crocker. It's awesome. It doesn't have ridges down the sides, so when you wipe of excess dough, there's none left in the crevices. That's how I roll.
Cupcake To-Go – for when you can't leave home without a cupcake. Happens to me all.the.time.
Polka Dot Cupcake Liners – because they are cute and you need them.
Piping bags – always needed.
Fun baking towel – says "A great many things can be resolved with kindness, even more with laughter, but there are some things that just require cake." Truer words have never been spoken.
Cookie Scoop – tos make sure your cookies are the right size. Very important for getting that perfect cookie.
Offset spatula – I use this to spread pretty much everything. I never knew how awesome it was until I started using one.
Fun sprinkles – you can never have too many.
Ghirardelli Chocolate Chips – what baking kit would be complete without chocolate?
Food Network Magazine – so many great recipes!
Silpat baking mat – helps you bake your cookies perfectly and evenly!
So, what are you waiting for? Enter the giveaway already! 🙂
Print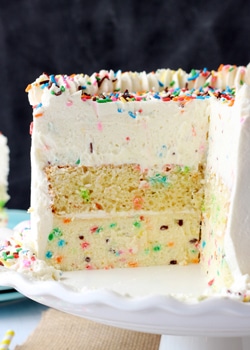 Recipe
Funfetti Millionaire Cake
Author:

Prep Time:

40 minutes

Cook Time:

1 hour 50 minutes

Total Time:

2 hours 30 minutes

Yield:

12

-

14

Slices

1

x

Category:

Dessert

Method:

Oven

Cuisine:

American
---
Description
This Funfetti Millionaire Cake is funfetti overload! With layers of moist cake, creamy cheesecake and fluffy mousse, there's funfetti in every one. It's the ultimate funfetti confection!
---
Scale
Ingredients
FUNFETTI CHEESECAKE
24 oz

cream cheese

1 cup

sugar

3 tbsp

flour

1 cup

sour cream

4

eggs

3

–

4

tbsp sprinkles

1 1/4 tsp

almond extract

1 1/4 tsp

butter extract
FUNFETTI CAKE
2 cups

Pillsbury Funfetti Cake Mix

4 tbsp

vegetable oil

2

eggs

2/3 cup

water
FUNFETTI MOUSSE
1 tsp

+

1/8 tsp

powdered gelatin

1 1/2

  tablespoon water

9 ounces

white chocolate chips

2 1/4 cups

cold heavy cream

1 tsp

almond extract

1 tsp

butter extract

4 tbsp

sprinkles
WHIPPED VANILLA ICING
2 1/2 cups

heavy whipping cream

1 1/4 cups

powdered sugar

1 1/4 tsp

vanilla extract
---
Instructions
TO MAKE THE FUNFETTI CHEESECAKE:
1. Preheat oven to 300 degrees. Line the bottom of a 9 inch springform pan with parchment paper and grease the sides.
2. In a large bowl, blend the cream cheese, sugar and flour. Use low speed to keep less air from getting into the batter.
3. Add the sour cream and 2 eggs. Beat until just combined.
4. Add other 2 eggs, sprinkles and almond and butter extracts. Beat until combined.
5. Pour the filling into the pan. Drop onto the counter a few times to release any air bubbles.
6. Wrap bottom of pan in aluminum foil and prepare it for a water bath.
7. Place foil wrapped pan in a another pan large enough for a water bath. Fill water pan with warm water about half way up the sides of the springform pan.
8. Bake for 1 hour and 30 minutes.
9. Turn off heat and leave in oven with door closed for 20 minutes or until set. Center of cheesecake will not look fully cooked, but will continue to cook in the oven.
10. Open oven door halfway and let cool for about 10 minutes. Cheesecake will be very tall, almost over the edge of the pan, but will begin to fall as it cools.
11. Refrigerate until firm 5-6 hours.
12. Remove cheesecake from springform pan to use later.
TO MAKE THE FUNFETTI CAKE:
1. Line the bottom of the same sized 9 inch springform pan used for the cheesecake with parchment paper and grease the sides.
2. Mix cake mix, oil, eggs and water together until well combined.
3. Pour into prepared pan and bake at 350 degrees for 20-25 minutes, or until a toothpick inserted comes out with a few crumbs.
4. Allow cake to cool for 5-8 minutes, then remove to cooling rack to cool completely.
5. When cool, remove cake dome from top of cake.
TO MAKE THE FUNFETTI MOUSSE:
1. In a small bowl, sprinkle the gelatin over the water, let stand for about 5 minutes. Place mixer bowl and whisk attachment into the freezer for about 10 minutes.
2. Place the white chocolate chips in a medium bowl
3. Microwave 3/4 cup of heavy cream until it begins to boil.
4. Add gelatin mixture to the heavy cream and whisk until dissolved. Be careful – the cream will bubble up when the gelatin is added.
5. Pour cream over the white chocolate chips and let sit for about a minute.
6. Whisk until chocolate is melted and mixture is smooth. Set aside, cooling for about 5-8 minutes.
7. Take bowl out and whisk out of freezer and whisk remaining 1 1/2 cups heavy cream at high speed until it begins to thicken.
8. Add almond and butter extracts and continue whisking on high until soft peaks form.
9. Add about a third of the whipped cream to the chocolate mixture and mix well.
10. Add remaining whipped cream and sprinkles and mix until well combined. Set aside and move on to next steps.
TO BEGIN PUTTING THE CAKE TOGETHER:
1. Prepare the same springform pan you used to make the cheesecake and cake. Put parchment paper on the bottom and around the edges, sticking up above the top edge of the pan.
2. Place the funfetti cake into the cake pan.
3. Pour the funfetti mousse on top of the funfetti cake and spread evenly.
4. Refrigerate until set, about 2 1/2 hours.
ONCE THE MOUSSE HAS SET, MAKE THE WHIPPED VANILLA ICING:
1. Put mixing bowl and whisk attachment in freezer for about 10 minutes.
2. Remove bowl and whisk from freezer and whip cream on high until it begins to thicken.
3. Add vanilla extract and powdered sugar and whip on high until thick and creamy.
TO FINISH OFF THE CAKE:
1. Get funfetti cheesecake out of refrigerator, as well as the funfetti cake and mousse that are already layered together.
2. Place funfetti cheesecake on a cake board, or the plate you will service it on.
3. Remove funfetti cake and mousse layers from springform pan.
4. Spread a thin layer of icing on top of the cheesecake.
5. Place the funfetti cake and mousse layers on top of the cheesecake, using the cake to lift it. The cake should end up as the middle layer, with the cheesecake on bottom and the mousse on top.
6. Ice the cake with the remaining whipped icing. Decorate with additional sprinkles, if desired.
7. Refrigerate until ready to serve.
---
Keywords: funfetti cake recipe, layer cake, layer cake recipe, best cake recipe, best vanilla cake recipe, best birthday cake recipe, birthday cake recipe, homemade cake recipe, cake recipe from scratch
Enjoy!
This post linked to Inside BruCrew Life, Mandy's Recipe Box, Chef In Training, Pint Sized Baker, This Gal Cooks, I Should Be Mopping The Floor, Lamberts Lately, What's Cooking Love?, Buns In My Oven
You might also like
Funfetti Cake Batter Chocolate Chip Cookies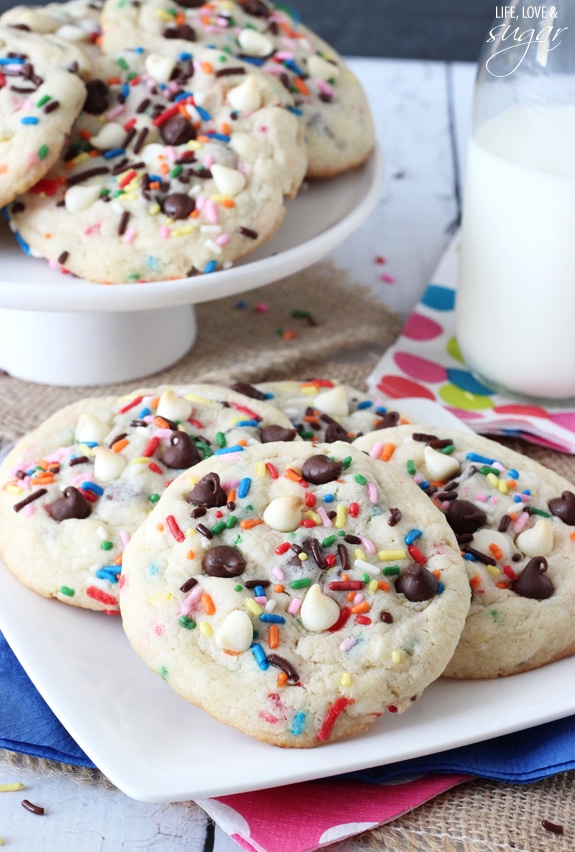 Funfetti White Chocolate Chip Cookie Cake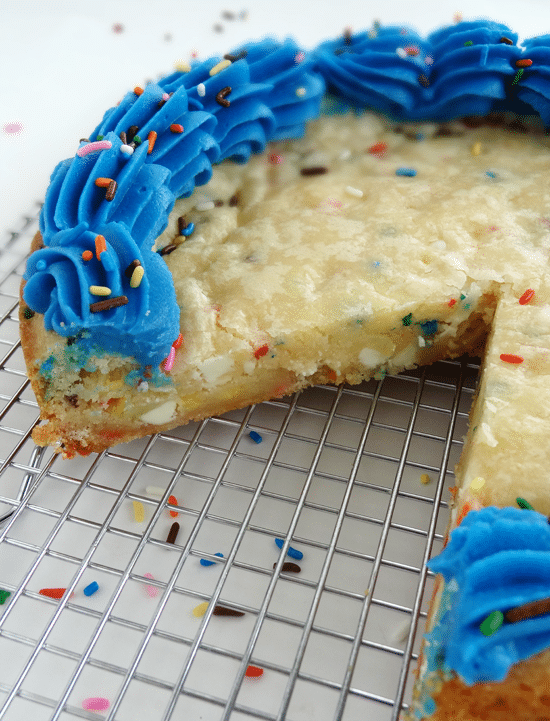 Funfetti Cake Batter Ice Cream Cake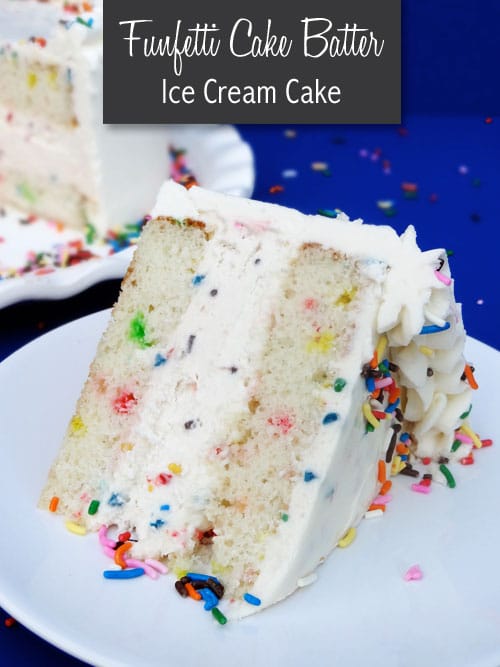 This post may contain affiliate sales links. Please read my disclosure policy.