Funfetti Cheesecake with Cake Bottom
This Funfetti Cheesecake is thick, creamy and delicious! And to make it even better, it's got a cake bottom instead of your average crust. It's super fun and perfect for celebrating today's occasion!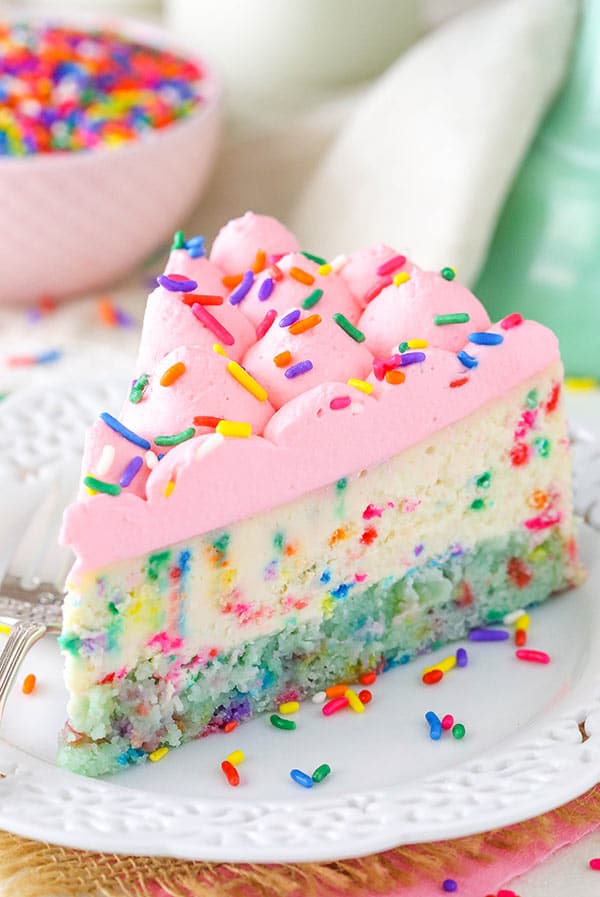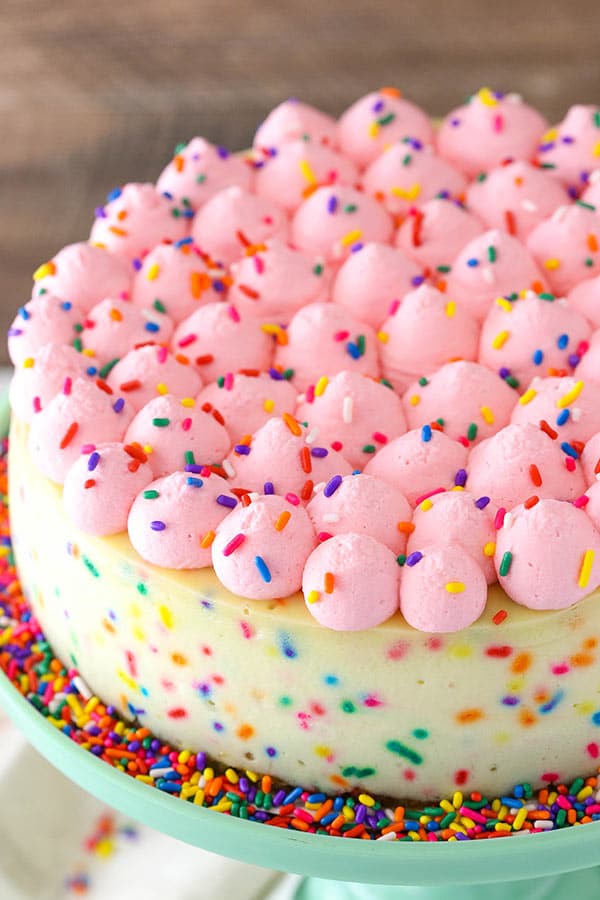 So lately it feels like it's been all about the babies around here. Today is still about babies, but not about ours. Today I am celebrating a sweet friend of mine. Sally from Sally's Baking Addiction is expecting her first child in September and today a bunch of us bloggers are celebrating her and her baby with a virtual baby shower.
Sally's blog is one that I started reading before I ever even created my own. If you're not familiar with it, you must check it out. And after watching as she's gotten engaged, married and is now expecting her first child, I couldn't be more thrilled to celebrate her today. I've had the pleasure of meeting and getting to know her and she is just as super sweet as you would expect!
And even more fun – she is expecting her baby in September – the same month that her third cookbook comes out. Sally is the queen of cookies and her new cookbook is all about just that – cookies! I actually have a preview copy and will be sharing a recipe from it on the blog soon.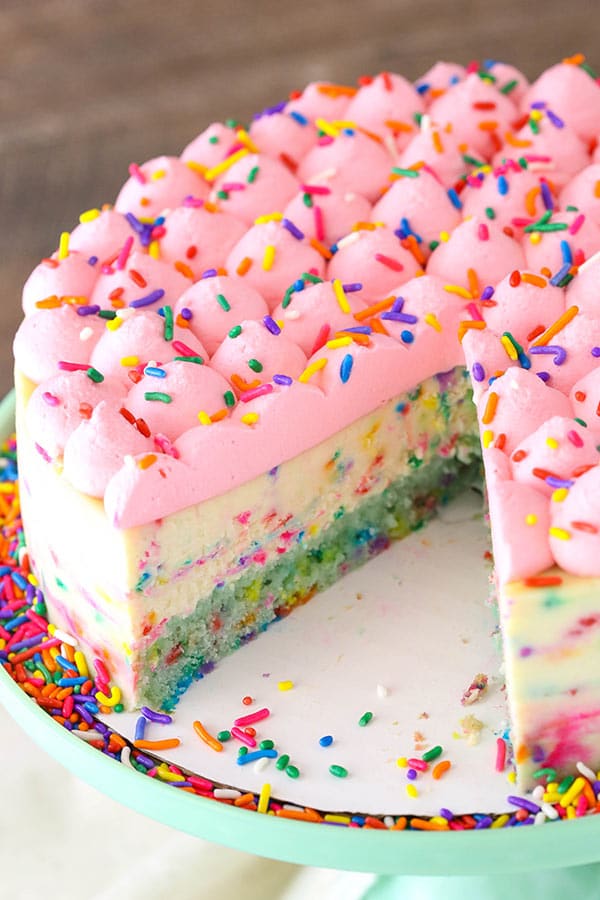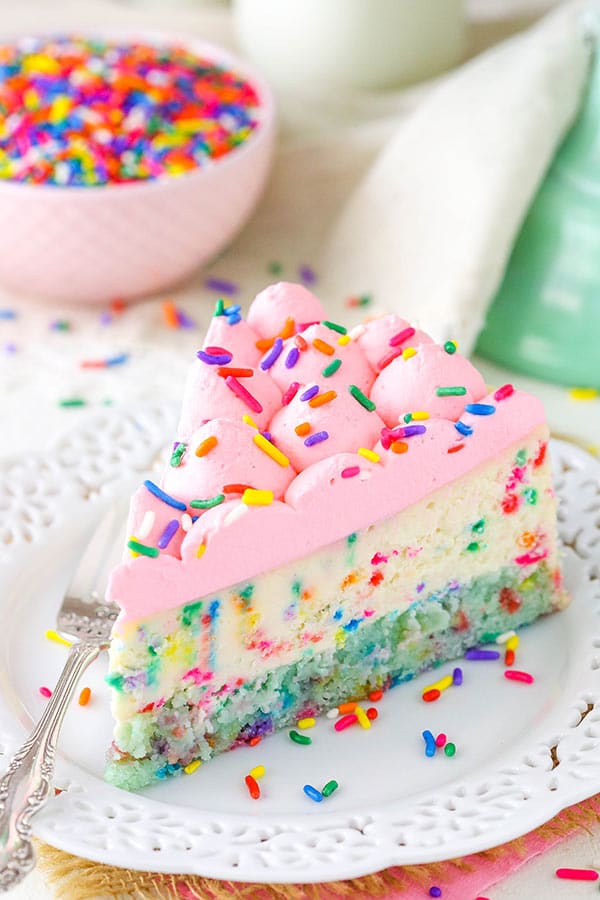 But today is all about the sprinkles! Sally is definitely a sprinkle lover so today we are all celebrating with fun sprinkle-filled recipes. My contribution is this delicious cheesecake.
This recipe is loosely based on my Boston Cream Pie Cheesecake. That one also has a cake bottom, which is such a fun combo. No need to worry, the cake doesn't dry out when you bake it a second time with the cheesecake. It stays moist and perfect!
To make this cheesecake, the first thing you'll do is make the cake bottom. I dyed mine a shade of teal and added sprinkles, of course! You'll want to use the same springform pan that you'll use later to bake the cheesecake.
Once the cake is baked and cooled, it's time to make the cheesecake. I find the cheesecake bakes best if you wash the sides of the springform pan and re-spray it with baking spray after baking the cake layer and before adding the cheesecake filling.
The filling of self is pretty straightforward. Fill it with sprinkles and then bake in a water bath. I know water baths aren't the most fun, but they really do lend the best cheesecakes. Without it, cheesecakes tend to be dry, crack and sink in the middle.
To finish off the cheesecake, I added some fun pink whipped cream on top and more sprinkles. Don't be fooled – it's no indication of the gender of the baby, which Sally hasn't revealed yet. I just thought the mix of teal and pink would be super fun! I love how it turned out and it's quite tasty! The smooth and creamy cheesecake with the moist cake is heavenly. I hope you enjoy it as much as we did!
Sally – I wish you all the best with your growing family! Such an exciting time! Congratulations!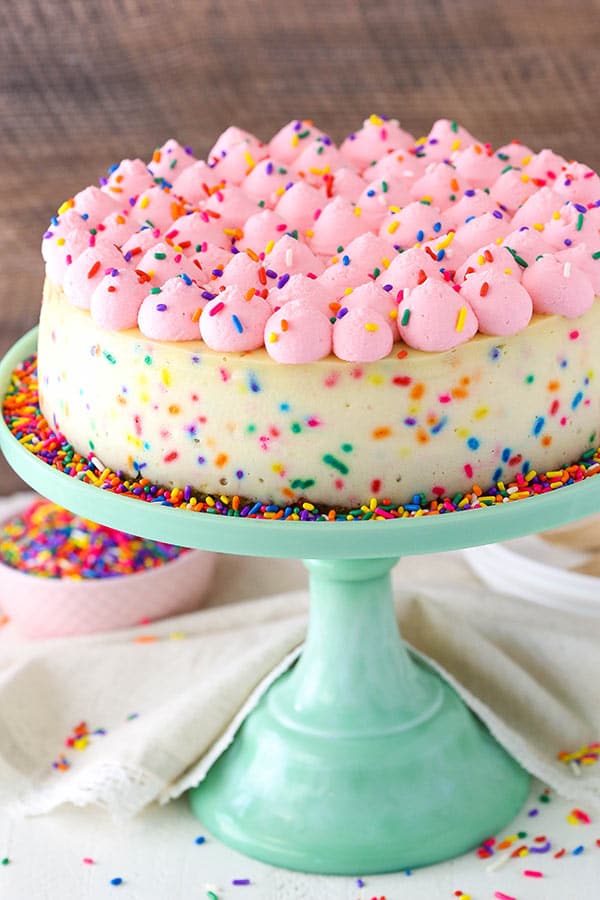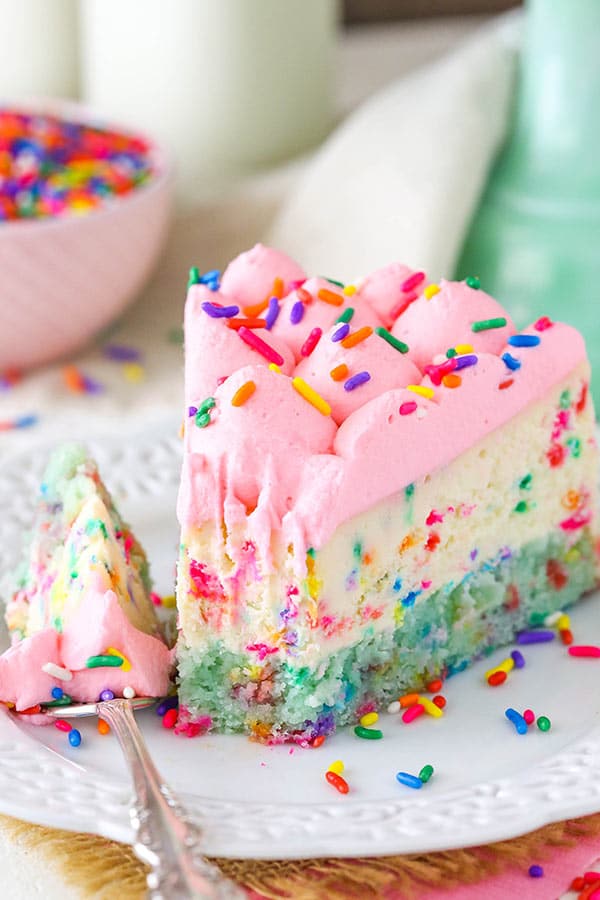 Be sure to check out the other recipes celebrating Sally today!
Funfetti Quick Bread
Chocolate Funfetti Cheesecake Bundt Cake
Funfetti Lush
Rice Krispie Treats
Oreo Funfetti Cupcakes
Loaded Unicorn Bark
Funfetti Bundt Cake
Pink Lemonade Cake
Funfetti Cookie Cups
Homemade Pop Tarts
Funfetti Coconut Macaroons
Gluten Free Confetti Thumbprint Cookies
Funfetti Cake Batter Dip
Funfetti Frosting
Chocolate Chip Cookie Pie
Funfetti Cheesecake with Cake Bottom
Yield:

12

-

14

Slices

1

x
Category:

Dessert

Method:

Oven

Cuisine:

American
Ingredients
VANILLA CAKE
1/4 cup

(56g) salted butter, room temperature

1/2 cup

(104g) sugar

1/4 cup

(58g) sour cream, room temperature

1 tsp

vanilla extract

2

large egg whites, room temperature

3/4 cup

s (98g) all purpose flour

1 1/4 tsp

baking powder

1/4 cup

(60ml) milk, room temperature

1 tbsp

(15ml) water, room temperature

2 tbsp

sprinkles
Teal gel icing color, optional
CHEESECAKE FILLING
24 ounce

s (678g) cream cheese, room temperature

1 cup

(207g) sugar

3 tbsp

(24g) all purpose flour

1 cup

(230g) sour cream, room temperature

1 tbsp

vanilla extract

3

large eggs, room temperature

5 tbsp

sprinkles
WHIPPED CREAM TOPPING
1 1/4 cup

s (300ml) heavy whipping cream, cold

3/4 cup

(86g) powdered sugar

1 tsp

vanilla extract
Pink and Peach gel icing color
Sprinkles
Instructions
TO MAKE THE CAKE LAYER:
1. Preheat oven to 350°F (176°C). Prepare a 9 inch springform pan with a circle of parchment paper in the bottom and grease the sides.
2. To make the cake batter, beat the sugar and butter together until light in color and fluffy, 3-4 minutes. Don't skimp on the creaming.
3. Add the sour cream and vanilla extract and mix until well incorporated.
4. Add the egg whites and mix until well combined.
5. Combine flour and baking powder in a separate bowl, then add half of the dry ingredients to batter and mix until well incorporated.
6. Add the milk and water and mix until well incorporated.
7. Add the remaining dry ingredients and mix until well incorporated and smooth.
8. Stir in the sprinkles and color the batter, if desired.
9. Spread the cake batter evenly into the bottom of the prepared pan.
10. Bake for 18-20 minutes, or until a toothpick inserted comes out with a few crumbs. Set the cake aside to cool.
TO MAKE THE CHEESECAKE FILLING:
11. Add the cream cheese, sugar and flour to a large mixer bowl and beat on low speed until completely combined and smooth. Be sure to use low speed to reduce the amount of air added to the batter, which can cause cracks. Scrape down the sides of the bowl.
12. Add the sour cream and vanilla extract mix on low speed until well combined.
13. Add the eggs one at a time, mixing slowly to combine after each addition. Scrape down the sides of the bowl as needed to make sure everything is well combined.
14. Stir in the sprinkles.
15. When the cake layer has cooled, reduce the oven temperature to 300°F (148°C). Remove the sides of the springform pan and clean it off, the respray it with non-stick spray. You want to be sure it's well done so that they cheesecake doesn't stick to the sides after baking.
16. Reset the springform pan edges around the cake and add the cream cheese filling to the pan.
17. Prepare the pan for a water bath by wrapping the outside of the pan with aluminum foil, then place the springform pan inside another larger pan. Fill the outside pan with enough warm water to go about halfway up the sides of the springform pan. The water should not go above the top edge of the aluminum foil on the springform pan.
18. Bake for 1 hour. The center should be set, but still jiggly.
19. Turn off the oven and leave the door closed for 30 minutes. The cheesecake will continue to cook, but slowly begin to cool as well.
20. Crack the door of the oven for 30 minutes to allow the cheesecake to continue to cool slowly. This process helps prevent cracking.
21. Remove the cheesecake from the oven and water bath wrapping and refrigerate until firm, 5-6 hours or overnight. Once completely cool and firm, remove from the springform pan.
TO FINISH OFF THE CHEESECAKE
22. Add the heavy whipping cream, powdered sugar and vanilla extract to a large mixer bowl and whip on high speed until stiff peaks form.
23. Add the icing color to get the shade of pink you want.
24. Pipe the whipped cream on top of the cheesecake. I used a large round tip, Ateco 808.
25. Add a few more sprinkles on top of the cheesecake, then refrigerate until ready to serve. Cheesecake is best for 3-4 days.
Enjoy!

This post contains affiliate links.