This Browned Butter Pecan Cheesecake recipe is made with toasted buttered pecans and browned butter for a homemade cheesecake that's full of flavor and perfect for fall! I'm totally in love!
There's nothing better than homemade cheesecake with pecans. If you're loving this fall combo, you'll definitely want to make a Turtle Cheesecake and this yummy Pecan Streusel Pumpkin Cheesecake too!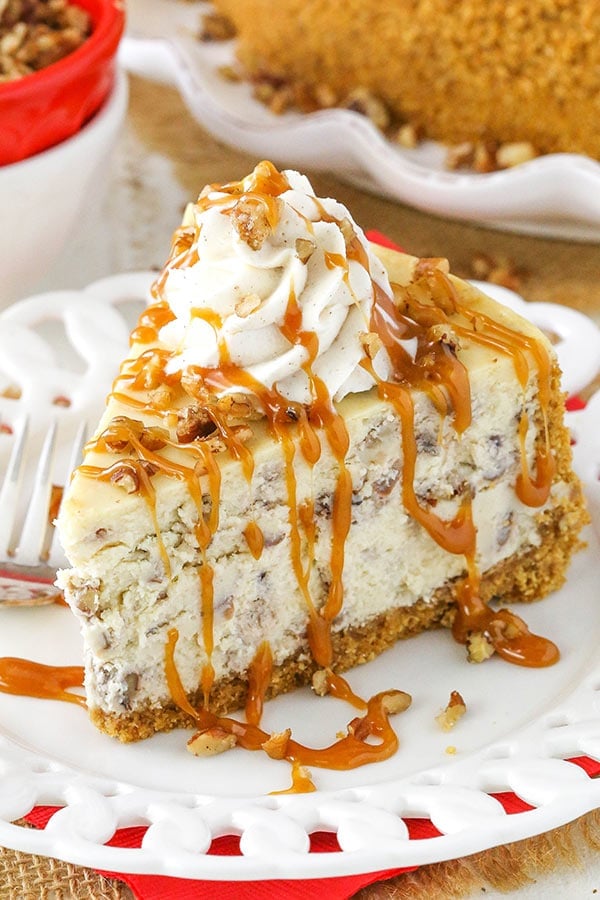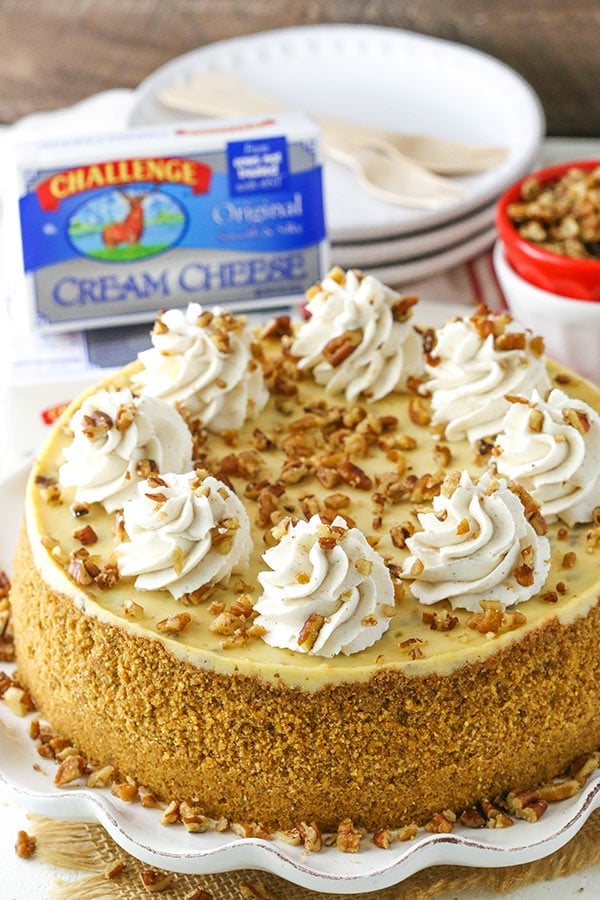 An Easy Butter Pecan Cheesecake Recipe
This post is sponsored by Challenge Dairy, but all opinions are my own.
Are you ready for fall? I know I am. We had a good taste of some fall weather this weekend and I was loving it. Cool evenings and mornings and warmer days, but not too hot – it was beautiful! I hope it sticks around because I'm ready to stick with jeans instead of shorts.
Speaking of jeans and shorts, they are more difficult to find in maternity wear than I would've thought. There's not much in stores so it's like you have to buy things online and while that's fine, pants and shorts are kind of tough when you can't try them on first. I bought one pair of maternity shorts and just don't love them. Since colder weather should be coming and I'll spend most of my pregnancy in warmer clothing, I'd rather just get some longer pants and stick with it. So I'm all for the cooler weather sticking around. 🙂 Twin bellies grow quickly and basically nothing fits at this point.
The other thing about fall is the flavors. I'm officially ready! I feel like today's cheesecake is a great way to break into fall. Between the toasted pecans and browned butter, it just feels like the kind of dessert I can't wait to cuddle up with in this cooler weather. And you guys, it's SO good!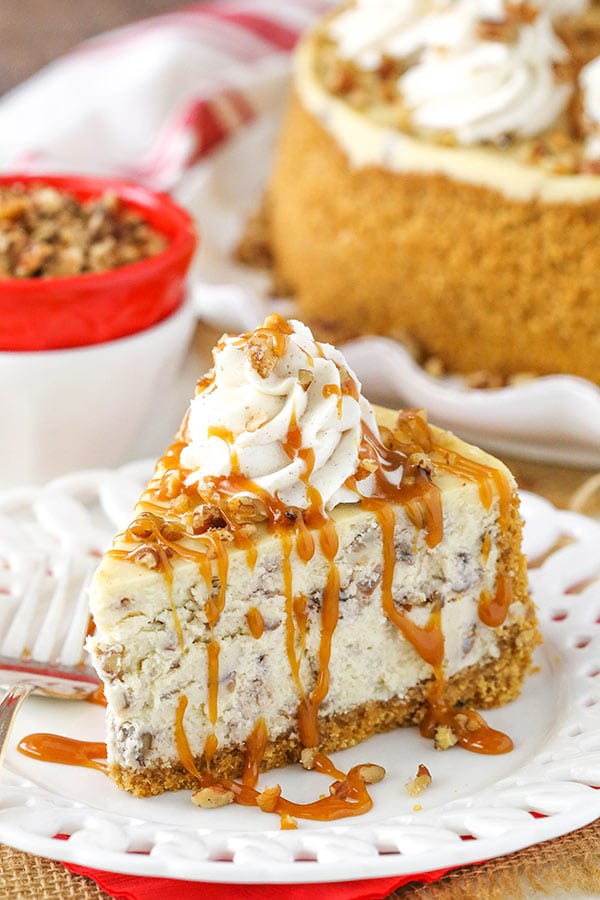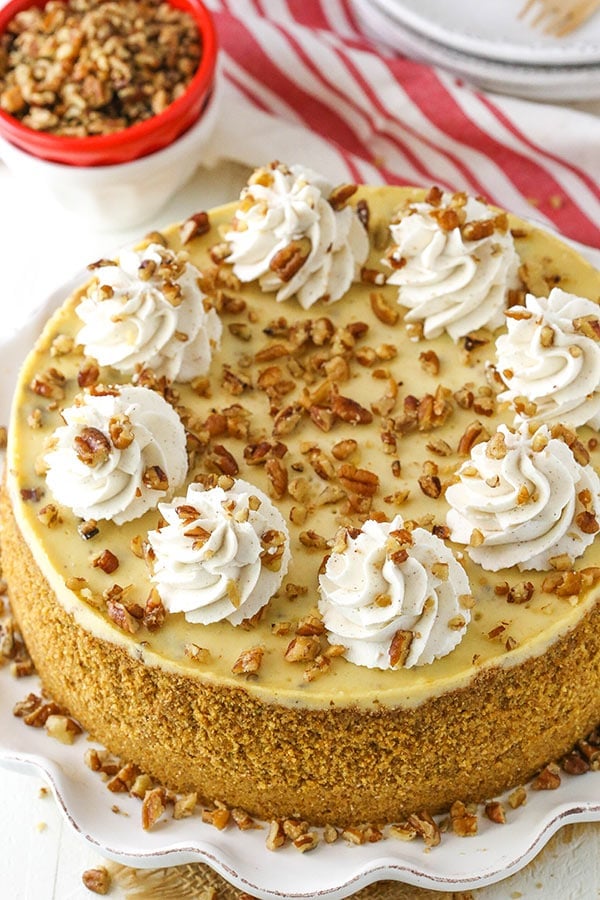 How To Toast Pecans
First, there's the pecans. They are tossed with some butter and brown sugar and toasted. Of course I use Challenge Butter, which I highly recommend. It's a great, high quality butter that's 100% real cream and farm to fridge in two days, so you know it's fresh. Definitely be sure to toast the pecans, because they are SO much better that way. It improves their texture and brings out their flavor. Without toasting them, the flavor is just…off.
And then there's the crust. It's your typical graham cracker crust – with one exception. I included a bit of cinnamon. While I could've added cinnamon to the filling, I didn't want it to overpower the browned butter and pecans. So instead, it's in the crust and it's perfect! You definitely get that hint of cinnamon (that I obsess over every fall), but it doesn't take away from everything else. Love it!
How To Make Browned Butter
And who could forget that lovely cheesecake filling? Yet again, I'm using Challenge Cream Cheese, as close to homemade as it gets with nothing artificial and no added hormones, which I love! And there's the browned butter. If you've never made it before, don't be intimidated. It really is easy. You literally melt butter and wait for it to brown. You just need a little patience. There's also the brown sugar to enhance the flavor of the pecans and browned butter. All in all – the filling is pure heaven. Full of flavor, smooth, creamy (with the crunch of pecans) and so darn tasty!
The final cheesecake is one you'll definitely want to make over and over this fall. I drizzled mine with some caramel sauce, which I think is totally awesome, but feel free to go without too. I actually added a little browned butter to my homemade caramel sauce too, which was a fun touch. 🙂 Either way, you are sure to love it! You just might not want to share.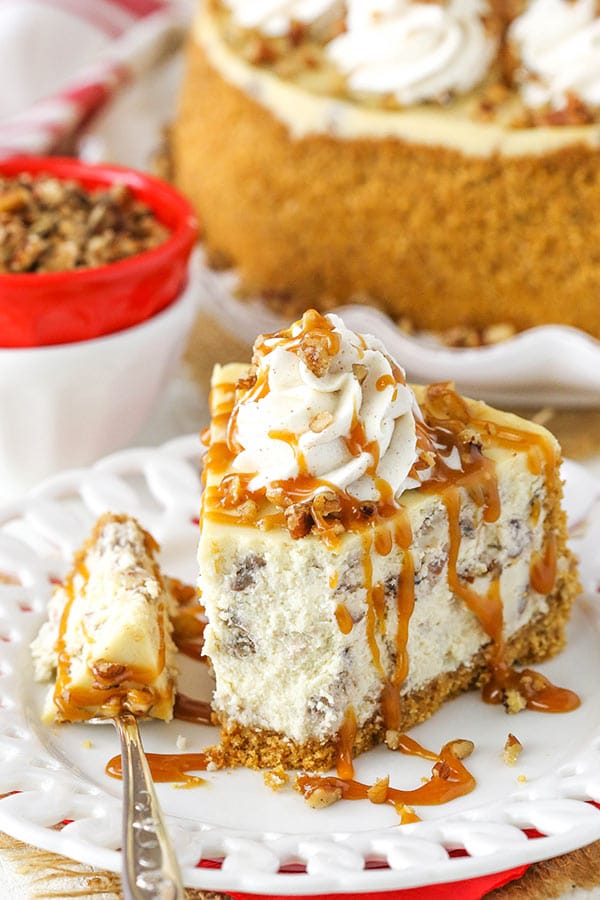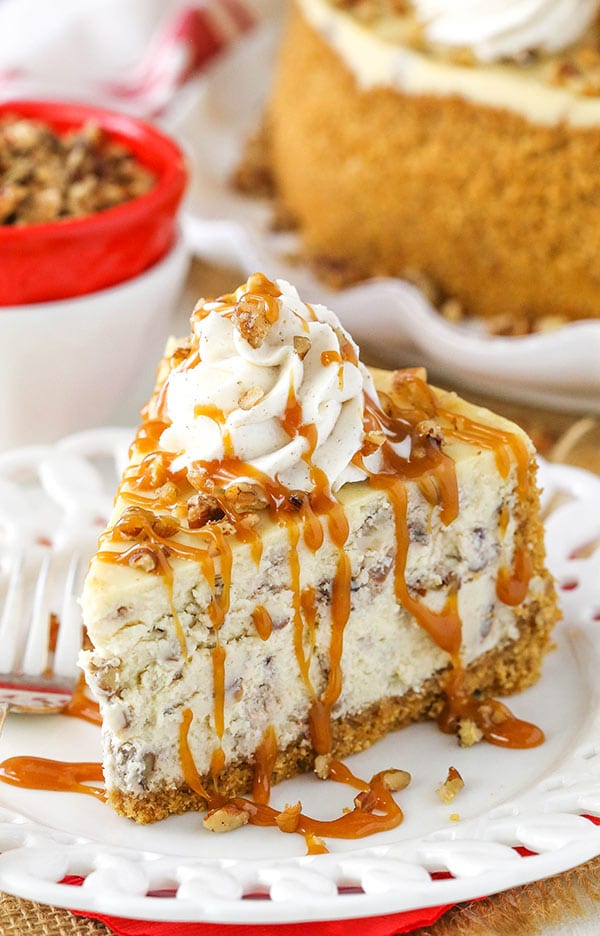 Read transcript
Print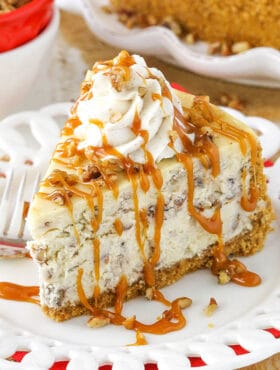 Recipe
Browned Butter Pecan Cheesecake
Author:

Prep Time:

30 minutes

Cook Time:

1 hour 20 minutes

Total Time:

1 hour 50 minutes

Yield:

12-14 Slices

Category:

Dessert

Method:

Oven

Cuisine:

American
---
Description
This Browned Butter Pecan Cheesecake recipe is made with toasted buttered pecans and browned butter for a homemade cheesecake that's full of flavor and perfect for fall! I'm totally in love!
---
Ingredients
BUTTER PECANS
1 1/2 cups

(

247g

) finely chopped pecans

2 tbsp

light brown sugar, loosely packed

2 tbsp

(

28g

) Challenge salted butter, melted
CHEESECAKE FILLING
6 tbsp

(

84g

) Challenge salted butter

24 ounces

(

678g

) Challenge cream cheese, room temperature

1/2 cup

(

104g

) sugar

3/4 cup

(

108g

) light brown sugar. loosely packed

3 tbsp

(

24g

) all purpose flour

3/4 cup

(

173g

) sour cream, room temperature

1 tbsp

vanilla extract

4

large eggs, room temperature

1 cup

toasted pecans (above)
CRUST
2 ¼ cups

(

302g

) graham cracker crumbs

½ cup

(

112g

) Challenge salted butter, melted

3 tbsp

(

39g

) sugar

1 tsp

ground cinnamon
CINNAMON WHIPPED CREAM
1 cup

(240ml) heavy whipping cream, cold

1/2 cup

(

58g

) powdered sugar

1 tsp

vanilla extract

1/2 tsp

ground cinnamon
---
Instructions
TOAST THE PECANS:

1. Preheat the oven to 350°F (176°C). Line a cookie sheet with parchment paper or a silicone baking mat.
2. Combine the melted butter, pecans and brown sugar in a medium sized bowl and toss to coat.
3. Spread the pecans evenly onto the cookie sheet and bake for 5-7 minutes, or until toasted.
4. Set pecans aside to cool.
BROWN THE BUTTER
5. To make the browned butter for the cheesecake filling, melt the butter in a saucepan over medium heat. It's best to use a light colored pan so that you can see the butter browning. Whisk the butter occasionally so that it cooks evenly.
6. Cook the butter until it turns a nice toasty brown. It will foam up at first, but it will eventually subside and you'll have browned butter. Some of the brown bits may separate, but that's ok. Once the butter has browned, pour it into a heat-proof bowl and set it aside to cool.
CRUST
7. Preheat oven to 325°F (163°C). Line a 9-inch (23cm) springform pan with parchment paper in the bottom and grease the sides.
8. Combine the crust ingredients in a small bowl. Press the mixture into the bottom and up the sides of the springform pan.
9. Bake the crust for 10 minutes, then set aside to cool.
10. Cover the outsides of the pan with aluminum foil so that water from the water bath cannot get in (see how I prepare my pan for a water bath). Set prepared pan aside.
CHEESECAKE FILLING
11. Reduce oven temperature to 300°F (148°C).
12. In a large bowl, beat the cream cheese, sugars and flour on low speed until well completely combined and smooth. Be sure to use low speed to reduce the amount of air added to the batter, which can cause cracks. Scrape down the sides of the bowl.
13. Add the sour cream, vanilla extract and browned butter and mix on low speed until well combined.
14. Add the eggs one at a time, mixing slowly to combine after each addition. Scrape down the sides of the bowl as needed to make sure everything is well combined.
15. Stir in 1 cup of the toasted pecans.
16. Pour the cheesecake batter evenly into the crust.
17. Place the springform pan inside another larger pan. Fill the outside pan with enough warm water to go about halfway up the sides of the springform pan. The water should not go above the top edge of the aluminum foil on the springform pan.
18. Bake for 1 hour 5 minutes. The center should be set, but still jiggly.
19. Turn off the oven and leave the door closed for 30 minutes. The cheesecake will continue to cook, but slowly begin to cool as well.
20. Crack the door of the oven for 30 minutes to allow the cheesecake to continue to cool slowly. This process helps prevent cracking.
21. Remove the cheesecake from the oven and water bath wrapping and refrigerate until firm, 5-6 hours or overnight.
22. To finish off the cheesecake, make the whipped cream. Add the heavy whipping cream, powdered sugar, vanilla extract and cinnamon to a large mixer bowl. Whip on high speed until stiff peaks form.
23. Pipe swirls of whipped cream onto the cheesecake and finish off with the remaining toasted pecans. Refrigerate until ready to serve.
Nutrition
Serving Size:

1 Slice

Calories:

576

Sugar:

31.1 g

Sodium:

450.9 mg

Fat:

39.5 g

Carbohydrates:

47.9 g

Protein:

9.6 g

Cholesterol:

137.8 mg
Keywords: easy cheesecake, pecan dessert, homemade cheesecake, how to make cheesecake, best cheesecake recipe, homemade whipped cream recipe, butter pecan cheesecake
Filed Under:
Enjoy!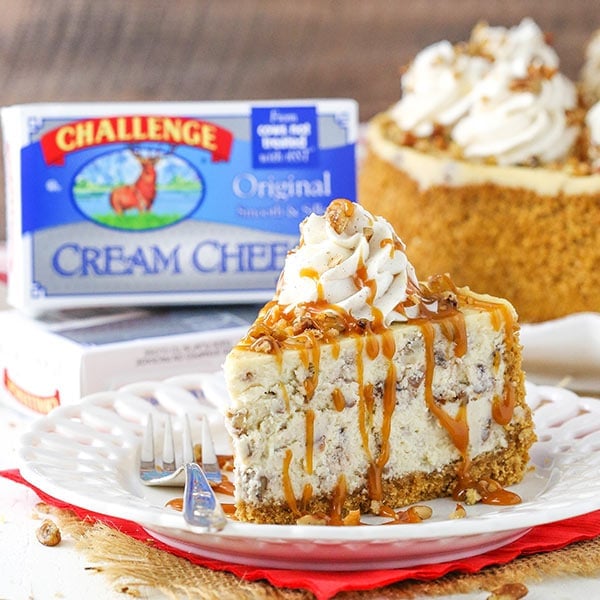 This post may contain affiliate sales links. Please read my disclosure policy.