Apple Snickerdoodle Cupcakes
These Apple Snickerdoodle Cupcakes are made with an apple cupcake layered with cinnamon sugar! They are snickerdoodle cookies in cupcake form!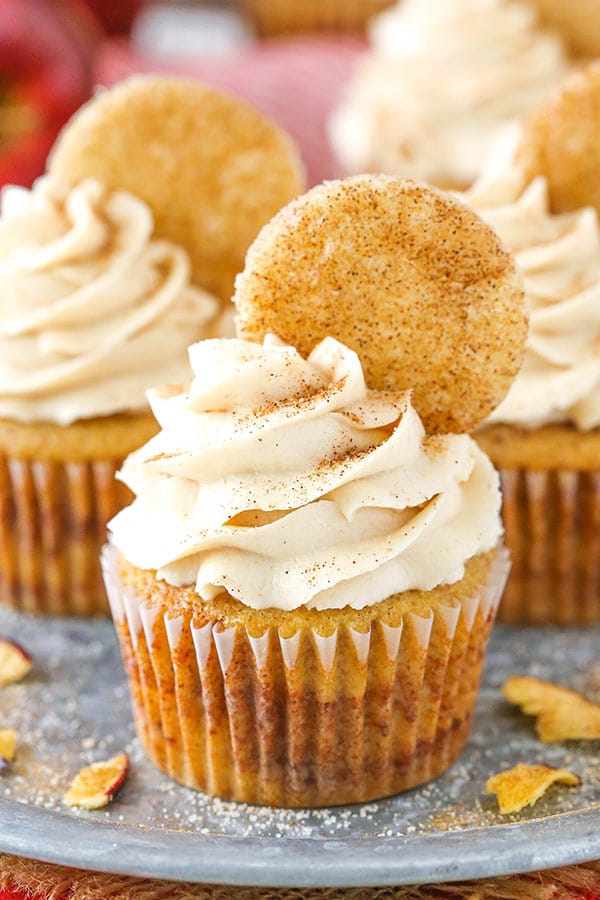 Apple Snickerdoodle Cupcakes Recipe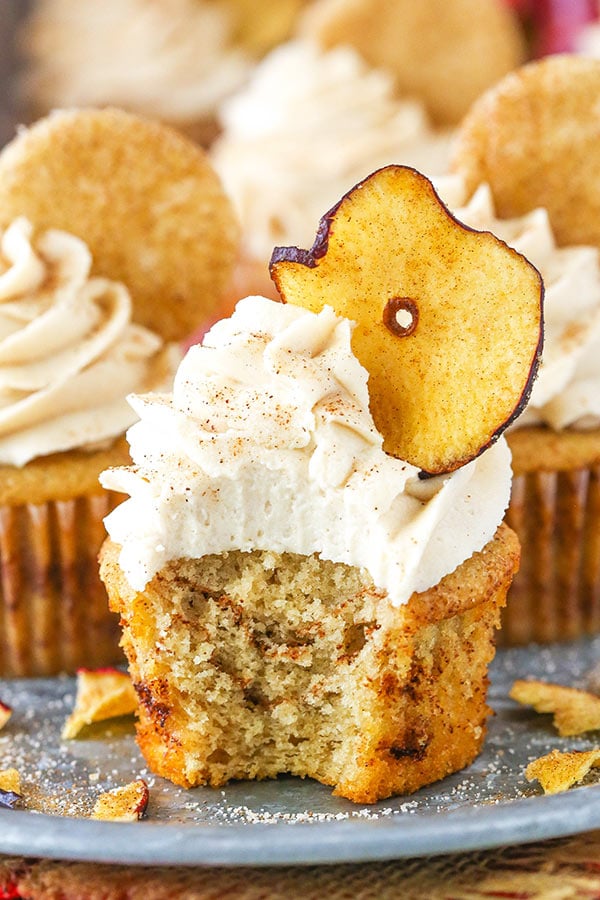 So a couple of week ago, I had my 12 week ultrasound of the twins. I hadn't had an ultrasound in what felt like forever! The last time I saw them, they still kind of looked like round blobs with teeny tiny little arms and legs. This time they totally looked like babies! It was awesome!
First of all, it's still kind of weird to see two babies in there. 🙂 Second, they look like little humans now. It's SO cool! You can seriously see bone structures like the spine and hands and feet. Not to mention that they were already moving around a ton. That was probably the coolest part. It's nutty to think that there are two little babies alive in my belly moving around so much like that – and I can't even feel it.
I'd been expecting to cry at my first ultrasound, but with the shock of discovering it was twins and the fact that they still looked like little circles, the tears didn't totally hit me until this most recent time. I basically cried the whole time. Seeing two actual babies in there moving around and seemingly healthy – it's overwhelming and amazing. I can't wait till my next ultrasound in a couple weeks. After that, I'll have them every two weeks to monitor the babies. I'm excited I'll get to see them so much. 🙂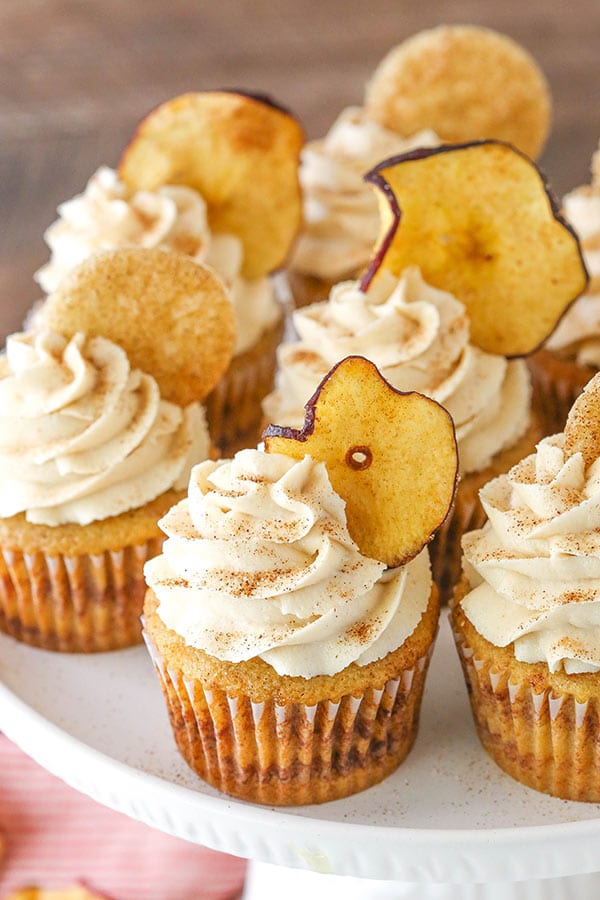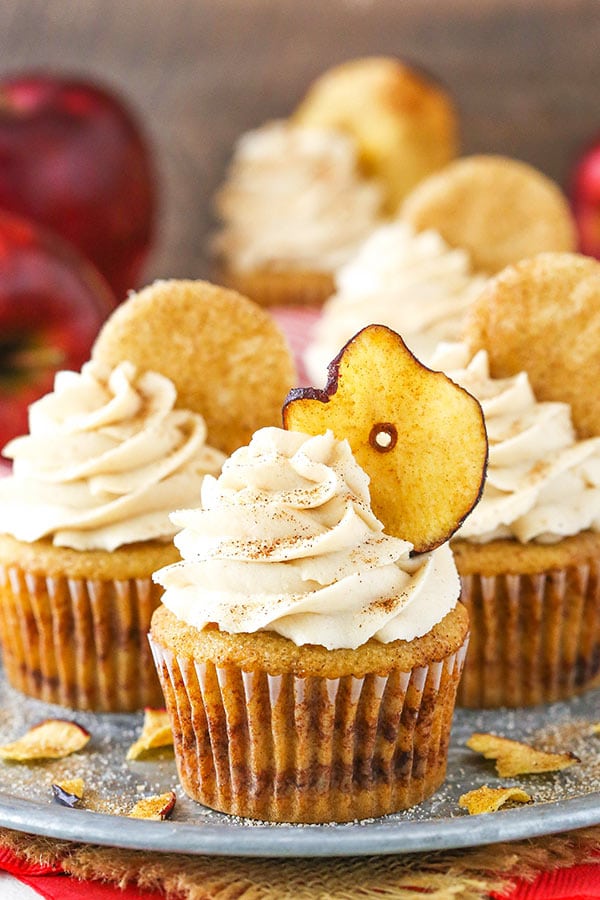 Another amazing thing (although admittedly not as cool 😉 ) are these cupcakes. I'm not craving sweets at this point, but these cupcakes are ones that I wanted to keep all to myself. It's fall in a cupcake and I'm loving them!
To start, there's the cupcakes, which have a few elements. First, there's the cupcake batter. The apple flavor comes from apple butter. Using apple butter in cupcakes is great and easy. It's like a very cooked down version of apple sauce, so there's less moisture and more apple flavor in a smaller amount. It gives the cupcakes great apple flavor without having to use a ton.
Then, when you add the batter to the cupcake liners, you'll actually do it in a few parts and layer cinnamon sugar into them. I did something similar in these Cinnamon Sugar Swirl Cupcakes several years ago and I was so excited to do something similar in these. The result is just as fantastic!
The cupcakes are topped with more apple flavor in the frosting. To finish them off, I added a sprinkle of leftover cinnamon sugar from the cupcakes and then either a mini snickerdoodle or apple chip on top. Not only are they a fabulous combination of apple and cinnamon sugar, they are so darn fun and cute for fall! Such a moist and delicious cupcake – you definitely need to try them!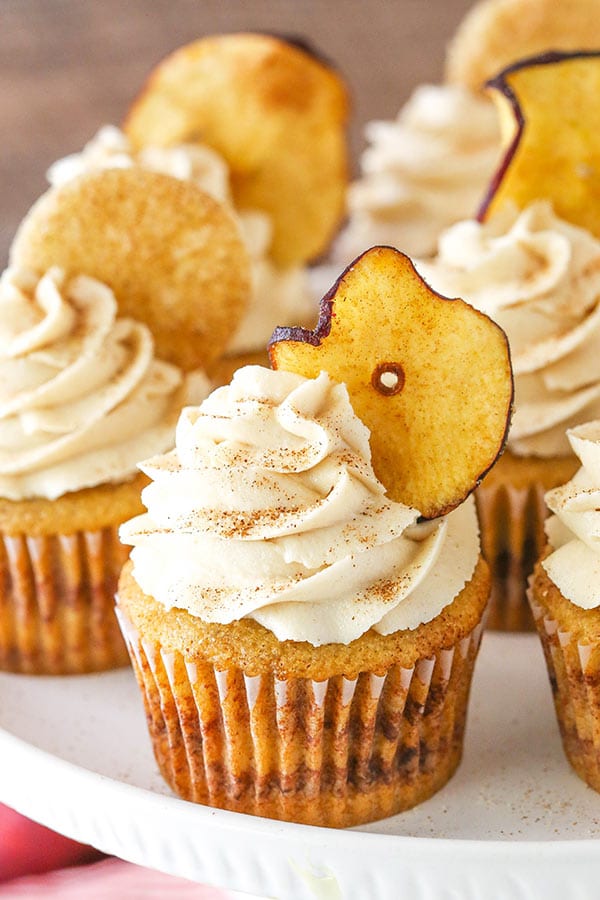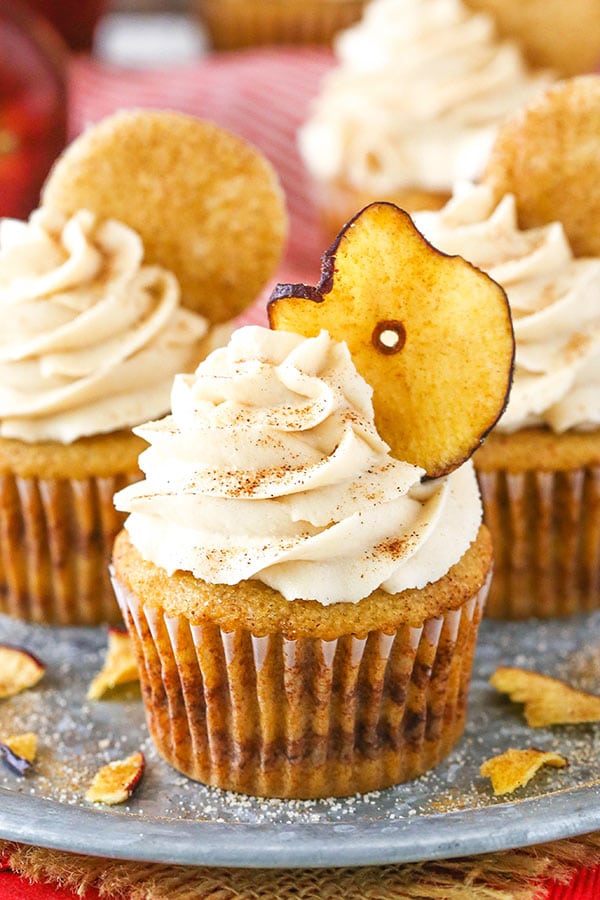 Apple Snickerdoodle Cupcakes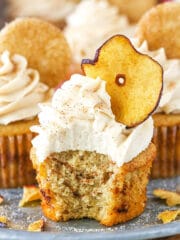 Yield:

12

-

14

Cupcakes

1

x
Category:

Dessert

Method:

Oven

Cuisine:

American
Ingredients
CINNAMON SUGAR APPLE CUPCAKES
6 tbsp

(84g) unsalted butter, room temperature

3/4 cup

s (155g) sugar

6 tbsp

(86g) sour cream

1/4 tsp

vanilla extract

3

egg whites

1 1/4 cup

s (163g) all-purpose flour

2 tsp

baking powder

1/2 tsp

salt

6 tbsp

(97g) apple butter

2 tbsp

(30ml) milk

1 1/2 tbsp

ground cinnamon

1/4 cup

(52g) sugar
APPLE FROSTING
1/2 cup

(112g) butter

1/2 cup

(95g) shortening

4 cup

s (460g) powdered sugar

4 tbsp

(65g) apple butter
Apple chips or mini snickerdoodles, optional
Instructions
1. Preheat oven to 350°F (176°C) and prepare a cupcake pan with cupcake liners.
2. In a large mixing bowl, cream butter and sugar together until light in color and fluffy, about 3-4 minutes.
3. Add sour cream and vanilla extract and mix until well combined.
4. Add egg whites in two batches, mixing until well combined after each. Scrape down the sides of the bowl as needed to be sure all ingredients are well incorporated.
5. Combine the flour, baking powder and salt in a separate bowl, set aside. Combine the apple butter and milk in a small measuring cup.
6. Add half of the dry ingredients to the batter and mix until well combined. Add the apple butter mixture and mix until well combined. Add remaining dry ingredients and mix until well combined. Scrape down the sides of the bowl as needed to be sure all ingredients are well incorporated.
7. In a small bowl, combine the cinnamon and sugar.
8. To fill the cupcake liners, add a little less than a tablespoon of batter to each liner. Sprinkle some cinnamon sugar over the batter, covering it. Add a little more batter to the liner, then another layer of cinnamon sugar. Finish them off with a little more batter, so the liners are filled about halfway, or just a bit more.
9. Bake for 17-19 minutes, or until a toothpick inserted comes out with a few crumbs. Remove from the oven and set aside on a cooling rack to cool.
10. To make the frosting, combine the butter and shortening and mix until smooth.
11. Add about half of the powdered sugar and the apple butter and mix until well combined.
12. Add the remaining powdered sugar and mix until smooth.
13. Pipe the frosting onto the cooled cupcakes. I used Ateco tip 844.
14. Sprinkle on some of the remaining cinnamon sugar from the cupcake filling, then top the cupcakes with some apple chips or mini snickerdoodles.
Enjoy!