Peach Pie Cupcakes
These Peach Pie Cupcakes are all my favorite elements of peach pie rolled into a cupcake – cinnamon, sugar and of course, peaches. They're moist, fluffy and will be your new favorite summertime cupcake!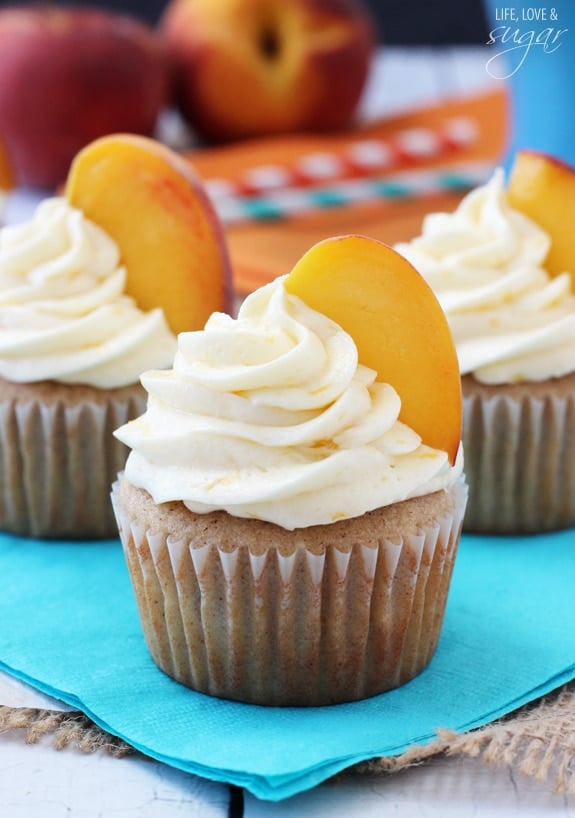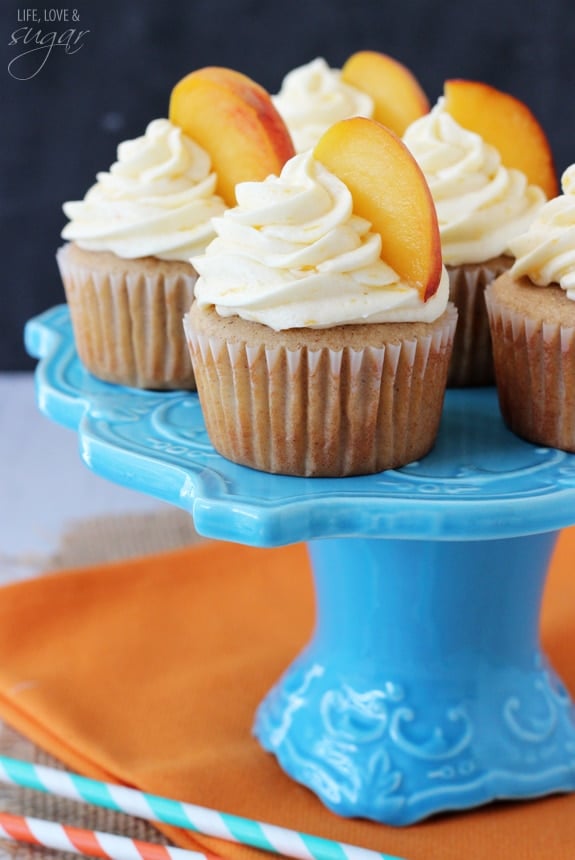 So do you remember the Thick and Chewy Chocolate Chip Cookies I posted last week? And how the hubs wasn't going to stop pestering me until I made him more? Well I finally did at the end of last week and he was thrilled.
A little later he went to go get another cookie and saw that I'd eaten one. He was not happy. Apparently, if I want cookies, I have to make my own because those are his.
I'm sorry, did I make those? Doesn't that make them mine and I'm just kindly sharing. 😉 He's such a nut. And big cookie guy.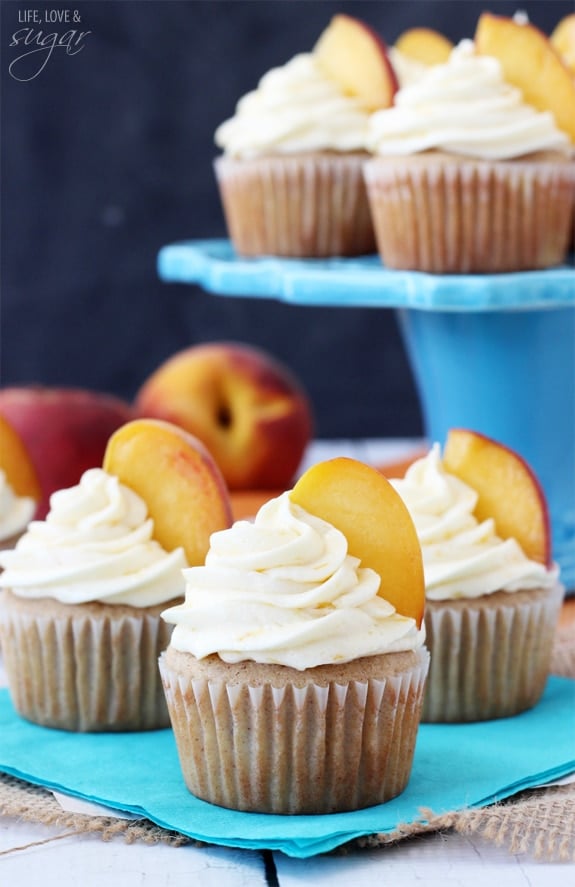 He didn't actually get around to tasting these Peach Pie Cupcakes because they were made the same week as the cookies and I couldn't catch his attention long enough to shove one in his mouth.
One of my other regular taste testers did taste them though. And he declared them to be his favorite cupcake so far.
To be fair, he's a big peach guy. Peach fuzz and all.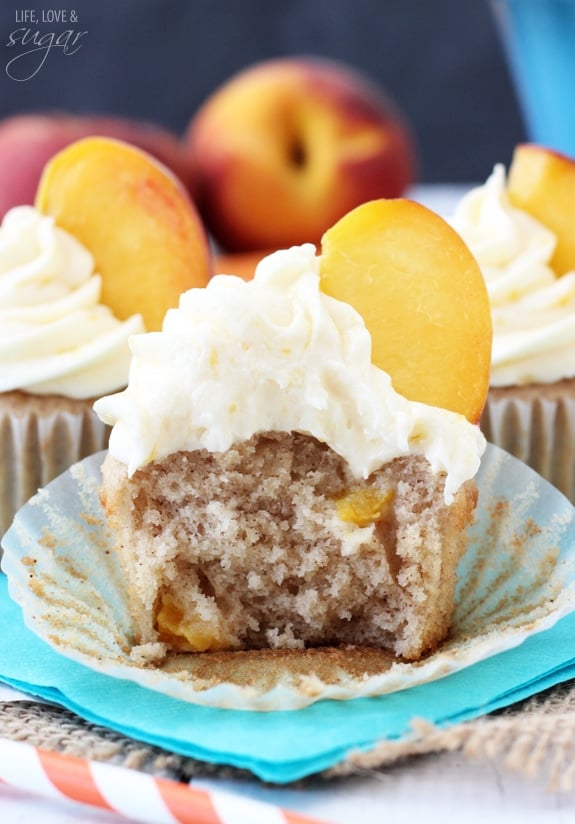 They are delicious though. The icing is pure peach heaven and gives the cupcakes most of the peach flavor. There are chunks of peach in the cupcakes as well, but the icing is where it's at.
One note about making the icing. Peaches are more or less liquid-y depending on how ripe they are. More ripe = more liquid. So when making the icing, start with about 5 tbsp of peach puree and then add more from there until you get the right flavor and consistency. If your peaches are more ripe, you probably won't want to use as much puree if you want a thicker icing.
However, if you find you've added too much puree, you can always thicken it back up with more powdered sugar. Icing is forgiving like that. It's one of it's many great qualities.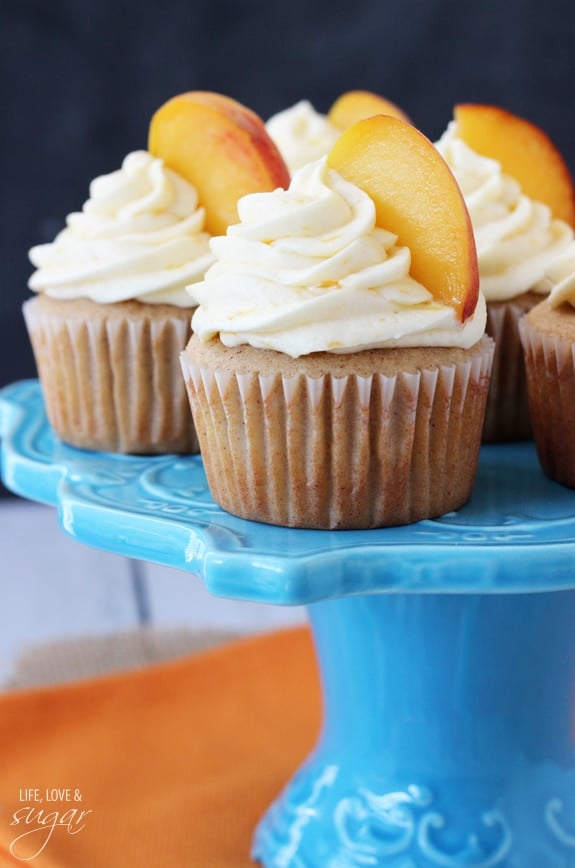 The cupcake is full of cinnamon – the most important flavor next to the peaches in a peach pie. You must have plenty of cinnamon. Yum!
And as with all cupcakes, make sure not to overcook them. Check them at 17 or 18 minutes and give them more time if needed. A toothpick inserted should come out with a few crumbs when they are done.
These cupcakes would be perfect for anytime, but also the upcoming July 4th holiday. Next to apple pie, I'd say peach pie is pretty American. So why not celebrate with a cupcake version!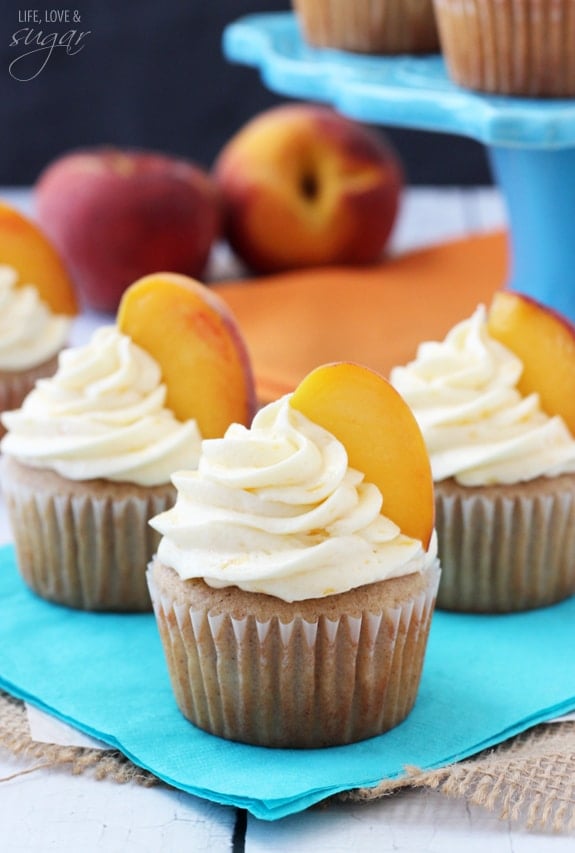 Peach Pie Cupcakes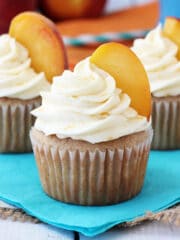 Yield:

12

-

14

Cupcakes

1

x
Category:

Dessert

Method:

Oven

Cuisine:

American
Ingredients
CUPCAKE
1 2/3 cup

s all purpose flour

1/2 cup

sugar

1/2 cup

brown sugar

1 tsp

cinnamon

1/4 tsp

baking soda

1 tsp

baking powder

3/4 cup

salted butter, room temperature

3

egg whites

2 tsp

vanilla extract

1/4

+

1/8 cup

sour cream

1/2 cup

milk

3/4 cup

diced peaches
PEACH ICING
1/2 cup

salted butter

1/2 cup

shortening

4

–

5

cups powdered sugar

5

–

7

tbsp peach puree

12

–

14

peach slices for topping, if desired
Instructions
1. Preheat oven to 350 degrees.
2. Whisk together flour, sugars, cinnamon, baking soda and baking powder in a large mixing bowl.
3. Add butter, egg whites, vanilla, sour cream and milk and mix on medium speed until smooth.
4. Stir in peaches.
5. Fill cupcake liners a little more than half way.
6. Bake 18-20 minutes.
7. Allow to cool for 1-2 minutes, then remove to cooling rack to finish cooling.
8. To make the icing, beat the shortening and butter until smooth.
9. Slowly add 3 cups of powdered sugar. Mix until combined.
10. Mix in 5 tbsp of peach puree.
11. Add the rest of the powdered sugar and mix until smooth.
12. Add more peach puree to get the right consistency and flavor. The more puree added, the thinner the icing will be. If it gets too thin, add more powdered sugar.
13. Ice cupcakes and top with peach slices if desired.
Notes
For the cupcakes and icing, only 3-4 peaches should be needed. More will be needed if you want to top the cupcakes with peach slices.
Note: For the cupcakes and icing, only 3-4 peaches should be needed. More will be needed if you want to top the cupcakes with peach slices.
Enjoy!

You might also like:
Recipes from friends:
Bourbon Peach Pound Cake from Beyond Frosting
Peach and Blueberry Cobbler from Yummy, Healthy, Easy
Raspberry Peach Cobbler with Oatmeal Pecan Crumble from Joyful Healthy Eats
Peaches and Cream Dump Cake from Lemon Tree Dwelling