October 26, 2015
Cotton Candy Cupcakes
These Cotton Candy Cupcakes are not only fun, they are delicious! They taste just like cotton candy! They'd be especially great for a celebration and kids would love them.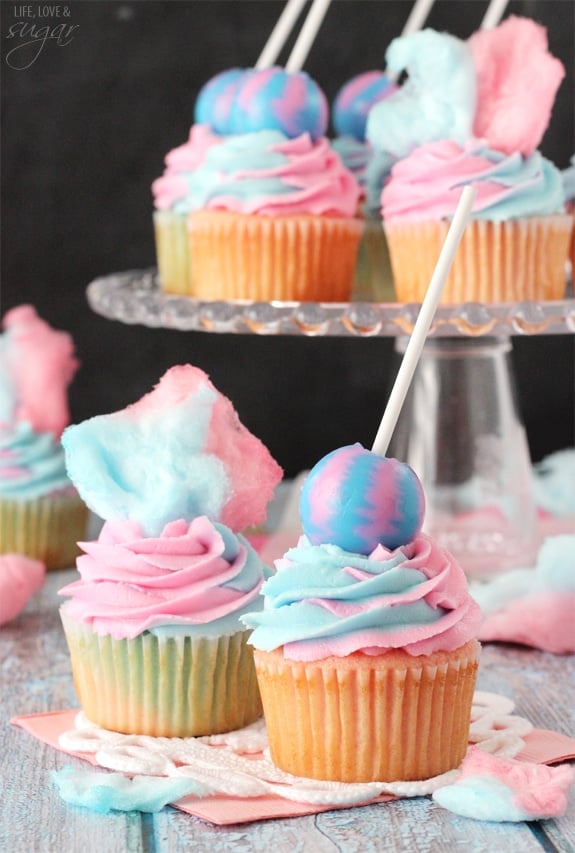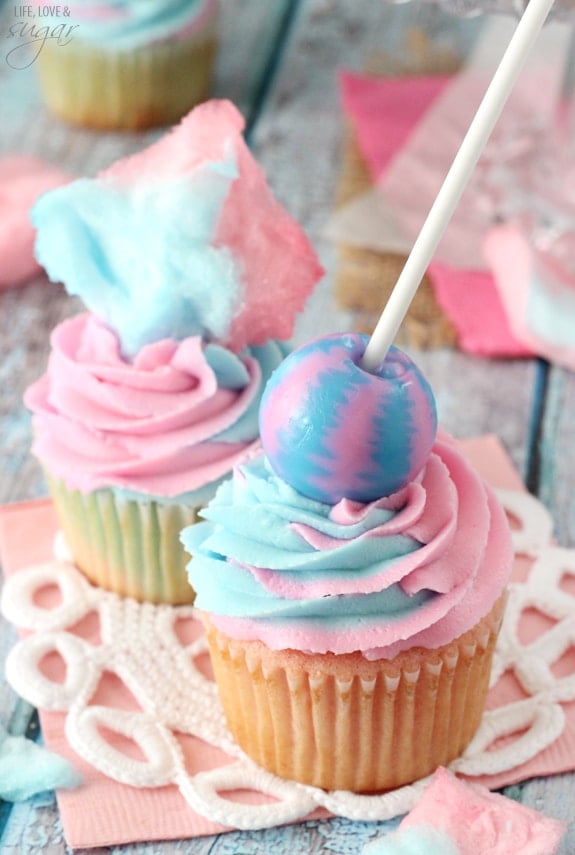 So it's been a while since I've talked about football. Perhaps you've even forgotten which team I root for. Well despite living in Atlanta, I'm a massive Carolina Panthers fan. I grew up in Charlotte, NC and have been going to Panthers games since they started. Like literally since before they had a stadium and they played at Clemson stadium. My dad would pile us all in the car and drive us to South Carolina for every home game.
And my love goes even deeper. My first crush was a Panthers football player. I was in 5th grade. His name was Kerry Collins. Our very first quarterback. #truestory
In fact, just to get even more embarrassing, I'll tell you that I met him once in a parking lot and got his autograph. And cried. Like ugly cried. Like I cried so hard all I could do was hand him the paper and pen and cry some more. Oh the joys of being 11. 🙂
I can't even count the number of games I've been too, the amount of rain I've been soaked while watching a game (don't leave your seats!), the times I've screamed and banged on chairs until I couldn't scream any more.
But guys, there have been a lot of bad seasons. Like, bad. Brutal as they've been, I've been watching them all. Which makes this season that much more fun to watch. In case you don't follow football, the Panthers are now 6-0. They won again last night and it was a beautiful thing. I am super pumped that they are kicking butt, but also terrified more and more every week. It's so much pressure! Ahh!!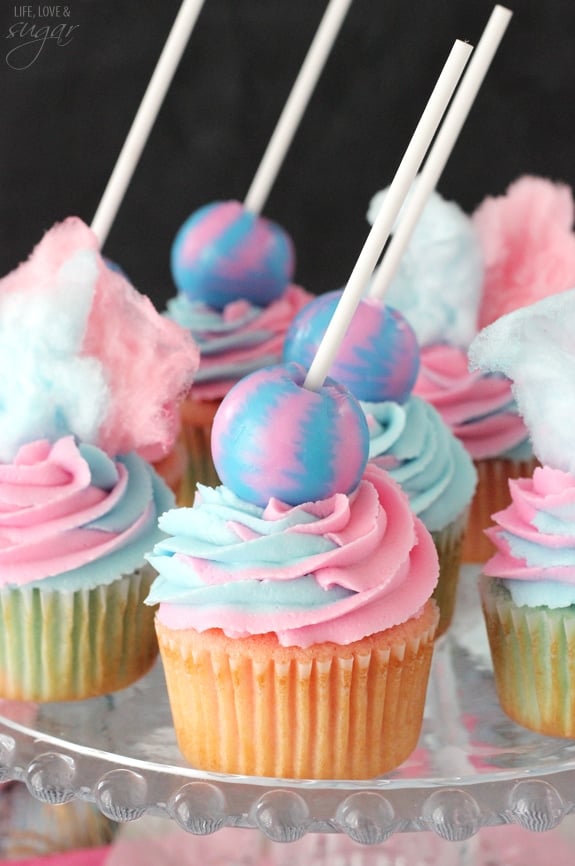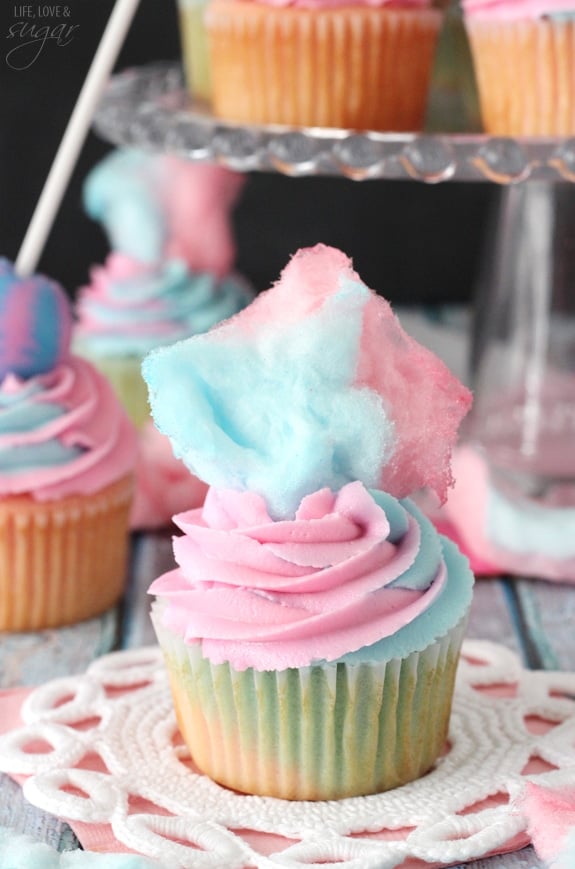 But it's also exciting. Kind of like these cupcakes. I mean really, top a cupcake with cotton candy and who doesn't get excited? In fact, when we lived in South Florida, one of our favorite places to get sushi was a restaurant where dessert was green cotton candy. It was kind of a swanky place, but they made cotton candy so glamorous in a super tall glass. Totally awesome.

MY OTHER RECIPES
So yea, cotton candy. Even sushi-loving adults love it.
These cupcakes get their cotton candy flavor from extract. You could also use cotton candy flavoring. The flavoring is more for candy and has more of a syrup-y consistency, but it'll do the job. I also tend to find that in stores more than the extract.
I actually tried to be super clever in my first version of these. You see, I like to try and find ways of using ingredients that aren't going to be hard to find. Not only do I want to make your life easier, but I also want to make mine easier. And cotton candy extract and the powder you use to make cotton candy aren't as easy to find as actual cotton candy. Actual cotton candy is in our grocery stores on the end of the checkout aisles. No doubt to tempt your kids as you wait in line.
So I actually added a bunch of cotton candy to milk to "melt" it into liquid form. It seemed totally brilliant in theory right? Had to be tried. But sadly the flavor just wasn't strong enough and the color was not cute. Not at all.
So alas, the extract/flavoring had to be done. I tried to avoid it. If you can find it in stores – yay!! If not, here's a link to the extract or flavoring. Take your pick. If you go with the flavoring, it's fairly small so you'll probably want to get 3 of them.
The cupcakes are nice and easy to make. Once the batter is put together, you'll separate it into two bowls and die each one with some icing color to get pink and blue. You could also use some regular food die, if you prefer. I just like to using the icing color in both the cupcakes and the icing so that the shades more closely resemble each other. You'll add a little bit of each color batter to each cupcake and bake them.
You'll do something very similar with the icing. Make one batch of icing, then split it into two bowls to die it. To get the two-toned icing swirl, add the blue to one piping bag and the pink to another. Then put both piping bags inside another bag fitted with one tip, shown below.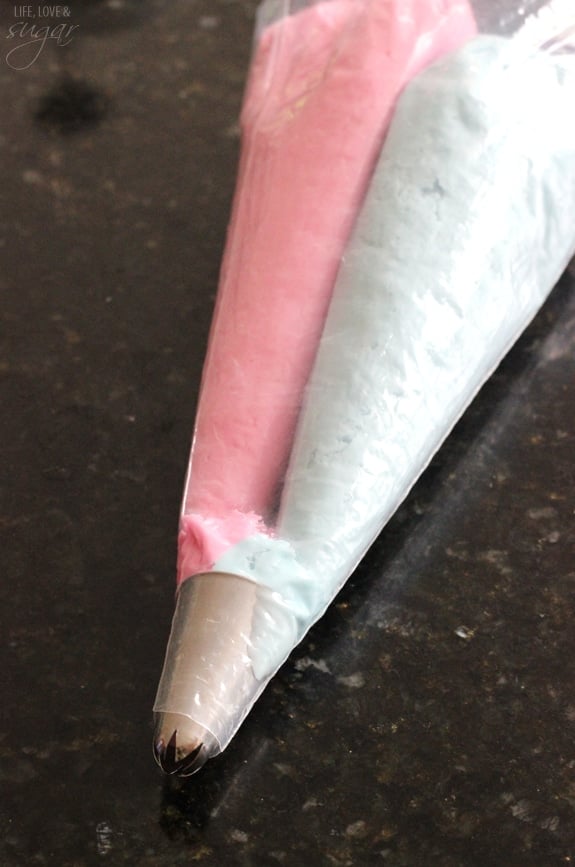 To top the cupcakes off, you can use actual cotton candy or cotton candy flavored suckers. I kind of love them both. I actually got the suckers at CVS, but I've seen them at lots of stores. The cotton candy is perfect too. You could also do like I did and use both. 🙂
I will note though that if you make the cupcakes ahead of time, I'd recommend adding the suckers and cotton candy shortly before setting out or serving. After these sat in an air tight container for a few hours, the moisture from the cupcakes started to "melt" the cotton candy. And after a few more hours, it got the suckers all moist too. Seriously, don't to try to tell me these cupcakes are moist. They melt suckers. #imnotkidding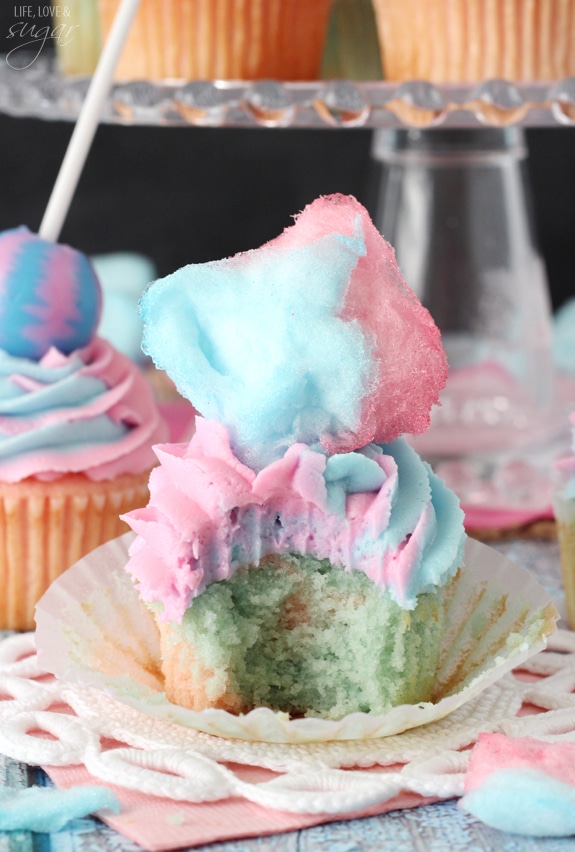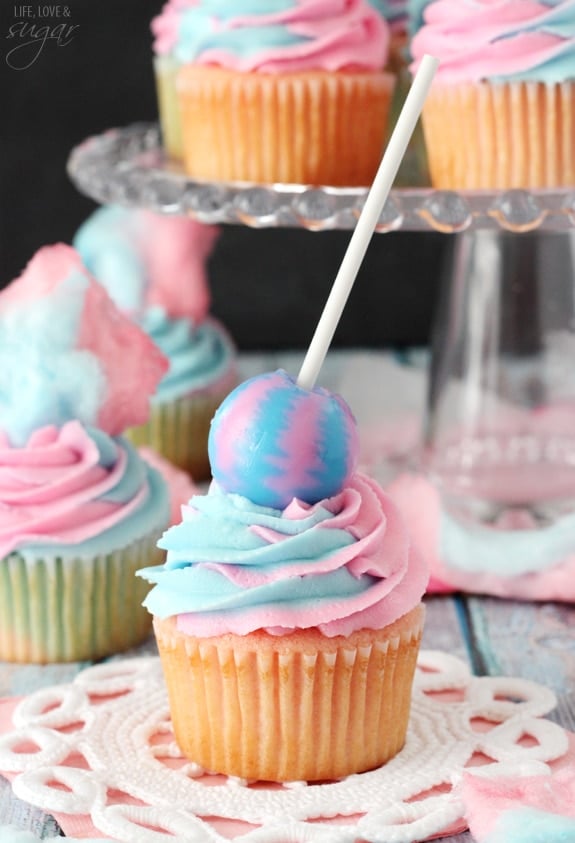 Cotton Candy Cupcakes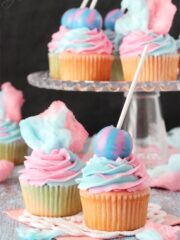 Yield:

12-14 Cupcakes

Category:

Dessert

Method:

Oven

Cuisine:

American
Ingredients
CUPCAKES
1 2/3 cups all purpose flour
1 cup sugar
1/4 tsp baking soda
1 1/4 tsp baking powder
3 egg whites
1 1/2 tsp cotton candy extract or flavor
1/2 cup sour cream
1/2 cup milk
3/4 cup salted butter, melted and cooled
Pink/burgundy icing color
Royal blue/cornflower blue icing color
FROSTING
1/2 cup butter
1/2 cup shortening
4 cups powdered sugar
1 tsp cotton candy extract
2-3 tbsp water or cream
Pink/burgundy icing color
Royal blue/cornflower blue icing color
Cotton candy or cotton candy flavored suckers, for decorating
Instructions
CUPCAKES
1. Preheat oven to 350 degrees.
2. Whisk together flour, sugar, baking soda and baking powder in a large mixing bowl.
3. Add egg whites, cotton candy extract, sour cream and milk and mix on medium speed just until smooth. Do not over mix.
4. Add butter and mix until smooth.
5. Divide batter evenly between two bowls and die one pink and one blue. I used a mix of two shades of pink and blue icing color, noted above.
6. Fill cupcake liners a little more than half way, adding a little bit of each color to each liner.
7. Bake 18-20 minutes.
8. Allow to cool for 1-2 minutes, then remove to cooling rack to finish cooling.
FROSTING
1. Combine butter and shortening and mix until smooth.
2. Add 2 cups of powdered sugar and mix until smooth.
3. Add cotton candy extract and 1-2 tbsp of water or cream and mix until smooth.
4. Add remaining powdered sugar and mix until smooth.
5. Add a little more water or cream until desired consistency is reached.
6. Divide icing evenly between two bowls and die one pink and one blue. I used a mix of two shades of pink and blue icing color, noted above.
7. To pipe icing onto cupcakes with dual tone, add pink icing to one piping bag and blue icing to another. Place both piping bags into a third piping bag, fitted with your icing tip. I used Ateco 844, but Wilton 1M would work as well.
8. Top cupcakes with cotton candy or cotton candy flavored suckers. Note that the cotton candy or suckers should added to cupcakes shortly before displaying or serving. If left on the cupcakes in an air tight container, the moisture from the cupcakes will "melt" the cotton candy.
Enjoy!




This page includes affiliate links.