This Pumpkin Spice Donut Cheesecake Trifle is so fun for fall! Made with Pumpkin Spice Donuts from Dunkin' Donuts, it's super easy to put together and so tasty!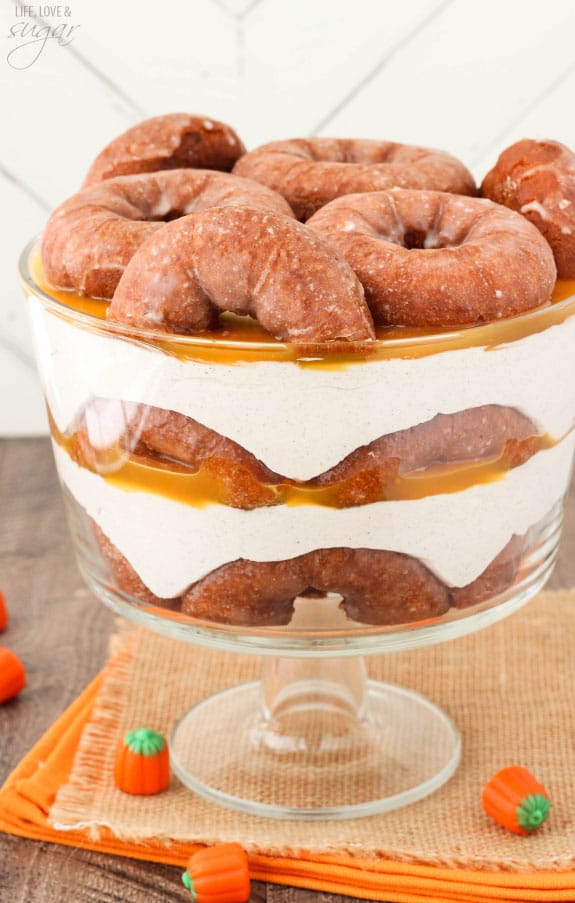 Pumpkin Spice Donut Cheesecake Trifle
So this past weekend, the hubs and I went to the local fair with my brother and his family. We'd never been and it was pretty fun to go with them. My nieces had a lot of fun riding the rides and us adults got to eat the good fair food. 🙂
You know the stuff I'm talking about. Funnel cakes, fried oreos (so good, by the way!) and a tower of sliced fries covered in cheese and bacon. That's the stuff that adult dreams are made of kids. Good, outrageously awesome food.
I figure this trifle is somewhat similar in it's outrageous nature. I mean, it's layered with donuts. Legit, full on donuts. It's basically breakfast in dessert form. Kind of like breakfast for dinner.
See, the hubs decided one morning that he wanted to make a spontaneous trip to Dunkin' Donuts, which is a solid 20 minutes away. I don't know about you, but that's a somewhat long drive for a donut. However, he seemed so excited about it that I couldn't say no. So we hopped in the car and off we went.
Of course I knew as soon as we got there and I saw the sign for the pumpkin donuts that I had to have one. Then in true food blogger fashion I immediately started brainstorming things I could make with them.
Trifle! With cheesecake! Duh.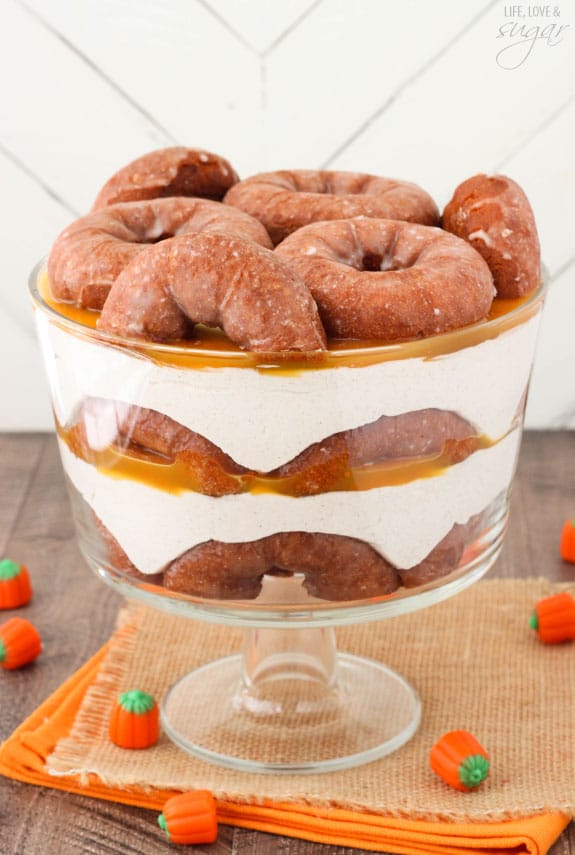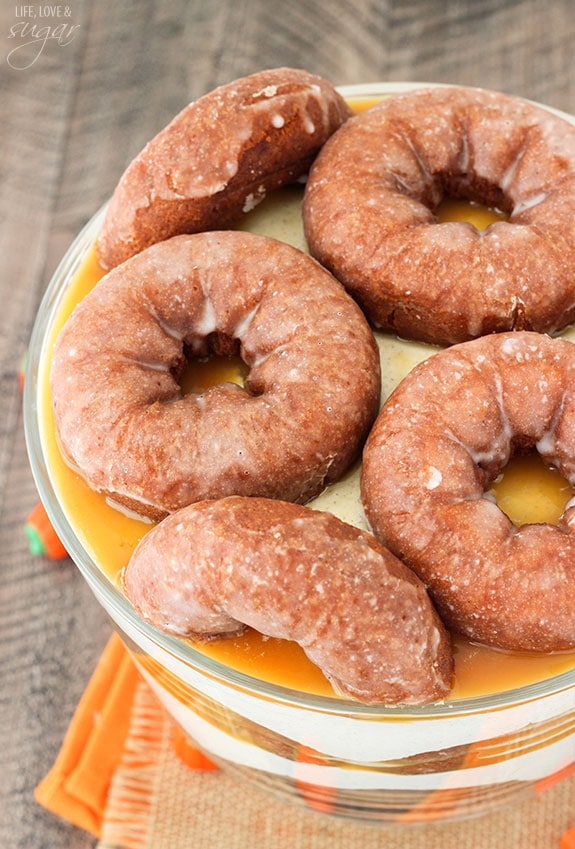 So instead of the one donut I promised myself I'd get, I walked out with a dozen and a half. #lifewithafoodbloggerwife
And so this trifle came to be!
Outrageous-seeming as it is, it's amazing. I shared it with our church group and of course their initial reaction was pure amazement and, "Can we eat that?" "Are those donuts?"
Why yes, and yes. 🙂
And when they tasted it there was no going back. Love at first bite. It was a serious hit. Even a week later I had them telling me how good it was. Gotta love it when spontaneity hits the hubs and results in tasty things like this. 🙂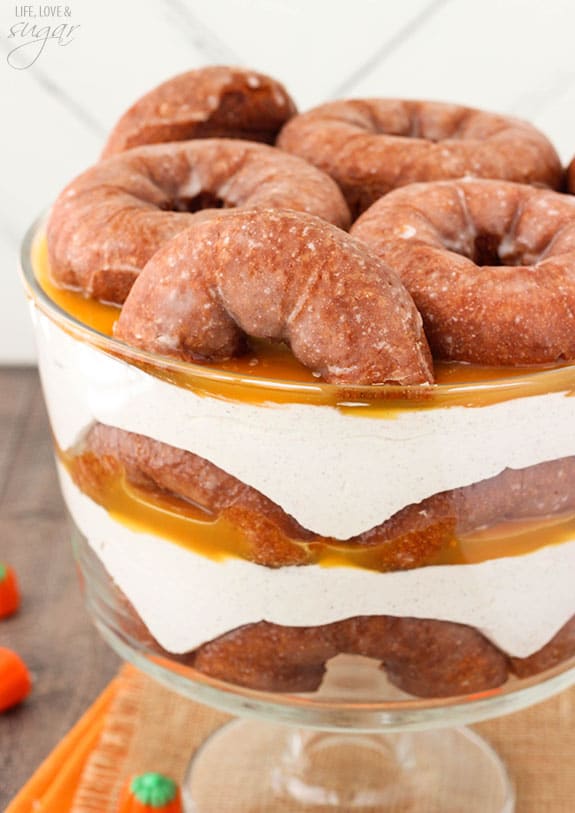 You might also like
Caramel Apple Cheesecake Blondie Trifle
Mini Tiramisu Trifles
Caramel Cheesecake Brownie Trifle
Gingerbread Cheesecake Trifle
Mini Reese's Chocolate Peanut Butter Trifles
Mini Pumpkin Cheesecake Trifles
Chocolate Donut Hole Cheesecake
Caramel Apple Trifles
Print
Recipe
Pumpkin Spice Donut Cheesecake Trifle
Author:

Prep Time:

25 minutes

Total Time:

25 minutes

Category:

Dessert

Method:

No Bake

Cuisine:

American
---
Description
This Pumpkin Spice Donut Cheesecake Trifle is so fun for fall! Made with Pumpkin Spice Donuts from Dunkin' Donuts, it's super easy to put together and so tasty!
---
Ingredients
3.4 oz

package cheesecake flavored pudding mix

2 cups

milk

8 oz

cream cheese

2 1/2 tsp

pumpkin pie spice

1 tsp

ground cinnamon

8 oz

cool whip

12

–

16

Pumpkin spice donuts (I used Dunkin Donuts)

1/2 cup

caramel sauce, divided
---
Instructions
1. In a medium bowl, combine pudding mix and milk according to pudding package instructions. Set aside.
2. In a large bowl, beat cream cheese, pumpkin pie spice and ground cinnamon until smooth.
3. Fold pudding into cream cheese.
4. Fold in 8 oz of Cool Whip (or homemade whipped cream).
5. In a large trifle dish, place donut halves around the edge of the dish. You'll use 3-4 donuts. 6. Break up another 2-3 donuts to make an even layer.
7. Top donut layer with half of cream cheese mixture.
8. Top cream cheese mixture with 1/4 a cup of caramel sauce.
9. Repeat steps 5-8, then finish off trifle with a few more pumpkin spice donuts for decoration.
10. Refrigerate until firm and ready to serve, at least 4 hours. Can be made the night before and refrigerated overnight.
---
Nutrition
Serving Size:

1 spoonful

Calories:

491

Sugar:

34.7 g

Sodium:

216.1 mg

Fat:

27.5 g

Carbohydrates:

56.5 g

Protein:

5.2 g

Cholesterol:

15 mg
Keywords: easy trifle recipe, pumpkin trifle, trifle recipe, no bake dessert, no bake dessert recipe, easy no bake dessert, easy homemade dessert, easy dessert for a party
Categories
Enjoy!
This post may contain affiliate sales links. Please read my disclosure policy.