Gingerbread Cheesecake Trifle
This Gingerbread Cheesecake Trifle is the perfect no bake, easy and festive holiday dessert! It has layers of thick gingerbread cookies, no bake gingerbread cheesecake, caramel and whipped cream. Perfect for a crowd and all those holiday parties!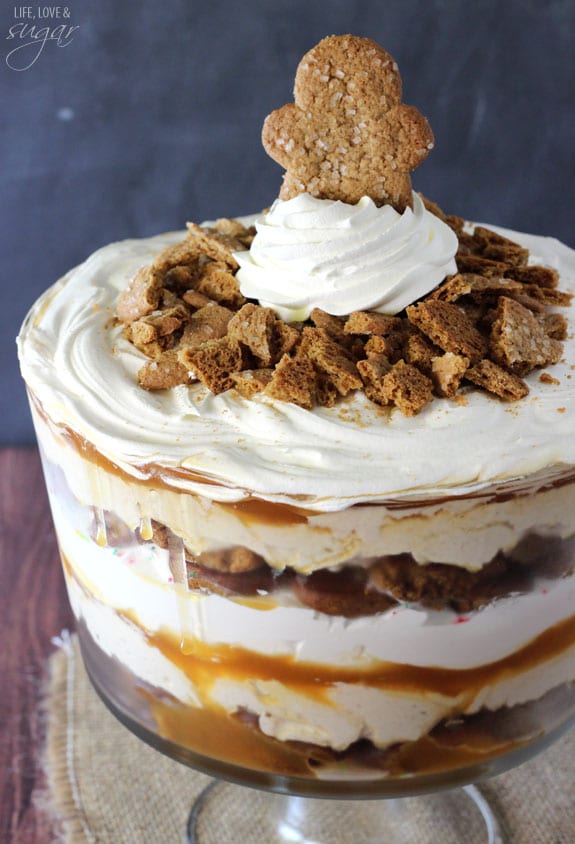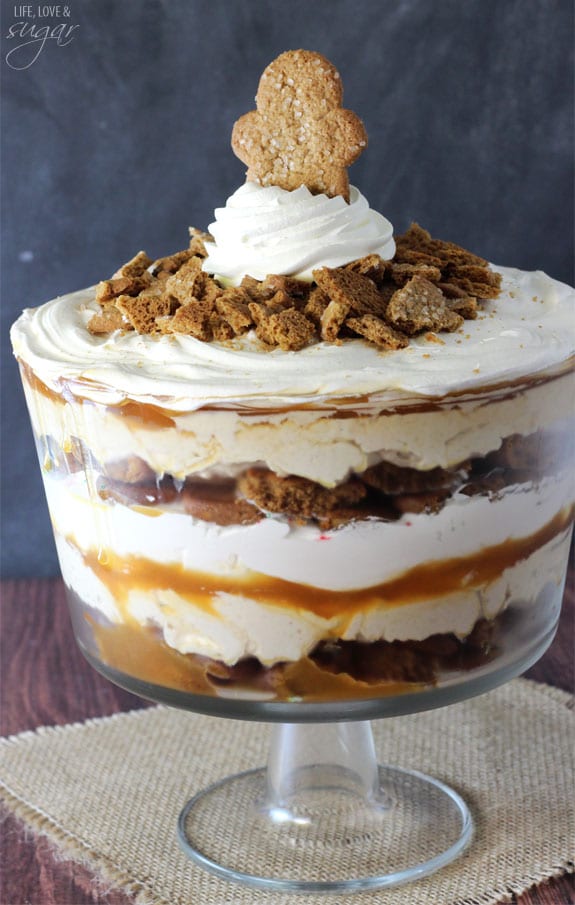 So just this week I noticed that one of the radio stations that I listen to regularly has changed. It used to be a station that played current music and often I'd hear a song for the first time on that station – sometimes weeks before hearing it on another station. I'm kind of sad to see it go.
However.
It might just have been replaced with an even better station. What is it? ALL 90s. Shut the front door! If you know me well, you know I dig my 90s music. You can regularly find me jammin' out the to 90s station on the DirecTV music stations – especially while I'm baking. It's totally the best and only way to bake. 🙂
Yesterday morning, I was rocking out in the car on the way to work. One of the songs that came on reminded me of the movie "Save The Last Dance." Did you see that one? It's from way back in 2001 and I was obsessed with it. A friend and I actually watched a couple scenes over and over to learn some of the moves, haha.
Did you know Kerri Washington (Scandal!!!!!) was in that movie? I loved her even back then. 🙂
Oh, how I love the 90s.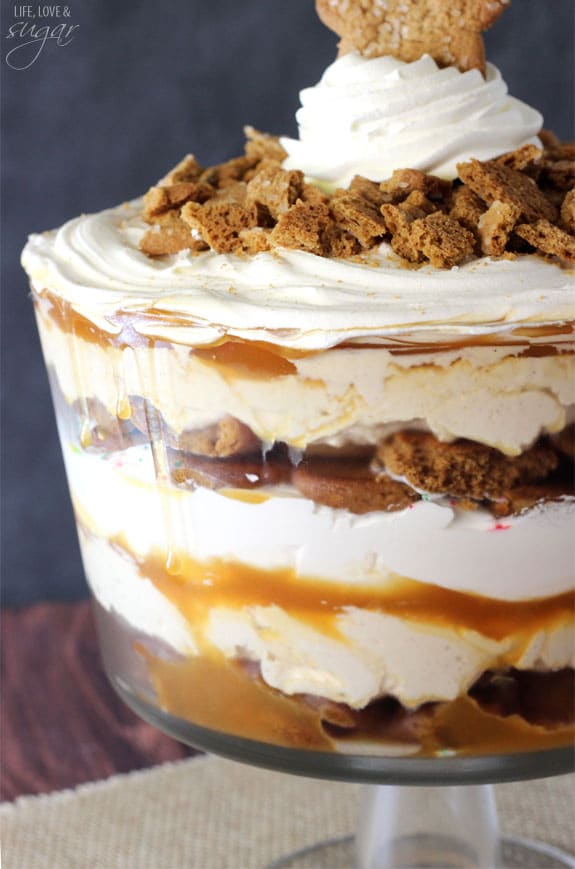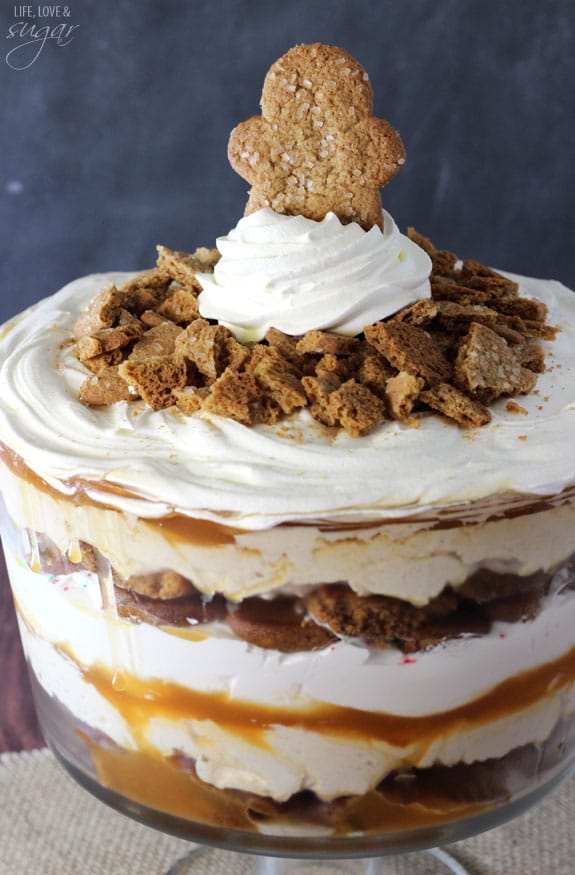 And this trifle. I'm a big fan.
If you're anything like me, you've barely even begun your Christmas shopping and are semi freaking out that you only have about 2 weeks left to get it together and get on it. Soon, I'll be running around like a crazy person (but really, how is that different than normal?) trying to get everything finished.
That's why we need easy desserts like this one in our dessert arsenal. No baking, just a little mixing and layering, refrigerate and you're done. You could even make it the night before and let in refrigerate for a bit so that everything softens up and melds together. In fact, I recommend it.
I used my favorite childhood gingerbread cookies in this trifle – the Little Debbie ones – and I would actually recommend using those. They are thick, puffy and soft, making them great for a solid layer in a trifle. If you can't find those cookies, I'd recommend another cookie that is nice and thick. Another option would be to use gingerbread cake instead of the cookies, but that might require baking which defeats the whole no bake purpose. So yea, find those cookies if you can. Walmart is always where I go for the hard-to-find stuff, but I was able to get these at Publix.
Isn't great how I look out for you at this time of year? To busy to bake? Crisis averted. Enter this Gingerbread Cheesecake Trifle.
You are welcome.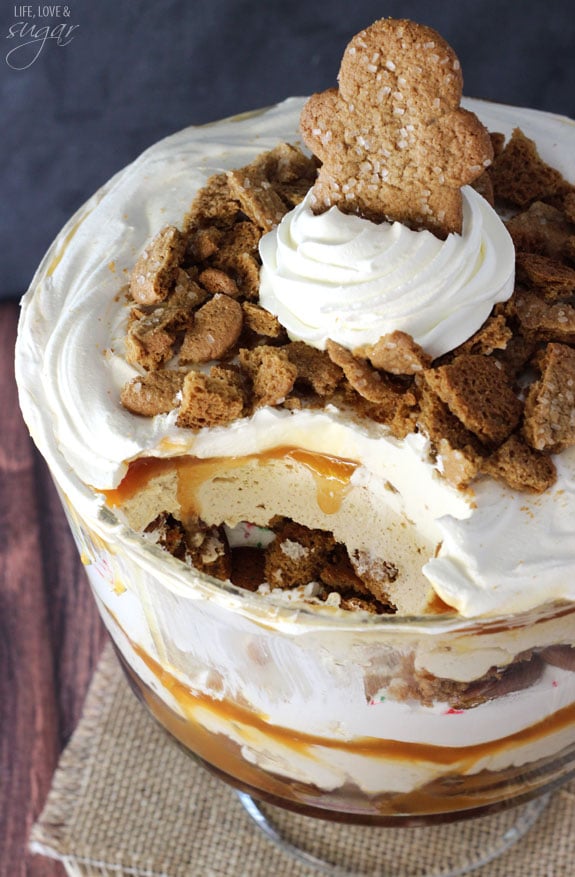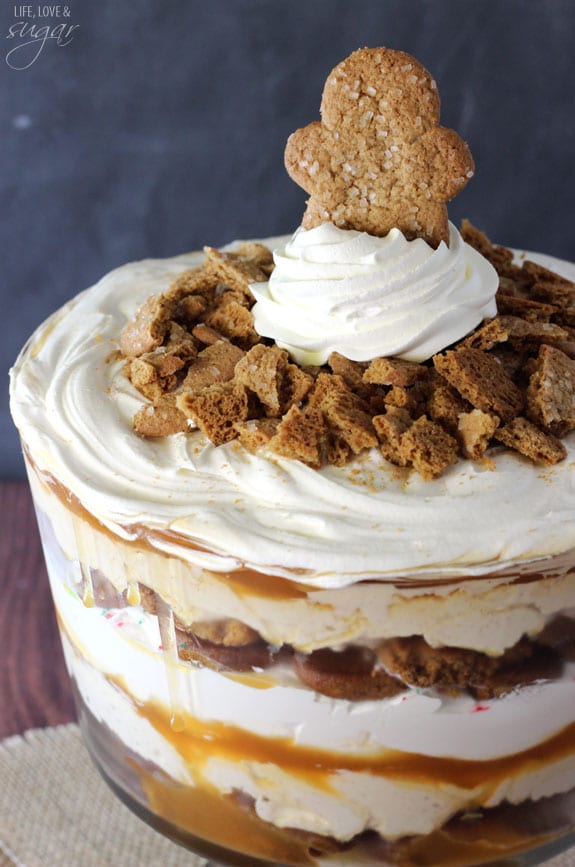 You might also like:
Gingerbread Layer Cake
Nutty Gingerbread House
Gingerbread Cheesecake
Gingerbread Cupcakes with Caramel Molasses Cream Cheese Icing
Gingerbread Snowballs
Gingerbread Cheesecake Trifle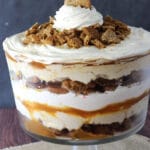 Yield:

10

-

12

Servings

1

x
Category:

Dessert

Method:

No Bake

Cuisine:

American
Ingredients
16 oz

cream cheese, room temperature

3/4 cup

sugar

1 tsp

ginger

1 tsp

cinnamon
pinch of cloves

2 tbsp

molasses

3 tbsp

milk

20 oz

cool whip, divided

14 oz

gingerbread cookies (I used about

2 1/2

boxes of these cookies)

1 cup

caramel sauce, divided
Instructions
1. In a large bowl, beat cream cheese and sugar until smooth.
2. Add ginger, cinnamon, cloves, molasses and milk and mix until smooth.
3. Stir in 8 oz of Cool Whip (or homemade whipped cream).
4. In a large trifle dish, break up gingerbread cookies to make an even layer.
5. Top cookies with half of cream cheese mixture.
6. Top cream cheese mixture with 1/2 a cup of caramel sauce.
7. Top caramel sauce with about 6 oz of Cool Whip (or homemade whipped cream).
8. Repeat steps 4-7, then finish off trifle with gingerbread crumbs.
9. Refrigerate until ready to serve, at least 4 hours. Can be made the night before and refrigerated overnight.
Enjoy!

This post contains affiliate links.