This Red Velvet Cheesecake Shortbread Trifle recipe is no bake, super easy to make and perfect for a crowd! One of my favorite holiday trifle recipes!
This post is sponsored by Walkers Shortbread, but all opinions are my own.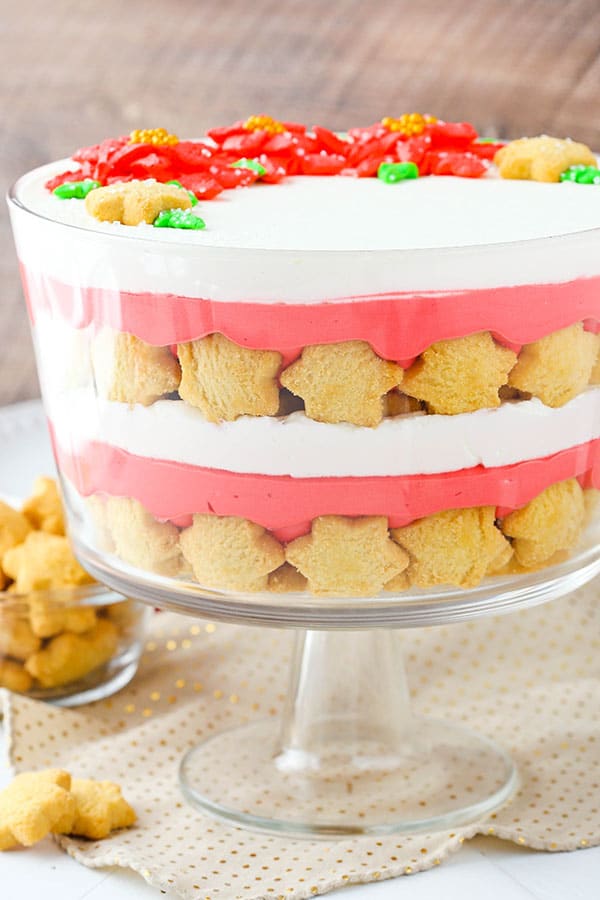 Red Velvet Cheesecake Shortbread Trifle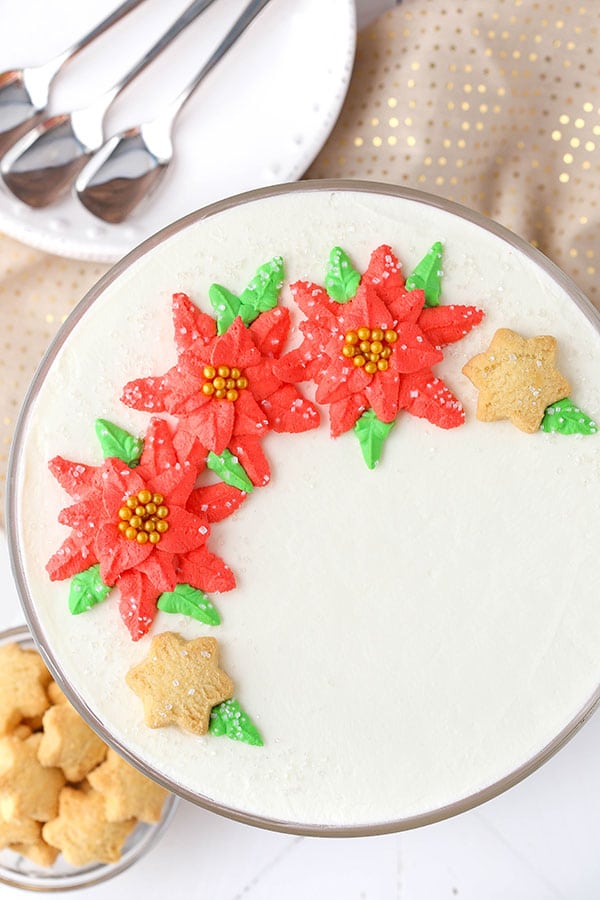 So I'm a total 90s kid all the way – particularly when it comes to music. If you open up my Pandora and check out the stations, there's a lot of 90s slow jams, 90s boy bands, Spice Girls and more. The 90s is my era.
But while a lot of the boy bands and such came in the mid to late 90s, I am also a BIG fan of the late 80s and early 90s. So when tickets went on sale a couple weeks ago to the Boys to Men, Paula Abdul and New Kids of the Block concert, I was ALL OVER IT. Merry Christmas to me! I'm going with a couple friends and July can't get here soon enough.
Of course it totally got me all pumped so I had to make a new Pandora station. I have the CDs but those are hard to listen to when I'm in the kitchen baking, which is where I typically listen to Pandora. I already have a Boys to Men one so I made one with Paula Abdul. It's got all the good stuff on it. All the stuff I used to listen to in the car with my mom back when cassette tapes were a thing. It's a mix of Paula, Wilson Phillips, Amy Grant (Heart in Motion album), early Toni Braxton, early Janet Jackson – it's basically all the best. I'm so in love with it. 🙂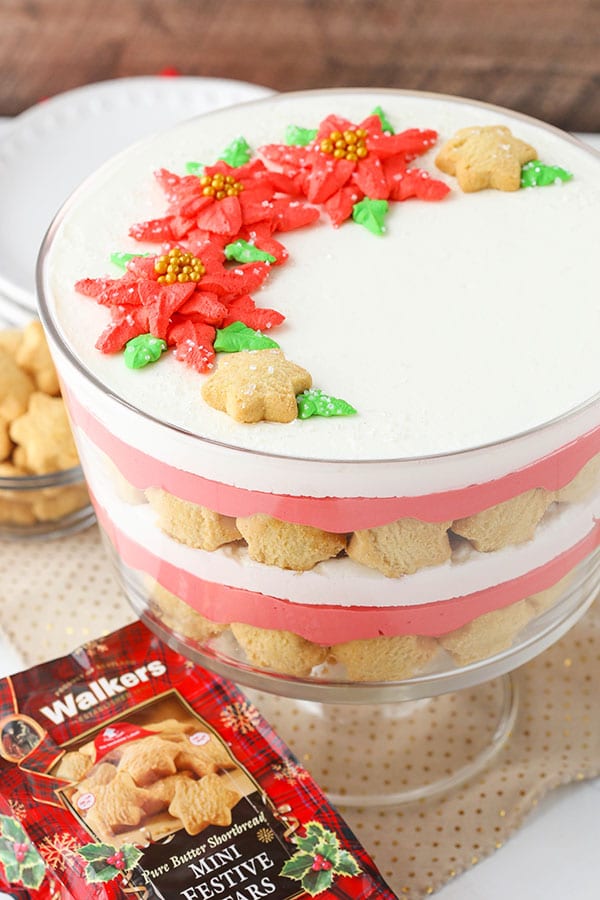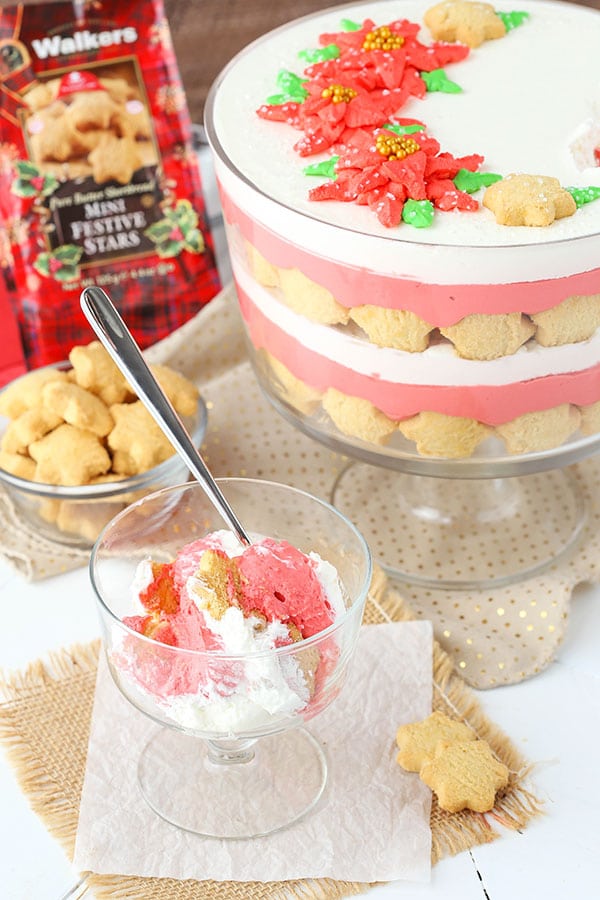 I'm also majorly in love with this trifle. 🙂 And with layers of shortbread, red velvet cheesecake and whipped cream, what's not to love?
As you know, I'm a lover of all things Walkers Shortbread. I love working with them and using their shortbread in desserts. It's basically the best shortbread ever. So buttery and delicious – irresistible really. It's almost dangerous that I have it in the house. It often becomes the snack of choice when watching a good show in the evening.
This time around, I used the festive new Walkers mini star-shaped shortbread for the holidays. How fun are the stars?! They work perfectly in this trifle too, since they're on display and add to the fun of the trifle.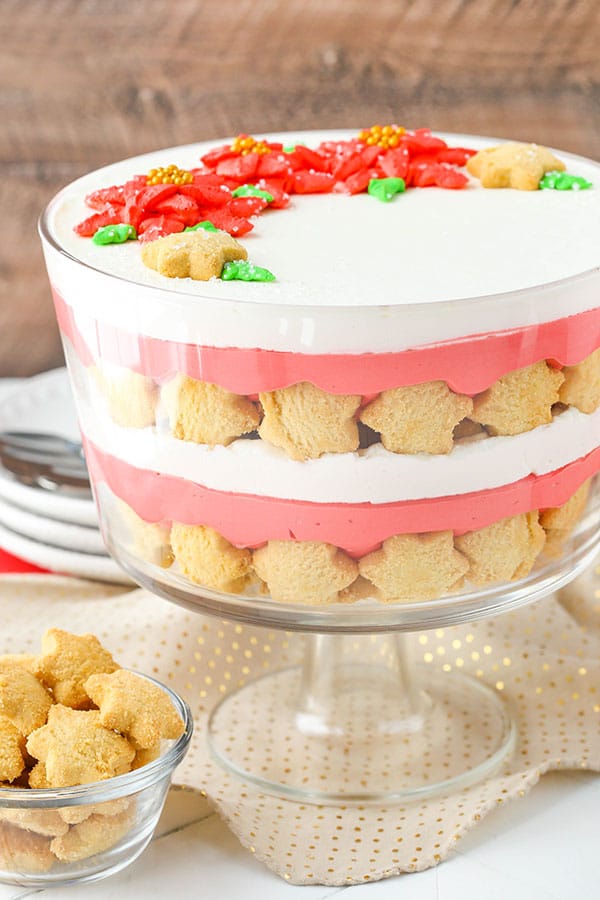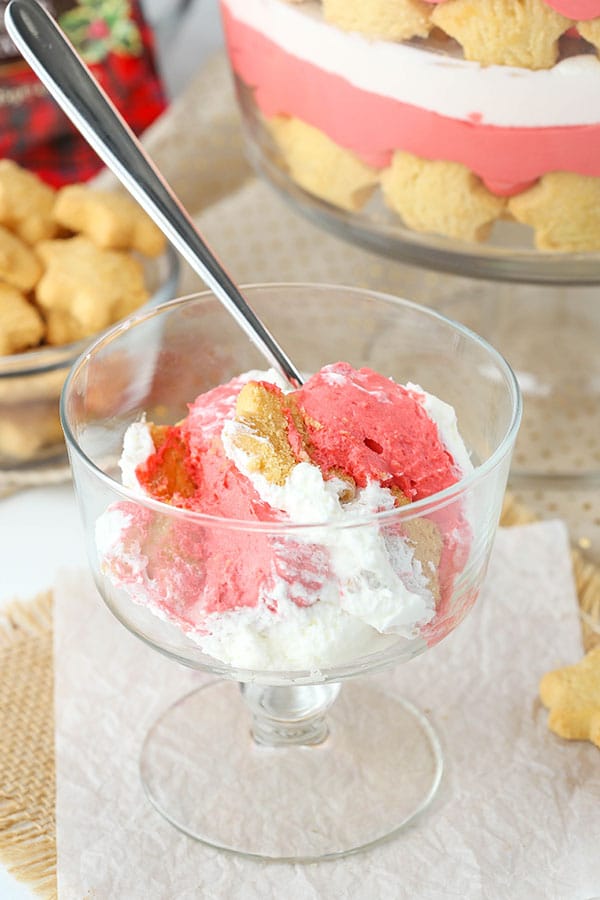 In addition to the shortbread, there's the cheesecake and whipped cream layers. I like to think of the shortbread as the "crust" to the cheesecake in this trifle. They are dipped in some milk before being added to the trifle dish, to help them soften up a bit. I didn't dip the ones around the edge on display so that they definitely held their fun shape, but you could dip them in milk too if you prefer.
The red velvet cheesecake layer is no bake and just requires some mixing. It has the PERFECT red velvet flavor to it. A little bit of cocoa, some buttermilk and a little vinegar. I love it! And just a tip – if you don't want to get a full bottle of buttermilk, you can use the powdered version. Once I discovered it, I never went back to the regular stuff.
Then of course there's the whipped cream! When you add the three layers together, it's so darn delicious! The flavors are so wonderful. Buttery shortbread, red velvet cheesecake and whipped cream = heaven. You'll want to let it sit for 5-6 hours for everything to have time to set and for the shortbread to have time to soften. This is actually a great make ahead dessert as well. You can easily make it a day ahead.
I can't wait to make it again and I can wait for you to try it! 🙂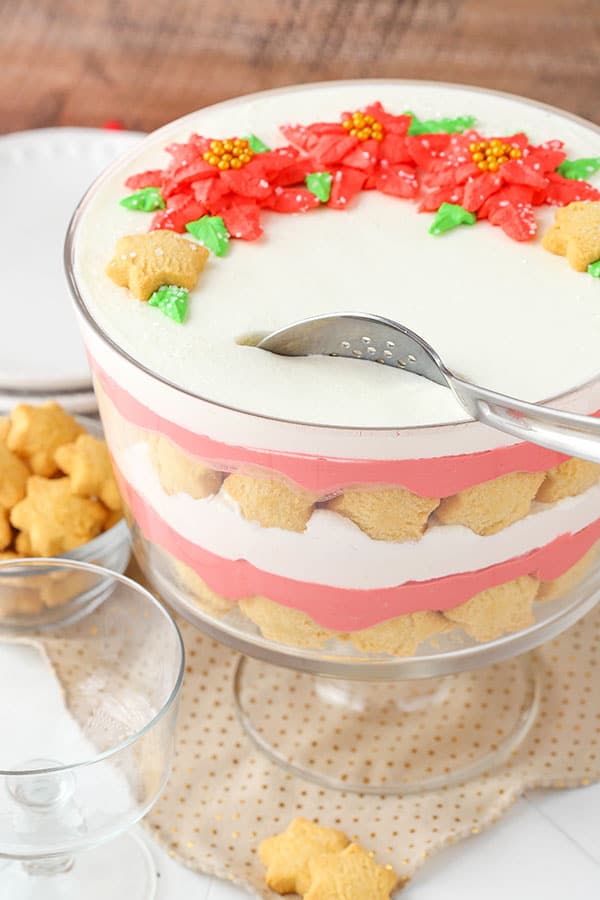 You might also like:
Raspberry Almond Shortbread Icebox Cake
Lemon Blueberry Shortbread Mousse Cake
Chocolate Chip Shortbread Cheesecake
Print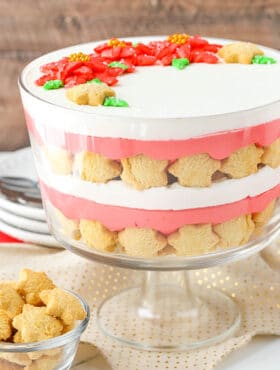 Recipe
Red Velvet Cheesecake Shortbread Trifle
Author:

Prep Time:

6 hours 30 minutes

Cook Time:

0 minutes

Total Time:

6 hours 30 minutes

Category:

Dessert

Method:

No Bake

Cuisine:

American
---
Description
This Red Velvet Cheesecake Shortbread Trifle recipe is no bake, super easy to make and perfect for a crowd! One of my favorite holiday trifle recipes!
---
Ingredients
16 oz

(

452g

) cream cheese, room temperature

3/4 cup

(

155g

) sugar

1 tbsp

(

7g

) cocoa powder

1 1/2 tbsp

red food color

2 tsp

white vinegar

1 tsp

vanilla extract

1/4 cup

buttermilk

3 1/2 cups

(840ml) heavy whipping cream, divided

1 3/4 cups

(

207g

) powdered sugar, divided

1/2 cup

(120ml) milk

4

(4.4oz) packages Walkers Shortbread Mini Festive Stars
Red gel icing color, optional
Green gel icing color, optional
Gold pearl sprinkles, optional
White sanding sugar, optional
---
Instructions
1. In a large mixer bowl, beat cream cheese until smooth.
2. Add the sugar and cocoa and mix until well combined.
3. Add red food color, vinegar and vanilla extract and mix until well combined.
4. With the mixer running, slowly add the buttermilk and mix until well combined. Set aside.
5. In a large mixer bowl, add 3 cups (720ml) of heavy whipping cream and 1 1/2 cups (173g) of powdered sugar. Whip on high speed until stiff peaks form.
6. Carefully fold about 2 1/2 cups of the whipped cream into the red velvet mixture.
7. Add the milk to a separate small bowl.
8. In the bottom of a large trifle dish, place the shortbread into an even layer, dipping each piece of shortbread into the milk for 1-2 seconds before adding.
9. Place a few additional shortbread stars around the outside of the dish, so you can see them nicely.
10. Top the shortbread with half of the red velvet mixture.
11. Top red velvet mixture with half of the remaining whipped cream.
12. To add the decoration, add the remaining 1/2 cup of heavy whipping cream and 1/4 cup of powdered sugar to a large mixer bowl and whip on high speed until stick peaks form.
13. Set aside a small amount of whipped cream and color it green. Color the remaining whipped cream red.
14. Pipe flowers onto the top of the trifle (Wilton tip 366), then add the gold pearl sprinkles to the center.
15. Pipe the leaves around the flowers (Wilton tip 352), then finish off the decorations with the white sanding sugar.
16. Refrigerate until ready to serve, at least 5-6 hours. Can be made the night before and refrigerated overnight.
---
Nutrition
Serving Size:

1 Slice

Calories:

648

Sugar:

40.8 g

Sodium:

311.6 mg

Fat:

42.6 g

Carbohydrates:

59.6 g

Protein:

8.5 g

Cholesterol:

101 mg
Keywords: trifle recipes, easy trifle recipe, holiday trifle, holiday desserts, easy desserts, best desserts, recipes for desserts, easy dessert recipes, red velvet desserts
Filed Under:
This post may contain affiliate sales links. Please read my disclosure policy.