This Peppermint Cheesecake Brownie Trifle recipe has layers of no bake peppermint cheesecake, peppermint chip pieces, whipped cream and chocolate brownies! It's such an easy dessert to make and one of my favorite chocolate trifle recipes!
Cheesecake and trifles go so well together and there are so many delicious variations. These Mini Reese's Chocolate Peanut Butter Cheesecake Trifles are a fun mini twist and this Caramel Cheesecake Brownie Trifle is so decadent!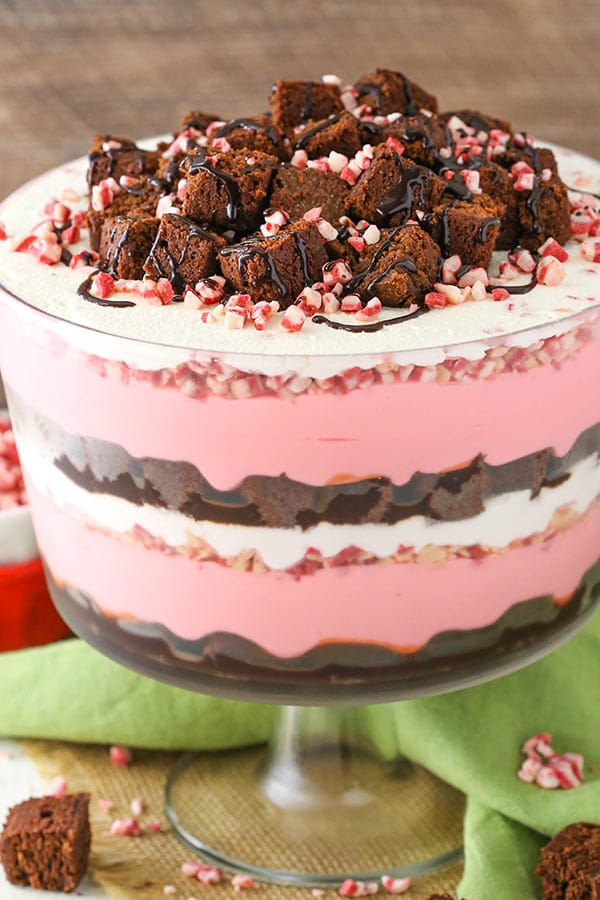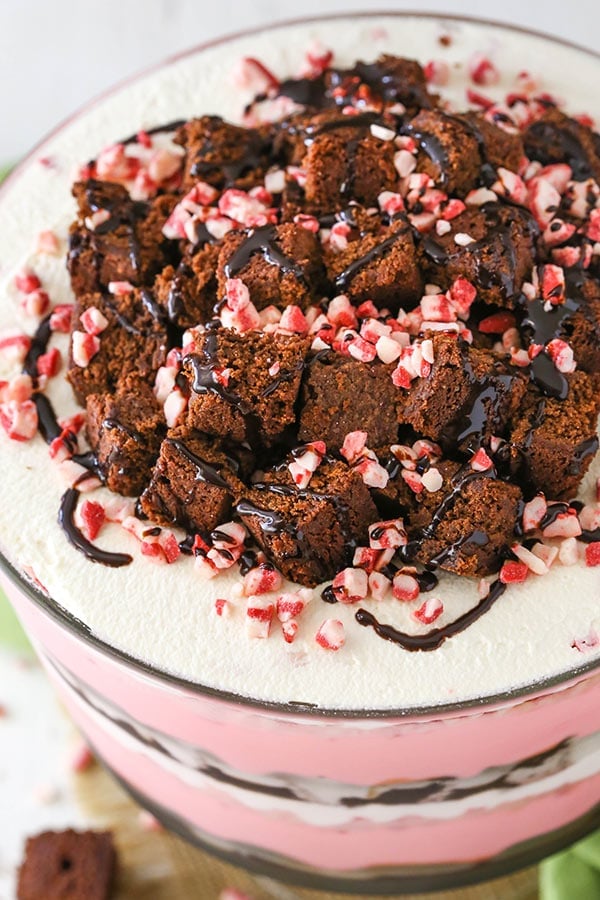 So I totally tortured the hubs this weekend. We've been working hard to get settled into our new home and get things ready for the twins (which are coming SO soon it feels like!) and yesterday I had him installing additional shelving in 3 closets and the pantry. It was quite a task.
To make it even better, I'm not the great help that I usually am. Moving around has gotten tough, so once I sat down somewhere and he needed something, if it wasn't within reaching distance it probably wasn't happening. 🙂 Then there was THE mistake on both our parts. The little screws that went into the wall had markings on top for using a flathead screwdriver (I think that's what it's called – tools aren't my thing), but the divet was tiny! The first couple of shelves were torture because the screwdriver wouldn't stay in the screw as you were turning it. I though the hubs might spontaneously explode.
On the third shelf, which was bigger than the previous two and an additional part, I read the instructions for the new part. It brought up a question in my mind that had me going back and looking at the instructions for the other parts. Turns out we were supposed to hammer in those screws, not turn them with a screwdriver with painstaking difficulty. Whoops!
We jokingly argued over who got the blame for that, but fortunately things went smoothly from there and all the shelves got done. I was one happy camper and made sure to thank the hubs profusely. 🙂 He's so handy!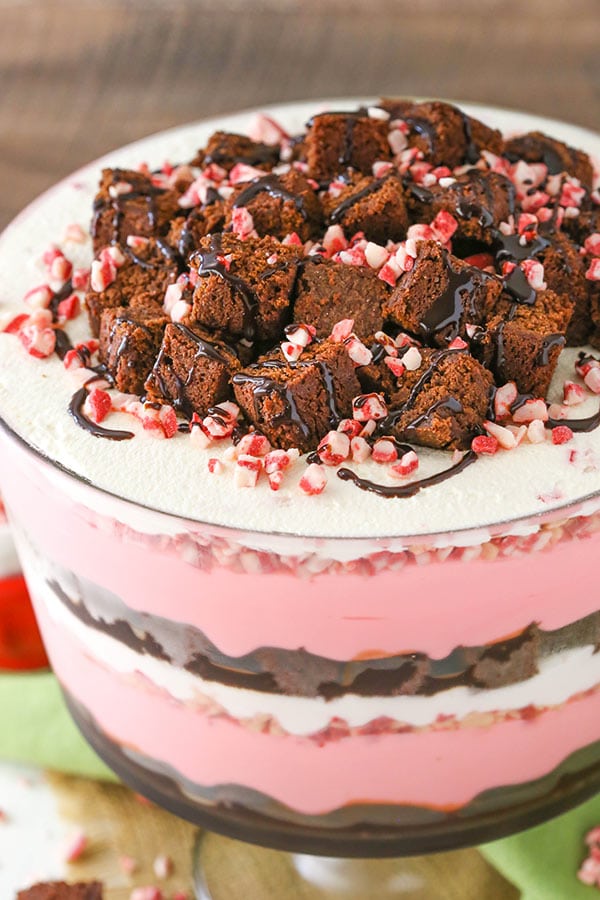 Are Trifles Easy To Make?
You can rest assured that making this trifle is WAY easier than installing new shelving. 🙂 And the reward at the end is delicious!
Peppermint has become one of my favorite flavors this time of year. I've always been a big lover of gingerbread, pumpkin and eggnog, but peppermint wasn't as high on the list. Lately that has changed and I love it!
In fact, my mom was visiting this past week and one night the hubs and I ran to the store on an ice cream run to cure our craving. Mom passed on the ice cream, but we couldn't leave her out. I knew she wouldn't be able to resist peppermint chip ice cream, so naturally I got her some. When I got home with all the ice cream and tried all the flavors, the peppermint was hands down my fave. I might have finished off that carton – after sharing of course. 😉
So if you love peppermint, this trifle is totally going to be your jam! The peppermint cheesecake layers are super easy to put together and colored with a little red gel icing color to help add to the festive look.
It's layered with peppermint pieces, whipped cream and brownies! My goodness, peppermint and chocolate together are a match made in heaven. But of course if you aren't as into the chocolate, or want something that's quicker (you do have to cook the brownies), one option would be to substitute some cookies such as Walkers Shortbread. I used their star shaped shortbread in this red velvet cheesecake shortbread trifle last year and it was super cute!
Either way you go, this trifle is a hit! Easy to make, festive and hard to resist! Bring on the peppermint!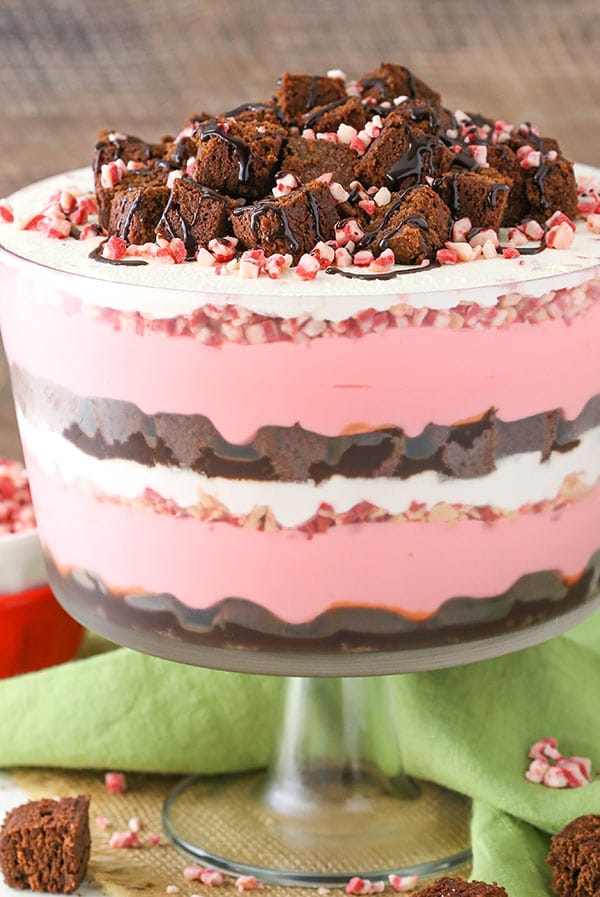 You might also enjoy these easy trifle recipes:
Caramel Apple Cheesecake Blondie Trifle
Caramel Cheesecake Brownie Trifle
Strawberry Shortcake Trifle
Red Velvet Berry Trifle
Gingerbread Cheesecake Trifle
Oreo Cheesecake Brownie Trifle
Mini Baileys Chocolate Cheesecake Trifles
Mini Tiramisu Trifles
Print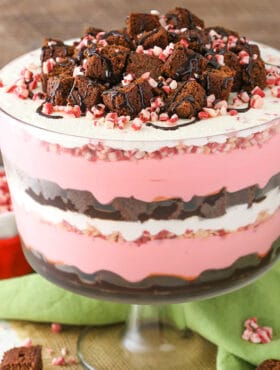 Recipe
Peppermint Cheesecake Brownie Trifle
Author:

Prep Time:

1 hour

Cook Time:

27 minutes

Total Time:

1 hour 27 minutes

Yield:

10-12 Servings

Category:

Dessert

Method:

Oven

Cuisine:

American
---
Description
This Peppermint Cheesecake Brownie Trifle recipe has layers of no bake peppermint cheesecake, peppermint chip pieces, whipped cream & chocolate brownies!
---
Ingredients
BROWNIE
1 1/2 cups

(

336g

) unsalted butter, melted

2 cups

(

414g

) sugar

1 tsp

vanilla extract

4

eggs

1 1/2 cups

(

195g

) flour

3/4 cup

(

85g

) cocoa

1/2 tsp

baking powder

1/2 tsp

salt
PEPPERMINT CHEESECAKE FILLING
16 oz

(

452g

) cream cheese, room temperature

3/4 cup

(

155g

) sugar

3 tbsp

(45ml) milk

1 tsp

vanilla extract

3 1/2 tsp

peppermint extract

1 1/4 cups

(300ml) heavy whipping cream, cold

1/2 cup

(

58g

) powdered sugar
Red gel icing color
ADDITIONAL
1 1/4 cups

(300ml) heavy whipping cream, cold

1/2 cup

(

58g

) powdered sugar

1 tsp

vanilla extract

1/2 cup

chocolate sauce

1 cup

peppermint chips/chunks (I like to use the Andes Peppermint Pieces)
---
Instructions
1. Preheat oven to 350°F (176°C). Grease a 9×13 inch (23×33 cm) baking pan.
2. To make the brownie, combine the butter, sugar and vanilla extract in a medium sized bowl.
3. Add eggs and mix until well combined.
4. Combine flour, cocoa, baking powder and salt in another medium sized bowl.
5. Add the dry ingredients to the egg mixture and mix until well combined.
6. Pour the batter into the prepared pan and spread evenly.
7. Bake for 24-27 minutes, or until a toothpick comes out with a few moist crumbs. Set aside to cool.
8. To make the cheesecake filling, add the cream cheese and sugar to a large mixer bowl and mix until well combined and smooth.
9. Add the milk, vanilla extract and peppermint extract and mix until well combined. Set aside.
10. In another bowl, add the heavy whipping cream and powdered sugar to make the whipped cream. Whisk on high speed until stiff peaks form.
11. Fold about 1/3 of the whipped cream into the cream cheese mixture until combined.
12. Add the remaining whipped cream to the cream cheese mixture and fold until combined.
13. Add some red gel icing color to the cheesecake filling to achieve your desired shade of pink/red.
14. To make the additional whipped cream for layering, add the heavy whipping cream, powdered sugar and vanilla extract to a large mixer bowl. Whisk on high speed until stiff peaks form.
15. To layer everything together, cut the brownie into small pieces. Add a little less than half of the brownie pieces to the bottom of the trifle dish.
Drizzle 1/4 cup of chocolate sauce over the brownies
16. Add half of the cheesecake filling in an even layer on top of the brownies.
17. Add about 1/2 cup of peppermint pieces in an even layer on top of the cheesecake filling.
18. Spread about half of the whipped cream into an even layer on top of the peppermint pieces.
19. Repeat another layer of brownies, chocolate sauce, cheesecake filling and peppermint pieces, then add a final layer of whipped cream.
20. Finish off the trifle with any remaining brownie pieces, some additional peppermint pieces and a drizzle of chocolate sauce.
21. Refrigerate trifle until ready to serve. I like to let it all set together for a few hours before serving. Trifle will last for 3-4 days when well covered in the fridge.
---
Nutrition
Serving Size:

1 Slice

Calories:

872

Sugar:

69.7 g

Sodium:

331.6 mg

Fat:

54.9 g

Carbohydrates:

89.3 g

Protein:

11.8 g

Cholesterol:

203.4 mg
Keywords: trifle recipes, easy trifle recipe, peppermint dessert, chocolate trifle recipe, how to make trifle, trifle dessert
Filed Under:
Enjoy!
This post is sponsored, in part, by Walkers Shortbread.
This post may contain affiliate sales links. Please read my disclosure policy.