December 4, 2017
Peppermint Espresso Brownie Cheesecake
This Peppermint Espresso Brownie Cheesecake is made with a brownie bottom, peppermint espresso cheesecake and peppermint white chocolate ganache on top! It's perfectly festive and was a massive hit!
This post is sponsored by Challenge Dairy, but all opinions are my own.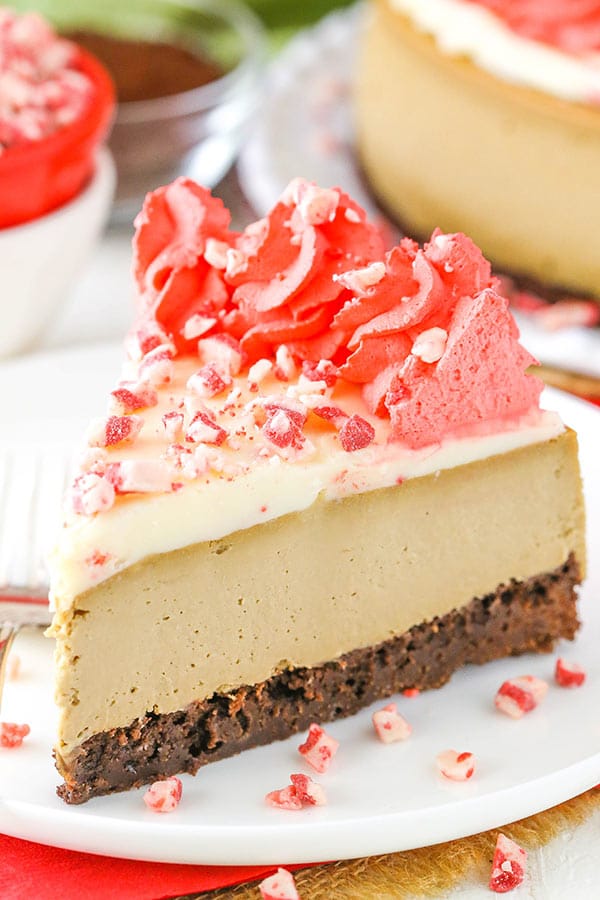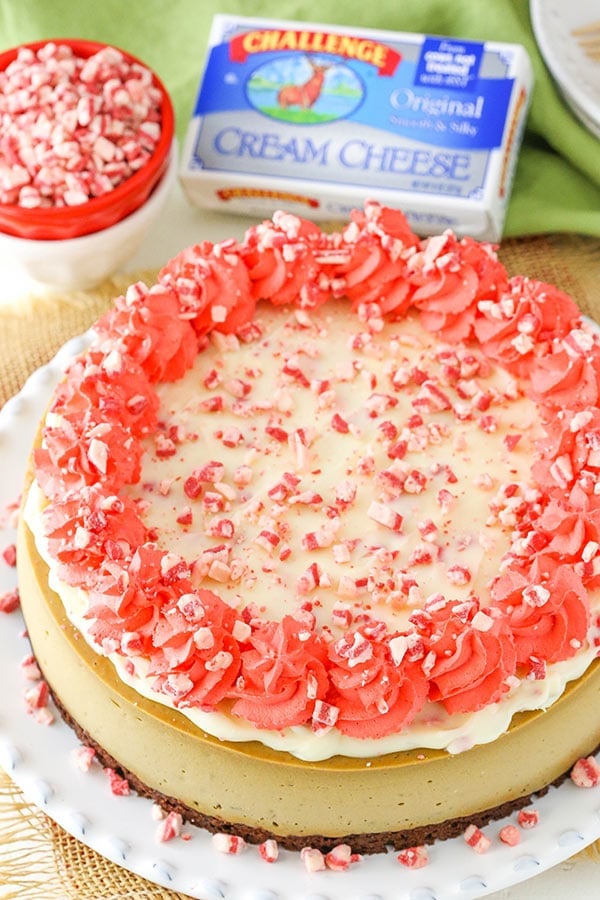 So we started moving some things over to the new house this weekend. The movers officially come today, but with all my equipment and totally breakable cake stands I felt the need to move a lot of that ourselves. It seems that all cake stands have made it in one piece. 🙂
Since we started packing at the end of October as we were getting our old house ready to put on the market, it feels like we've been packing forever. I'm excited to finally unpack! Although I think the one that will feel the most relief is Jessie, our black lab. She's been SUPER clingy and confused for the last month. Every time boxes come out to be packed and we put things in the car, she won't leave our sides. She knows something's up but doesn't get it yet. I'm hoping that once all the furniture is in the new house today, she'll settle down a bit and feel better. She was at the new house with me for a while over the weekend and could not relax. Poor thing.
And it seems we've moved into a very fun neighborhood with lot of super nice people. We've already met a handful of neighbors and been invited to the Christmas party for our section this weekend. We are moving in just in time! We are supposed to bring something and I'm thinking dessert would be appropriate. 🙂 Perhaps this cheesecake should make an appearance? Especially since it was such a big hit last time I made it!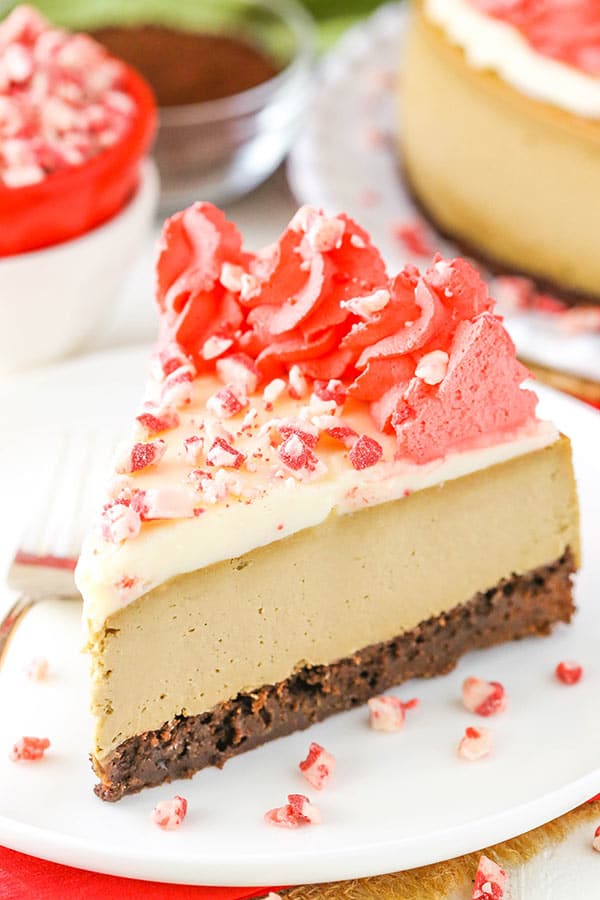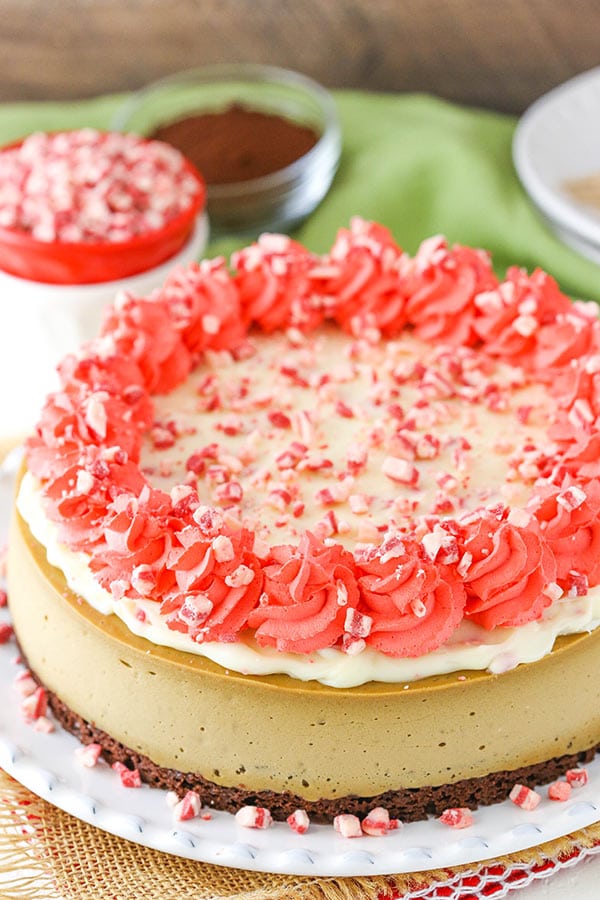 So let's talk a little about this cheesecake, shall we? It's one you could totally make in stages, if you wanted. I often make the brownie and cheesecake one day, then finish it off the next. You could even make the brownie one day, the cheesecake the next and then finish it the following day. Totally depends on your timing and how many days you want to stretch it over, but it's one that's great to prepare parts of ahead of time.
The first thing you'll want to make is the brownie. I love this brownie – it's super easy to make and ends up being a chewy, delicious brownie base for the cheesecake. Naturally I'm sure to incorporate Challenge Butter for it's wonderful quality. It's a great butter that's 100% real cream and farm to fridge in two days, so you know it's fresh. Gotta love that!
When you're ready to move on to the cheesecake, I definitely recommend washing the sides of the springform pan you used and re-spraying it with nonstick spray. I find the cheesecake does a better job of not sticking that way.
The cheesecake filling itself is again heightened in quality by using Challenge cream cheese. It's as close to homemade as it gets with nothing artificial and no added hormones, which I love! Not to mention it's wonderfully creamy! Flavor is added to the filling with a mix of espresso, vanilla and peppermint extracts. To get a nice strong espresso flavor without having to add too much liquid, I combine powdered espresso coffee with a small amount of hot water. It gives a very concentrated espresso mixture that's perfect.
Once baked and completely cooled, there's the peppermint ganache topping. It's made with white chocolate chips, some peppermint extract, heavy whipping cream and peppermint chips. I love the flavor, plus the crunch from the peppermint chips. So good! Spread that stuff right on top of the cheesecake, then finish it off with some festive whipped cream and few more peppermint pieces.
The final cheesecake is thick and creamy and FULL of flavor! The peppermint ganache with a bit of crunch, the creamy espresso cheese and the chewy chocolate brownie are seriously perfect together. There wasn't a crumb left of on the plate after sharing this cheesecake with everyone. BIG hit!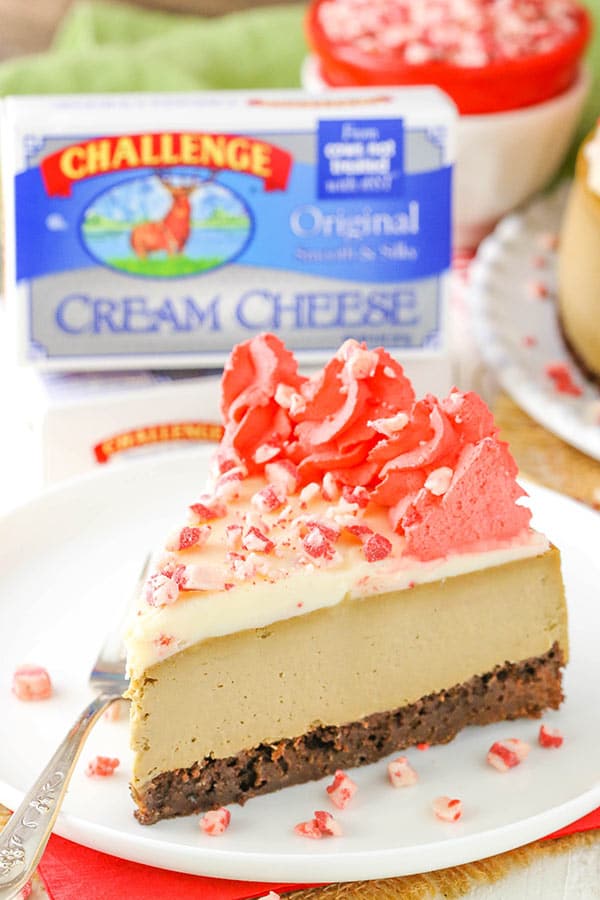 Peppermint Espresso Brownie Cheesecake
Yield:

12

-

14

Slices

1

x
Category:

Dessert

Method:

Oven

Cuisine:

American
Ingredients
BROWNIE
10 tbsp

(140g) unsalted Challenge Butter, melted

1 cup

(207g) sugar

1 tsp

vanilla extract

2

eggs

3/4 cup

(98g) all purpose flour

6 tbsp

(43g) natural unsweetened cocoa

1/4 tsp

baking powder

1/4 tsp

salt
ESPRESSO CHEESECAKE FILLING
24 ounce

s (678g) Challenge cream cheese, room temperature

1 cup

(207g) sugar

3 tbsp

(24g) all purpose flour

2 tbsp

instant coffee granules

1 tbsp

(15ml) hot water

1 cup

(230g) sour cream, room temperature

1 tsp

vanilla extract

1 tsp

peppermint extract

3

large eggs, room temperature
PEPPERMINT GANACHE
8 oz

(227g) white chocolate chips

1 tsp

peppermint extract

7 tbsp

(105ml) heavy whipping cream

1/2 cup

peppermint pieces
PEPPERMINT WHIPPED CREAM
3/4 cup

(180ml) heavy whipping cream, cold

6 tbsp

(44g) powdered sugar

1/2 tsp

peppermint extract
Red gel icing color
Peppermint pieces, for sprinkling
Instructions
TO MAKE THE BROWNIE:
1. Preheat oven to 350°F (176°C). Line a 9-inch (23cm) springform pan with parchment paper in the bottom and grease the sides.
2. In a medium sized bowl, combine the flour, cocoa, baking powder and salt. Set aside.
3. In a large bowl, combine the butter, sugar and vanilla extract.
4. Add the eggs and mix until well combined.
5. Add the dry ingredients to the egg mixture and mix until well combined.
6. Pour the batter into the prepared pan and spread evenly.
7. Bake for 20-25 minutes, or until a toothpick comes out with a few moist crumbs.
8. When the brownie is done baking, reduce the oven temperature to 300°F (148°C). Remove the brownie from the oven and allow to cool for about 10 minutes.
9. Remove the sides of the springform pan, wash, respray with non-stick spray and reattach to the springform pan bottom, with the brownie still on it. You can skip this step, but I find that the edges of the final cheesecake look best if you wash the sides of the pan before adding the cheesecake filling.
TO MAKE THE CHEESECAKE FILLING:
1. In a large bowl, beat the cream cheese, sugar and flour on low speed until well completely combined and smooth. Be sure to use low speed to reduce the amount of air added to the batter, which can cause cracks. Scrape down the sides of the bowl.
2. In a small bowl, combine the hot water and coffee granules and stir until the granules are dissolved.
3. Add the sour cream, espresso mixture and extracts to the cream cheese mixture and mix on low speed until well combined.
4. Add the eggs one at a time, mixing slowly to combine after each addition. Scrape down the sides of the bowl as needed to make sure everything is well combined.
5. Pour the cheesecake batter evenly over the brownie.
6. Wrap the outside of the pan with aluminum foil, then place the springform pan inside another larger pan. Fill the outside pan with enough warm water to go about halfway up the sides of the springform pan. The water should not go above the top edge of the aluminum foil on the springform pan.
7. Bake for 1 hour 15 minutes. The center should be set, but still jiggly.
8. Turn off the oven and leave the door closed for 30 minutes. The cheesecake will continue to cook, but slowly begin to cool as well.
9. Crack the door of the oven for 30 minutes to allow the cheesecake to continue to cool slowly. This process helps prevent cracking.
10. Remove the cheesecake from the oven and water bath wrapping and refrigerate until firm, 5-6 hours or overnight. Once completely cool and firm, remove from the springform pan and place on a serving plate.
TO FINISH OFF THE CHEESECAKE:
1. To make the ganache, add the white chocolate chips and peppermint extract to a small to medium sized bowl.
2. Heat the heavy whipping cream until it begins to boil, then pour over the white chocolate chips. Allow to sit for 2-3 minutes, then whisk until smooth. If it doesn't smooth out completely, microwave the mixture for another 10-20 seconds, then whisk until smooth.
3. Add the peppermint chips and stir to incorporate.
4. Spread the ganache evenly over the top of the cheesecake.
5. To make the whipped cream, add the cream, powdered sugar and peppermint extract to a large mixer bowl and whip on high speed until stiff peaks form.
6. Color the whipped cream with red gel icing color, then pipe around the edges of the cheesecake.
7. Sprinkle a few peppermint pieces around the top of the cheesecake.
8. Refrigerate cheesecake until ready to serve. Cheesecake is best when well covered and refrigerated and lasts well for 3-4 days.
Enjoy!