Brownie Brittle Peppermint Chocolate Pie
This Brownie Brittle Peppermint Chocolate Pie is totally getting me in the holiday spirit! I've been holding out for as long as I can with all the Christmas flavors, but I can't resist sharing this pie with you any longer. Chocolate, peppermint and Brownie Brittle are just too good together.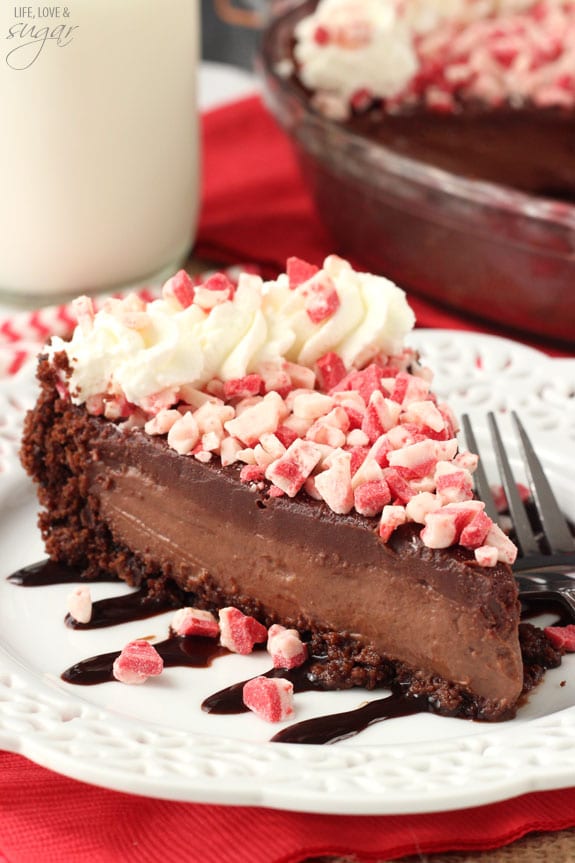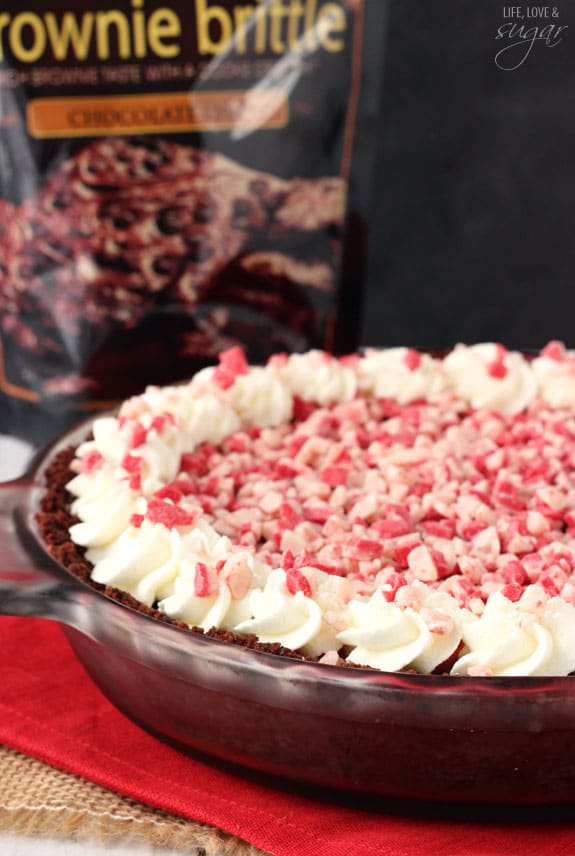 One of the things I love about this pie is that it's actually a no bake pie! No need to turn on your oven! You will use the stove, but not for long. This pie comes together so easily.
I started of with one of my favorite things in the crust – Brownie Brittle. It was my first time using Brownie as a crust and oh em gee, was it a good call. It's like having a crunchy brownie crust without all the work of baking brownies. The taste is perfection.
The Brownie Brittle and some melted butter are combined and pressed into the bottom of the pie pan to make the crust. Once that's ready, set it aside to make the filling.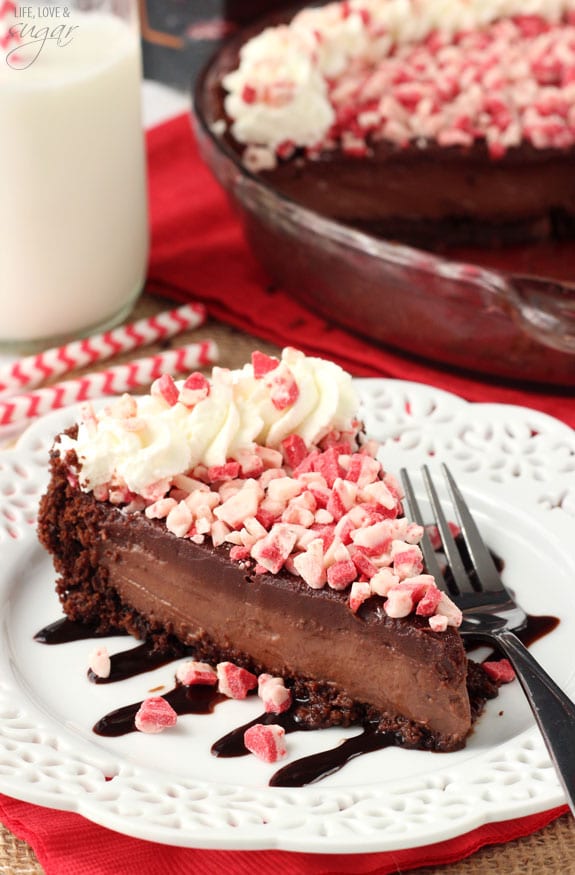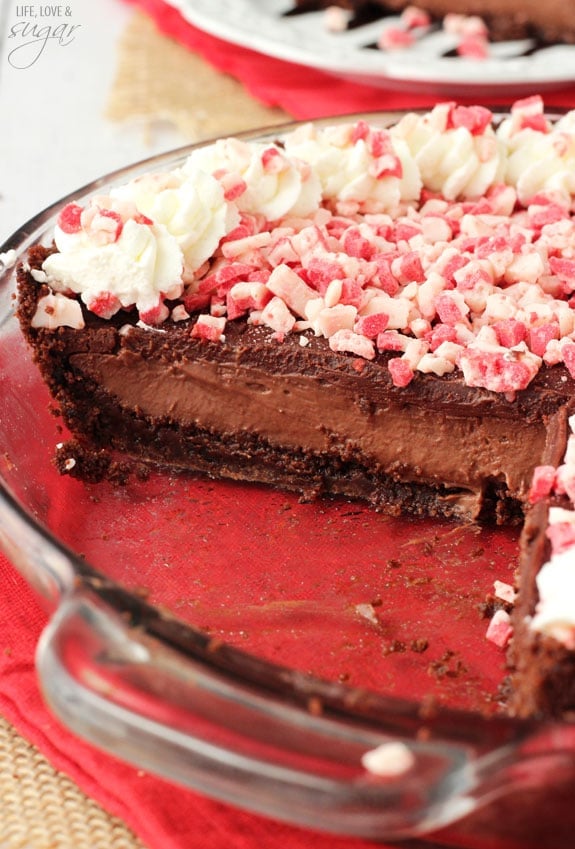 The filling is made by melting chocolate chips into milk in a pan over the stove. Once the chocolate chips are melted and combined with the milk, a little more milk and cornstarch is added along with some peppermint extract. The cornstarch will help thicken the mixture to give you a thicker pie filling.
You'll bring the mixture to a boil, which also helps to thicken the filling. Make sure to stir in constantly while it boils so it doesn't burn or get clumpy. After about 2 minutes, pour the mixture into the crust and place it into the refrigerator to set. You'll want to leave it for at least an hour, even longer if you want it thicker.
After about an hour though, you can go ahead and add the ganache layer. Please do not be afraid of making chocolate ganache. I remember I was so afraid to make it for the first time, but once I made it and realized just how easy and not scary it was, I was hooked!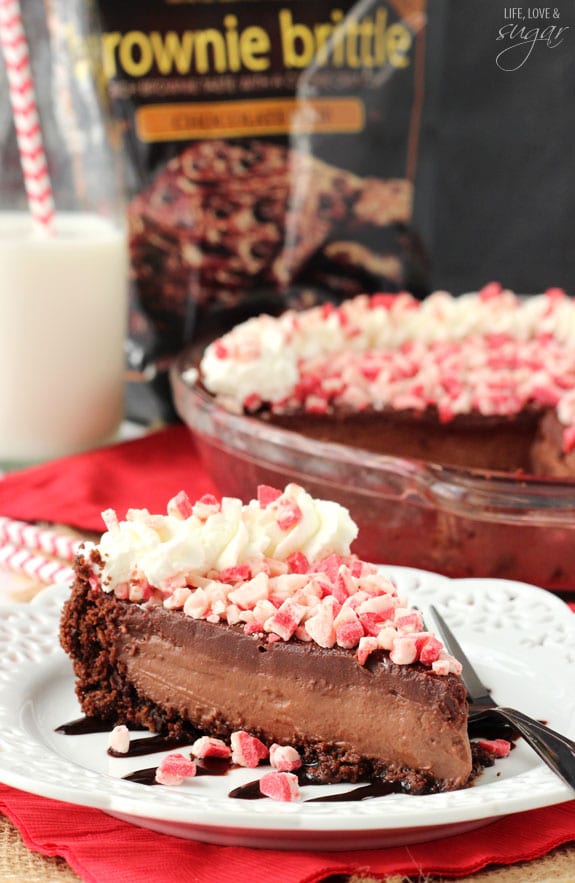 You place the chocolate chips in a bowl, preferably metal to help hold the heat. Then microwave the heavy cream until it begins to boil. Once boiling, pour the cream over the chocolate chips, cover tightly and let it sit for about 5 minutes. The cream will melt the chocolate chips and then you'll be able to whisk it until smooth.
The ganache is poured over the top of the pie, then the whole pie goes back in to fridge until completely set.
Once ready to serve, you can top the pie with some whipped cream, peppermint crunch baking chips and even a little chocolate sauce if you want. I personally am a fan of a little extra chocolate. Why not? 🙂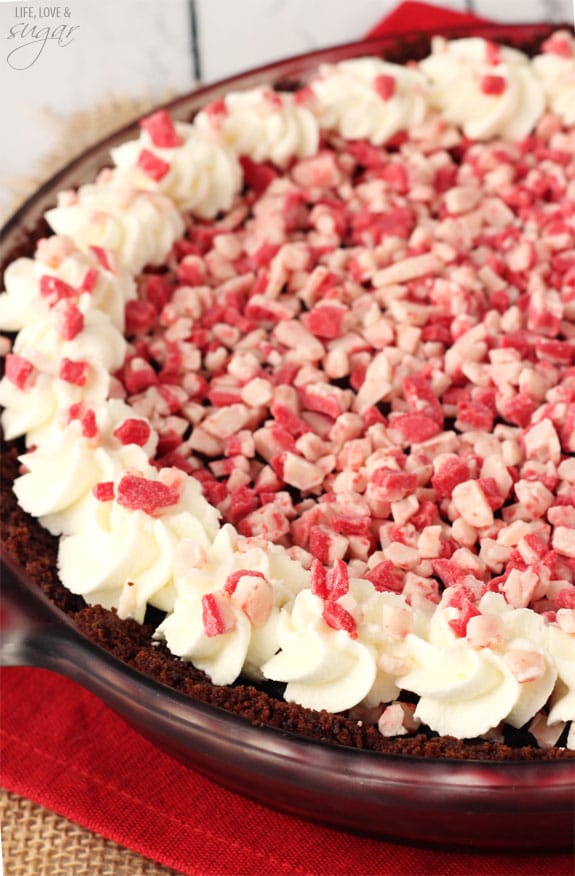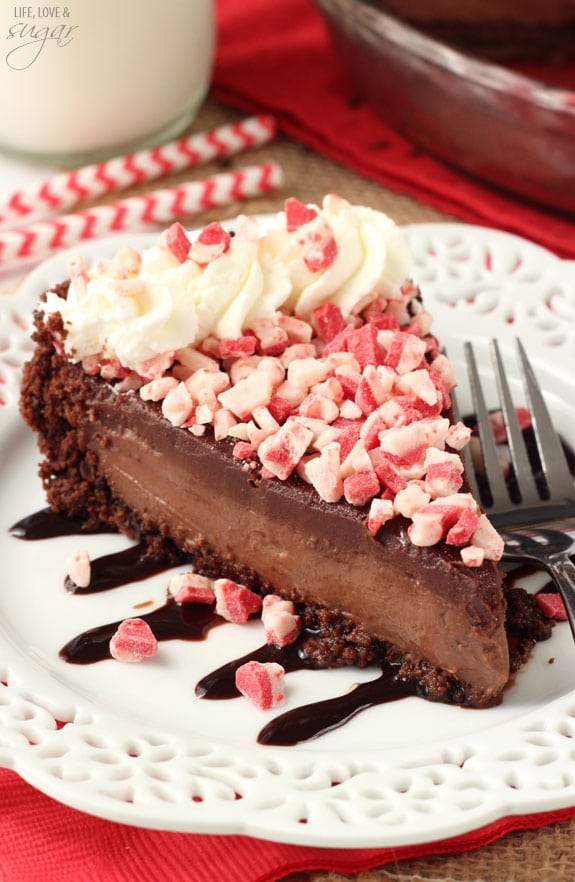 This post is sponsored by Brownie Brittle™, but all opinions are my own.
You might also like:
Mint Chocolate Brownie Brittle Bark
Brownie Brittle Birthday Cake Icebox Cupcakes
Death by Chocolate Icebox Cake
Brownie Brittle Smores Cupcakes with Chocolate Marshmallow Frosting
No Bake Brownie Brittle Toffee Bars
Salted Caramel Brownie Brittle Muddy Buddies
Shop the recipe

Brownie Brittle Peppermint Chocolate Pie
Yield:

12

-

14

Servings

1

x
Category:

Dessert

Method:

No Bake

Cuisine:

American
Ingredients
CRUST
2 cup

s Brownie Brittle crumbs (about

8 oz

bag)

5 tbsp

butter, melted
FILLING
2 cup

s milk

2 tbsp

+

2 tsp

cornstarch

1 cup

chocolate chips

1/2 tsp

peppermint extract
CHOCOLATE GANACHE
6 oz

semi sweet chocolate chips

1/2 cup

heavy cream
TOPPING
Peppermint crunch baking chips
Whipped cream
Chocolate sauce, if desired
Instructions
1. Grease a 9 inch pie pan.
2. Add melted butter to brownie brittle crumbs and mix until combined.
3. Press brownie brittle mixture evenly into the bottom and up the sides of a 9 inch pie pan, then set aside.
4. Whisk the cornstarch and 1/4 cup milk together in a small bowl. Set aside.
5. Add chocolate chips and remaining milk to a sauce pan and melt on med-low heat until smooth, whisking to keep from burning.
6. Once melted, add cornstarch mixture and peppermint extract and whisk together.
7. Bring the mixture to a boil, whisking constantly. It will begin to thicken.
8. Once boiling, whisk continuously for about 2 minutes, until fully thickened.
9. Pour mixture into crust.
10. Refrigerate for about an hour, then make ganache.
11. To make the ganache, put chocolate chips into a metal bowl.
12. Put heavy cream into a microwave safe bowl, or glass measuring cup. Microwave until it begins to boil, then remove and pour over the chocolate.
13. Immediately cover tightly with clear wrap and let sit for about 5 minutes.
14. Remove wrap and whisk until smooth.
15. Grap pie from refrigerator and pour ganache over top of the pie, spreading into an even layer.
16. Refrigerate pie until completely set, another hour or two.
17. Once ready to serve, top pie with whipped cream, peppermint crunch baking pieces and chocolate sauce.
Enjoy!