This post is sponsored by ALDI, but all opinions are my own.
If you follow me on instagram, you may have seen pictures from my trip to Chicago last week to visit with the folks from ALDI and see the ALDI test kitchen. The trip was a ton of fun packed with food and wine! Not a bad way to spend a day, right? 🙂
If you've read my other posts about ALDI, then you know that ALDI stores are new to me. I didn't grow up with them and I've only recently learned more about them. And I've totally fallen in love – especially after this trip. Two of my biggest takeaways from this trip were learning about their commitment to quality – that all their products need to meet or exceed the taste and quality of national brand products (and they do!) – and that they have some super tasty wines. I am a fan.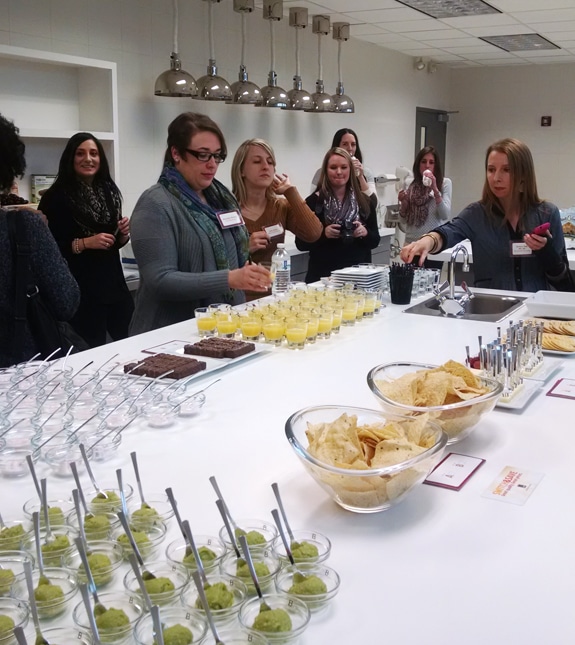 When we arrived at the test kitchens, they had a blind taste testing set up for us to compare ALDI brand foods with national brands. Without knowing which was which, we tasted each thing and then voted for our favorites. The tallies were then revealed, along with the savings between the two.
It was amazing how close most of the votes were! And in a number of cases, ALDI won by quite a few votes (out of 14). That definitely showed that ALDI was meeting their goal of having foods that are equal or better quality than national brands. Even in instances where I chose the national brand, the ALDI brand was definitely comparable.
Some of the most interesting results:
Protein bar – ALDI won 10-4
Guacamole – this one was a tie, but I was surprised that the vote was so close. I actually picked the ALDI brand. And I totally picked some of it up at our local ALDI Monday and it's already gone. The hubs and I devoured it.
Havarti Cheese – ALDI won by a slight margin, 7-6, but again I picked the ALDI brand. I tend to be picky about cheese (it's a texture thing) and after tasting a number of their cheeses on this trip, I'm a fan.
Crackers – ALDI won 12-1! Again, big surprise to me. The national brand is quite popular and the ALDI brand was better, hands down. So much more buttery and flavorful.
So basically what I'm saying it ALDI rocks. It was so awesome to be able to taste a number of their products and really get to experience the quality of them. And they're a lower price! Score! With most products, you're not just saving a few cents, but a few dollars. Particularly with the holiday season upon us and all the food we go through hosting people, those savings add up quickly!
We also got to try their line of gluten free products and they were great. The "Live G Free" Gluten Free Rosemary and Olive Oil Multiseed Snack Crackers were awesome! I actually got some of those on Monday too and ate them with my guacamole. Both are gone.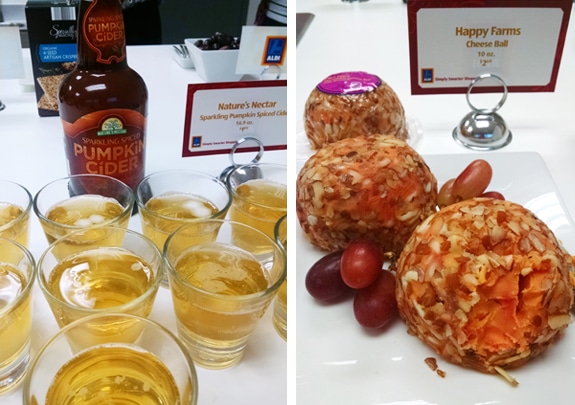 And then their holiday products? Seriously, I sound like a broken record, but so good. I tell you because you totally need to go get you some – either to keep for yourself or share with friends. The Sparkling Pumpkin Cider was amazing. I might have had multiple cups of it. I tried to get some Monday too, but sadly couldn't find it. I will be checking back. I also treated myself to a few bites of that cheese ball. I like my cheese.
Then we moved on to a wine and food pairing. I'll say that one of the things I love about ALDI wines is the labels they have on the back. I am not a wine connoisseur, so the labels really help with deciding which bottle of wine I'd like. We learned so much about wines and how to taste them and compare them and sample them with food – it was awesome. I definitely feel like I could school a few folks. More on that later though.
Then, using all we learned about wines, we were challenged to take a Thanksgiving meal and pick the right wines for each food. The ham and glaze recipe they used was seriously awesome. There were three teams competing and ours placed right in the middle.
Then they treated us to dinner and more wine. Honestly, at this point I could barely eat any more, but I did at least taste everything and it was all delicious. All prepared with ALDI ingredients and recipes. I'm now completely convinced that ALDI really knows their stuff.
The following day, we took a trip to the ALDI store and were able to see our new favorite products on the shelves. We learned more about how they keep costs down so that they can pass the savings onto us. One of the biggest time savers for them, which lowers costs, is the way they display products. Shelves aren't stocked like you find in a traditional grocery store. They are shipped in nice looking cardboard boxes that are stacked and used as the shelves. The boxes are also recycled and customers can even use them for their groceries in lou of bringing reusable totes, which they also sell at ALDI.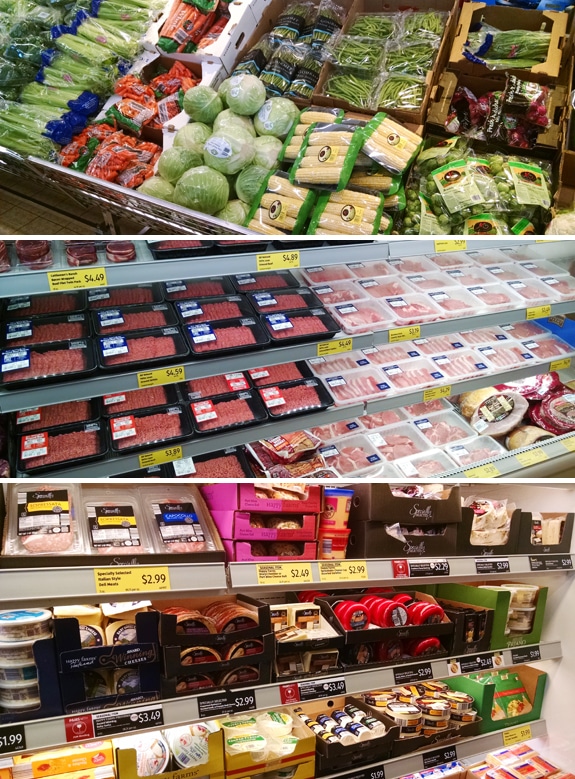 The had some great looking produce at amazing prices. Their pomegranates (POM brand) were only $0.49! Crazy! I was just in my local grocery store this week and they were $2.50! Seriously, why would you pay $2 more?
They also already had their Butterball turkeys in stock and had great prices on those as well. A 20 lb turkey for less than $25. A steal! And literally the same brand as my local grocery store carries.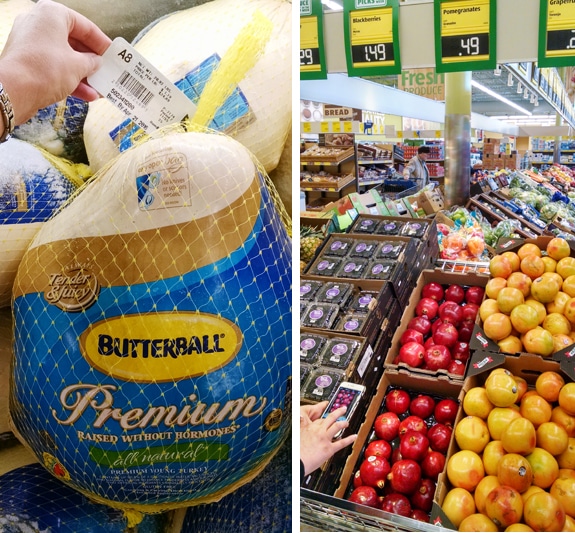 Not to mention that they have great baking ingredients, also at a fraction of the cost.
So yea, I'm officially an ALDI lover. They've converted me. Great food, great deals. What more could you ask for? I had a great time and am so thankful I was asked to be a part of the experience.
And as always, I love getting to spend time with fellow bloggers. These ladies are all awesome!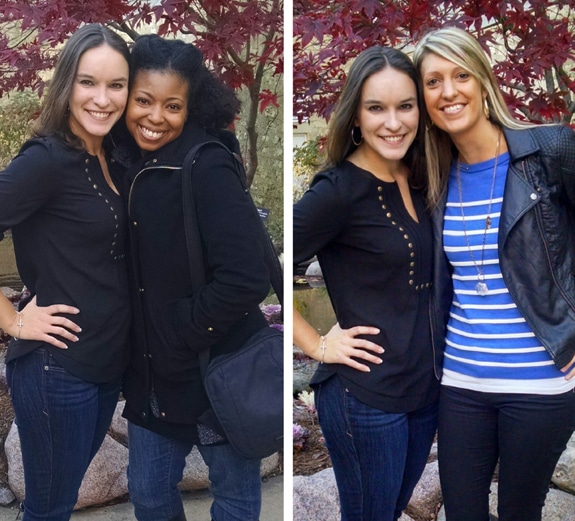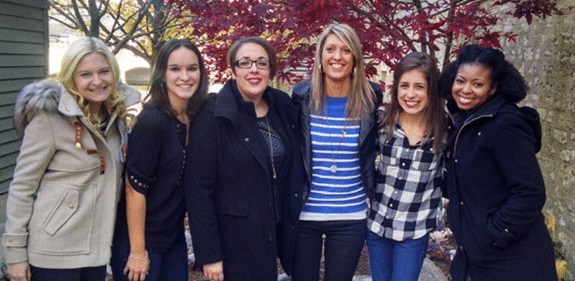 This post may contain affiliate sales links. Please read my disclosure policy.