It's Stitch Fix Friday! I look forward to receiving my boxes every month, so it's only right that I share them with you. They're always lots of fun to get in the mail and July's box was no exception!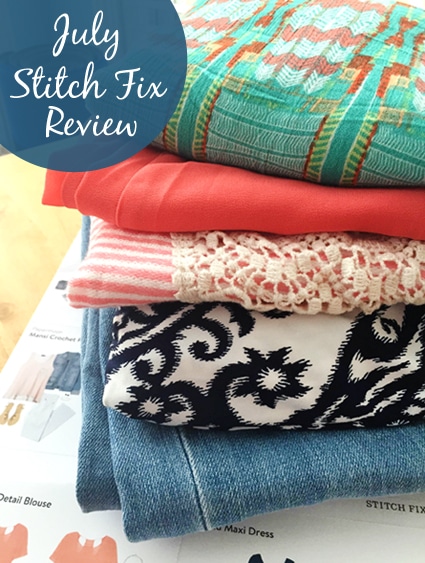 Well, basically it's like having your own personal stylist. But better.
More specifically, it's a monthly subscription (although you can set it to every other month too). When you sign up, you fill out a profile where you specify all kinds of things like sizes, price, shapes and styles you prefer, colors and patterns you prefer. You can make a pinterest board and link to that so that your stylist can get a feel for what you like. You basically want to provide as much detail as you can so that they can pick stuff to match your style.
Then you pick a date to have your box arrive. You'll get 5 pieces. It can be clothing and accessories. You pay $20 a month to receive the box and if you decide to keep stuff, the $20 goes towards the purchase of your items. If you keep everything, you get 25% off – score! I've done that several times. Plus, if there's a month that's not so good and you don't want a box, you can turn it off for a month – no penalty.
Once you get your box, you have 3 days to try everything on and decide what to keep. This part is my favorite, obviously. They even give you an awesome card that has suggestions on what to pair the items with! And they send you pre-paid envelope to put everything in to mail it back. Just pop in it the mailbox! You can give them feedback online about what you liked and didn't like to help them send even better stuff in the next box. You can even request something specific.
Previous Fixes:
June 2015 Stitch Fix Review
April 2015 Stitch Fix
March 2015 Stitch Fix
July 2014 Stitch Fix
Here's what I got in July!
July 2015 Stitch Fix Try-On & Review
1. Gilli Ryland Maxi Dress – $84
I LOVE this dress! I want to find a reason to wear it all the time. There's nothing I don't like about it. I like the color, the pattern, the fabric is super comfortable. Love.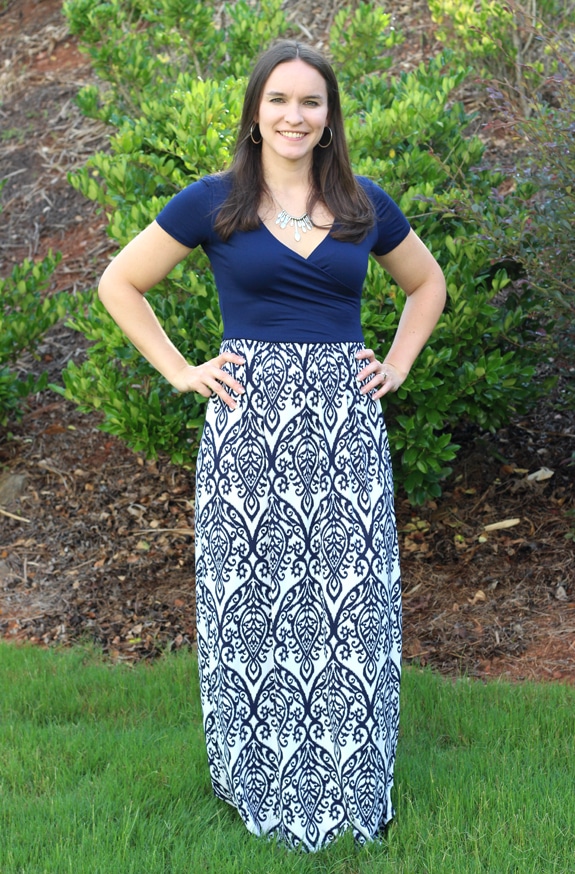 2. Kut From The Kloth Kate Distressed Boyfriend Jean – $78
I'm not going to lie, the hubs and I were not impressed by these jeans when I pulled them out of the box. I have never owned a pair of jeans that purposefully had tears in them. I mean, why? But they surprised us both – which is one of the great things about Stitch Fix. Never would I have even tried these on in a store. But I fell in love with them. Love! They make me feel super cool. 😉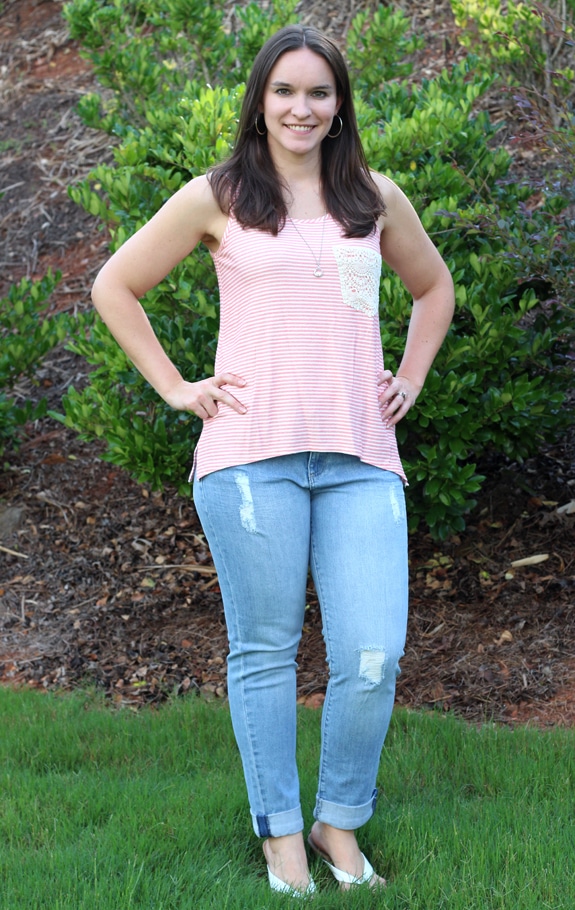 3. Papermoon Mansi Crochet Pocket Knit Tank – $44
I wasn't so sure about this top at first. It seemed like the lack of shape wouldn't work well for me, but I ended up really liking it – especially with the jeans. I love the pocket detail too.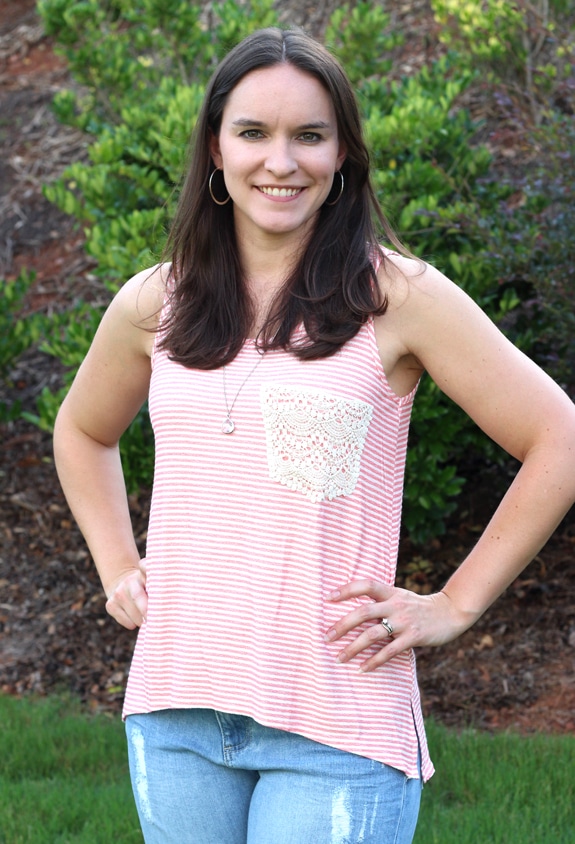 4. Renee C Elvita Split Neck Top – $48
I also wasn't sure about this top when I pulled it out. The fabric is super soft and I love teal, but wasn't sure about the pattern. Once I put it on though, I was a fan. I've already worn it several times and I love how comfy it is.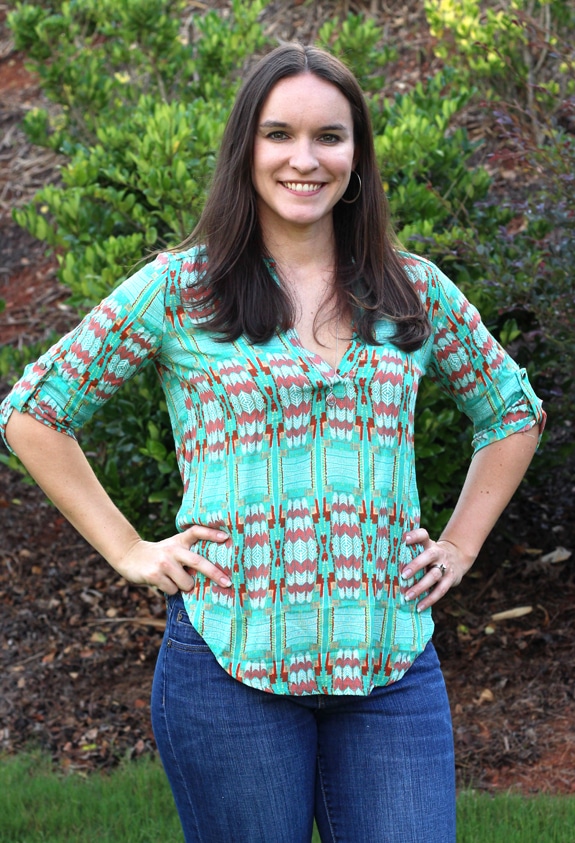 5. Papermoon Hamlet Lace Detail Blouse – $38
Again, wasn't sure about this one at first. I love the color and thought the lace detail was neat, but wasn't sure. I really like it when I tried it on though. Plus, it looks great with the necklace I got in a previous fix. 🙂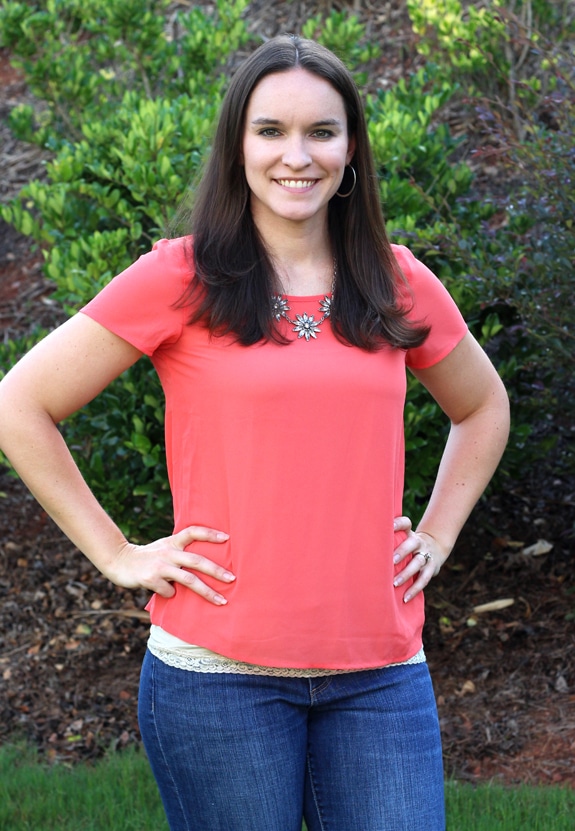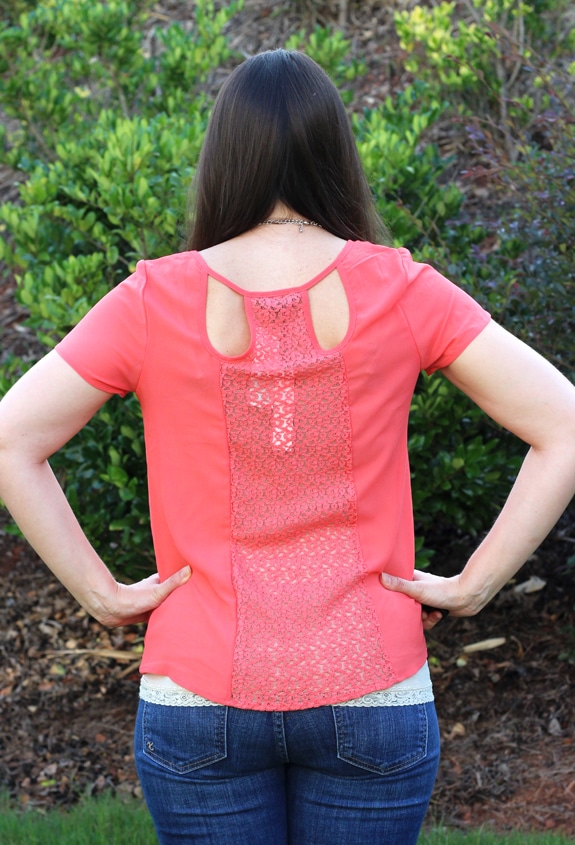 So all in all, it was a very successful fix! I kept everything, so I got 25% off and I got a few items that I never would've picked for myself but have worn several times since getting them. 🙂
If you want to check it out for yourself, sign up here!
Disclaimer: This is not a sponsored post. I signed up for Stitch Fix and purchased the box myself. I'm sharing my opinions because I think they will help others. This post does contain referral links for new sign-ups that gives me a small credit towards my next box.
This post may contain affiliate sales links. Please read my disclosure policy.