I've had so much going on recently and I'm excited to share it with you guys. In today's edition of Let's Chill, I'll be telling you all about my life lately – from concerts to tennis tournaments!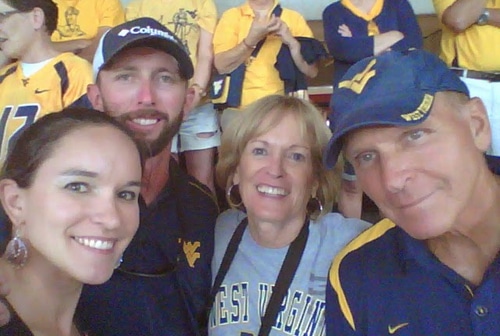 Let's Chill #3
Happy Labor Day! I hope every one has some fun plans today! At the very least, I hope you are relaxing and enjoying the day. I'm sleeping in and chillaxin', so let's do this!
1. Did you see that I was featured in Woman's Day Magazine with my No Bake Oreo Cheesecake?! I was pretty excited! Some of my favorite bloggers have been featured, so it was pretty cool. 🙂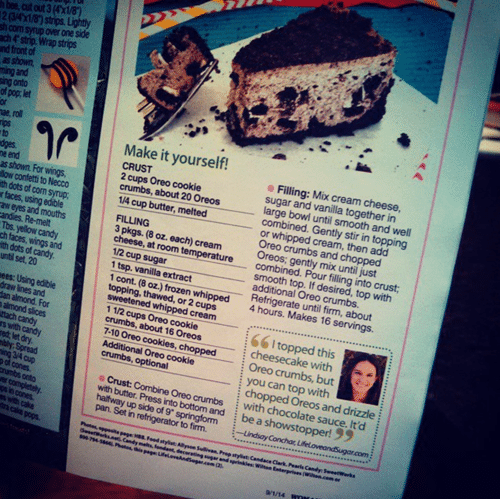 2. Apparently August 26 is National Dog Day. I kinda missed out, but since I love our pup I decided to go ahead and show her off today. Is she not the cutest thing? I took some pictures of her a few weeks ago and this is one of them. She's not even 4 yet, and she's getting so grey.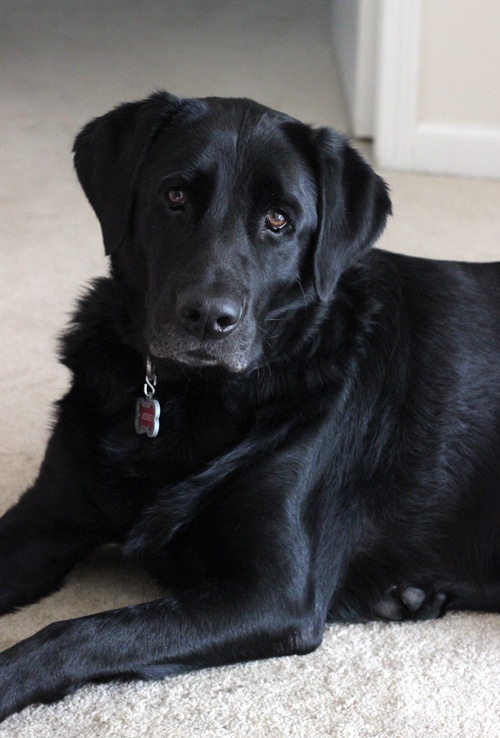 3. In case you missed it, I went to the Boyz to Men and En Vogue concert a couple weeks ago. BEST CONCERT EVER! I went with my friend, Lauren, and we had a blast. I didn't want it to end. The picture below is of En Vogue. My phone died before Boyz to Men came on. 🙁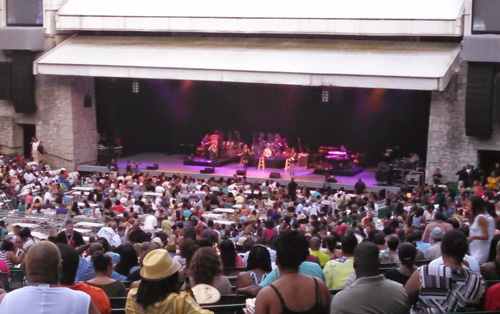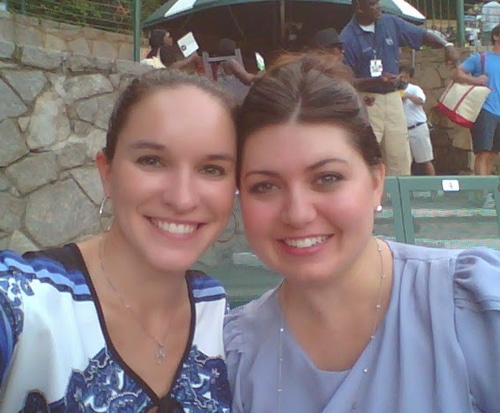 It was insanely hot out, so it didn't take long before the hair went up.
Football Game
4. We went to the WVU vs. Alabama football game on Saturday with the fam and some friends. It was a good time. My dad grew up in West Virginia and played football for WVU, so it's always a big deal when they play nearby.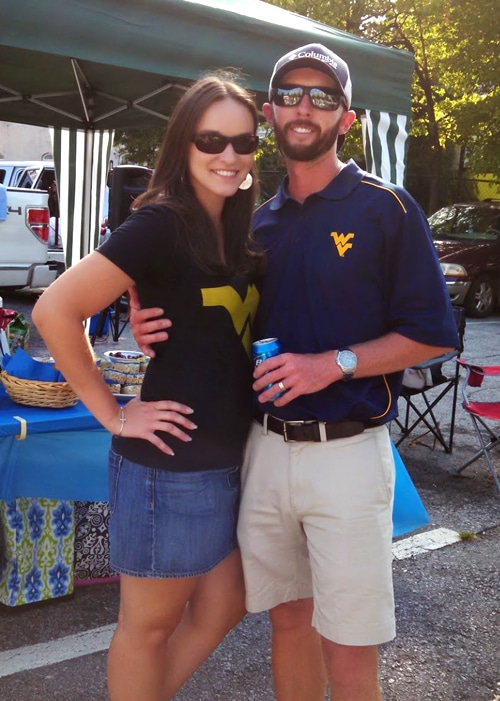 I love these two. Best parents ever.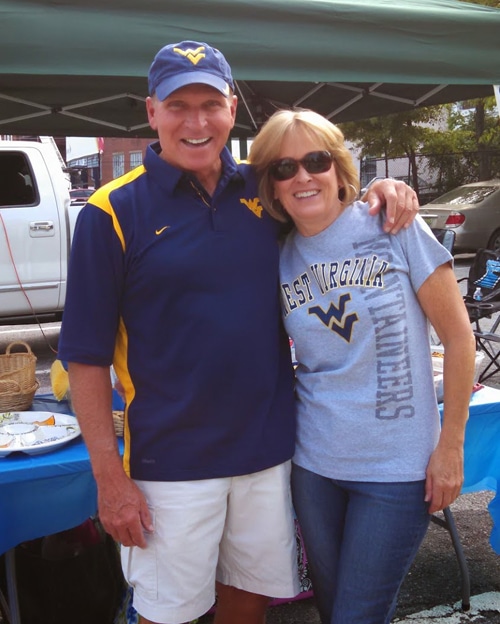 We had to leave the house at 8 am because he wanted to be downtown by 9. We had a nice long morning of tailgating! It was brutally hot later in the morning though. Thank goodness there was plenty of good food, drinks and company.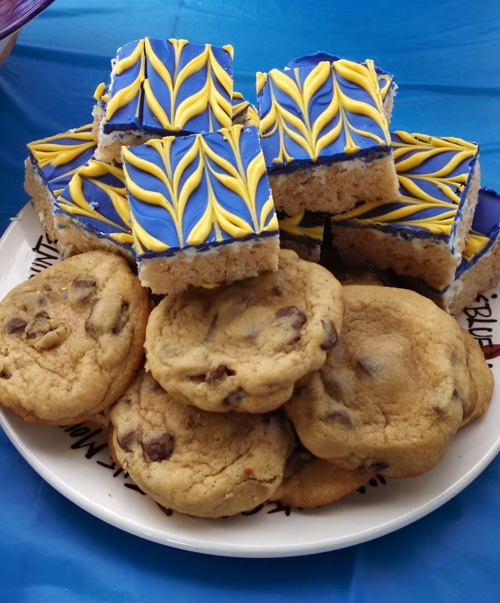 I brought my Thick and Chewy Chocolate Chip Cookies and Funfetti Cake Batter Rice Krispie Treats that I decked out in WVU colors, plus a cake I'll be sharing with you soon. I rigged my cake carrier to keep the cake cool by using packing tape to tape ice packs to the inside of it. 🙂 It works surprising well – the cake didn't melt.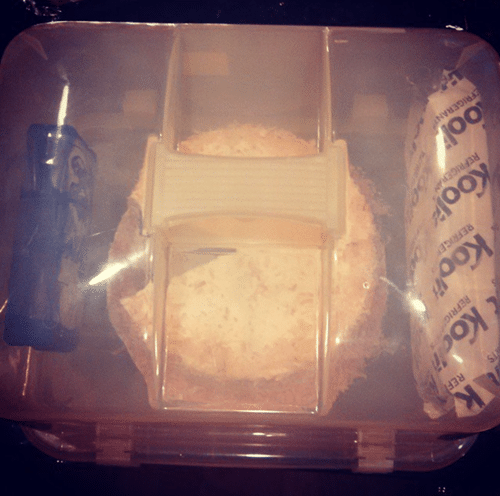 Notice the slice missing? #foodbloggerproblems #hadtogettheinsideshot
We had a pretty sweet tailgating spot, right next the ferris wheel, with the Westin in the background.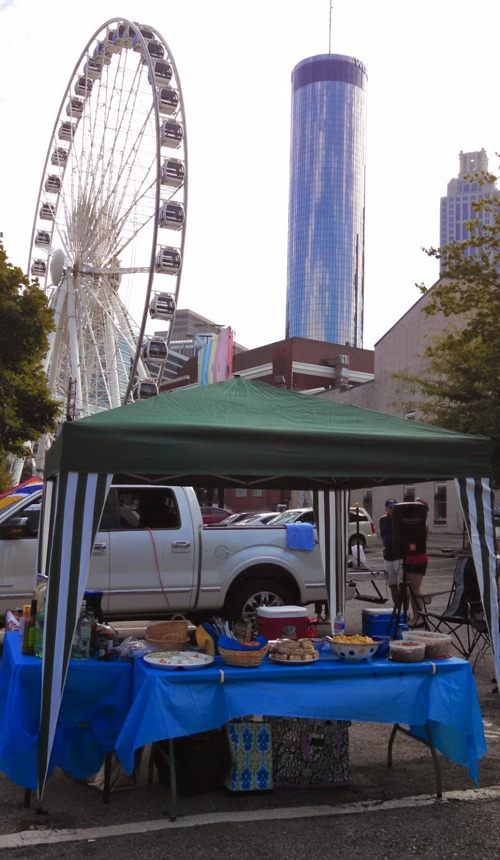 And I got Dippin' Dots in the stadium. I love them. Banana Split flavor rules.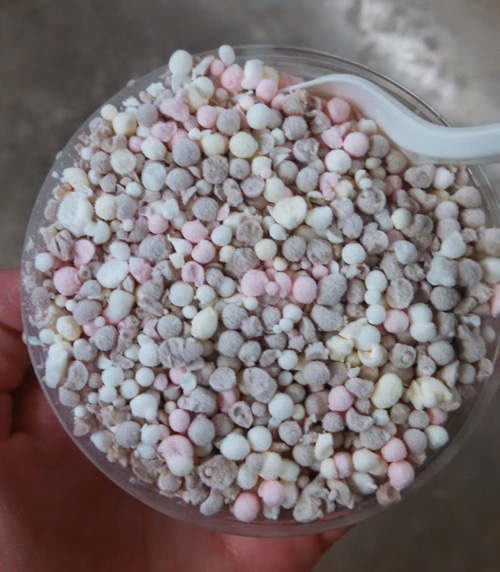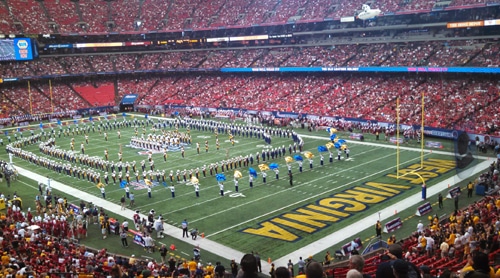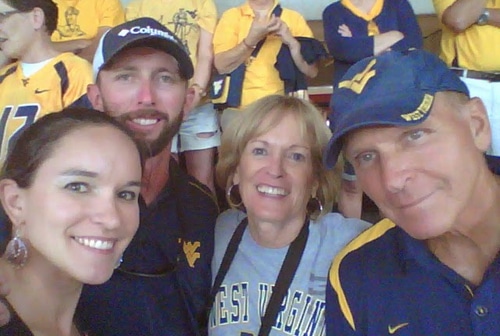 Tennis Tournaments
5. The hubs has been playing a ton of tennis lately. He's played in two pro-am tournaments, also called pro-member tournaments, where the pros (like the hubs) play with a club member in doubles. He won one and lost the other, but it's been fun to watch.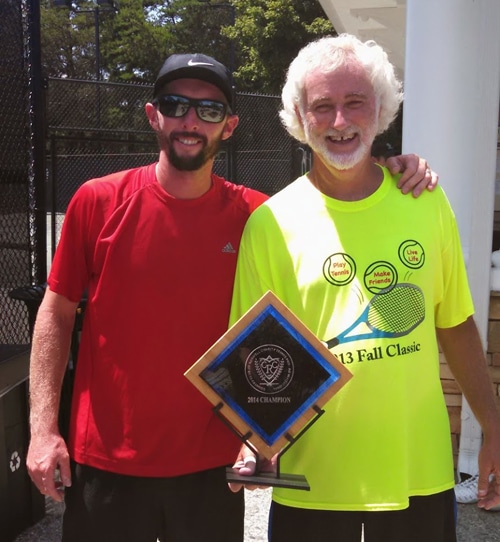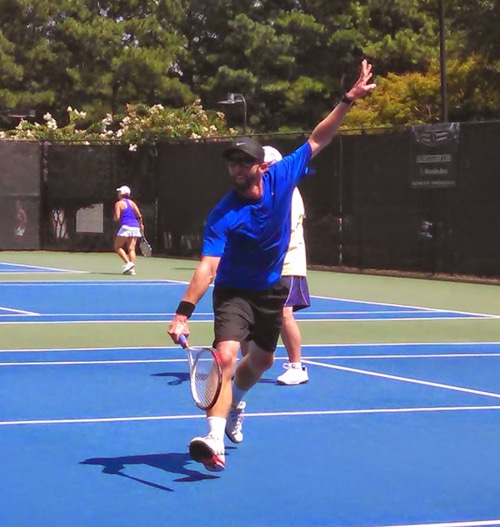 6. I got these new OXO containers at Home Goods a couple weeks ago for my flour and sugar and an IN LOVE with them. There's a little circle in the center that you press to seal it and release it. It makes it so much easier, I don't know why it's taken me so long to do it.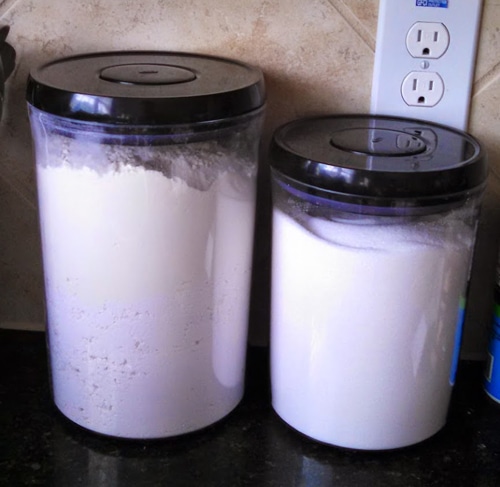 7. Divergent fans – Have you seen the new book, "FOUR"? It's a compilation of four mini-books about Four. You read about him in the choosing ceremony and his initiation into Dauntless. You also get to read some of the scenes with him and Tris from his perspective, like when they first meet. I enjoyed it. 🙂
8. Have you seen these Brownie Brittle Icebox Cupcakes I posted? So easy and so yummy! I am totally in love with Brownie Brittle.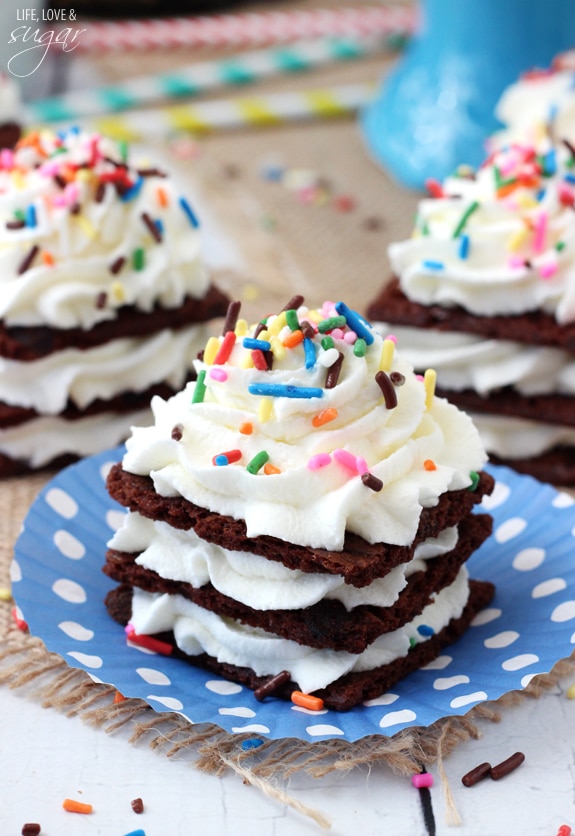 9. And this Cinnamon Roll Poke Cake? I want to eat it every day.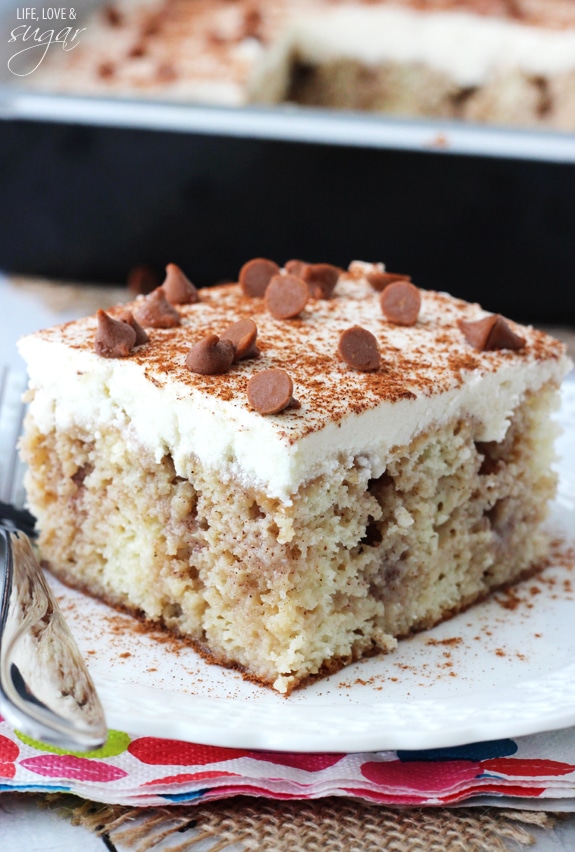 10. Chocolate Donut Hole Cheesecake. Cheesecake and donuts had a baby. And it's tasty. 🙂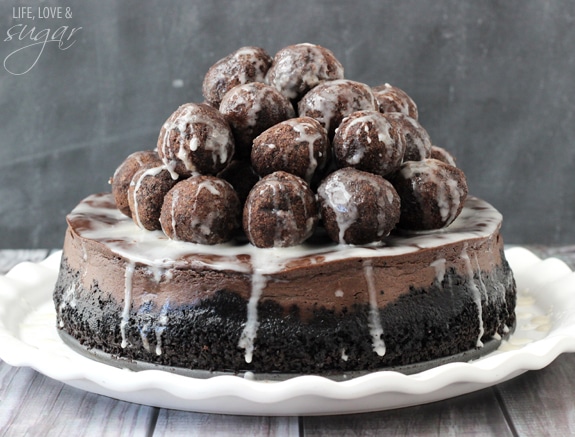 11. Funfetti Cake Batter Cookie Dough Brownie Layer Cake. Because everything is better with Funfetti.
12. I am so pumped for all the apple treats, like these Caramel Apple Bars! And pumpkin treats, like these Pumpkin Donut Muffins!
Everything is better fried, especially these Baked Deep Fried Oreos.
Puppies need treats too (Cheesy Cornbread Pupcakes).
The perfect fall breakfast! Pumpkin Muffins with Cinnamon Pecan Streusel Topping.
I love mint and want this Double Mint Chocolate Poke Cake.
My new favorite drink, Pina Colada Sangria.
I want to make these Nutella Truffles and give them to every one I know.
My ideal breakfast, Cinnamon Roll Pull Apart Bread.
It's always a perfect day for these Pineapple Upside Down Milkshakes.
I need to make these Baked Crab and Artichoke Rangoon. Then eat all of them.
Um, this Crepe Cake. Amazing.
This post may contain affiliate sales links. Please read my disclosure policy.