When it comes to bridal showers, Mickey Mouse might not be the first thing that comes to mind. But for any Disney lover, this Mickey Themed Bridal Shower is loads of fun and makes for some very nice decorations!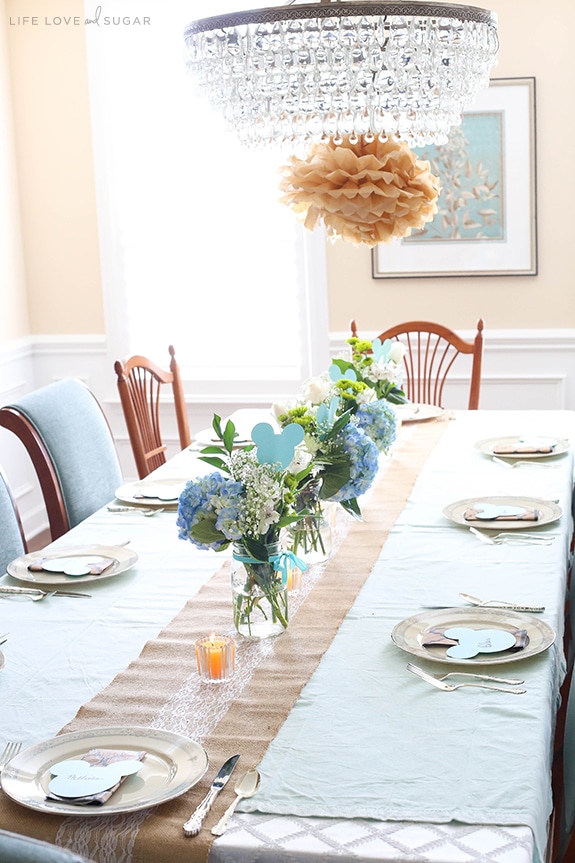 Mickey Mouse Themed Bridal Shower
So I'm guessing "mickey" and "bridal shower" are two things you don't usually expect to see together? 🙂 Well, my cousin is a big Disney fan so a Mickey Bridal Shower was perfect for her. And with some fun touches, what is normally reserved for kid's parties turned into a fun and sophisticated bridal shower.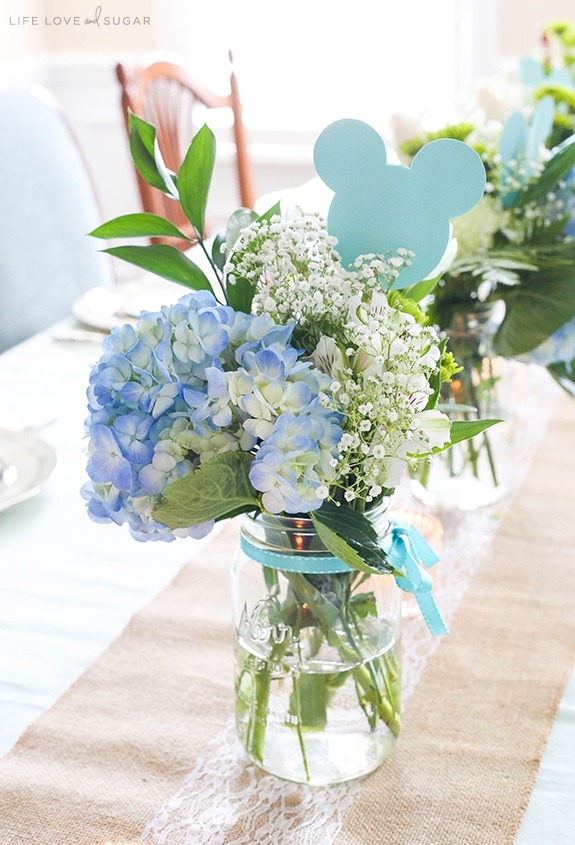 Let's face it, it's hard to find mickey party supplies that aren't geared towards kids. I don't know why. I know many adults who love Disney, but alas it's true. So when my mom and I settled upon a theme for my cousin's bridal shower that involved burlap, lace, the color blue and Disney, we had our work cut out for us. After googling like crazy to find things that weren't made for kid's parties, I finally decided to take matters into my own hands and make my own Disney decorations.
But before I show you how to go about it, let's take a look at the shower overall.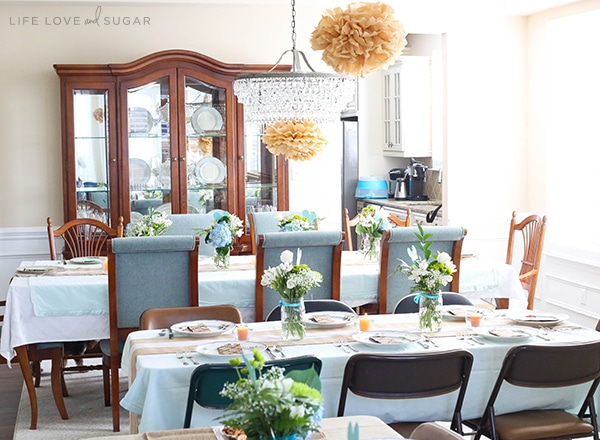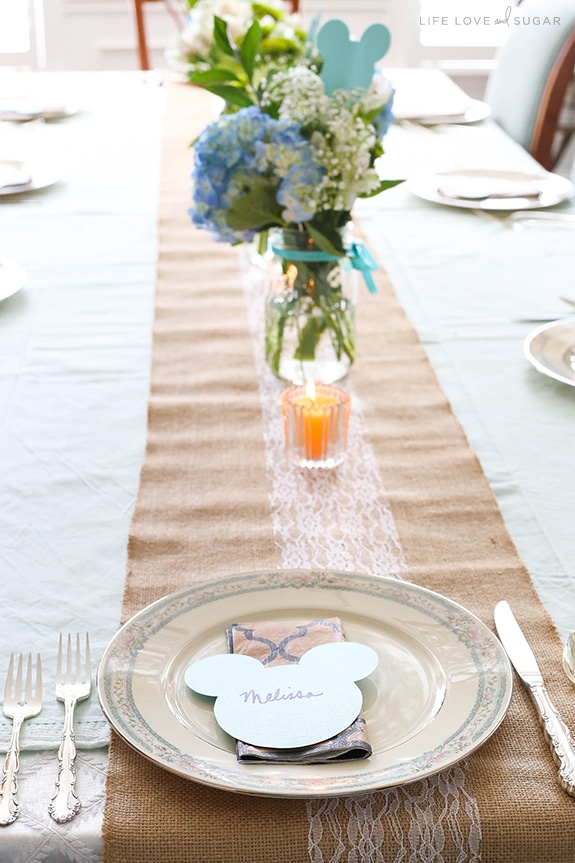 DIY Disney Party Decorations
It was hosted at someone else's home. My mom and I were the decorators. We spent some time at our favorite store – Home Goods – and got some pretty table cloths. We gathered various burlap and lace runners from Walmart and Michael's. Cute napkins were found at Hobby Lobby. And thanks to my extensive collection of mason jars, we had quite a few of those on hand. We added some ribbon to the mason jars and the paper flowers hanging from the ceiling were from hobby lobby.
The flowers were put together by myself using flowers from Fresh Market and Publix.
To sprinkle mickey into the burlap, lace and flowers, I made mickey cupcake toppers, plate settings and mickeys for the flowers. They weren't hard to make, but they do take a bit of time to cut everything out and put it all together. I started by making my templates.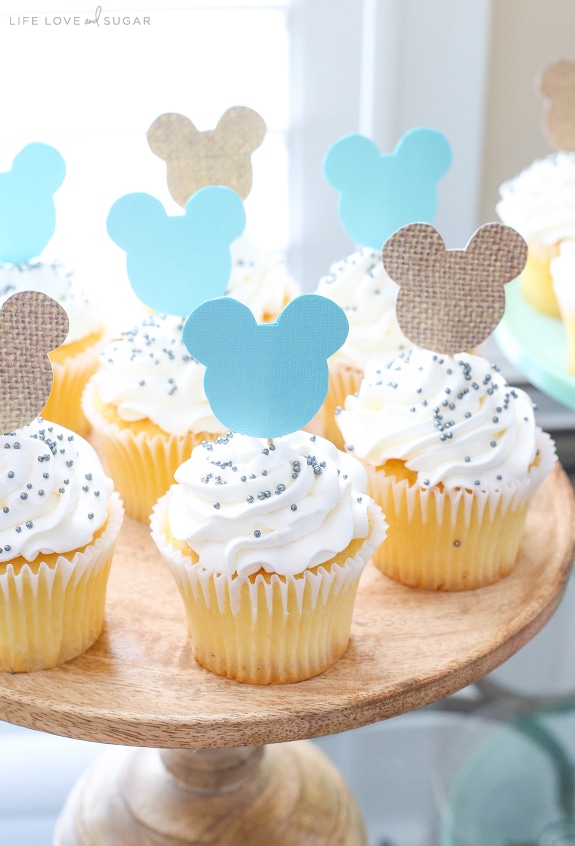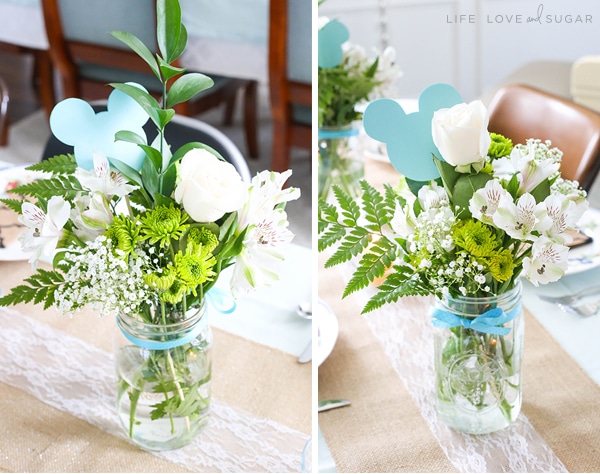 How to Make Mickey Mouse Decor Templates
To make the mickey templates you'll need a few paper plates, a pen, scissors, skewers, toothpicks and assorted round things of correct sizes that you can trace. The sizes of your objects will depend on the size you want your mickeys and what you're going to use them for. For the cupcake toppers I used the bottom of a spice jar for the head and a chapstick for the ears. They were nice and small. From there, size up based on what your needs are.
I started with the head and traced my object onto the paper plate. Next was the ears. Do your best to space them correctly, but the great thing is you can redraw the ears as many times as you need until you're happy with it. Then cut it out and you have your template! I ended up with 3 different sizes.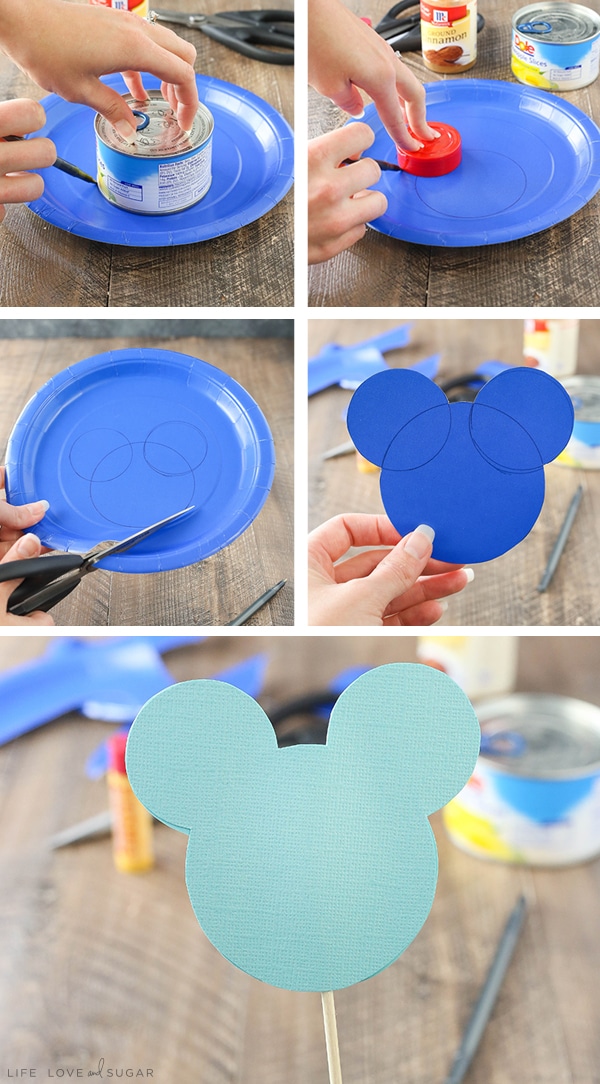 I don't have pictures of the next part because I took these photos after the shower and everything was gone, but you'll trace the mickey heads onto the paper you're using. Our teal and burlap paper was from Michaels. They have some great textured papers. I traced a bunch of mickey heads at a time onto the paper and then cut them all out at once.
One thing to note about cutting them out is that I'd recommend cutting just inside the line you draw so that when you use them there aren't any pen lines. You'll need to make twice as many heads as you need because they are double sided.
To put them together, tape a skewer or toothpick (depending on which thing you're making – skewers were used for the flower mickeys and toothpicks for the cupcakes) to the back of a mickey head. Use a glue stick to glue a second mickey head to the back. If they aren't lined up perfectly, you can trim around the edges.
Let them dry and you're done! All the tracing and cutting and gluing can take a little time, but it's pretty inexpensive to do and they are so cute!
The mickeys were perfect on the cupcakes! I'd love to tell you I made the cupcakes, but I didn't. The shower was out of town for me and I was pressed for time. So we got them locally and added some cute sprinkles and the mickeys. And I LOVED seeing mickey poke out from the flowers.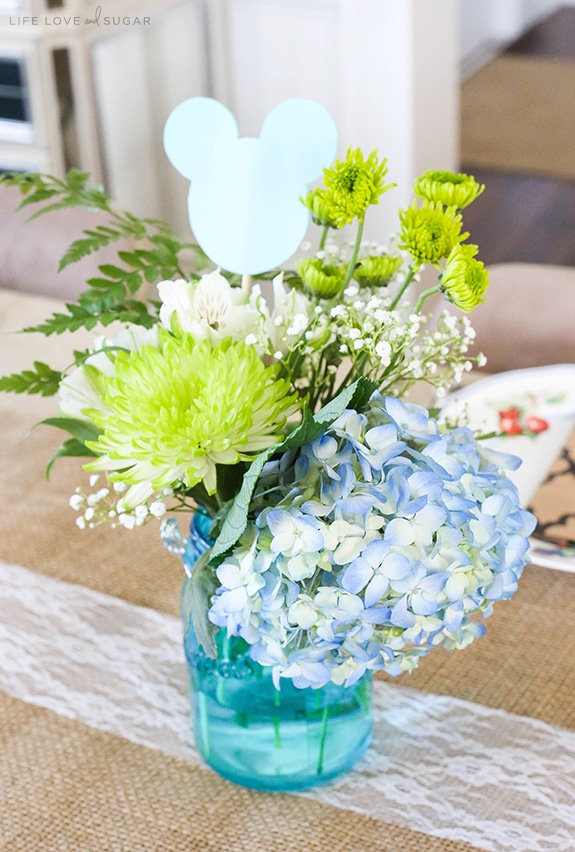 So there you have it – a burlap, lace and mickey bridal shower! Cute, right?! And it would totally translate to lots of occasions where you want mickey to make an appearance, but not on a party favor for a 5 year old. 🙂
This post may contain affiliate sales links. Please read my disclosure policy.