Key Lime Pie Layer Cake
This Key Lime Pie Layer Cake is so good! Layers of key lime cake, key lime frosting with a touch of sweetened condensed milk and graham cracker crumbs make this cake reminiscent of the pie and full of flavor!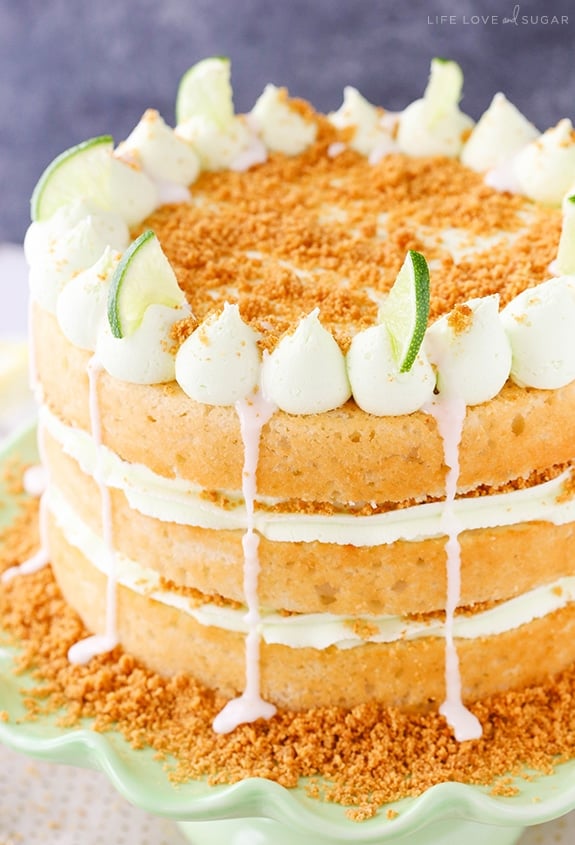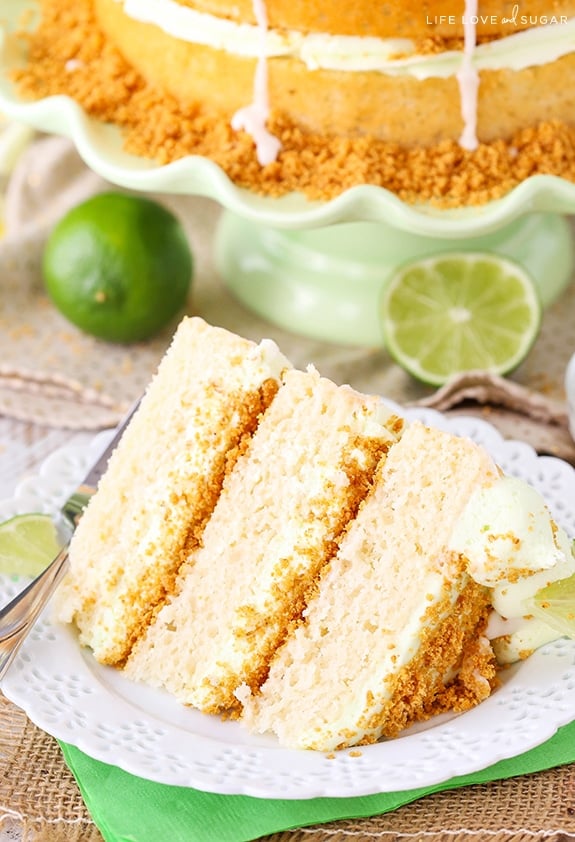 So I'm pretty sure I've mentioned before that the hubs and I are opposite as far as weight is concerned. He looks at food and loses weight. I look at food and gain it. He's naturally drawn to healthier food. I like…cake.
It's a problem – for both of us.
See, I want to be like him and he wants to be like me. I'd love to eat anything and not gain weight and he would love to be able to put on even a little bit of weight. So when he was on a fishing trip with some friends last week, he didn't eat all that well for several days. It wasn't really intentional, but he just ate what his friends normally ate. Well, he got home and was pretty pumped because he actually gained some weight.
So now he has me stocking the pantry with all the things they ate on the trip – beef jerky, ice cream, eggs.
So then we were going to dinner last night and he put on his shorts and was totally shocked and mock upset that his shorts were actually tight. Like, he actually said he might have "love handles" and asked if this was what a "muffin top" top was.
Mind you, he has no idea what real love handles are like, but he was pretty darn funny.
Welcome to my life, my friend. 😉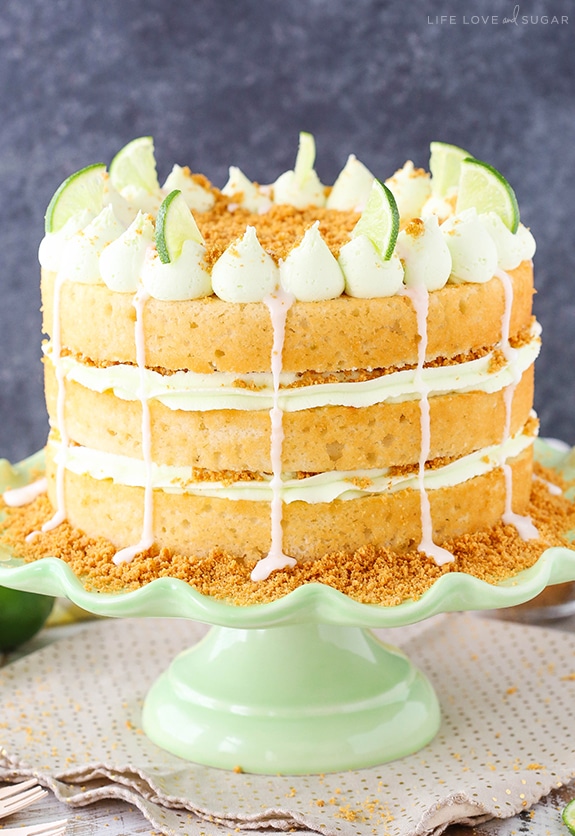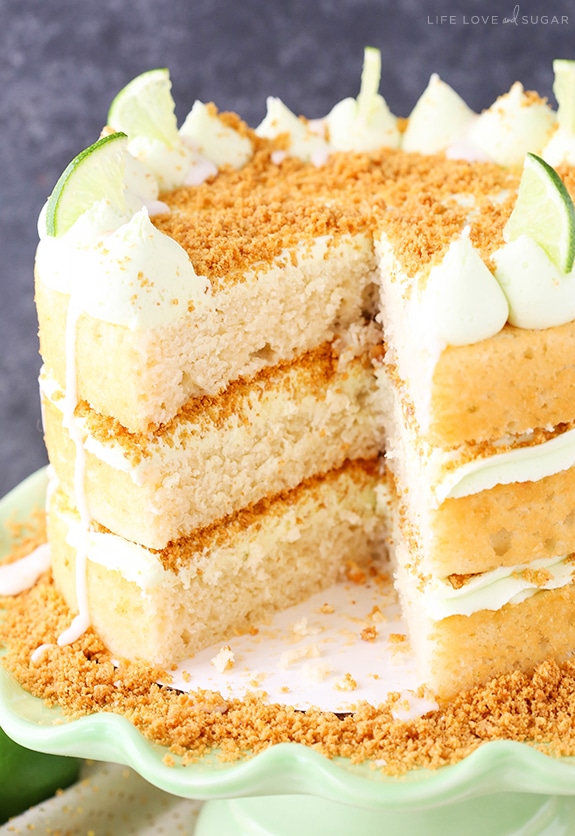 Of course my problem is my sweet tooth. However, I am a believer in "everything in moderation" so go ahead and cut me a big fat slice of this baby! One won't hurt anybody. 🙂
And if you can't resist key lime pie, you definitely won't want to even try to resist this cake. It's pure heaven. Sweet, tart and delicious.
The cake layers are flavored with key lime juice and key lime zest. Although honestly, you could totally use bottled key lime juice and regular limes for the zest. Key limes can be tough to find, so don't stress. It'll be just as tasty the other way too. The cake is moist, light and lovely.
The frosting is made with key lime juice as well, plus some sweetened condensed milk. I love the flavor of the sweetened condensed milk in the actual pie and you get a nice subtle taste of it in the frosting.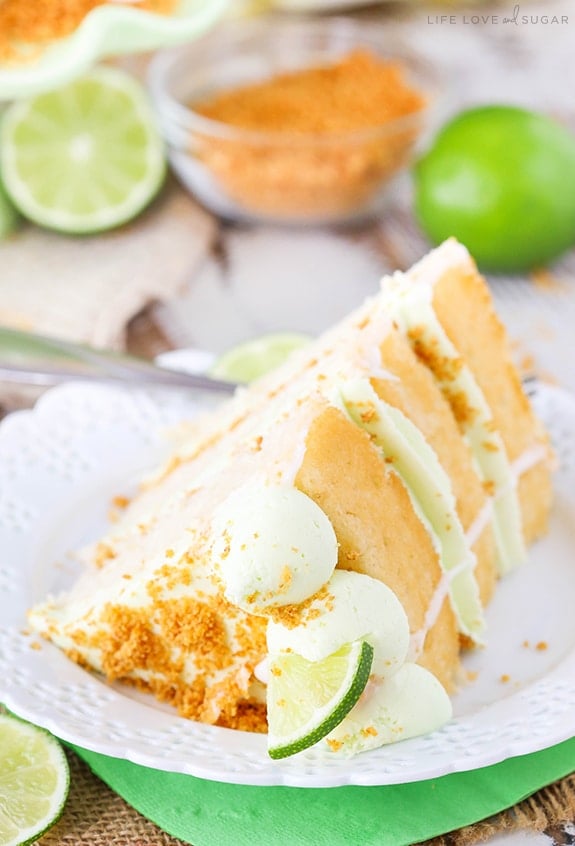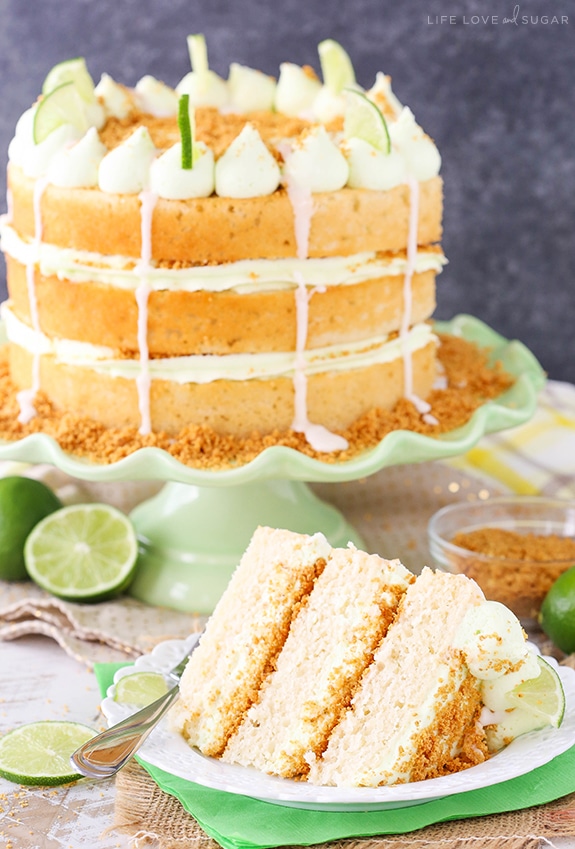 To complete the pie in cake form, I added the graham cracker crust. The crumbs, a little sugar and some butter are combined and then baked, just like if you were making an actual crust. It's layered right into the cake!
Once the cake is built, it's topped with a little more frosting, some glaze and a few quartered key limes for a super fun finish. I spread the frosting just in the middle of the cake, leaving about an inch around the edge to add the piping.
The drizzle is a simple glaze made with sweetened condensed milk, key lime juice and powdered sugar. It's easy to add to the cake just using a spoon to drizzle it down the sides. If there's some left over, I'd serve it right with each slice of cake – so good!
This is such a fun cake and is great for summer! It's festive and makes you feel like you should be at the beach, if you aren't already. Plus – yum!!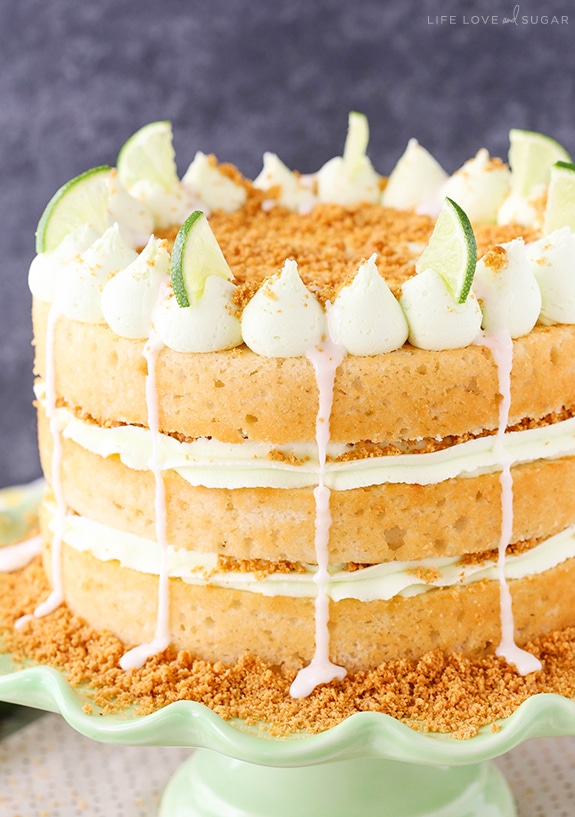 You Might Also Like
No Bake Key Lime Cheesecake
Avocado Key Lime Pie
Key Lime Strawberry Coconut Ice Cream Cake
Key Lime Coconut Cupcakes
Key Lime Pie

Key Lime Pie Layer Cake
Yield:

12

-

14

Slices

1

x
Category:

Dessert

Method:

Oven

Cuisine:

American
Ingredients
CAKE LAYERS
3/4 cup

(168g) unsalted butter, room temperature

1 1/2 cup

s (310g) sugar

3/4 cup

(174g) sour cream, room temperature

1 tsp

vanilla extract

1 tbsp

key lime zest (

3

–

4

key limes)

6

large egg whites, room temperature, lightly beaten

2 1/2 cup

s (325g) all purpose flour

4 tsp

baking powder

1/2 tsp

salt

1/2 cup

(120ml) milk, room temperature

2 tbsp

(30ml) water, room temperature

6 tbsp

(90ml) key lime juice
GRAHAM CRACKER CRUMBS
1 cup

(134g) graham cracker crumbs

1 tbsp

sugar

3 tbsp

(42g) butter, melted
FROSTING
3/4 cup

(168g) salted butter

3/4 cup

(144g) shortening

6 cup

s (690g) powdered sugar

2 1/2 tbsp

(38g) key lime juice

1/4 cup

(60ml) sweetened condensed milk
Yellow and leaf green icing colors
GLAZE, ADDITIONAL
1/4 cup

(60ml) sweetened condensed milk

1/2 cup

(58g) powdered sugar

2 tbsp

(30ml) key lime juice

2

lime slices, quartered
Instructions
1. Preheat the oven to 350°F (176°C). Line the bottom of three 8-inch cake pans with parchment paper and grease the sides.
2. In a large mixing bowl, beat the butter and sugar together on medium speed until light in color and fluffy, 3-3. minutes.
4. Add the sour cream, vanilla extract and key lime zest and mix until combined.
5. Add the egg whites in two batches, mixing until incorporated after each addition. Scrape down the sides of the bowl as needed to make sure everything is combined.
6. Combine flour, baking powder and salt in a medium bowl. Combine the milk, water and key lime juice in a small measuring cup.
7. Add half of the flour mixture to the batter and mix until combined. Add the milk mixture to the batter and mix until combined. Add the remaining flour mixture and mix until smooth. Scrape down the sides of the bowl as needed to ensure everything is being combined.
8. Divide the batter evenly between the prepared cake pans. Bake for 22-24 minutes, or until a toothpick inserted in the middle comes out with a few crumbs.
9. Remove cakes from the oven and allow to cool for 3-4 minutes, then remove from pans to a cooling rack to finish cooling.
10. In a small bowl, combine the graham cracker crumbs, sugar and melted butter until crumbly, then spread onto a lined cookie sheet. Bake at 350°F (176°C) for 5 minutes, then remove and set aside to cool.
11. To make the frosting, beat butter and shortening together until smooth.
12. Add about half of the powdered sugar and mix until smooth.
13. Add keep lime juice and sweetened condensed milk and mix until smooth.
14. Add remaining powdered sugar and mix until smooth. Color the frosting with the yellow and leaf green icing colors. I used a very small amount of both. It won't take much to get a nice lime green color.
15. When you are ready to build the cake, remove the domes from the cakes with a large serrated knife, so that they are flat.
17. Add the first layer of cake to a serving plate or a cardboard cake circle.
18. Top the cake with a layer of frosting. To get the frilly edges like I have, I used the Ateco 844 icing tip.
19. Top the frosting with about 1/3 of the graham cracker crumbs.
20. Add the second layer of cake and repeat steps 18 and 19 with the second layer of cake, then top the cake with the third layer of cake.
21. Spread about half of the remaining frosting onto the top of the cake, then pipe frosting around the edges. I used Ateco tip 808, a large round tip.
22. Sprinkle more graham cracker crumbs over the top of the cake and around the base of the cake, if desired.
23. Combine the additional sweetened condensed milk, powdered sugar and key lime juice in a small bowl, then use a spoon to place the drizzle around the outside edges of the cake. Finish off the cake with the key lime slices.
Notes
If you can't find key limes or they aren't in season, you can use the bottled key lime juice. In that case, for the zest and key limes for decoration, just use regular limes.
Enjoy!