These Pumpkin Cookies with Cinnamon Glaze are full of cinnamon, spice and everything nice! They were a massive hit with my taste testers and have me craving all things pumpkin.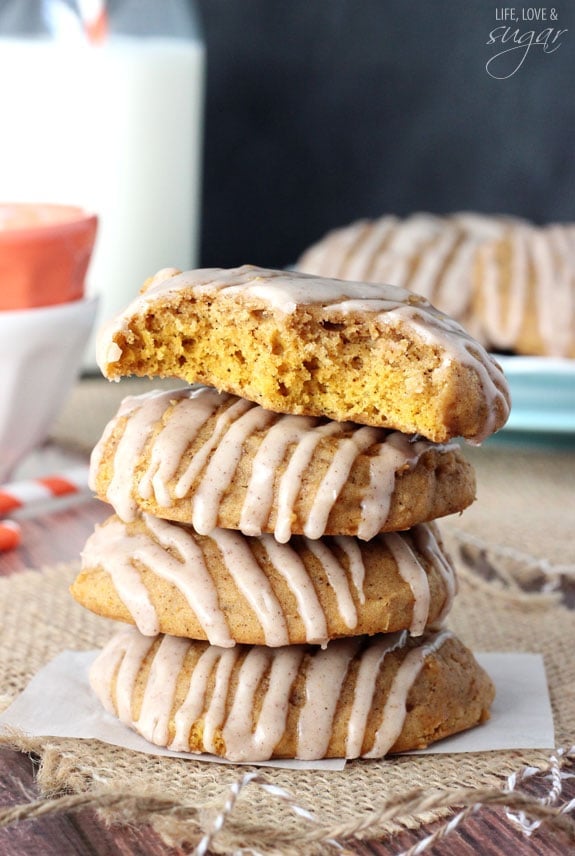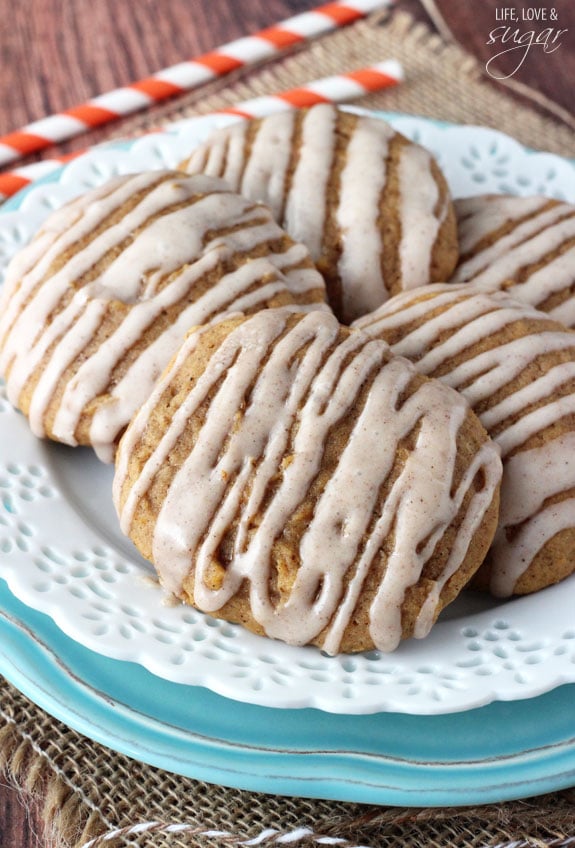 The Best Pumpkin Cookies Recipe
As far as cookies go, these are certainly more of the cakey variety, but they are absolute cookie perfection. They are super moist, and the glaze makes them even moister. Plus, the spices in the cookie and the additional cinnamon in the glaze ramp up the flavor and will make you want to shove 5 cookies in your mouth at a time. I might have done it myself.
Ok not really, I do have some self control. But it took all of it to not do that. 🙂
One thing to note when baking these is that unlike the other cookie recipes I have where you want to under bake the cookies just slightly, you don't want to under bake these. If you under bake them, they will stay under baked. Instead, watch them as they get close to being done and take them out just as the tops start to look done. They spread a fair bit while baking, but you'll still want to flatten them just a bit before baking. If they stay too tall, the bottom will get too cooked before the tops are done.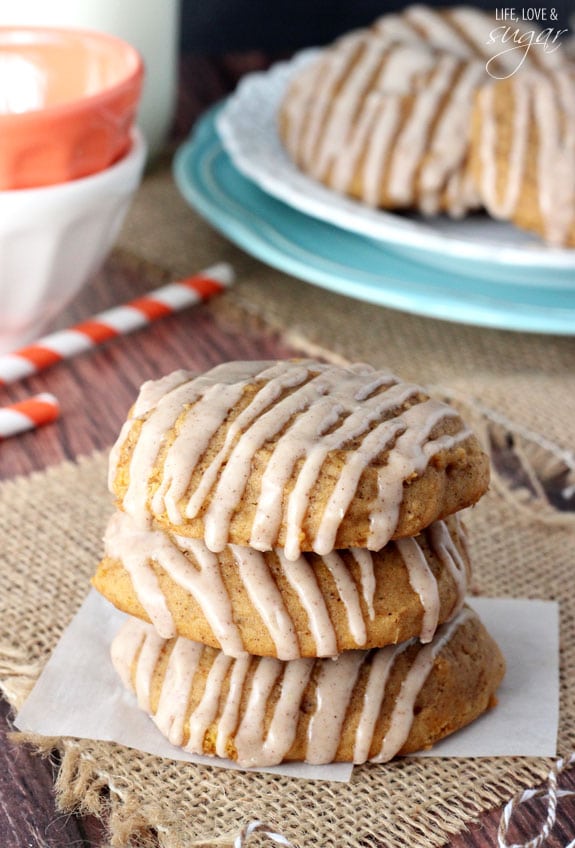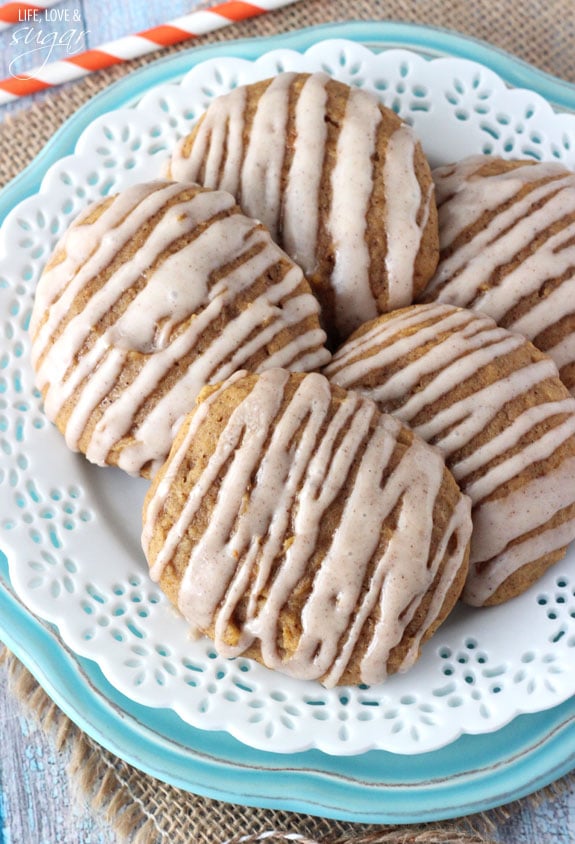 So I have to say, I had the nicest weekend. We have been crazy busy every weekend for the past month, so it was nice to have a free weekend. The hubs was even busy and out of the house most of the weekend, so I got to get reacquainted with one of my favorite things – baking on the weekends. Stress-free, care-free baking. It felt like such a novelty.
It's hard being busy so many weekends in a row because then almost all of my baking has to take place during the week, when I'm also writing posts and doing countless other things. I've been feeling like my creativity was getting a little zapped with the stress of it all.
It finally came back to me this weekend. I got to sleep in, work out, be a little lazy and bake with no time limit. I am so pumped for all the baking coming up now! I've decided fall is my new favorite season because of all the spices and flavors. I LOVE me some cinnamon and find myself adding plenty of it and I don't have to apologize for it in fall recipes. Yay! 🙂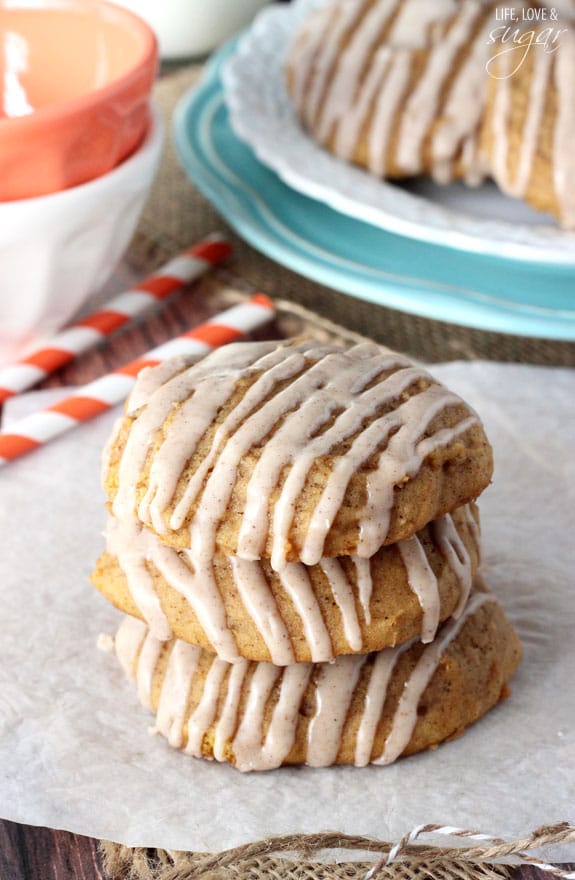 I just bought a big new bottle of ground cinnamon and I hope to use very last bit of it. Get ready. What do you say we start with these cookies?
You might also like
Spice Cake with Pumpkin Mascarpone Buttercream
Pumpkin Cheesecake with Cream Cheese Whipped Cream
Pumpkin Cupcakes with Cream Cheese Frosting
Pumpkin Cupcakes with Cinnamon Maple Cream Cheese Icing
Pumpkin Muffins with Cinnamon Pecan Streusel Topping
Shop the recipe

Print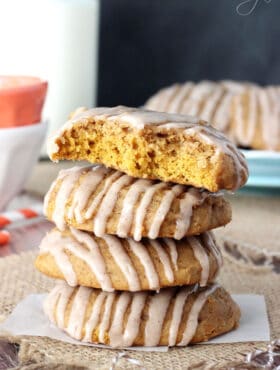 Recipe
Pumpkin Cookies with Cinnamon Glaze
Author:

Prep Time:

15 minutes

Cook Time:

9 minutes

Total Time:

24 minutes

Yield:

22

Category:

Dessert

Method:

Oven

Cuisine:

American
---
Description
These moist and tender Pumpkin Cookies are full of fall spice and everything nice! They're drizzled with a smooth cinnamon glaze and absolutely packed with pumpkin. Plus, you can whip them up in under 30 minutes.
---
Ingredients
For the Pumpkin Cookies
3/4 cup

butter

1/2 cup

sugar

1/2 cup

brown sugar

3/4 cup

pumpkin puree

1

egg

1 tsp

vanilla

2 1/2 cups

flour

1/4 tsp

salt

1 tsp

baking soda

1/2 tsp

baking powder

1 1/2 tsp

cinnamon

1/2 tsp

nutmeg

1/2 tsp

cloves
For the Cinnamon Glaze
1 cup

powdered sugar (plus more if needed for thickness)

1 tsp

cinnamon

2 tbsp

milk

1/4 tsp

vanilla extract
---
Instructions
Cream butter and sugars together until light and fluffy, 3-4 minutes.
Add the pumpkin puree, egg and vanilla and mix until combined.
Add the dry ingredients and mix until smooth. Dough will be sticky.
Drop 2 tablespoon sized balls of cookie dough onto a parchment lined cookie sheet. Because the dough is sticky, I dropped a tablespoon at a time, then lightly pressed them together and flattened them just a bit.
Bake at 350 for 9-10 minutes.
Let cool for 1 minute, then move to cooling rack to finish cooling.
When cookies are cool, whisk together ingredients for the glaze.
Drizzle glaze over cookies. Allow to dry.
---
Notes
Makes 20-24 cookies
To Store: Store cookies in an airtight container in the fridge for up to 1 week, separating layers with parchment or wax paper. Bring to room temperature before enjoying if desired.
To Freeze: Place cookies on a baking sheet and freeze for 1 hour. Once firm, transfer to a freezer-safe container and store for up to 3 months. Separate layers with wax paper and thaw before enjoying.
Keywords: pumpkin spice cookies, fall cookies, how to make glaze
Enjoy!
This post may contain affiliate sales links. Please read my disclosure policy.