Pumpkin Layer Cake with Whipped Cream Cheese Frosting
This Pumpkin Layer Cake is soft, moist and delicious! It's also covered with a light whipped cinnamon cream cheese frosting! This classic cake is the perfect way to kick off pumpkin season here on the blog!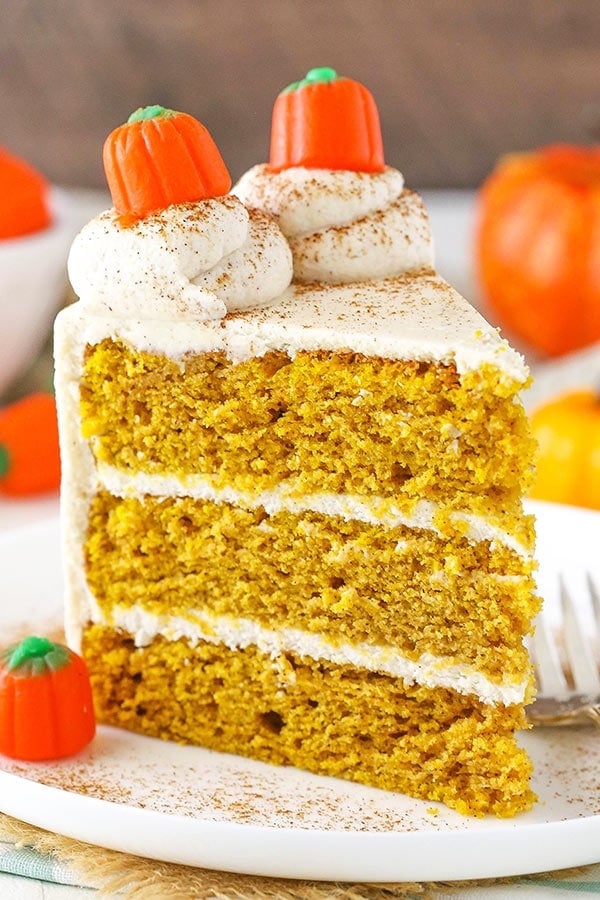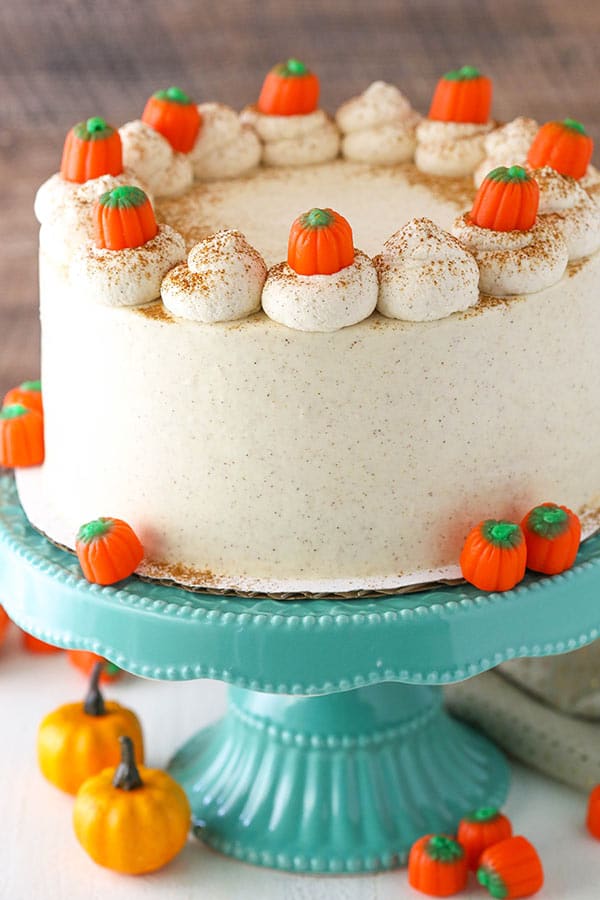 So perhaps you've already seen plenty of pumpkin recipes making the rounds everywhere. I certainly know pumpkin spice everything has been on the shelves in our local stores for a little while now. Personally it all seems a tad early to me. Pumpkin is one of my favorite things about fall, but why I wear it out before it's actually even fall yet? ????
However the weather is finally cooling down here and it's starting to feel more like fall. Plus I hope to share plenty of pumpkin with you so I suppose I better get started. 🙂 Even though I have several pumpkin recipes on the blog, including this delicious Pumpkin Tiramisu Layer Cake, I realized I don't really have a classic pumpkin cake on here and that needed to change. So this cake is simpler than some, but sometimes simple is just what you need. A classic that's perfect for the holidays!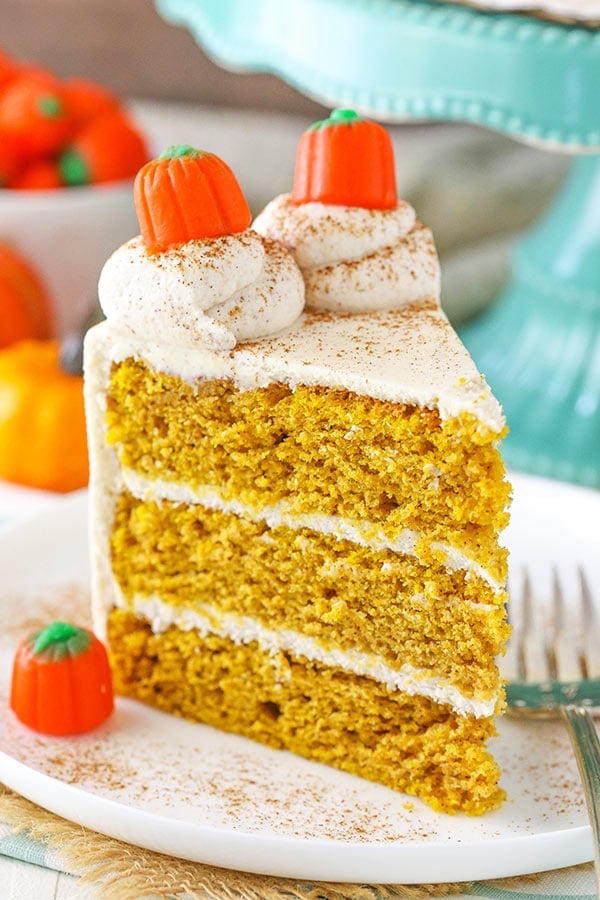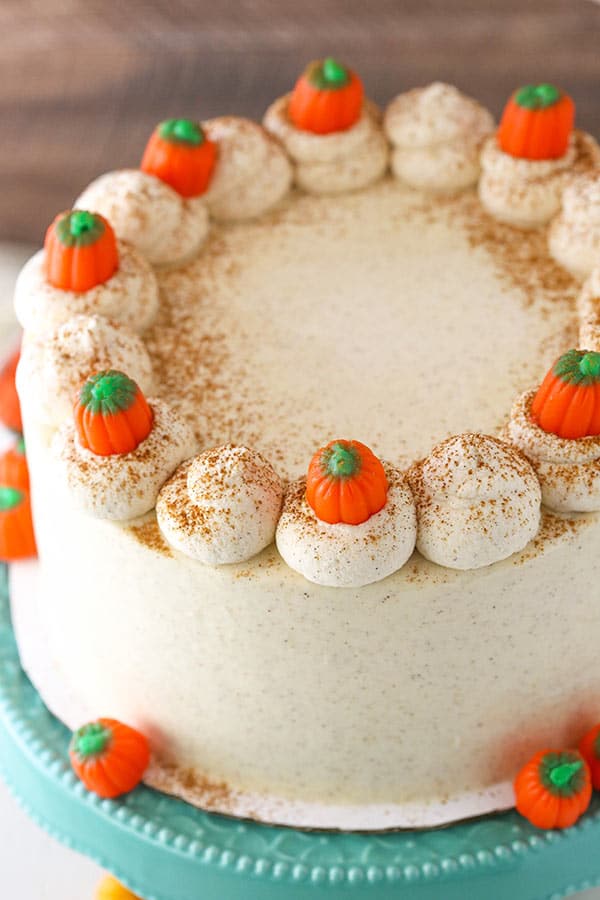 To start off, there's the pumpkin layer cake. It is light, fluffy and moist for days. It's relatively straightforward, starting with the traditional creaming method. You want to be sure to fully cream the butter and sugar, since that's what gives the cake a lot of hits rise. If you find your cake doesn't rise as much as you think it should, lack of creaming is the likely culprit.
There's also almost two full cups of pumpkin in the cake, so it's not lacking at all in the pumpkin flavor department.
For the frosting, I was torn between using a more traditional cream cheese frosting and a light whipped one. If you prefer a more traditional cream cheese frosting, feel free to use this one. I ended up going with the light whipped frosting, which is a lot like ones that I've used on several other cakes. You start off by making whipped cream and then add the cream cheese to it. It makes an extremely light whipped cream cheese frosting, which I also added some cinnamon too.
The final cake is light and full of pumpkin flavor and the spices of the season! It's the perfect classic pumpkin cake to kick things off!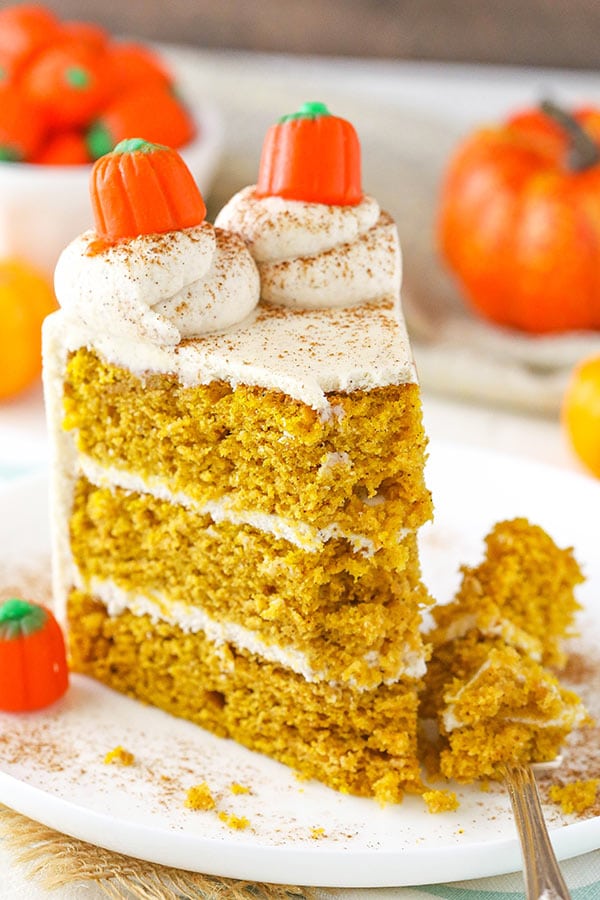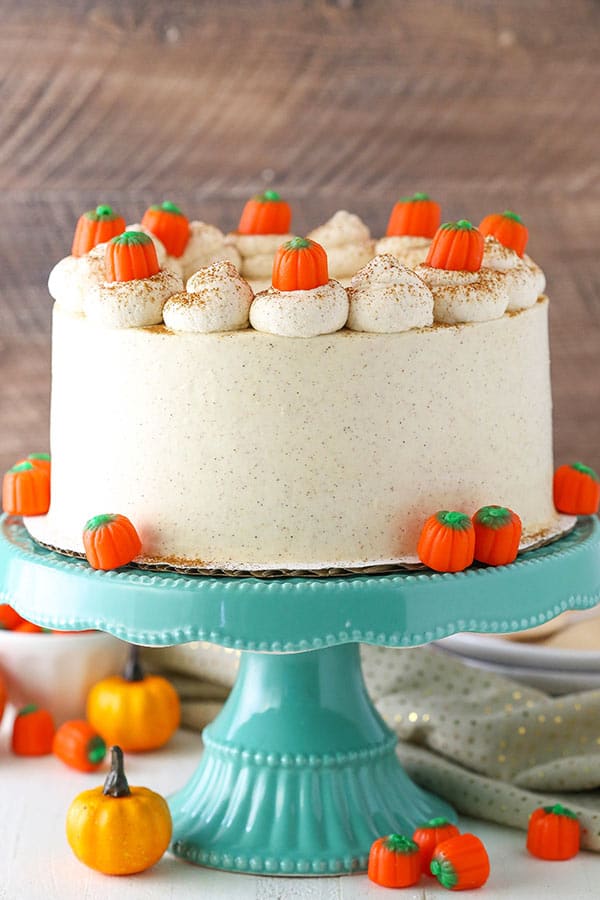 Pumpkin Layer Cake with Whipped Cream Cheese Frosting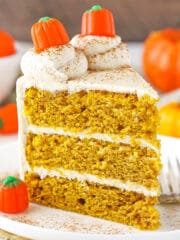 Yield:

12

-

14

Slices

1

x
Category:

Dessert

Method:

Oven

Cuisine:

American
Ingredients
PUMPKIN CAKE
3/4 cup

(168g) unsalted butter, room temperature

1 1/2 cup

s (310g) sugar

1/2 tsp

vanilla extract

3 tbsp

(45ml) vegetable oil

3

large eggs, room temperature

1

large egg white, room temperature

2 1/2 cup

s (325g) all purpose flour

2 tsp

baking powder

1 tsp

baking soda

1/2 tsp

salt

1 ½ tsp

ground cinnamon

1/2 tsp

nutmeg

1/8 tsp

ground cloves

1 3/4 cup

(406g) pumpkin puree
WHIPPED CREAM CHEESE FROSTING
2 1/2 cup

s (720ml) heavy whipping cream, cold

1 1/2 cup

s (173g) powdered sugar

2 tsp

vanilla extract

1 tsp

ground cinnamon

16 oz

(452g) cream cheese, room temperature
Instructions
1. Preheat the oven to 350°F (176°C). Line the bottom of three 8-inch (20cm) cake pans with parchment paper and grease the sides.
2. In a large mixing bowl, cream the butter and sugar on medium speed until light in color and fluffy, 3-4 minutes.
3. Add the vanilla extract and vegetable oil and mix until combined.
4. Add eggs and egg white in two batches, mixing until incorporated after each addition. Scrape down the sides of the bowl as needed to make sure everything is combined.
5. Add the dry ingredients to a medium sized bowl and whisk to combine.
6. Add half of the flour mixture to the batter and mix until combined. Add the pumpkin puree to the batter and mix until combined. Add the remaining flour mixture and mix until well combined and smooth. Scrape down the sides of the bowl as needed to ensure everything is well combined. The batter will be thick.
7. Divide the batter evenly between the prepared cake pans.
8. Bake for 20-25 minutes, or until a toothpick inserted in the middle comes out with a few crumbs.
9. Remove cakes from the oven and allow to cool for 3-4 minutes, then remove from pans to a cooling rack to finish cooling.
10. To make the whipped cream cheese frosting, add the heavy whipping cream, powdered sugar, vanilla extract and cinnamon to a large mixer bowl and whip on high speed until soft peaks form.
11. Add the cream cheese to the whipped cream and whip until stiff peaks form. It will happen fairly quickly.
12. To put the cake together, remove the domes from the tops of the cakes with a large serrated knife.
13. Place the first cake layer on a serving plate or cardboard cake circle.
Spread about a cup of frosting into an even layer on top of the cake.
14. Top the frosting with the second layer of cake, then repeat another layer of frosting.
15. Top the cake with the final layer of cake, then frost the outside of the cake. For guidance on frosting a smooth cake, check out my tutorial.
16. Pipe a border around the top edge of the cake with the remaining frosting.
17. Finish off the cake with candy pumpkins and a sprinkle of cinnamon The cake should be refrigerated until ready to be served. Cake is best for 3-4 days.
Enjoy!