This easy Pumpkin Cake Roll is made with tender pumpkin cake and a heavenly cream cheese filling. Plus my mess-free method for making this roll is super simple!
Looking for more pumpkin recipes? For more great ways to enjoy pumpkin, check out my Best Pumpkin Bread Recipe, Pumpkin Cupcakes with Cream Cheese Frosting or my Pumpkin Cheesecake.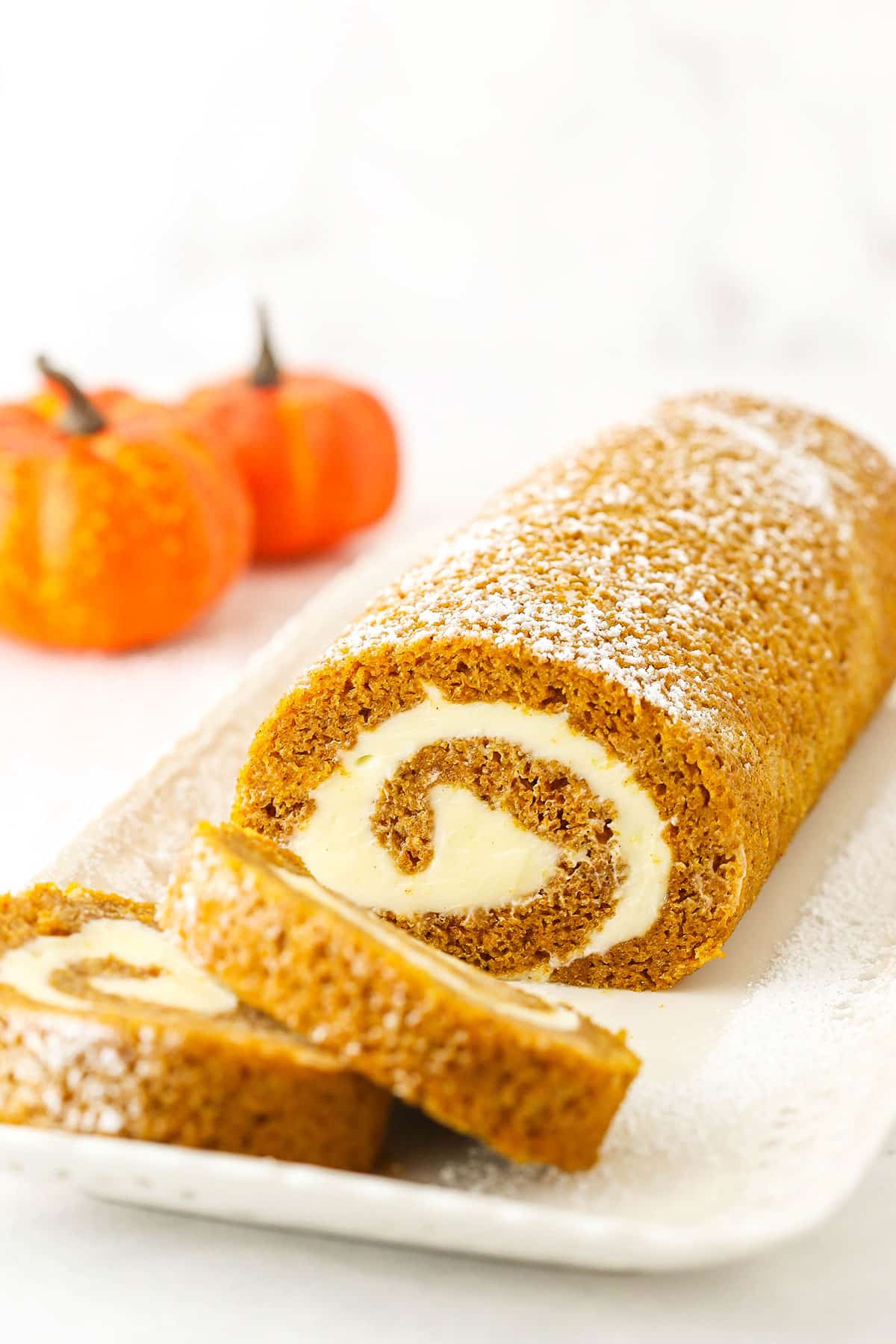 An Easy Pumpkin Roll Cake Recipe
Pumpkin Cake Rolls are such a classic at this time of year. The tender pumpkin cake with the cream cheese filling – what's not to love? Not to mention that it's a fairly simple dessert to put together, makes a great presentation and is perfect for sharing, which is what the holidays are all about.
The only problem with cake rolls is that cracking is scary and does happen. And ALL THE MESS. After testing lots of Pumpkin Cake Rolls and various methods, I'm excited to share my tips for making a cake roll without a towel and all the mess. Plus, my tips for a beautiful and crack-free cake roll.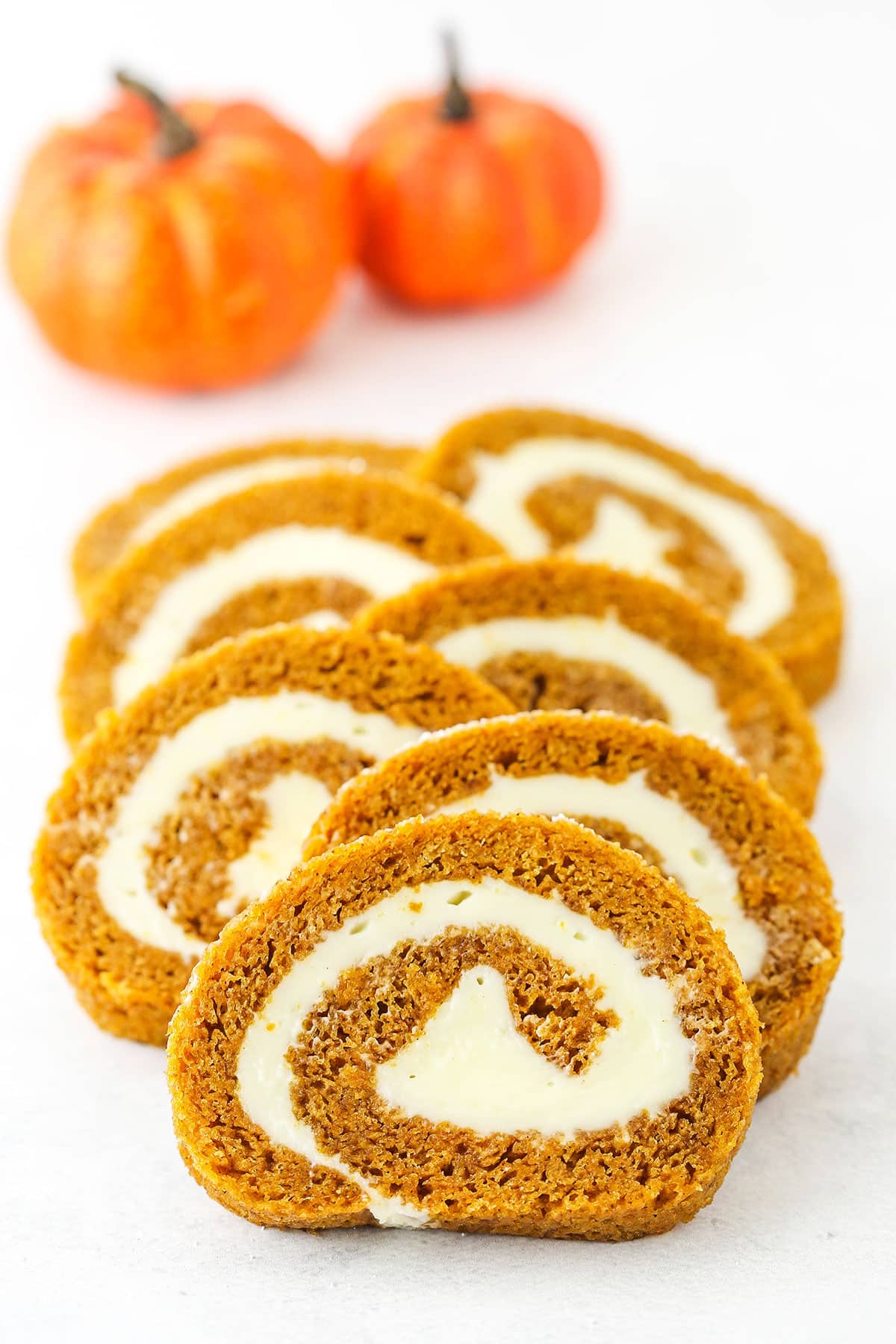 How to Make a Pumpkin Cake Roll
So to start, let's talk about how to make a Pumpkin Cake Roll. The actual baking of it is actually super easy and quick and this recipe is particularly simple and tasty.
Ingredients for a Pumpkin Roll:
Flour
Baking powder and baking soda – I really prefer the texture you get from using both in this particular case. The baking powder helps things hold together well, while the baking soda adds to a tender texture.
Spices – Don't skimp on what makes pumpkin flavored things so good – the spices! There's plenty of cinnamon, nutmeg and cloves in here to make sure your pumpkin roll doesn't lack for flavor.
Eggs
Sugar
Pumpkin Puree – This is actual canned pumpkin, not pumpkin pie filling.
Vanilla Extract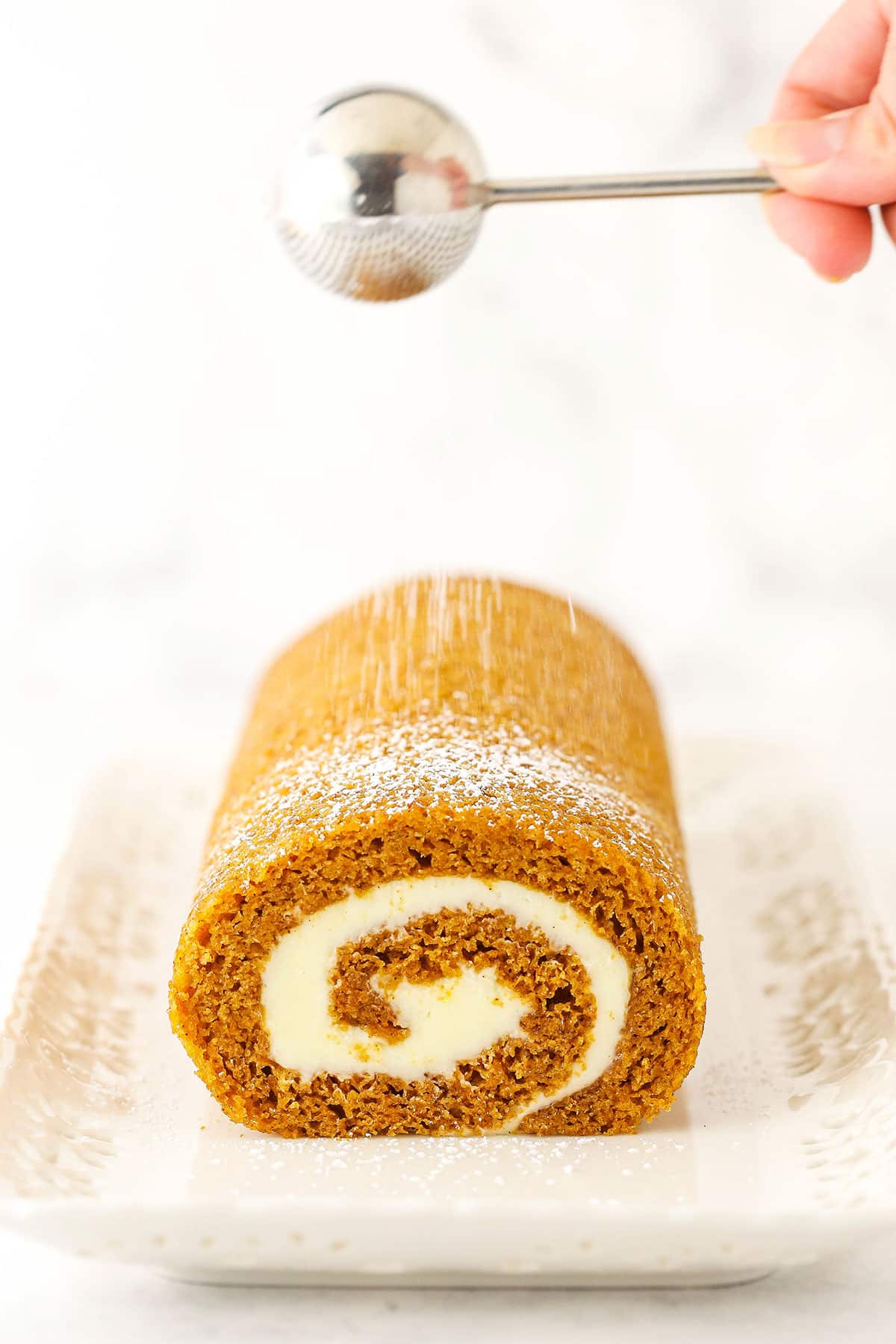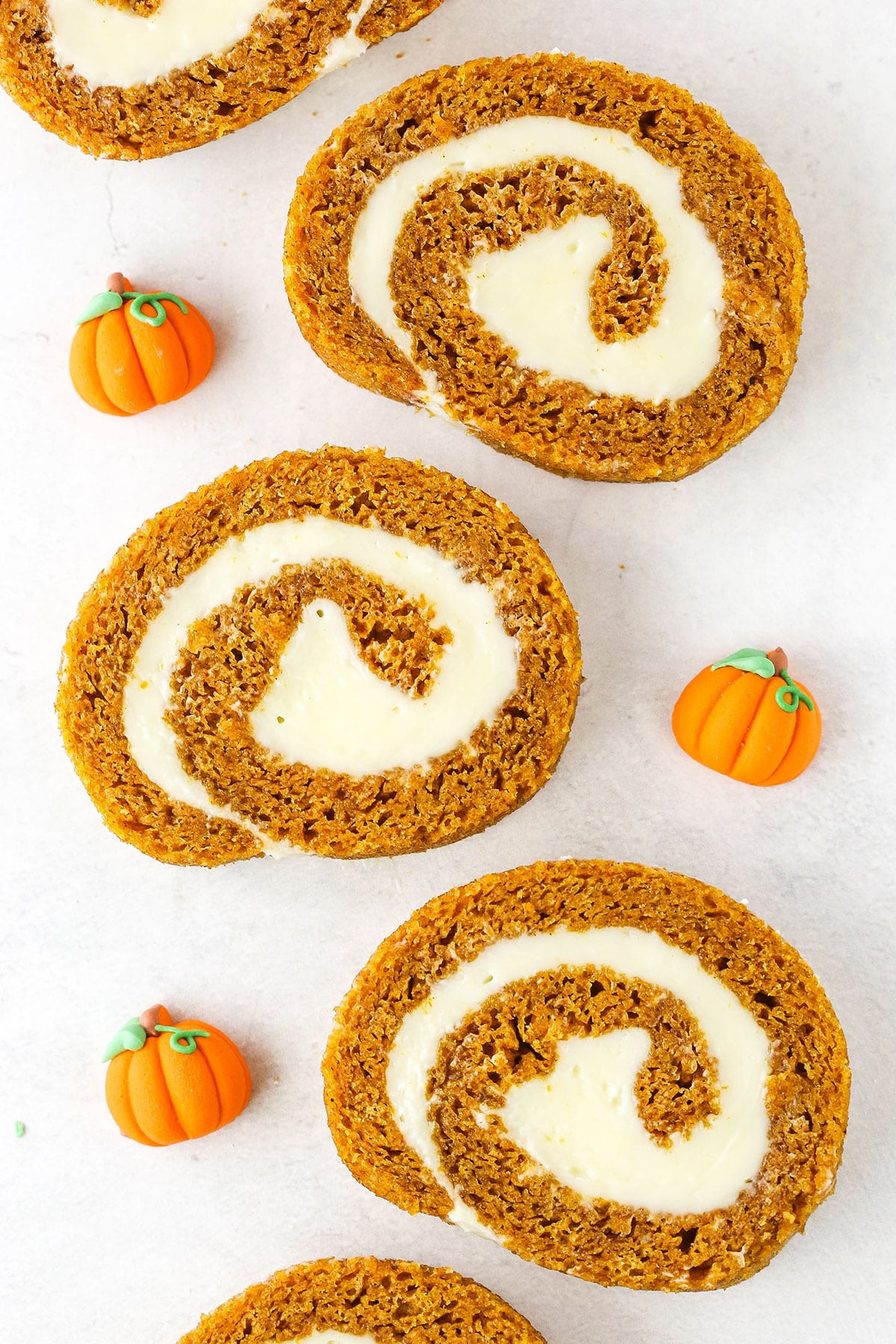 Making the Pumpkin Roll Cake
To get started, you'll need a 15×10 inch jelly roll pan.
This next part is BIG – line your pan with parchment paper. Not just a little bit, but parchment that rises up above the sides of the pan. You'll use the parchment paper later to roll your cake roll. NO TOWEL REQUIRED! Instead of flipping out a cake onto a towel, just lift the cake out of the pan and roll it into the paper it's already sitting in. EASY PEASY!
Not only does that prevent all the crazy powdered sugar mess, it also keeps you from having to destroy a kitchen towel and wash it later. Big win!
Ok, so back to the baking part.
Once your pan is set up, you'll combine your dry ingredients and wet ingredients separately. Next, add your dry ingredients to the wet ingredients and stir just until they're combined. You don't want to over mix here – you could end up with a tough cake.
Spread the batter evenly in your parchment-lined pan and that's it! It's ready to bake and only bakes for about 15 minutes. Once it's baked, it's time for the real fun to begin.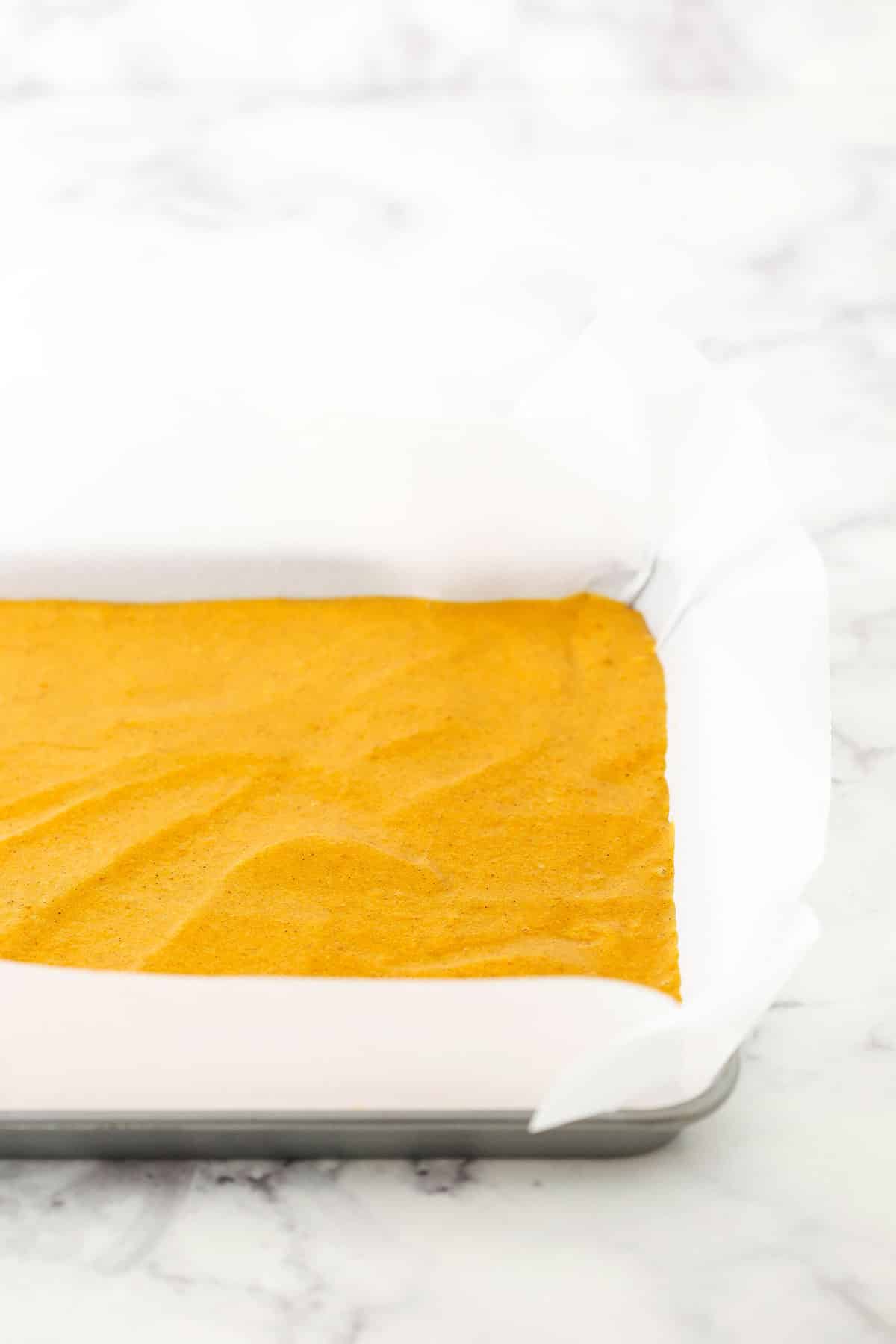 How to Roll Your Pumpkin Cake & Prevent Cracking
When your cake comes out of the oven, you're going to go ahead and roll it while hot, starting at one of the shorter ends. Rolling it while it's hot helps it to "form" to the shape you need it in. Rolling it while cool will lead to cracks. The moisture that sets in during the cooling process also adds to the texture of the cake and helps as you un-roll it so that it doesn't crack.
You also want to be very careful and gentle while unrolling the cake roll. Work slowly and use an offset spatula or something to help keep the cake pressed down onto the counter as it unrolls. It if sticks to the paper and lifts up, that's when cracks can happen.
After rolling your pumpkin roll, you'll let it cool before filling it so that the filling doesn't melt after it's added.
The final step is to add the cream cheese filling and refrigerate it for an hour or so to firm up before serving. You can serve it with a little powdered sugar dusted on top, if you like, and you're done! Such a super simple, yet delicious dessert!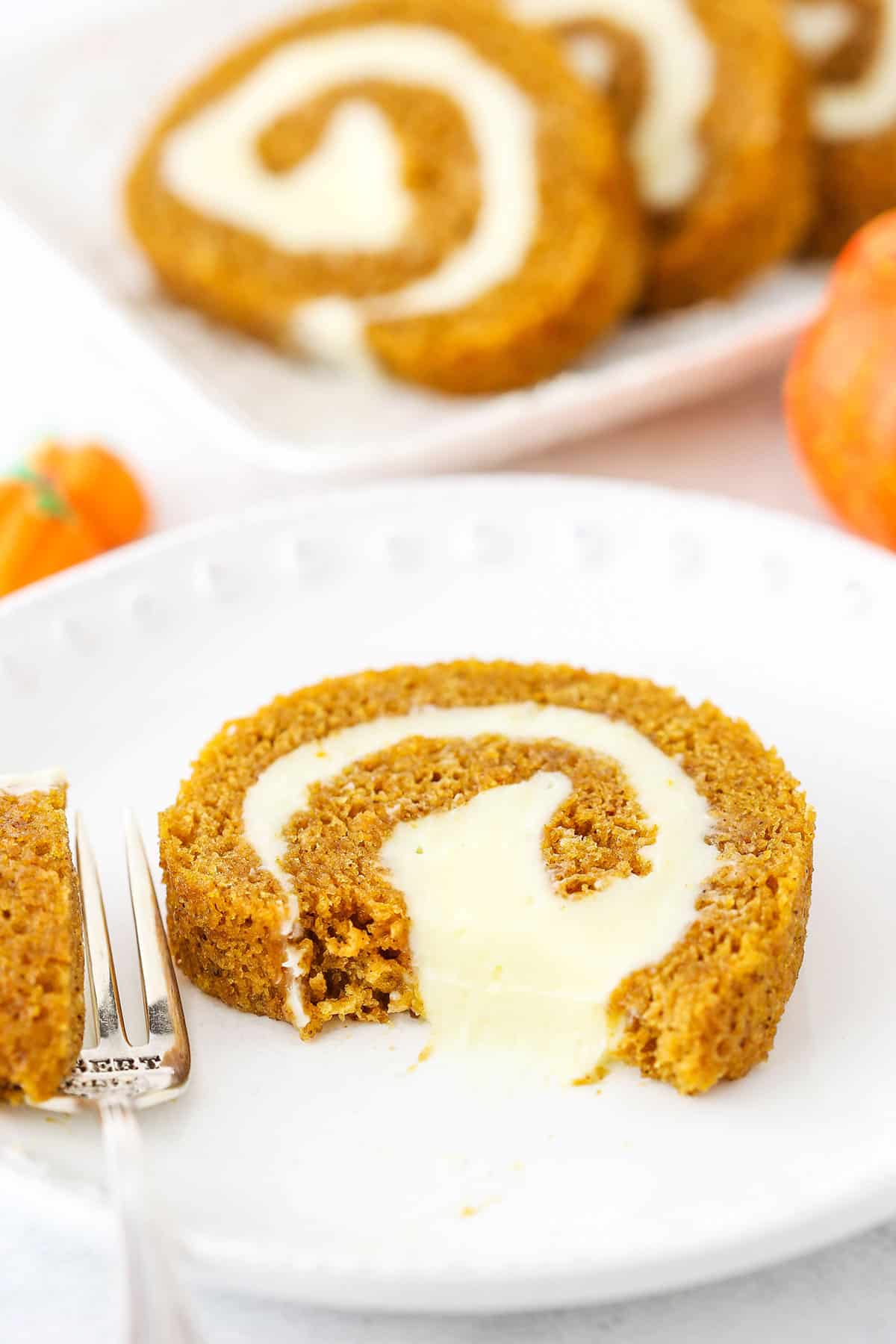 Does a Pumpkin Roll need to be refrigerated?
Because of the cream cheese filling in the cake roll, this should be refrigerated. I'd recommend refrigerating it for at least an hour after filling it so that the filling can set and firm up.
How Long does a Pumpkin Roll last?
A Pumpkin Cake Roll should be good if kept well wrapped in the fridge for 2-3 days. It can also be frozen (again, well wrapped) for 1-2 months. When you're ready to use it, just thaw it in the fridge overnight.
More Great Pumpkin Recipes
Cheesecake Swirl Pumpkin Bread
Pumpkin Cheesecake Swirl Cupcakes
Pumpkin Chocolate Chip Cupcakes
Pumpkin Chocolate Chip Bundt Cake
Pumpkin Layer Cake
Classic Pumpkin Pie
Pumpkin Cheesecake Layer Cake
Print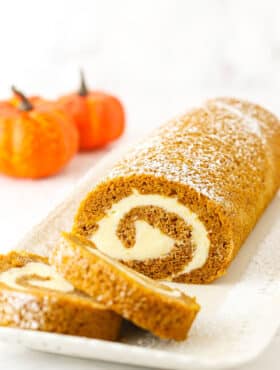 Recipe
Pumpkin Cake Roll
Author:

Prep Time:

1 hour

Cook Time:

15 minutes

Total Time:

1 hour 15 minutes

Yield:

8 servings

Category:

Dessert

Method:

Oven

Cuisine:

American
---
Description
This easy Pumpkin Cake Roll is made with tender pumpkin cake and a heavenly cream cheese filling. Plus my mess-free method for making this roll is super simple!
---
Ingredients
Pumpkin Cake Roll
3/4 cup

(

98g

) all-purpose flour

1/2 tsp

baking powder

1/2 tsp

baking soda

1/2 tsp

ground cinnamon

1/2 tsp

ground nutmeg

1/2 tsp

ground cloves

1/4 tsp

salt

3

large eggs

1 cup

(

207g

) sugar

2/3 cup

(

155g

) pumpkin puree

1 tsp

vanilla extract
Cream Cheese Filling
8 oz

(

226g

) cream cheese, room temperature

2 tbsp

(

28g

) salted butter, room temperature

1 1/2 cups

(

173g

) powdered sugar

1 tsp

vanilla extract
---
Instructions
1. Preheat oven to 350 degrees. Line a 15×10 inch jelly roll pan with parchment paper. Make sure the parchment paper sticks up at least an inch above the sides of the pan on all sides. You'll use the parchment paper later to lift the cake out of the pan and roll it up.
2. In a large bowl, combine the flour, baking powder, baking soda, spices and salt. Whisk to combine, then set aside.
3. In another bowl, whisk the eggs, sugar, pumpkin puree and vanilla extract together until well combined.
4. Add the dry ingredients to the wet ingredients and fold together just until combined. Do not over mix.
5. Pour the batter into the prepared pan and spread into an even layer.
6. Bake for 13-15 minutes, or until a toothpick inserted into the middle comes out clean.
7. Remove the cake from the oven and immediately lift the cake out of the pan using the parchment paper and place on the counter.
8. While the cake is hot, use the parchment paper the cake was baked in and start at the shorter end of the cake to slowly roll the cake up. Set the cake aside to cool completely.
9. When the cake has cooled and is ready to be filled, make the filling. Add the cream cheese, butter, powdered sugar and vanilla extract to a large mixer bowl and mix until well combined and smooth.
10. Unroll the cake roll very carefully, looking out for areas where it may be sticking to release it.
11. Spread the filling evenly onto the unrolled cake, then roll it back up without the parchment paper.
12. Wrap it up in plastic wrap and refrigerate for at least an hour to firm up.
13. When ready to serve, dust the top of the cake roll with powdered sugar. Cut into slices.
14. Cake roll is best when served chilled and stored well covered in the fridge. Best if eaten with 3 days.
---
Nutrition
Serving Size:

1 slice

Calories:

394

Sugar:

49.3 g

Sodium:

293.3 mg

Fat:

14.7 g

Carbohydrates:

61.3 g

Protein:

5.7 g

Cholesterol:

106 mg
Keywords: pumpkin cake roll, pumpkin roll, thanksgiving dessert, how to make a pumpkin roll cake, best pumpkin roll cake, easy pumpkin roll cake
This post may contain affiliate sales links. Please read my disclosure policy.