Today's post is a little different. Today we are talking about one of my favorite things beyond the sweets – clothes! I was recently asked to try out a new clothing delivery site and I couldn't wait! New, fabulous clothes – sign me up!
The service is called Golden Tote – the ultimate surprise grab bag with stylish clothes for amazing deals. Here's how it works: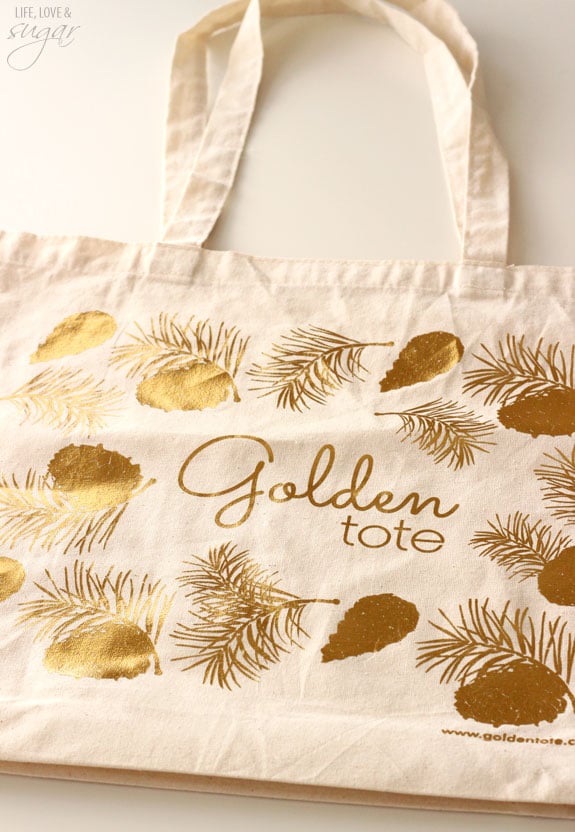 The first Monday of every month, the new sale begins and lasts for the month. December's is going on now! You pick 2 items that you like and then Golden Tote picks the rest to match your style based on a profile you creat. You've got to sign up quickly too – some things sell out FAST!
You can choose between a smaller bag of 2-3 items for $49 or a larger bag of 5-7 items for $149. The retail of the bags is anywhere from $200-$600 dollars – that's a great value for some fun items!
One thing to keep in mind is that the way they do returns is a little different. It's all or nothing. You can return the whole tote or keep everything. But if you keep the whole tote and end up not liking a piece or needing a different size, they have a Facebook group where you can swap items with other Golden Tote users. Sweet!
So let's see what they sent me, shall we?
First up, we have this fun, but casual sweater. I totally would never have picked it out for myself, but I absolutely love it. I've already worn it to work. It is SO comfy and perfect for winter!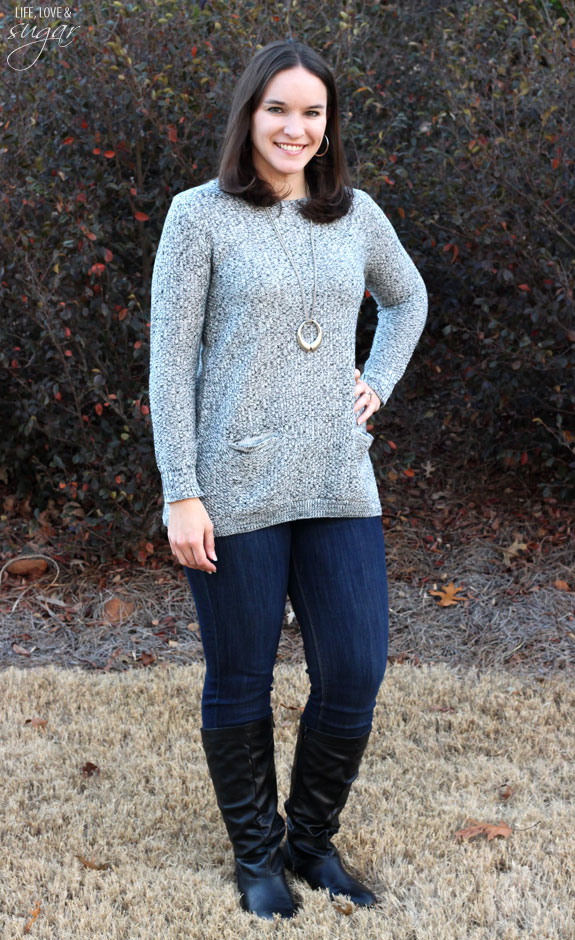 I also love this back detail with the cutout and buttons – such a cute way to add interest to a sweater.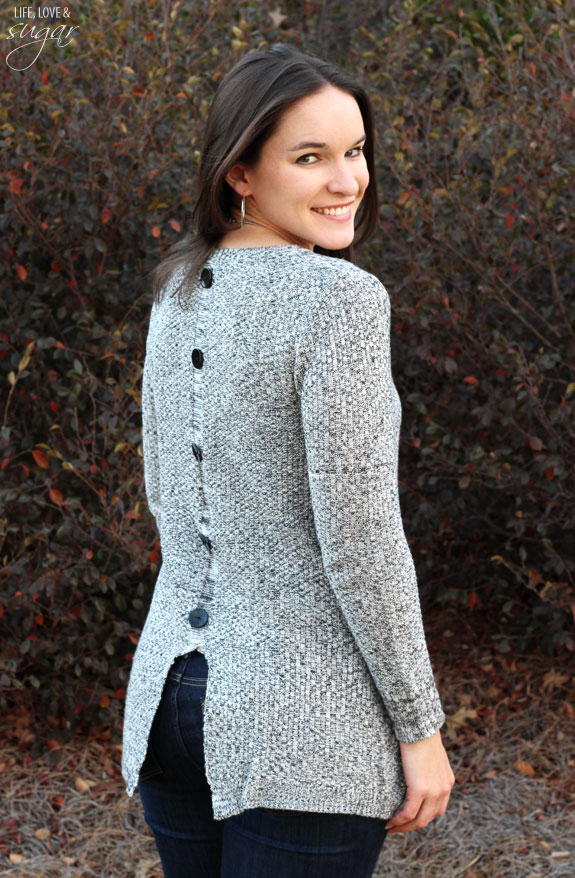 Next up is this floral top. I knew as soon as I saw it that I would love it. It's easily my favorite piece. I've already worn this one too. I love the colors and the floral! Not all floral is great and I love this one. And then a lace detail around the neck – totally me! They nailed it with this one.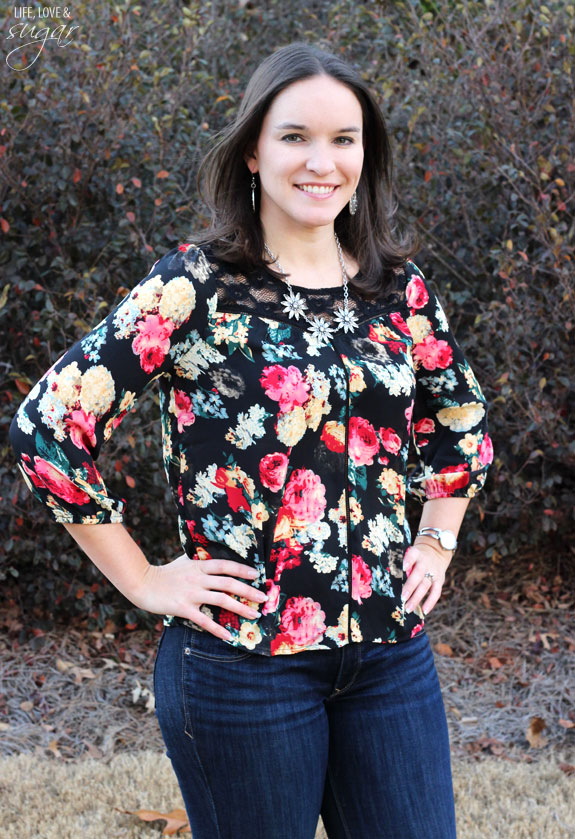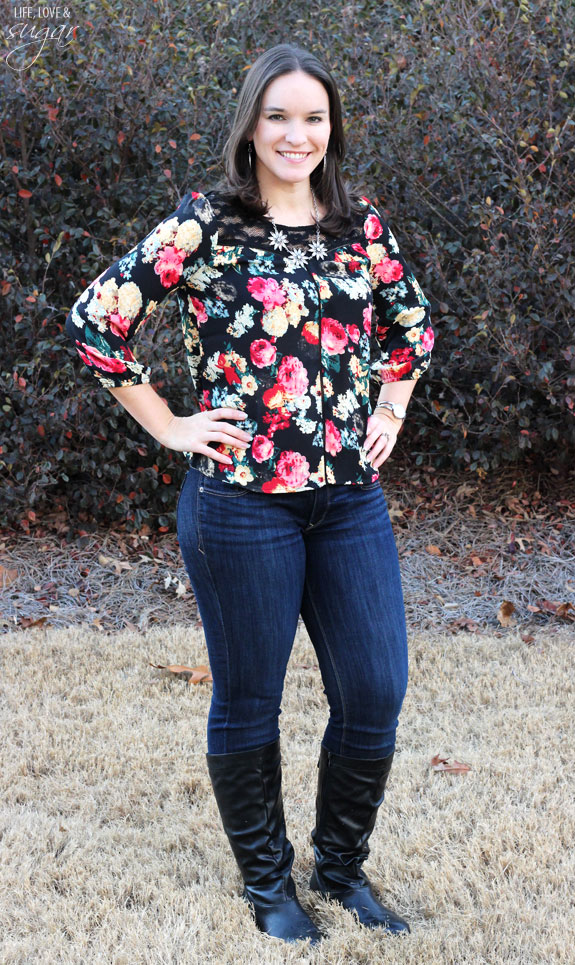 I was a little torn with this next shirt. I love the pocket detail and how it's kind of casual, but nice. It's also a very comfortable material. I'm not sure it's totally flattering on me, but it's a nice addition to my wardrobe and it's totally different from anything else I have – one of the benefits of a service like this. New things you never would've picked for yourself. 🙂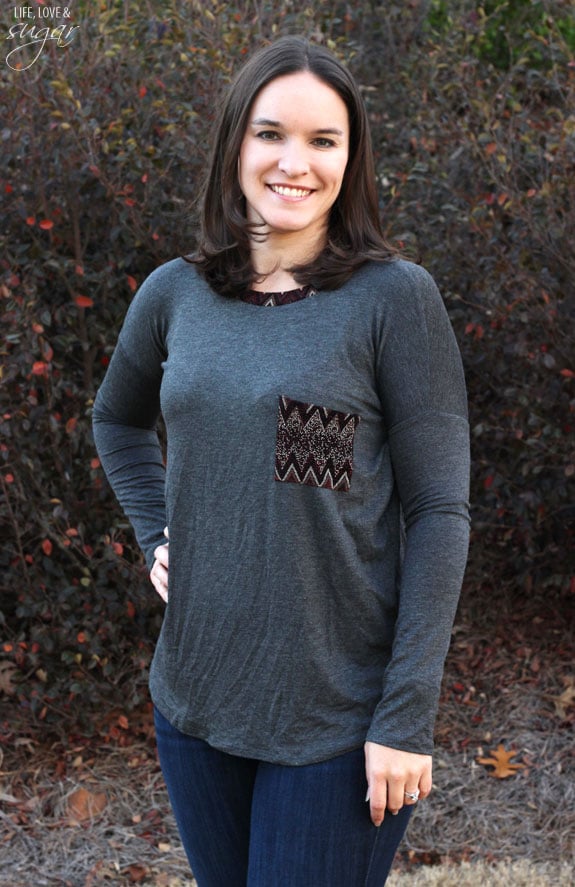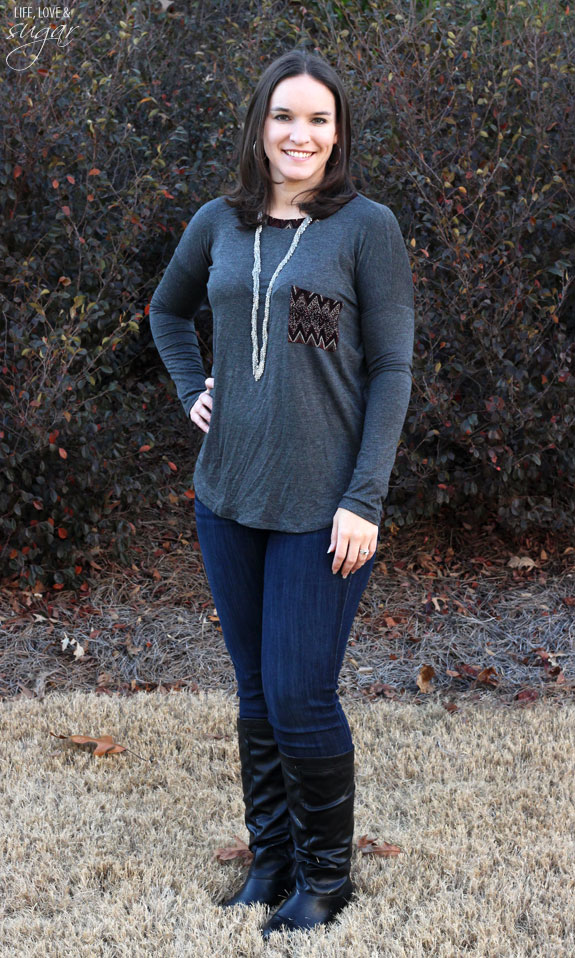 I actually picked this next top out as one of my two items. I'm loving this style top right now and I thought this would be really festive for New Years. I was right and I love it!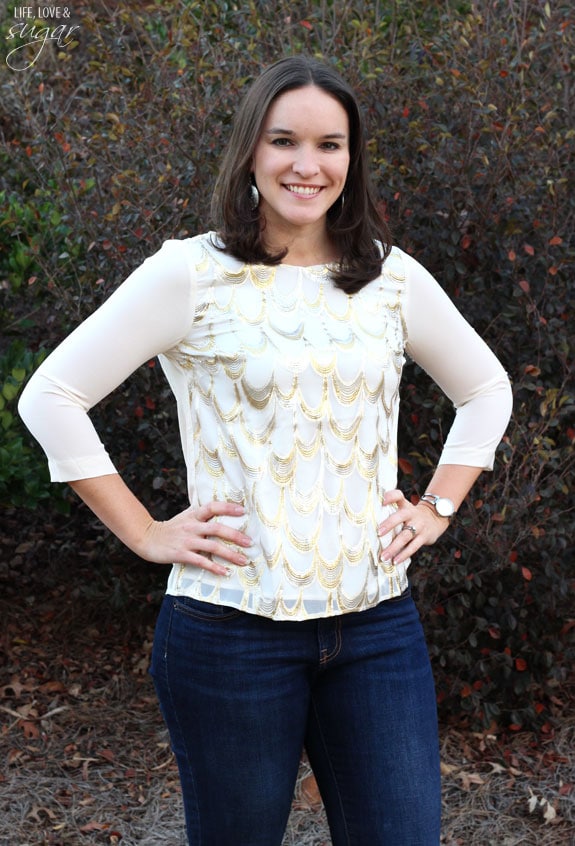 This top was their pick for me and it's very comfy and casual. It's a great top, but I'm not sure I love it on me. Horizontal stripes aren't always flattering and it's a little short. I'm thinking I might check out the Facebook group and see if I can trade it for something else.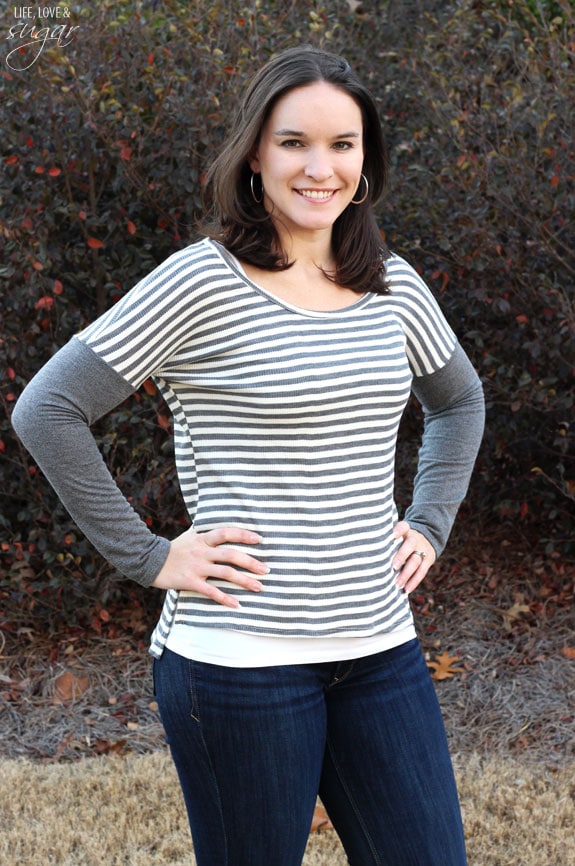 I picked this dress as my second item. I love the idea of a cute, flowy dress and I love the elbow patches. I'm not totally sure it's great on me – it's also horizontal stripes and I'm not loving the belt (it didn't come with the belt, that's mine), but that's the only black one I had that might work. It's got a lot of extra fabric, so I might try to get another size.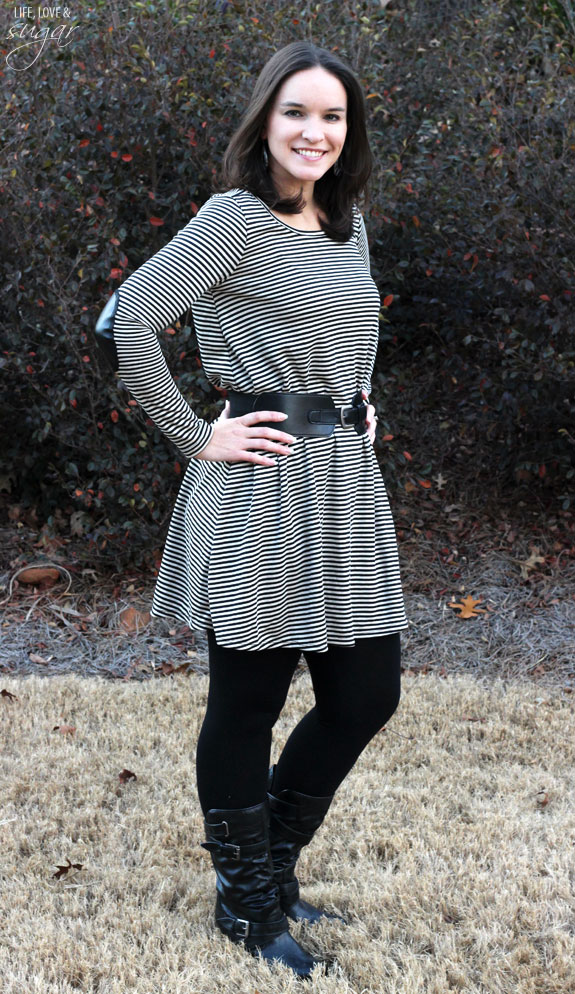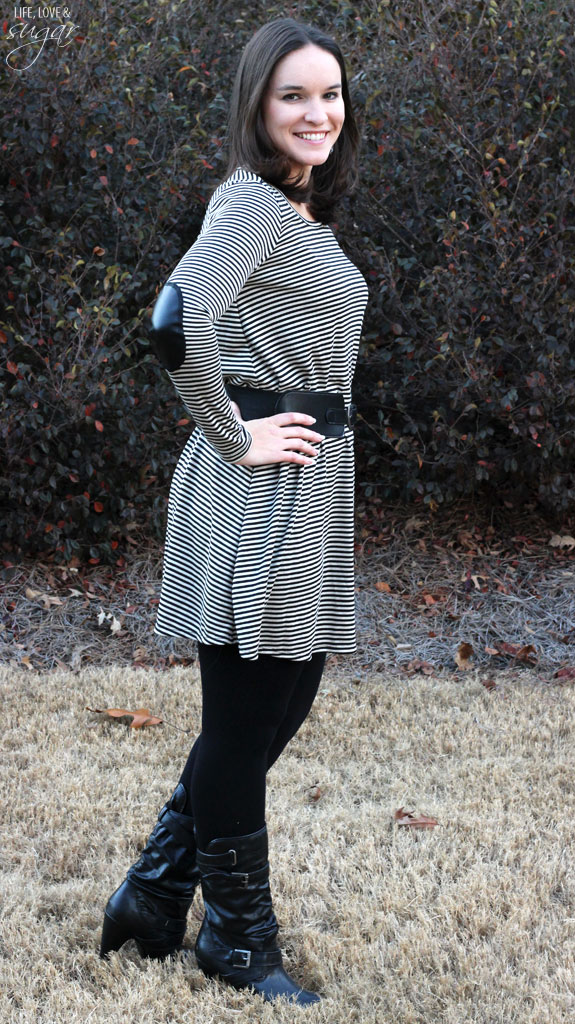 I totally love this last piece! I am a big fan of pink and I like the pattern. The only thing is that it's quite tight around my legs. It might be hard to tell in the picture, but it's hard to walk in. Another one I might have to try and trade. So cute though, isn't it?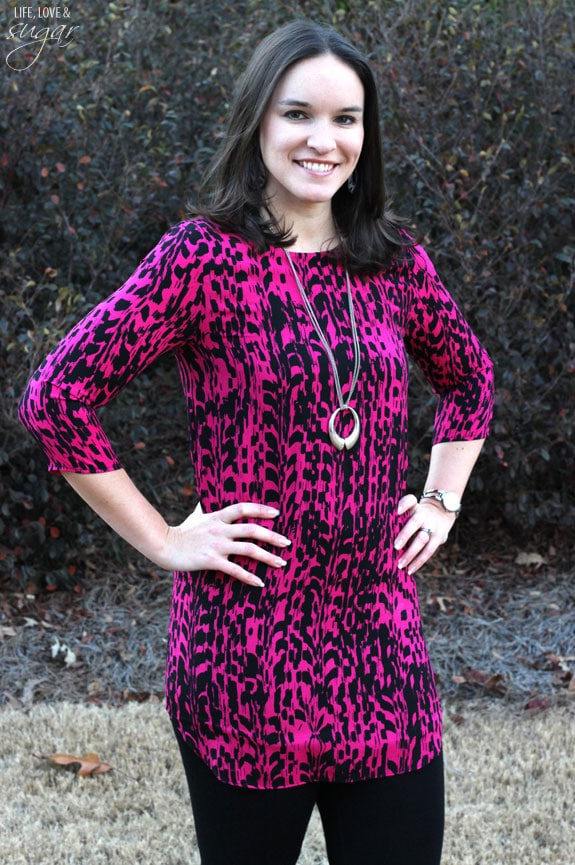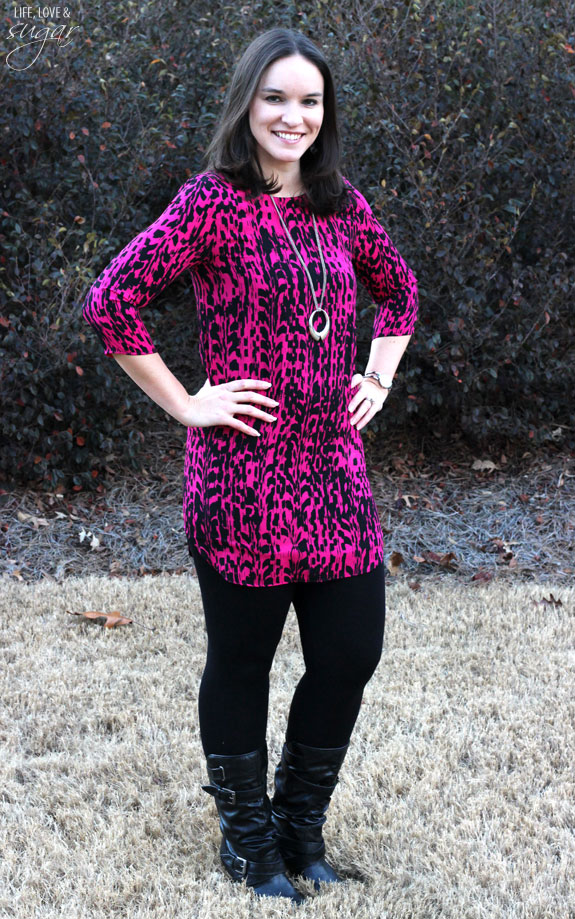 So there you have it! What do you think of the things I got? Overall, I was really happy with the experience. They sent a lot of cute things, including some that were unique for me and fun to try. I also love having clothes show up on my doorstep. Such a fun thing to come home to! 🙂 They do gift certificates as well, and gifting a month to someone would make a really fun gift.
Golden Tote provided me with a tote to review, but all opinions are 100% my own.
This post may contain affiliate sales links. Please read my disclosure policy.