Golden Birthday Cake Oreo Puppy Chow
The grocery store is a dangerous place. Do not go there when you're hungry. Everyone knows that. But sometimes that isn't enough to prevent impulse purchases. I cannot to go down aisles like the cookie aisle unless there is something on my list that I need. I'm physically unable to casually wonder past. It inevitably leads to an internal debate over whether or not to buy the cookies.
"But I need them!"
"No you don't!"
"Yes I do!"
It's not pretty. And then if a cookie you like is on sale – watch out!
That happened to me. Buy one, get one free oreos. Crap. I tried to walk past, but they were right on the end of the aisle. Staring at me. "Buy me! Buy me!" Evil. My bad side won.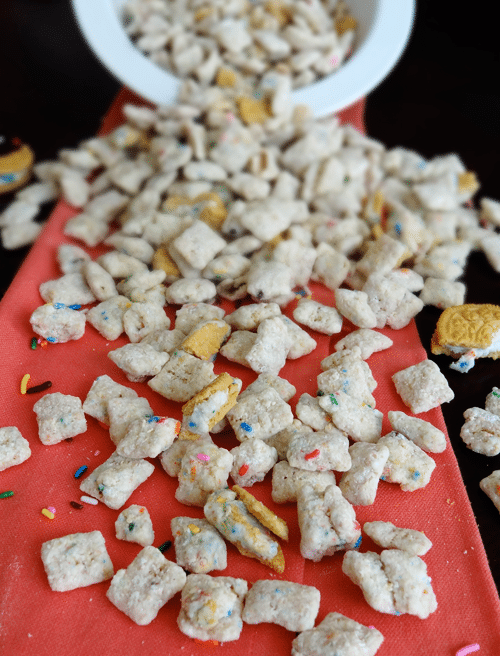 I would have been able to resist, but they had the birthday cake ones. And I've had the regular chocolate birthday cake ores, but not the golden birthday cake oreos. Obviously I need to try them all. Duh.
So I bought one package (Publix usually will give you half price even if you don't buy 2) and promised myself I'd only eat one.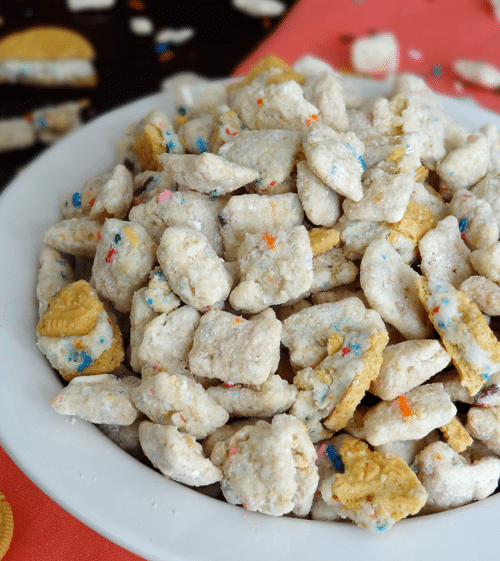 So I bought them, went home and ate 5. Oops.
So to prevent myself from eating all of them, I made you this puppy chow. Now if you could please reach into the computer screen, grab a handful and eat it, I'd appreciate it. If you each take a little bit, we can solve my problem real quick.
Ok, since you can't actually do that, I pawned it off on the neighbors. Problem solved. 🙂 Now there's only the issue of the leftover oreos…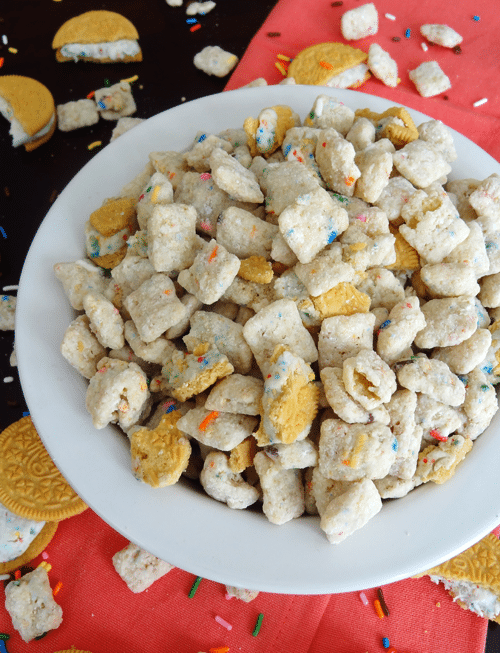 Anyways, this stuff is seriously delish. How can you not love a combo of cake batter and oreos? It's not possible.
And don't worry – I know it's sometimes hard to find the birthday cake oreos in stores, so if you can't find them have no fear! You can just use regular oreos and with the cake mix that is used in the recipe, you will still get a birthday cake oreo flavored puppy chow.
So what are you waiting for? Puppy chow is just about the easiest thing on the planet to make, so I suggest you go get you some oreos and make this stuff. You won't regret it.
Golden Birthday Cake Oreo Puppy Chow
Delicious and easy puppy chow made with funfetti cake mix and birthday cake Oreos!
Author:
Prep Time:

15 mins

Total Time:

15 mins

Yield: about

6

servings

1

x
Category:

Dessert

Method:

No Bake

Cuisine:

American
Ingredients
10 oz

white chocolate, white candy melts or almond bark

5 cup

s rice chex cereal

1/4 cup

powdered sugar

1/4 cup

funfetti cake mix

10

finely crushed golden birthday cake oreos (I used my food processor)

10

or more chopped golden birthday cake oreos
Instructions
1. Put rice chex cereal and finely crushed oreos into a medium sized bowl. Mix them up a little bit.
2. Slowly melt white candy melts in the microwave, stopping every 30 seconds or so to make sure it doesn't burn.
3. Add melted white candy melts to chex cereal and lightly stir to coat evenly. Be careful to not break the chex cereal too much.
4. Add the powdered sugar and funfetti cake mix to the white chocolate covered chex cereal and lightly stir to coat evenly with powdered sugar.
5. Allow to dry and add chopped oreos.
Keywords: golden birthday cake oreo puppy chow
Enjoy!