September 19, 2016
Turtle Brownie Cheesecake
This Turtle Brownie Cheesecake has a brownie bottom, caramel cheesecake and lots of pecans, caramel and chocolate sauce! It's a delicious combination of flavors and textures that's perfect for fall!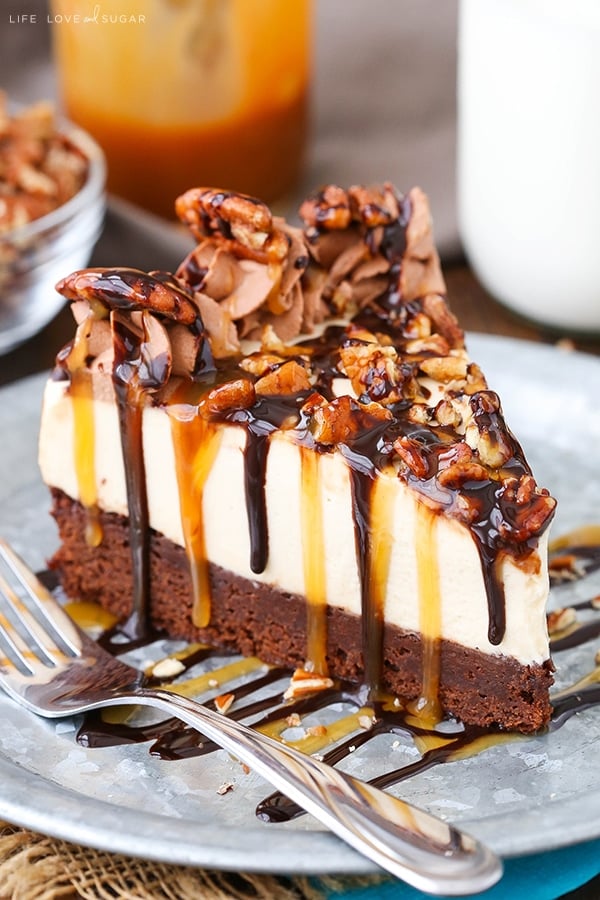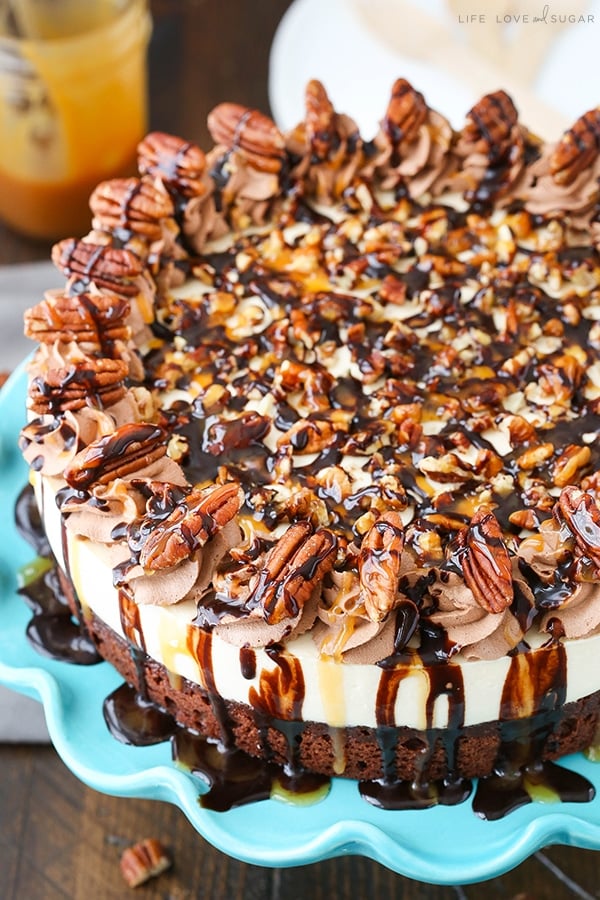 Turtle candies are definitely one of my faves. I love pretty much anything with caramel and turtles do not lack in that department one bit. So naturally it's a candy that I love turning into other desserts. I love how this cheesecake combines caramel in the creamy cheesecake with a dense, moist brownie and has the crunch from the pecans. It's the perfect form to enjoy turtles as a dessert!
To start, you'll want to make the brownie. I like to use melted butter in this brownie because it lends a lovely dense brownie. It's also a quick and easy brownie to make, which is a plus. You really don't even need to use a mixer. I usually just whisk everything together.
The brownie can be made right in your springform pan, if it doesn't leak (mine always does!) or it can be made in a cake pan, then transferred to a springform pan later when you finish the cheesecake.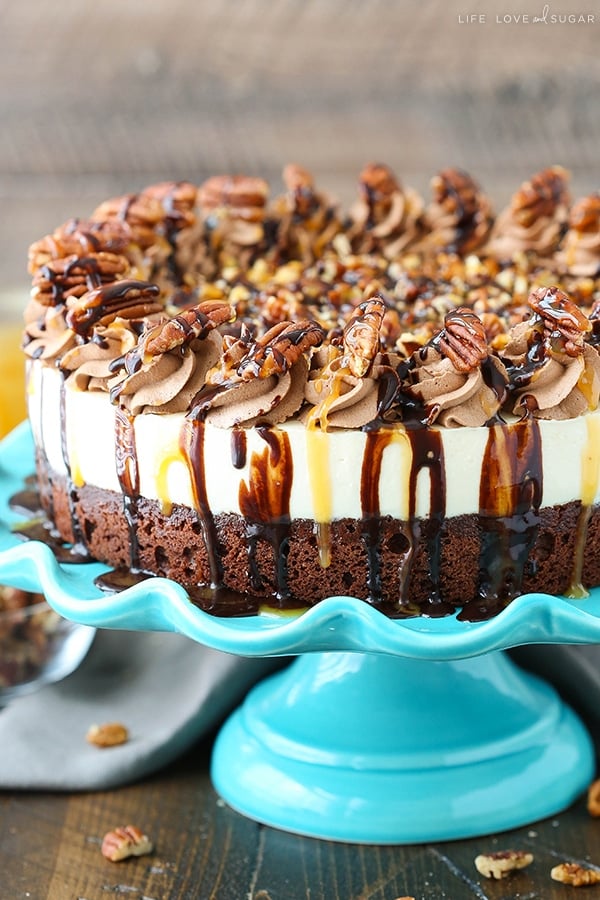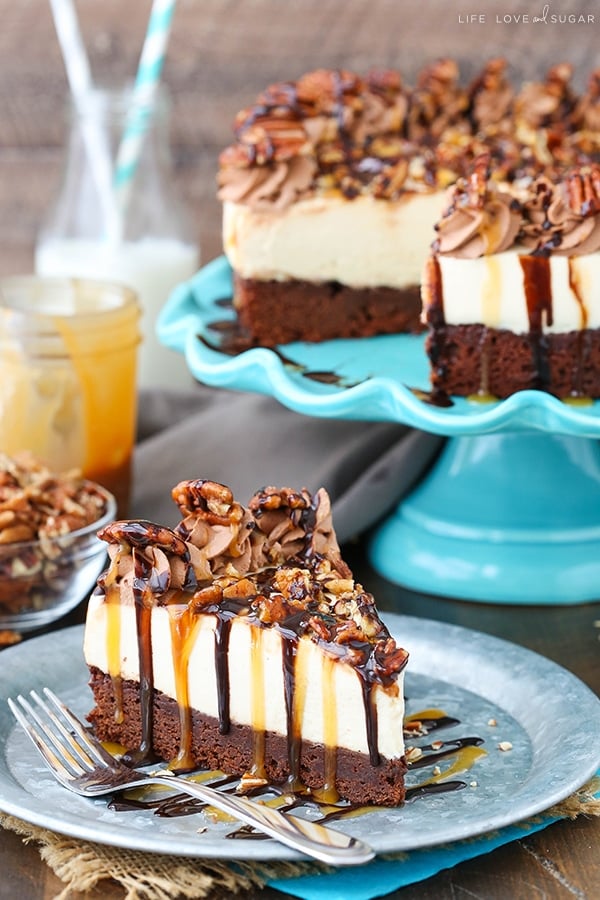 Once the brownie is made and cooled, it's time to make the cheesecake. It's a no bake cheesecake, so it's going to be softer than a baked cheesecake which has the benefit of firming with the addition of eggs and baking. To help it firm up a bit more, you can add gelatin if you like. I tried it both ways and thought it was great either way. If you don't feel like bothering with the gelatin, just leave it out. The gelatin will just firm it up a bit more.
The cheesecake is made with a mix of regular and brown sugar. The brown sugar is nice and helps bring out the great caramel flavor. I added homemade caramel sauce to the cheesecake and it's definitely the one I'd recommend. There can be quite a variety of caramels out there and you'll want to use a caramel sauce that gets fairly firm when cold so that your cheesecake firms up enough. A caramel sauce that's used for ice cream, for example, might not work so well.
The homemade caramel sauce that I used is a great option and the recipe includes a video to help you see just how to make it! It's definitely my favorite caramel sauce and is perfectly firm when cold.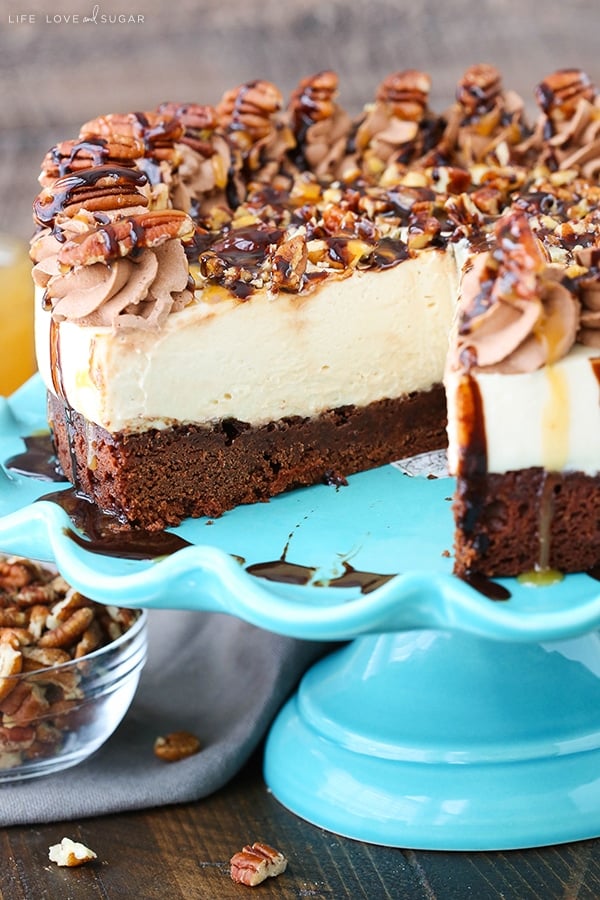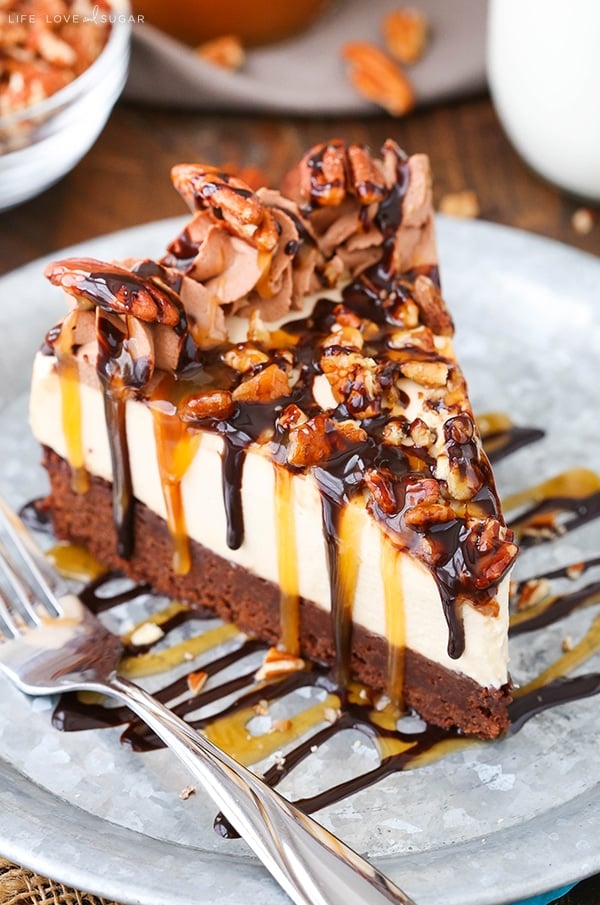 The cheesecake mixture should be spread evenly on top of the brownie in a springform pan. I line the sides of my pan with parchment paper to keep it from sticking too much to the sides and to extend the sides of the pan, just in case there's a little more cheesecake height than the pan has.
Once the cheesecake is firm, you can remove it from the pan. I'm a big fan of making this cheesecake a day ahead so that it can firm up overnight. When you remove the cheesecake from the pan, the sides often need a little "sprucing". I like to run my offset spatula around the edges to smooth things out.
To finish off the cheesecake, there's chocolate whipped cream, pecans and caramel and chocolate sauce! I LOVE the crunch of the chopped pecans on top and the gooey-ness of the caramel and chocolate sauces. It perfectly finishes off both the flavors and the textures of this cheesecake.
This Turtle Brownie Cheesecake was a BIG hit! The chewy, dense chocolate brownie, smooth and creamy caramel cheesecake, and crunchy pecans are pure heaven together! I hope you enjoy it as much as we did!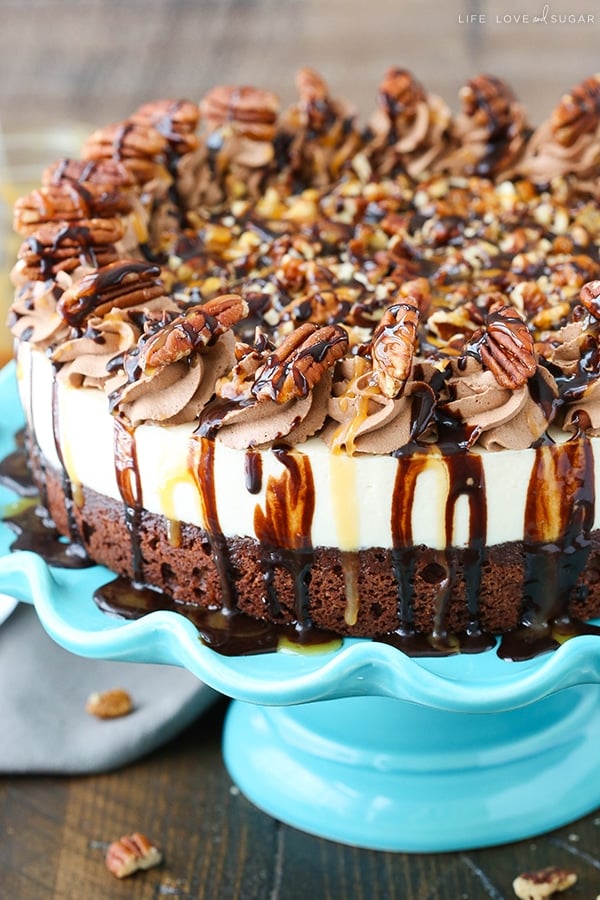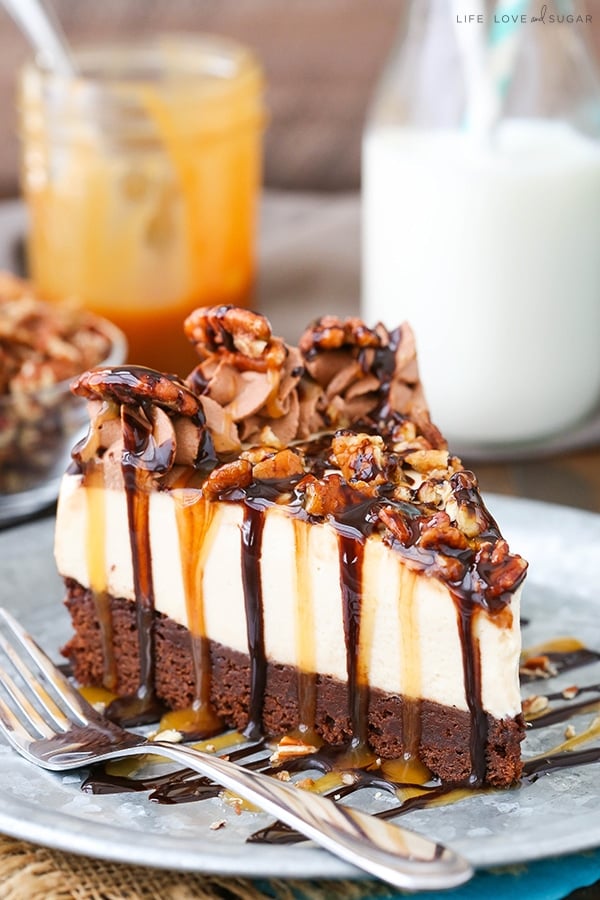 Turtle Brownie Cheesecake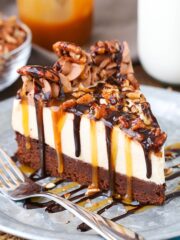 Yield:

12

-

14

Slices

1

x
Category:

Dessert

Method:

Oven

Cuisine:

American
Ingredients
BROWNIE
3/4 cup

(168g) unsalted butter, melted

1 cup

(207g) sugar

1 tsp

vanilla extract

2

large eggs, room temperature

3/4 cup

(98g) all purpose flour

6 tbsp

(43g) natural unsweetened cocoa

1/4 tsp

baking powder

1/4 tsp

salt
CHEESECAKE
1 1/2 tsp

gelatin, optional

2 tbsp

(30ml) cold water, optional

20 oz

(565g) cream cheese, room temperature

1/2 cup

(104g) sugar

1/2 cup

(82g) brown sugar, unpacked

3/4 cup

(180ml) caramel sauce, room temperature

1 cup

(240ml) heavy whipping cream, cold

1/2 cup

(58g) powdered sugar
TOPPING
1/2 cup

(120ml) heavy whipping cream, cold

2 tbsp

(14g) powdered sugar

2 tbsp

(14g) natural unsweetened cocoa
Pecans
Caramel sauce
Instructions
1. Preheat oven to 350°F (176°C). Line a 9-inch (23cm) springform pan with parchment paper in the bottom and grease the sides. NOTE: If your springform pan leaks, use a 9-inch cake pan so the brownie batter won't leak out while baking.
2. To make the brownie, combine the melted butter, sugar and vanilla extract in a medium sized bowl.
3. Add the eggs and mix until well combined.
4. In a separate medium sized bowl combine the flour, cocoa, baking powder and salt. Slowly add dry ingredients to the egg mixture and mix until well combined.
5. Pour the batter into the prepared pan and spread evenly. Bake for 22-26 minutes, or until a toothpick comes out with a few moist crumbs.
6. Allow brownie to sit for 3-5 minutes, then remove to a cooling rack to finish cooling.
7. Once the brownie is cool, make the cheesecake. If using the gelatin, sprinkle the powdered gelatin over the cold water in a small bowl. Allow to sit for about 5 minutes, the heat in the microwave until warm and dissolved. Set aside to cool slightly. If not using gelatin, move to next step.
8. In a large bowl, beat the cream cheese, sugar and brown sugar until smooth.
9. If using gelatin, add it to the cream cheese mixture and mix until smooth.
10. Add the caramel sauce to the cream cheese mixture and mix until smooth.
11. In a separate bowl, whip the heavy whipping cream and powdered sugar until stiff peaks form.
12. Gently fold the whipped cream into the cream cheese mixture.
13. Place the brownie back into the 9 inch springform pan. Line the sides of the pan with parchment paper that sticks about an inch above the sides of the pan to account for possible overflow.
14. Top the brownie with the cheesecake mixture and spread into an even layer, then refrigerate until firm, about 5-6 hours.
15. Once firm, remove the cheesecake from the springform pan.
16. To make the whipped cream for the top, whip the heavy whipping cream, powdered sugar and cocoa powder until stiff peaks form. Pip swirls around the edge of the cheesecake and top with pecans.
17. Finish cheesecake off with some chopped pecans and chocolate and caramel sauce. Refrigerate until ready to serve.
Enjoy!


You might also like:
Recipes from friends:
Turtle Brownies from Averie Cooks
Turtle Cookies from The Kitchen Is My Playground
Turtle Bundt Cake from Chef in Training