Turtle Chocolate Layer Cake
This Turtle Chocolate Layer Cake is a super moist chocolate cake filled with caramel icing, pecans and chocolate ganache. It's delicious and the perfect celebration cake!
Today I'm celebrating the life of a blogging friend, Joan from Chocolate, Chocolate and More, who was taken from this world much too soon just last week. It also just happens to be National Chocolate Day, which is a fitting day for a woman who loved chocolate as much as Joan.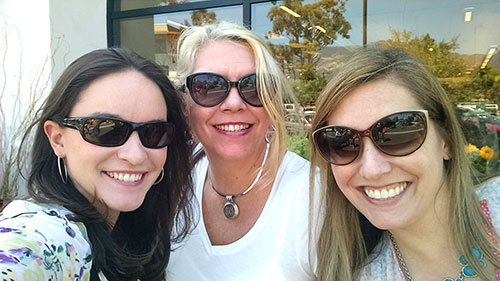 Joan is in the middle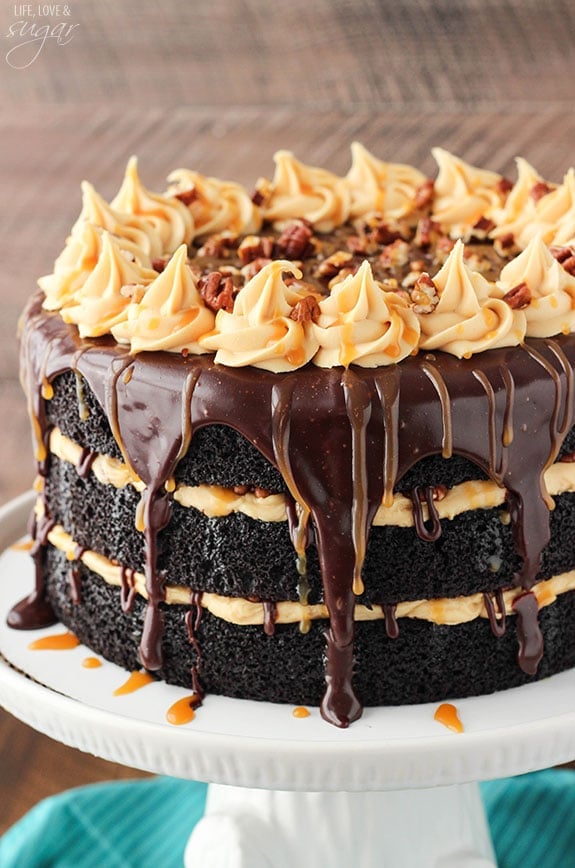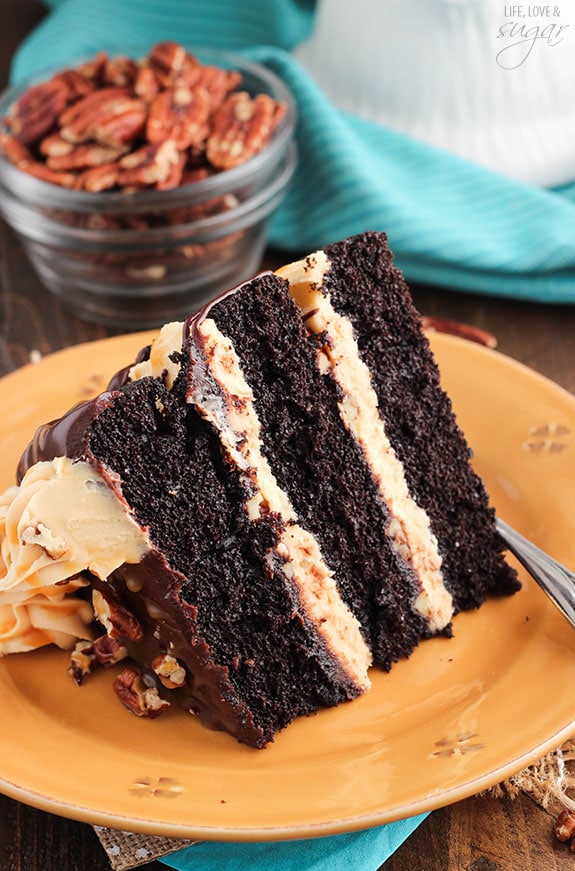 I've said it before and I'll say it again. One of my favorite parts about blogging is the wonderful other bloggers I've met and become friends with. There is so much that goes on behind the scenes of a blog and having the support of others who understand it and become friends is a blessing.
Joan is one of the wonderful bloggers I had the pleasure of meeting and becoming friend with over the last few years. She lived just 2 hours away from me, with Atlanta right in the middle. The first time I met her was for lunch with another blogger and it was immediately apparent the kind of presence she had. With a much more popular blog than my own, she was humble, super friendly and fun, and always willing to be as helpful as possible. Of course when she left, she got several pieces of cheesecake (we were at The Cheesecake Factory) to take home to her family so they could all try them. I knew right then she was my kind of woman and we were destined to be friends.
You may remember that back in April, I co-hosted a blogging retreat with some other bloggers. Joan was one of the bloggers that attended. Again, we had so much fun. If there's one thing we shared, it was a big sweet tooth. I thought I'd be the only one drinking my sweet wines (since I only like things that are nice and sweet), but I found out that like me she liked sweet wines. I was happy to share. 🙂
Those are but a few small memories of a tremendous person with a big love for sweets, life and her family.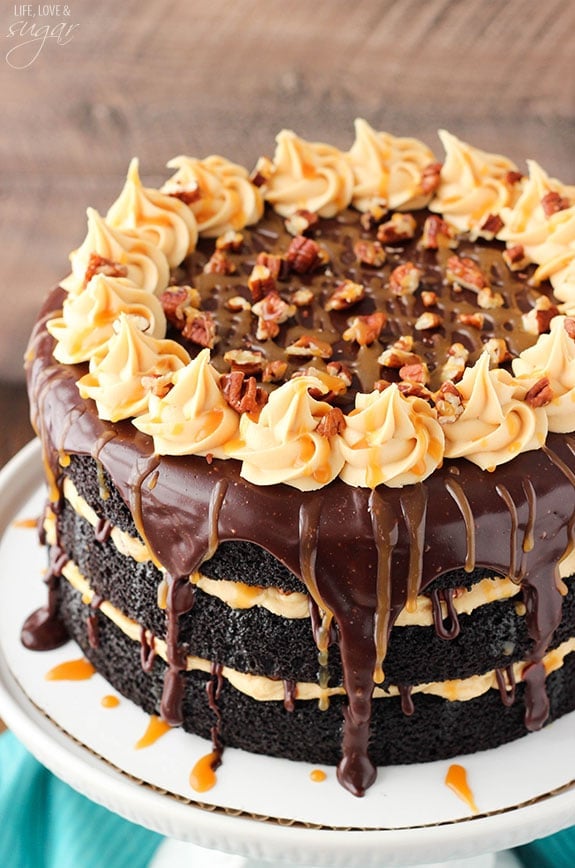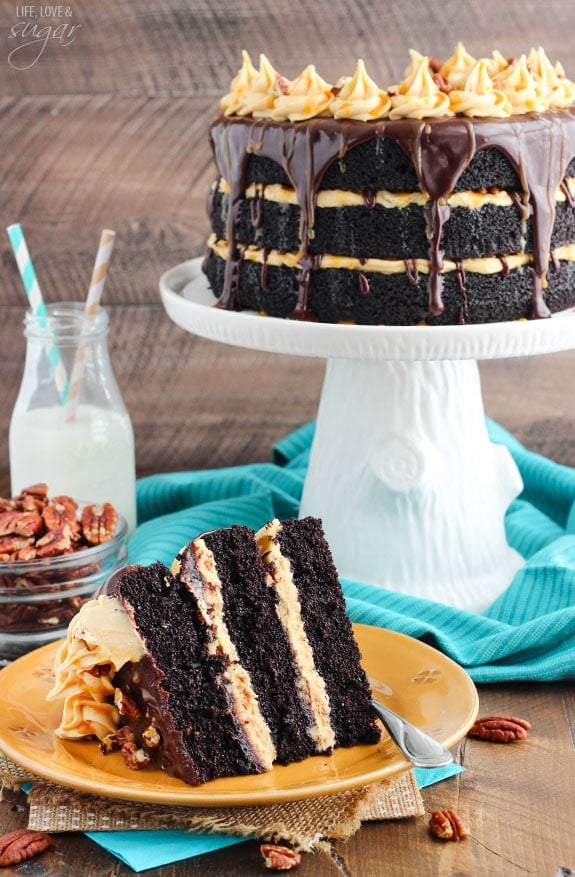 Joan also had an incredible business mind. I admired her so much for it and really appreciated her advice and help. If there was anyone I wanted to learn more from from a business stand point, it was Joan.
Next week I will be attending a food blogging conference in Chicago. Joan and I had booked our flights together and I was so looking forward to the trip. I won't lie, that flight next week is going to be awful without her.
More than anything I feel terrible for her three kids that she leaves behind. I can't even imagine losing a parent at a young age. While we don't yet know what Joan's final wishes were, I remember her talking about her kids and her wishes for them with her blog. I thank the Lord that she had already put plans into place for them if anything ever happened to her. See why I admired her so?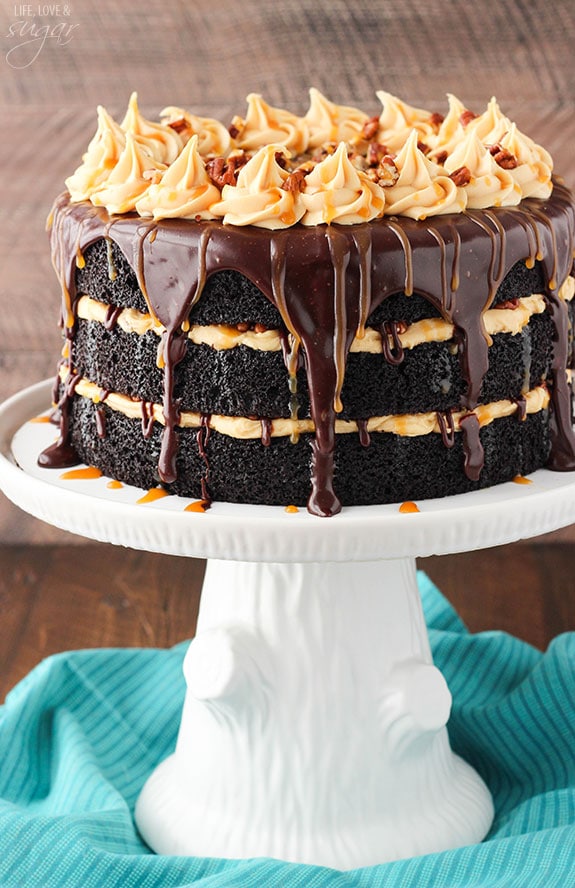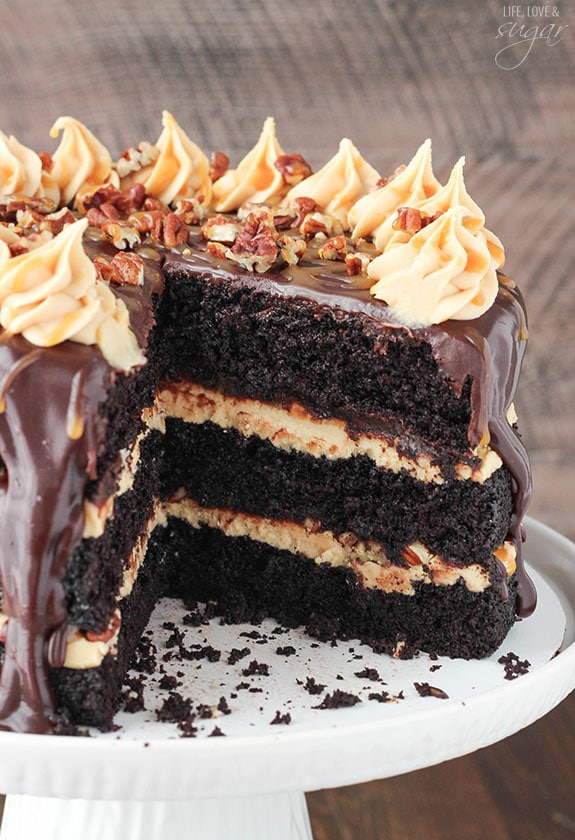 Her family is going to continue her blog, full of chocolate and other tasty treats, for her children. I share today to remember her, share a chocolate cake I hope she'd have loved and to encourage you to hop over to her blog and find some things you'd like to try. And if you have a few extra minutes, maybe share some things on pinterest or with friends and family. Here are a few suggestions:
Coffee Ice Cream
Dark Chocolate Cream Pie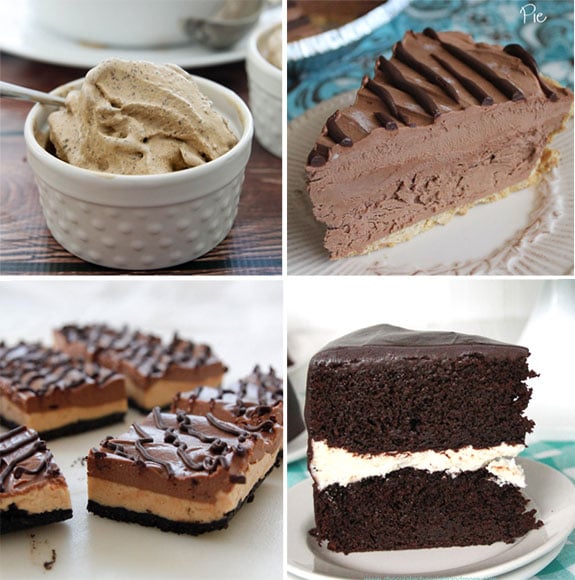 No Bake Chocolate Peanut Butter Cheesecake Bars
Ding Dong Cake
Thanks so much for letting me take the time to remember a good friend. Though her loss has been difficult for many, I keep picturing her in Heaven, praising Jesus. While I don't know what Heaven will actually be like, if I had to guess, I'd imagine it would involve chocolate for Joan.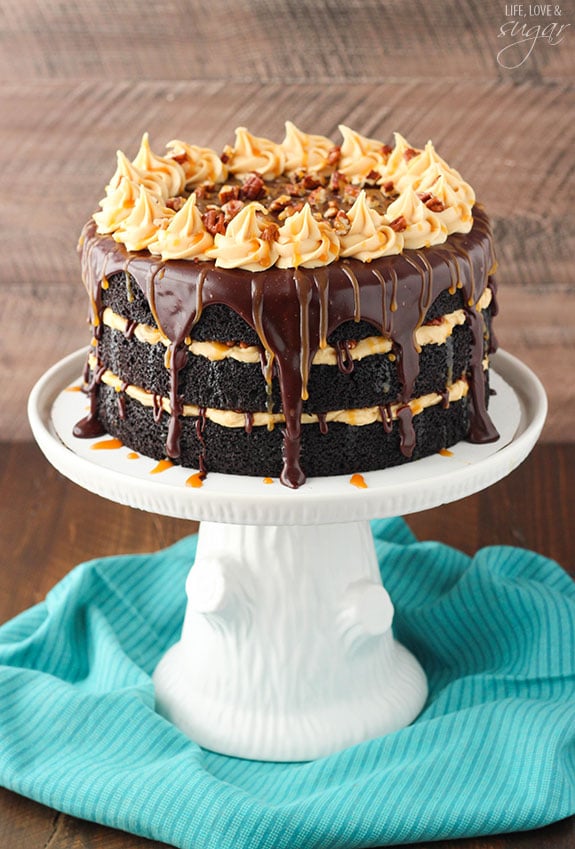 UPDATE 9/7/16: Here is a video showing the process of making the caramel sauce and the frosting, since some people have had trouble with it. I show the frosting being piped at the end so you can get an idea of the consistency. This particular batch of frosting was still a bit warm when it was piped, so it firmed up even more as it cooled.
You might also like:
Turtle Cheesecake
Chocolate Turtle Poke Cake
Turtle Chocolate Cookie Cups
Turtle Brownie Cheesecake
Mini Rolo Cheesecakes
Chocolate Turtle Cupcakes
Turtle Chocolate Layer Cake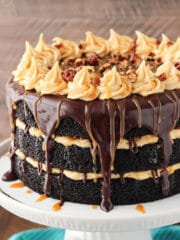 Turtle Chocolate Layer Cake is a moist chocolate cake filled with caramel icing, pecans & chocolate ganache. It's delicious & the perfect celebration cake!
Author:
Prep Time:

1 hour

Cook Time:

33 minutes

Total Time:

1 hour 33 minutes

Yield:

12

-

14

Slices

1

x
Category:

Cake

Method:

Oven

Cuisine:

American
Ingredients
CHOCOLATE CAKE
2 cups

(

260g

) flour

2 cups

(

414g

) sugar

3/4 cup

(

70g

) Hershey's Special Dark Cocoa powder

2 tsp

baking soda

1 tsp

salt

2

large eggs

1 cup

(240ml) buttermilk

1 cup

(240ml) vegetable oil

1 tsp

vanilla

1 cup

(240ml) boiling water
CARAMEL SAUCE AND ICING
1 1/2 cups

(

310g

) sugar

9 tbsp

(

126g

) salted butter, cubed, room temperature

3/4 cup

(180ml) heavy whipping cream, room temperature

4 cups

(

460g

) powdered sugar

2

–

3

tbsp (30-45ml) milk
CHOCOLATE GANACHE
9 oz

semi-sweet chocolate chips

3/4 cup

(180ml) heavy whipping cream
ADDITIONAL
Instructions
TO MAKE THE CHOCOLATE CAKE LAYERS:
1. Prepare three 8 inch cake pans with parchment paper circles in the bottom, and grease the sides. Preheat oven to 300°F (148°C).
2. Add all dry ingredients to a large bowl and combine.
3. Add eggs, buttermilk, vegetable oil and vanilla to the dry ingredients and mix well.
4. Slowly add water. Mix well.
5. Divide batter evenly between cakes pans and bake for about 30-33 minutes, or until a toothpick comes out with a few crumbs.
6. Remove cakes from oven and allow to cool for about 10 minutes, then remove to cooling racks to cool completely.
WHILE CAKES COOL, MAKE THE CARAMEL SAUCE AND ICING:
7. Pour sugar into an even layer in a large saucepan.
8. Heat on medium-high heat, whisking the sugar until melted. The sugar will clump up first, but will eventually completely melt. This will take about 10 minutes.
9. Once the sugar has melted, stop whisking and allow to cook until the sugar has turned to a little darker amber color. You may notice a nutty aroma. The change in color will happen quickly, so don't let it go too long or get too dark or it'll burn. Remove caramel from the heat.
10. Add butter and whisk until combined. The mixture will bubble up, but keep whisking until all the butter has melted and combined.
11. Slowly pour the heavy cream into the caramel and whisk until incorporated.
12. Cool for about 10-15 minutes before using.
13. Set aside about 1/3 cup of caramel sauce, then transfer remaining caramel sauce to a mixing bowl.
14. Slowly add powdered sugar and milk and mix until smooth. You can add more or less milk to get the right consistency for the icing. For help with getting the right consistency, 
check out this post
.
TO PUT CAKE TOGETHER:
15. Make the ganache by adding the chocolate chips to a metal or glass bowl (see my tips on making
chocolate ganache
).
16. Microwave the heavy whipping cream until boiling, then pour over the chocolate chips. Cover bowl with clear wrap for about 5 minutes.
17. Whisk chocolate until smooth. Microwave in 5-10 second increments as needed, if chocolate isn't fully smooth and melted.
16. Place the first layer of cake on cake stand. Top with 1 cup of the caramel icing and spread into an even layer. Top icing with about 1/4 cup of chopped pecans, then drizzle with some chocolate ganache and caramel sauce.
17. Add second layer of cake and icing and add another 1/4 cup of chopped pecans, caramel sauce and chocolate ganache.
18. Top cake with remaining cake layer.
19. Pour remaining ganache over the cake and allow it to drizzle down the sides of the cake. Refrigerate until the ganache is firm.
20. There should have been a little caramel icing left. Use that to pipe caramel icing around the top edges of the cake, then sprinkle with remaining chopped pecans and drizzle with caramel sauce.
Keywords: chocolate cake, turtle cake, celebration cake, caramel, chocolate ganache, pecans dessert
Enjoy!