This Strawberry Brownie Cheesecake is such a wonderful combination of flavors. A chewy brownie topped with vanilla no bake cheesecake, fresh whipped cream and fresh strawberries! So simple, yet classic and delicious!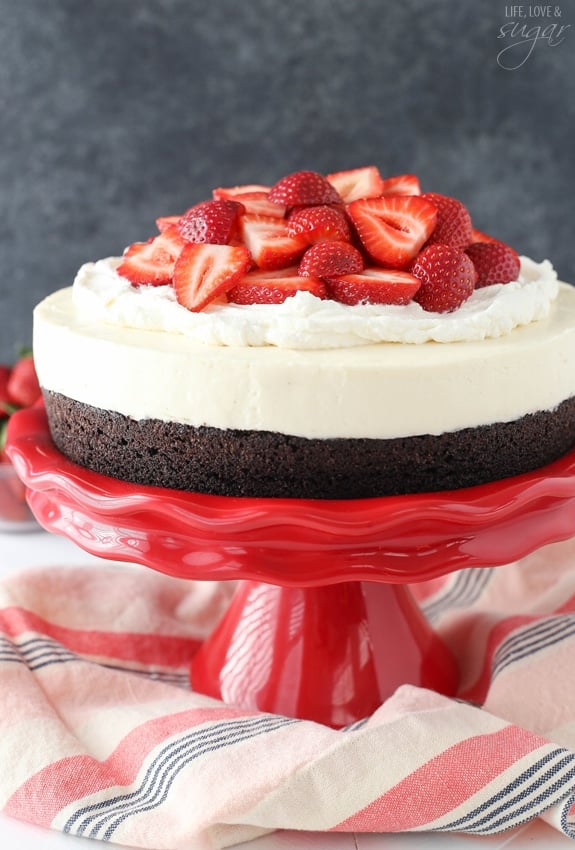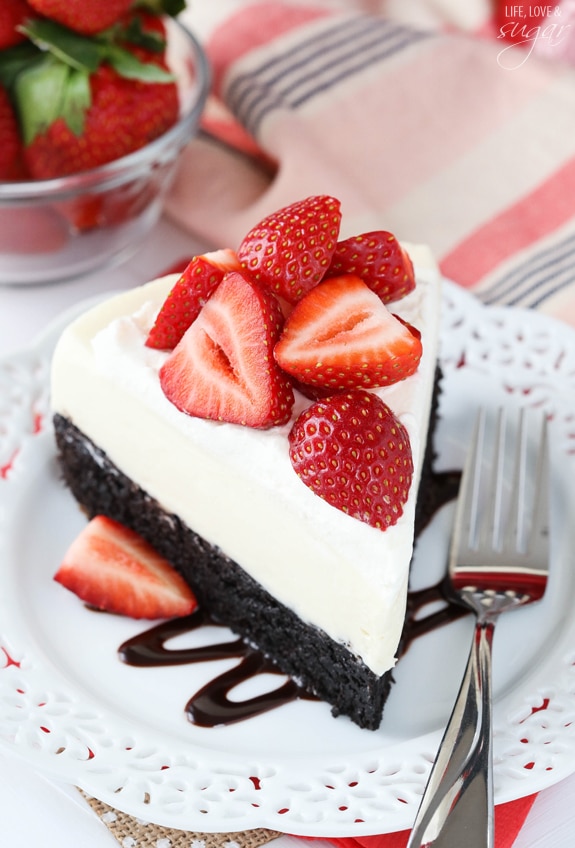 So I mentioned last week that the hubs was getting his wisdom teeth out last week. The one thing I was hoping for was something funny to come out of him while he was all drugged up. I remember when I had mine removed back in high school and my mom was driving me home I was saying all kinds of random and funny stuff. And I could barely keep me head up.
Sadly the hubs was actually quite together. He kept trying to talk to me but wasn't saying anything fun. He probably would've made sense if I could have completely understood what he was saying through the gauze. I thought I'd have a good story for you, but he failed us. 😉
Also unlike me, when he's not feeling well he'd just rather not eat. I mean I never have that problem. I wish. Getting him to eat the last few days has been a challenge. There are very few things that could keep me from not eating. I got some freeze dried apples from Trader Joe's a couple weeks ago and ate so many of them at once I got a stomach ache. Had there been any left, I'd probably have kept eating them. I'm so quitter.
My love for food probably is why this whole dessert blog thing works so well for me. 🙂 And it's why you should believe me when I say you are going to want to make this cheesecake. It's so good you'd even want to eat it after having your wisdom teeth pulled.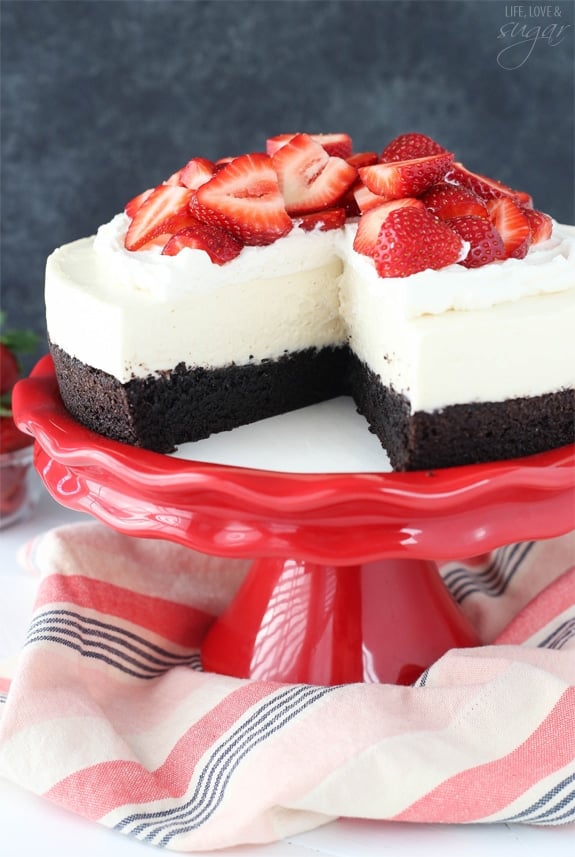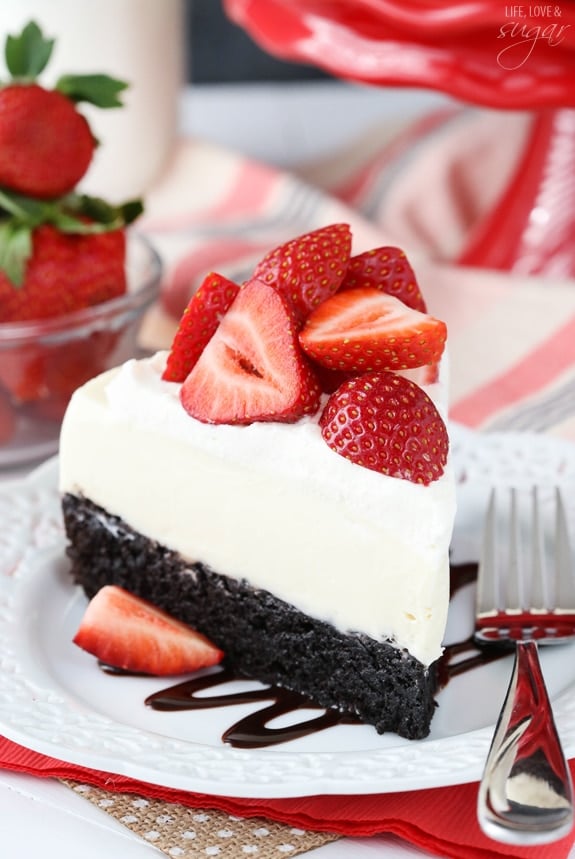 I know strawberries aren't your typically dessert for this time of year, but sometimes something a little unexpected is perfect. And I've found recently that the strawberries I've been getting are super tasty!
So let's break this Strawberry Brownie Cheesecake down a bit. The base is a wonderfully dense and chewy brownie. One of my favorite brownies. It's super easy to put together too. No need to even break out the mixer, you just need a bowl and a whisk.
When baking the brownie, you'll want to keep in mind that to put the entire cheesecake together you'll put the cooled brownie back into a pan to top it with the cheesecake. To makes sure the finished cheesecake is easy to remove from the pan, I recommend putting it together in a springform pan so you can just remove the sides. However since I've yet to find a springform pan that doesn't leak, I made my brownie in a 9 inch cake pan, then put everything together in a 9 inch springform pan. That's what I'd recommend, but do whatever suits you.
Once the brownie is baked and cooled, pop that baby into the springform pan. I suggest putting a little bit of parchment paper around the inside edges of the pan (between the brownie and the wall of the pan) and extending it above the pan to extend the sides. That way if the cheesecake is a little taller than the pan, it doesn't over flow.
The cheesecake filling is nice and easy since it's no bake. Combine some cream cheese, sugar, vanilla extract and fold in some whipped cream and you're ready to go. Spread the cheesecake mixture evenly over the brownie and then the hard part begins – putting it in the fridge and waiting for it to firm up. 🙂
I'd suggest at least 4-5 hours, just to make sure it's nice and firm. I usually will leave it in the fridge overnight so I'm not tempted to grab it too soon. Once it's firm, add some fresh whipped cream and sliced strawberries.
Seriously – the chewy chocolate brownie, smooth vanilla cheesecake with the pop of fresh strawberries is a combination you are not going to want to miss. My sister-in-law almost died over it. It's definitely her new favorite – as well as one of mine.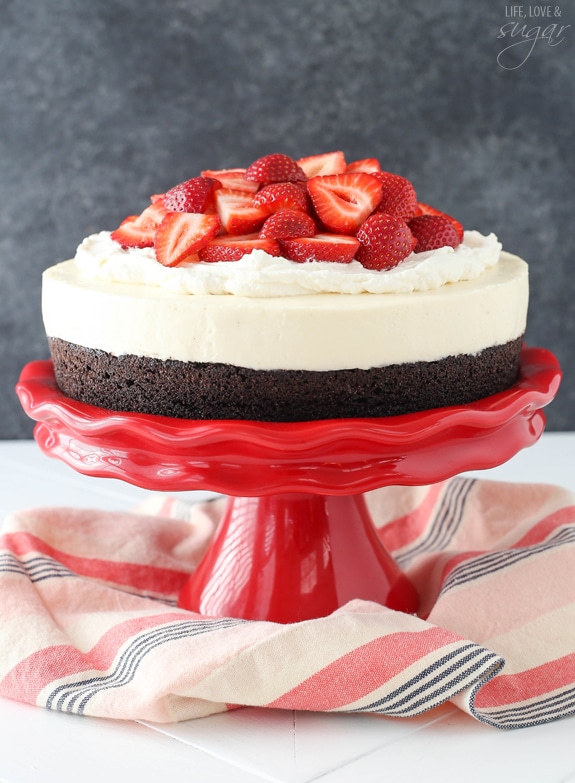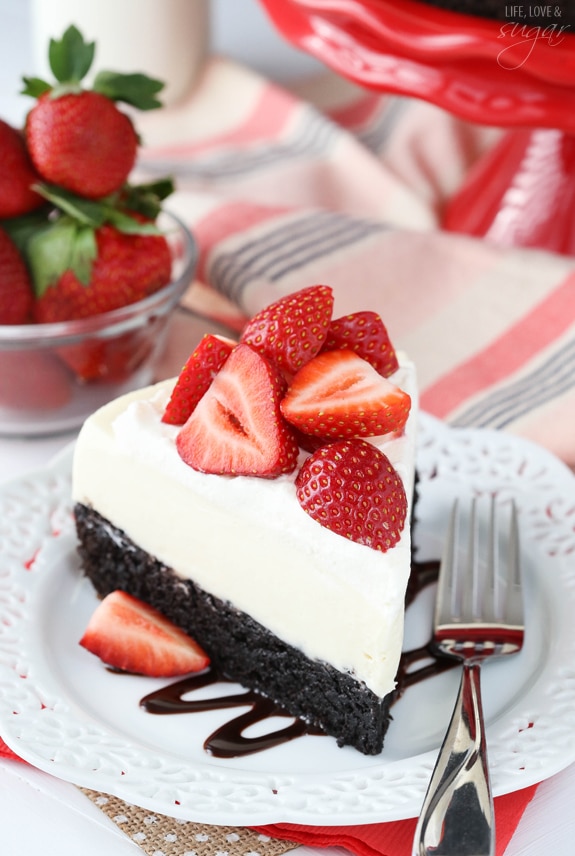 You might also like:
Strawberry Chocolate Cookie Sandwiches
Fudgy Strawberry Chocolate Brownies
Chocolate Covered Strawberry Cheesecake
Chocolate Covered Strawberry Cupcakes
Strawberry Cheesecake Chocolate Cookie Cups
Chocolate Strawberry Cheesecake Chimichangas
Print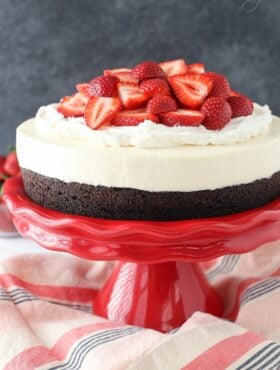 Recipe
Strawberry Brownie Cheesecake
Yield:

9 Inch Cheesecake, 10-14 Slices

Category:

Dessert

Method:

Oven

Cuisine:

American
---
Description
A chewy brownie topped with no bake vanilla cheesecake, fresh whipped cream and fresh strawberries.
---
Ingredients
BROWNIE
3/4 cup

vegetable oil

1 1/2 cups

sugar

1 1/2 tsp

vanilla extract

3

eggs

3/4 cup

flour

1/3 cup

+ 2 1/2 tbsp cocoa (I used Hershey's Dark Cocoa)

1/4 tsp

+

1/8 tsp

baking powder

1/4 tsp

salt
CHEESECAKE
20 oz

cream cheese, room temperature

1 cup

sugar

3 tsp

vanilla extract

1 cup

heavy whipping cream

1/2 cup

powdered sugar
TOPPING
2/3 cup

heavy whipping cream

1/3 cup

powdered sugar

1/2

lb strawberries, sliced
---
Instructions
1. Preheat oven to 350°F (176°C). Grease a 9 inch baking pan, or line it with parchment paper.
2. Mix together the oil, sugar and vanilla extract.
3. Add eggs and mix until well combined.
4. Combine flour, cocoa, baking powder and salt.
5. Slowly add dry ingredients to the egg mixture until well combined.
6. Pour the batter into the pan and spread evenly.
7. Bake for 30-35 minutes, or until a toothpick comes out with a few crumbs. Remove brownie from oven and allow to cool for about 10-15 minutes, then remove to cooling rack to finish cooling.
8. Once the brownie is cool, make the cheesecake. Beat cream cheese and sugar until smooth.
9. Add vanilla extract and beat until combined.
10. In a separate bowl, whip heavy whipping cream until it starts to thicken. Add the powdered sugar and whip until stiff peaks form.
11. Gently fold the whipped cream into the cream cheese mixture.
12. Place brownie into a 9 inch springform pan. Line the sides of the with parchment paper that sticks about an inch above the sides of the pan to account for possible overflow.
13. Top brownie with cheesecake mixture and spread into an even layer, then put in refrigerator until firm about 4-5 hours.
14. Once firm, remove cheesecake from springform pan.
15. To make whipped cream for the top, whip heavy whipping cream until it starts to thicken. Add the powdered sugar and whip until stiff peaks form.
16. Spread whipped cream on top of cheesecake, then top with strawberries. Refrigerate until ready to serve.
---
Nutrition
Serving Size:

1 Slice

Calories:

554

Sugar:

44.9 g

Sodium:

193.2 mg

Fat:

37.3 g

Carbohydrates:

52.5 g

Protein:

5.8 g

Cholesterol:

112.9 mg
Filed Under:
Enjoy!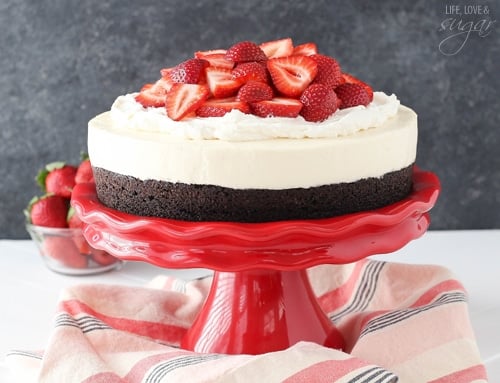 This post may contain affiliate sales links. Please read my disclosure policy.