This post may contain affiliate sales links. Please read my disclosure policy.
This Chocolate Covered Strawberries recipe is so easy! Learn how to make chocolate-covered strawberries and decorate them for sharing or gifting.
Chocolate Covered Strawberries
Do you love chocolate-covered strawberries? Me too! They are one of those desserts that always feel so incredibly fancy. And yet, they are super easy to make. In fact, I bet once you learn how to make them at home you'll never buy chocolate-covered strawberries again.
Homemade chocolate-dipped strawberries are fresher and you can decorate them any way you like. Plus, it's far less expensive to make these irresistible treats at home. All around it's a win-win situation.
What You'll Need
Here's a quick look at what you'll need to make chocolate covered strawberries. Be sure to scroll down to the recipe card for specific amounts.
Fresh strawberries
Chocolate – You can use bittersweet, semi-sweet, milk or white chocolate.
White chocolate & pink gel icing – These are for the option icing decorations.
Toppings – Oreo crumbs and sprinkles are my favorites. I've shared even more ideas below.
What type of chocolate should I use?
Since these strawberries are made with just strawberries and chocolate, the chocolate quality is pretty important. Not to mention that you want a smooth melted chocolate that will dry firm enough and not be tough to dip into.
I like to use Ghirardelli dark chocolate melting wafers (which also come in white and milk chocolate) because they are pretty foolproof, but they also have dark chocolate baking chips that would work well.
Another good option is the Baker's baking bar chocolate. Just don't use your average chocolate bar that's meant for eating.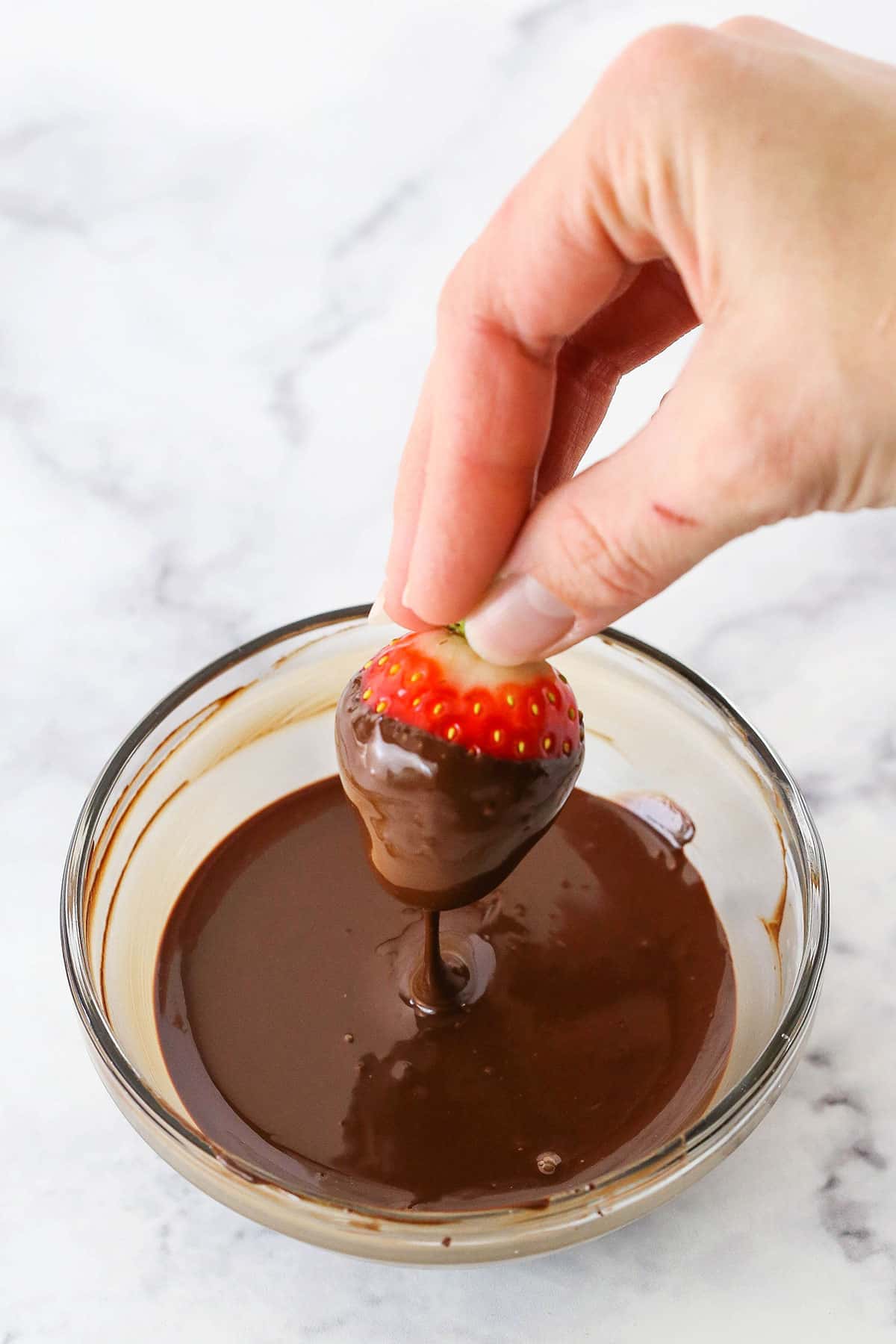 How to Make Chocolate Covered Strawberries
So let's start with the basic steps you'll go through and then dive into the details.
Wash your strawberries and dry them well. I use a paper towel and dry them each individually. Any water that's left behind could cause the chocolate to seize and keep the chocolate from sticking to the strawberries properly.
Prep your toppings. You want to prepare these in advance so that they are ready to go once you have dipped the berries in chocolate.
Set out parchment paper. To lay the strawberries on after you dip them.
Melt your chocolate. Check out my notes below with details on how to melt chocolate.
Dip your strawberries and add any toppings. For this, you want to hold each strawberry by the stem and then dip both sides into the melted chocolate. Let excess chocolate drip off, then place the strawberry on your parchment paper.
Let the chocolate firm up. This will take about 30 minutes.
Decorate. If you want to add a drizzle of colored white chocolate now's the time to do it.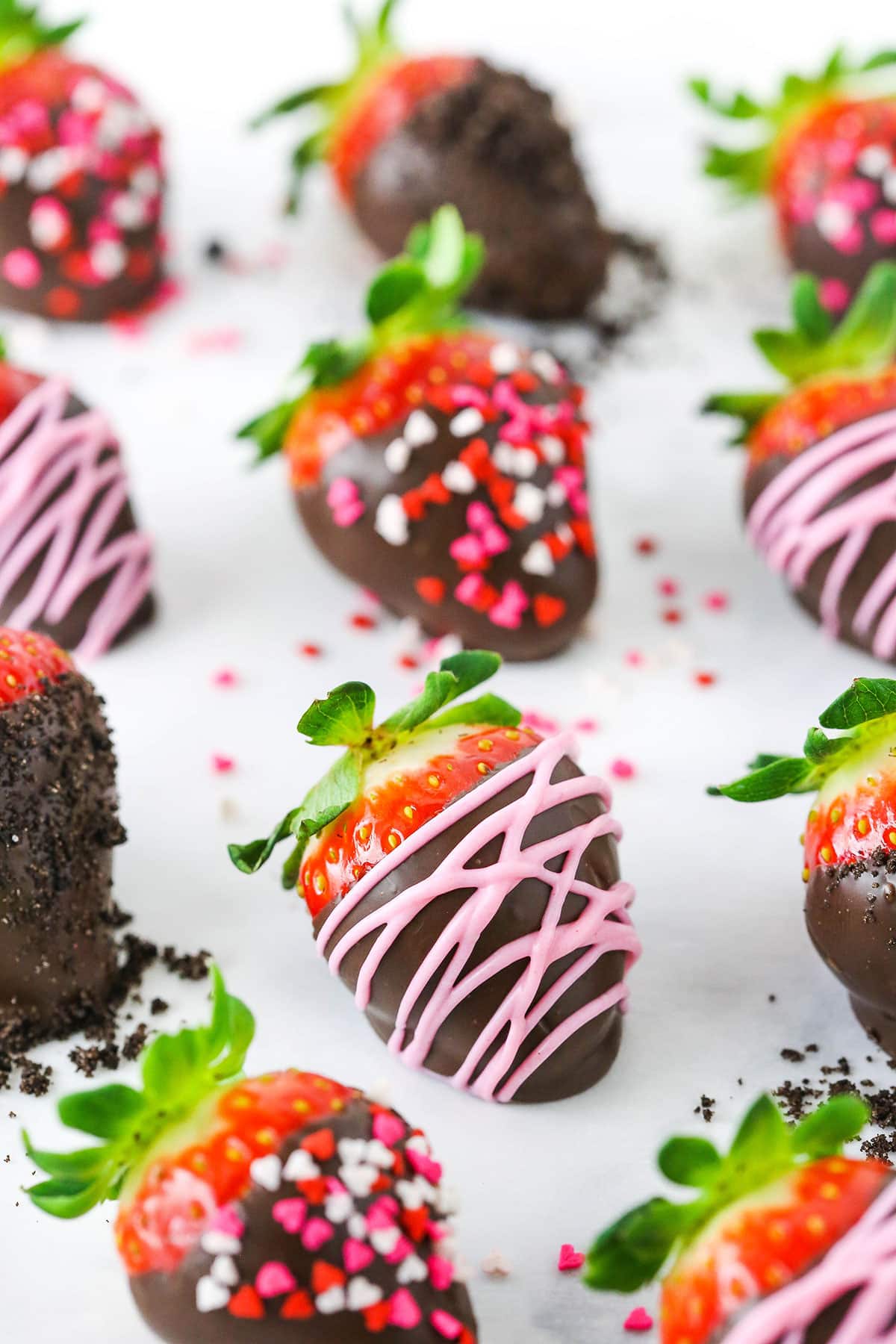 How to Melt Chocolate
You could melt the chocolate in the microwave or in a double boiler.
How to Melt Chocolate in the Microwave
Add the chocolate to a microwave-safe bowl and heat in 10-20 second intervals. Start with a little more time, then as the chocolate begins to melt, shorten the intervals so that you overheat the chocolate which can cause it to seize. After each interval, stir the chocolate well, using as much residual heat as you can to help melt the chocolate.
How to Melt Chocolate in a Double Boiler
You can use a double boiler or set up your own. To set up your own, add about 2 inches of water to a pot and bring the water to a simmer. Set a heat-proof glass bowl on top of the pot, making sure that the bottom of the pot doesn't touch the water underneath. There should be a few inches between them. When the water is simmering, add the chocolate to the glass bowl and stir constantly until mostly melted and smooth. When there are still several small chunks remaining, remove the glass bowl and stir the chocolate to use the residual heat to finish melting.
Once your chocolate is melted, you're ready to dip your strawberries!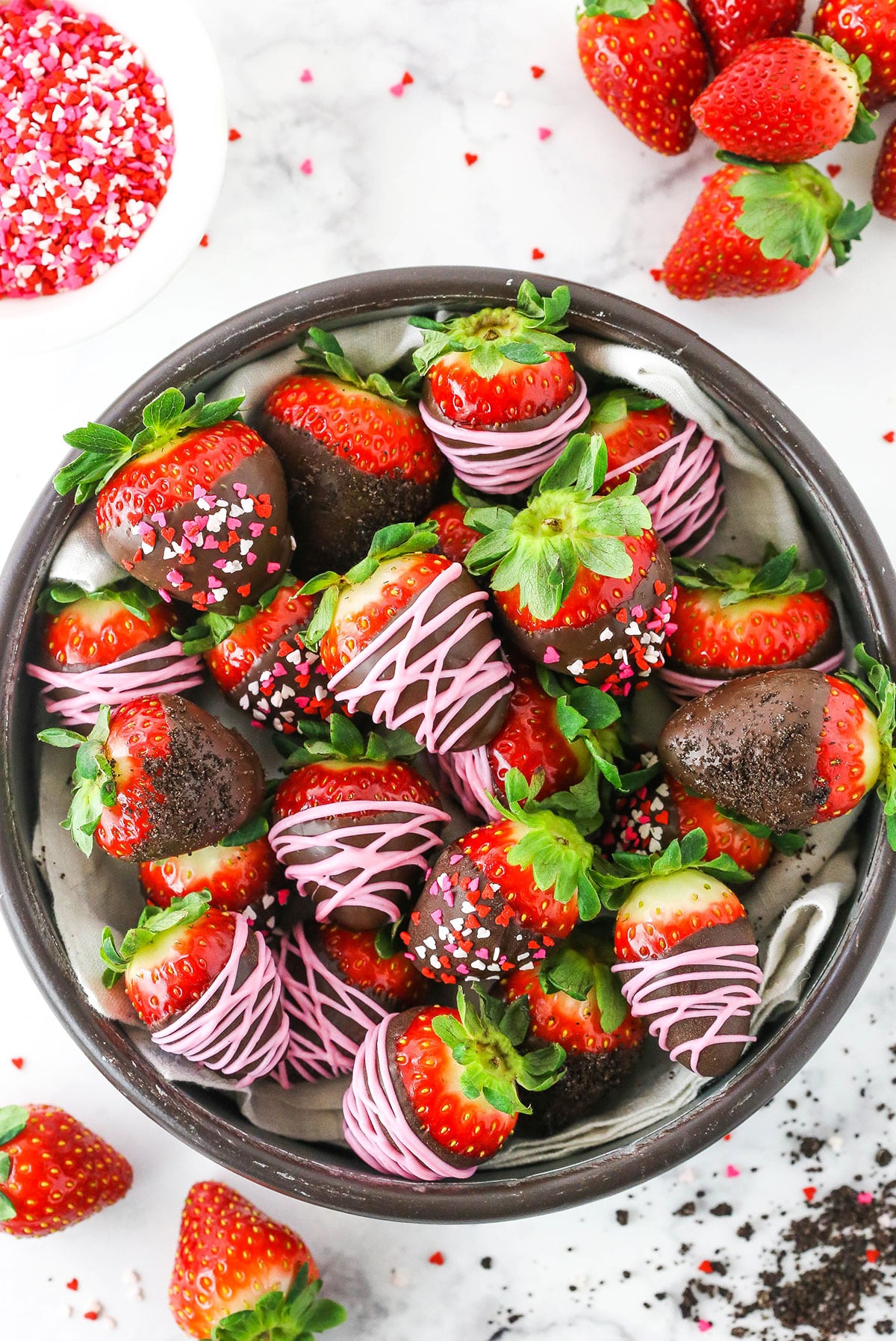 Tips for Perfect Chocolate Strawberries
Here are a few simple tips to make sure your strawberries come out perfectly every time:
Make sure the berries are dry. Otherwise, the chocolate won't stick to the surface of the berries.
Let excess chocolate drip back into your bowl. This will prevent chocolate from pooling below each berry as the chocolate hardens up. (Though there is nothing wrong with an extra bit of chocolate either!)
Want an extra thick coat of chocolate? You can dip the berries again after the first coat of chocolate has hardened.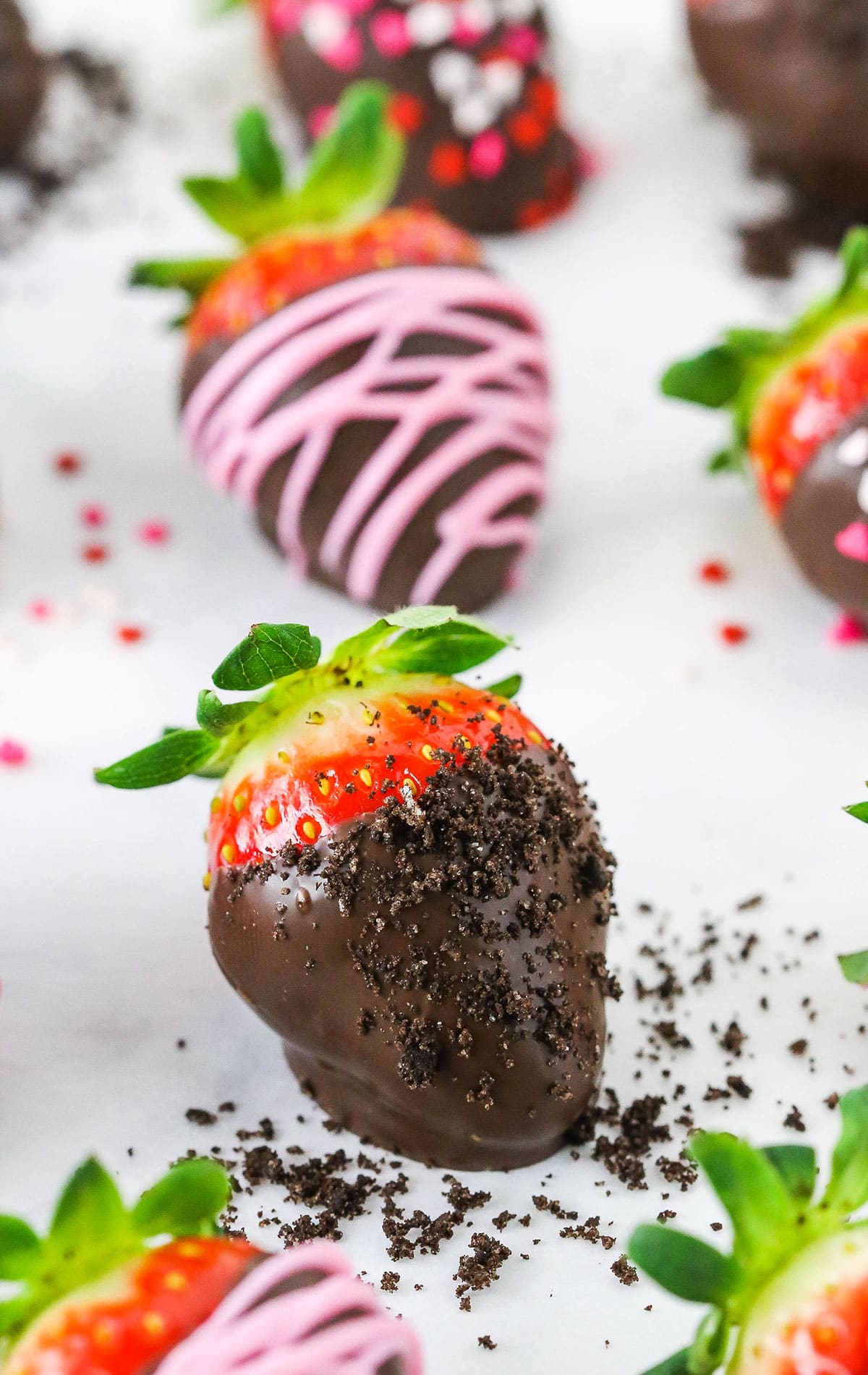 How to Decorate Chocolate Covered Strawberries
Once your strawberries have been dipped into the chocolate, it's time to start adding some toppings. The options are endless, but here are a few ideas:
Sprinkles!
Oreo crumbs
Chopped nuts
Crushed graham cracker crumbs
Shredded coconut
Melted chocolate drizzle
For most toppings, you'll want to add them before the chocolate dries so that they stick to the chocolate. For the chocolate drizzle, you'll want to let the chocolate dry and firm up and then add it.
How to Add a Chocolate Drizzle
To add a drizzle of melted chocolate, you can use regular chocolate or white chocolate. I used white chocolate and added a little pink gel icing color.
To drizzle the melted chocolate onto the strawberries, you can either add it to a ziplock bag and snip off a small piece of the corner, or you can add it to a piping bag fitted with a small round tip (I used Wilton tip 3) and drizzle it that way. I personally like the piping bag because I feel like I have a little more control.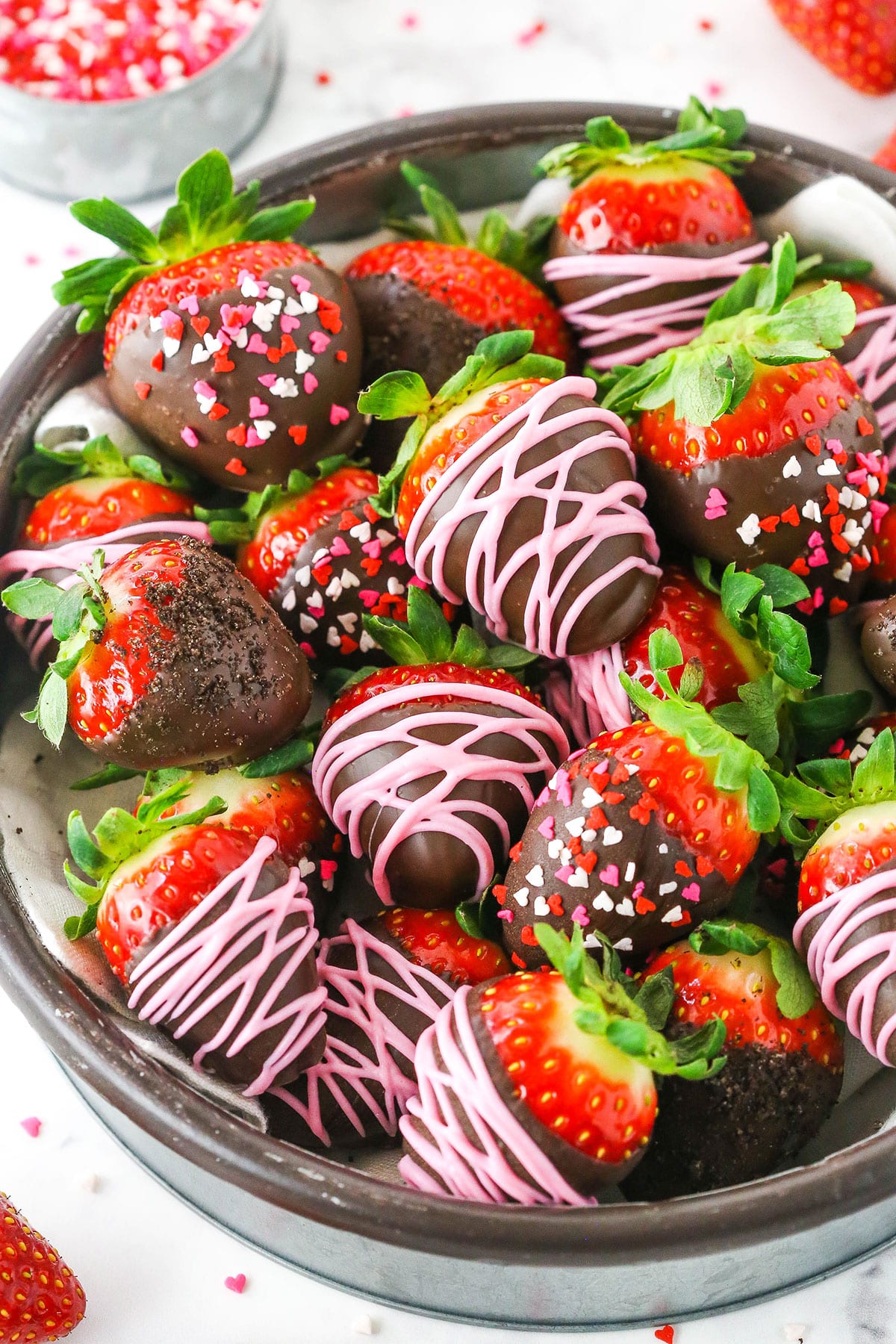 How to Store
Chocolate covered strawberries really are best if eaten the day they are made, but you could get away with making them a day ahead if you carefully store them.
Why are chocolate-covered strawberries best on the same day? Because adding them to the fridge creates condensation. The condensation messes with the texture of the strawberries and keeps the chocolate from looking its best. You can try and prevent this by storing the berries on a plate separated by layers of wax paper, then loosely covering the plate with saran wrap. Don't use an airtight container or condensation will build up.
So ideally you'll make these the day you want to serve them and let them sit at room temperature after making them and prior to serving them. They'll look great and the strawberries will be freshest.
More Strawberry Dessert Ideas
Print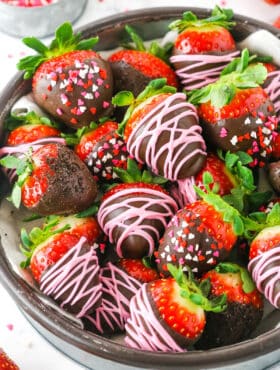 Recipe
How to Make Chocolate Covered Strawberries
Author:

Prep Time:

20 minutes

Total Time:

1 hour 20 minutes

Yield:

15-20 strawberries

Category:

Dessert

Method:

No Bake

Cuisine:

American
---
Description
Chocolate covered strawberries are one of my favorite simple desserts! Learn how to make chocolate covered strawberries and decorate them for sharing or gifting.
---
Ingredients
1

lb fresh strawberries

10 oz

chocolate (bittersweet, semi-sweet, milk or white chocolate)*

3 oz

white chocolate, optional
Pink gel icing color, optional
Sprinkles, optional
Oreo crumbs, optional
Any additional toppings, optional
---
Instructions
Wash the strawberries and dry them completely. I use several paper towels to dry them individually. Any water that's left can cause the chocolate to not stick to the strawberries or seize.
Set out parchment paper to set the dipped strawberries on and prepare any toppings you might want to add to the strawberries after dipping them.
Add the chocolate to a microwave safe bowl and heat in 10-20 second intervals, stirring well between each interval to use the residual heat to continue melting the chocolate. Do not overheat the chocolate. It can cause it to seize or lead to streaking in your chocolate when you dip your strawberries.
Holding the strawberries by the stems, dip each into the melted chocolate and gently shake off any excess chocolate.
Dip the strawberry into any prepared toppings you'd like to use, then place the dipped strawberry onto the parchment paper to dry and firm up.
If adding a white chocolate drizzle, heat the white chocolate as instructed for the chocolate above to melt it. You can add gel icing color to it, if you like. Drizzle the chocolate over the strawberries. I like to use a piping bag fitted with the Wilton 3 tip, but you could also use a small ziplock bag and snip off a small part of a corner.
Allow chocolate to firm up, then serve the strawberries. They are best when served the day they are made. You could make them a day ahead, but condensation will form and the strawberries won't look their best. They can also get a funky texture the longer they sit.
---
Keywords: chocolate covered strawberries, chocolate strawberries, chocolate dipped strawberries