These Strawberry Sprinkle Cookies are wonderfully soft and full of strawberry flavor! And with the sprinkles around the outside, they are just plain fun!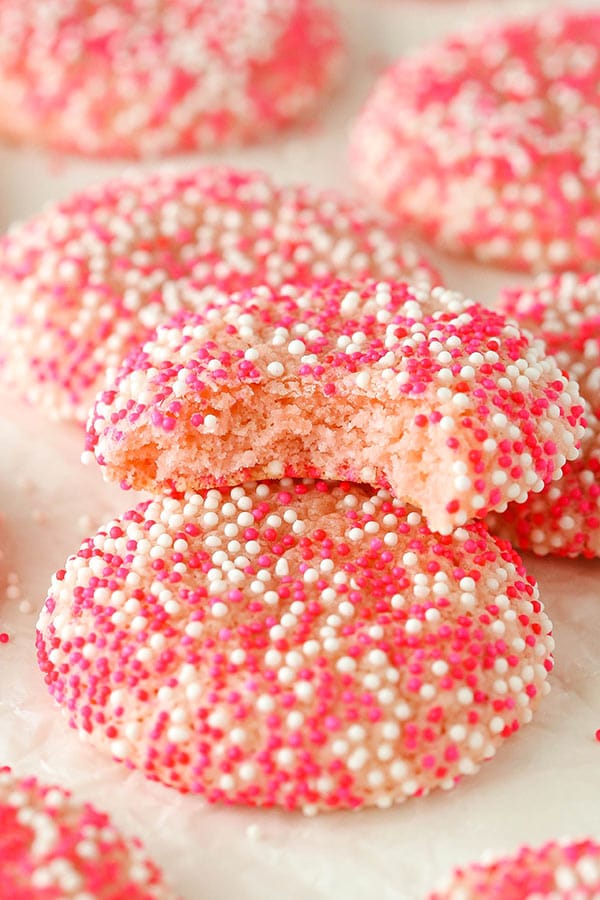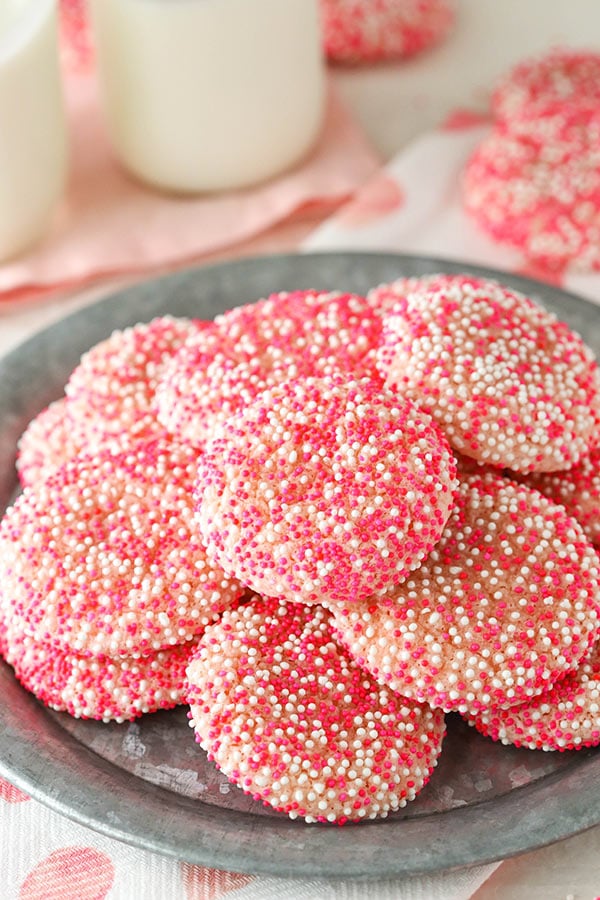 Well, well, well. This past week did not go as expected. I had thought I'd have one more week to prepare myself to be a mom to twins but that didn't happen. Instead of a C-section this past Thursday, it happened the Friday before. On February 2, I finally became a mom. It was the best day ever.
This past week has pretty much been a whirlwind. The boys came and were healthy and everything was amazing. Baby A (Ashton) was 4 lbs 10 oz and Baby B (Brooks) was 6 lbs 5 oz at 35 weeks, plus 5. Despite Ashton's lower weight, all was good. Both got great Apgar scores. Because of the surgery, I was set for about a 4 day hospital stay.
On the third night at about 3am, Ashton had a heart episode. My husband took the boys, who seemed totally fine, by the nursery for their carseat test and went to grab the carseats. When he got back, there were doctors all around Ashton because his heart was racing. He was rushed to the NICU. Fortunately it didn't take long for them to diagnose the problem and bring his heart rate back down, but I tell can you the hubs was shaken from watching it all happen and when I got down there I was a total mess.
If you know what SVT is, that's what he's dealing with. I'll explain more about that later (feel free to google in the meantime 🙂 ). But now he's been in the NICU ever since as they monitor him with the medication he'll be on to control it. Every day seems like it could be the day he comes home and I'm hopeful that by the end of the weekend, he'll be home with us.
The hubs has been at the hospital all week with Ashton, while Brooks and I were discharged and had to be at home while I recover and take trips to see Ashton. We've all been going a little nutty trying to adjust and be there for both babies. It's been overwhelming to say the least.
That said, we are thrilled to have them both! They are the sweetest little things. Ultimately they will both be fine and home with us soon and already it feels like life is finally complete (we just need Ashton home). 🙂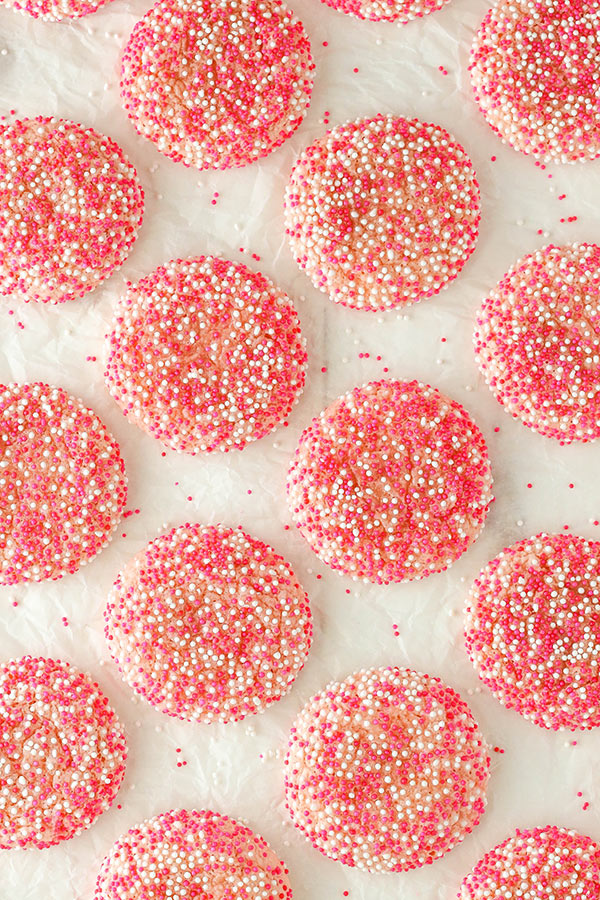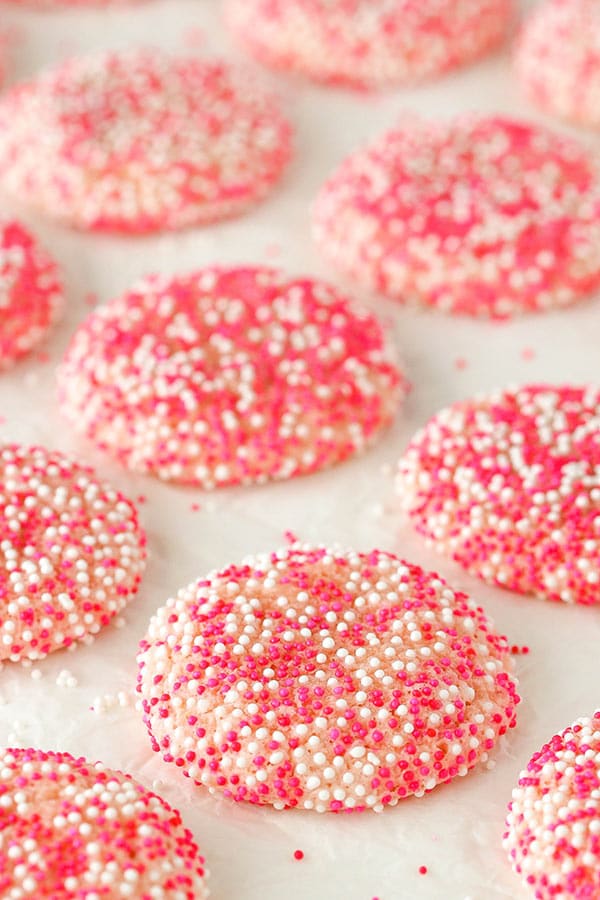 But back to these cookies. If you're looking for a sweet fix in the form of a cookie, these are perfect. Seriously, I could not stop eating them!
Strawberry has always been a favorite flavor of mine – whether a natural strawberry flavor or flavored with extract or something. These cookies use strawberry extract to add the flavor and they're amazing.
The cookies start by combining the dry ingredients – pretty typical stuff. Next up you combine melted butter, eggs and the strawberry extract. The melted butter keeps them moist, chewy and add flavor. The eggs add structure and flavor, along with moisture. Once the dry ingredients are added, the dough comes together. I added some pink color to the batter as well to get a fun pink color, but that would be optional.
The final dough is a touch sticky, so I found it easiest to scoop it up, drop it into the sprinkles to coat it and then shape it into a ball. Otherwise rolling the cookies became a very sticky job. 🙂
Bake the cookies, let them cool and dig in! They are SO good! SO soft and full of flavor – you seriously will eat so many before you even know it. I'm obsessed!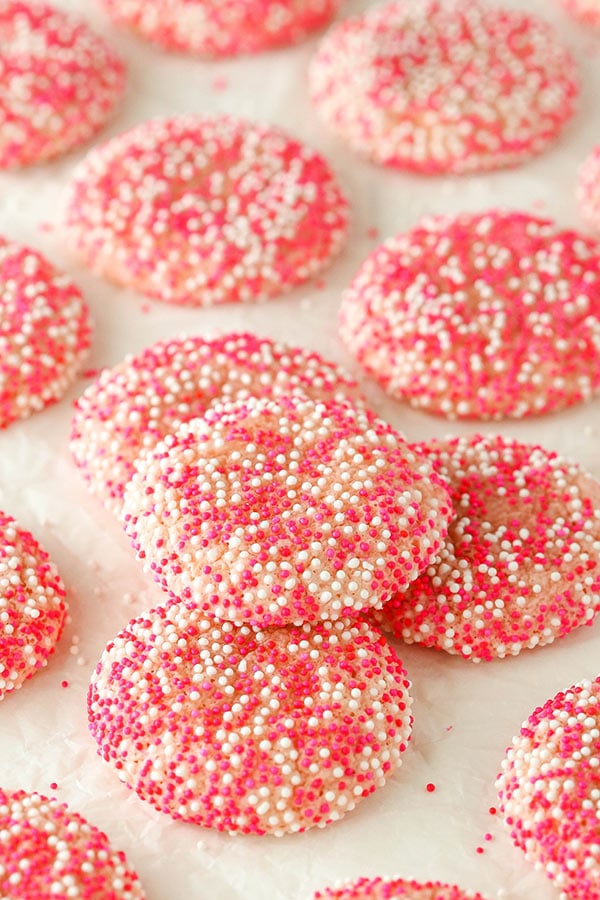 Read transcript
Print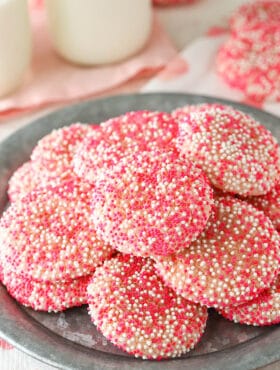 Recipe
Strawberry Sprinkle Cookies
Author:

Prep Time:

20 minutes

Cook Time:

10 minutes

Total Time:

30 minutes

Yield:

About 35-40 Cookies

Category:

Dessert

Method:

Oven

Cuisine:

American
---
Description
Strawberry Sprinkle Cookies are wonderfully soft and full of strawberry flavor! And with the sprinkles around the outside, they are just plain fun!
---
Ingredients
3 cups

(

390g

) all-purpose flour

1 1/2 cups

(

310g

) sugar

1 1/2 tsp

baking powder

1/2 tsp

salt

6 tbsp

(

84g

) unsalted butter, melted and slightly cooled

3

large eggs, room temperature

2 tsp

 strawberry extract
Pink gel icing color
---
Instructions
1. Preheat oven to 350°F (180°C). Line baking sheets with parchment paper or silicone baking mats. Set aside.
2. Whisk the flour, sugar, baking powder and salt together in a large bowl. Set aside.
3. Combine the melted butter, eggs and strawberry extract.
4. Pour into the dry ingredients and beat until combined on medium-high speed. The mixture may seem dry at first, but will come together as you continue to mix.
5. Stir in the pink icing color to achieve your desired shade of pink.
6. Create tablespoon sized balls of the cookie dough. Gently roll into a ball, then roll each ball in sprinkles to coat. The dough will be sticky. You can flour your hands, or just drop the dough into the sprinkles and coat it, then shape into a ball.
7. Bake cookies for 8-10 minutes. The cookies will slightly spread and the centers will look soft. Don't overtake.
8. Remove from the oven and allow to cool on baking sheets for 5 minutes before transferring to a wire rack to cool completely.
9. Cookies will stay fresh in an airtight container at room temperature for up to 1 week.
Keywords: strawberry cookies recipe, sprinkle cookies recipe, valentine's day cookie recipe
Enjoy!
This post contains affiliate links.
This post may contain affiliate sales links. Please read my disclosure policy.