This post may contain affiliate sales links. Please read my disclosure policy.
We just finished setting up an awesome Safari Animal Nursery for our twins! Check out all the cute decorations we used and find out how we made this wildly adorable nursery happen.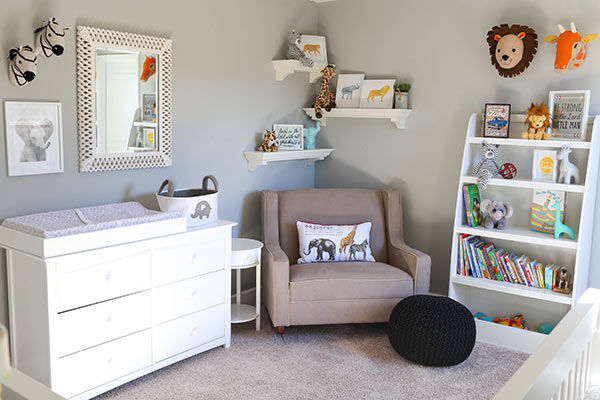 Safari Animal Twin Nursery
It's hard to believe that in less than a week, we'll have twins! We seriously can't wait, and I'm excited to share the nursery with you! We finally got everything finished about a week ago – not a moment too soon.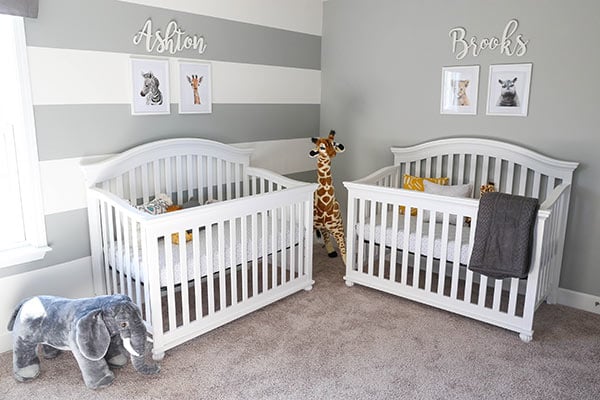 We decided on a safari animal nursery theme, since the hubs is originally from South Africa. I loved seeing all the animals on our South African Safari when we visited a couple years ago and it seemed like the perfect theme. I wanted it to be a little more updated, not too cutesy. I think it turned out really fun and I can't wait to bring home our little baby boys and put them in there. We pass by their room on the way from our bedroom to go downstairs and we just about always stop and look in and just try to imagine what it'll be like.
One of the first things I decided on were these safari animal prints. LOVE them! They are from The Crown Prints on Etsy and not at all expensive. I printed them at Kinkos (which they have great instructions on how to do) and framed them. Nice and easy and so darn cute.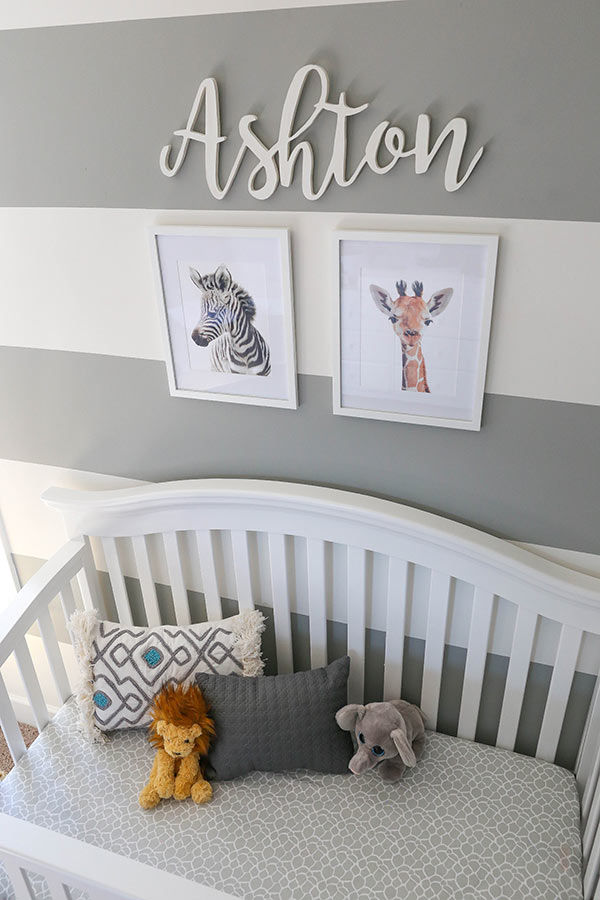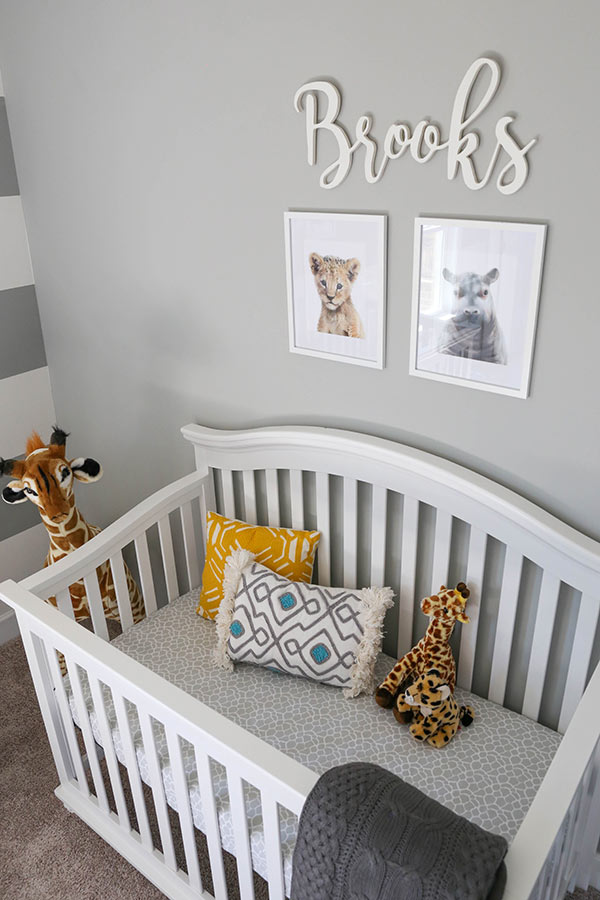 We put a couple over each crib and one over the changing table. They'd make a great gallery wall or something too. So many options!
I thought it would be fun to have their names over their cribs, so I ordered these adorable wooden name cutouts from Mod Wood Co. on Etsy. So in love with these too! I just love the font and they were easy to hang.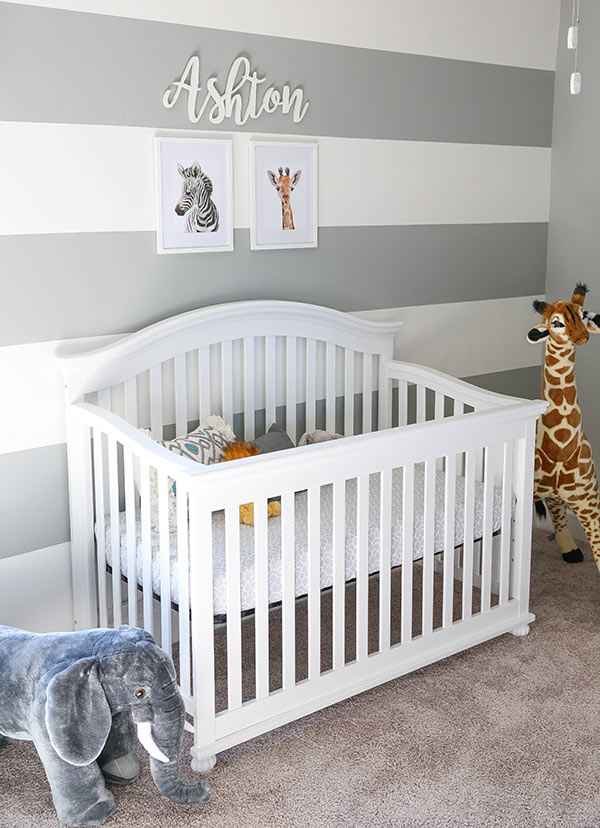 Cribs are from Buy Buy Baby/Amazon | Giraffe print crib sheets on Amazon
And of course how could we not have some awesome, big safari animals?! I originally spotted the elephant in Target, but it doesn't seem to be something they have regularly. They are Melissa and Doug brand and really easy to find on Amazon. I happened to find the giraffe in Home Goods, since I practically live in that store, but again, Amazon is a great place to get it. There's also an awesome cheetah, lion and zebra. Hard to decide which to get!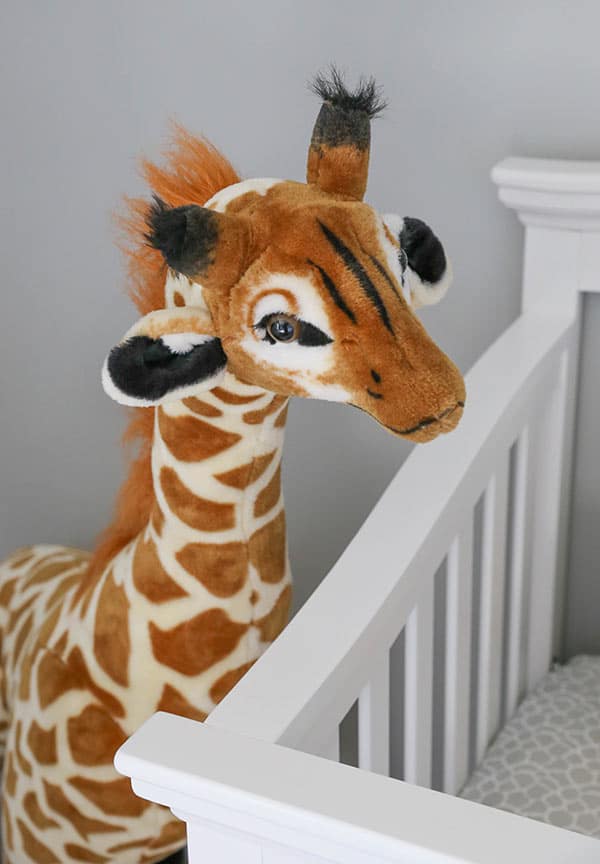 We got a good bit of the furniture from Wayfair, which is actually where we've gotten a few things for the rest of the house since our move too. The dresser with attachable changing table (now unavailable) are both from there and work perfectly.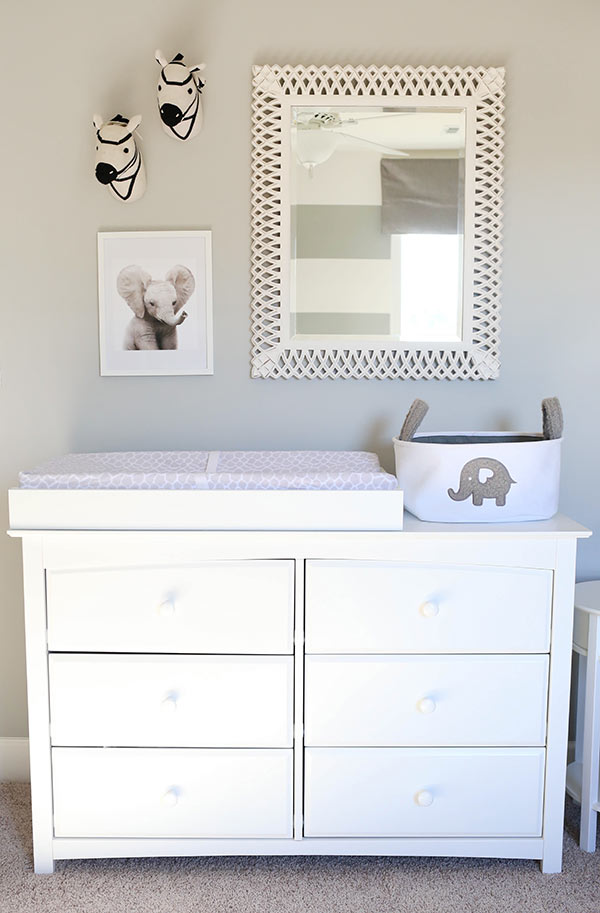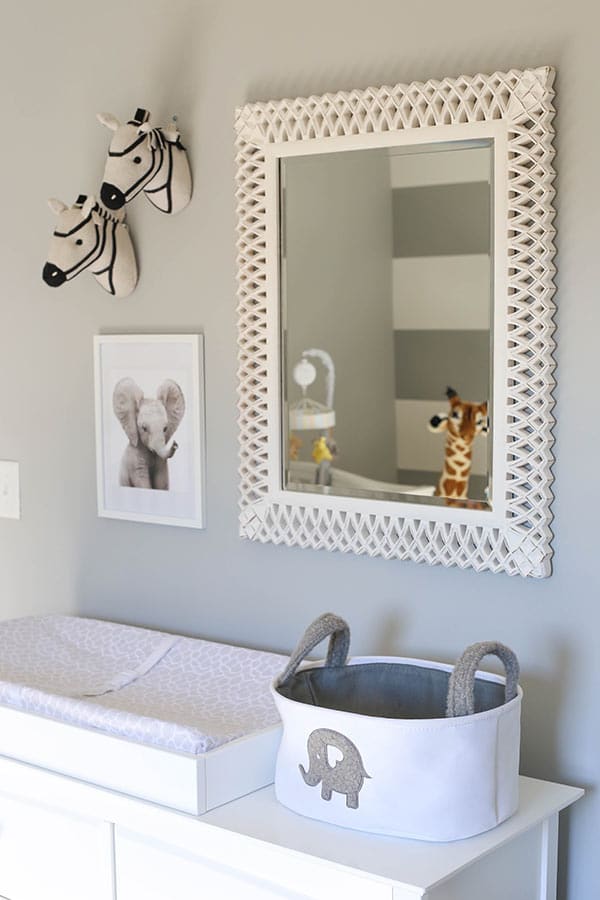 The elephant basket is from Home Goods.
The mirror is from Pottery Barn Kids and such a fun piece. The zebra heads are from Target, but I'm not sure that they are still available (no longer available). We actually used animal heads in another place as well – all from Target.
I also got the matching giraffe print changing table cover to go with the crib sheets. Super soft!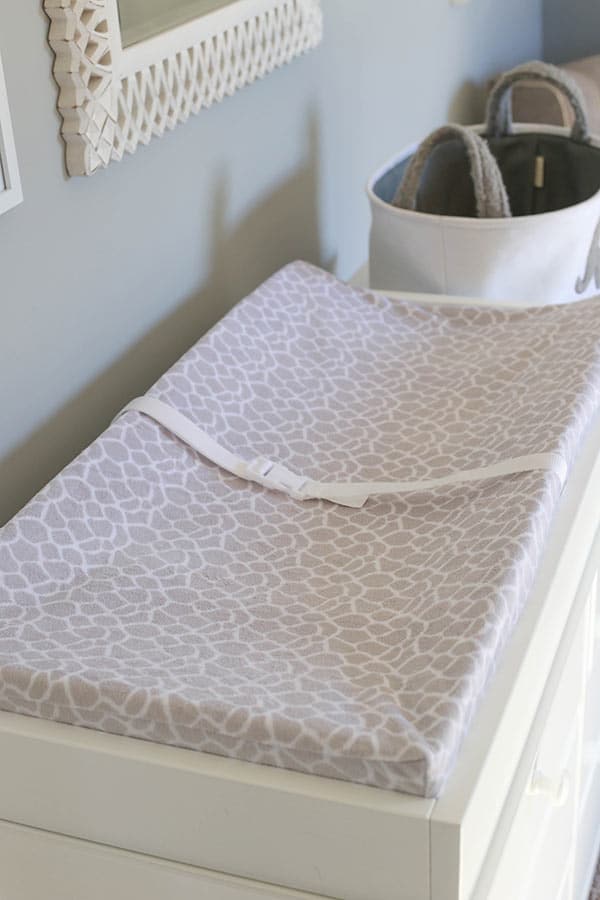 The rocker and bookshelf are also from Wayfair. I wanted to be sure to have plenty of shelf space for books and toys so it took me a while to find this one.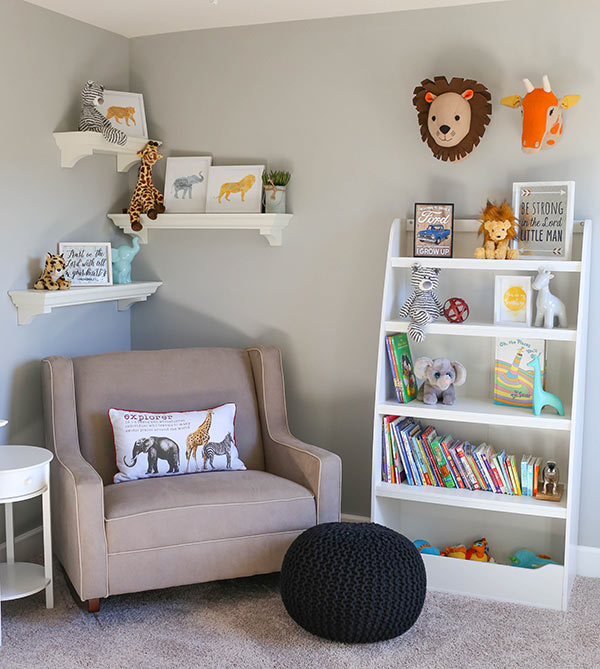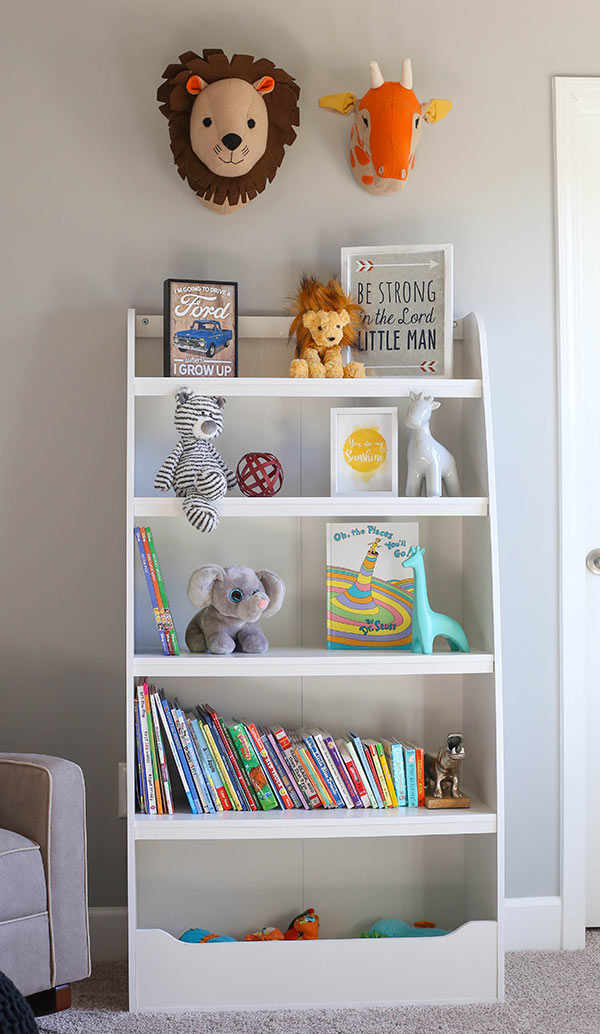 I also wanted larger rocker since I knew I'd be trying to breastfeed twins. I'm hoping to tandem feed with the twin My Breast Friend pillow, so I wanted something that would accommodate that. It's definitely plenty wide. The pouf ottoman is from Home Goods, but there are lots of similar ones online.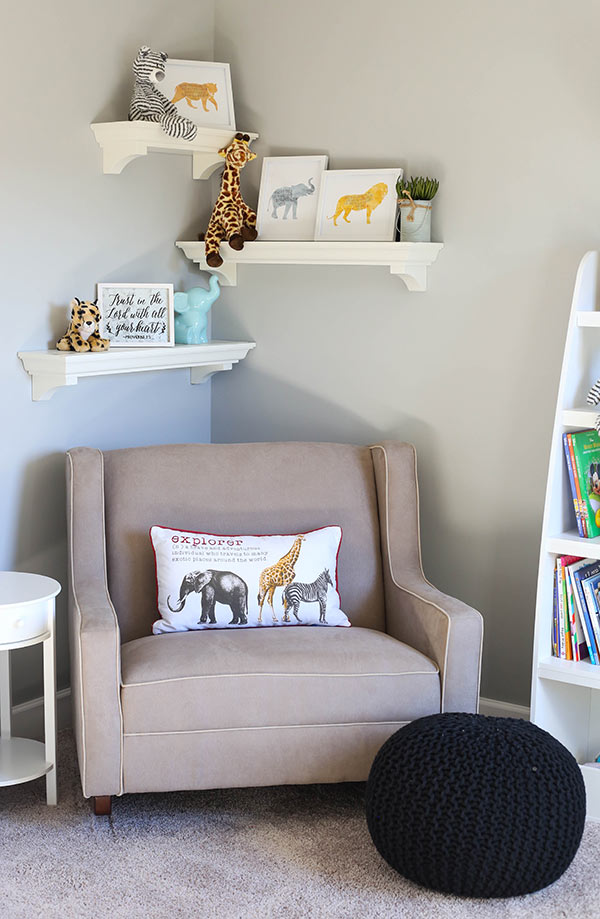 The adventurer pillow is from Home Goods.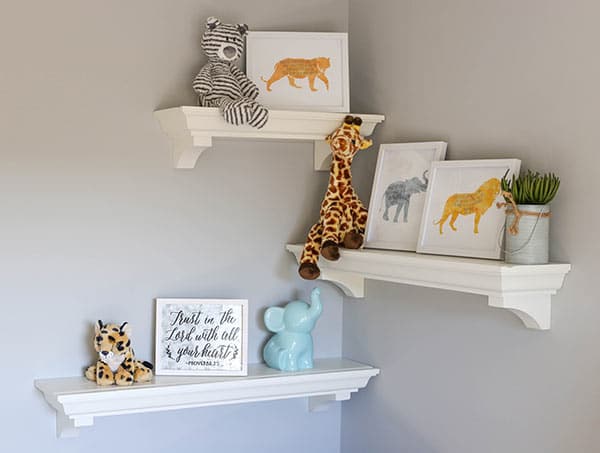 The shelves above the rocker are from Pottery Barn Kids. I had a tough time finding floating shelves that seemed like they'd be good quality (not lean forward or off balance) and not be impossible to hang. I'd already tortured the hubs enough with so many things to hang and put together, so I wanted shelves that weren't impossible. These were amazing! SUPER easy to hang and great quality. The hubs loved them.
The lion and giraffe animal heads (now unavailable) above the bookshelf were also from Target. They are an awesome price right now and on sale, so if you are interested in them, get them ASAP. Otherwise, there are some super cute ones on Project Nursery, they just are a good bit more expensive. They've got a great giraffe head and zebra head.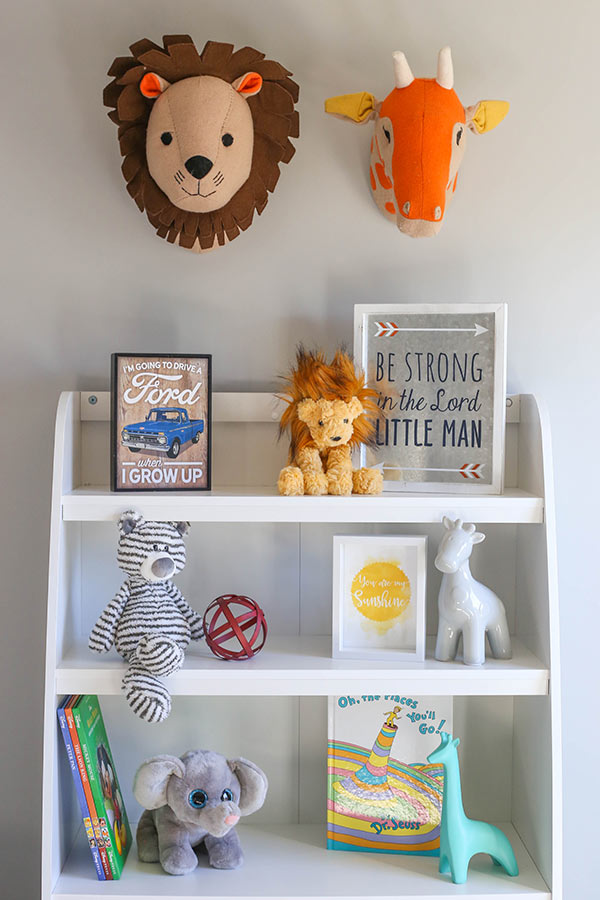 And finally there's the decor for the shelves. In large part, you can use books and stuffed animals that are actually toys, but I also wanted to include some scripture and a little print of "You are my Sunshine" that reminded me of my mom singing to me as a kid.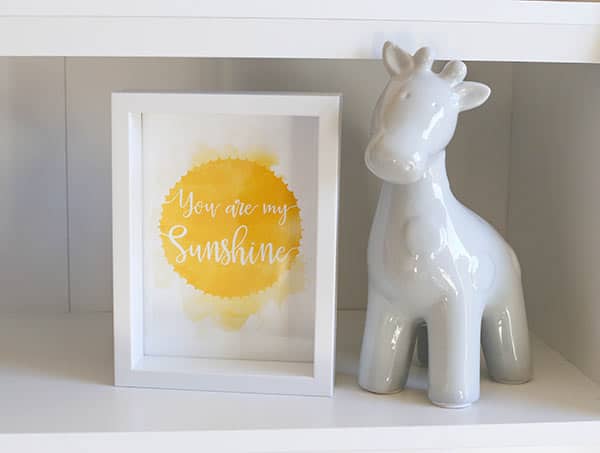 The animal scripture prints are from The Little Ink Spot Co. on Etsy and again were super easy to print and frame. They worked perfectly with the theme and the hubs and I loved the scripture.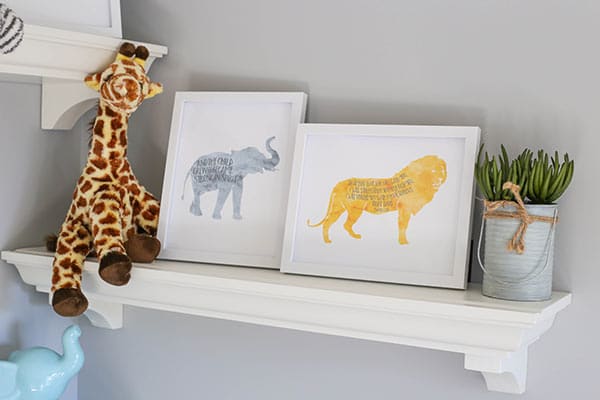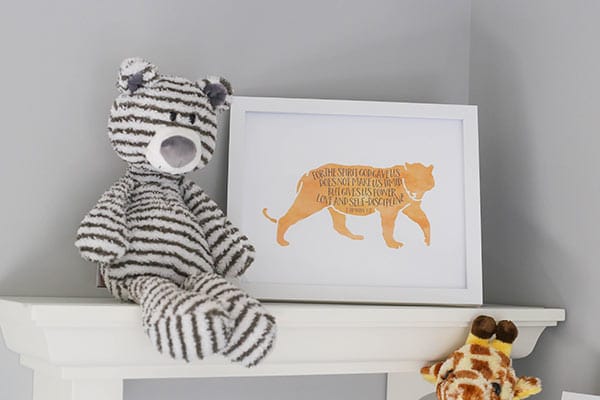 The final few decor pieces were mostly from Home Goods and Hobby Lobby. The little lion stuffed animal and cheetah stuffed animal can be found on Amazon. So cute and soft!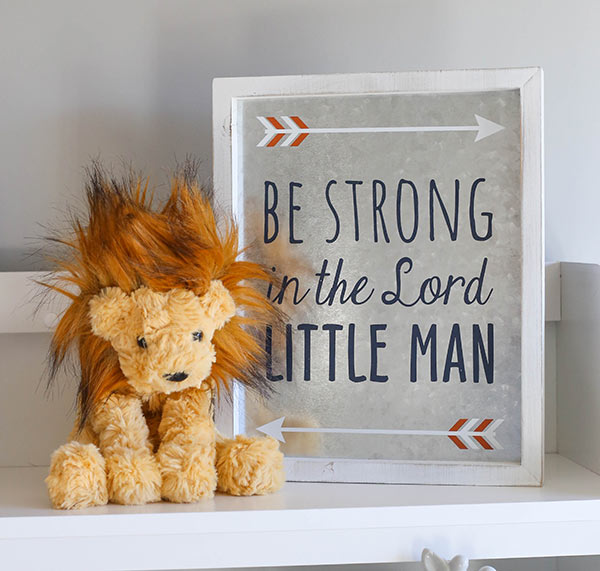 Overall, we are so happy with how our safari animal nursery turned out! The only other thing we need to make it complete is the sweet babies!
Speaking of the babies, here's a quick update on where things stand. The babies are looking really good! I would say they are surpassing our expectations and look like they could be roughly 6 lbs and 8 lbs when born, which is nutty! The doctors have consistency said the last couple weeks that they look perfectly content where they are. 🙂 They've been growing like weeds and I am feeling the weight. The last week or two, I've really become immobile from all the swelling and strain on my back, but I'm thankful the babies are doing so well. Only two more monitoring appointments before they'll be here next week and I can't wait!!
Where to find the nursery items:
Safari Animal Prints | You Are My Sunshine Printable | Animal Bible Verses Printable | Wooden Name Cutouts
Mirror | Floating Shelves
Crib Sheets | Changing Table Cover
Melissa and Doug Large Giraffe | Melissa and Doug Large Elephant
Lion Stuffed Animal | Cheetah Stuffed Animal
Wall Animal Heads from Project Nursery
Giraffe | Elephant | Zebra