December 6, 2017
Eggnog Latte Cupcakes
These Eggnog Latte Cupcakes are made with an eggnog cupcake and coffee espresso frosting! They are soft, moist and delicious for the holidays!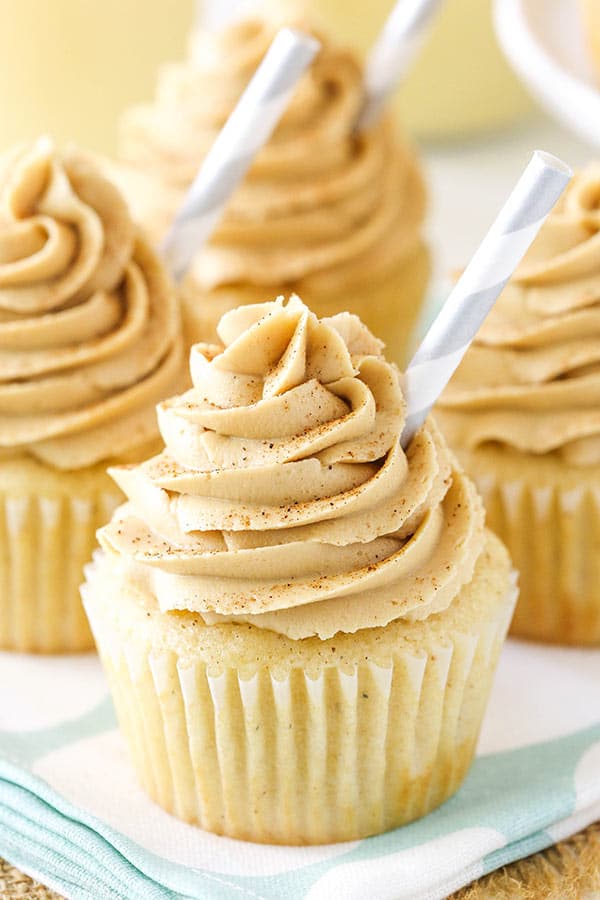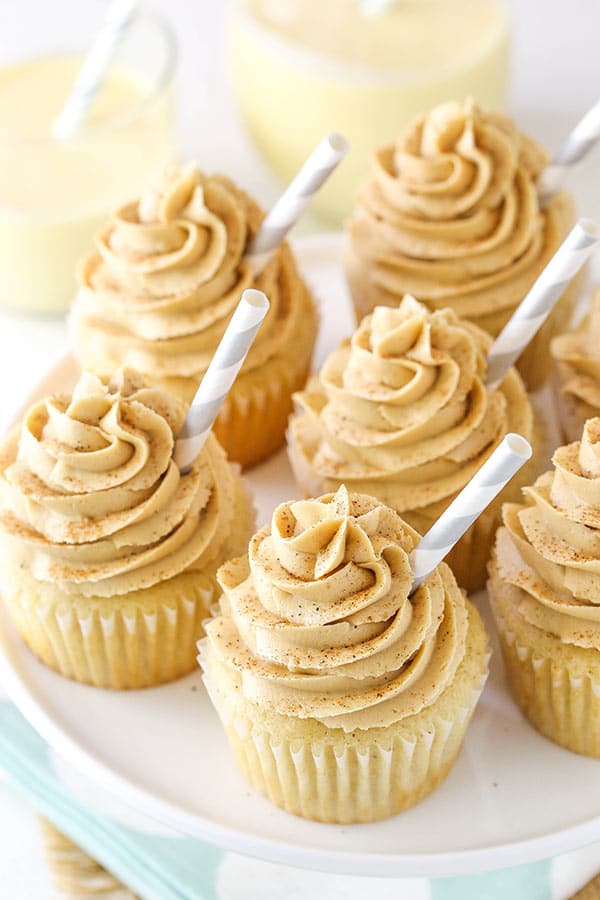 So it would appear I'm on a bit of a coffee kick this week. Between the Peppermint Espresso Brownie Cheesecake and these Eggnog Latte Cupcakes, I have coffee on the brain. It's probably because I haven't had a cup of coffee in forever now. I miss it!
I know technically I can have a cup of coffee if I want it while pregnant, but after taking 5 years and IVF to get pregnant, it just hasn't really felt necessary. I actually stopped drinking caffeine while doing IVF, so I haven't really had any since February. However I'm officially into the third trimester this week, so coffee, soda and sushi are all coming my way soon and I'm excited for that first meal post-birth. I might throw a cocktail in there too. 😉
Of course I did still allow myself to have some of these cupcakes. Although they have the coffee flavor, there's not really a lot of coffee actually in them. It's a nice balance between the eggnog and coffee that's kind of like drinking an Eggnog Latte. So good!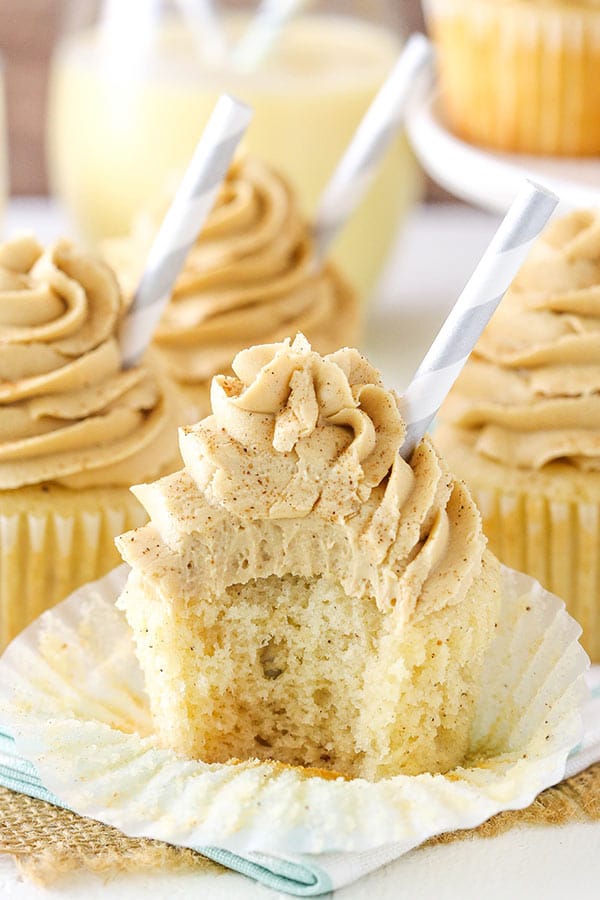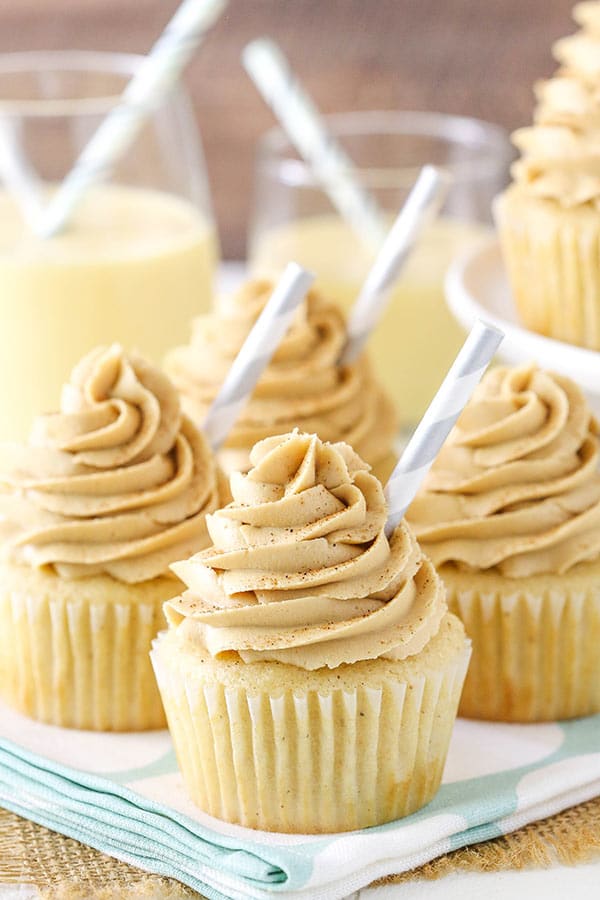 So to make them, we'll start with the cupcakes. They are where you're getting most of the eggnog flavor and for roughly 12 cupcakes, they use a half cup of eggnog. Of course the better the flavor of the eggnog you use, the better the cupcake. I'm personally a big fan of the Southern Comfort brand, but definitely use your favorite if you've got one. A touch of nutmeg is in there too, which is lovely with the eggnog.

MY OTHER RECIPES
The cupcakes start with the creaming of the butter and sugar – a very important step. You want to make sure you see the color and texture of the mixture change before moving to the next step. It'll lighten in color and get a fluffy appearance. This adds air to the batter that gives it the rise and fluffiness you want.
The frosting is where the coffee comes in. I use an instant espresso coffee powder that just dissolves in some hot water. It's highly concentrated, so you don't need a ton to get a lovely flavor. I also added a touch more eggnog to the frosting, but you can play around with the frosting if you want. A little more coffee or eggnog – either one will help you get the right frosting consistency – depending on which flavor you want to be a little stronger.
The final cupcakes are soft, moist and so delicious! Such a fun twist on a standard eggnog cupcake and they were definitely a hit. I hope you love them too!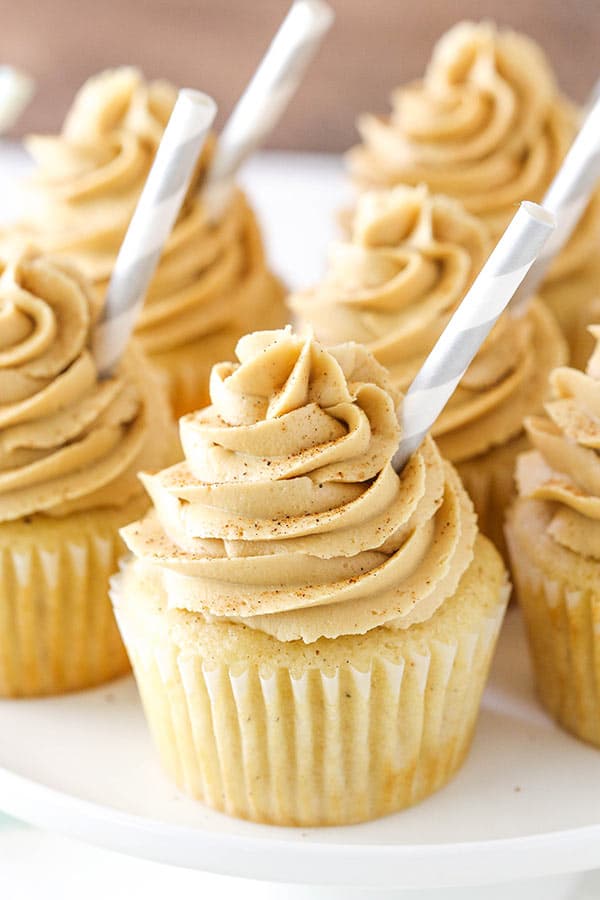 Eggnog Latte Cupcakes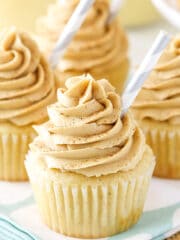 Yield:

12-14 Cupcakes

Category:

Dessert

Method:

Oven

Cuisine:

American
Ingredients
EGGNOG CUPCAKES
6 tbsp (84g), unsalted butter, room temperature
3/4 cups (155g) sugar
1/4 cup (57g) sour cream
2 tsp vanilla extract
3 large egg whites, room temperature
1 1/4 cups (163g) all purpose flour
2 tsp baking powder
1/2 tsp nutmeg
¼ tsp salt
1/2 cup (90ml) eggnog
2 tbsp (30ml) water
ESPRESSO FROSTING
1/2 cup (112g) salted butter
1/2 cup (95g) shortening
4 cups (460g) powdered sugar
2 tbsp (30ml) hot water
1 tbsp powdered instant espresso coffee
2-3 tbsp eggnog
Instructions
1. Preheat oven to 350°F (176°C) and prepare a cupcake pan with cupcake liners.
2. In a large mixing bowl, cream butter and sugar together until light in color and fluffy, about 3-4 minutes. Do not skimp on the amount of creaming time.
3. Add sour cream and vanilla extract and mix until well combined.
4. Add egg whites in two batches, mixing until well combined after each. Scrape down the sides of the bowl as needed to be sure all ingredients are well incorporated.
5. Combine dry ingredients in a separate bowl, then combine the eggnog and water in a small measuring cup.
6. Add half of the dry ingredients to the batter and mix until well combined. Add the milk mixture and mix until well combined. Add remaining dry ingredients and mix until well combined. Scrape down the sides of the bowl as needed to be sure all ingredients are well incorporated.
7. Fill the cupcake liners about halfway. Bake for 15-17 minutes, or until a toothpick inserted comes out with a few crumbs.
8. Remove cupcakes from oven and allow to cool for 2-3 minutes, then remove to cooling rack to finish cooling.
9. While the cupcakes cool, make the frosting. Combine the butter and shortening in a large mixer bowl and mix until smooth.
9. Add 2 cups of powdered sugar and mix until smooth.
10. Dissolve the powdered espresso in the hot water, then add about half of the espresso mixture to the frosting and mix until smooth.
11. Add the remaining powdered sugar and mix until smooth.
12. Add the remaining espresso mixture and eggnog as needed and mix until you have the right frosting consistency.
13. Pipe the frosting onto the cupcakes. I used Ateco tip 844. Sprinkle with a little nutmeg, if desired.
Enjoy!