This Caramel Mocha Chocolate Cake recipe is inspired by the Starbucks Caramel Frappuccino!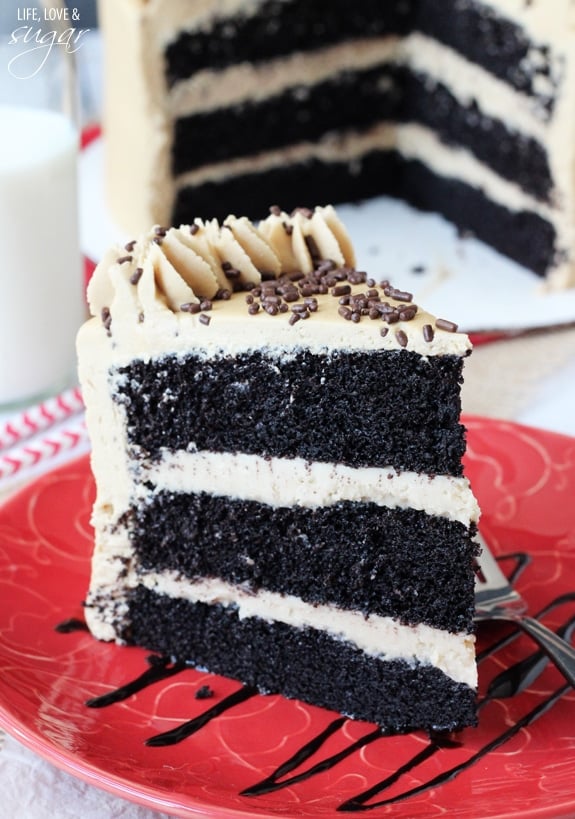 I have been wanting to make a coffee-y cake for some time now. And I love my coffee beverages with caramel. My drink of choice at Starbucks is a caramel frappuccino. That whipped cream with caramel on top – I die. So I guess you could say this Caramel Mocha Chocolate Cake is inspired by that delightful little drink. 🙂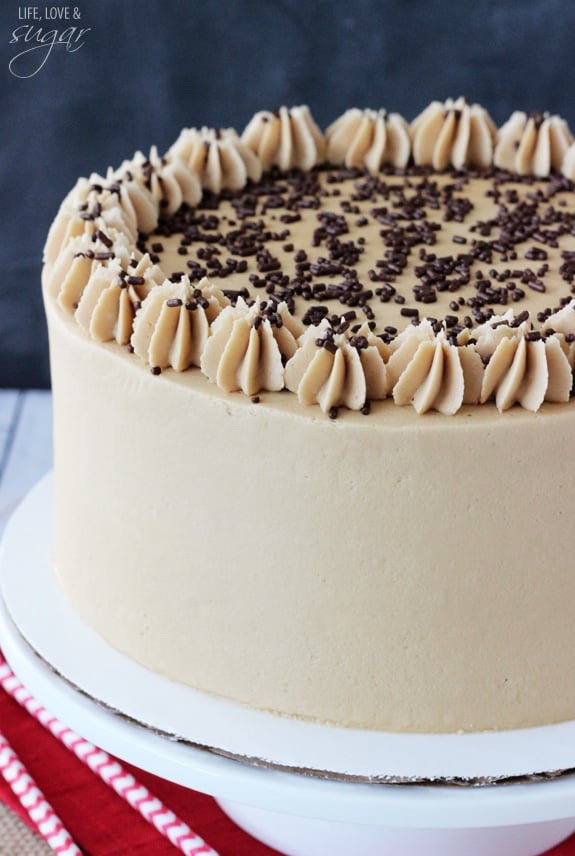 The Perfect Chocolate Celebration Cake
But before I dive too much into the cake and get lost, we have to celebrate!
What are we celebrating? It's the hubs and I's 5 year wedding anniversary today! Five years ago today, I was getting ready to marry my high school sweetheart (we've been together since we were 17) and party the night away! Can I go back?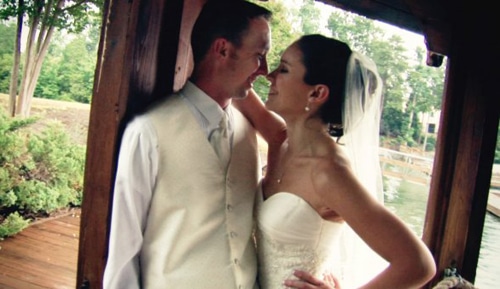 It was seriously the most fun day ever. Some people say they never want to plan another wedding after theirs is over, but I planned ours with my mom and I tell you – we'd easily do again. SO fun! The designer side of me loved everything about it. I'd plan your wedding, if you let me.
I actually have a link to a part of our wedding video I can share if you'd like to see. I love, love, love watching our wedding video! Crown Alley Films is THE BEST there is and he travels. Just sayin'.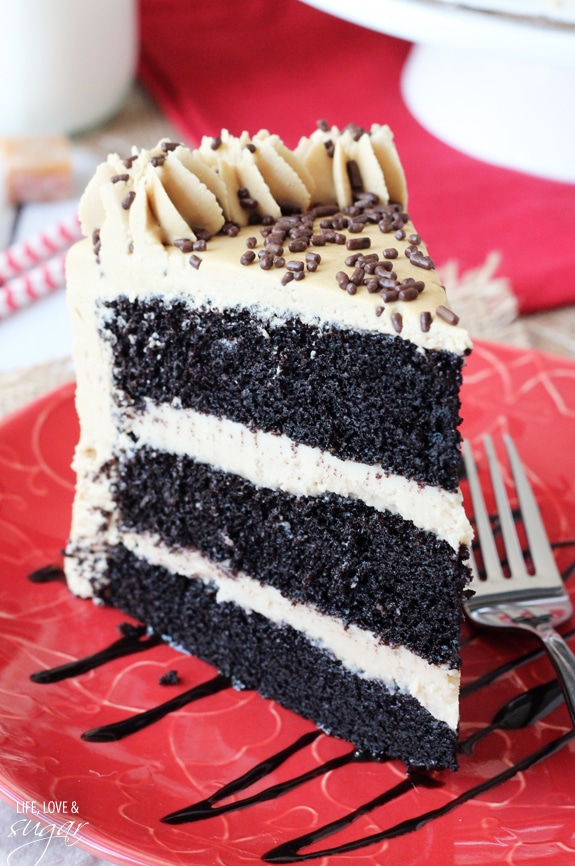 We watch it together every year and one of our favorite parts is re-watching the ceremony. It's funny how much more the vows and what was said during the ceremony means now that we've been through a few years of marriage. That has become the hubs and I's favorite part of weddings.
I wish the clip was the part of me and the hubs when we were talking photos because it's so cute and fun. But the one that was posted online focuses on my mom and I. If you want to see it, here's the link. I warn you though – it's a lot of me. Which is kind of embarrassing. Yet, I love it anyway.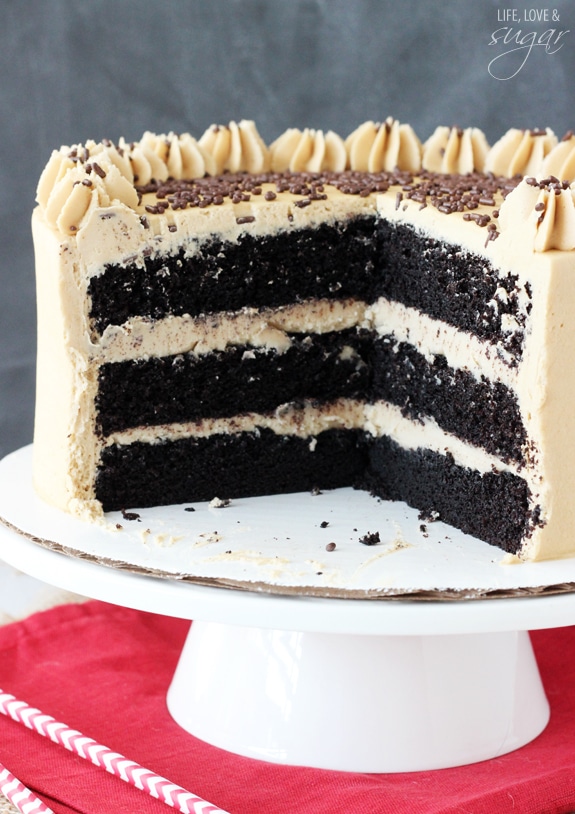 Chocolate Cake with Caramel Coffee Icing & a Touch of Kahlua:
So anyways, now that we know why we are celebrating, let's get to the cake. I actually made a little single layer Neapolitan Cake replica of our cake for our anniversary last year. So I kept it simple this time around.
The cake base used in this recipe is my absolute favorite chocolate cake recipe, Best Chocolate Cake, and if you try it, you will never make another chocolate cake. It's amazing.
Plus I put a little hidden surprise in there for you – Kahlua. I can't decide if I like Baileys or Kahlua better, but Kahlua found it's way into this cake. It's subtle, but there.
The filling is a wonderful caramel icing. I could live off of caramel icing.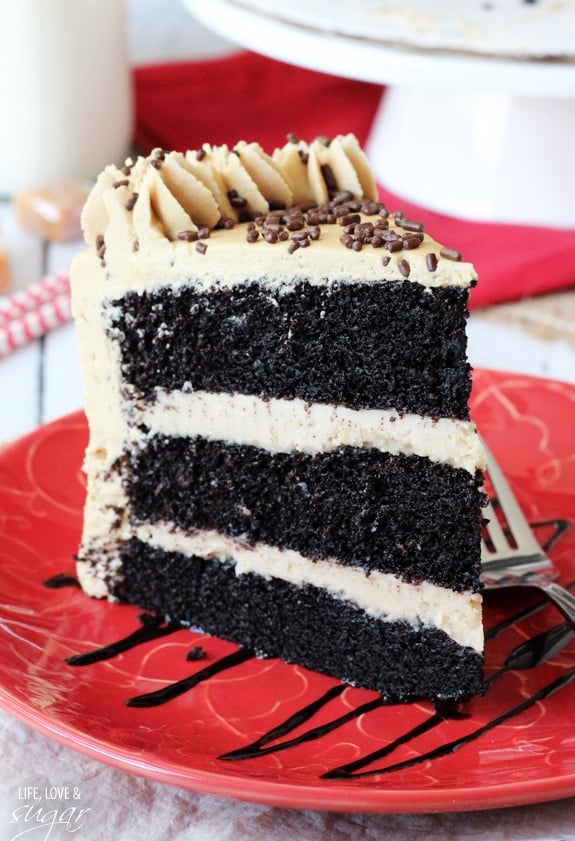 And the icing is full of coffee. Which means that you can totally have this cake for breakfast. It'll be your caffeine. You're welcome.
Together, they make a stellar combo that we couldn't get enough of. Yum!
So now it's time to make the cake! We have to celebrate after all. 🙂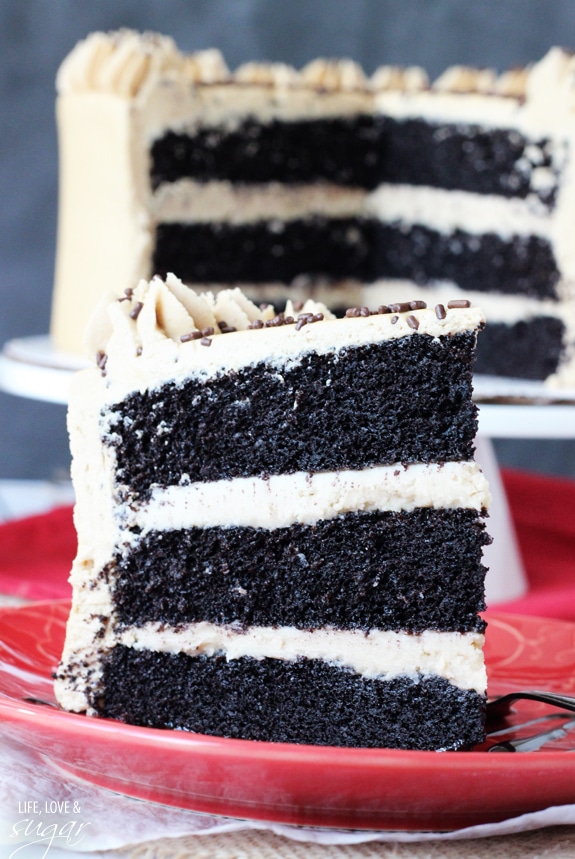 Print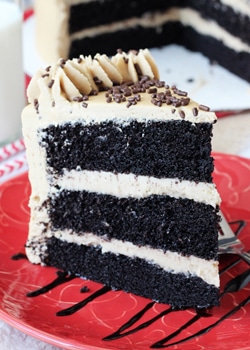 Recipe
Caramel Mocha Chocolate Cake
Author:

Prep Time:

1 hour

Cook Time:

35 minutes

Total Time:

1 hour 35 minutes

Yield:

10-12 Servings

Category:

Cake

Method:

Oven

Cuisine:

American
---
Description
This Caramel Mocha Chocolate Cake recipe is inspired by the Starbucks Caramel Frappuccino!
---
Ingredients
CHOCOLATE CAKE
2 cups

flour

2 cups

sugar

3/4 cup

cocoa powder

2 tsp

baking soda

2

eggs

1 cup

buttermilk

1 cup

vegetable oil

1/2 cup

kahlua

1 1/2 tsp

vanilla

1/2 cup

boiling water
CARAMEL ICING
1/2 cup

(

1

stick) butter

1 cup

light brown sugar

1/3 cup

heavy cream

3 cups

powdered sugar

1

–

2

tbsp milk or cream
COFFEE ICING
2 tbsp

instant espresso coffee

4 tbsp

water

3/4 cup

butter

3/4 cup

shortening

6 cups

powdered sugar

1/2 tsp

vanilla extract
---
Instructions
TO MAKE THE CHOCOLATE CAKE LAYERS:
1. Preheat oven to 300 degrees. Grease three 8 inch pans.
2. Add all dry ingredients to a large bowl and whisk together.
3. Add eggs, buttermilk, vegetable oil and kahlua to the dry ingredients and mix well.
4. Add vanilla to boiling water and add to mixture. Mix well.
5. Pour into cake pans and bake for about 30-35 minutes, or until a toothpick comes out with a few crumbs.
6. Remove from oven and allow to cool for about 7-9 minutes, then remove to a cooling rack.
TO MAKE THE CARAMEL FROSTING:
1. Melt butter in a saucepan.
2. Add brown sugar and heavy cream and whisk constantly over medium heat until sugar is dissolved.
3. Bring to a boil and allow to boil for 3 minutes, no more.
4. Remove from heat and allow to cool for about 15 minutes.
5. Transfer caramel to mixer bowl.
6. Mix in powdered sugar, beginning with 2 cups and increasing from there until you get the desired consistency. You can add a few tablespoons of cream to make the icing more creamy, if desired.
TO MAKE THE COFFEE ICING:
1. Dissolve the instant espresso coffee in the water.
2. Beat the shortening and butter until smooth.
3. Slowly add 3 cups of powdered sugar. Mix until combined.
4. Mix in the vanilla extract and half of the espresso coffee water.
5. Add the rest of the powdered sugar and mix until smooth. Add more espresso until you are happy with the coffee flavor.
TO ASSEMBLE THE CAKE:
1. Cut the domes off of the 3 cake layers with a serrated knife.
2. Place first cake layer onto your cake plate and add half of the caramel icing. It will be thick. Spread into an even layer.
3. Add second layer of cake and top with over half of caramel icing.
4. Top with the third layer of cake.
5. Spread a thin layer of coffee icing around the outside of the cake, filling in any holes.
6. Use the rest of the coffee icing to frost the outside of the cake. Decorate as desired.
---
Nutrition
Serving Size:

1 Slice

Calories:

1092

Sugar:

124.4 g

Sodium:

257.6 mg

Fat:

55 g

Carbohydrates:

147.8 g

Protein:

5.7 g

Cholesterol:

91.6 mg
Keywords: starbucks cake recipe, chocolate cake, caramel chocolate cake, caramel icing, coffee cake icing, coffee frosting recipe, kahlua cake, celebration cake recipe
Filed Under:
Enjoy!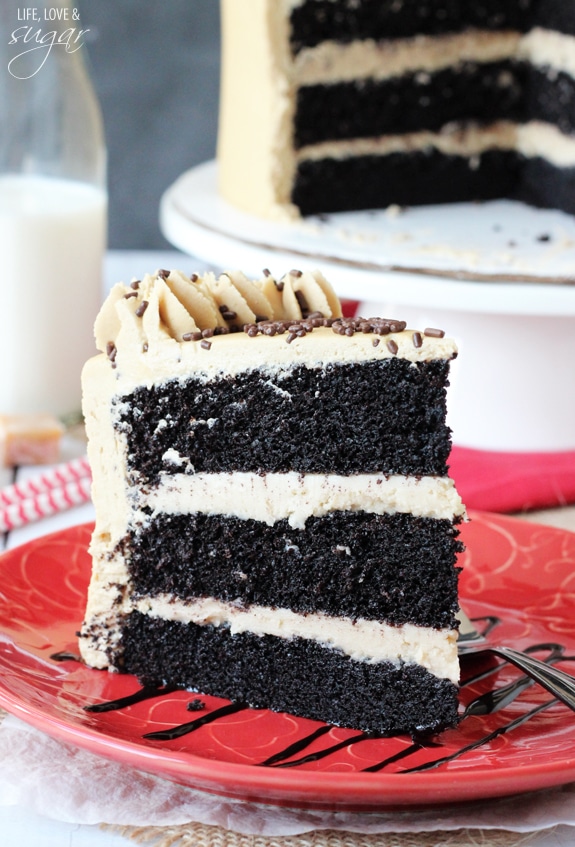 These are the parties I link up to.
You might also like:
No Bake Samoa Cheesecake (no cookies needed!)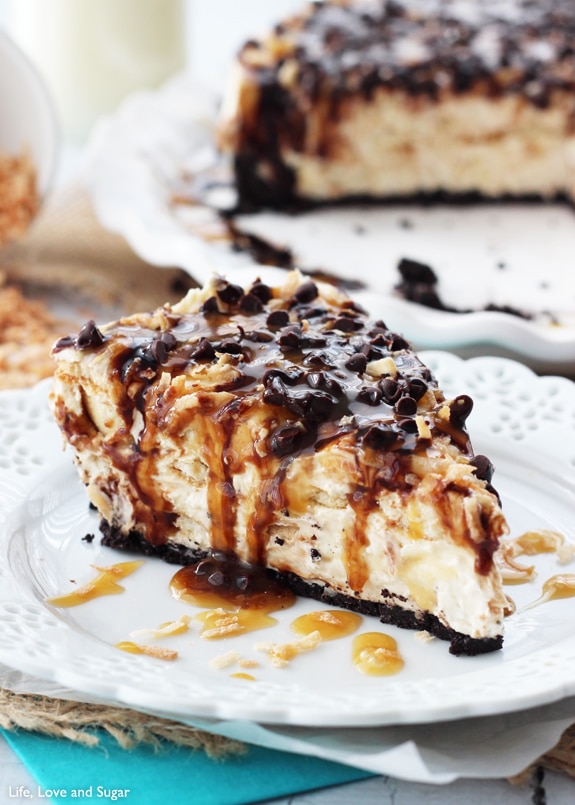 This post may contain affiliate sales links. Please read my disclosure policy.