These Mocha Chocolate Chunk Cookies are soft, chewy and full of coffee flavor and chunks of chocolate! They are delicious cookies – you'll want them for breakfast, lunch and dinner!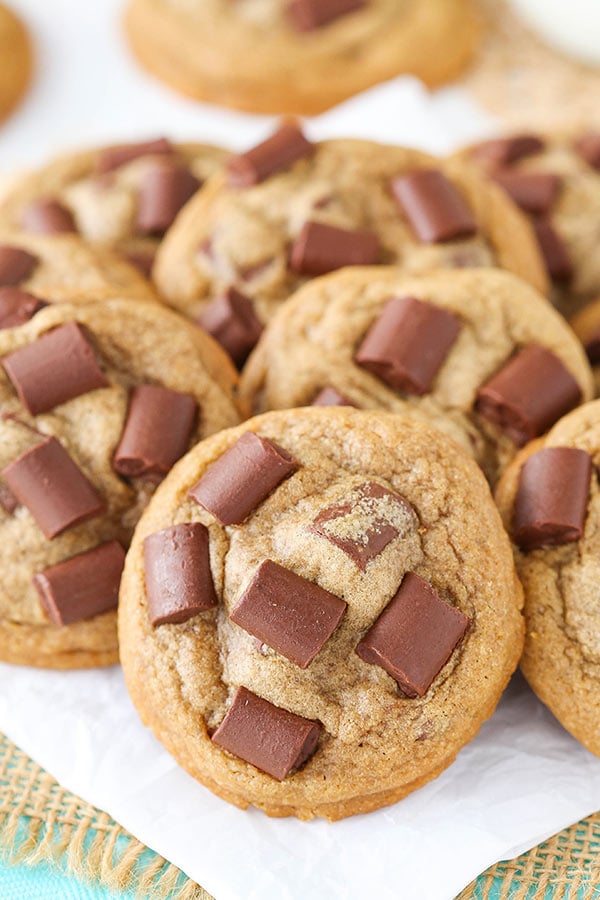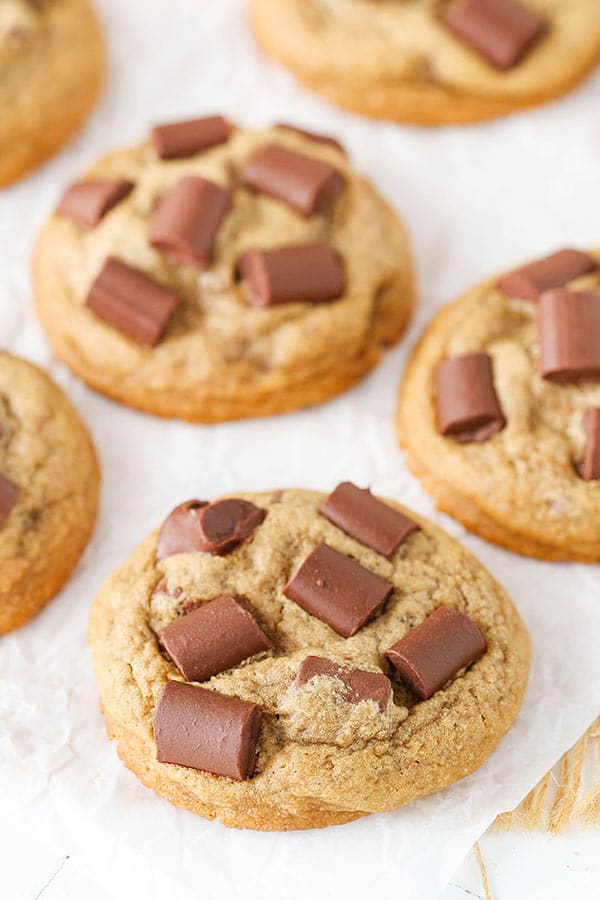 Ohh coffee, sweet coffee. How I love thee. As you are reading this, there's a good chance I'm sipping on a cup of it right now. We are besties, coffee and I. That wasn't always the case though.
I used to totally not like coffee. At all. When I started my first "big girl job" after college, some of my co-workers would walk to Starbucks most afternoons. I started getting frappuccinos because let's be honest – they're dessert covered in caramel and whipped cream. So good! But I consider it my gateway to coffee. I had enough of them that the taste of coffee grew on me and the next thing you know – I like coffee! But with plenty of creamer – duh!
And now I can't imagine life without it. It basically got me through my cookbook and mornings that don't include coffee are worse than…well…nothing. 😉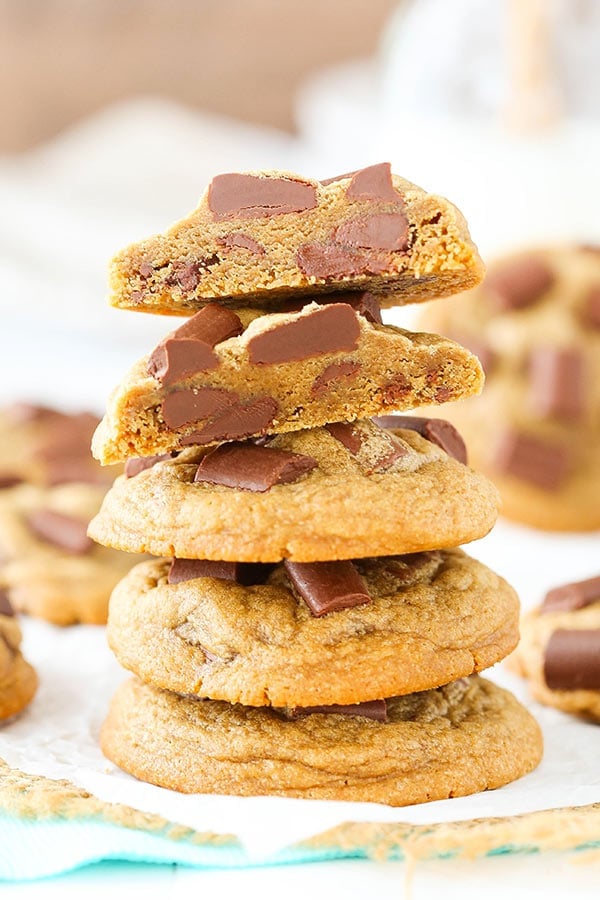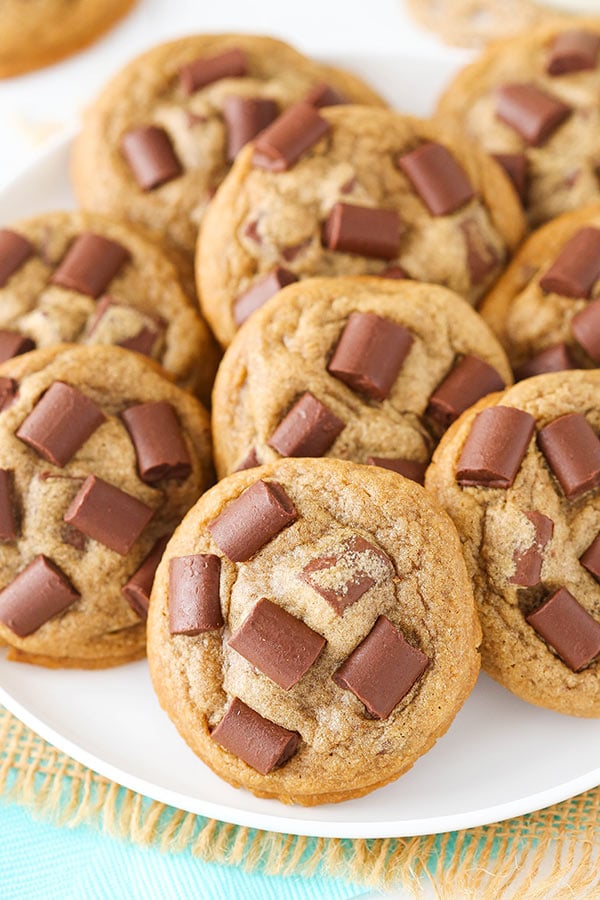 These cookies are fabulous because now I can take my coffee with me anywhere. And much like my gateway frappuccinos, this is my gateway in reverse – from coffee to cookies. Not that I needed a gateway to cookies, but it makes a nice excuse to eat a cookie for breakfast. 🙂
These cookies are SO good! Just enough coffee flavor! I used powdered instant espresso, as opposed to powdered instant coffee, so I could use less and still get a strong enough flavor. It's dissolved in a very small amount of water (I used a shot glass 🙂 ) so it thickens the water a bit as it dissolves. You don't want to add too much liquid to the dough, or your dough will spread too much when baking and you'll have thin cookies.
The other wonderful thing about these cookies is the chocolate chunks! You could certainly use chocolate chips, but I LOVE the big bites of chocolate. More chocolate in every bite is where it's at!
A couple things to note about making the cookies – first is to be sure to cream the butter and sugar fully. It's helps give nice, thick cookies. Also, as painful as it is, refrigeration is a good thing. The flavors all come together and the dough gets nice and firm and they spread less while baking. I know the wait is killer, but it'll be worth it. To make it easier, ball the cookies first so when you take the dough out of the fridge, you don't have to wait for it to soften to make the balls. Just put 'em straight in the oven.
These mocha chocolate chunk cookies are wonderfully soft and chewy. Be sure to remove them from the oven when they still look a little under done in the center. If you leave them in until they look totally cooked, they'll end up crunchy. And that'd be super sad. 🙁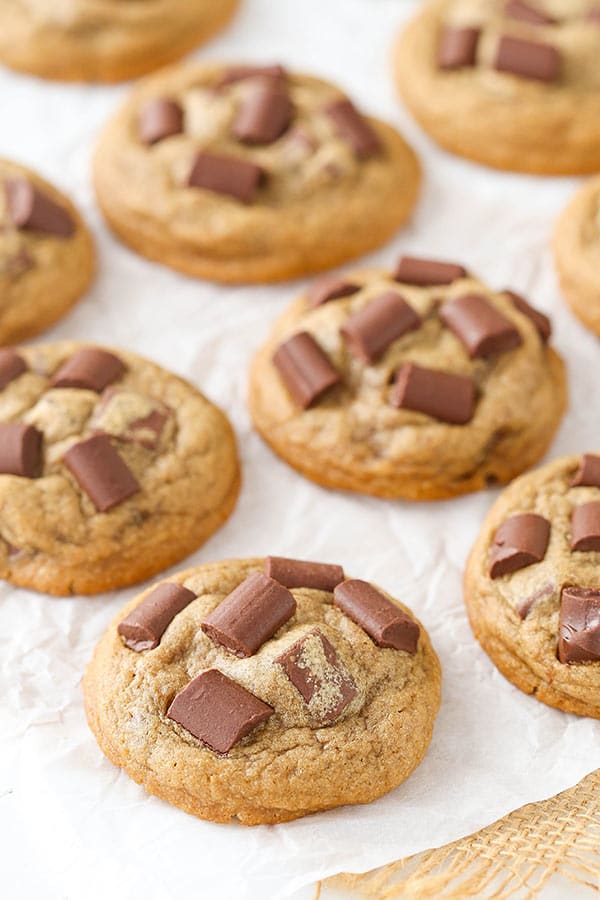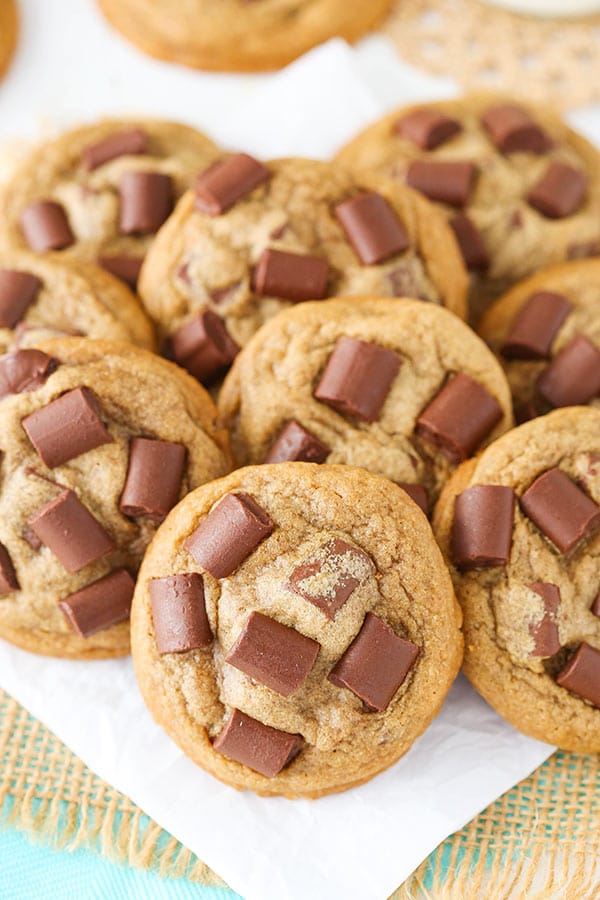 You might also like
Banana Mocha Ice Cream Cake
Thick and Chewy Chocolate Chip Cookies
Mocha Fudge Brownie Ice Cream Cake
Mocha Chocolate Icebox Cake
Caramel Mocha Chocolate Cake
Print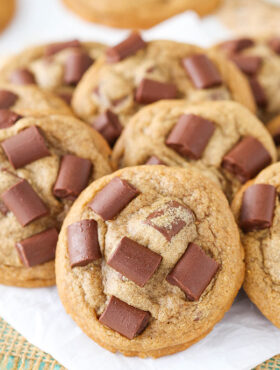 Recipe
Prep Time:

10 minutes

Cook Time:

8 minutes

Total Time:

18 minutes

Yield:

22-24 Cookies

Category:

Dessert

Method:

Oven

Cuisine:

American
---
Description
These Mocha Chocolate Chunk Cookies are soft, chewy and full of coffee flavor and chunks of chocolate! They are delicious cookies – you'll want them for breakfast, lunch and dinner!
---
Ingredients
3/4 cup

(

168g

) unsalted butter, room temperature

3/4 cup

(

108g

) brown sugar

1/4 cup

(52) sugar

2 tbsp

instant powdered espresso

1 tsp

hot water

3/4

 tsp vanilla extract

1

egg

2 cups

(

260g

) all purpose flour

1 tsp

baking soda

1/2 tsp

salt

1 1/2 cups

 chocolate chunks
---
Instructions
1. Cream butter and sugars together until light and fluffy, about 3-4 minutes.
2. In a very small bowl, combine the hot water and instant espresso and stir until the espresso is dissolved. Mixture will be thick.
3. Add the espresso mixture to the butter mixture and mix to combine.
4. Add the egg and vanilla extract and mix until well combined.
5. In a separate bowl, combine the flour, baking soda and salt. Add the dry ingredients to the butter mixture and mix until well combined.
6. Stir in the chocolate chunks.
7. Make balls of cookie dough about 2 tablespoons in size. Refrigerate the dough for about 2 hours, or for up to 3 days.
8. Preheat oven to 350°F (176°C) and line a cookie sheet with a silicone baking mat or parchment paper.
9. Place the balls of cookie dough onto the cookie sheet and bake for 8-10 minutes. Cookies will spread a bit and may look a little undercooked when you remove them, but they'll continue to cook and firm as they cool.
10. Remove the cookies from the oven and allow to cool on the cookie sheet for 3-5 minutes, then remove to a cooling rack to finish cooling
---
Nutrition
Serving Size:

1 Cookie

Calories:

188

Sugar:

14.5 g

Sodium:

106.2 mg

Fat:

10.1 g

Carbohydrates:

23.7 g

Protein:

2.4 g

Cholesterol:

23 mg
Keywords: chocolate chunk cookies recipe, chocolate chunk cookies, homemade cookies recipe, best cookies recipe, best chocolate chip cookie recipe, best cookie recipe of all time, the best chocolate chip cookie recipe ever, the best cookie recipe ever, homemade cookies
Filed Under:
Enjoy!
This post includes affiliate links.
This post may contain affiliate sales links. Please read my disclosure policy.