Mocha Chocolate Icebox Cake
Layers of coffee-flavored filling, chocolate wafer cookies and chocolate ganache make this no bake Mocha Chocolate Icebox Cake to die for! And it's so easy to make, there's no excuse not to.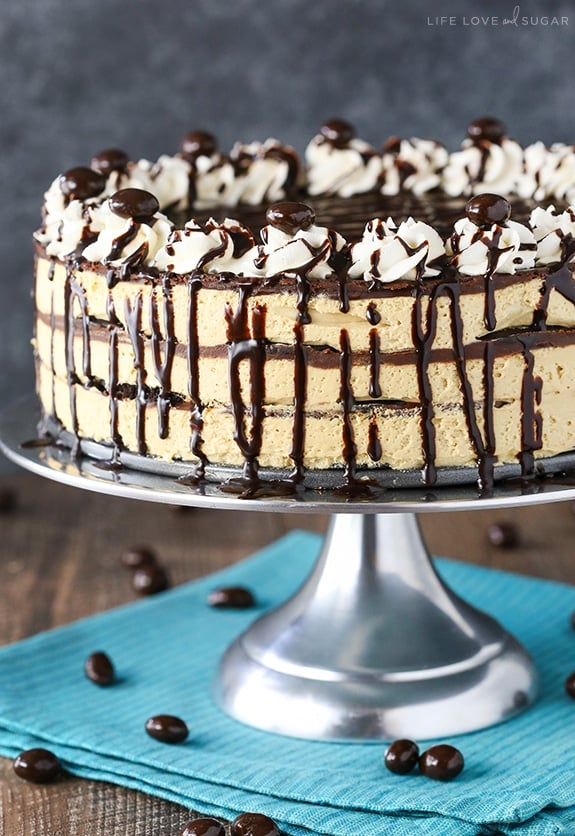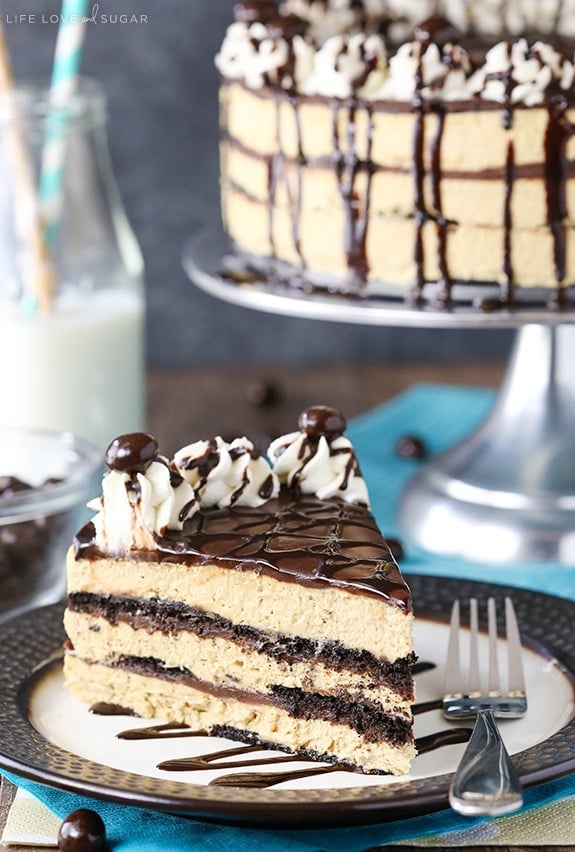 This icebox cake really is super easy to make. To start, you'll dissolve some powdered espresso or coffee into hot milk. The goal here is to get a small amount of very strong coffee.
Add the coffee to the cream cheese and sugar. Beat the cream cheese and sugar together first, then add the espresso. Things combine much smoother when done in that order. Then to lighten it up, make some whipped cream and gently fold it into the cream cheese mixture, making sure not to deflate the whipped cream.
If you've never made homemade whipped cream before, do not fear. It might just be the easiest thing ever. It's just heavy cream that's whipped at a high speed, which adds air and makes it super fluffy! The powdered sugar helps thicken and stabilize it and the vanilla adds a little flavor. Easy peasy. And because there's a good bit of powdered sugar in this whipped cream, you don't have to worry about it wilting. It won't. Of course, if you'd prefer you can use Cool Whip instead.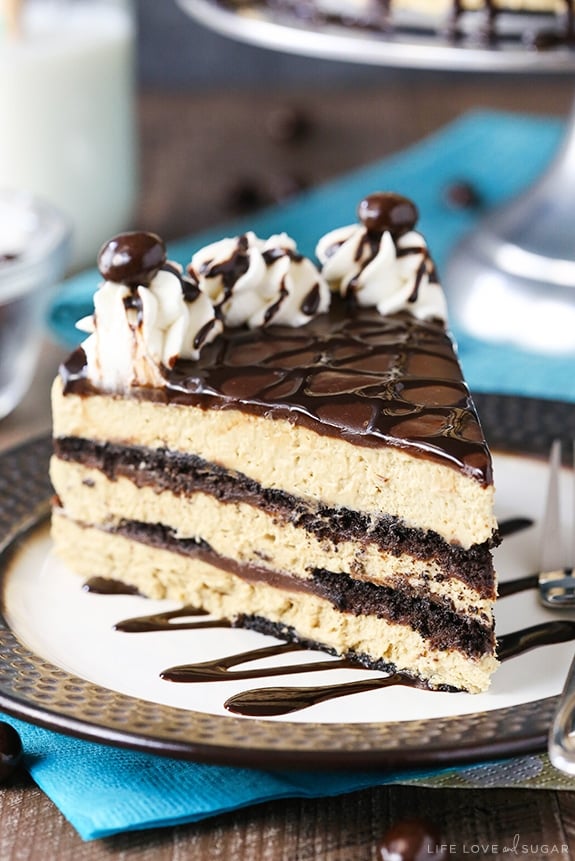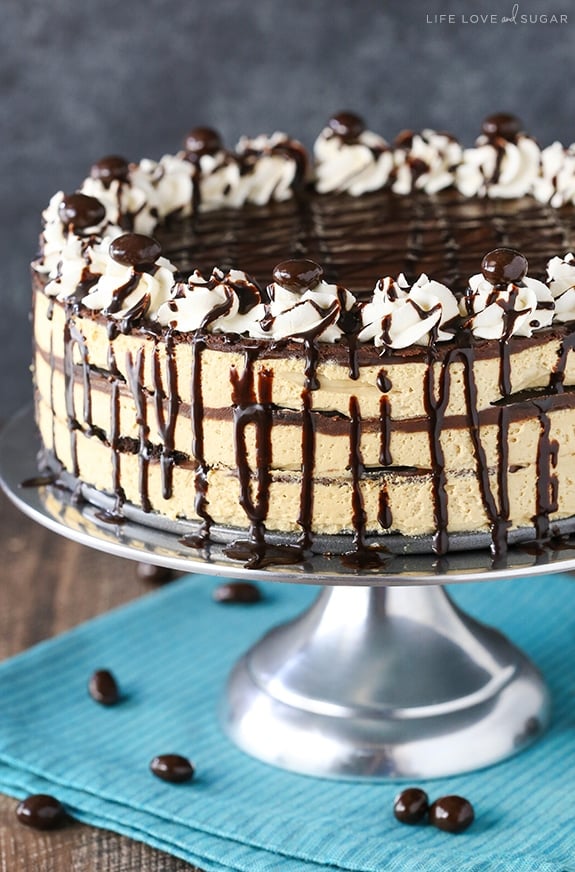 The mocha mousse is layered with chocolate ganache and chocolate wafer cookies. And let me tell you, these chocolate wafer cookies are super tasty. I think they taste a lot like an Oreo. And we know I love those.
Also, chocolate ganache – another thing to not be afraid of. I remember back when I first started baking, whipped cream and ganache terrified me. And yet once I finally jumped the hurdle and made them I realized the fear was all for not. Super easy.
Just add three of each layer to the pan and you're all done! Toughest part is waiting for it to firm up. I usually make desserts like these the night before so they're sure to be firm. Once it's ready, finishing up is pretty quick. Just a little whipped cream around the edges, some chocolate sauce and a few chocolate covered espresso beans. A coffee lover's dream! Yum!!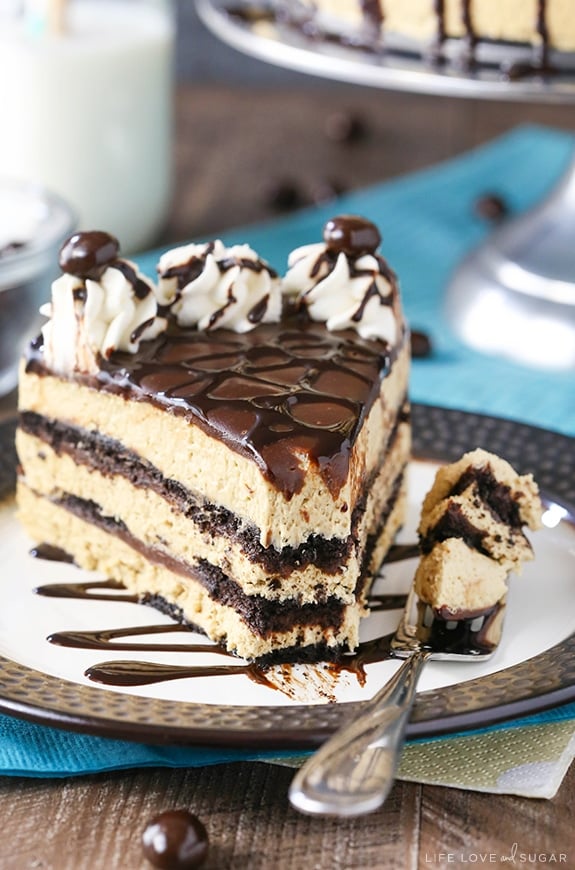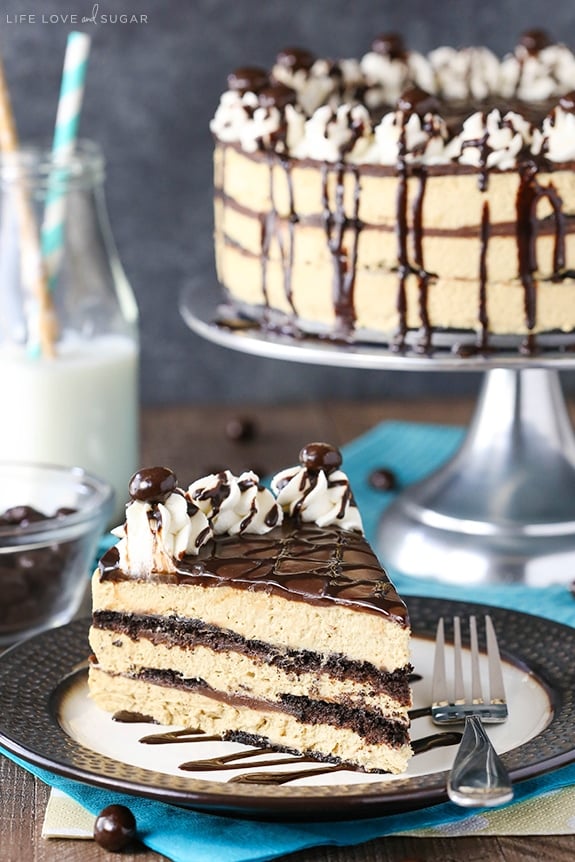 Mocha Chocolate Icebox Cake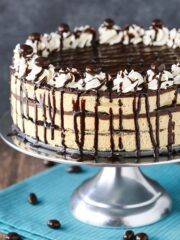 Yield:

14

-

16

Slices

1

x
Category:

Dessert

Method:

Stove

Cuisine:

American
Ingredients
MOCHA MOUSSE
3 tbsp

milk

3 tbsp

powdered espresso granules

12 oz

cream cheese, room temperature

3/4 cup

sugar

2 1/2 cup

s heavy whipping cream

1 tsp

vanilla extract

1 1/4 cup

s powdered sugar
CHOCOLATE GANACHE AND WAFERS
9 oz

(255g) semi-sweet chocolate chips

3/4 cup

heavy whipping cream

9 oz

package chocolate wafer cookies
WHIPPED CREAM AND ADDITIONAL TOPPINGS
1/2 cup

heavy whipping cream

1/4 cup

powdered sugar

1/2 tsp

vanilla extract
Chocolate sauce
Chocolate covered espresso beans
Instructions
1. Prepare a 9-inch springform pan by lining the sides with parchment paper that sticks about an inch above the sides of the pan.
2. To make the mocha mousse, bring the milk to a boil in a small measuring glass, then dissolve powdered espresso in the milk. Allow to cool.
3. Put the chocolate chips for the ganache in a heat proof bowl. Heat heavy whipping cream for ganache until it comes to a boil, then pour over the chocolate chips. Allow to sit covered for about 5 minutes, then whisk until smooth. Set aside to cool a bit and thicken.
4. Beat cream cheese and sugar for mocha mousse together in a large mixer bowl until smooth.
5. Slowly add espresso mixture to cream cheese mixture and beat until smooth. Set cream cheese mixture aside and make whipped cream.
6. Whip heavy whipping cream on high until it begins to thicken. Add vanilla extract and powdered sugar and continue to whip on high until stiff peaks form.
7. Carefully fold whipped cream into espresso cream cheese mixture.
8. Place a single layer of wafer cookies on the bottom of the pan, then top with about 1/3 of the espresso mixture (about 2 1/3 cups). Spread about 1/3 of the ganache (about 1/2 cup) evenly on top of the espresso mixture.
9. Repeat previous step two more times so that you have 3 of each layer. Refrigerate until firm, 4-5 hours
10. Once firm, remove icebox cake from pan.
11. To make whipped cream for topping, whip heavy whipping cream on high until it begins to thicken. Add vanilla extract and powdered sugar and continue to whip on high until stiff peaks form.
12. Pipe the whipped cream around the top edge of the cake, then drizzle with chocolate sauce. Finish off cake with chocolate covered espresso beans, if desired.
13. Refrigerate until ready to serve.
Enjoy!

You might also like:
Caramel Macchiato Chocolate Nutella Cupcakes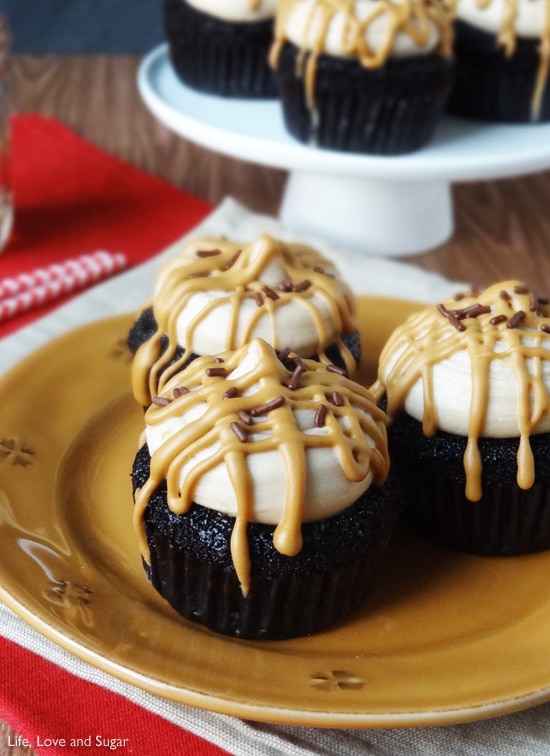 Recipes from friends:
Mocha Cake from Well Plated by Erin
Mocha Truffle Brownies from Mom on Timeout
Raspberry Mocha Mudslide Parfaits from Baking a Moment