This post may contain affiliate sales links. Please read my disclosure policy.
This Chocolate Donut Hole Cheesecake might be the most over-the-top dessert I've made yet! It's a smooth and creamy chocolate cheesecake filled with chocolate donut holes and the perfect vanilla glaze!
Love this donut cake? You should check out my Pumpkin Spice Donut Cheesecake Trifle too!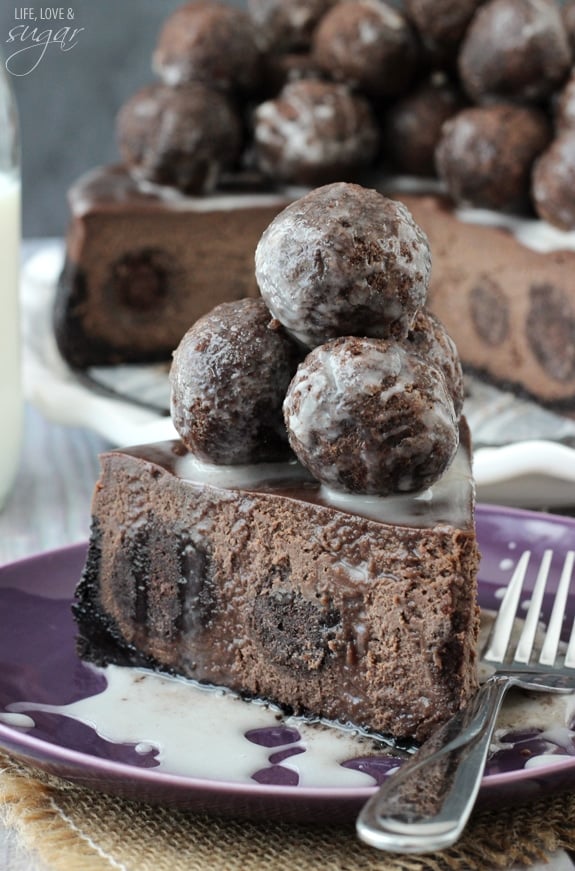 Chocolate Donut Hole Cheesecake
I couldn't wait to post this cheesecake. Not only is it delicious and chocolatey, but it's kind of awesome too. 🙂 I mean, donuts and cheesecake? Is it dessert, or is it breakfast? How about both! I'd gladly eat it morning, noon and night.
I started brain storming about fun donut recipes a few weeks ago when I went to watch the hubs play in a ProAm tennis tournament. There was some tasty food, including Krispy Kreme donuts. Of course I ate one of said donuts, which got me to thinking about how good donuts are.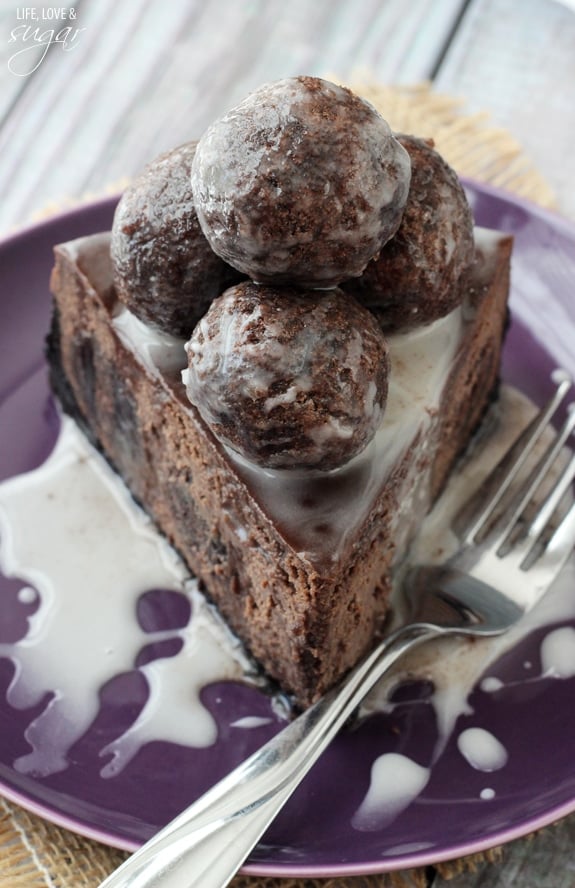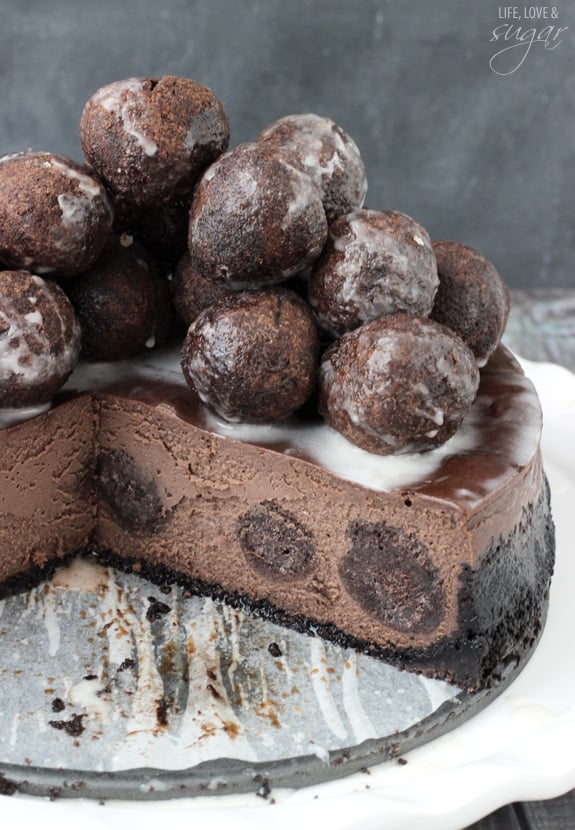 Of course I could've just made a donut (which is on my list of things to do), but that just wasn't what I wanted to do yet.
After toying with a few ideas, I decided this one was a winner!
I actually made a vanilla version first with Krispy Kreme donuts – the classic one – but it didn't really turn out like I wanted. Because of the kind of donut (not cakey), it just kind of absorbed into the batter and lost it's donut-y appeal. No good.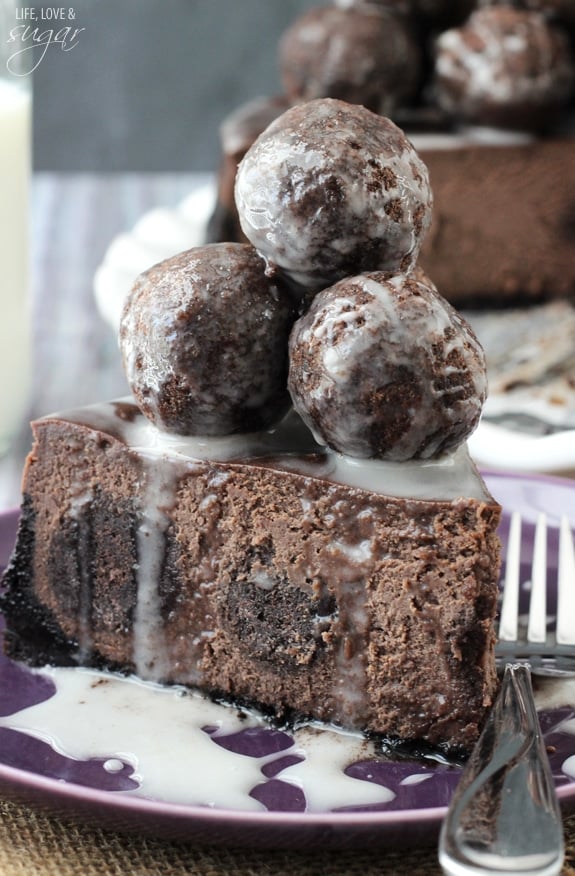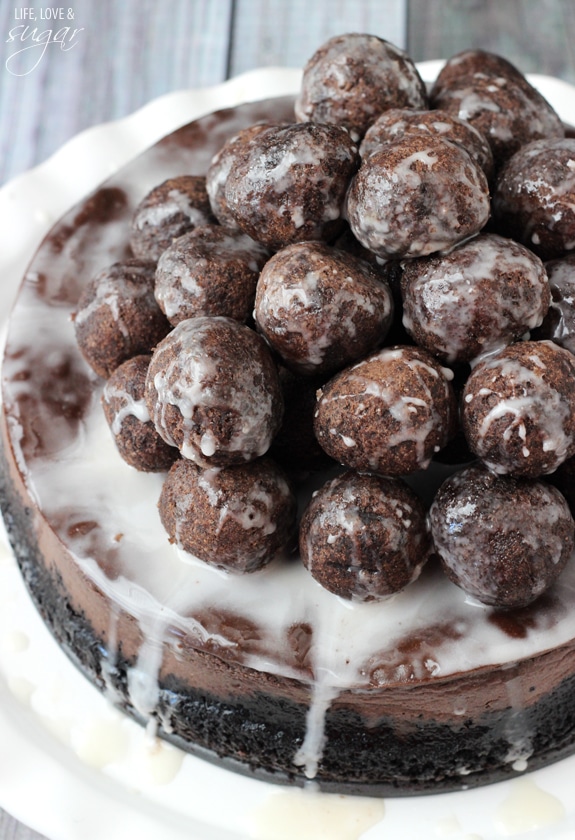 So I decided to go with a donut hole. And since I don't have an actual Krispy Kreme store around me (I had to get the previous donuts at Publix – very sad), I went to Dunkin Donuts.
Now I know I could've made the donuts myself, but honestly. I like making some involved desserts at times, but I also am of a fan of shortcuts. If you want to make your own donuts feel free. But if not, hop on the easy train with me! Just make sure the donuts you use are cake ones. They hold up better in the cheesecake batter.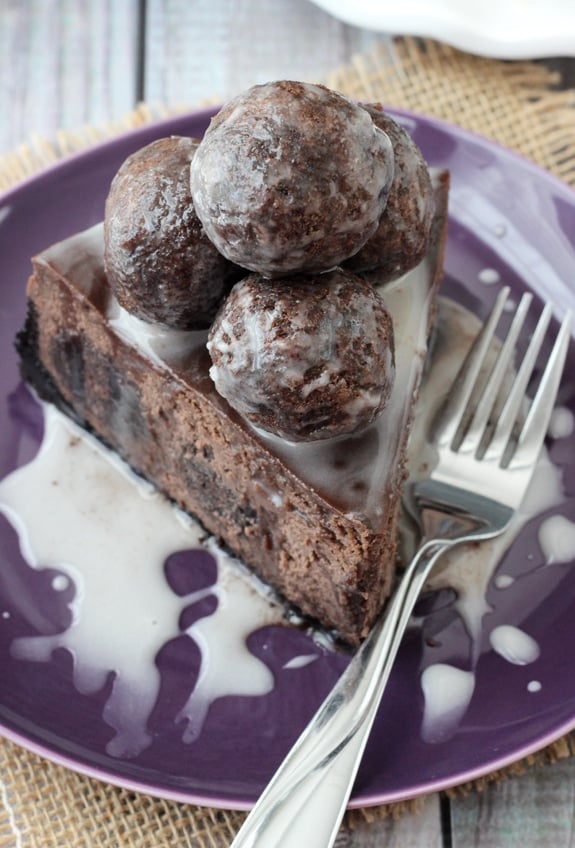 And since there aren't vanilla cake donut holes, I got the chocolate! I mean, why didn't I do that to begin with? Chocolate = happiness.
Chocolate donuts + chocolate cheesecake = double happiness!
Tips for Making This Chocolate Donut Cheesecake
When you get the perfect bite with a bit of cheesecake, donut and glaze all on the fork, it is soooo good! I'd normally say don't worry about adding the extra donuts on top if you want to cut back a bit, but not this time. Seriously. The extra donuts make it that much better.
And the glaze totally makes it! What is a donut without glaze, after all?! I recommend keeping some of the glaze handy for each and every slice you cut of this. The glaze tends to soak into the cheesecake as it sits – kind of like it does on the donuts, go figure! – and I love having pleny of it in each bit. So I add on a little extra with each slice. Bring on the sugar, baby! 🙂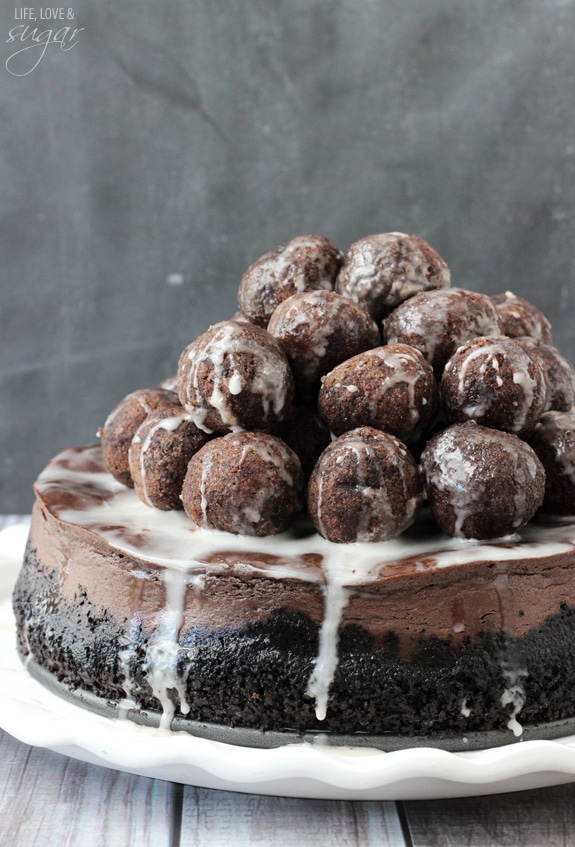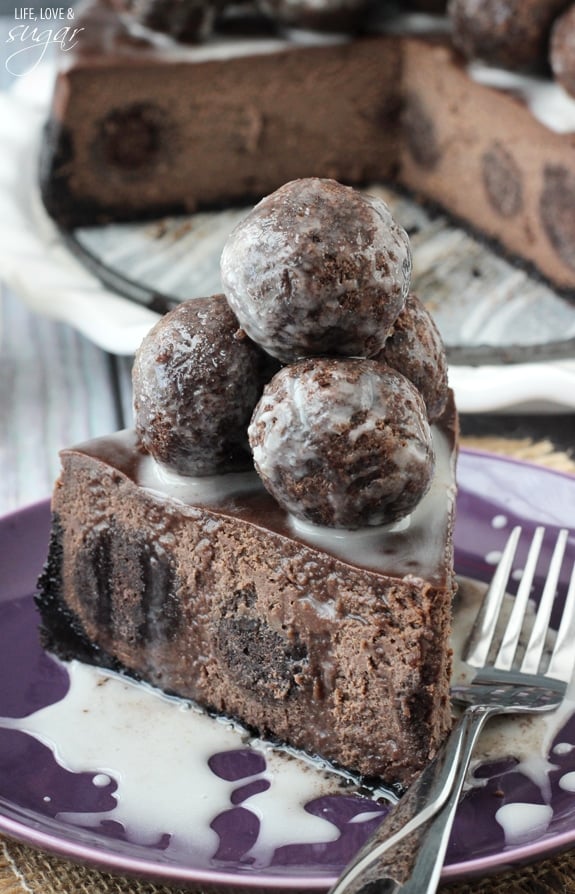 You might also like
Ultimate Breakfast Cake
Pumpkin Spice Donut Cheesecake Trifle
Chocolate Lover's Cheesecake
Loaded Maple Bacon Donut Fries
Glazed Chocolate Donut Holes
Print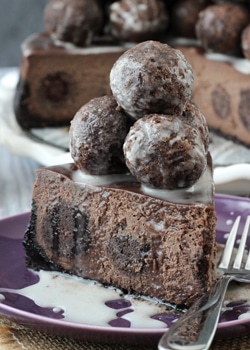 Recipe
Chocolate Donut Hole Cheesecake
Author:

Prep Time:

20 minutes

Cook Time:

1 hour 45 minutes

Total Time:

2 hours 5 minutes

Yield:

12-14 slices

Category:

Dessert

Method:

Oven

Cuisine:

American
---
Description
This Chocolate Donut Hole Cheesecake might be the most over-the-top dessert I've made yet! It's a smooth and creamy chocolate cheesecake filled with chocolate donut holes and the perfect vanilla glaze!
---
Ingredients
CRUST
2 cups

Oreo crumbs

4 tbsp

butter, melted
CHEESECAKE FILLING
24 ounces

packages of cream cheese, room temperature (three

8 oz

packages)

1/2 cup

sugar

1/2 cup

brown sugar

1/3 cup

cocoa

2 tbsp

flour

4

eggs, room temperature

1 cup

sour cream

3/4 tsp

vanilla extract

8

–

10

doughnut holes
GLAZE AND TOPPING
1 1/2 cups

powdered sugar (add more if needed for thickness)

3 tbsp

milk

1/2 tsp

vanilla extract
doughnut holes
---
Instructions
CRUST
1. Heat oven to 325 degrees.
2. In a small bowl, combine crust ingredients and mix well.
3. Press mixture into the bottom and up the sides of a 9-inch springform pan with parchment paper in the bottom.
4. Bake crust for 10 minutes then remove.
5. Cover the outsides of the pan with aluminum foil so that water from the water bath cannot get in, and set aside.
CHEESECAKE FILLING
1. Reduce oven to 300 degrees.
2. In a large bowl, blend the cream cheese, sugars, cocoa and flour with an electric mixer until combined (Use low speed to keep less air from getting into the batter, which can cause cracks). Scrape down the sides of the bowl.
3. Add eggs one at a time, beating slowly and scraping the sides of the bowl after each addition.
4. Add the sour cream and vanilla extract. Beat on low speed until well combined.
5. Put a little bit of the filling in the bottom of the crust. Press the doughnuts into the bottom of the cheesecake.
6. Pour remaining filling into the springform pan and spread over the doughnuts. The pan will be very full.
7. Place springform pan inside another pan. Fill outside pan with enough warm water to go about halfway up the sides of the springform pan. The water should not go above the top edge of the aluminum foil on the springform pan.
8. Bake for 1 hour and 35-40 minutes.
9. Turn off heat and leave cheesecake in oven with door closed for 20 minutes.
10. Crack oven door and leave the cheesecake in the oven for another 20 minutes or until set. This cooling process helps the cheesecake cool slowly to prevent cracks.
11. Remove cheesecake from oven and chill.
12. Remove springform pan sides from cheesecake. Cheesecake may be a little lumpy on top from the donuts inside.
13. Whisk together powdered sugar, milk and vanilla extract to make the glaze.
14. Pour a little glaze on top of the cheesecake, then pile on additional donut holes.
15. Drizzle more glaze over the donut holes just before serving.
---
Nutrition
Serving Size:

1 Slice

Calories:

851

Sugar:

37.3 g

Sodium:

618.5 mg

Fat:

65 g

Carbohydrates:

56.6 g

Protein:

14.4 g

Cholesterol:

225.8 mg
Keywords: chocolate cheesecake recipe, best cheesecake recipe, donut recipe, donut holes recipe, doughnut recipe, doughnut holes recipe, best chocolate cake recipe
Filed Under:
Enjoy!