Peppermint Chip Layer Cake
This Peppermint Chip Layer Cake is made with a super moist and fluffy peppermint cake and peppermint chip frosting! The candy wreath decoration on top is super fun and makes it perfect for the holidays!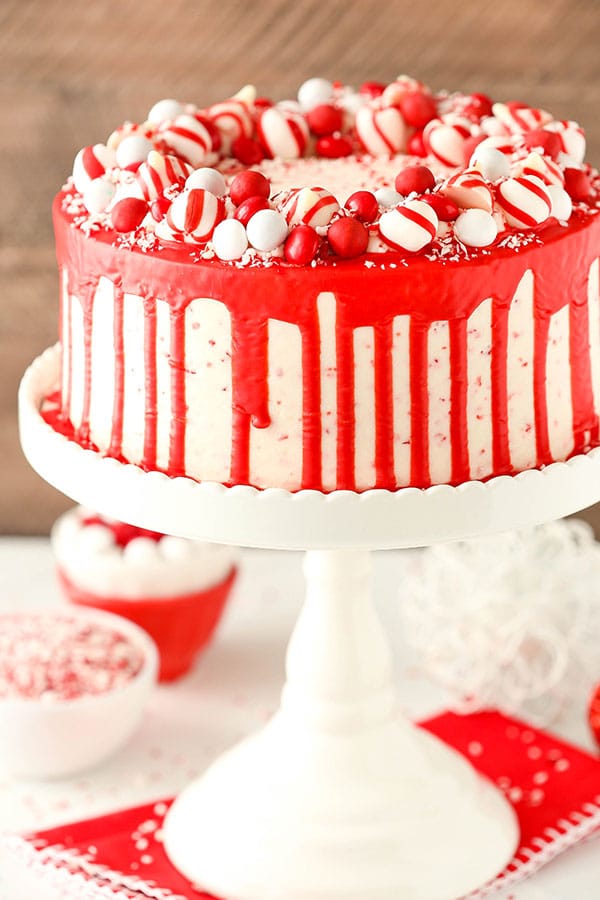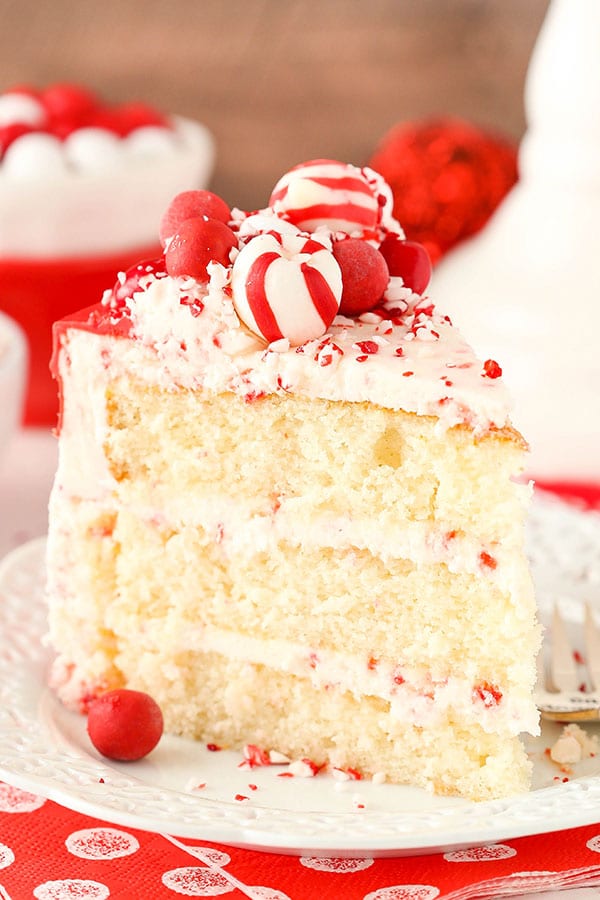 Peppermint Chip Layer Cake
One of the things I love about my mom is she knows how to eat some dessert. One year when my brother and I were in elementary school, for her birthday she plunked a cake down right in front of us and brought over three forks. We just dug right. No cutting the cake, no plates, nothing. Just forks. It was perfect. We definitely gave her the "Best Mom Ever Award" that day.
Fast forward several years and I remember her thing was ice cream. I have quite a few memories of her pulling out a carton of ice cream and a spoon and going to town. She's going to kill me for telling you this, but she has a very funny way of eating ice cream because she likes to eat all the soft parts as it begins to melt. She basically digs craters all over the ice cream getting the good parts. 🙂
Well recently, we were sitting in the kitchen hanging out one evening and chatting and she walked over to the freezer, pulled out a carton of peppermint chip ice cream and handed me a spoon. It was pretty perfect and classic mom. We dug in and had a great time and remembered at all her ice cream eating days.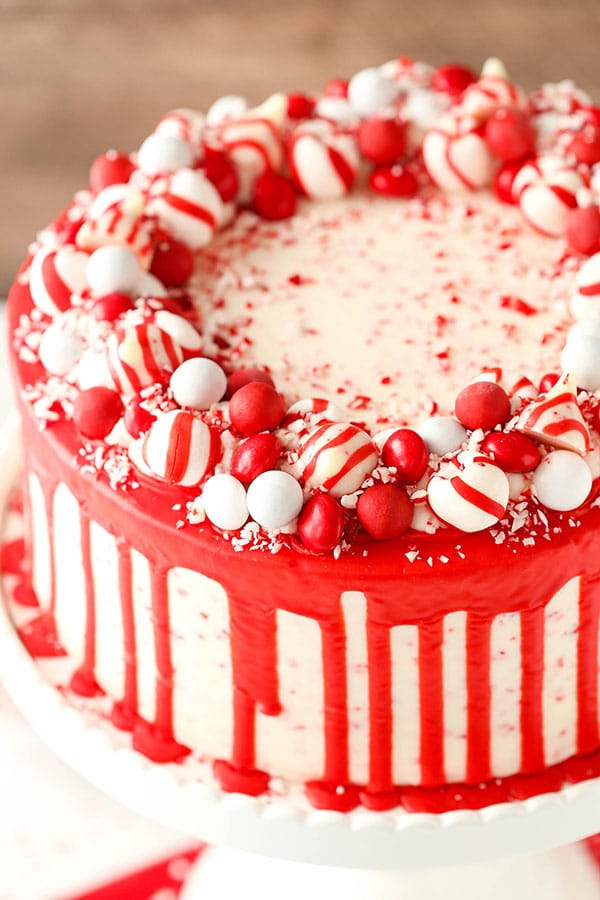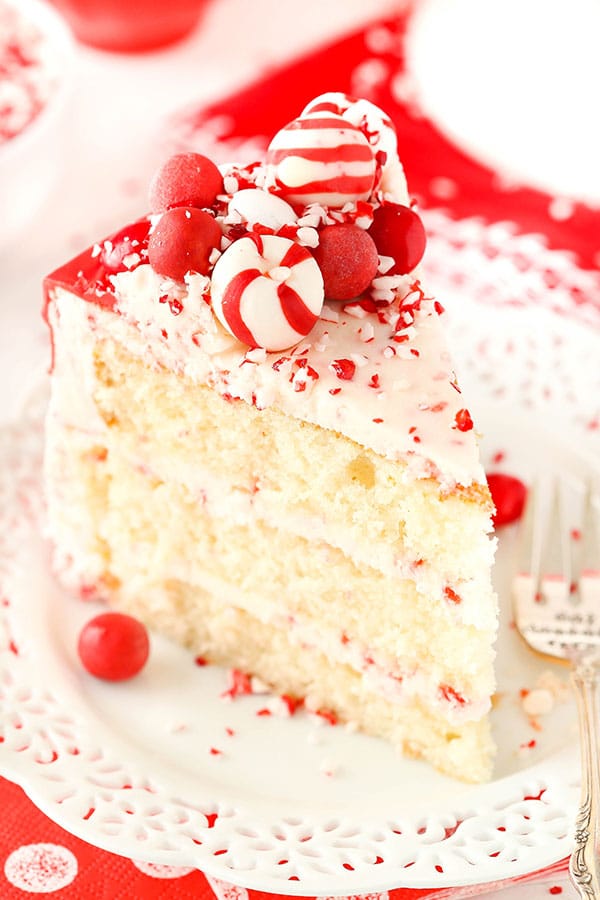 Shortly after that, I made this cake and thought of her. This cake is definitely all her!
Even though my mom is clearly a peppermint fan, peppermint is one of those flavors that I tend to forget how good it is until I have it again. The ice cream sparked me wanting to make this cake. And it does not disappoint – I'm loving the peppermint flavor!
To start off making the cake layers, you'll want to cream the butter and sugar. I say this a lot but don't skimp on the creaming time! The better the butter and sugar are creamed together, the fluffier your cake! Added to the butter and sugar are the peppermint extract and sour cream. Sour cream lends a wonderful bit of flavor and adds so much moisture to a cake. I love using it. Next are the egg whites, which also lend a very soft cake.
From there you will alternate adding the flour and other dry ingredients and the milk and water. You should end up with a lovely, smooth better. Bake the cakes and then you're ready for the frosting!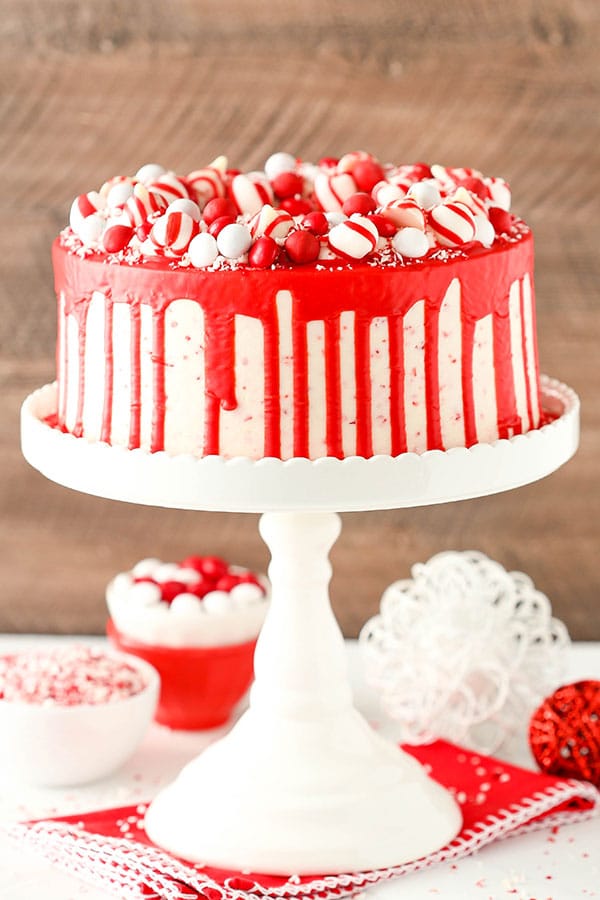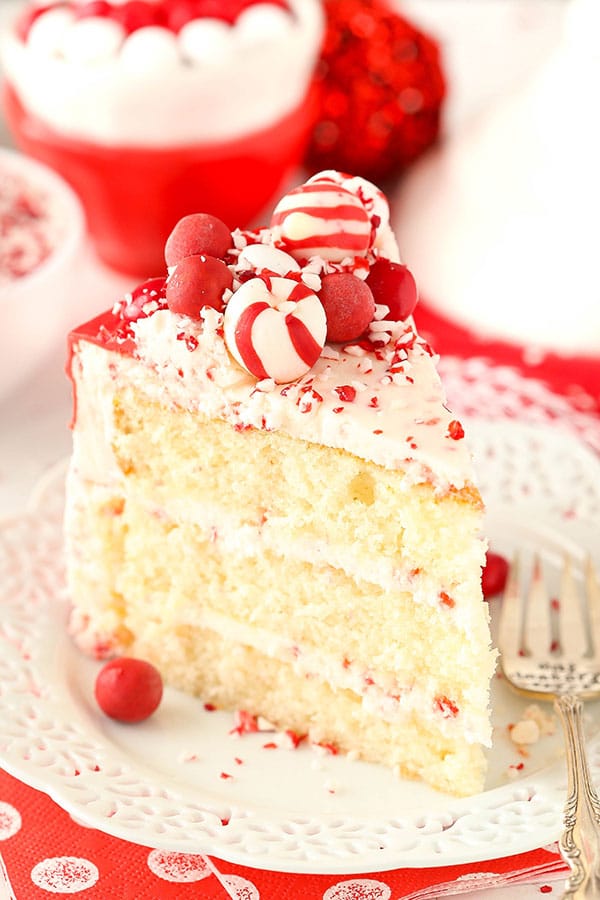 The base of the frosting is American buttercream – which is basically butter and powdered sugar. I substitute part of the butter for shortening, because I like the stability that it gives the frosting, plus I don't necessarily have to refrigerate it that way and I much prefer not refrigerating my cakes. But if you aren't into using shortening, or don't have access to it, feel free to use all butter in the frosting. Since I only use half butter, I usually use salted butter. If you use all butter, you might want to do half salted, half unsalted – or just use unsalted and add your own salt. There's a good bit of powdered sugar in American buttercream and that bit of salt doesn't at all make the butter salty, it just cuts down on the sweet a bit.
Added to the frosting is peppermint and vanilla extract and broken peppermint pieces. I like a combination of vanilla and peppermint – it makes a more pleasant peppermint flavor. For the peppermint pieces, you can break up peppermints or candy cakes, or buy peppermint pieces. Next, you add water or cream to the frosting until you have a nice, smooth consistency.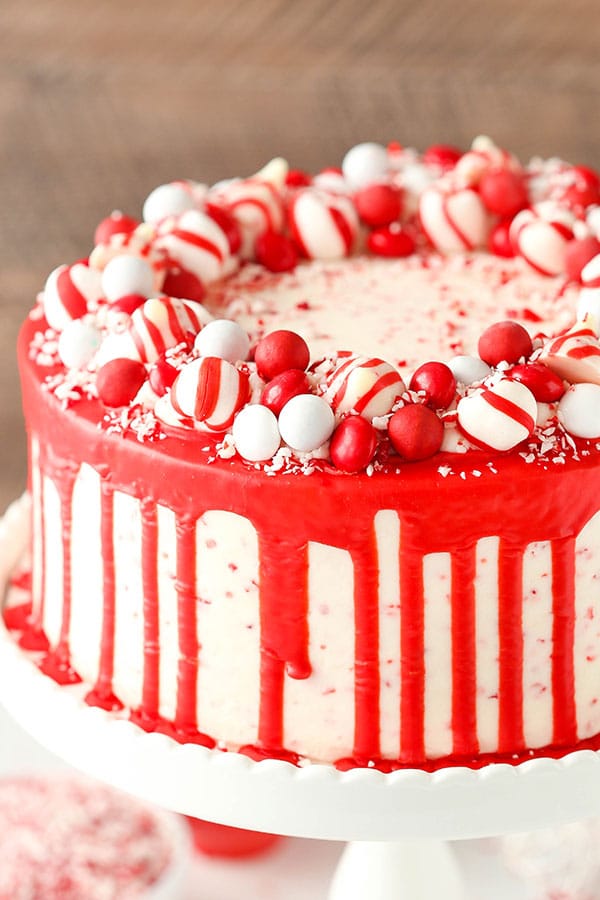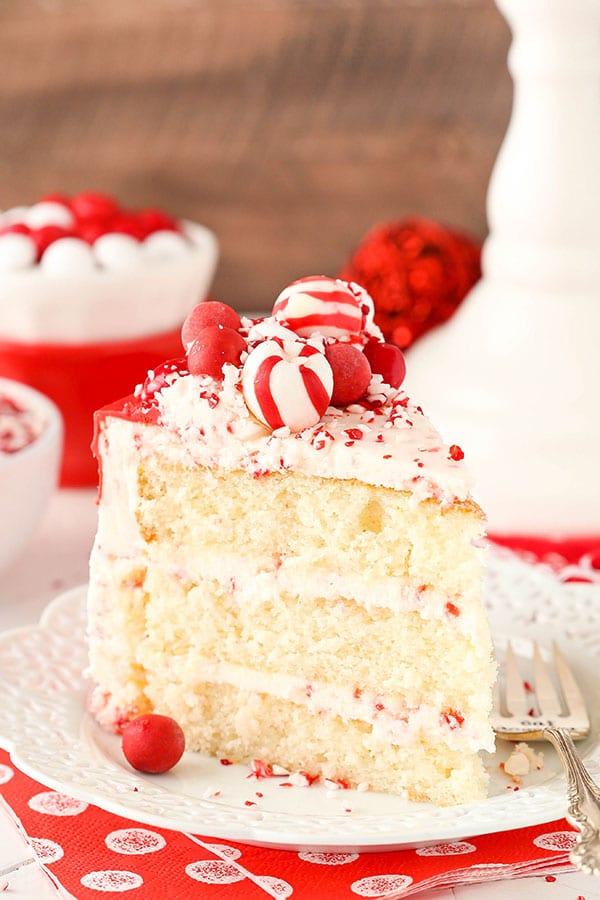 Next, frost the cake until it's smooth – feel free to use my tutorial – and then top it with some chocolate ganache. I used candy melts for the ganache on this cake, but I think I prefer using colored white chocolate, so that's what I included in the instructions below. They are basically the same thing, but with white chocolate you add the color to it. The final result of the white chocolate ganache is nicer and smoother. The candy melts end up with a bit of a waxy consistency. But either would work.
To finish off the cake and decorate it for the holidays, I used an assortment of peppermint candies around the edge of the cake. There's a mix of white peppermint M&Ms, peppermint Hershey kisses, peppermints and Cadbury chocolates that are red and white. I love the final look! It's so much fun and makes me feel like I'm lost in a peppermint candy land! Of course if that's not your thing you could totally simplify it, but I thought it was fun. 🙂
This cake was a big hit with all! SO soft, fluffy and moist and the perfect amount of peppermint flavor!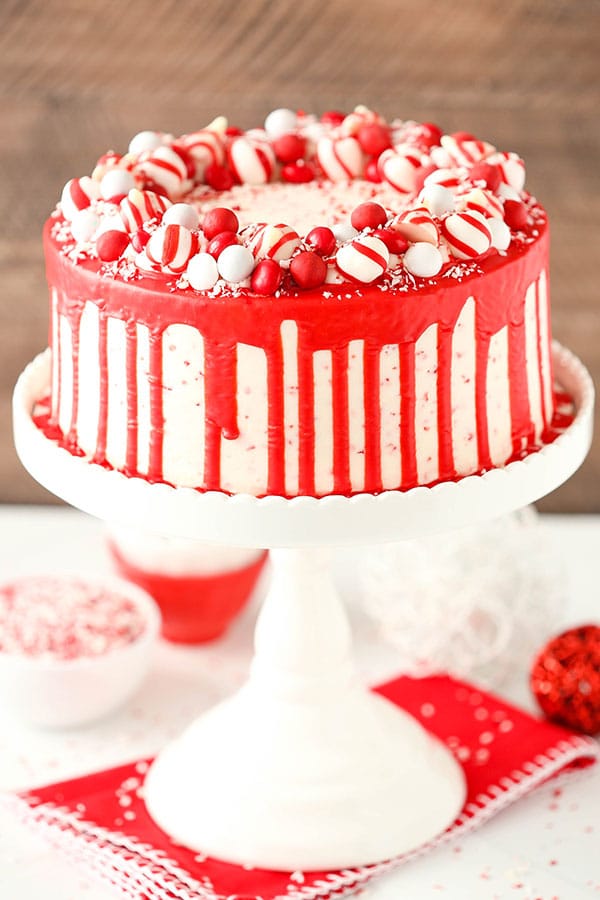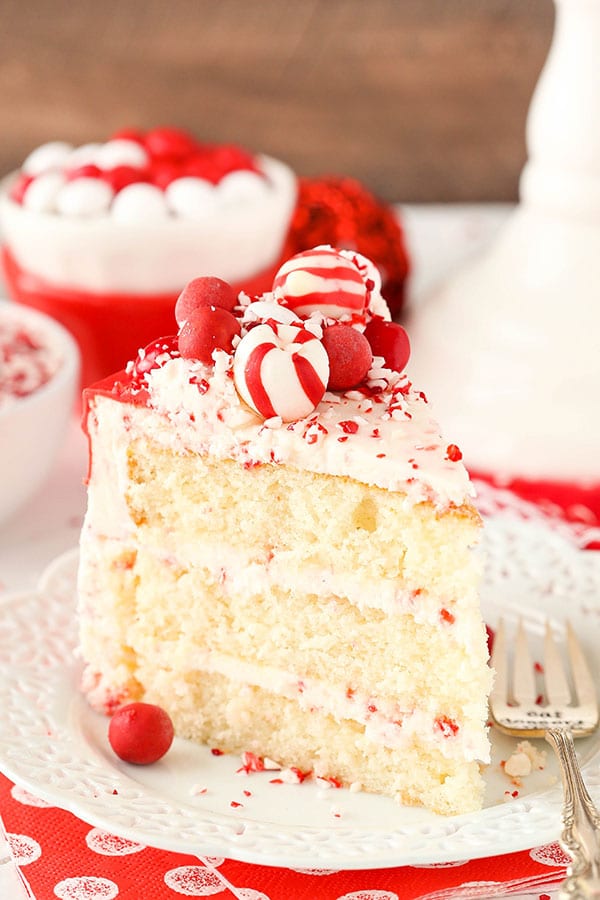 Read transcript
You might also like
Easy Peppermint Chocolate Thumbprint Cookies
Peppermint Cheesecake Brownie Trifle
Peppermint Espresso Brownie Cheesecake
Chocolate Peppermint Cake
Chocolate Peppermint Shortbread Cookies
Peppermint Chocolate Pie
Peppermint Brownie Ice Cream Cake
Peppermint Chip Layer Cake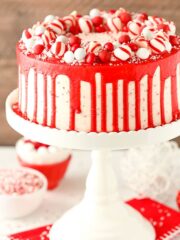 This Peppermint Chip Layer Cake is made with a super moist and fluffy peppermint cake and peppermint chip frosting! The candy wreath decoration on top is super fun and makes it perfect for the holidays!
Prep Time:

25 minutes

Cook Time:

21 minutes

Total Time:

46 minutes

Yield:

12

-

14

Slices

1

x
Category:

Dessert

Method:

Oven

Cuisine:

American
Ingredients
PEPPERMINT CAKE
3/4 cup

(

168g

) unsalted butter, room temperature

1 1/2 cups

(

310g

) sugar

3/4 cup

(

173g

) sour cream, room temperature

1 tsp

vanilla extract

1 tbsp

(10ml) peppermint extract

6

large egg whites, room temperature

2 1/2 cups

(

325g

) all purpose flour

4 tsp

(

15g

) baking powder

½ tsp

salt

3/4 cup

(180ml) milk, room temperature

1/4 cup

(60ml) water, room temperature
PEPPERMINT CHIP FROSTING
1 1/2 cups

(

336g

) salted butter

1 1/2 cups

(

284g

) shortening

11 1/2 cups

(

1323g

) powdered sugar

4

–

5

tbsp (60-75ml) water

1 tsp

vanilla extract

1 tbsp

peppermint extract

3/4 cup

peppermint pieces
RED WHITE CHOCOLATE GANACHE
5 oz

white chocolate chips

3

–

4

tbsp (90-105ml) heavy whipping cream
Red gel icing color
DECORATION
Candy cane Hershey kisses
Peppermints
Cadbury chocolate balls
White chocolate peppermint M&Ms
Peppermint pieces
Instructions
TO MAKE THE CAKE LAYERS:
1. Prepare three 8 inch cake pans with parchment paper circles in the bottom and grease the sides. Preheat oven to 350°F (176°C) .
2. In a large mixing bowl, cream butter and sugar together until light in color and fluffy, about 3-4 minutes. Do not skimp on the creaming time.
3. Add sour cream and vanilla and peppermint extracts and mix until well combined.
4. Add egg whites in two batches, mixing until well combined after each. Scrape down the sides of the bowl as needed to be sure all ingredients are well incorporated.
5. Combine dry ingredients in a separate bowl, then combine the milk and water in a small measuring cup.
6. Add half of the dry ingredients to the batter and mix until well combined. Add the milk mixture and mix until well combined. Add remaining dry ingredients and mix until well combined. Scrape down the sides of the bowl as needed to be sure all ingredients are well incorporated.
7. Divide the batter evenly between the cakes pans and bake for about 21-23 minutes, or until a toothpick comes out with a few crumbs.
8. Remove the cakes from the oven and allow to cool for about 2-3 minutes, then remove to cooling racks to cool completely.
TO MAKE THE FROSTING:
9. Beat the butter and shortening together until smooth.
10. Slowly add about 1/2 of the powdered sugar, mixing until smooth between each addition of powdered sugar.
9. Add 3-4 tablespoons of water and the vanilla and peppermint extract to the frosting and mix until smooth.
10. Slowly add the remaining powdered sugar, mixing until smooth between each addition of powdered sugar.
11. Add additional water to the frosting as needed to get a smooth consistency, then stir in the peppermint pieces.
TO ASSEMBLE THE CAKE:
12. To put the cake together, use a large serrated knife to remove the domes from the top of the cakes so that they're flat. Place the first cake on a serving plate or a cardboard cake round.
13. Spread about 1 cup of peppermint frosting evenly on top of the cake.
14. Add the second layer of cake and another cup of peppermint frosting.
15. Top the cake with the remaining layer and frost the cake with the peppermint frosting. Refer to my tutorial for frosting a smooth cake, if needed.
16. To make the red ganache, place the white chocolate chips in a metal bowl.
17. Microwave the heavy whipping cream until it starts to boil. Remove from the microwave and pour over white chocolate chips.
18. Let the white chocolate sit for 2-3 minutes, then whisk everything together until it's smooth. If it doesn't get completely smooth, microwave for about 10 seconds, then whisk together.
19. Add small amounts of the red gel icing color until you have the desired shade of red.
20. Allow the ganache to sit for a few minutes until it just starts to thicken. To add it to the cake, I used a squeeze bottle so I can control where the ganache goes. I left the center of the cake open and just added the ganache around the edge. Alternatively, you can pour the ganache over the top of the cake and spread it to the edges with an offset spatula, allowing it to drip down the sides.
21. To finish of the cake with candy, use some remaining frosting to pipe a ring around the cake. Place the candy around the right, propping it up on the frosting to give it some height.
This cake can be refrigerated until ready to serve. I suggest serving at room temperature. Note that the candy can sometimes soften when expensed to moisture, so you may want to add it close to the time you are serving the cake.
Keywords: peppermint cake, christmas cake ideas, christmas cake recipe, layer cake, layer cake recipe, christmas dessert, christmas dessert recipe, christmas dessert ideas
Enjoy!
This post contains affiliate links.
SaveSave