Eggnog Layer Cake
This Eggnog Layer Cake is super moist, fluffy and FULL of eggnog flavor! It has more than one cup of eggnog between the cake and frosting, as well as rum flavoring in the frosting. So good and perfect for Christmas!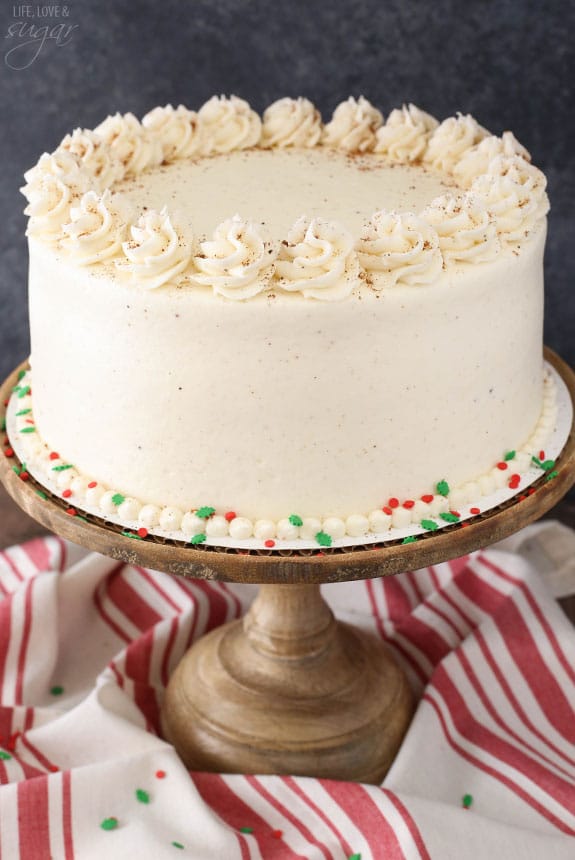 Speaking of Christmas, can you believe it's a week from Friday?! The hubs and I finally started our Christmas shopping this weekend and it was crazy out there. Everything is super busy and people are generally a little nutty. 🙂 We actually got a lot done though, which was a relief.
Soon, I'll hopefully get around to planning meals for the days around Christmas. The hubs is actually going to be getting his wisdom teeth pulled (yes, at the age of 30 🙁 ) so I imagine I'll need to plan some softer foods as well. I have no doubt eggnog will be in the mix.
Eggnog is easily a favorite for us and there is no mistaking it's presence in this cake. If you're wondering which one I used in this cake, it's the Souther Comfort regular eggnog. It's our favorite and we pretty much stick to that one.
To put the cake together, start by creaming the butter and sugar. This step is very important. Creaming the butter and sugar actually creates bubbles which will expand as the cake bakes, resulting in a light and fluffy cake. If you don't cream them enough, you will end up with a denser cake than intended. And that would be sad.
The other important thing about creaming is that the butter needs to be room temperature. If it's too cold, the sugar won't incorporate well. If it's too warm, the air bubbles will collapse.
So basically what I'm telling you is don't underestimate this step. I often hear that cakes turned out denser than intended and this very well could be the reason. So use room temperature butter and cream it with the sugar for at about 3-4 minutes.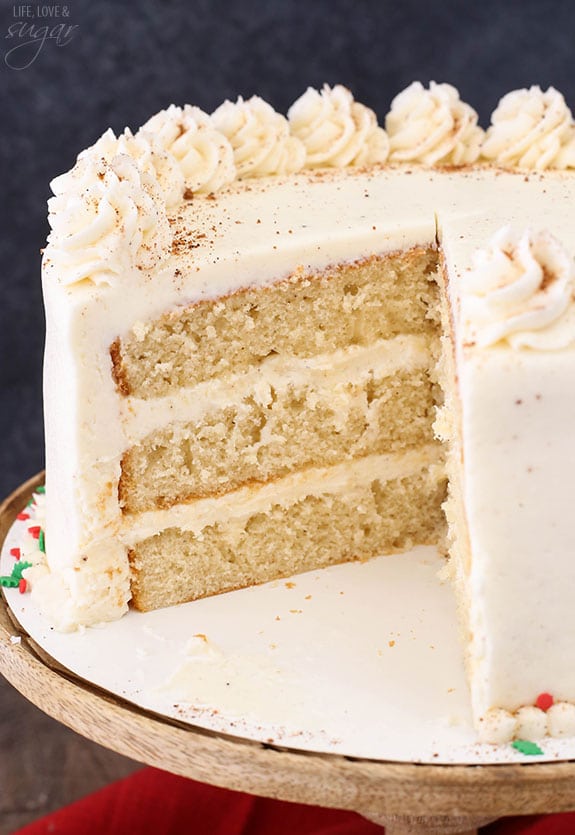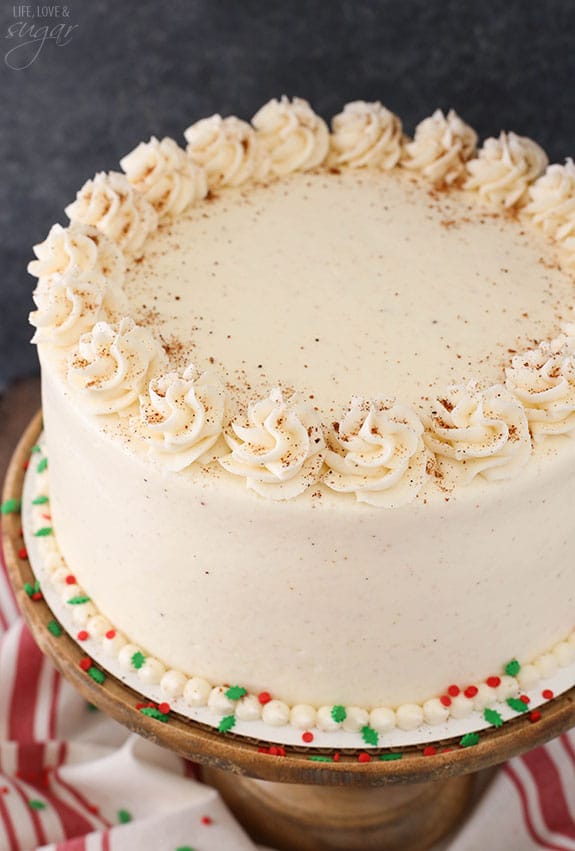 The next step is adding a little vanilla and some sour cream. Sour cream adds wonderful moisture and flavor. Then add the egg whites two at a time. Don't be lazy and add them all at once – they won't incorporate into the batter well if you do. 🙂
Combine the dry ingredients in a separate bowl and combine the eggnog and water in another bowl or measuring cup. You'll add about 1/2 of the dry ingredients, then the eggnog/water mixture, then the remaining dry ingredients. Alternating the ingredients helps preserve those precious air bubbles we added when creaming the butter and sugar. Beginning and ending with the dry ingredients helps to keep the batter from curdling.
Once everything is combined, divide it evenly between three 8 inch pans. I measure to make sure their even, but feel free to just eyeball it. I'm just a perfectionist. 🙂
The cake is covered with a wonderful eggnog frosting spiced with nutmeg and a little bit of rum extract. If you'd like a little guidance on creating that smooth finish, check out my tutorial. Be sure to store the cake in the fridge before serving. I like to take mine out of the fridge at least 20 minutes before serving to let it come back to room temperature a little bit. I find all cake to be moister and tastier that way.
This Eggnog Layer Cake will definitely be a hit with all your eggnog-loving family and friends! We loved it – pretty much irresistible!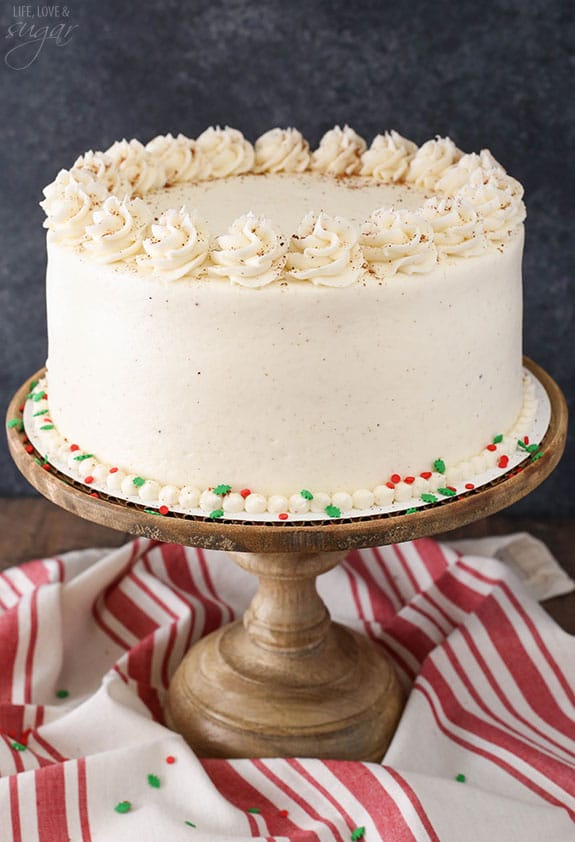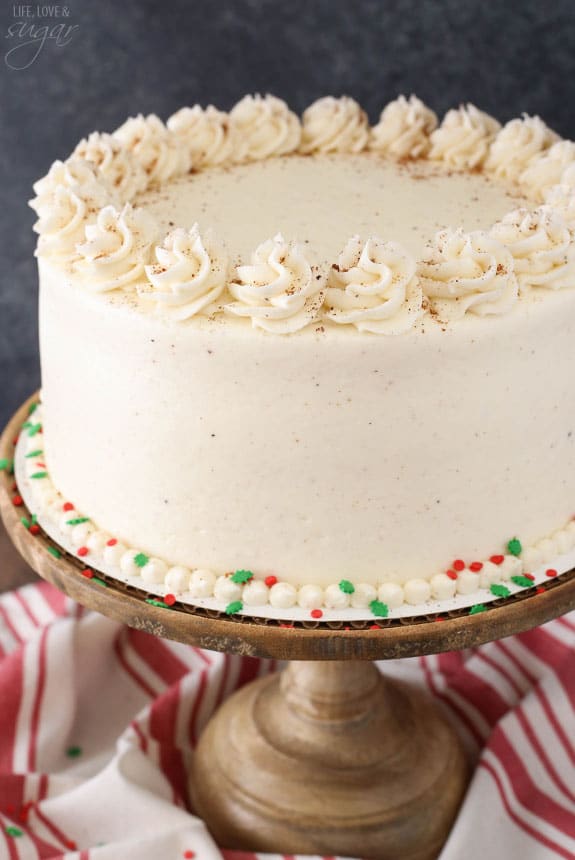 Eggnog Layer Cake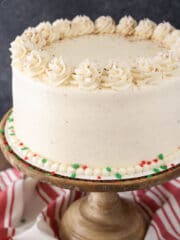 Yield:

8

Inch Layer Cake, 14-18 Slices

1

x
Category:

Dessert

Method:

Oven

Cuisine:

American
Ingredients
EGGNOG CAKE
1 1/2 cup

s sugar

3/4 cup

salted butter, room temp

1 tsp

vanilla extract

1/2 cup

sour cream

6

egg whites

2 1/2 cup

s all purpose flour

4 tsp

baking powder

3/4 tsp

nutmeg

3/4 cup

eggnog

1/2 cup

water
EGGNOG FROSTING
1 1/4 cup

s butter

1 1/4 cup

s shortening

10 cup

s powdered sugar

1/2 cup

eggnog

1 tbsp

rum extract

3/4 tsp

nutmeg
Instructions
1. Preheat oven to 350 degrees and line three 8 inch cake pans with parchment paper and grease the sides.
2. Beat butter and sugar until light in color and fluffy, 3-4 minutes.
3. Add vanilla extract and sour cream and mix until combined.
4. Add egg whites two at a time, scraping down the sides of the bowl as needed to make sure all is incorporated and smooth.
5. In a separate bowl, combine dry ingredients. In another bowl or measuring cup, combine eggnog and water.
6. Had half of the dry ingredients to the batter and mix until combined. Add eggnog/water mixture and mix until combined, scraping down the sides of the bowl as needed. Add remaining dry ingredients and mix until smooth.
7. Divide batter evenly between the three 8 inch pans and bake for 21-24 minutes, or until a toothpick inserted comes out with a few crumbs.
8. Allow cakes to cool in pans for 2-3 minutes, then remove to cooling rack to cool completely.
9. While cakes cool, make the frosting. Beat the butter and shortening together until smooth.
8. Add half of the powdered sugar and beat until smooth.
9. Add eggnog, rum extract and nutmeg and beat until smooth.
10. Add remaining powdered sugar and beat until smooth.
11. When the cakes are cool, remove the tops of the cakes with a large serrated knife so they are flat.
12. Place the first layer of cake on cake stand. Top with one cup of eggnog buttercream and spread into an even layer.
17. Add second layer of cake and add one cup of eggnog buttercream and smooth into a smooth layer.
18. Top cake with remaining cake layer.
19. Ice the outside of the cake with the remaining buttercream. Here's a [tutorial|https://www.lifeloveandsugar.com/2015/07/30/how-to-frost-a-smooth-cake-with-buttercream/] for getting a smooth finish and piping on the edges.
20. Store cake in fridge until ready to serve. Allow cake to sit at room temperature for 20-30 minutes before serving.
Notes
This can be made as cupcakes. Fill liners just over half way with batter and bake for 16-18 minutes, or until a toothpick inserted comes out with a few crumbs. Should make about 24 cupcakes. You should only need about half of the frosting recipe.
Enjoy!

You might also like:
Eggnog Spice Blondie Cheesecake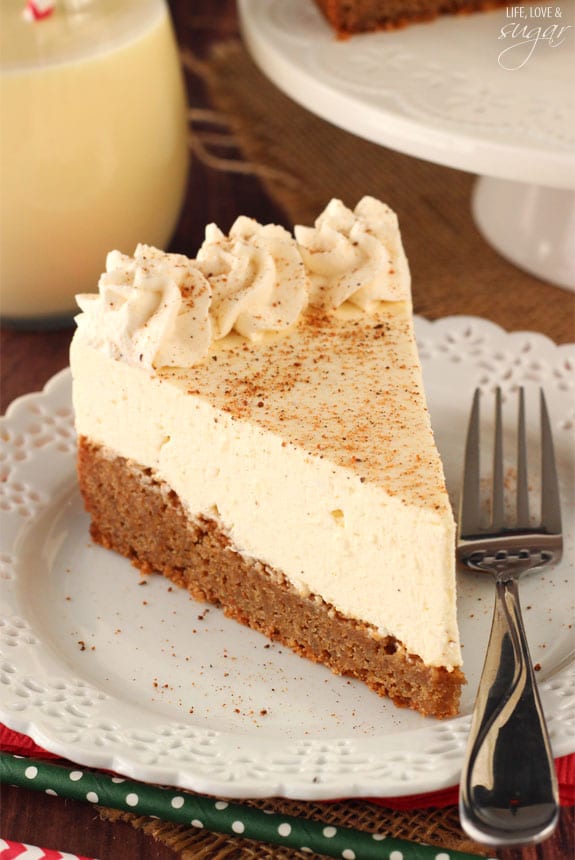 Sparkling Cranberry White Chocolate Cake

Gingerbread Cheesecake Cookie Cups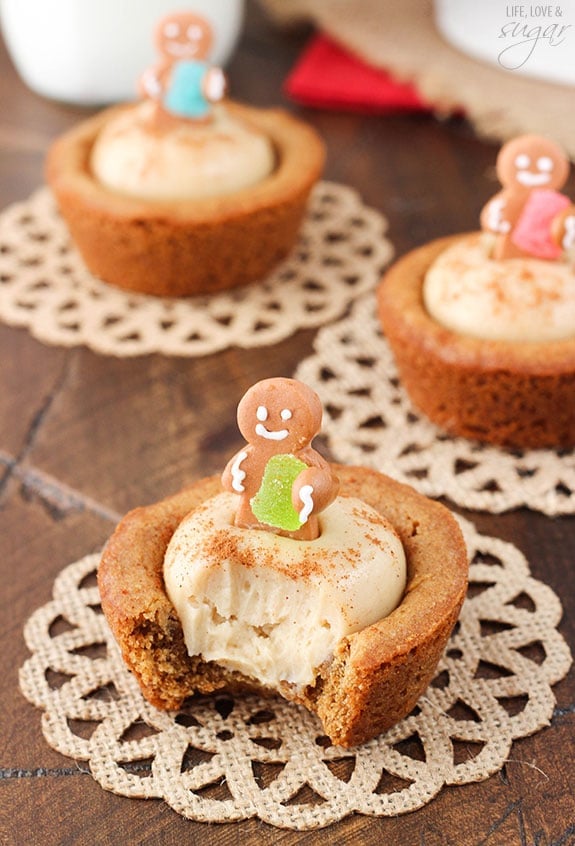 Recipes from friends:
Eggnog Dip from Wine and Glue
Eggnog Cookies from Chef in Training
Eggnog Fudge from I Heart Naptime