March 20, 2017
Pina Colada Layer Cake
This Pina Colada Layer Cake has moist layers of coconut cake, homemade pineapple filling and coconut frosting! It's decorated with toasted coconut, cherries and pineapple for a tropical treat that is begging to hang with you this spring! 🙂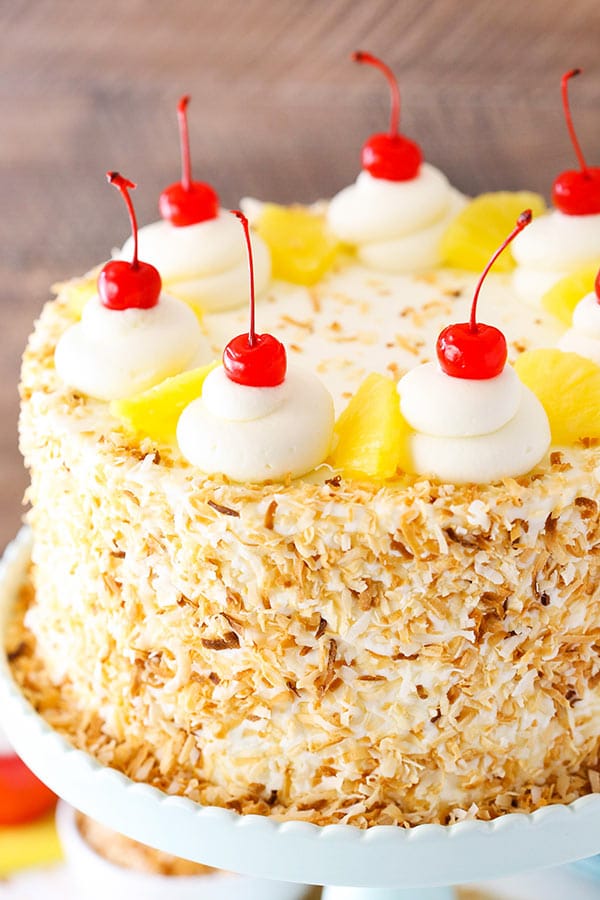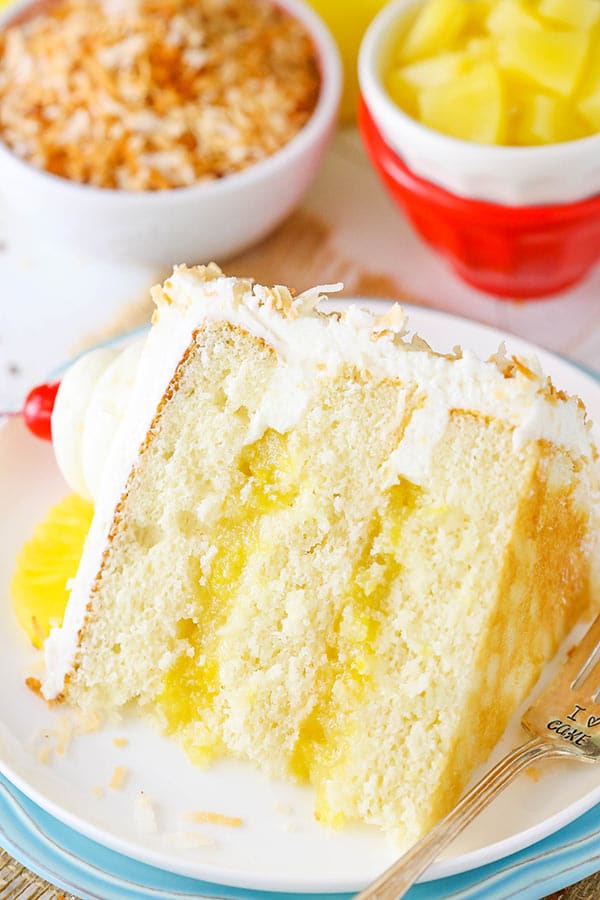 So I've been in Chicago for a few days now and tonight I'm spending a night at the Hard Rock Hotel. They have actual record players in the rooms with quite a few old school records and I'm digging it. They must be new because not a single one was open. I'm not going to lie, I was pretty pumped.
As soon as I got back to my room after dinner, I grabbed the only record I was interested in – Michael Jackson's "Thriller". I mean, naturally.
But having never used a record player before – ever – I was totally afraid to mess it up. How awful would it be if the first person to ever use this new record scratched it?! Ugh, I couldn't. After a few missed tries, I got it. It pretty much plays itself, which is good.
So here I am, jammin' out to "Billie Jean", snacking on some of my favorite Walkers Shortbread (love those travel sized packs) and getting some work done. What a way to roll. 😉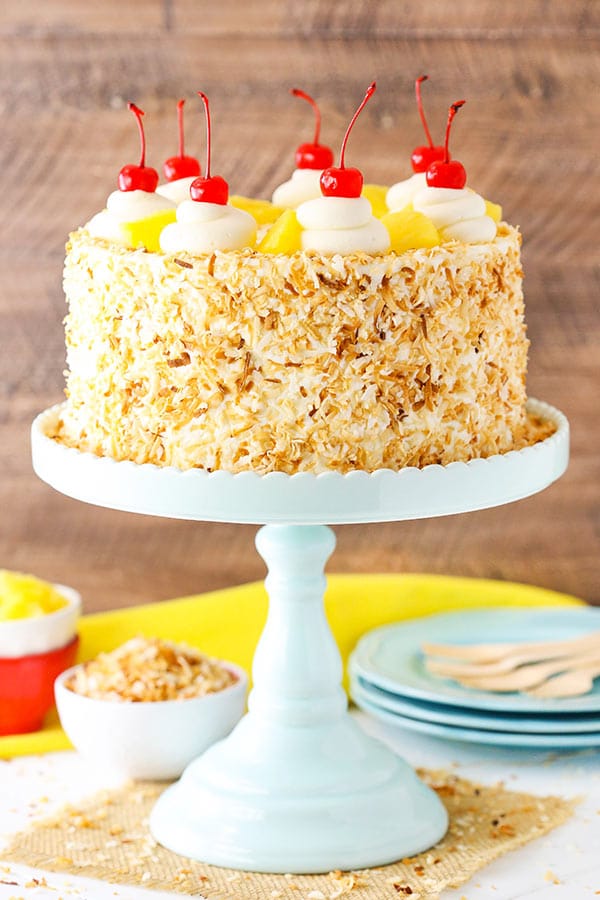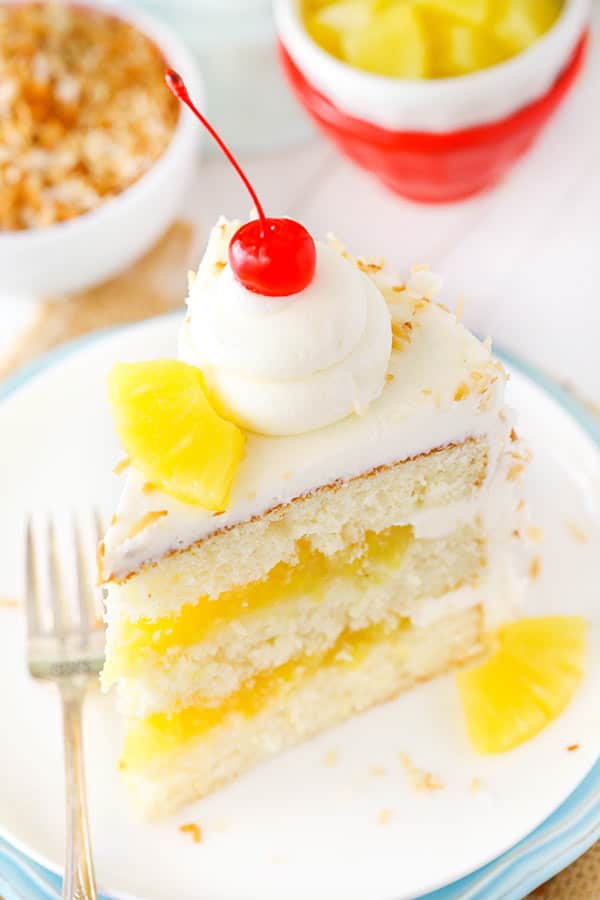 Did you know that today is the official first day of spring?! Not sure I've ever been more excited for spring and I don't know why. I'm pretty sure it means I'm vitamin D deficient, lol. Time to get out in the sun!
So let's celebrate with this Pina Colada Layer Cake! It's so spring-y!
The cake starts with three layers of light and fluffy coconut cake. The first step is the creaming of the butter and sugar and it's a must! You want to actually be able to see that the mixture has lightened in color and is fluffy as opposed to smooth. If you're cake shrinks after baking or ends up dense, it's quite possible the creaming wasn't sufficient.
The next component – and one of my favorite parts – is the pineapple filling. It's much like a homemade pineapple jam, but not quite as thick and jam-y. It certainly thickens up enough when cold, but jam tends to be even firmer. I love the fresh pineapple flavor and the little chunks from the crushed pineapple. It's delicious and so easy to make. You make it right on the stove and it thickens up with the help of cornstarch and some boiling. Once it cools, it's ready for the cake.
The frosting is flavored with coconut, like the cake. You'll want to pay attention to the consistency of the frosting and not have it get too thin/soft. Since you'll need to pipe a dam around the cake layers to hold the pineapple filling in, you'll want the frosting to stay put and not slide around or your cake won't stand the test of time. Firmer frosting will help with that.
The cake is decorated with some toasted coconut, a little pineapple and few cherries. What pina colada is complete without a cherry? Perfection!
The soft, moist coconut cake is perfect with the pineapple filling. The filling adds moisture to the cake around it and everything is just perfect together. I'm a big, big fan – I hope you are too!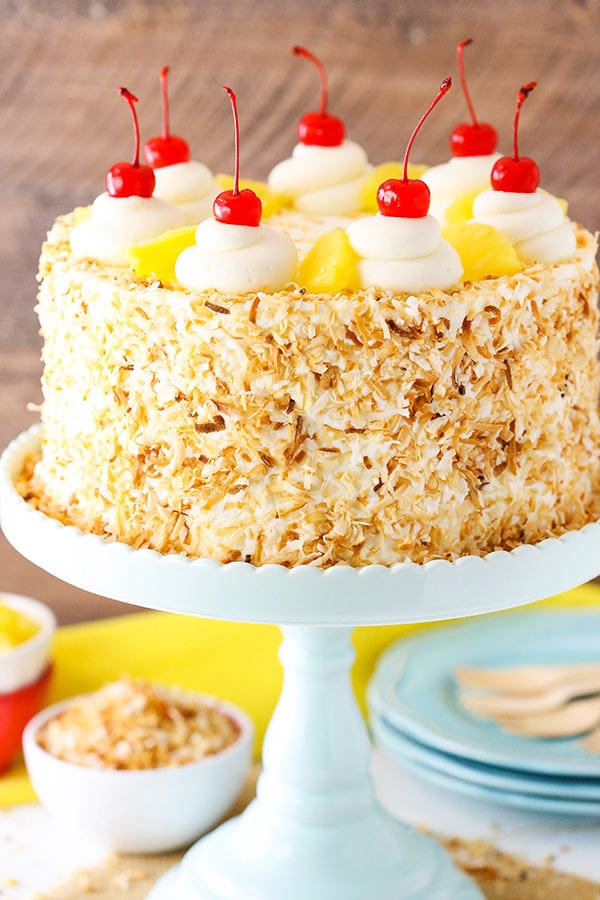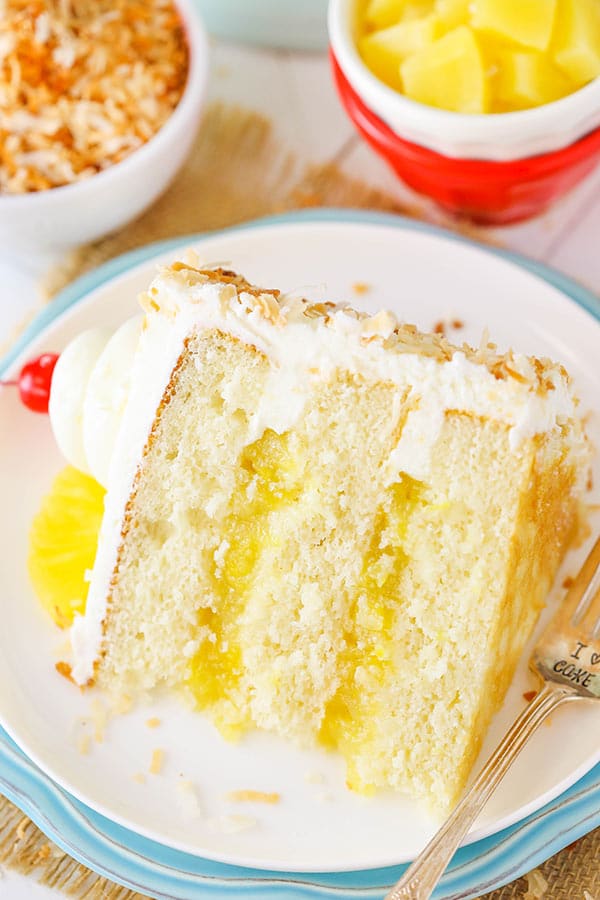 Pina Colada Layer Cake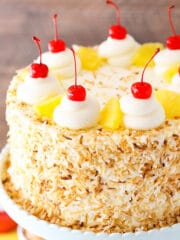 Moist coconut cake layers with pineapple filling, coconut frosting and toasted coconut! A taste of the tropics!
Yield:

12

-

14

Slices

1

x
Category:

Dessert

Method:

Oven

Cuisine:

American
Ingredients
PINEAPPLE FILLING
2/3 cup

(138g) sugar

3 tbsp

cornstarch

16 oz

crushed pineapple, with juice

2/3 cup

(160ml) water

1/4 tsp

vanilla extract
COCONUT CAKE LAYERS
3/4 cup

(168g) unsalted butter, room temperature

1 1/2 cup

s (310g) sugar

3/4 cup

(173g) sour cream, room temperature

1 tbsp

coconut extract

6

large egg whites, room temperature

2 1/2 cup

s (325g) all purpose flour

4 tsp

baking powder

½ tsp

salt

3/4 cup

(180ml) milk, room temperature

1/4 cup

(60ml) water, room temperature
COCONUT FROSTING AND DECOR
1 1/4 cup

(280g) butter

1 1/4 cup

s (237g) shortening

10 cup

s (1150g) powdered sugar

1 1/2 tbsp

coconut extract

6

–

7

tbsp (90-105ml) water or milk

2 cup

s (153g) sweetened coconut flakes
Cherries
Sliced pineapple
Instructions
TO MAKE THE PINEAPPLE FILLING:
1. Combine the sugar and cornstarch in a large saucepan.
2. Stir in the pineapple, including the juice, and the water.
3. Cook over medium-high heat, stirring regularly until mixture thickens and come to a boil, about 10 minutes.
4. Allow to boil for 1 1/2 minutes, then remove from heat.
5. Stir in vanilla extract and set aside to cool.
TO MAKE THE CAKE LAYERS:
6. Prepare three 8 inch cake pans with parchment paper circles in the bottom and grease the sides. Preheat oven to 350°F (176°C).
7. In a large mixing bowl, cream the butter and sugar together until light in color and fluffy, about 3-4 minutes. Do not skimp on the creaming time.
8. Add sour cream and coconut extract and mix until well combined.
9. Add egg whites in two batches, mixing until well combined after each. Scrape down the sides of the bowl as needed to be sure all ingredients are well incorporated.
10. Combine dry ingredients in a separate bowl, then combine the milk and water in a small measuring cup.
11. Add half of the dry ingredients to the batter and mix until well combined. Add the milk mixture and mix until well combined. Add remaining dry ingredients and mix until well combined. Scrape down the sides of the bowl as needed to be sure all ingredients are well incorporated.
12. Divide the batter evenly between the cakes pans and bake for about 21-23 minutes, or until a toothpick comes out with a few crumbs.
13. Remove the cakes from the oven and allow to cool for about 2-3 minutes, then remove to cooling racks to cool completely.
TO MAKE THE BUTTERCREAM:
14. In a large mixer bowl, beat the butter and shortening together until smooth.
15. Slowly add half of the powdered sugar and mix until smooth.
16. Add the coconut extract and 5-6 tablespoons of water or milk and mix until smooth.
17. Slowly add the remaining powdered sugar and mix until smooth. Add additional water or milk, as needed.
TO ASSEMBLE THE CAKE:
18. To toast the coconut, preheat the oven to 400°F (204°C). Spread the coconut out evenly over a parchment lined cookie sheet. Bake until toasted, about 5-8 minutes, tossing regularly so that it toasts evenly.
19. To put the cake together, use a large serrated knife to remove the domes from the top of the cakes so that they're flat. Place the first cake on a serving plate or a cardboard cake round.
20. Pipe a dam of coconut frosting around the edge of the cake, then spread about 1 cup of pineapple filling evenly into the center.
21. Add the second layer of cake and another dam of coconut frosting and cup of pineapple filling. You may end up with a little bit of pineapple filling left over.
22. Top the cake with the remaining layer and frost the outside of the cake. Refer to my tutorial for frosting a smooth cake, if needed, or watch the video above.
23. Press the toasted coconut into the sides of the cake.
24. Use the remaining buttercream to pipe swirls around the top of the cake. I used Ateco tip 808.
25. Top the swirls with cherries and add some sliced pineapple, if desired.
Enjoy!


You might also like: