Strawberry Snack Cake
This Strawberry Snack Cake is perfect for snacking, breakfast, dessert – you name it! It's super moist and full of strawberries and a cream cheese layer and topped with cinnamon sugar!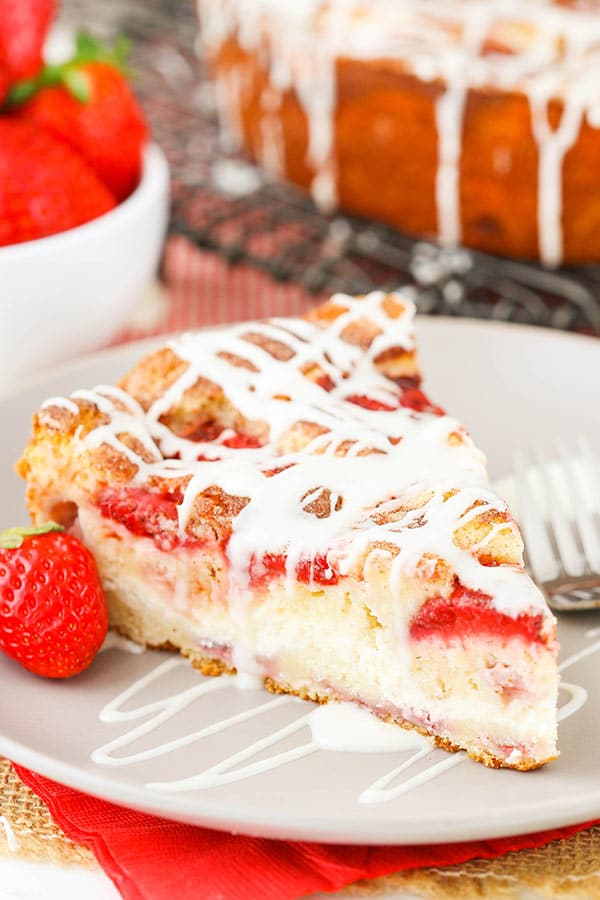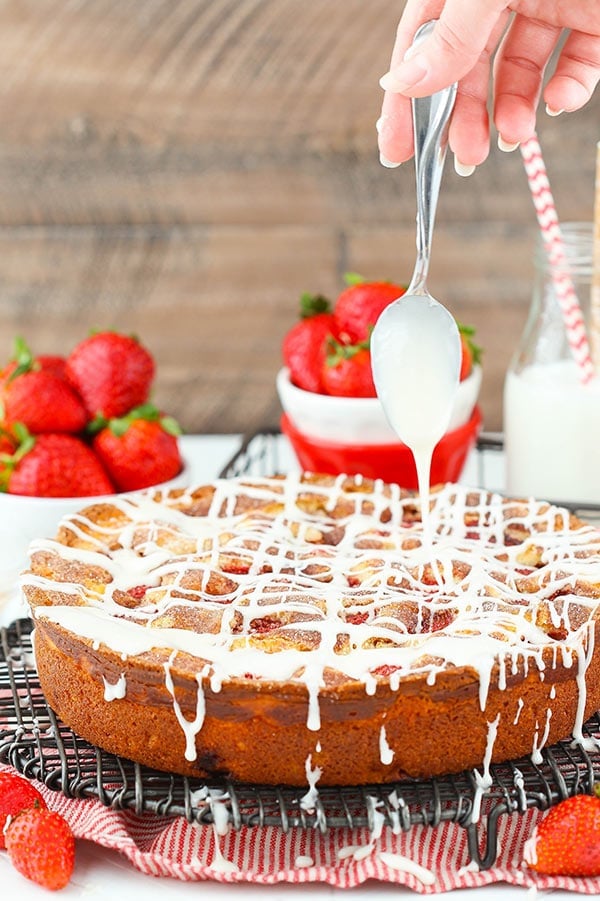 So occasionally I share with you when our church is in the middle of a particularly good series or something strikes me about it. This week we were on the second message of a series about David. I really enjoyed the first week, but this week was even better. David was a warrior and eventually a King and was thought by many to be a man after God's own heart and a very faithful man. The first message touched on that and what it looked like for him to be faithful.
This past week though looked a time when David wasn't quite so faithful. Fear, anger and loneliness led him astray and he made some bad decisions that had even worse consequences. One of the things I loved about Andy sharing this particular part of David's life is that it's so real. How often does fear or anger cause you to do something you wouldn't have wanted to do? I know I can be gripped by both at times and can remember many times where fear felt almost crippling. It often happens when we try to take things into our own hands instead of relying on the Lord.
The series has been such a great reminder and I'm excited to see where it goes the next couple of weeks. If you have time, grab a slice of this cake and watch or listen to it. It's a good one. 🙂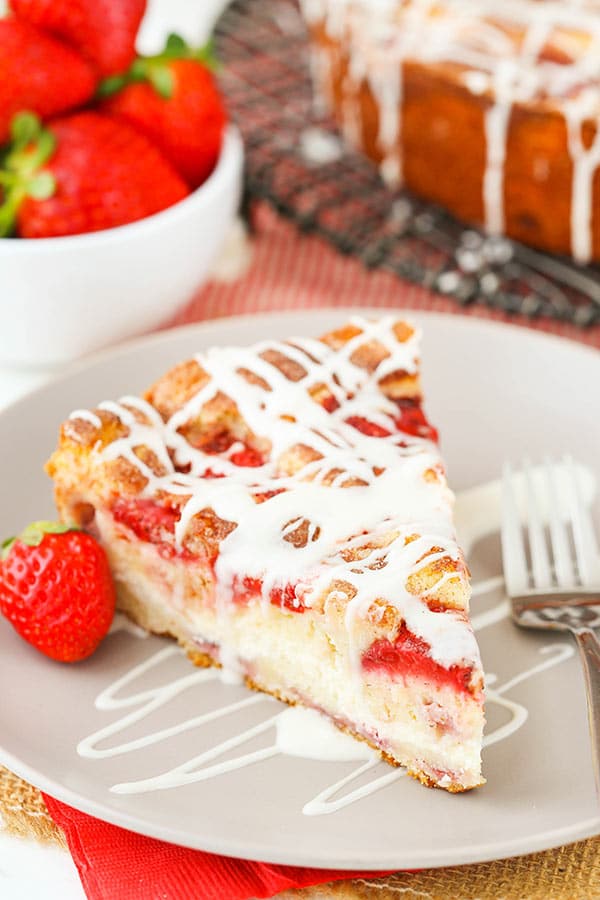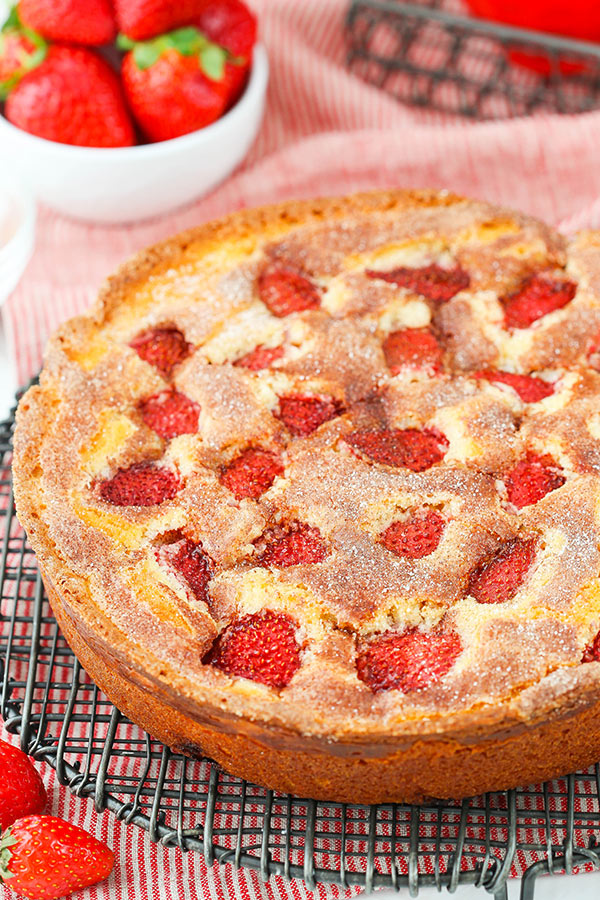 And as far as cake is concerned, this is also a good one. The base of the cake itself is wonderfully moist and just dense enough to hold the strawberries and cream cheese filling in place. It's got some extra moisture and flavor from the sour cream in there and I'm a big fan. There are not only strawberries on top of the cake, they are also chopped up and mixed into the cake batter.
In the middle of the cake is a cream cheese layer. It's got a little bit of sugar, egg and some vanilla extract. It gives it a bit of a cheesecake flavor and is perfect as the cream to the strawberries. I did do a fair amount of experimenting with this layer – using more or less filling – or even none at all. If you want the strawberries to sit nicely on top of the baked cake, you'll not want to adjust this layer.
On the top of the cake are some strawberries, cut in half, then added to the top of the cake. Cinnamon sugar is then sprinkled over the top of the cake in a nice layer that covers it well. Don't be tempted to press the strawberries down into the cake, just gently set them on top. They will sink just a bit during baking. I also added a little glaze to the top of the cake. It's delicious with and without it, so feel free to leave it off, if you prefer.
This cake was a HUGE hit! It's similar to a coffee cake in texture, minus the streusel. It's hard to decide if I liked it warmer and fresher out of the oven, or after it had been refrigerated for a bit. I'll say that it gets denser as it sits and when it's cold, so if you prefer a lighter and fluffier texture, let it cool to about room temperature and then devour! I brought this cake to our church group shortly after being baked and at room temperature and there was barely a crumb left. So, so good!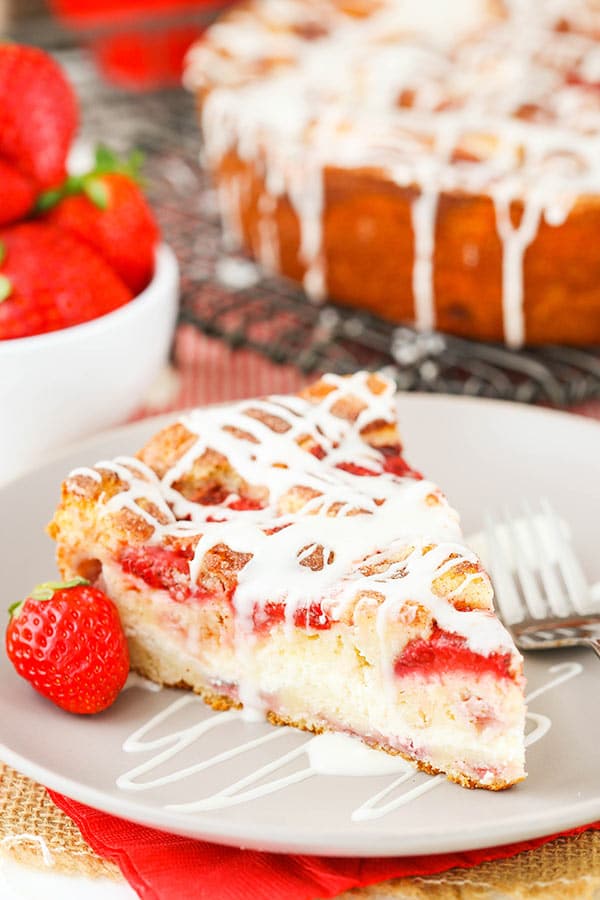 Strawberry Snack Cake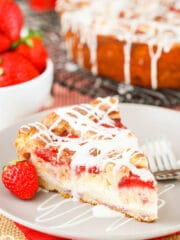 Yield:

14

-

16

Slices

1

x
Category:

Dessert

Method:

Oven

Cuisine:

American
Ingredients
CREAM CHEESE FILLING
8 oz

cream cheese

1/4 cup

(52g) sugar

1

egg white

1 tsp

vanilla extract
STRAWBERRY CAKE
3/4 cup

(155g) sugar

9 tbsp

(126g) unsalted butter, room temperature

6 tbsp

(86g) sour cream

6 tbsp

(90ml) milk

1

egg

1

egg yolk

1 1/2 tsp

vanilla extract

1 1/2 cup

s (195g) all-purpose flour

1 1/2 tsp

baking powder

1/4 tsp

salt

3/4 cup

(104g) chopped strawberries, chopped

7

–

10

strawberries, cut in half
CINNAMON SUGAR TOPPING
3/4 tsp

cinnamon

2 tbsp

sugar
ICING
3/4 cup

powdered sugar

1

–

2

tbsp milk

1/2 tsp

vanilla extract
Instructions
1. Preheat oven to 350 degrees. Prepare a 9 inch cake pan with a circle of parchment paper in the bottom and grease the sides.
2. To prepare the cream cheese filling, beat cream cheese and sugar together with a mixer until smooth.
3. Add the egg white and vanilla extract and mix until well incorporated. Set aside egg yolk for cake batter. Set aside cream cheese mixture.
4. To make the cake batter, combine the sugar and butter and beat on medium speed until light in color and fluffy, 3-4 minutes. Don't skimp on the creaming time.
5. Add the sour cream and mix until well incorporated.
6. Add the milk and mix until well incorporated.
7. Add the egg, egg yolk and vanilla extract and mix until smooth.
8. Combine the dry ingredients in a separate bowl.
9. Add the dry ingredients to the batter and mix until smooth.
10. Gently stir in the chopped strawberries
11. Add half of the batter to the prepared cake pan and spread evenly.
12. Add spoonfuls of the cream cheese filling over the batter, then gently spread into an even layer.
13. Add spoonfuls of the remaining cake batter over the cream cheese filling, then gently spread into an even layer.
14. Add the strawberry halves to the top of the cake. Don't press them into the cake, just set them on top. They will sink a bit when baking.
15. Combine the cinnamon and sugar for the topping and sprinkle it evenly over the top of the cake.
16. Bake the cake for 60-65 minutes or until browned on top and a toothpick inserted comes out moist, but with a few cake crumbs. It may have some moisture from the cream cheese layer, but the cake should be crumbs.
Remove cake from the oven and allow to cool for about 15 minutes, then remove to a cooling rack to finish cooling.
17. To make the icing, combine the powdered sugar, milk and vanilla extract and whisk until smooth. Feel free to add more milk or powdered sugar, as needed to thicken or thin the icing.
18. Drizzle the icing over the cake.
19. This cake can served after cooling at room temperature, or refrigerated and served cold. It is denser after being refrigerated.
Enjoy!