November 24, 2014
Eggnog Cupcakes
These Eggnog Cupcakes are full of awesome eggnog flavor! They've got eggnog in the cupcake and the icing – yes! You know I like my flavors strong and these cupcakes are no exception. 🙂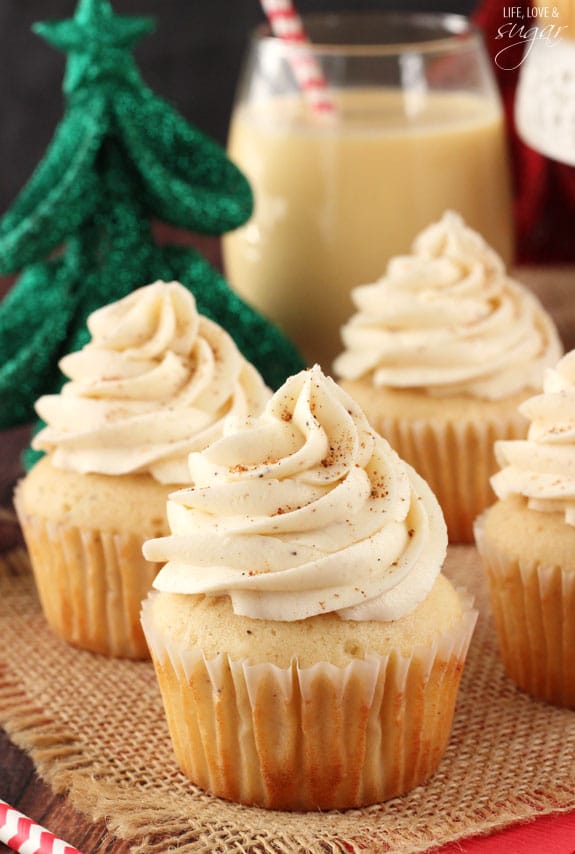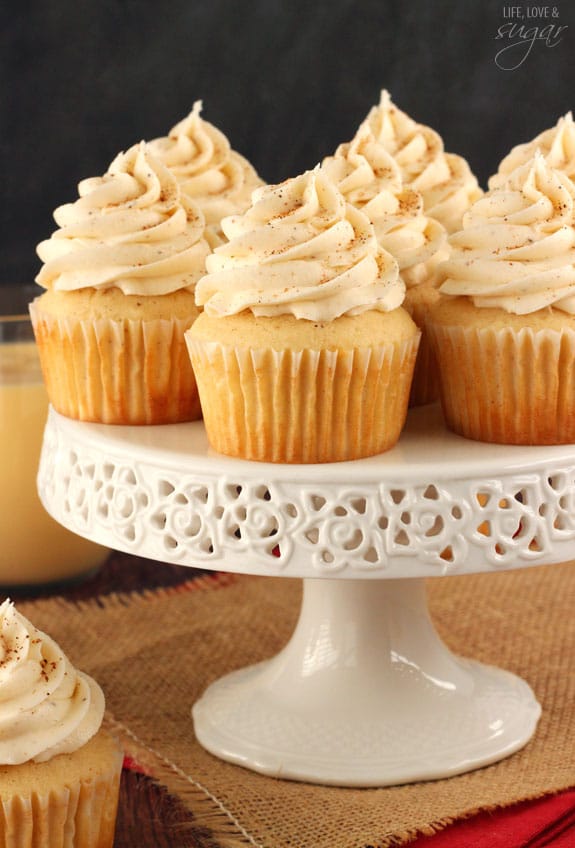 So we had a pretty nice, relaxing weekend. Saturday morning we were up way too early, but it was for a good cause. One of the women in our small group works for the fundraising department of St. Jude's Childrens Hospital, so we joined in for the Give Thanks Walk. We brought Jessie and she loved the 2 1/2 mile walk and being outside with us. She totally could have gone another 2 1/2 miles.
Then there was a food drive at church Sunday and they've been collecting Operation Christmas Child boxes, so we went and got food for the food drive and all kinds of things for the boxes. I love doing the OCC boxes. It always reminds me of how fortunate we are. Did you know that you can pay for the shipping of the boxes online and they'll tell you where your boxes end up? We've done that the last few years and I'm always excited to see where around the world they go. We've had boxes go to Madagascar, Russia and other countries. Pretty cool.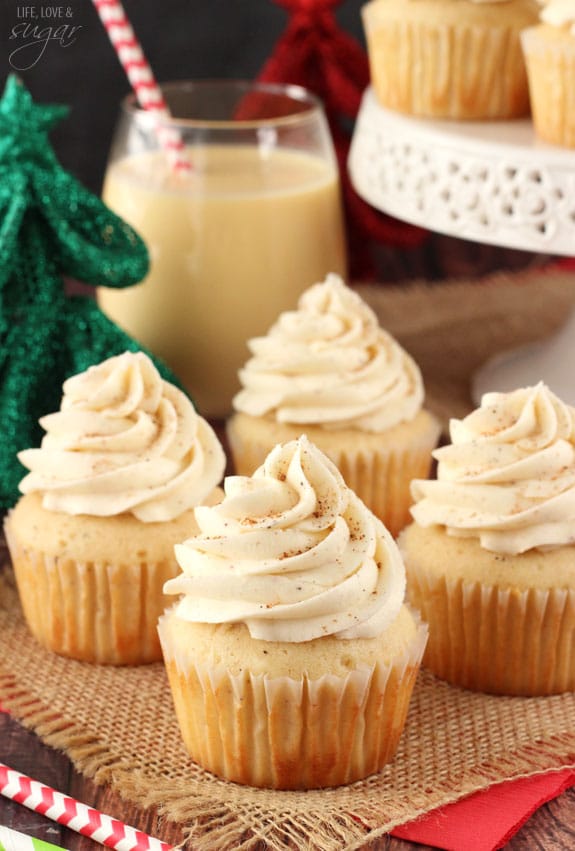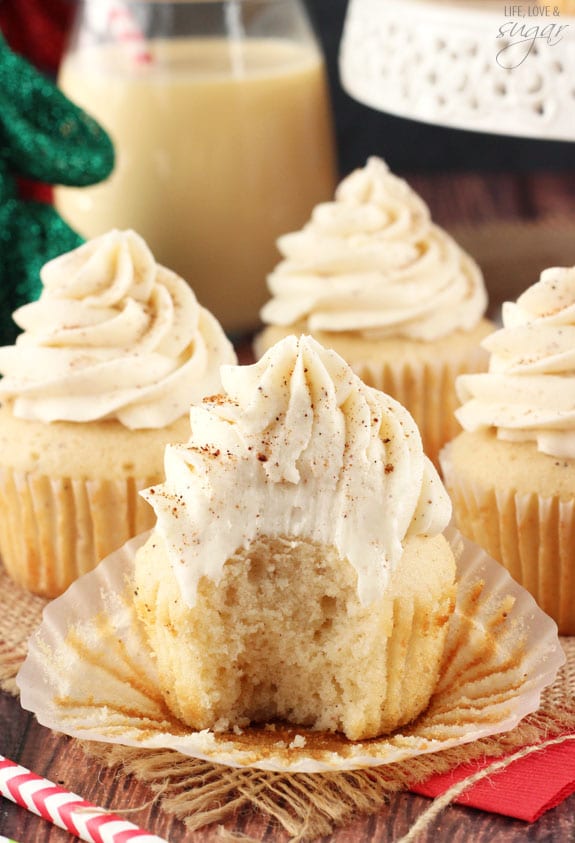 We also went and saw Mockingjay Part 1 (third movie in the Hunger Games series). I've read the books, so I basically knew what to expect. I know it's a little darker and different than the first two and honestly didn't have high expectations. It totally surprised me though! I really enjoyed it and thought they did a great job. I think overall the Hunger Games movies have been done really well.
I'm kind of junkie when it comes these series that have been coming out over the last few years. I'm a much bigger Twilight fan than Hunger Games fan and found most of those movies to be disappointing – perhaps with the exception of the last two. And I'm totally worried that the second Divergent movie – Insurgent – is going to be kind of rough. The first trailer for it seems a little odd.
We also started getting our Christmas decorations out. I'm ready for the season! I've been super excited about eggnog since it first showed up it stores. I know not everyone loves it, but I'm always counting the days until I can get it. The hubs and I both are big fans. Our favorite brand is Southern Comfort, hands down. We've tried a number of brands and honestly, I won't even bother if I can't find that one.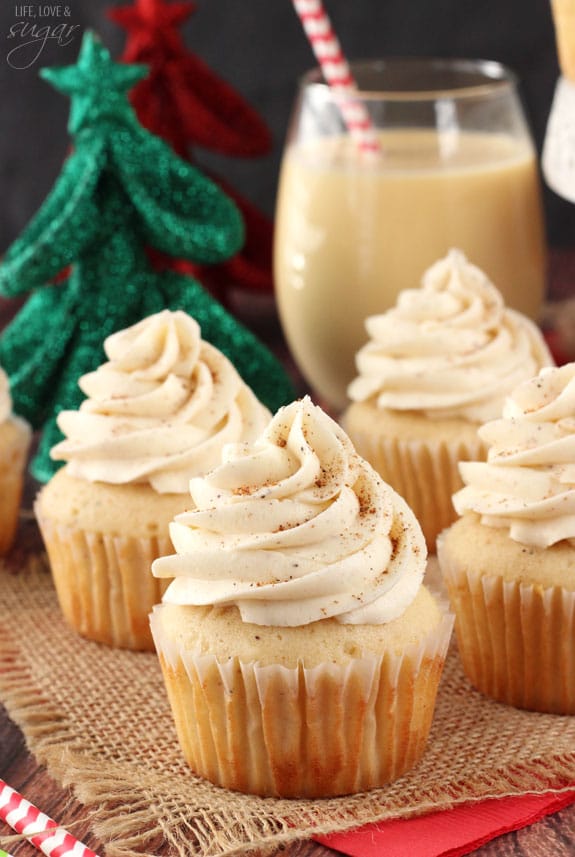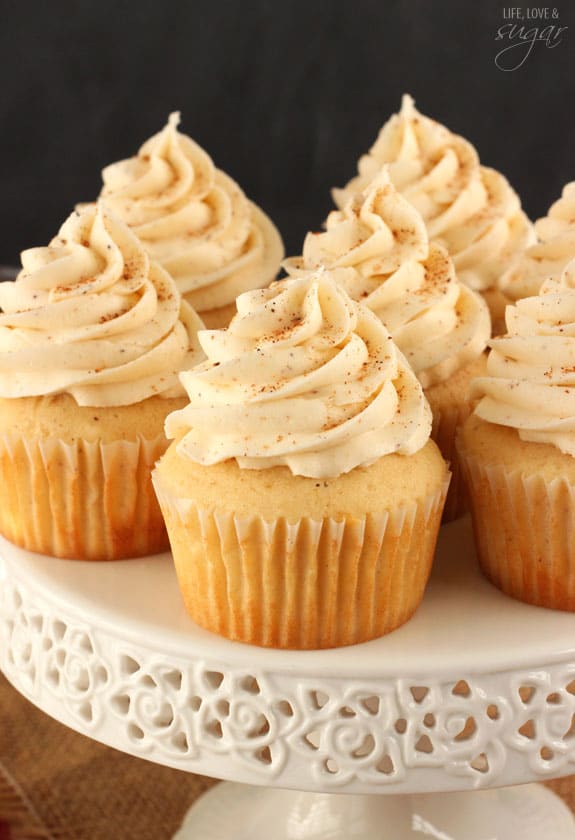 So when it came to making these cupcakes, I got three cartons of our favorite eggnog. Not because these cupcakes need three cartons, but because I knew if I didn't get that many it'd all be gone before I could even say "it's time to bake a cupcake."
I made a few versions of this cupcake before being happy with it. I played around mostly with the amount of eggnog, nutmeg and rum flavoring. The rum extract can be somewhat strong and nutmeg is totally essential, so I had to get those right. Ultimately I ended up just using the rum extract in the icing, not the cupcake. You can exclude it completely, if you prefer.
I absolutely love these cupcakes and so did my taste testers. I can't wait to make them again! Bring on Christmas and bring on the eggnog! I know we still have to get through Thanksgiving on Thursday, and I can't wait for my sweet potatoes with marshmallows, but I'm allowed to get pumped about Christmas too, right? #thatswhatithough
We are actually planning on getting our Christmas tree tonight and I can't wait! 🙂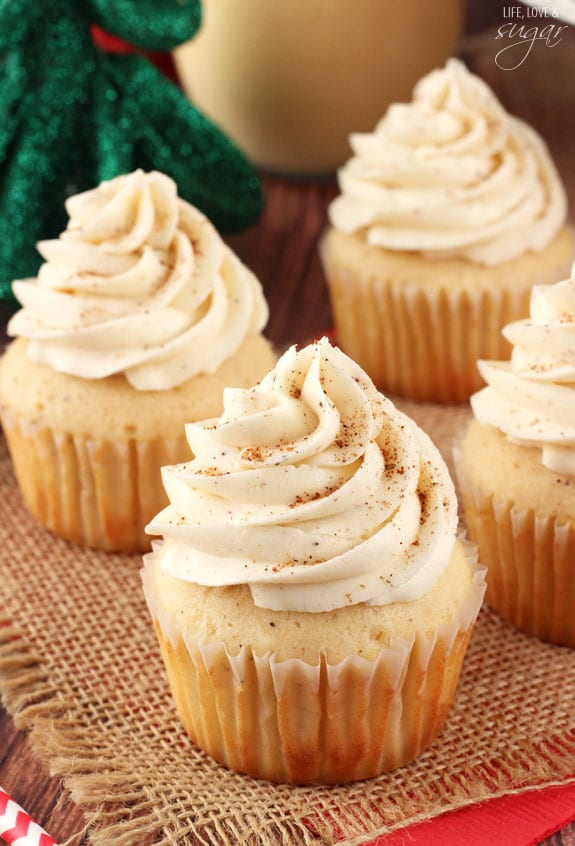 You might also like:
Eggnog Layer Cake
Eggnog Cheesecake
Eggnog Crumb Cake
Eggnog Icebox Cake
Soft and Chewy Eggnog Cookies
Baked Eggnog Donuts
Shop the recipe

Eggnog Cupcakes
Yield:

12

-

14

Cupcakes

1

x
Category:

Dessert

Method:

Oven

Cuisine:

American
Ingredients
EGGNOG CUPCAKES
1 2/3 cup

s (240g) all purpose flour

1 cup

(200g) sugar

1 1/4 tsp

baking powder

3/4 cup

salted butter (170g), room temperature

3

egg whites

1/2 tsp

vanilla extract

1/2

–

3/4

tsp nutmeg

3/4 cup

(180ml) eggnog

1/4 cup

(60ml) milk
EGGNOG ICING
1/2 cup

(115g) butter

1/2 cup

(95g) shortening

4 cup

s (480g) powdered sugar

4 tbsp

(60ml) eggnog

1/4 tsp

rum extract

1 tsp

nutmeg
Instructions
CUPCAKES:
1. Preheat oven to 350 degrees.
2. Whisk together flour, sugar and baking powder in a large mixing bowl.
3. Add butter, egg whites, vanilla, nutmeg, eggnog and milk and mix on medium speed just until smooth. Do not over mix.
4. Fill cupcake liners a little more than half way.
5. Bake 18-20 minutes.
6. Allow to cool for 1-2 minutes, then remove to cooling rack to finish cooling.
ICING:
1. Combine butter and shortening and mix until smooth.
2. Add 2 cups of powdered sugar and mix until smooth.
3. Add eggnog, rum extract and nutmeg and mix until smooth.
4. Add remaining powdered sugar and mix until smooth.
5. Add a little more eggnog, in necessary, until desired consistency is reached.
6. Top cupcakes with icing.
Notes
You may notice little bits of butter in the batter, but that's ok. They will melt into the cupcake as they bake.
Enjoy!