December 17, 2013
Soft and Chewy Eggnog Cookies
These Eggnog Cookies are fantastic. They are insanely soft and chewy and you need to make them. That is all.
Ok that's not really all. I'm sure you need more than that to believe me, but it's true.
Eggnog is one of my favorite holiday flavors. I love them all, but as soon as eggnog hits the store we start drinking it. We've been through more cartons than I can count and it's not from baking, except for these cookies.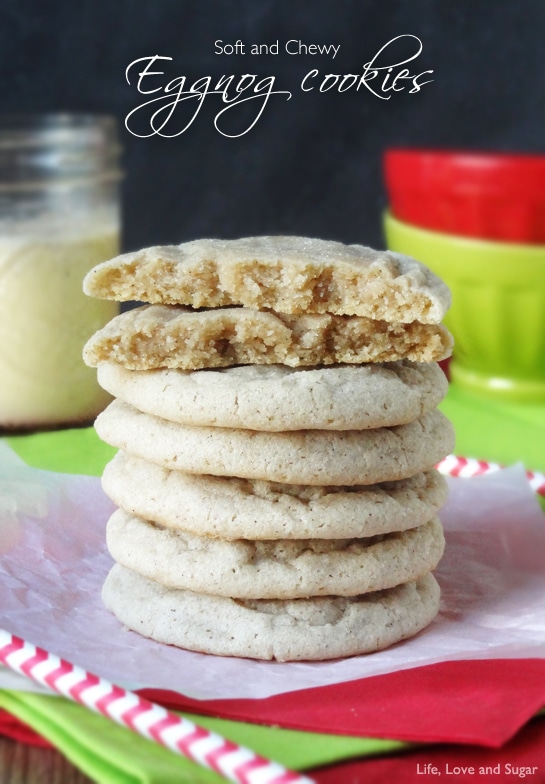 We're even picky about our brand of eggnog. They are not all the same. Our favorite is the Southern Comfort brand (it doesn't have alcohol in it already in case you're wondering). I have to make special trips out of the way to Wal-Mart to get it. Because of that, we've tried multiple other brands, but they just aren't the same. So I keep going out of my way for the good stuff.
Naturally, when I decided to make an eggnog cookie it needed to not just have eggnog in it, but it needed to really taste like eggnog. And these cookies fit the bill! They are perfectly soft, chewy and eggnog flavored.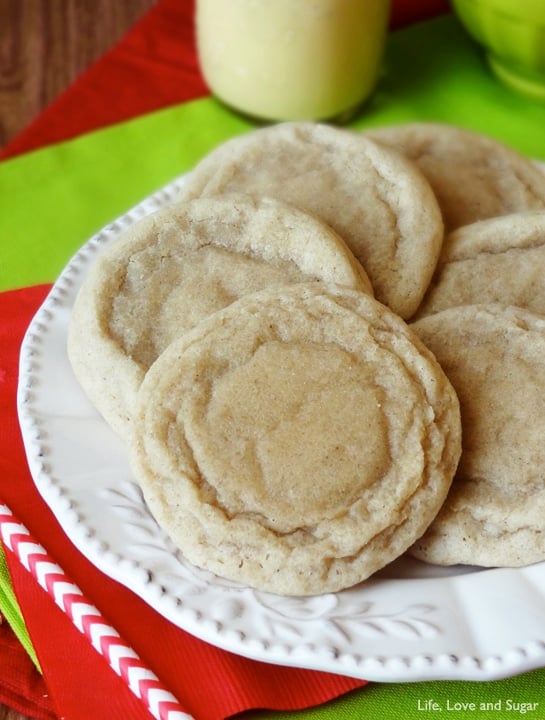 I think they are the softest cookies I've ever made. The edges are only slightly crunchy – just enough to hold the cookie together. They don't even really brown. They just stay soft. For days. Seriously awesome. And did I mention eggnog-y?
And did you know that baking cookies can be dangerous? And not for the reasons you might think. No, the day I made these cookies with a friend of mine the danger came in the form of our neighbor's kids.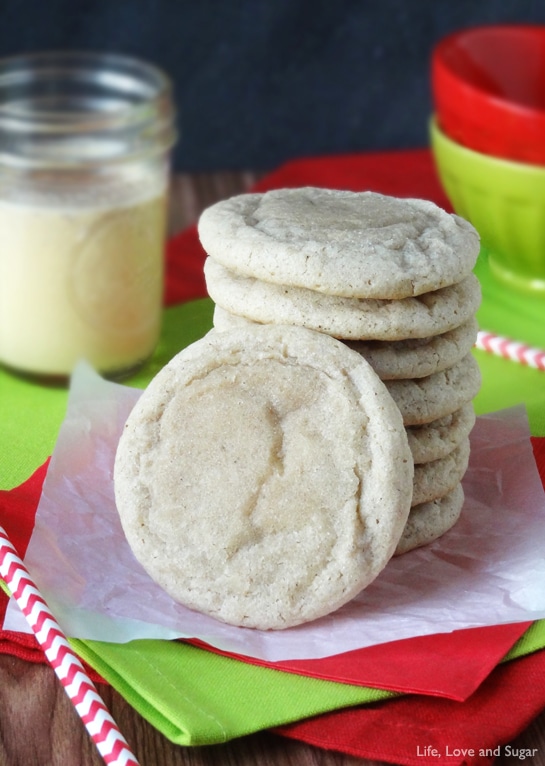 Imagine you're in the kitchen, which is on the back side of the house with basically a wall of glass windows and doors. You're baking cookies and both of your dogs are running around begging for a crumb. Then BANG! Your glass door completely shatters! Your friend grabs the dogs for fear that whoever shot will keep shooting and huddles in the corner of the kitchen.
Another window had been shot earlier in the day (but only left a hole in the window, the whole thing didn't shatter) and the BB was still sitting there so I knew it was BBs and not actual bullets. So I took off out of the house to find who did it.
Long story short, the neighbor tried to deny it but everything got taken care of and our window has been fixed. But who knew making cookies in the 'burbs could be so crazy! I will never forget the day I made these cookies. 🙂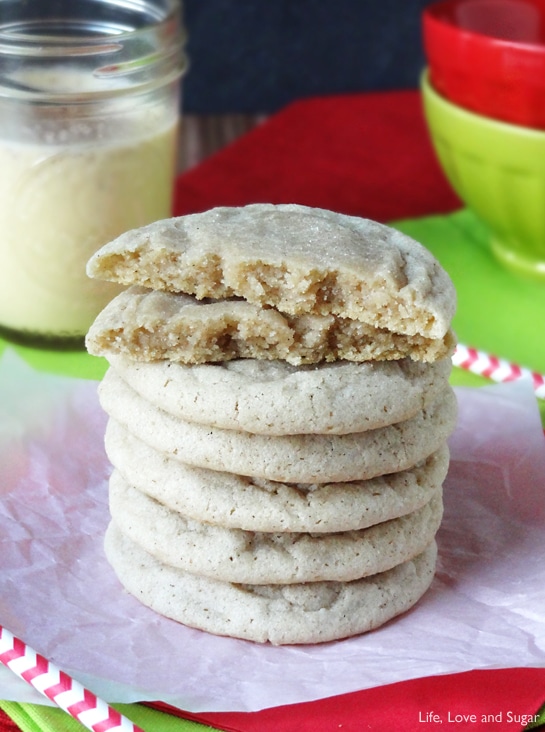 Fortunately my baking friend is not afraid to come back to our house. She knows this was a rare occurrence. We really do live in a safe neighborhood.
Hopefully you have a less dangerous experience baking cookies than I did. No matter how you decide to do it though, you need to make these. You won't be able to stop eating them. And that's what Christmas is for, right? Over-eating? Or is that Thanksgiving? I say both! 🙂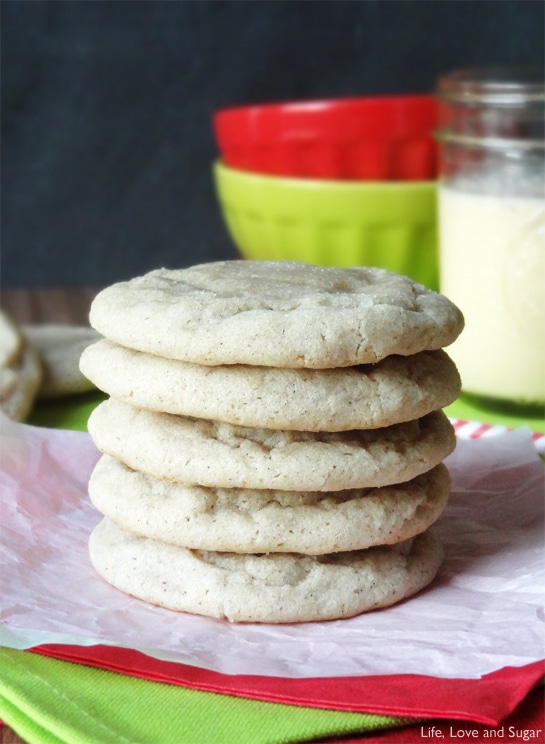 Soft and Chewy Eggnog Cookies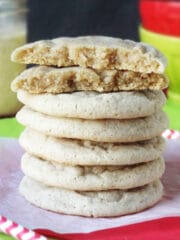 Yield: About

40

Cookies

1

x
Category:

Dessert

Method:

Oven

Cuisine:

American
Ingredients
1 1/2 cup

s butter

2 cup

s sugar

1/2 cup

eggnog

2

eggs

5 cup

s flour

1/2 tsp

salt

2 tsp

baking soda

1 tsp

cinnamon

2 tsp

ground ginger

1/2 tsp

cloves

2 tsp

vanilla
granulated sugar
Instructions
1. Cream butter and sugar together for 5-7 minutes, until light and fluffy.
2. Add the eggnog and eggs and beat until well combined.
3. Add the dry ingredients to the wet ingredients and mix until smooth.
4. Make balls about 2 tbsp in size, roll in granulated sugar and place on cookie sheet covered with parchment paper.
5. Bake at 350 degrees for 8-10 minutes.
6. Allow cookies for to cool for 1-2 minutes on cookie sheet, then move to a cooling rack to finish cooling.
Recipe modified from Up in Cumming Magazine.
Enjoy!

This post linked to Thirty Handmade Days, Living Well Spending Less, Tidy Mom, Lamberts Lately, What's Cooking Love?, Shaken Together, The Bitter Side of Sweet, Love Bakes Good Cakes, Simply Sweet Home, Simple Living and Eating, Walking on Sunshine and A Glimpse Inside.
You might also like:
Eggnog Spice Blondie Cheesecake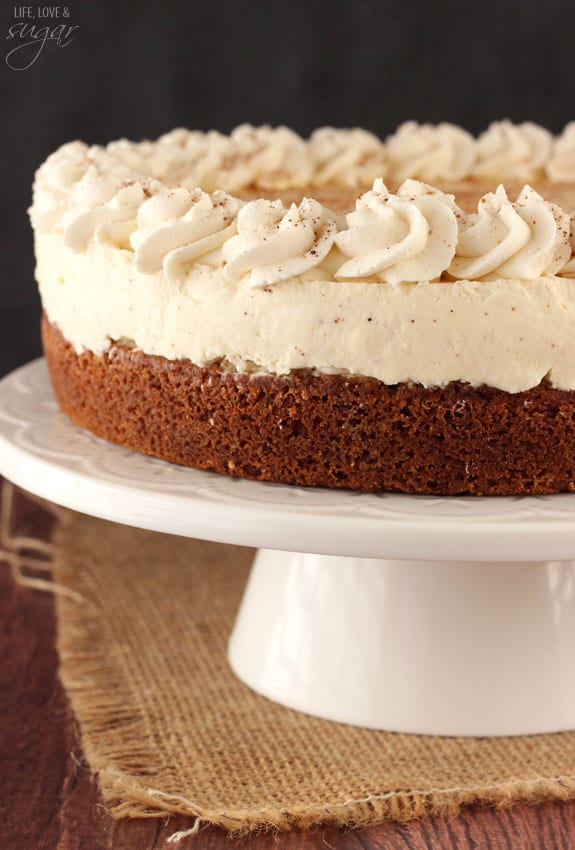 Cranberry White Chocolate Chip Cookies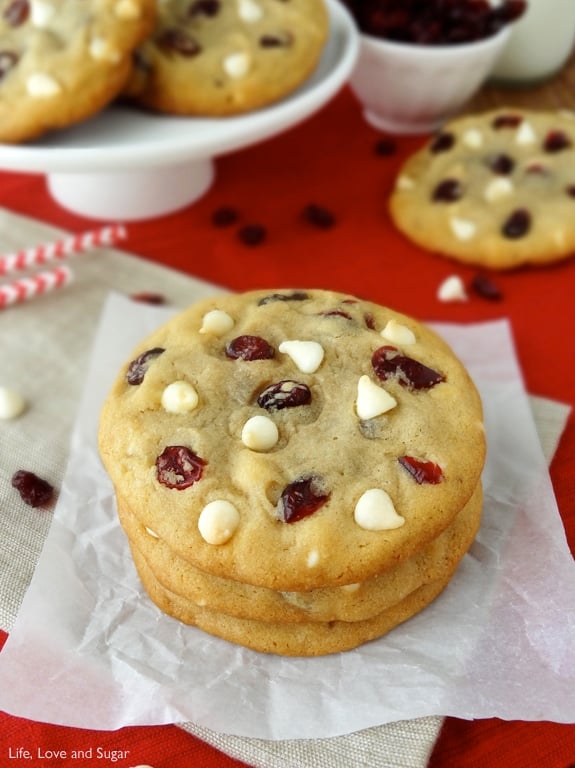 Gingerbread Caramel Gooey Bars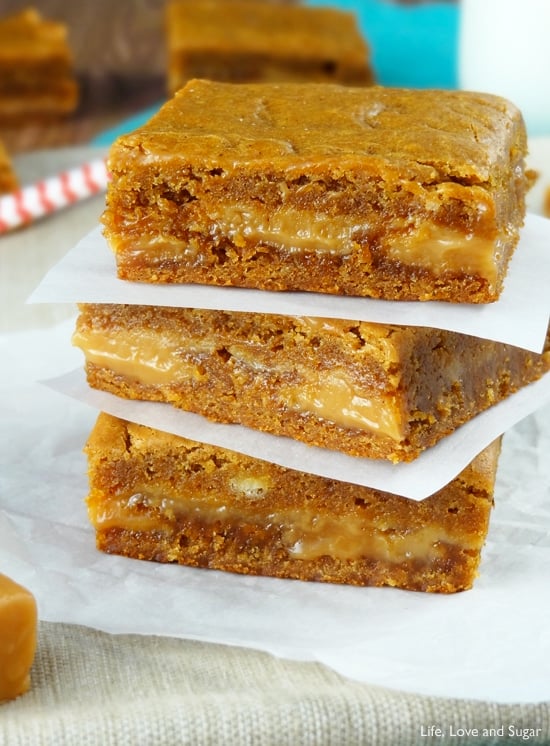 Double Mint Chocolate Chip Cookies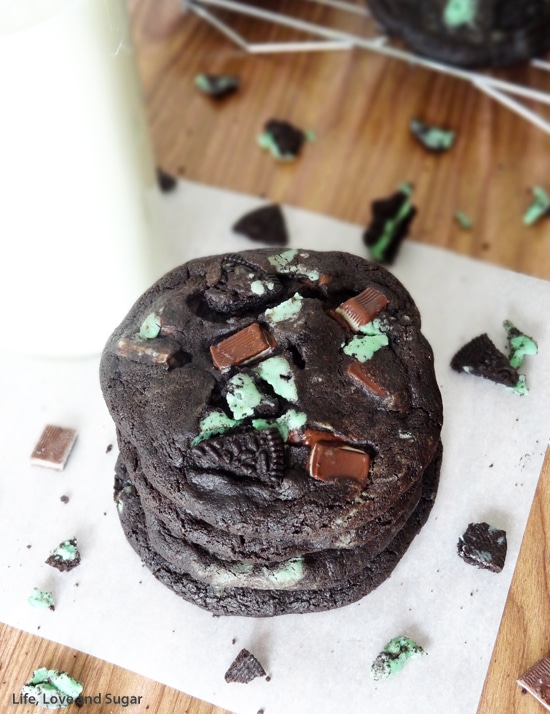 Peppermint Brownie Ice Cream Cake