These are seriously the BEST Southern Praline Pecans! With the amazing flavor of brown sugar and butter, these are pure heaven! A little bit candy and a little bit cookie, they melt right in your mouth!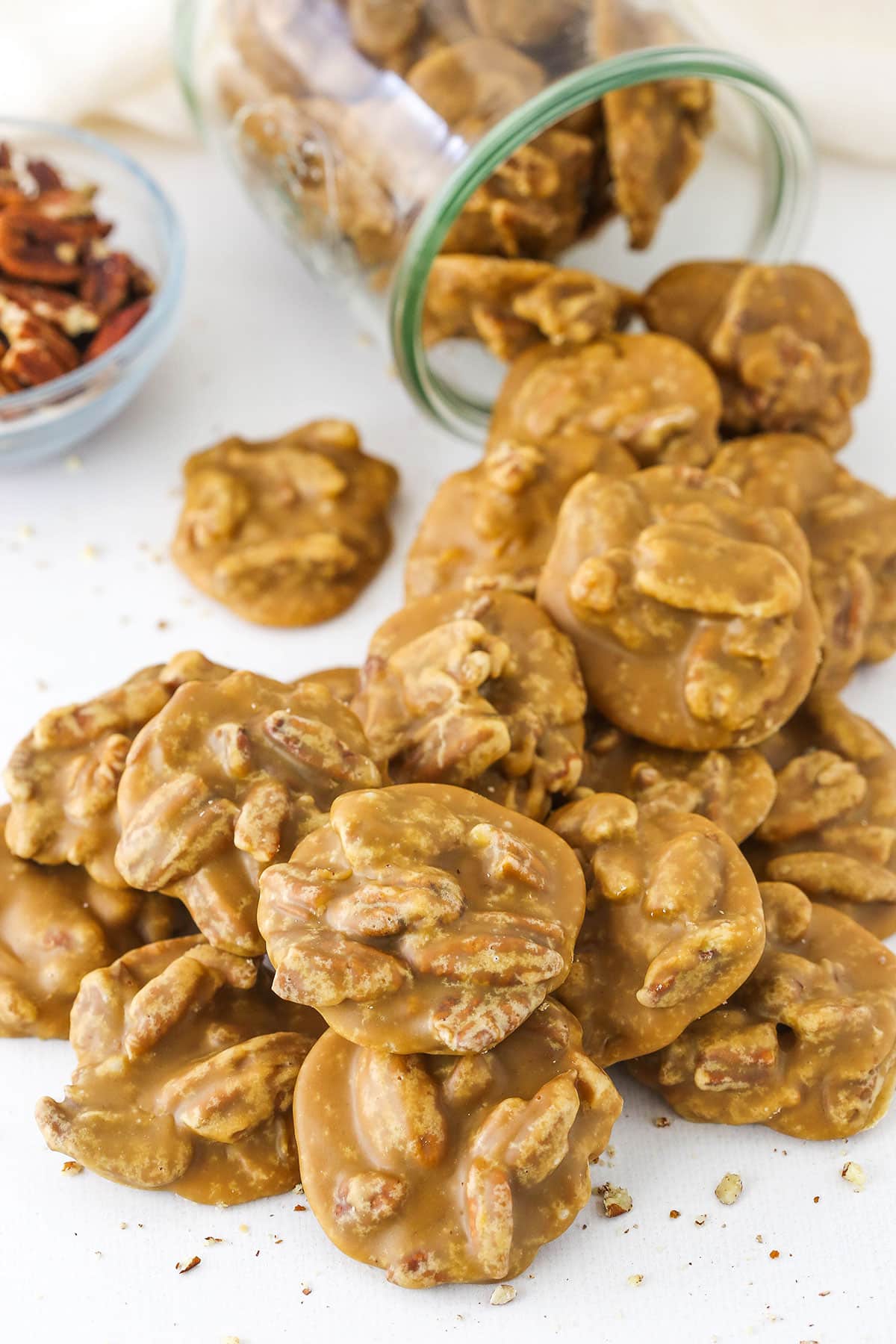 Southern Praline Pecans Recipe
I have been SO darn excited to share this Pecan Pralines recipe with you guys! After testing them for weeks with the help of my mother-in-law (a self-proclaimed pecan praline lover who tastes them wherever she goes), I'm telling you that these are the BEST Pecan Pralines. I'm completely addicted.
So What Makes Good Praline Pecans?
Well I imagine that may vary based on who you ask. And depending on the recipe you try or the shop you buy them from, they're all different. There are a fair number of pecan pralines that I would describe as being quite firm – even hard – and I'm really not into that version.
And then there are some that are more grainy or even super chewy.
Personally, I like something that's right in the middle of all of that. Not too soft, but definitely not hard. Not grainy and not chewy, but again, not hard. And definitely melt-in-your-mouth with lots of butter and brown sugar/caramel-y flavor.
What you will find in common between the various recipes is that pecan pralines consist of these main components – pecans, sugar, butter and milk or cream of some sort. There are a few additional things in these pralines that contributes to their flavor and texture and makes them a step above the rest.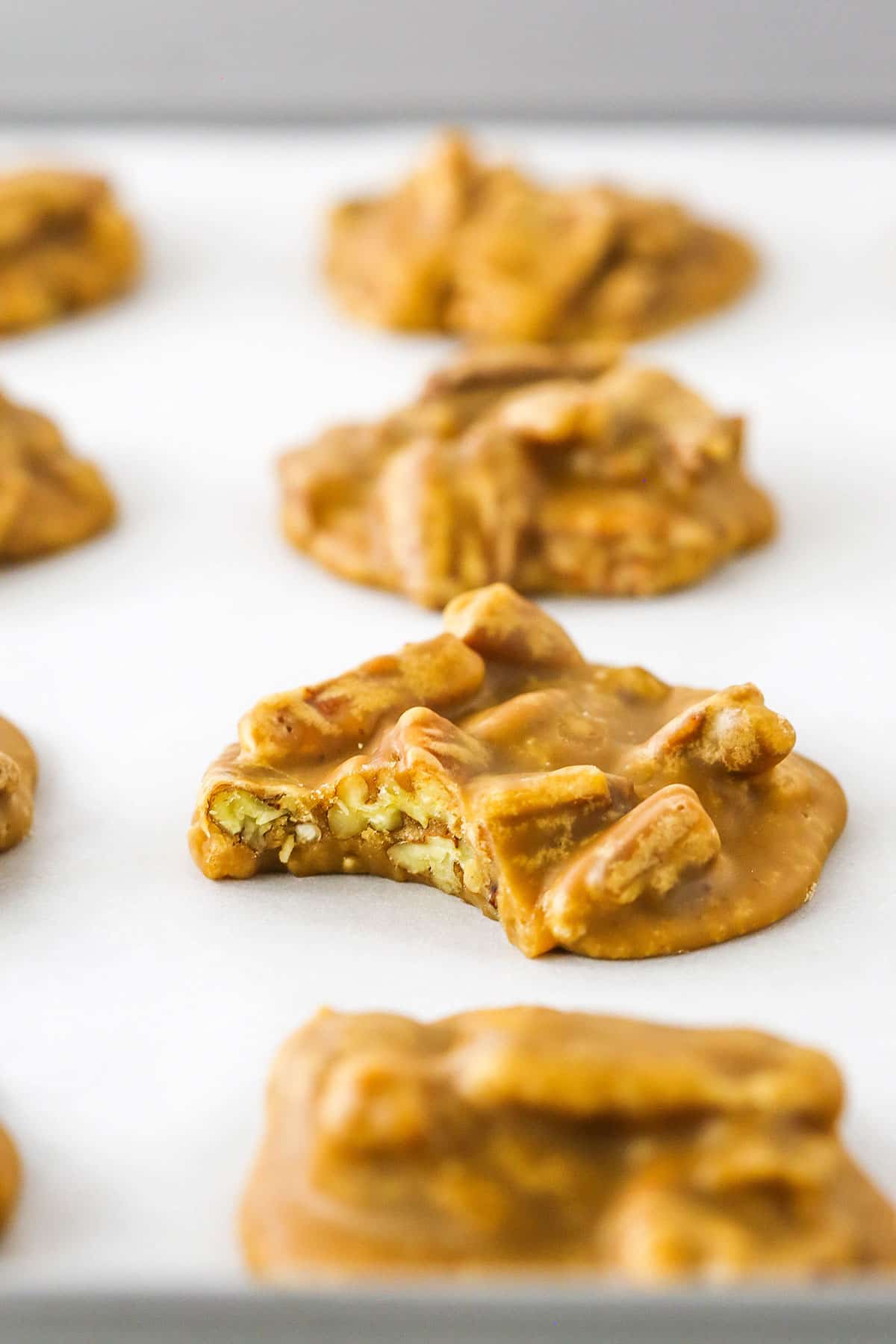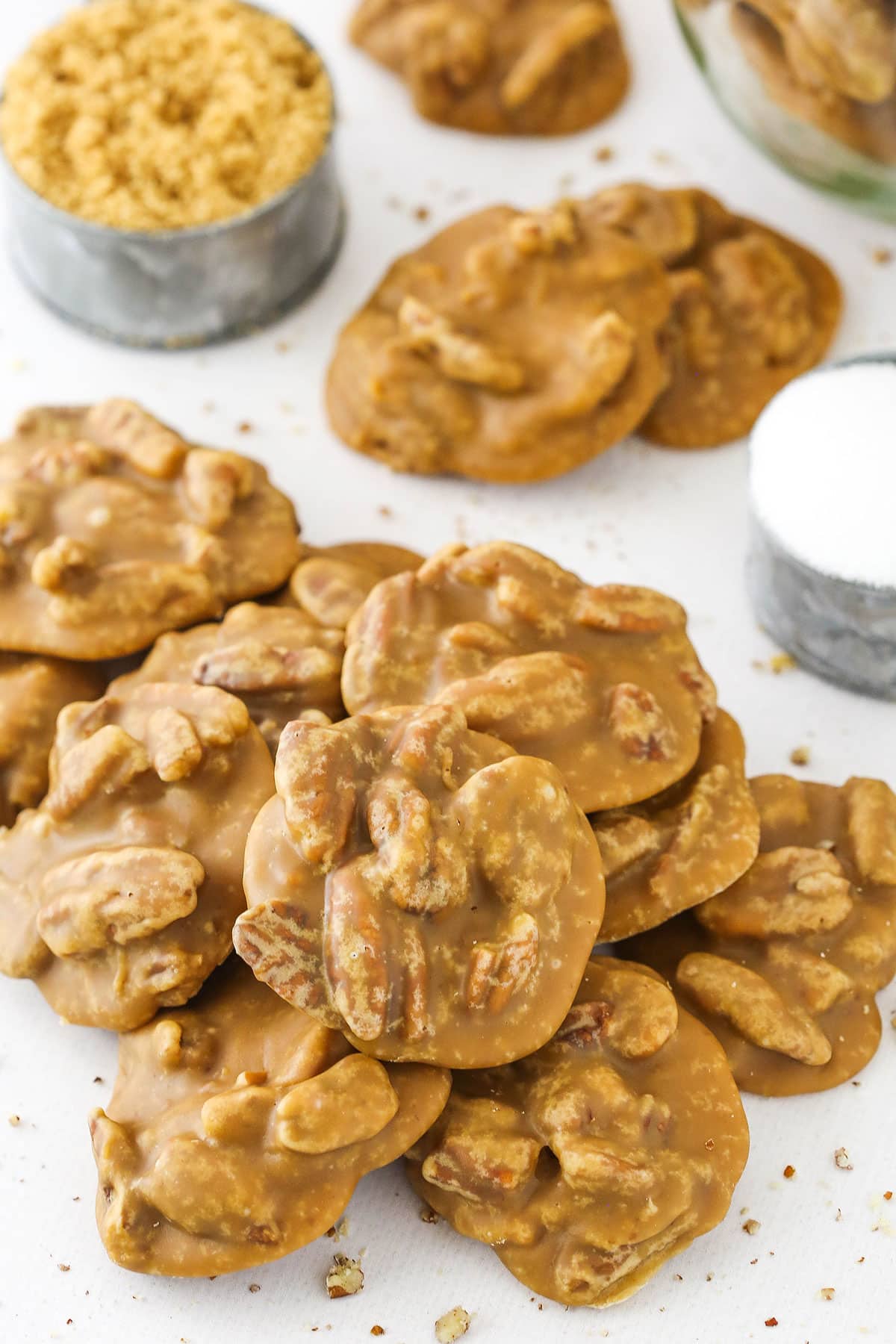 Ingredients for Praline Pecans
Sugar/Brown Sugar – After testing various versions of these, we found the white sugar and brown sugar combination to be the best. When using all brown sugar, we ended up with a grainy and unappealing texture. When using all white sugar, you have to use baking soda to get it to caramelize and the flavor just isn't quite the same. The combination of the two was the best – you get that classic brown sugar flavor, but without the graininess.
Heavy Whipping Cream – You could use any number of options here. Milk, half and half, cream (as I used), buttermilk and even evaporated milk all worked well. I liked the extra creaminess and straight forward flavor of the cream, but I also really liked the evaporated milk. It gave a unique flavor that was also very nice.
Butter – Adds totally necessary flavor that really adds to these pralines. It also helps to keep the pralines from getting too firm after sitting for a few days.
Baking Soda – While not totally necessary, this ingredient is key for me with these pralines. It not only enhances the brown sugar and caramel-y flavor and color, it also keeps them tender. If you leave it out, you'll have a firmer praline. And finally, it contributes to helping the sugars dissolve fully, so that you don't have a grainy praline.
Pecans – Clearly necessary here.
Salt – For flavor. Never underestimate the power of a little salt.
Vanilla Extract – Also for flavor.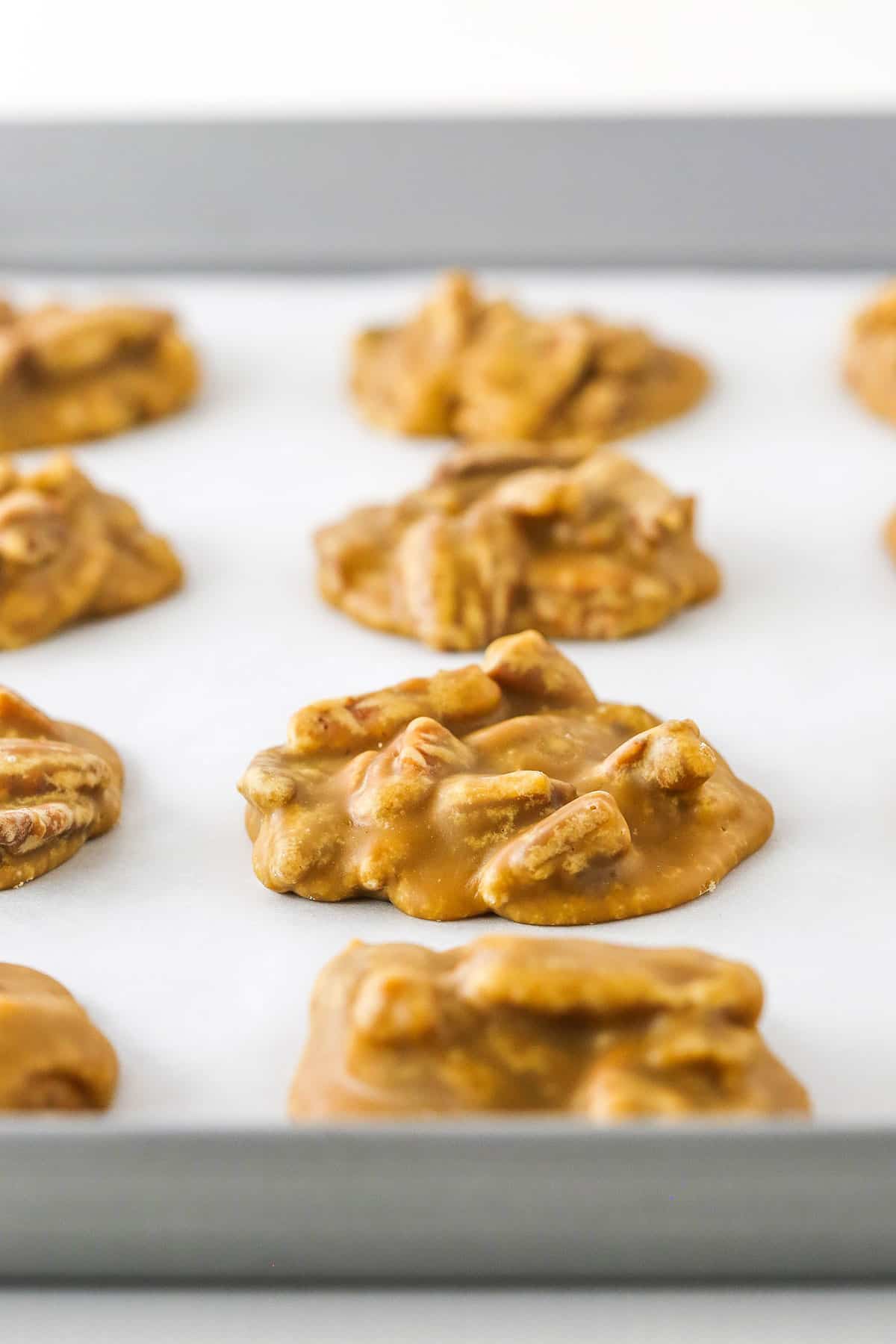 How to Make Southern Praline Pecans
To make these Southern Pecan Pralines, you'll first want to set up your parchment paper and have a tablespoon sized scoop ready to go. Once your mixture is ready, it can firm up quickly, so you don't want to not be ready.
Add everything to a sturdy pot except for the pecans, salt and vanilla extract. Heat it all over medium heat, stirring regularly. It'll melt and seem like it's taking it's time getting going, but it will finally begin to boil.
When the mixture foams up and beings to boil, stir constantly until it reaches 236 degrees. You will want to have a candy thermometer or something similar handy. Candy is sensitive to temperature.
Once it's at the right temperature, remove the pot from the stove and add the pecans, salt and vanilla extract. Stir vigorously with a rubber spatula for about 3 1/2 minutes. The mixture will begin to thicken and the longer you stir it, the thicker it will get. The thicker it gets, the firmer your pralines will end up. It may take 2-3 times of making these to get comfortable with knowing that it's the right consistency, but generally the 3 1/2 minute mark works well.
Finally, drop heaping tablespoons of the mixture onto the parchment paper and let them cool and firm up. You can spoon a praline or two and see if you like the amount they spread and if they spread too much, just stir them for a little longer.
At this point, you just have to let them firm up. That's probably the hardest part for me. They are so good, I just want to eat them all! They will be firm enough to handle within an hour, but do firm up more as they sit overnight.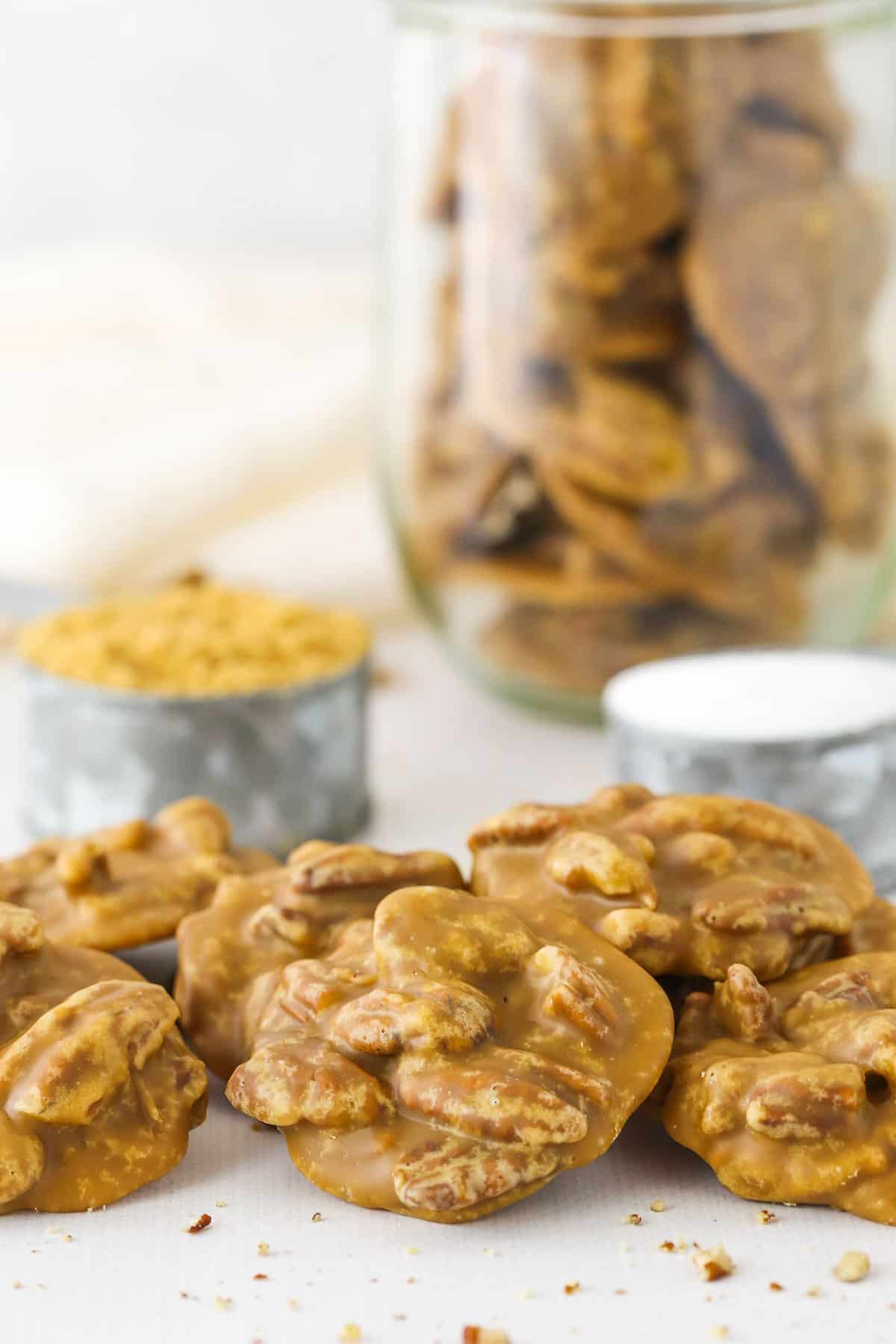 Tips for the Best Praline Pecans
Use a candy thermometer. You want to make sure you have the right temperature or your pralines will not turn out correctly.
Have plenty of ingredients on hand. While I'm hopeful these will turn out great the first time around, they often take people 2-3 times to get just right.
Work quickly when scooping out the pralines, so the mixture doesn't firm up too quickly.
Enjoy them!! These are seriously SO good! No store bough pecan praline will ever be the same after trying this homemade pecan praline recipe and they don't take long to make. It's a must! And if you need a little extra help, check out my video of the process below.
And last, but not least – this is the first in a series of cookies (even though this is kind of a candy) that I'll be sharing over the next few weeks as we head towards Christmas. I've got some super fun things coming and I can't wait to share them with you!
More Great Candy and Cookie Recipes
Pecan Caramel Turtle Candy Bars
No Bake Salted Caramel Coconut Macaroons
Quick and Easy Chocolate Fudge
White Chocolate Cranberry Fudge
Easy Salted Caramel Sauce
Print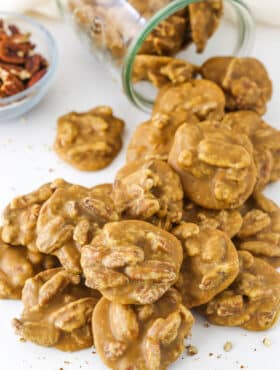 Recipe
Best Southern Praline Pecans
Author:

Prep Time:

20 minutes

Cook Time:

15 minutes

Total Time:

35 minutes

Yield:

about 24 pecan pralines

Category:

Dessert

Method:

Stove

Cuisine:

American
---
Description
These are seriously the BEST Southern Praline Pecans! With the amazing flavor of brown sugar and butter, these are pure heaven! A little bit candy and a little bit cookie, they melt right in your mouth!
---
Ingredients
1 cup

(

207g

) sugar

1 cup

(

225g

) packed light brown sugar

3/4 cup

(180ml) heavy whipping cream

4 tbsp

(

56g

) unsalted butter, cut into cubes

1/8 tsp

baking soda

2 1/4 cups

(

212g

) pecan halves

1/2 tsp

salt

1 tsp

vanilla extract
---
Instructions
1. Set out parchment paper for making the pralines on and have a tablespoon sized scoop handy and ready to go.
2. Add everything but the pecans, salt and vanilla extract to a medium pot and heat over medium heat. Stir regularly until it begins to foam and boil.
3. When it begins to foam and boil, stir constantly until it reaches 236 degrees.
4. Remove from heat and add the pecans, salt and vanilla extract.
5. Stir vigorously with a rubber spatula for 3 1/2 minutes, or until the mixture begins to thicken. The longer you stir, the thicker the mixture gets. You don't want it to get too thick, or it'll be hard to scoop the pralines and they'll dry more firm.
6. Quickly drop heaping tablespoons of the mixture onto parchment paper and allow them to cool and firm. If the mixture is too thin and spreads more than you want, stir a little bit more. If the mixture starts to cool too much as you're scooping, place it back on the warm burner (but don't turn it on) and let it keep the mixture warmer. I find it helps to stir the mixture after every few scoops.
7. When pralines are cool and firm, store in an airtight container.
Nutrition
Serving Size:

1 pecan praline

Calories:

165

Sugar:

16.9 g

Sodium:

104.6 mg

Fat:

10.6 g

Carbohydrates:

18 g

Protein:

1.1 g

Cholesterol:

9.3 mg
Keywords: pecan pralines, southern pecan pralines, praline pecans, pecan praline recipe, how to make praline pecans
Categories
This post may contain affiliate sales links. Please read my disclosure policy.