Pecan Caramel Turtle Candy Bars
These Pecan Caramel Turtle Candy Bars are a fun, easy bar version of a Turtle candy. And to make them even better, they are another recipe from my grandmother's cookbook.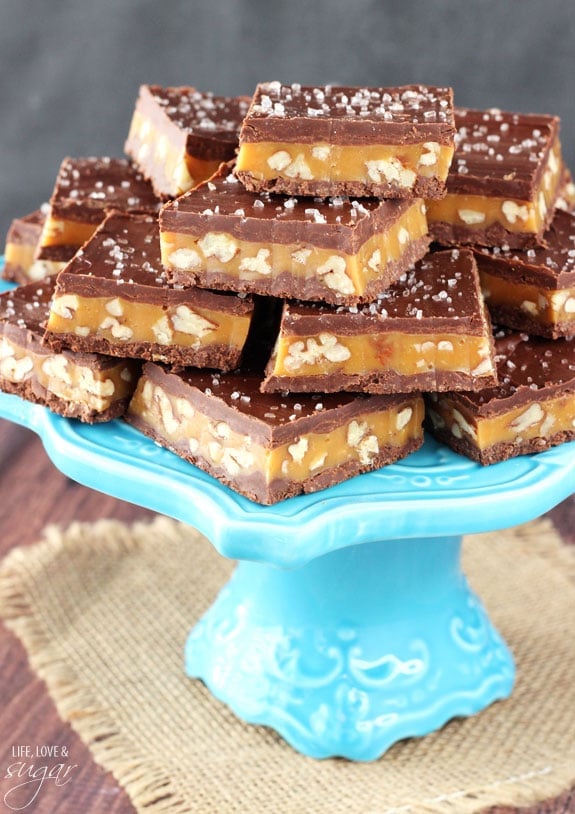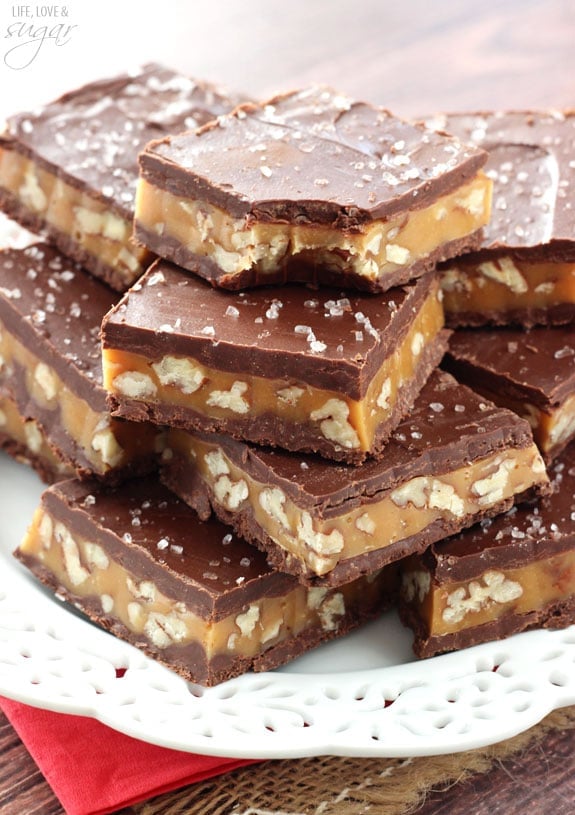 So the weather here has been kind of crazy lately. Not Boston crazy, but Atlanta crazy. Like 60s one weekend, then freezing rain and ice a week or two later. Like, how does that work?
About this time last year we had the Snowpocalypse. Ice for days and stranded cars everywhere. Fortunately the hubs mad me leave work earlier, so I ended up getting home just as it was starting to get bad.
The weather we've had this week has been nothing compared to that, but it is seriously cold. And even though the roads are fine, the ice on our bushes and trees is pretty thick. Some people lost power and some trees were down, but we were fine. The hubs wrapped some bungee cords around a couple trees that are kind of small and were starting to bend and look like they might snap.
With the warmer weather we'd had, some of our flower bulbs had actually started coming up and sadly they will most likely die now. I'm not sure what they're called, but they are pretty purple flowers…though not this year.
Supposedly there's a chance for more snow and ice this weekend. We'll see. I know it it'll be nothing compared to Boston no matter what.
Maybe I should make another batch of these bars to keep us company though, just in case? They're quick and easy to make.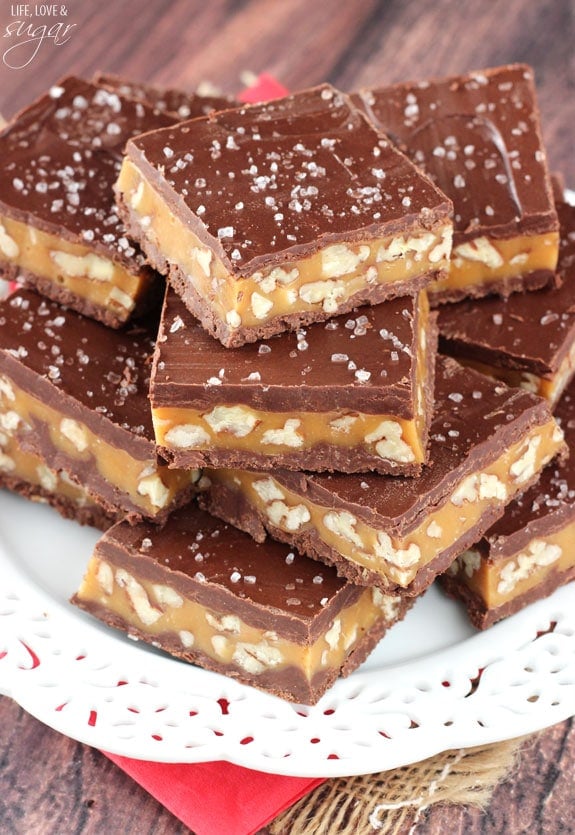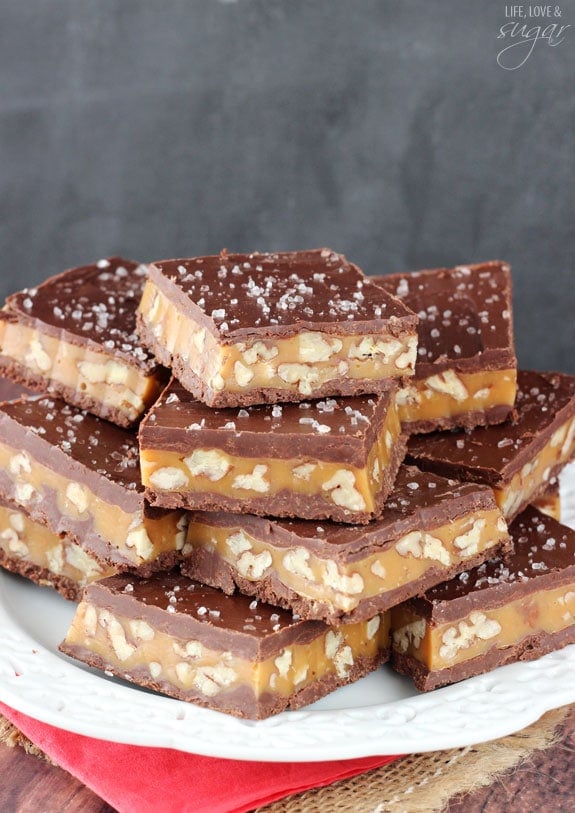 After making Moist and Chewy Banana Oatmeal Cookies and Pineapple Coconut Bars from my grandmother's cookbook, I decided these bars looked like fun ones to make next.
The recipe is actually cut out of what looks like a magazine. It looks like it was ad for Nestle product. You know, like the ones you'll often see in magazines now? With a recipe using the product?
And though I think thy are basically like a bar version of turtle candies, that's partly because I used pecans instead of walnuts. They were called "Triple Treats Candy" in the recipe I have. Caramel + walnuts + chocolate = triple candy. Smart, right? You could use walnuts or pecans.
Despite being an old recipe, I had to make these bars several times to get them just right. The original recipe calls for a 14 oz bag of caramels. I'm guessing they used to sell a 14 oz bag, but they don't anymore. Now it's 11 oz. And rather than have a recipe where you use a full bag plus a little of another, I decided to alter the recipe a bit so that the problem was solved.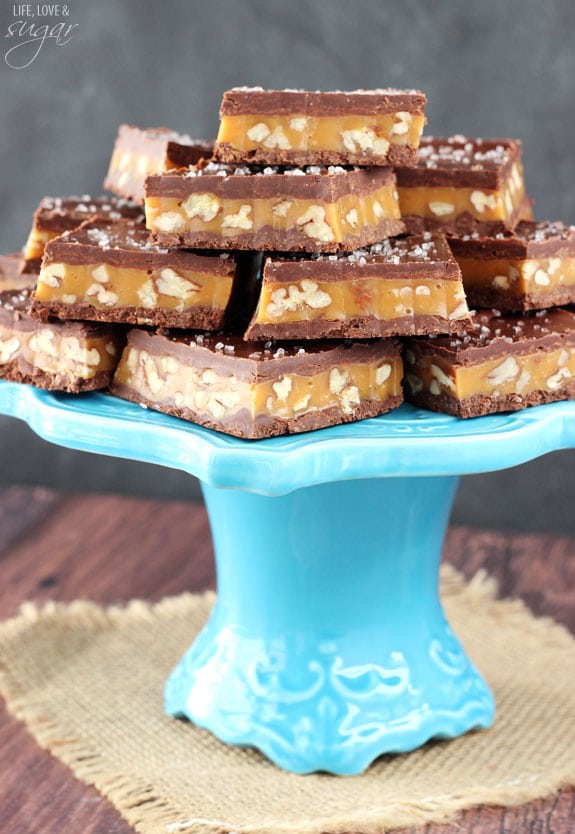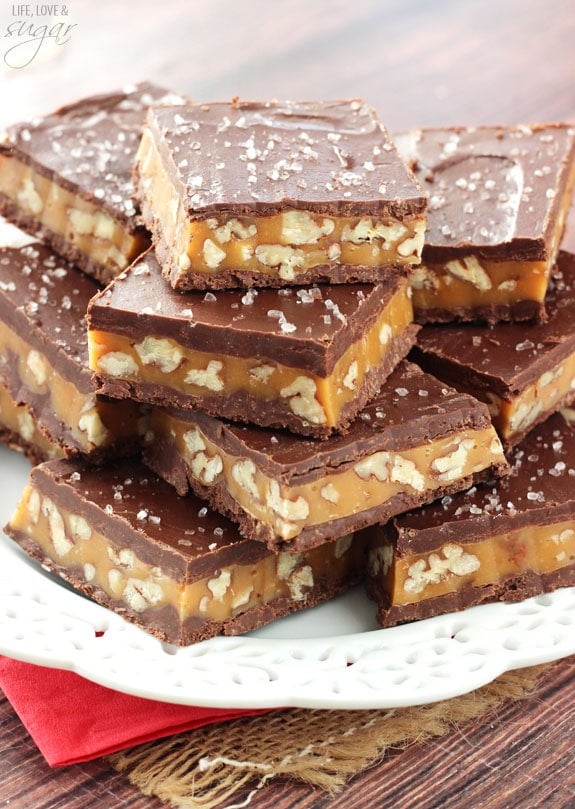 The first time around, there was too much butter and water added. After cutting them into bars, the caramel slowly oozed out all over the place. They were stacked on a plate and ended up as one big brick.
The second batch didn't have enough butter and water and those were like trying to bite into a brick.
Finally the third batch was just right. Soft enough to bite into but firm enough that they don't melt.
The original recipe doesn't call for the salt on top, but I'm totally into chocolate, caramel and salt these days, so I added it. Feel free to leave it off though.
Yay for old recipes! 🙂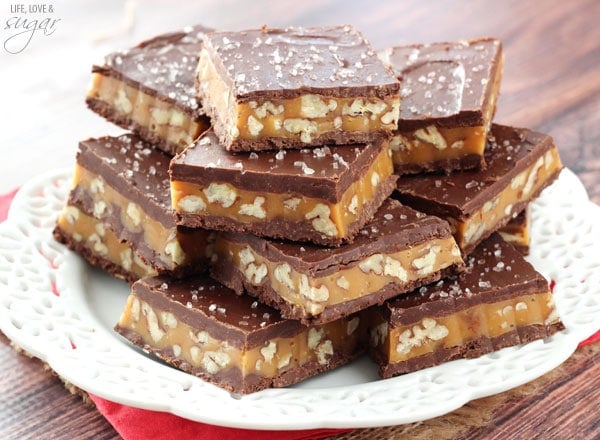 You might also like:
Turtle Cheesecake
Chocolate Turtle Poke Cake
Turtle Chocolate Cookie Cups
Turtle Chocolate Layer Cake
No Bake Turtle Cheesecake Dip


Pecan Caramel Turtle Candy Bars
Yield:

9

-

12

Bars

1

x
Category:

Dessert

Method:

No Bake

Cuisine:

American
Ingredients
12 oz

semi sweet chocolate chips, about

2 cup

s, divided

2 tbsp

shortening, divided

11 oz

bag caramels

2 tbsp

butter

2 tbsp

water

1 cup

chopped pecans
sea salt
Instructions
1. Line an 8×8 pan with parchment paper or aluminum foil.
2. Place half of the chocolate chips and shortening in a microwave safe bowl. Microwave in short intervals of about 30 seconds at a time, until melted and smooth.
3. Pour chocolate mixture into pan and spread into an even layer. Refrigerate until firm.
4. Melt caramels, butter and water in a pan over low to medium heat until melted and smooth.
5. Stir in chopped pecans.
6. Remove pan from refrigerator and spread caramel mixture evenly over the chocolate layer.
7. Place pan back into refrigerator until tacky, about 15 minutes.
8. Place remaining half of the chocolate chips and shortening in the microwave safe bowl. Microwave in short intervals of about 30 seconds at a time, until melted and smooth.
9. Pour chocolate mixture over caramel and spread into an even layer. Place in refrigerator until firm.
10. Cut into squares.
Enjoy!