These Samoa Cookie Bars are a copycat bar version of my favorite Girl Scout cookies! This tasty treat contains three of my favorite flavors – caramel, chocolate and coconut. They're utter perfection!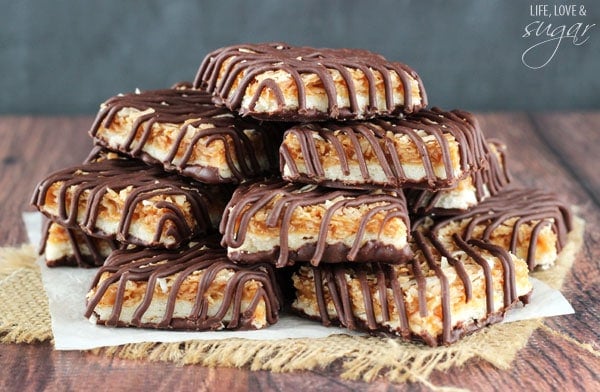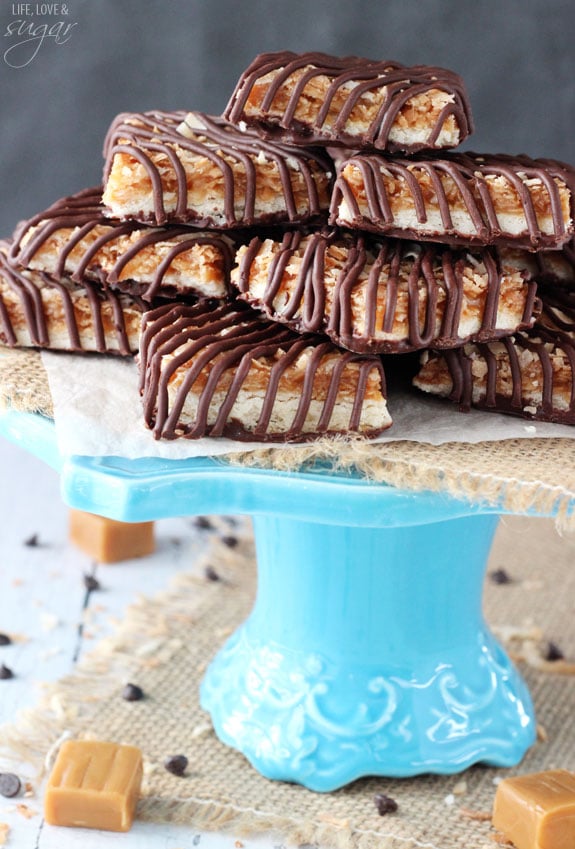 Samoa Cookie Bars
I look forward to Girl Scout Cookie season every year and I know I'm not alone. Sometimes a girl scout will come along taking orders and other times I anxiously try to find them in front of stores selling them. A week or so ago, I had one come around our neighborhood selling cookies and I was an easy sell.
Growing up, my favorite cookie was a Thin Mint. And I still love them – especially frozen. Plus, there's more of them in a box. But my dad has always been a Samoa fan. Always.
As I got older, and my tastes refined (because, you know, I'm so refined 😉 ) I began to be more of a Samoa fan. Now, I will proudly say that I have finished an entire box of Samoa's in one sitting before. Of course it was a while ago. A younger version of myself was allowed to do that. Now, I have to try very hard to restrain myself. I mean, they only come once a year! Why can't I indulge a little?
Of course my scale would argue otherwise. Pesky little thing.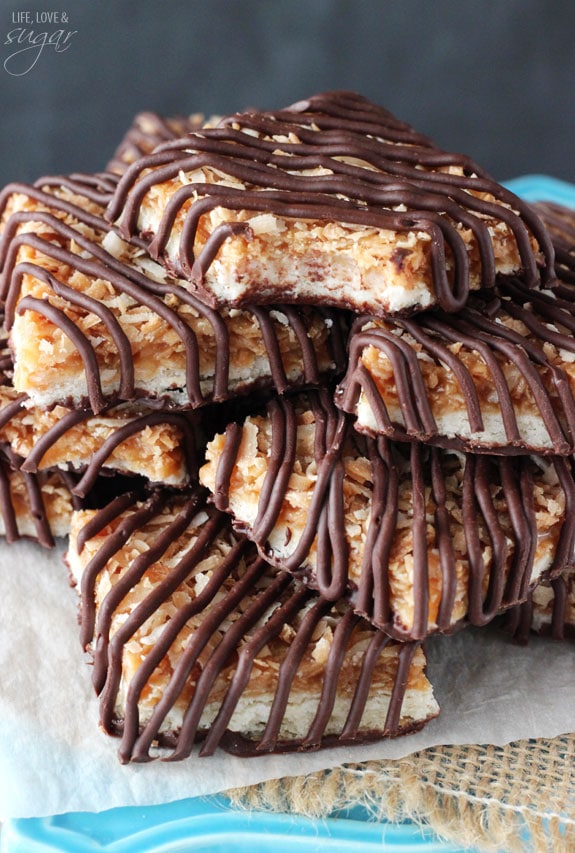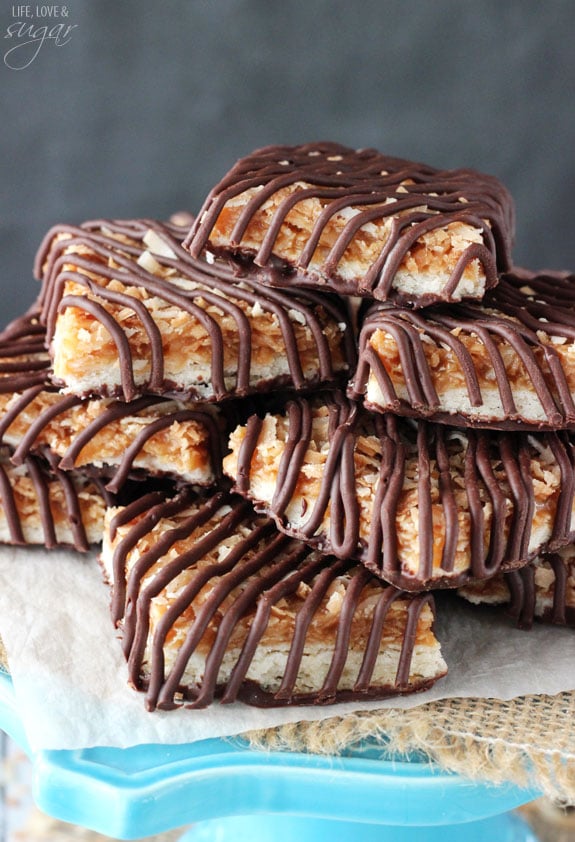 But now that I have these bars, I can make Samoa Cookies any time I want! These bars taste just like the real thing! They are so darn good!
Fortunately, my dad was in town when I made them. I figured the master of Samoa eating should get to try them. Only fair, right?
Well, he was naughty. I clearly can't keep him in the kitchen while baking. He wants to steal everything before it's done. There were several things that had already been completed and photographed, but he wanted the things I was currently baking.
To make the bars, you first make the crust. It's your basic shortbread crust, which goes great in these cookies. The crust is covered with melted caramel and toasted coconut. Once all that cools, they are cut into bars and dipped into chocolate. I added a drizzle on top just to finish them off.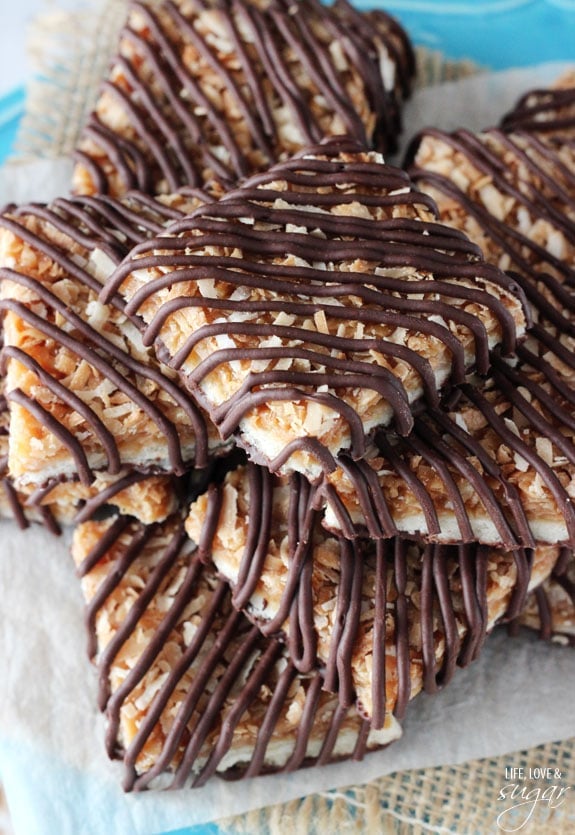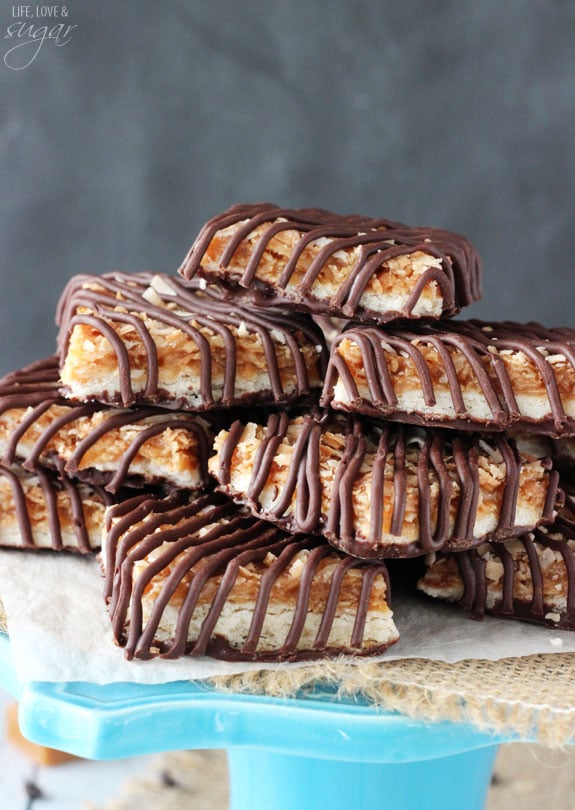 Of course once I started cutting the bars, prior to chocolate dipping, I was having to swat my dad's hands away. Not only were the bars not even finished, but pictures have to be taken! I know he doesn't live with me, but surely he knows the rules by now! 🙂
I was also making cupcakes at the same time (you'll see those soon) and he was grabbing those before they could even cool.
Like I said, naughty. And you can see where I get my sweet tooth from.
I will say though, despite eating these at every step along the way, he decided he wanted to wait to eat most of them until they had the chocolate. It finishes them off and truly makes them like a Samoa. So nice of him to let me finish and take pictures. 😉
But really, I'm not complaining. At least I know they were a hit! They're Samoa cookie monster approved!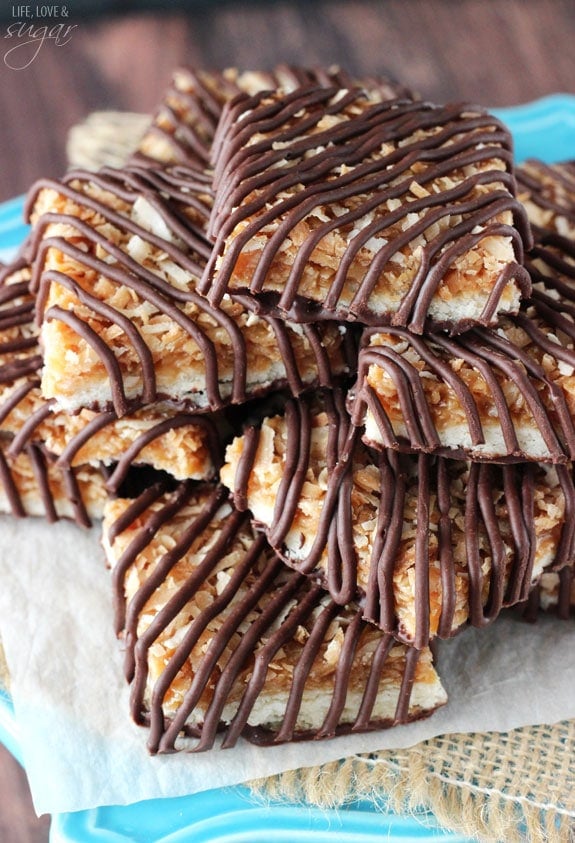 You might also like
Samoa Cookie Cake
No Bake Samoa Cheesecake
Samoa Pretzel Sticks
Coconut Chocolate Cake
Samoa Cream Pie Cookie Cups


Print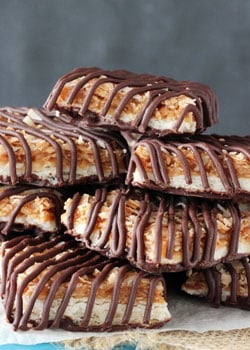 Recipe
Samoa Cookie Bars
Author:

Prep Time:

15 minutes

Cook Time:

15 minutes

Total Time:

30 minutes

Yield:

16 Cookie Bars

Category:

Dessert

Method:

Oven

Cuisine:

American
---
Description
These Samoa Cookie Bars are a copycat bar version of my favorite Girl Scout cookies! This tasty treat contains three of my favorite flavors – caramel, chocolate and coconut. They're utter perfection!
---
Ingredients
COOKIE
1 cup

flour

1/4 cup

sugar

6 tbsp

butter, diced

1/4 tsp

vanilla extract

1 tsp

water, if needed
TOPPINGS
2 cups

coconut

2 tbsp

water

2 tbsp

butter

25

Kraft Caramels, wrappers removed

9 oz

semi-sweet chocolate chips
---
Instructions
1. Preheat oven to 350 degrees. Line a 9×9 pan with parchment paper, leaving some sticking above the sides of the pan to lift the bars out later.
2. Add flour, sugar, butter, vanilla extract and water to a bowl and mix on slow until it comes together and forms a ball. You can also use a food processor and pulse the ingredients until they form a ball.
3. Press dough evenly into the bottom of the pan.
4. Bake for 15 minutes, or until the edges are lightly browned.
5. Remove from oven and set aside to cool completely.
6. Spread coconut onto a baking sheet covered with parchment paper. Bake at 350 degrees for about 5 minutes, or until lightly toasted. Set aside to cool.
7. When crust is cool, put water, butter and caramels into a medium sized pot on medium heat. Allow everything to melt, stirring often so that the mixture doesn't boil.
8. Add about 1 1/2 cups of the toasted coconut and mix together.
9. Spread caramel mixture evenly over shortbread, pressing it into an even layer.
10. Sprinkle remaining toasted coconut over the caramel mixture and press into the caramel.
11. Allow caramel to fully cool, about an hour.
12. Remove from pan and cut into 16 bars.
13. Melt about 5 oz of chocolate chips in a small bowl in the microwave, heating in 30 second increments until melted.
14. Dip the bottoms of each bar into the chocolate, then wipe excess of on the side of the bowl. You don't want it to be a real thick layer of chocolate, just a light coating. Places bars on parchment paper to dry.
15. Melt remaining chocolate chips and drizzle it over the tops of the bars.
16. Allow chocolate to cool and harden.
---
Nutrition
Serving Size:

1 bar

Calories:

642

Sugar:

88.2 g

Sodium:

329.6 mg

Fat:

16.5 g

Carbohydrates:

107.6 g

Protein:

7.3 g

Cholesterol:

7.8 mg
Keywords: samoa recipe, cookie bar recipe, cookie bar, chocolate chip cookie bar recipe, easy cookie bar, coconut cookie recipe, chocolate cookie recipe
Filed Under:
Enjoy!
This post may contain affiliate sales links. Please read my disclosure policy.