This Eggnog Spice Blondie Cheesecake has a blondie base that's full of my favorite spices of the season – cinnamon, nutmeg, ginger and cloves. The no-bake eggnog cheesecake on top is smooth, thick and creamy. It's a moist, chewy and wonderful cheesecake!
Wondering how to make an eggnog drink? Try my easy recipe for homemade eggnog.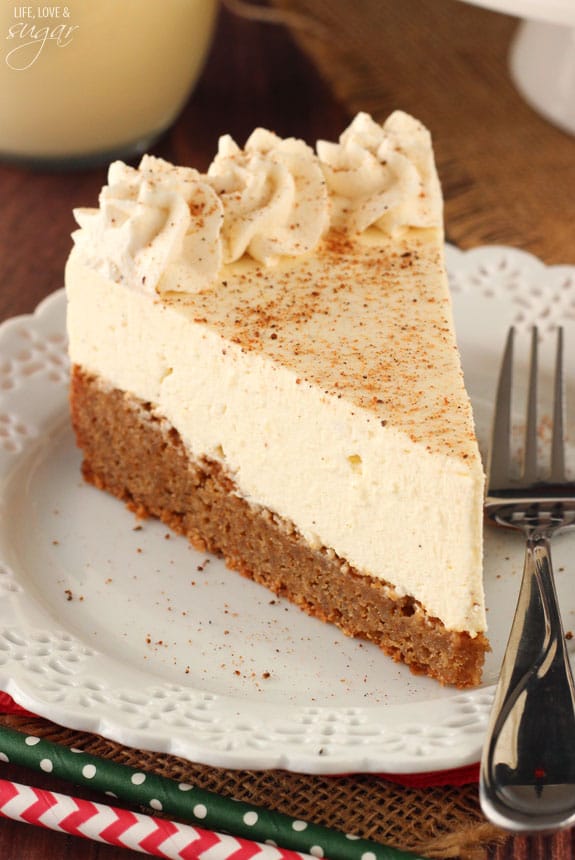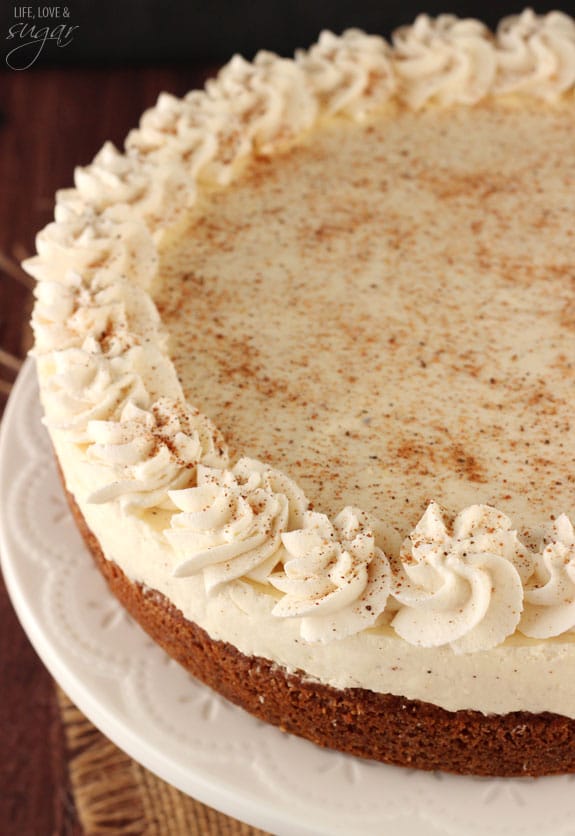 Eggnog Cheesecake with Blondie Crust
How is it that Christmas is only a week and a half away? It's killing me. I've got family coming into town starting Friday and I'm so not ready for it. Not like I'm not ready for them to come, there's just a lot to do to get ready.
I finally went Christmas shopping with my mom last weekend and got a few things done, but not nearly as much as I needed to. I did get the shopping for my nieces done though. They're probably the most fun to shop for.
My mom and I were shopping in Target when I found the perfect top for one of them. Here's how it went down:
My mom went into the store ahead of me – I had to stop at the bathroom. She told me to meet her in the food section. On my way to meet her, the perfect shirt was just starting right at me. My niece is totally into mermaids right now and the shirt was pink and said "Mermaid at Heart." I was in love. And I got the very last one!
I glanced at the size and hoped that it was the right one.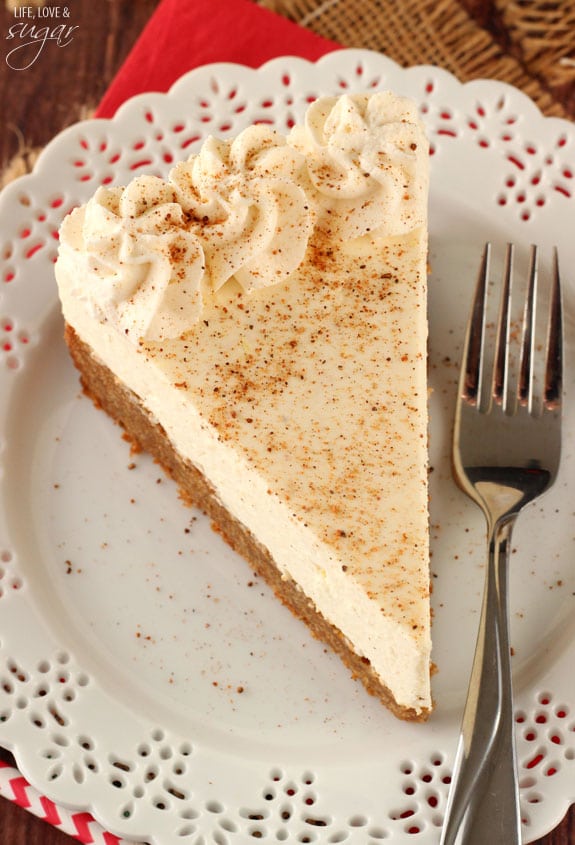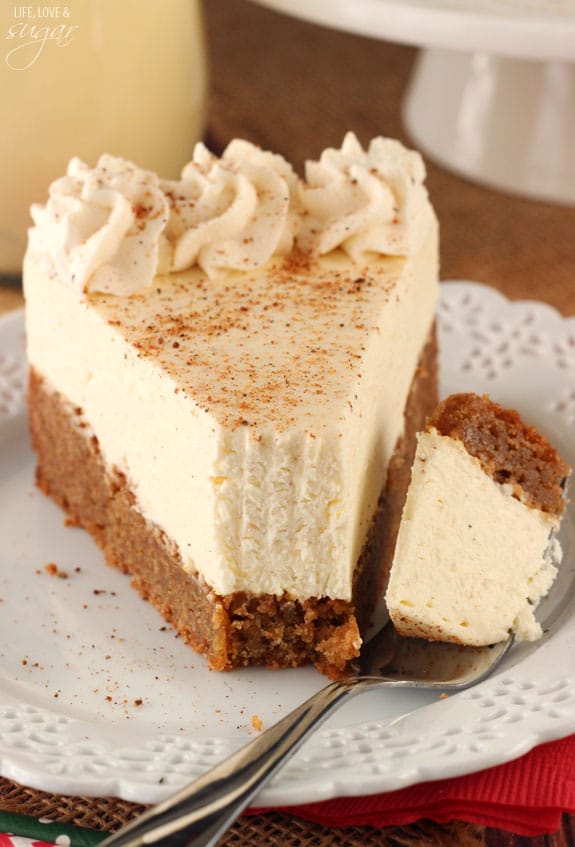 I started walking over to the food section. My mom was in the produce, so I went up to her and asked if she knew my niece's size for a shirt.
She turned, looked at me, looked at what was in my hands, looked back up at me and said, "You can't have that, it's mine. I got it first."
To which I said, "No you didn't. I got it first. The first time I saw it, I picked it up. It's mine."
She pointed at her cart where the shirt laid. "No, I already have it in my cart."
"I don't care. It's mine."
We just about threw down Game of Thrones style right there in Target. 🙂
Then she got scared of my fighting abilities and backed down.
Ok, so she really just decided to be the nice one and agree that I could have the shirt. She's so much nicer than I am. I was gonna throw down. 😉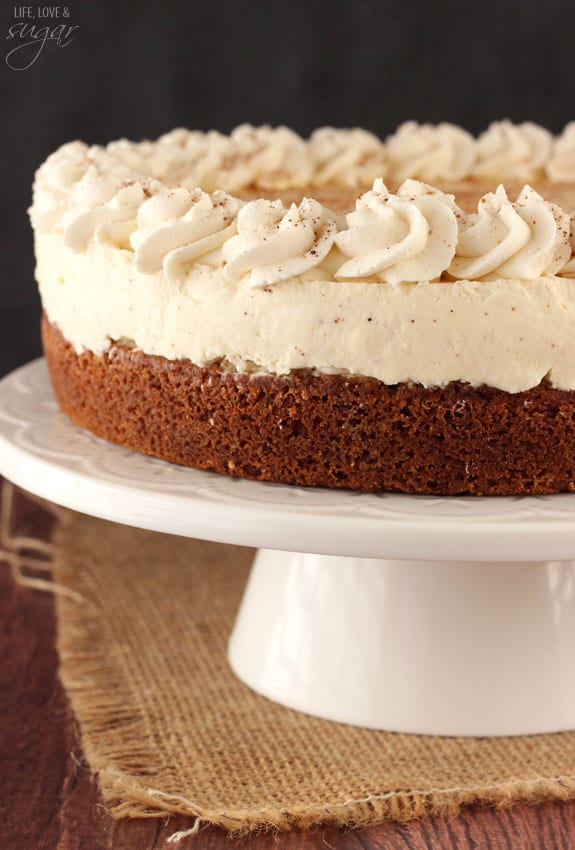 I'd also throw down if anyone tried to steal this cheesecake from me. It's the jam. You all liked my Caramel Apple Blondie Cheesecake so much, I decided to make this Eggnog Spice version version for Christmas.
True be told, I made an attempt at a no bake eggnog cheesecake last year and it never made it onto the blog. I didn't have time to do all the necessary testing. That version was much too thin for cheesecake for my liking. I had been trying not to use gelatin.
Since then, gelatin and I have become friends. I've used it in a few recipes and am no longer afraid of it. That's the way it is with most things. I fear it until I try it. Once I try it and am happy with it, the fear is gone. Such is the case with gelatin.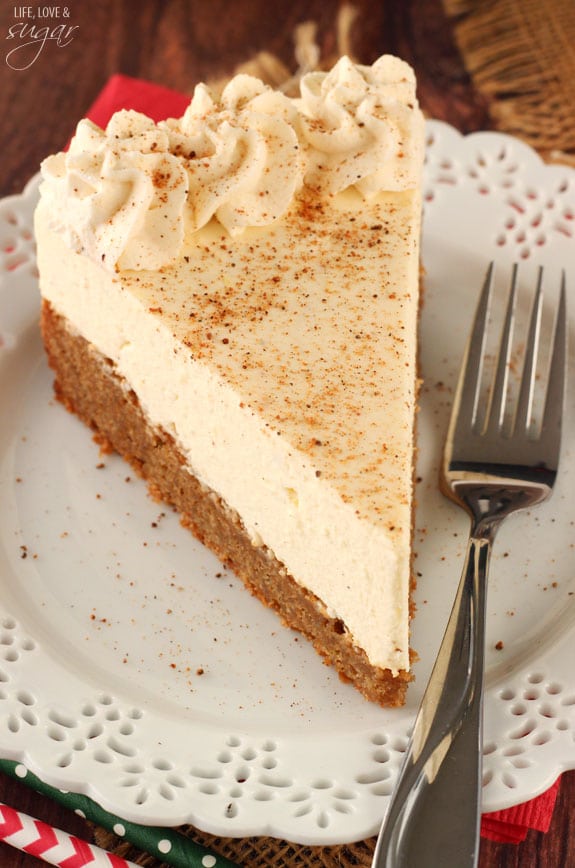 However gelatin alone was not enough to solve my no bake eggnog cheesecake thickness problem. The first round this time around did not work out the way I wanted either. Still not thick enough. The eggnog adds a lot of moisture, so it needs thickening in order to work as a no bake cheesecake.
Finally I got it! The final version uses both gelatin and some cornstarch to help thicken it. It's a little more effort than some of my other no bake versions, but it's well worth it. Nice and thick, and creamy. There's some heating on the stove to help activate all the thickening, then you add the mixture to the usual cream cheese and sugar base.
The result is delicious! I absolutely love the combination of the chewy blondie with the thick, smooth cheesecake. It was a hit with everyone. Even the hubs, who doesn't usually eat a ton of dessert, devoured this cheesecake. It's perfect for the holidays!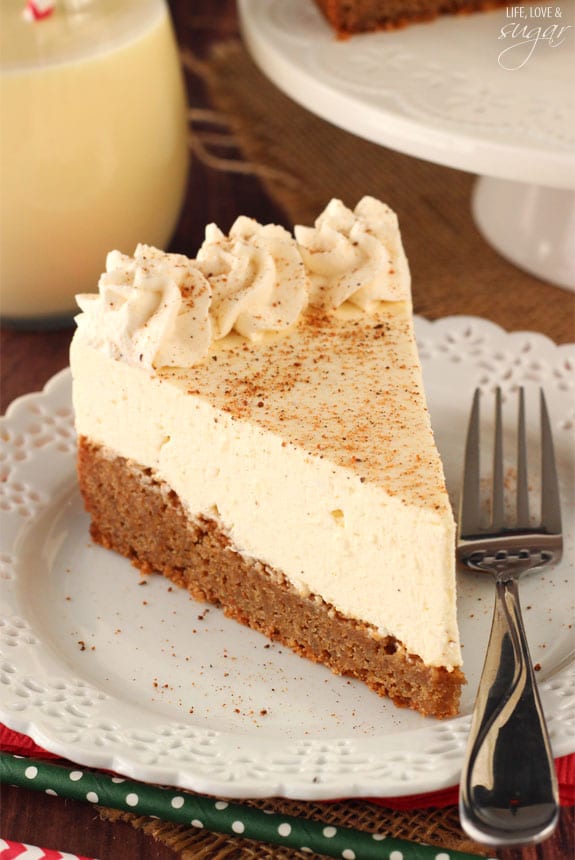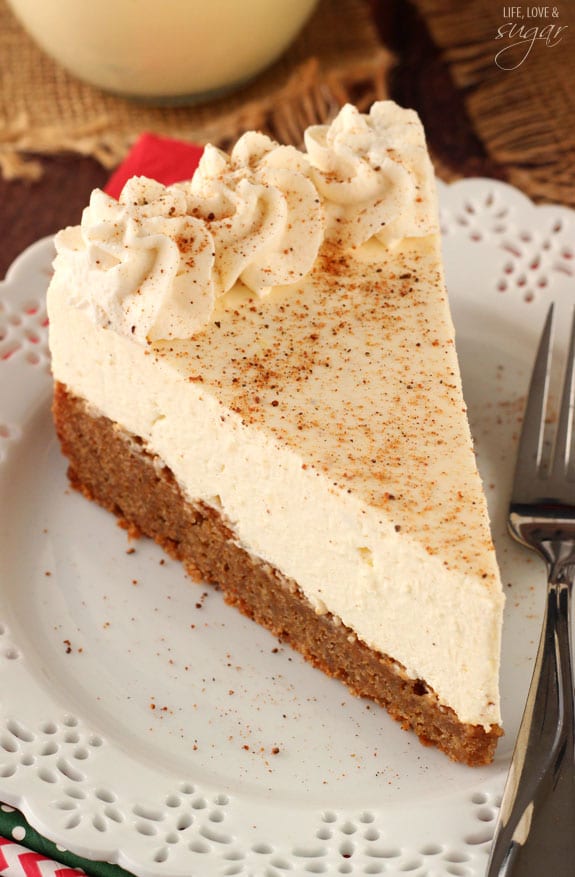 More Holiday Treats to Try
Eggnog Icebox Cake
Eggnog Crumb Cake
Eggnog Latte Cupcakes
Gingerbread Cookies with Eggnog Icing
Eggnog Cookie Dough Truffles


Print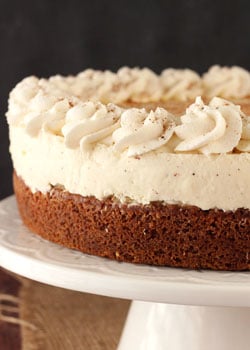 Recipe
Eggnog Spice Blondie Cheesecake
Author:

Prep Time:

20 minutes

Cook Time:

30 minutes

Total Time:

50 minutes

Yield:

12

-

14

servings

1

x

Category:

Dessert

Method:

Oven

Cuisine:

American
---
Description
This Eggnog Spice Blondie Cheesecake has a blondie base that's full of my favorite spices of the season – cinnamon, nutmeg, ginger and cloves. The no-bake eggnog cheesecake on top is smooth, thick and creamy. It's a moist, chewy and wonderful cheesecake!
---
Scale
Ingredients
SPICE BLONDIE 
3/4 cup

butter

1 1/2 cup

brown sugar

1 tbsp

vanilla

1

egg

1

egg white

1 1/2 cup

flour

3/4 tsp

cinnamon

3/4 tsp

nutmeg

1/2 tsp

ginger

1/2 tsp

all spice
pinch of cloves

3/4 tsp

baking powder

1/4 tsp

baking soda

1/4 tsp

salt
EGGNOG CHEESECAKE 
1/2

+

1/8 cup

eggnog

1 tbsp

cornstarch

0.25 oz

bag powdered gelatin

16 oz

cream cheese, room temperature

3/4 cup

sugar

3/4 tsp

nutmeg

4 oz

cool whip
WHIPPED CREAM
1/2 cup

whipping cream

1/4 cup

powdered sugar

1/2 tsp

vanilla extract (or rum extract!)
---
Instructions
1. Line the bottom of a 9 inch springform pan with parchment paper and grease the sides. Preheat oven to 350 degrees.
2. Melt the butter in a microwave safe bowl, then transfer to a mixing bowl.
3. Add brown sugar and whisk to combine.
4. Add the vanilla, egg and egg white and whisk until incorporated.
5. In another bowl, combine dry ingredients.
6. Slowly add dry ingredients to wet ingredients and mix until combined.
8. Pour batter into springform pan and bake for 30-33 minutes.
9. Allow to cool for about 5 minutes, then remove from pan to finish cooling.
10. Once the blondie is cool, make the cheesecake. Add cornstarch and eggnog to a small sauce pan and heat on medium-high until eggnog is hot and just starting to simmer around the edges. Do not boil.
11. Sprinkle gelatin over eggnog and turn heat to low. Whisk gelatin into eggnog until smooth, then remove from heat and set aside to cool. (I put it into another bowl and then in the fridge to speed cooling – about 5 minutes)
12. In another bowl, beat cream cheese and sugar until smooth.
13. Add eggnog mixture and nutmeg to cream cheese mixture and mix until well combined.
14. Fold in Cool Whip.
15. Place blondie back into the springform pan.
16. Spread cheesecake evenly on top of blondie, then put in refrigerator until firm about 3-4 hours.
17. To make whipped cream, add heavy whipping cream to a large mixing bowl and whip on high speed until it begins to thicken.
18. Add powdered sugar and whip until it you get stiff peaks.
19. Pipe whipped cream around edges of cheesecake. Refrigerate cheesecake until ready to serve.
---
Keywords: eggnog cheesecake, christmas dessert, homemade cheesecake recipe, homemade cheesecake, eggnog dessert, holiday desserts
Enjoy!

This post may contain affiliate sales links. Please read my disclosure policy.