This Peach Caramel Blondie Cheesecake is what dreams are made of. A peach & cinnamon filled blondie topped with caramel no-bake cheesecake, cinnamon peaches and caramel sauce. There's no better way to enjoy fresh peaches!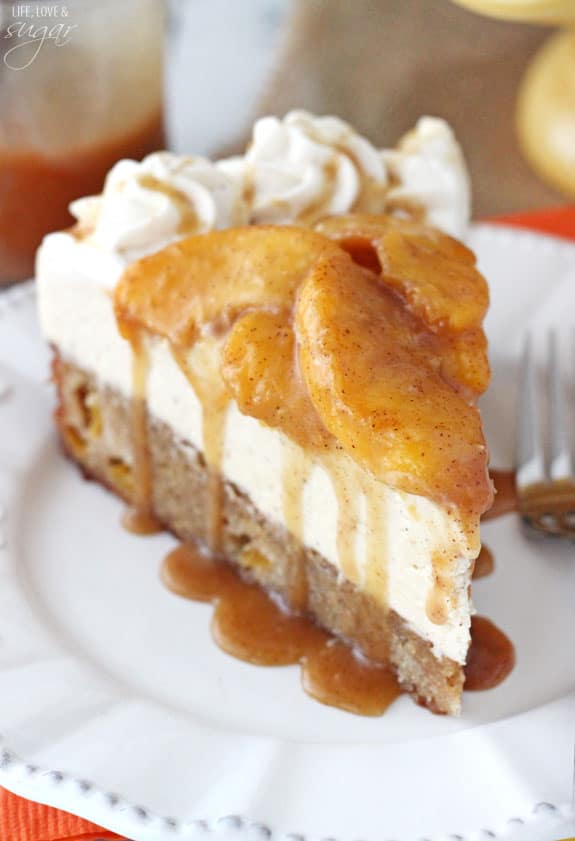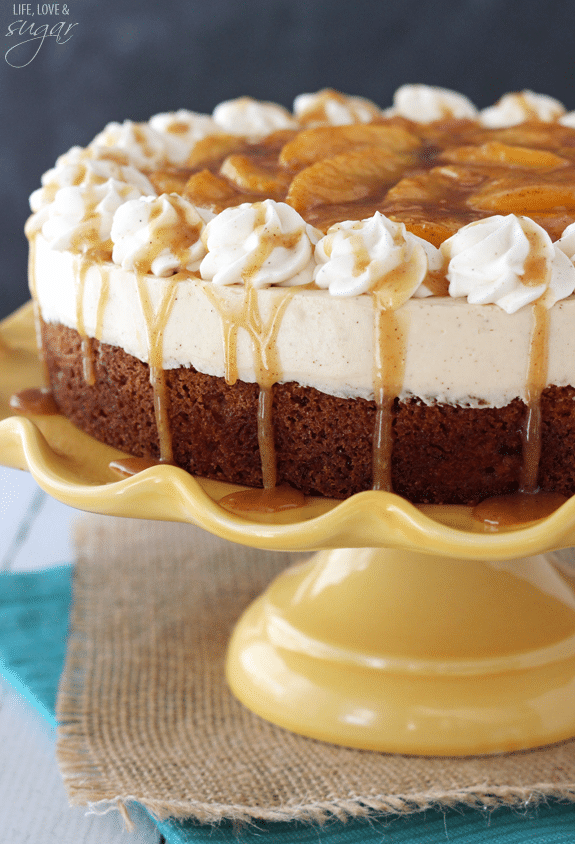 Peach Caramel Blondie Cheesecake
Well I hope everyone had a great fourth of July weekend. We went to visit my parents and see my grandmother. It had been a while since we'd been to visit, so it was quite nice. It'd also been years since we'd spent the fourth there, so it was nice to be back and see the fireworks. My parents have lived in the same house for about 20 years, so the fireworks show is the one I've been seeing since I was kid and their neighborhood puts on a great show.
Thursday was also my grandmother's 85th birthday. We had good food and a lemon cake – her favorite. And yes, I made it. 🙂
Over the weekend, my grandmother reminded me how we used to pretend like her birthday was also my birthday when I was kid. Since my birthday is on Christmas day, she and my mom have always felt like I got shafted. So they'd give me some things for her birthday in July and I'd help blow out the candles on the cake. They'd call it a joint birthday.
Clearly I was spoiled – and loved.
So when we were shopping this weekend, it cracked me up that every time I saw something I might like to have, my grandmother's response was, "Well, do you want me to get it for your birthday?"
I came home with a new bathing suit and jeans.
Boy do I love that woman. 🙂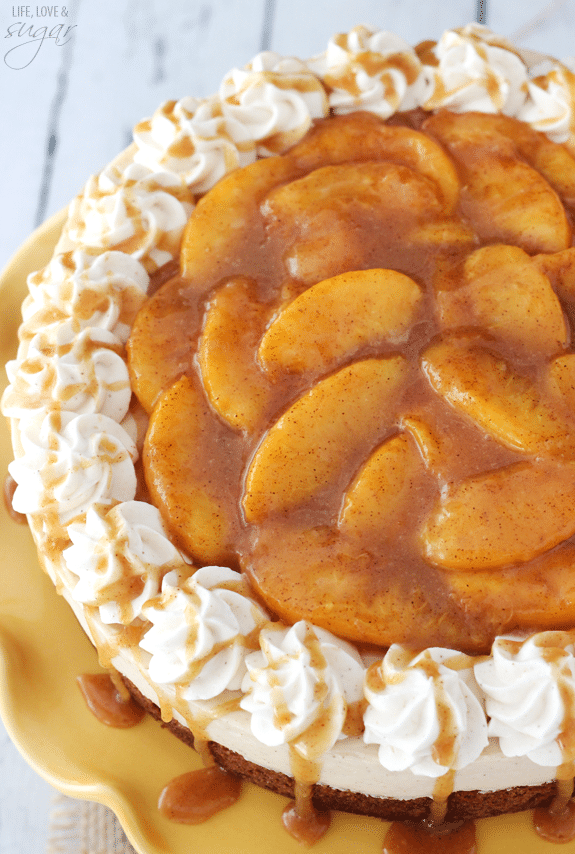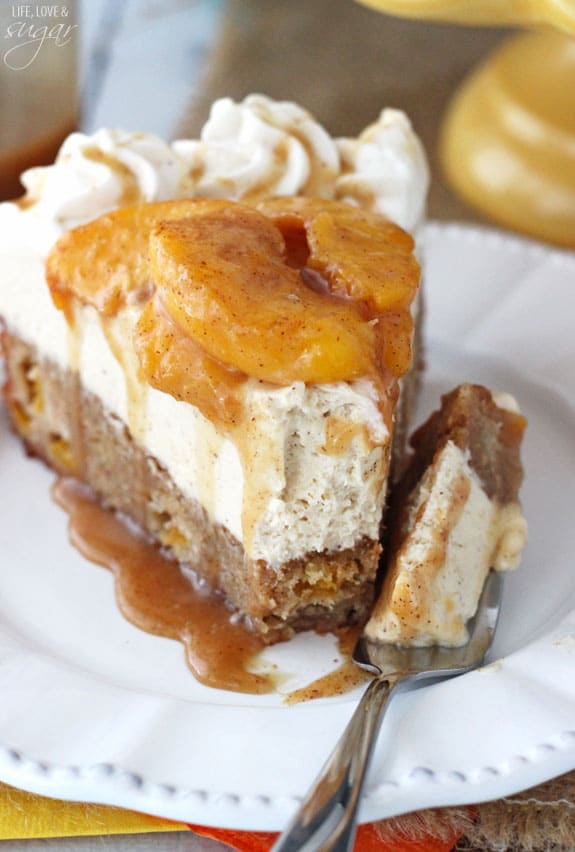 I'm also a pretty big fan of this Peach Caramel Blondie Cheesecake. It's my Caramel Apple Blondie Cheesecake's favorite cousin.
The apple one has been so popular, I decided it needed a summertime friend. And what better than peaches?
The blondie is insanely moist. I added more peaches to this blondie, than there was apple in the other one and the extra moisture keeps the blondie extra tasty and fresh.
Once the blondie is cooled, it's topped with a caramel-filled no bake cheesecake. To die for. I could seriously cover myself in caramel – it's easily a favorite. And this caramel is nice because it's very simple to make. Instead of cooking white sugar, t's made with brown sugar.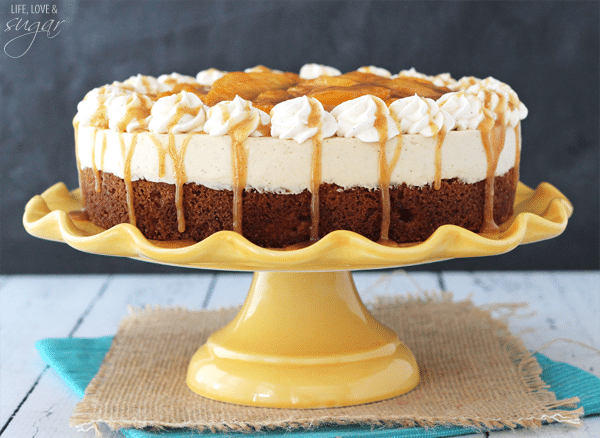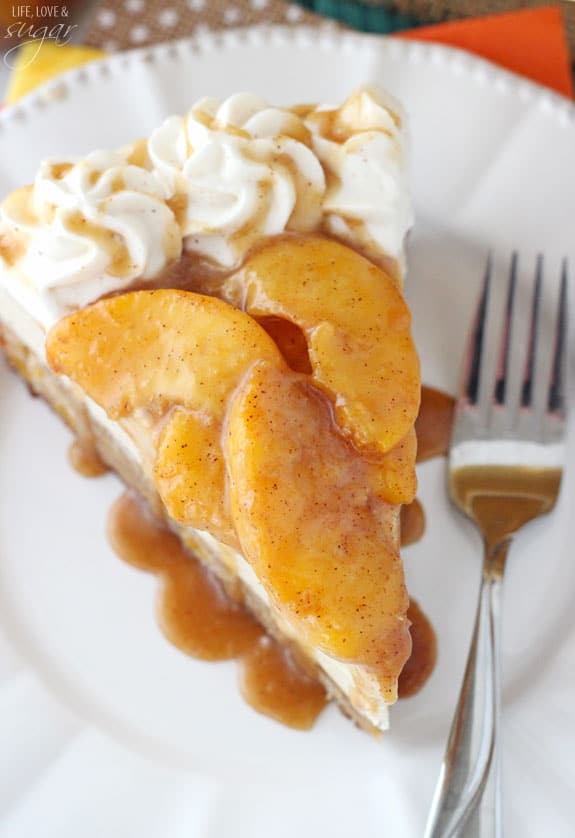 The blondie and cheesecake are refrigerated until firm, then comes the peach fun. Peel those babies, slice them and cook them with plenty of cinnamon. I even added a touch of spiced rum in them, but that's optional. 🙂
I cooked them for about 10 minutes, but you could cook them for less time if you'd prefer to have them a little firmer. Mine were fairly soft. It would also depend on how ripe they are. Softer peaches wouldn't need to cook quite as long, so keep that in mind.
I like to pipe the whipped cream around the edge of the cheesecake first and then fill in the center with the cooled peaches and drizzle them with a little more caramel sauce. You can serve the blondie cheesecake with the peaches warm, or refrigerate it and serve it later. I like it both ways.
This Peach Caramel Blondie Cheesecake is sure to be a hit with everyone! The combination of cinnamon and peaches, and the chewy blondie with a smooth, creamy cheesecake is totally amazing. It'll only take one bite to convince you not to share the rest. 🙂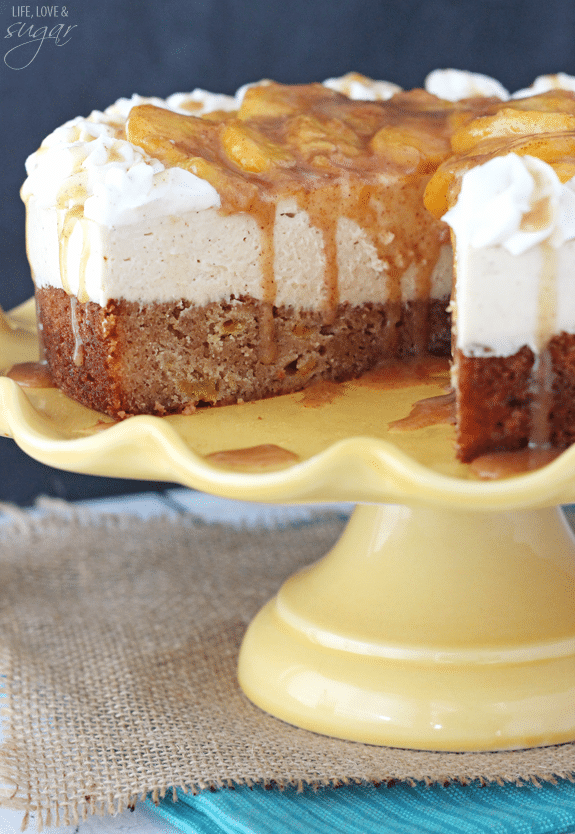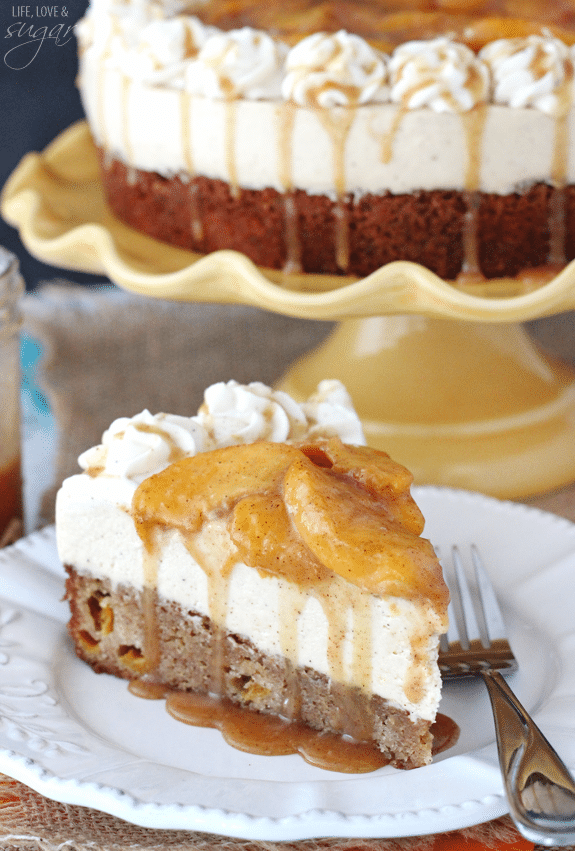 Similar Recipes
Bourbon Peach Streusel Cheesecake
Peach Cobbler Cupcakes
Peach Raspberry Sangria Trifle
Peach Cinnamon Oatmeal Cheesecake Bars
Peach Pie
Peach Streusel Popsicle
Print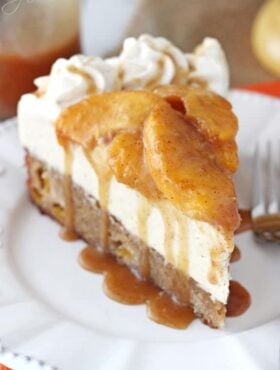 Recipe
Peach Caramel Blondie Cheesecake
Author:

Prep Time:

25 minutes

Cook Time:

35 minutes

Total Time:

1 hour

Yield:

12-14 Servings

Category:

Dessert

Method:

Oven

Cuisine:

American
---
Description
This Peach Caramel Blondie Cheesecake is what dreams are made of. A peach & cinnamon filled blondie topped with caramel no-bake cheesecake, cinnamon peaches and caramel sauce. There's no better way to enjoy fresh peaches!
---
Ingredients
PEACH BLONDIE 
3/4 cup

unsalted butter

1 1/2 cups

brown sugar

2 tsp

vanilla

1

egg

1

egg white

1 1/2 cup

flour

1 tsp

cinnamon

3/4 tsp

baking powder

1/4 tsp

baking soda

1/4 tsp

salt

1

peach, chopped
CARAMEL CHEESECAKE
16 oz

cream cheese, room temperature

1/2 cup

sugar

1/2 cup

brown sugar

3/4 cup

 caramel sauce*

1/2 tsp

cinnamon

4 oz

cool whip
CINNAMON PEACHES
2

–

3

peaches, sliced

2 tsp

lemon juice

1 tsp

cinnamon

3 tbsp

brown sugar

1 tbsp

butter

1 tbsp

spiced or dark rum, optional
WHIPPED CREAM 
1/2 cup

heavy whipping cream

1/4 cup

powdered sugar

1 tbsp

juices left over from cooking peaches
---
Instructions
1. Line the bottom of a 9 inch springform pan with parchment paper and grease the sides. Preheat oven to 350 degrees.
2. Melt the butter in a microwave safe bowl, then transfer to a mixing bowl.
3. Add brown sugar and whisk to combine.
4. Add the vanilla, egg and egg white and whisk until incorporated
5. In another bowl, combine dry ingredients.
6. Slowly add dry ingredients to wet ingredients and mix until combined.
7. Fold in chopped peach.
8. Pour batter into springform pan and bake for 34-36 minutes.
9. Allow to cool for about 5 minutes, then remove to cooling rack to finish cooling.
10. Make the caramel sauce and allow to cool completely.
11. Once the blondie and caramel are cool, make the cheesecake. Beat cream cheese and sugars until smooth.
12. Add about 3/4 cup of caramel sauce and cinnamon and mix until combined.
13. Fold in Cool Whip.
14. Place blondie back into the springform pan.
15. Spread cheesecake evenly on top of blondie, then put in refrigerator until firm about 3-4 hours.
16. Combine peaches, lemon juice, cinnamon and brown sugar in a medium saucepan and toss to coat.
17. Add butter and rum and cook peaches on medium-high for about 8-10 minutes, or until at preferred softness.
18. Allow peaches to cool for 10-15 minutes.
19. To make whipped cream, whip heavy whipping cream on high speed until it begins to thicken.
20. Add powdered sugar and juices and whip until it you get stiff peaks.
21. Pipe whipped cream around edges of cheesecake.
22. Place cooled peaches in the center of the cheesecake.
23. Drizzle caramel over finished cheesecake, if desired.
*Recipe for caramel sauce makes about 1 1/2 cups worth of caramel. I made a whole recipe and used about half of it in the cheesecake and then drizzled more over the top of the cheesecake. You'll end up with leftover caramel.
---
Nutrition
Serving Size:

1 Slice

Calories:

470

Sugar:

52.2 g

Sodium:

282.2 mg

Fat:

21 g

Carbohydrates:

65.4 g

Protein:

7.2 g

Cholesterol:

80 mg
Keywords: peach cheesecake, caramel cheesecake, peach cake, peach cake recipe, caramel cake recipe, best cheesecake recipe, layer cake recipe, layer cake
Filed Under:
Enjoy!

This post may contain affiliate sales links. Please read my disclosure policy.