This post may contain affiliate sales links. Please read my disclosure policy.
This Bourbon Peach Streusel Cheesecake is one of my very favorite cheesecake recipes from my cookbook, Simply Beautiful Homemade Cakes, and I'm so excited to share it with you! The combination of peaches, bourbon, brown sugar and cinnamon is insanely delicious!
If you're looking for something a bit more traditional, try my Classic Cheesecake Recipe or my Perfect No Bake Classic Cheesecake. Both are great for an easy homemade dessert!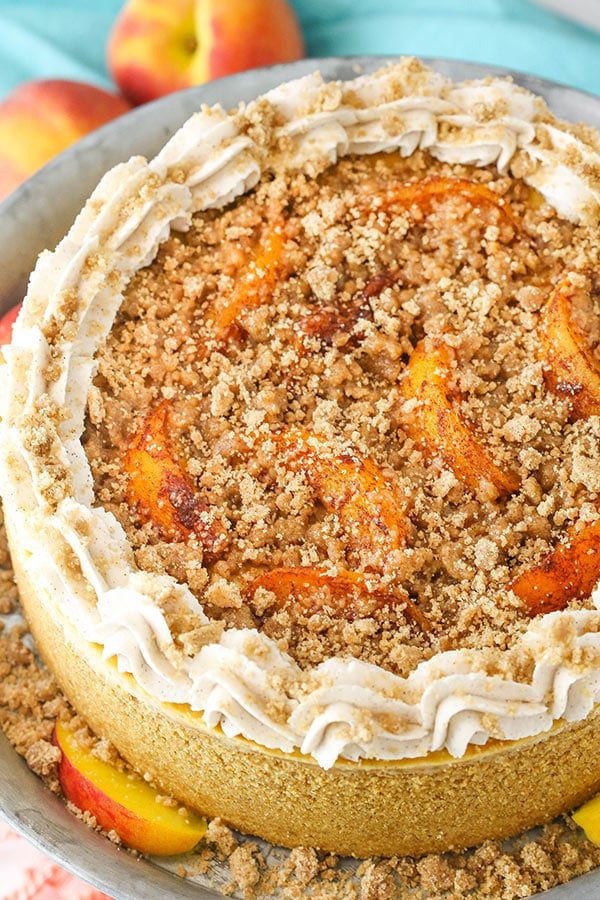 The Best Peach Cheesecake
Gosh it feels like forever that my cookbook, Simply Beautiful Homemade Cakes, has been out, but it's really only been a little more than 6 months. I've loved hearing feedback from people who've gotten the book and are enjoying it. The book was a major labor of love and hearing that makes it all worth it. 🙂
All the recipes in the cookbook are new ones that you won't find on the blog, with the exception of a couple I shared just after the book came out. Have you seen the Cinnamon Roll Layer Cake and Guinness Chocolate Mousse Cake? There are so many fun-flavored cakes in the cookbook (and tutorials) – these are just the tip of the iceberg! And now that peaches are in season, I'm excited to share this recipe with you.
This particular recipe is one that I played around with a good bit while I was testing things. I wanted to have just the right amount of peaches, cinnamon and bourbon. I also messed around with where to put the peaches and streusel. Inside? On top? Both? Ultimately I went with both and I love having the flavors all mixed throughout. Plus, the weight of all the peaches on top is not ideal.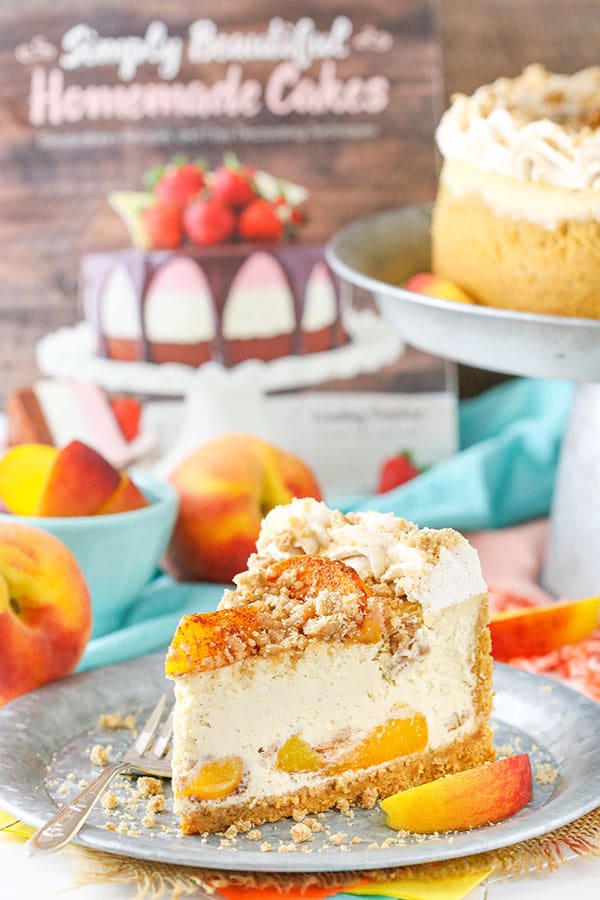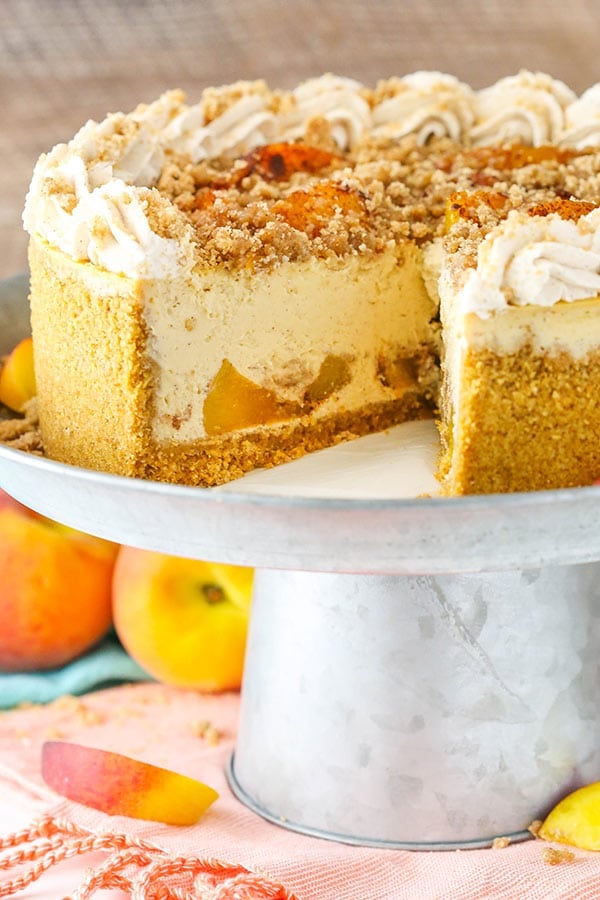 Even if you don't really care for bourbon, you should totally try this cheesecake. I myself don't drink bourbon, but I still like the flavor it gives. If you really are opposed to it though, you don't have to use it. I have also made this cheesecake with a dark spiced rum when I was out of bourbon and it was SO GOOD! The fun thing about the bourbon (or dark rum) is that they have a bit of a spiced quality to them that really compliments and almost amplifies the cinnamon and brown sugar. Love love love.
How To Make Cheesecake Crust
There's also a nice thick crust on this baby, which I'm a fan of. You could cut it down a bit, but I love it. 🙂 I used a sweetened graham cracker crust, but I'm always a fan of switching things up, if you feel so inclined. I also love using cookies as crust and Walkers Shortbread is one of my favorites to use in crusts (like in this chocolate chip shortbread cheesecake). The buttery flavor of them would also be nice with this cheesecake.
And then of course there's the peaches. The pop of peaches with all the flavor of bourbon, cinnamon and brown sugar is perfection. It's like a spiked peach crisp or something in cheesecake form. Um, yes please.
Does This Cheesecake Recipe Use Fresh Or Canned Peaches?
Also important to note is that you can use fresh or canned peaches. I tried it both ways and they were both awesome. Canned is super easy, which always kind of rocks. Fresh ones are great too, but make sure they have good flavor to them. Flavorless peaches will give you a flavorless cheesecake. I'm usually asked about frozen fruit so I'll just say I haven't tried frozen peaches. I'm sure they'd be fine, you'll just want to thaw them completely and pat them dry. Extra moisture will add to the baking time. Plus, in my experience frozen peaches aren't always super flavorful either.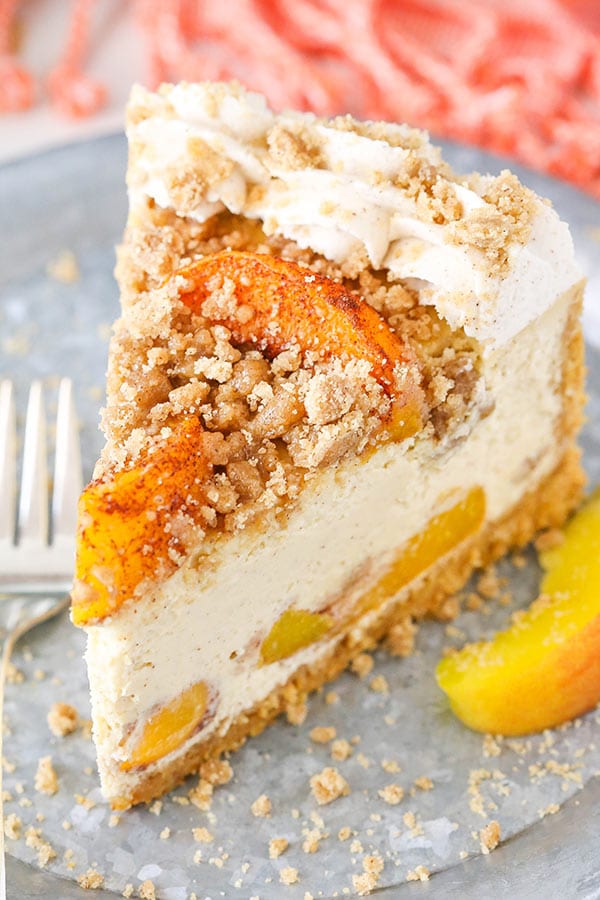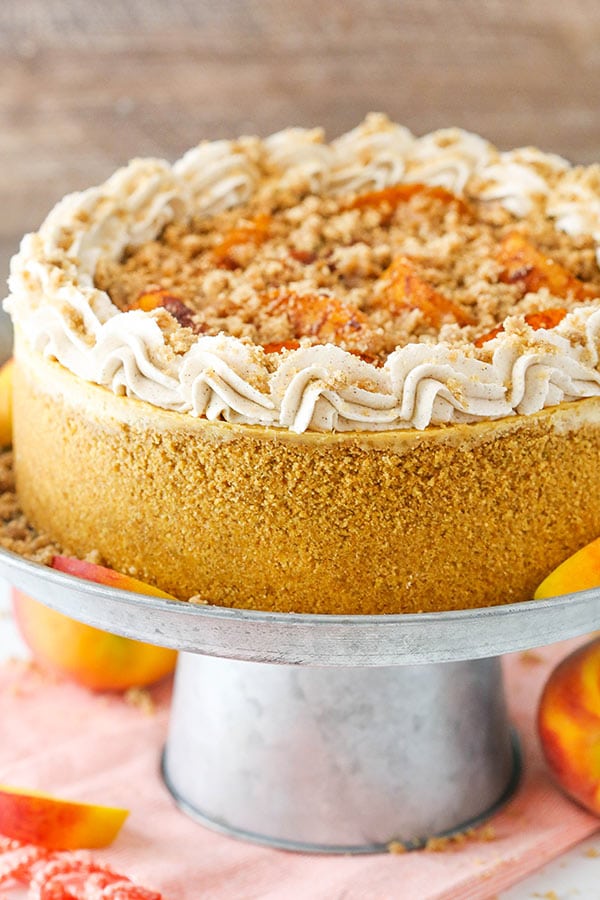 The final cheesecake is such a wonderful mix of graham cracker crust, cinnamon and brown sugar covered peaches, streusel, and bourbon and cinnamon filling! It really is one of my favorites from the book. I made them several times when the book came out and we celebrated the book's release with family and friends. I hope you give it a try and love it as much as I do!
And don't forget to check out the cookbook, Simply Beautiful Homemade Cakes! Not only does it have 65 original recipes, it also has a full chapter of tutorials on how to make your cakes look amazing – but simply. Hence the name, "Simply Beautiful Homemade Cakes"!
[adthrive-in-post-video-player video-id="xR8VXOQT" upload-date="Mon Jun 05 2017 21:39:23 GMT+0000 (UTC)" name="Bourbon Peach Streusel Cheesecake" description="A thick and creamy cheesecake filled with peaches, cinnamon, brown sugar and bourbon!"]
Read transcript
SHOP THE RECIPE


Print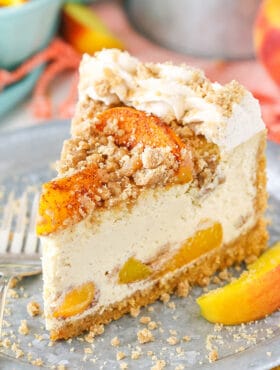 Recipe
Bourbon Peach Streusel Cheesecake
Author:

Prep Time:

1 hour

Chill Time:

6 hours

Cook Time:

2 hours 25 minutes

Total Time:

9 hours 25 minutes

Yield:

12-16 Slices

Category:

Dessert

Method:

Oven

Cuisine:

American
---
Description
This Bourbon Peach Streusel Cheesecake is one of my favorite recipes. The combination of peaches, bourbon, brown sugar and cinnamon is insanely delicious!
---
Ingredients
CRUST
2 1/4 cups

(

302g

) graham cracker crumbs

1/2 cup

(

112g

) salted butter, melted

3 tbsp

(

39g

) sugar
CINNAMON STREUSEL
2/3 cup

(

87g

) all purpose flour

2/3 cup

(

150g

) light brown sugar, packed

1 tsp

ground cinnamon

5 tbsp

(

70g

) salted butter, melted
CHEESECAKE FILLING
24 ounces

(

678g

) cream cheese, room temperature

1 cup

(

225g

) light brown sugar, packed

3 tbsp

(

24g

) all purpose flour

1/2 tsp

ground cinnamon

3/4 cup

(

173g

) sour cream, room temperature

5 tbsp

(75ml) bourbon

4

large eggs, room temperature
PEACHES
3 1/2 cups

(

470g

) sliced and peeled peaches (about 4 peaches)*

2 tsp

(

6g

) ground cinnamon

2 tbsp

(

18g

) light brown sugar, loosely packed
WHIPPED CREAM
1/2 cup

(120ml) heavy whipping cream, cold

1/4 cup

(

29g

) powdered sugar

1/4 tsp

ground cinnamon

1/2 tsp

vanilla extract
---
Instructions
1. Preheat oven to 325°F (163°C). Line a 9-inch (23cm) springform pan with parchment paper in the bottom and grease the sides.
2. Combine the crust ingredients in a small bowl. Press the mixture into the bottom and up the sides of the springform pan.
3. Bake the crust for 10 minutes, then set aside to cool.
4. Cover the outsides of the pan with aluminum foil so that water from the water bath cannot get in (see water bath tutorial). Set prepared pan aside.
5. Reduce oven temperature to 300°F (148°C).
6. To make the streusel, combine flour, brown sugar and cinnamon in a medium sized bowl. Add melted butter and mix together until crumbly. Set half of the streusel aside and spread the remaining streusel out on a parchment-lined cookie sheet in an even layer.
7. Bake the streusel for 5-10 minutes, then remove from oven to cool. Once cooled, use your fingers to break the streusel back into pieces.
8. In a large bowl, blend the cream cheese, brown sugar, flour and cinnamon on low speed until well completely combined and smooth. Be sure to use low speed to reduce the amount of air added to the batter, which can cause cracks. Scrape down the sides of the bowl.
9. Add sour cream and mix on low speed until well combined.
10. Add bourbon and mix on low speed until well combined.
11. Add eggs one at a time, mixing slowly to combine. Scrape down the sides of the bowl as needed to make sure everything is well combined. Set aside.
12. In another medium sized bowl, combine sliced peaches, cinnamon and brown sugar and toss to coat. Set aside.
13. Add about 1/4 of the cheesecake filling to the crust to make a thin layer.
14. Set aside about 1 cup (140g) of peaches, then lay the peaches over the batter in an even layer. Crumble the unbaked streusel over the peaches.
15. Pour remaining cheesecake batter evenly over the peaches.
16. Place the springform pan inside another larger pan. Fill the outside pan with enough warm water to go about halfway up the sides of the springform pan. The water should not go above the top edge of the aluminum foil on the springform pan. Bake for 1 hour and 30 minutes.
17. Turn off the oven and leave the cheesecake in oven with the door closed for 15 minutes. Do not open door or you'll release the heat.
18. Remove the cheesecake from the oven (make sure to close the oven door immediately to keep the heat in) and top the cheesecake with the remaining peaches and about 2/3 of the baked streusel. Leave about an inch around the edge of the cheesecake without any peaches or streusel for adding the whipped cream later.
19. Place the cheesecake back in the oven with oven door closed and leave for another 15 minutes.
20. Crack oven door and leave for another 30 minutes. This cooling process helps the cheesecake cool slowly to prevent cracks.
21. Remove the cheesecake from the oven and let sit on the counter for 15 minutes. Remove pan from water bath and remove aluminum foil. Refrigerate cheesecake until completely cooled and firm, 6-7 hours.
22. When the cheesecake is cool and firm, remove from the springform pan and set on a serving plate.
23. To make the whipped cream, add the heavy cream to a mixer bowl fitted with the whisk attachment and whip on high speed until it begins to thicken. Add the powdered sugar, vanilla extract and cinnamon and continue whipping on high speed until stiff peaks form.
24. Pipe a shell border around the edge of the cheesecake. I used Ateco tip 844.
25. Sprinkle remaining baked streusel over the cheesecake. Refrigerate cheesecake until ready to serve. Cheesecake is best for 2-3 days, but should be ok for 4-5 days.
---
Notes
It's important that you have flavorful, ripe peaches to get the full peach-y flavor of this cheesecake. If peaches aren't in season, you can use canned peaches without a problem or any additional changes. Neither needs to be pre-cooked before adding to the cheesecake, but a less-ripe, crisper fresh peach will be a little crisper in the cheesecake.
To make this cheesecake non-alcoholic, leave out the bourbon and add an additional 1/4 cup of sour cream. Reduce the baking by about 5-10 minutes, but otherwise proceed as instructed.
Don't forget to check out my cookbook, Simply Beautiful Homemade Cakes, where this recipe was originally published, for more great recipes.
* If using canned peaches, they should be drained and rinsed.
Nutrition
Serving Size:

1 Slice

Calories:

459

Sugar:

36.3 g

Sodium:

379.9 mg

Fat:

22.5 g

Carbohydrates:

55.3 g

Protein:

8.1 g

Cholesterol:

106.4 mg
Keywords: peach cheesecake, peach cake recipe, peach dessert, best cheesecake recipe, how to make cheesecake, easy cheesecake recipe, homemade cheesecake
Filed Under:
Enjoy!
This post contains affiliate links.
This post includes affiliate links and is sponsored in part by Walkers Shortbread.