September 28, 2016
Caramel Pumpkin Spice Blondie Streusel Cheesecake
Caramel Pumpkin Spice Blondie Streusel Cheesecake recipe with pumpkin blondie on the bottom, spiced cheesecake on top and a streusel topping with caramel sauce that's to die for!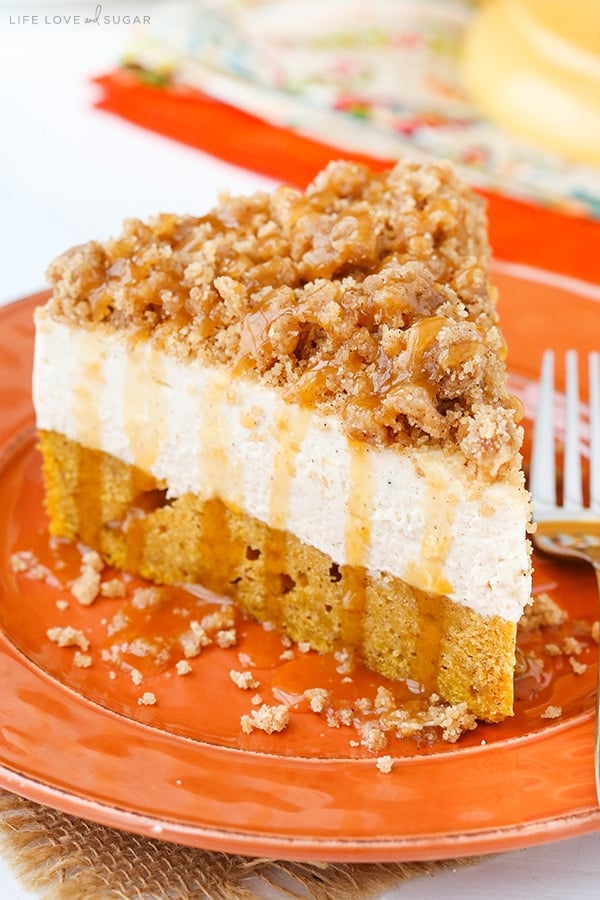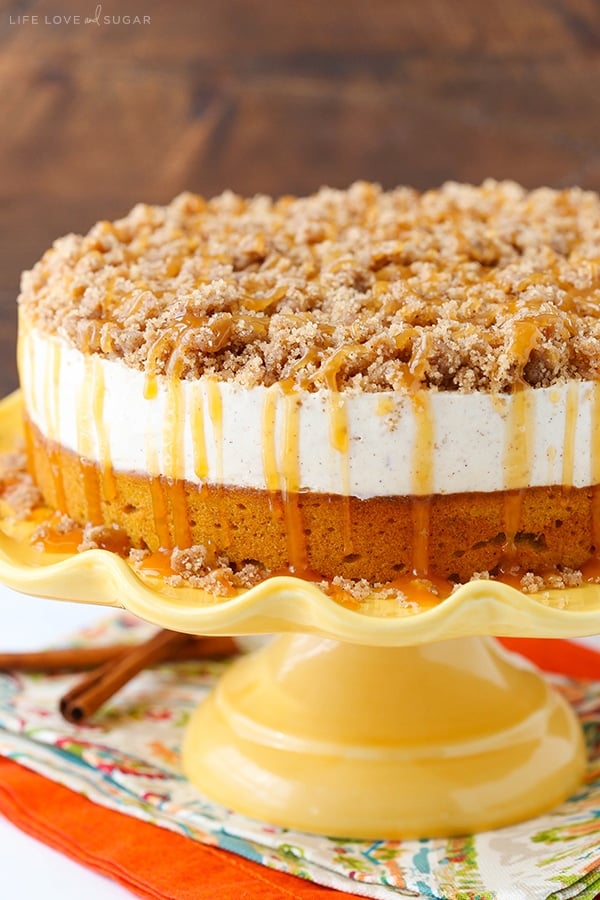 So I realized on Sunday that it was officially ONE MONTH until the release of my cookbook! I got so excited – it's so close! After a year a half, it's almost here. I can't wait for everyone to see it. Heck, I can't wait to see it! I still haven't seen it in person and DYING.
Then yesterday morning my publisher had tagged me in a video on instagram – they'd gotten the first copies into their office! If you check out the video, there's a little flip through the book. You definitely don't see everything but it gives you a little taste and got me totally excited. I'm pretty sure that I'll cry when I finally hold it in my hands – hopefully this week. 🙂
It's hard to tell from the video of the book, but there is a full chapter of cheesecakes so if you're here because you're loving this Caramel Pumpkin Spice Blondie Streusel Cheesecake, definitely check out the book because are plenty more to love in there too! For now though, let's dive into this baby!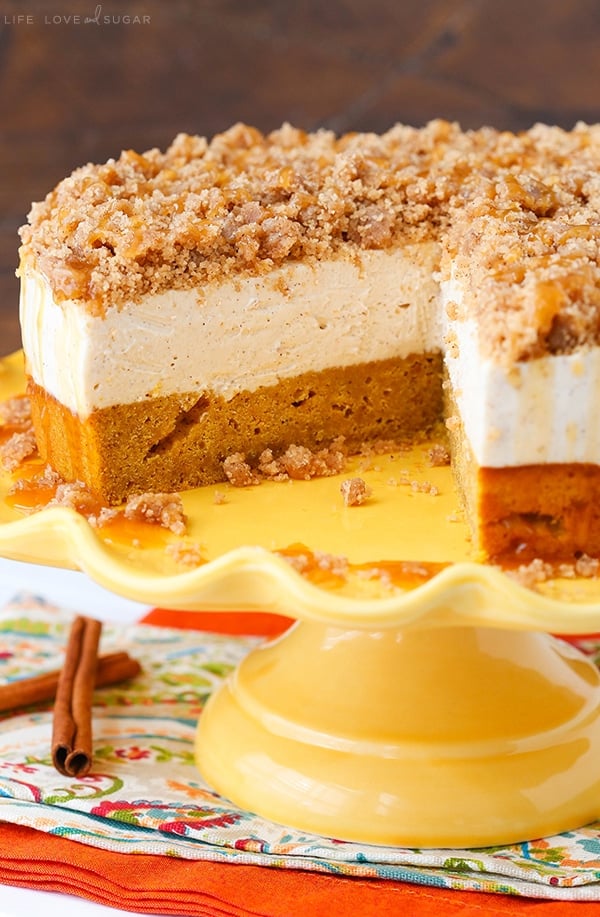 To start, there's the pumpkin blondie. I spent quite a bit of time getting it just right. I wanted it to be dense, but not overly dense. It needed to have just enough lift so that it wasn't a big block, but also not end up cakey. I played around with the eggs and baking powder and finally got it just right. It's dense and chewy without being too eggy. It's got a little lift, but isn't cakey. Yay!
Sitting on top of the blondie is the spiced cheesecake. It's got all the great spices of pumpkin spice – cinnamon, nutmeg and all spice. I went with ginger and cloves in the blondie, since I think they bring out the pumpkin flavor, but I didn't want the cheesecake to be too strongly spiced so I went with all spice there instead. Feel free to change it up to suit your preferences, if you'd like.
On top of the cheesecake is the streusel. My goodness – everything is better with streusel! But because this cheesecake is no bake, you aren't going to want to put it in the oven to bake the streusel. It'd totally melt and we don't want that. Instead the streusel is sprinkled over a lined cookie sheet, baked, then cooled and sprinkled over the cheesecake. It achieves basically the same thing and works like a charm!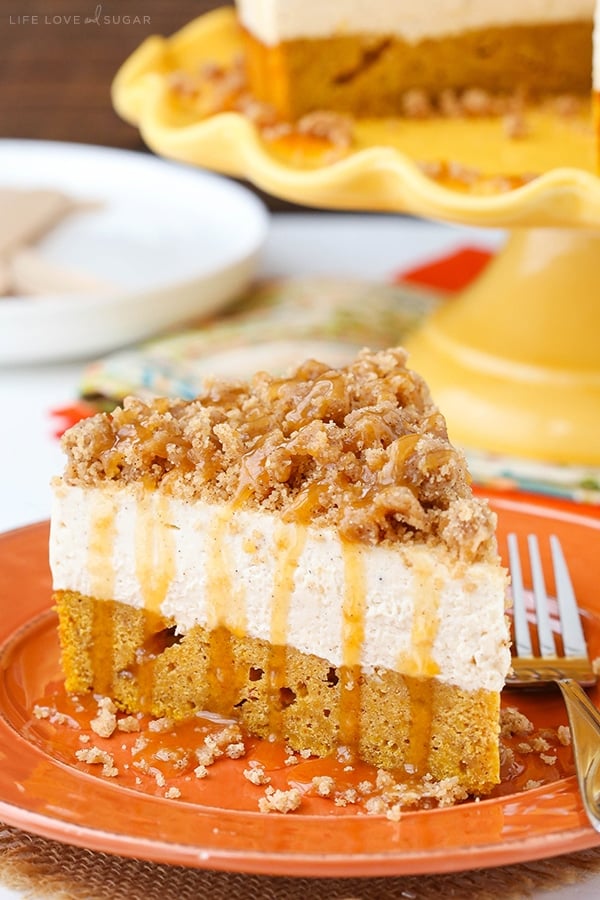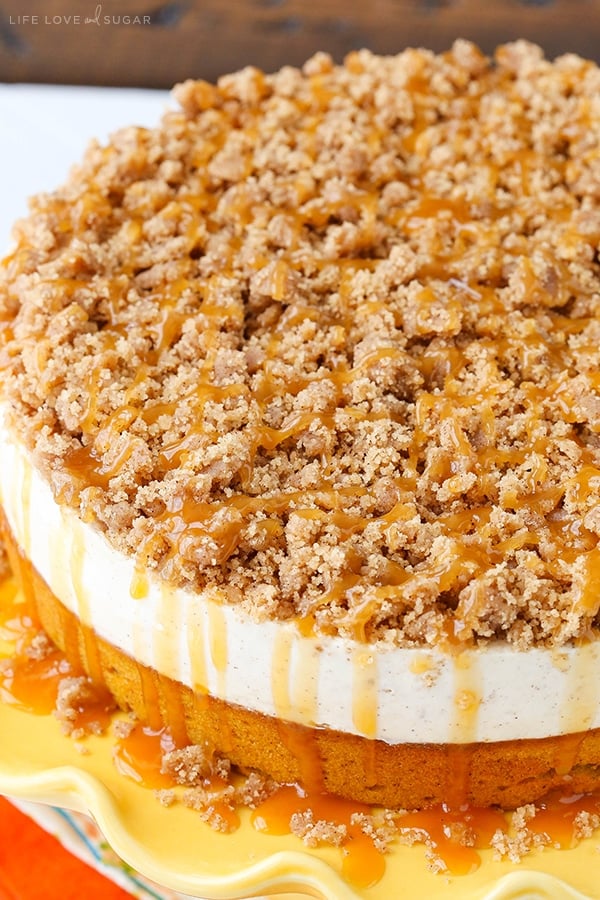 Drizzled over the top is caramel sauce, which adds another layer of fun. To me, it's totally necessary but you could forgo it if you prefer.
This cheesecake was a hit! We've joined a new church group recently with several new couples so they are my new favorite taste testers. This was one of the first ones I brought to group night and it received great reviews! I hope you like it too! 🙂

MY OTHER RECIPES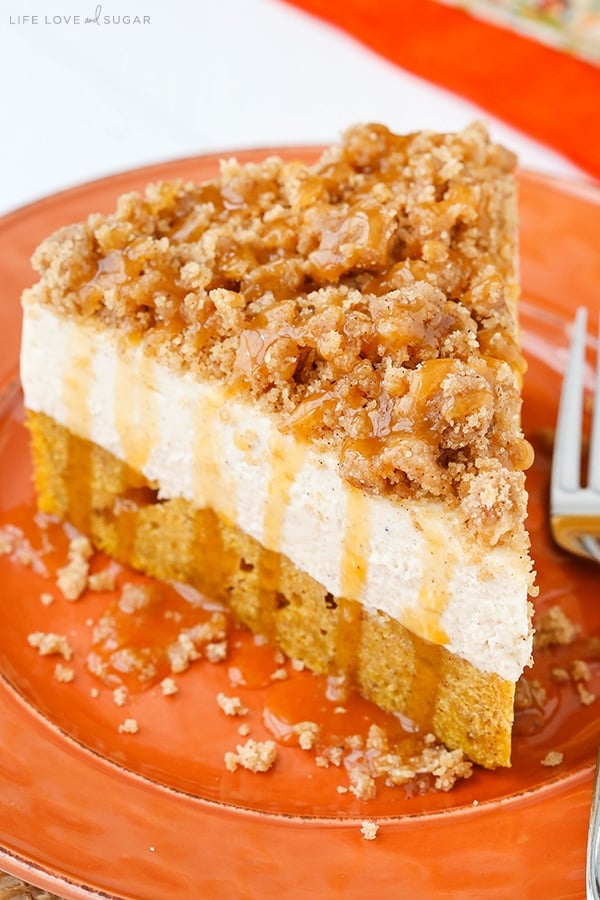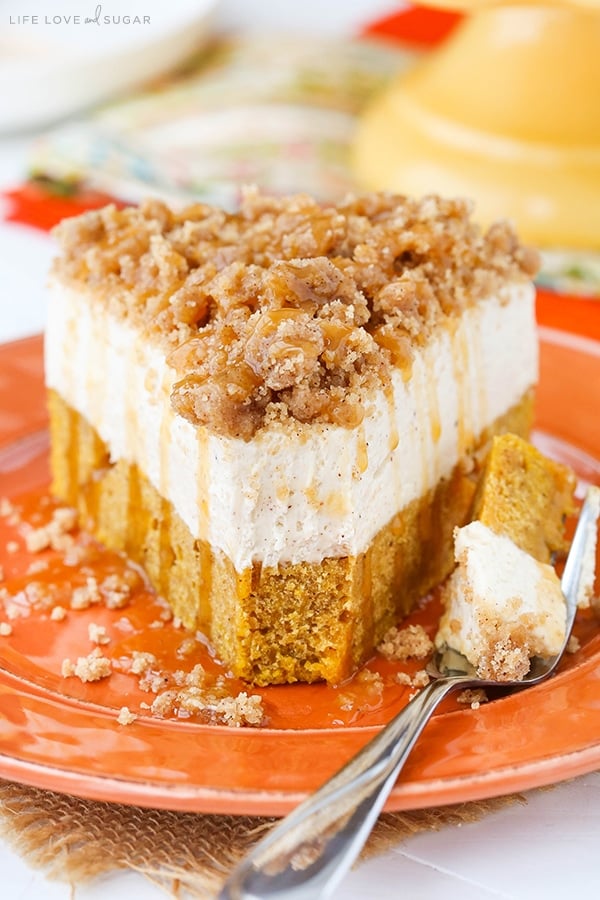 Featured Products:
(may include affiliate links)
Caramel Pumpkin Spice Blondie Streusel Cheesecake
Caramel Pumpkin Spice Blondie Streusel Cheesecake recipe with pumpkin blondie on the bottom, spiced cheesecake on top & streusel topping with caramel sauce!
Author:
Prep Time:

1 hour

Cook Time:

6 hours 30 minutes

Total Time:

7 hours 30 minutes

Yield:

12-14 Slices

Category:

Dessert

Method:

Oven

Cuisine:

American
Ingredients
PUMPKIN BLONDIE
3/4 cup (168g) unsalted butter, melted and slightly cooled
1 1/2 cups (216g) light brown sugar, unpacked
1 tsp vanilla
1 egg
1 egg white
1 cup (233g) canned pumpkin puree
1 3/4 cups (228g) all purpose flour
1/4 tsp + 1/8 tsp baking powder
1 tsp cinnamon
1/4 tsp nutmeg
1/4 tsp ginger
1/4 tsp cloves
1/4 tsp salt
CHEESECAKE
20 oz (565g) cream cheese, room temperature
1 cup (144g) brown sugar, unpacked
3/4 tsp cinnamon
1/4 tsp nutmeg
Pinch of allspice
1 cup (240ml) heavy whipping cream
1/2 cup (58g) powdered sugar
1 tsp vanilla extract
STREUSEL
2/3 cup (87g) all purpose flour
2/3 cup (150g) light brown sugar, packed
1 tsp ground cinnamon
1/4 tsp nutmeg
Pinch of cloves
4 tbsp (56g) salted butter, melted
Instructions
1. Line the bottom of a 9 inch springform pan (or cake pan) with parchment paper and grease the sides. Preheat the oven to 350°F (176°C).
2. Add the melted butter and brown sugar to a medium sized bowl and and whisk to combine.
3. Add the vanilla, egg and egg white and whisk until combined.
4. Fold in the pumpkin puree.
5. In another bowl, combine the dry ingredients.
6. Gently fold the dry ingredients to wet ingredients, folding just until combined. Do not overmix.
7. Spread batter evenly into springform pan and bake for 27-30 minutes.
8. Allow the blondie to sit for 3-5 minutes, then remove to a cooling rack to finish cooling.
9. Once the blondie is cool, make the cheesecake. In a large bowl, beat the cream cheese until smooth.
Add the brown sugar, cinnamon, nutmeg and all spice and mix until well combined.
10. In a separate bowl, whip the heavy whipping cream, powdered sugar and vanilla extract until stiff peaks form.
11. Gently fold the whipped cream into the cream cheese mixture.
12. Place the blondie back into the 9 inch springform pan. Line the sides of the pan with parchment paper that sticks about an inch above the sides of the pan to account for possible overflow.
13. Top the blondie with the cheesecake mixture and spread into an even layer, then refrigerate until firm, about 5-6 hours.
14. Once firm, remove the cheesecake from the springform pan.
15. To make the streusel, preheat the oven to 350°F (176°C).
16. Add the flour, brown sugar, cinnamon and melted butter to a medium sized bowl and mix with a fork until all ingredients are well combined and crumbly.
17. Sprinkle the mixture evenly onto a cookie sheet lined with parchment paper and bake for 6-8 minutes, until lightly crispy, then set aside to cool.
18. Once cool, crumble the streusel back into pieces, if needed, and sprinkle over the cheesecake. Drizzle the cheesecake with caramel sauce, if desired, then serve.
Keywords: pumpkin cheesecake, caramel drizzle, caramel dessert, pumpkin dessert, pumpkin blondie, fall baking
Enjoy!


You might also like:
Caramel Apple Blondie Cheesecake

Chocolate Pumpkin Cheesecake Cake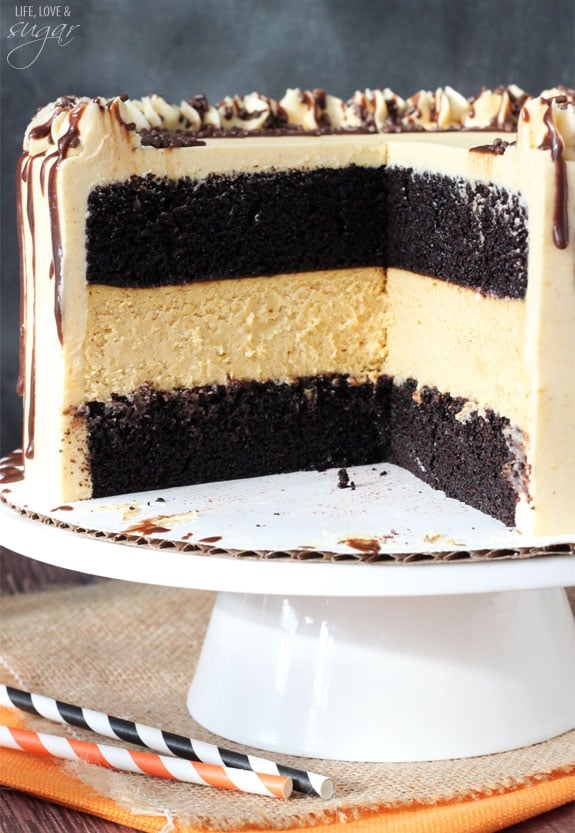 Pumpkin Butterscotch Chip Cookies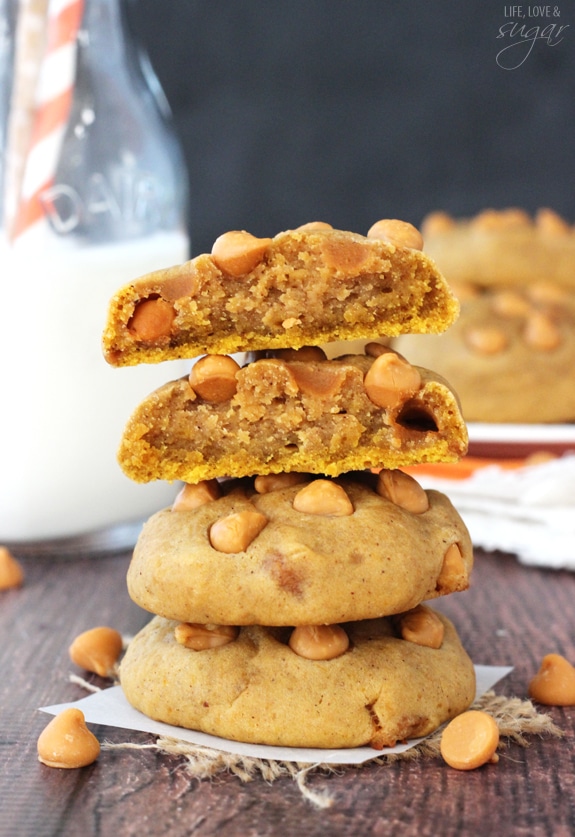 Pumpkin Chocolate Chip Bundt Cake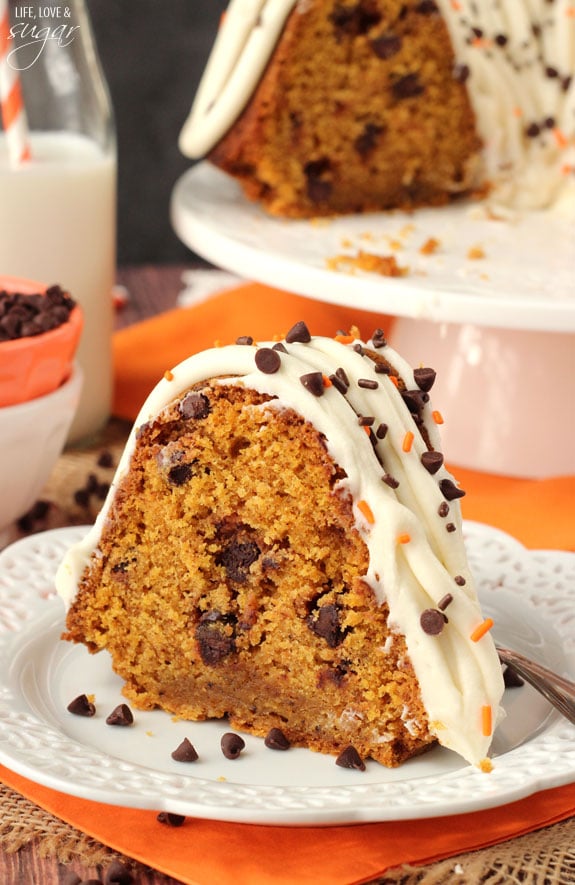 Recipes from friends:
Pumpkin Pie Lasagna from Beyond Frosting
Pumpkin Silk Pie from The Gunny Sack
Pumpkin Cream Cheese Swirl Muffins from The Novice Chef